If you're visiting Tobermory, then you must make a stop at the magical Isle of Mull Cheese Glass Barn Café.
Owned by the Reade Family, they have been making cheese and dairy products on Sgriob-ruadh farm for the last 40 years.
Today, they sell a whole range of farm products including their whey-based spirits and Island Pork.
The best part about visiting their farm is the Glass Barn Café which looks like something from a fairytale. It's a greenhouse tearoom of crawling grape vines, botanicals, and flora.
I've had this beautiful place on my bucket list for years and was so happy to finally make a visit.
Here is a guide to Isle of Mull Cheese and Spirit and how to visit the magical Glass Barn Café.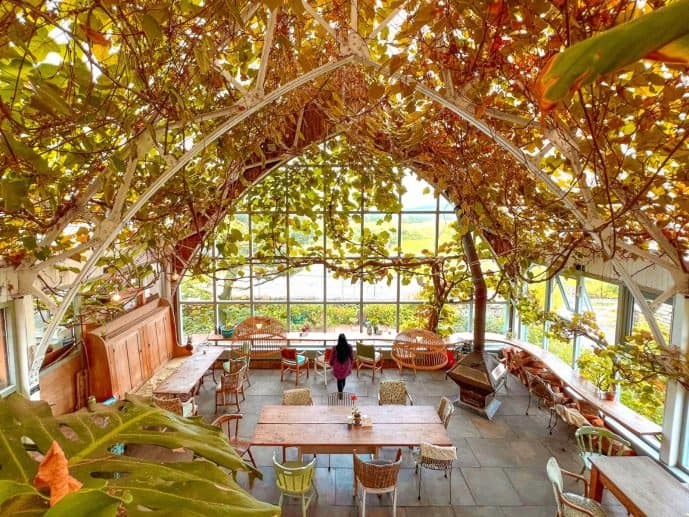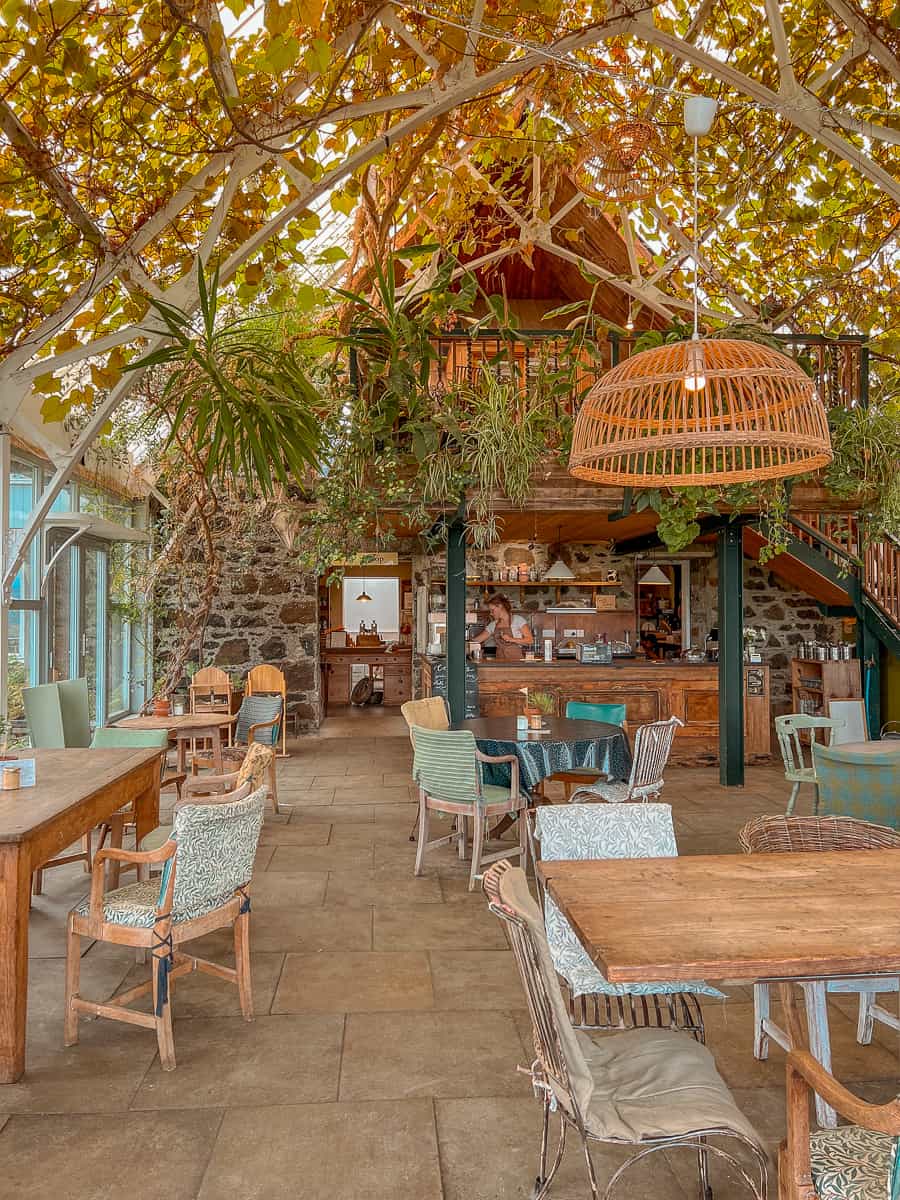 What is Isle of Mull Cheese?
Isle of Mull Cheese is a family-run business on Sgriob-ruadh farm that has been creating dairy products on Mull since the 1980s.
They are a sustainable business that produces 100% sustainable energy to create their award-winning cheese and spirits onsite.
Their Scottish cheese is made traditionally using raw milk from their herd of dairy cows and is now distributed to businesses on Mull, around the country, and beyond.
Sgriob-ruadh farm is owned by the Reade family and welcomes visitors every year to learn about their business by enjoying their Glass Barn Café and Farm Shop on Mull.
Isle of Mull Cheese history
The Reade family were dairy farmers from Somerset who took their first holiday to Tobermory in 1979. They instantly fell in love with this wild island of the Inner Hebrides.
So much so, they decided to purchase some acres near the town and later purchased Sgriob-ruadh farm which was up for sale.
The Isle of Mull population had a shortage of dairy products due to imports and the challenging dairy market in Europe at that time.
So, the Reade family made the decision to create a dairy farm on the Isle of Mull. They made the move from Somerset over a period of two years.
They built up the farm and planted roots on Mull. They made a home not just for their family but for their livestock too.
Dairy cows were transported to Mull to start providing a much-needed milk round to Tobermory.
The cheese was made with any milk left over using traditional methods and was stored in maturing cellars.
By the year 2000, the popularity of Isle of Mull cheese skyrocketed. So, they made the decision to stop selling milk and converted the farm into a full-time cheese-making business.
Isle of Mull Glass Barn Café
The Glass Barn Café was installed in 1995 using recycled materials from an old village hall near Salen.
It was originally going to be constructed as a greenhouse for growing plants but they converted it into a café allowing visitors a space to enjoy the farm.
The glass windows provide a skylight into this botanical paradise of crawling vines and botanicals.
Isle of Mull Cheese today
Sgriob-ruadh farm is still run by the Reade family today with a herd of 130 dairy cows.
It is a completely sustainable farm, producing 100% of its energy to create its popular farm products.
Their latest venture is their whey-based spirits which utilises the whey produced from their cheesemaking.
They have built their very own distillery onsite with fermenting tanks that produce their natural Isle of Mull Sprits.
The Glass Barn Café and Farm Shop are open to visitors where you can sample and purchase their unique products.
It's frequently been voted as one of the most beautiful restaurants in Scotland by big names like Condé Nast Traveller and has been featured in countless documentaries.
So, you must make a visit to this glorious part of Mull and try some of their stock for yourself!
How to visit Isle of Mull Cheese Glass Barn Café
Everyone is welcome to visit the Isle of Mull Cheese Glass Barn Café and it's one of the top attractions on the island.
But, it's good to note that they are open seasonally from April – October.
I've been wanting to visit this magical glass barn for years after seeing it all over my social feeds. It's even more beautiful in person!
It's easiest to drive there and you can find it around half a mile away from the colourful town of Tobermory on the B8073 road heading to Glengorm.
The roads are then quite steep and single track leading to the farm so be careful as you go!
If you plan to head here from Craignure, it will take you around 45 minutes to 1 hour due to single-file roads.
Unfortunately, there isn't a bus that runs to Sgriob-ruadh farm but you could book a taxi.
You can also walk there quite easily from the town. It is 20 minutes from Tobermory as it's mainly uphill and 15 minutes back down.
Things to do at Isle of Mull Cheese
Once you arrive at Sgriob-ruadh farm, there is plenty of things to do here for visitors.
You can sip a coffee in their Glass Barn, browse the farm shop or go behind the scenes on a tour of their cheese farm.
Here are all the things to do at Isle of Mull Cheese.
1. Dine the Glass Barn café
Most visitors make a visit to Isle of Mull Cheese to visit the spectacular Glass Barn Café.
It's a huge greenhouse with crawling grape vines in every nook and cranny as well as a cacophony of botanicals.
You can visit for a hot drink and one of their delectable homemade cakes. Or, visit for lunch between 12 pm – 2 pm to sample some Isle of Mull Cheese and Island Pork.
Although it's easy to be mesmerised by the interiors of this fairytale setting, the best part is the panoramic views you get of Sgriob-ruadh farm and Mull Sound.
The cafe has a wonderful atmosphere and it's a great place to stop off whilst exploring the island.
Tip: If you visit around 3.30 pm / 4 pm, you may be able to watch the cows saunter by for milking!
2. Visit the Farm Shop
Just behind the Glass Barn restaurant, you will find their Farm Shop which sells a variety of their products made onsite.
You can buy some of their award-winning Isle of Mull cheese. They have their traditional farmhouse cheese, smoked cheese, and Hebridean Blue. Some are preserved in their Ise of Mull waxed flavells.
If you wanted some biscuits to compliment them they sell their Island Bakery biscuits, crackers, and oat cakes.
The Island Bakery is another business venture of the Reade family that is located in Tobermory.
You will also find bottles of their Isle of Mull whey spirits, Island pork, and a whole range of chutneys and preserves.
3. Explore Sgriob-ruadh farm
From the Glass Barn Café, you get some incredible views over Sgriob-ruadh farm and Mull Sound in the distance. They also have a wonderful botanical garden with different flowers by the season.
As you explore the area, you'll often see cows on their way to be milked or goats grazing.
As it's a working farm, visitors are limited to a small area. But, you can see much more on one of their farm tours.
These guided tours allow you to take a look at all the work that goes on behind the scenes. Plus, you can meet their dairy cows, goats, pigs, and calves.
4. Try Isle of Mull Spirits
Whilst the curds from the cheesemaking process go towards the cheese, the whey is used to make their Isle of Mull Spirits.
They have their own distillery onsite with fermenting tanks that create the alcohol using natural resources.
At the moment the offerings are Sgriob-ruadh Spirit, Coo J'N, and Cheesemakers Strength. You can try samples in the Farm Shop and buy a bottle for yourself to take home.
There may be some whey cocktails on the menu at the Glass Barn Café in the future, watch this space.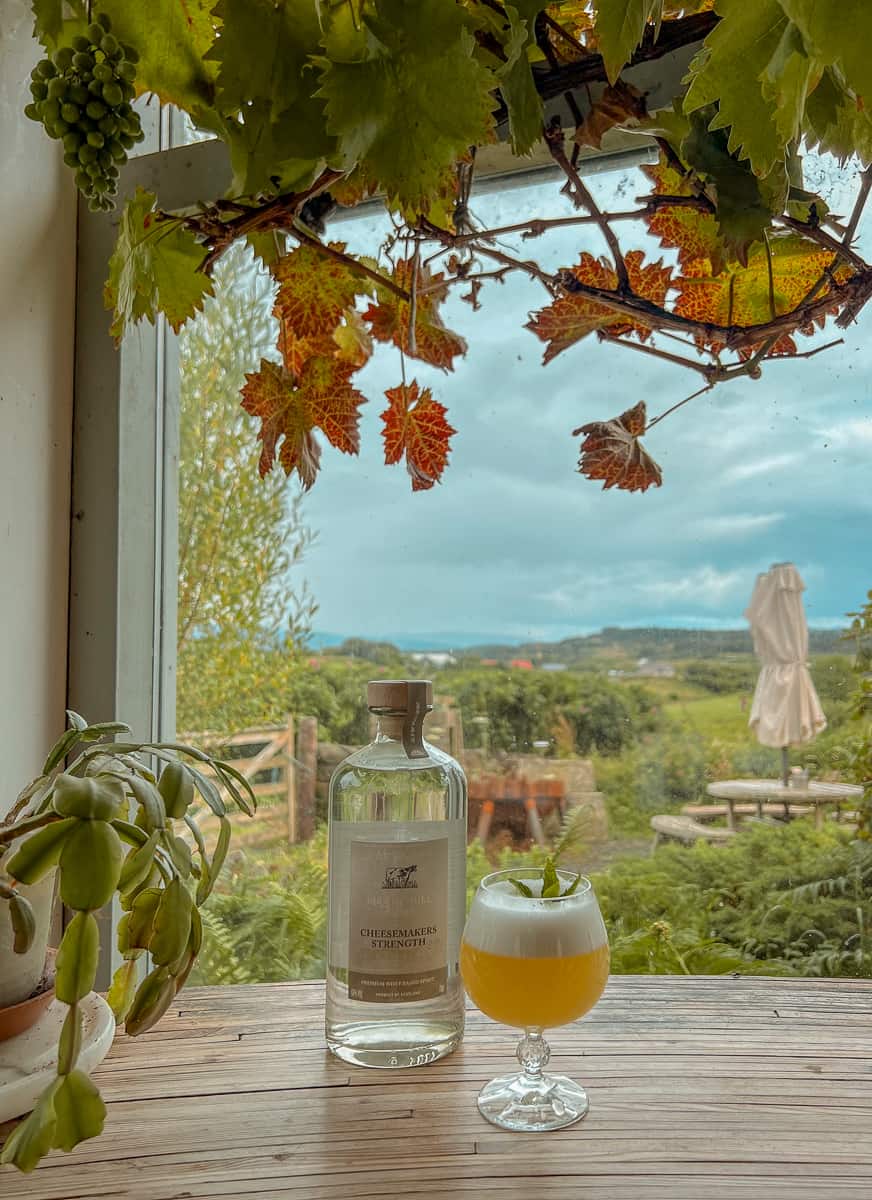 Where is Isle of Mull Cheese in Scotland?
Isle of Mull Cheese can be found on Mull, which is an island off the west coast of Scotland in the Inner Hebrides.
The only way to access the island is by ferry and there are regular daily services from CalMac. These are huge ferries where you can take your own car onboard.
Most people take the Oban to Craignure route as it's the most accessible in the Scottish Highlands on the A85.
Once you land, you'll be driving to Tobermory the rest of the way for 21 miles (45 minutes to 1-hour drive).
Alternatively, you can take the Kilchoan to Tobermory ferry route. But, the terminal is in quite a remote area of the Ardnamurchan peninsula.
Isle of Mull Cheese postcode is Sgriob-ruadh Farm, Tobermory, Isle of Mull PA75 6QD. Click here for a Google Pin!
Glass Barn Café parking
There is some free parking located just outside the Glass Barn café. Spaces are limited but there is an overflow parking area just down the road from the main car park.
I would recommend getting to Isle of Mull cheese in the morning for the quietest visit. Afternoons can get quite busy, especially in the summer months.
Isle of Mull cheese opening times
It's good to note that the Glass Barn café and Farm Shop are only open seasonally from April – October on Mull.
The Farm Shop is open 7 days a week from 10 am – 5 pm but the Glass Barn Café is only open from Thursday – Sunday 10 am – 4 pm.
Lunch is served from 12 pm – 2 pm but they serve up a range of teas, coffees, and cakes throughout the day.
The Farm Shop is located through the Glass Barn so you can take a look around this botanical paradise even when the café is closed.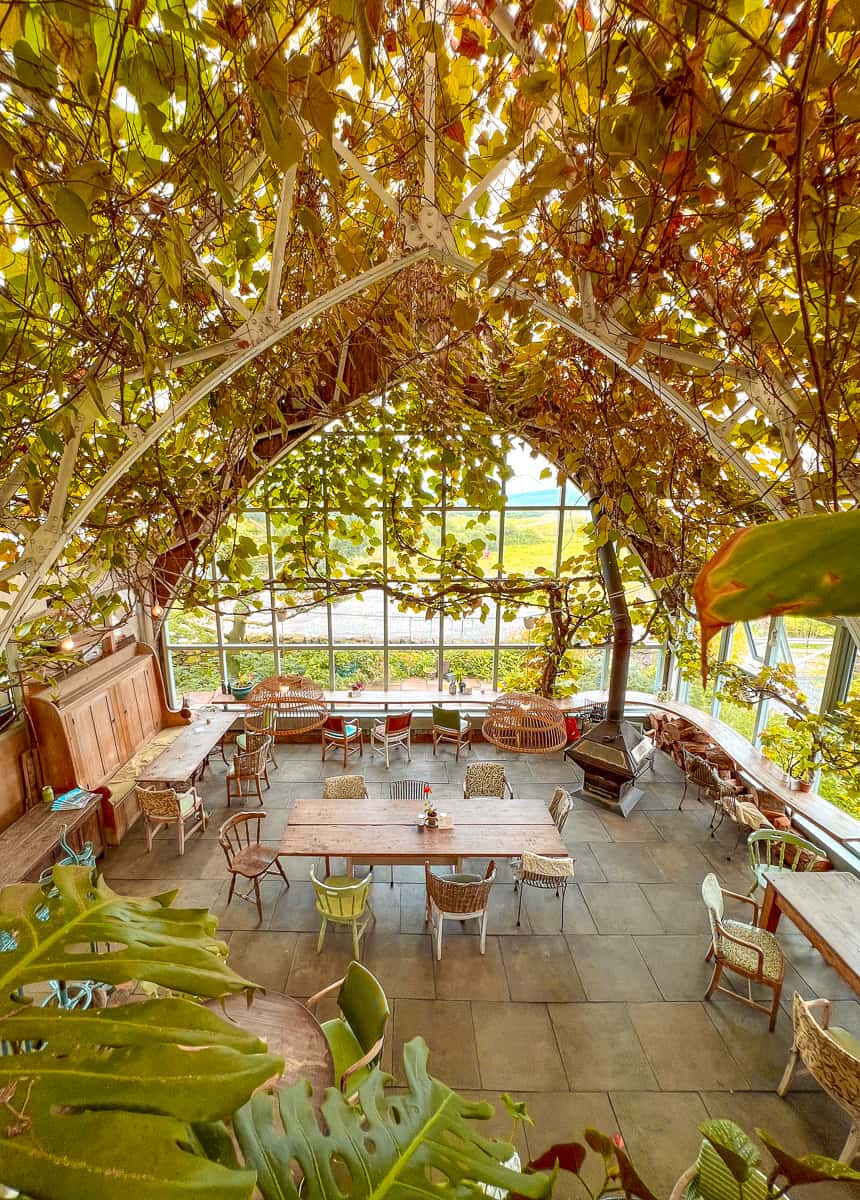 Is Isle of Mull Cheese worth visiting?
Yes, Isle of Mull Cheese is one of the top attractions on Mull, and for good reason!
The Glass Barn Café is truly a fairytale setting where you can dine whilst taking in spectacular views.
There's also a Farm Shop where you can buy a selection of scrumptious products to take home.
It's a family-run, sustainable business on the island and all the staff are so lovely. Don't miss this experience on the Isle of Mull!
Looking for more things to do in Tobermory?
The colourful Tobermory is a gorgeous town next to the sea and has lots of things to do!
It was a filming location for the popular CBBC series Balamory and you can wander down their rainbow High Street to find all sorts of boutiques.
Some of my favourites are Hand Made Chocolate, Mull Pottery, and the Isle of Mull Ice Cream Shop.
You can have a look around the Mull Aquarium or the Mull Museum to lear about the history of the area.
Or, why not take a tour around the Tobermory Distillery? There is a visitor centre where you can try some fo their spirits and buy some to take home.
There are many boat trips that run from Tobermory to the Isles of Iona and Staffa where you can see puffins.
If you're looking for places to eat I would recommend the Mishnish but you do need to make a reservation beforehand.
Or, if you want a quick bite, the award-winning Fisherman's Pier van makes the best Fish & Chips on the island. They've won multiple awards.
Isle of Mull Cheese FAQs
Who owns Isle of Mull Cheese? The Reade family who have been here at Sgriob-ruadh farm for 40+ years
Who makes Isle of Mull cheddar? The Reade family at Isle of Mull Cheese.
Read more of my Scottish Highlands travel guides
Visiting the Callanish Stones on the Isle of Lewis
How to visit Eilean Donan Castle for free
Leakey's Bookshop Inverness guide
How to visit the magical Dunrobin Castle
How to visit the Wee White Hoose in Glen Coe
Riding the Hogwarts Express in Scotland
Scotland Harry Potter locations you can visit
Save visiting Isle of Mull Cheese and Spirit for later!