Turkey's capital is a thriving city steeped in history, culture and is a foodies delight to boot!
It is the only city in the world to boast straddling two continents of Europe and Asia.
The Bosphorous Strait snakes through its middle and the pillars of its many domed mosques are dotted along the skyline making it a true marvel to gaze upon.
If you haven't thought of travelling here, make it your next bucket list stop. You won't regret it!
Here's a top 10 to ensure you get the most out of your visit.
1. Hagia Sophia
The Hagia Sophia (Aya Sophia) is what Istanbul is famous for and it certainly doesn't disappoint with its awe-inspiring architecture and sumptuous interior.
Make sure you head here first to learn about the history of the city and definitely come early to avoid the masses of tour groups armed with selfie sticks!
Istanbul was previously known as Constantinople and Byzantium from its previous settlers and this magnificent building will reveal parts of its fascinating history to you.
Be sure to take a moment out of the grandeur to indulge in inspecting the small detail – lookout for Christian mosaics and the Islamic medallions which hang on the walls.
A cathedral-turned mosque, now a museum – this is the heart of the city and a true gem that will stick with you long after you leave.
Price of entry: FREE. For more information visit the official website here.
2. Togkapi Palace
Togkapi Palace was home to many a Turkish Sultan and their wives and therefore it goes without saying it possesses its own Harem!
Prepare to be transported to a world of luxury as within these walls is a treasure trove of clandestine apartments decorated with colourful tiles.
Take a camera – this place has a picturesque moment at every turn!
After you leave your temporary escape in the Harem, you will be greeted with some fantastic views of the Bosphorous.
There is a cafe here – but the view comes with a hefty price.
Price of Entry: 150 Turkish Lira per person. The Harem is 100 Turkish Lira per person extra.
3. Blue Mosque
The Sultan Ahmet Mosque is more commonly known as the Blue Mosque and faces directly opposite the Hagia Sophia in the Byzantine Hippodrome.
It sits within a peaceful garden and stands impressive with six pillars at its side. The decoration inside is a stunning work of art in itself.
As this is a place of worship it is closed to tourists during times of prayer so be sure to plan your time around this.
Visitors are expected to dress modestly and women must cover their heads, shoulders, and knees.
You will be given a rather unattractive 'scrub' type long skirt to wear if they feel your dress isn't appropriate. You must also take your shoes off and carry these with you during your visit. Free Entry.
Read more: my complete photography guide for Istanbul!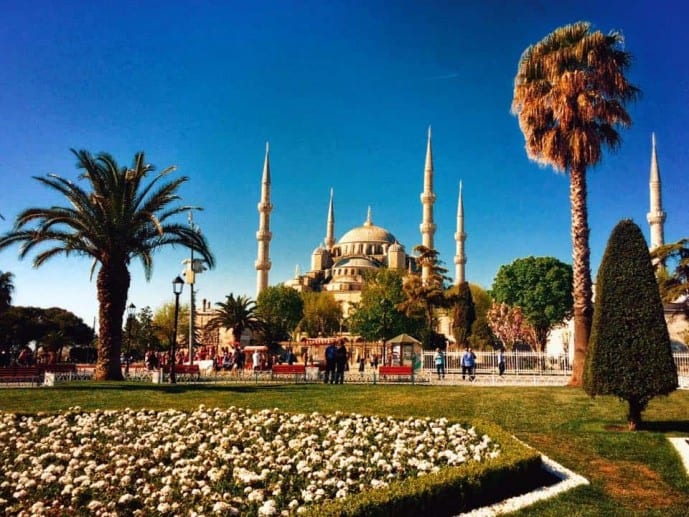 4. Basillica Cistern
The Basilica Cistern was built in the Byzantium era to collect water for the Grand palace and city.
It is situated underground and deliciously cool, which is a perfect respite from the midday heat!
As you stroll through the myriad of hand-carved columns it definitely has an out-of-this-world atmosphere.
Legend has it that the Medusa head is shedding a tear for the religion which was lost to a fallen Empire.
This unusual tourist attraction is definitely worth a visit.
5. Grand Bazaar
A must-do bucket list item – lose yourself for hours in the labyrinth that is the Grand Bazaar.
Thousands of stalls are selling anything from a lucky eye to jewellery, ceramics, your 'spot the tourist' Fez, and of course, counterfeit handbags!
Everyone will be after your Lira here so be prepared and ensure you haggle.
If you don't fancy shopping or just want a break, there are many cafés offering traditional Turkish tea and coffee (if you can find them!).
Heading to Istanbul? Don't forget about travel insurance! Click here to get a FREE quote with World Nomads.
6. Galata Bridge & Tower
The Galata Bridge provides some of the best views of the Bosphorous.
Fishermen line their fishing rods over both sides hoping for a lucky catch and seagulls lurk about with a wishful eye too!
This bridge is popular with locals and tourists alike and is bustling with the atmosphere at any given time of day.
The restaurants below sell fresh fish and you can dine with fantastic views of the Galata tower.
Head up to the tower at sunset for a beautiful birds-eye view of Istanbul.
7. Bosphorous Strait
No visit can be complete without a cruise along the Bosphorous strait and the good news is it doesn't need to break the bank!
Many locals say the tourist boats are a rip-off and you can get the same views taking the local ferry for around 25 Turkish Lira (£6) for a full trip to the second bridge or even less – rather than the 20 Euros you will be quoted for a tourist boat!
Of course, this doesn't come with a spoken guide but the views regardless will be spectacular!
The strait is bustling with fishing boats and seagulls make the chase.
Look out for the famous bridges crossing over into Asia, the Maiden Tower, and quaint villages in amongst the millionaire 'Bosphorous mansions' along the shore.
Catch a ride at the Bosphorous pier near Eminonu metro station.
8. Whirling Dervishes
The Whirling Dervishes is an ancient religious ceremony that practices transcendence through a whirling dance.
Due to its important cultural and historical significance, the practice is UNESCO protected. This had been on my bucket list for some time and I had the honour of watching the ceremony whilst I was here which was an enlightening experience.
Definitely a must-see in the evening. You can catch a performance at the Hodjapasha Art & Cultural centre.
I couldn't take any pictures so you'll have to see them for yourself! I went to Hodjapasha and if you would like to book a ticket or check timings, see here.
9. Eminou
Eminonu ended up being one of my favourite places to visit as it's just a beautiful spot!
The three Ottoman-style fishing boats are home to the infamous fish sandwiches which Istanbulites love to munch on while sitting on the steps of the square.
This port has locals pouring in at peak times so if you want to avoid the crowds go on a weekday or in the evening when the boats are lit up casting a colourful reflection on the water's edge.
10. Turkish Delight
Turkish delight, the traditional Kebap, Raki, fresh pomegranate juice, and Turkish ice cream are all amazing culinary delights to sink your teeth into here.
There isn't a street without an eatery, trendy cafe, or restaurant and so Istanbul is definitely your foodie oyster!
My favourite dish was Baklava which is a calorific and moreish pastry dish with pistachio – I loved it so much I bought a box to take home.
Hafiz Moustafa (Hakki Zade) was one of my favourite shops for sweet treats and their cafe on Taksim Square was the perfect place to indulge as you watch the world go by.
If you want to read more read my article 'Hafiz Mustafa: the best Baklava in Istanbul'.
Enjoy these top Istanbul experiences
Those are just a few tips to ensure you make the most of your time in Istanbul but there are plenty more delights to keep you occupied.