The Orkney Italian Chapel is an impressive place that you cannot miss if you're visiting the Orkney Islands in Scotland.
It's a spectacular sanctuary, constructed of two Nessen military huts, and was crafted by Italian Prisoners Of War (POW) in 1943.
They were captured in North Africa during World War II and then taken to Lamb Holm to help build the Churchill Barriers to protect Scapa Flow.
Most of the artwork and frescos inside were originally painted by the talented Domenico Chiocchetti of Moena. They are incredible considering the limited time and materials he had to work with.
Today, over 100,000 people visit this spectacular temple every year and I would highly recommend it.
Here is a complete visitor guide for the Italian Chapel Orkney Islands with the history, how to visit, opening times, and more!
Orkney Italian POW
So, how did the Orkney Islands come to have an Italian Chapel in Scotland? Well, it all started in 1939 when the German U-boat U47 sailed into Orkney's Scapa Flow naval port undetected.
U47 was under the command of Lieutenant Gunther Prien and he launched a torpedo attack on the HMS Royal Oak battleship anchored at Scapa Bay.
HMS Royal Oak sank within minutes losing 834 crew in the process and the U47 sailed out of Kirk Sound undetected once again.
The unexpected attack and devastating loss of life called for better defenses of Scapa Flow.
Winston Churchill, who was the First Sea Lord at the time, approved a project to build a series of causeways that would link Mainland Orkney with the smaller southern islands.
Construction was well underway but there was a significant shortage of local labour on the Orkney Islands.
This project coincided with the capture of thousands of Italian soldiers in North Africa in 1942. So, 550 Italian POWs were sent to Camp 60 on Lamb Holm Island. A similar number was sent to Camp 34 in Burray.
They were ordered to build what is now known as the Churchill Barriers. These were designed to seal off the four eastern entrances to Scapa Flow naval base.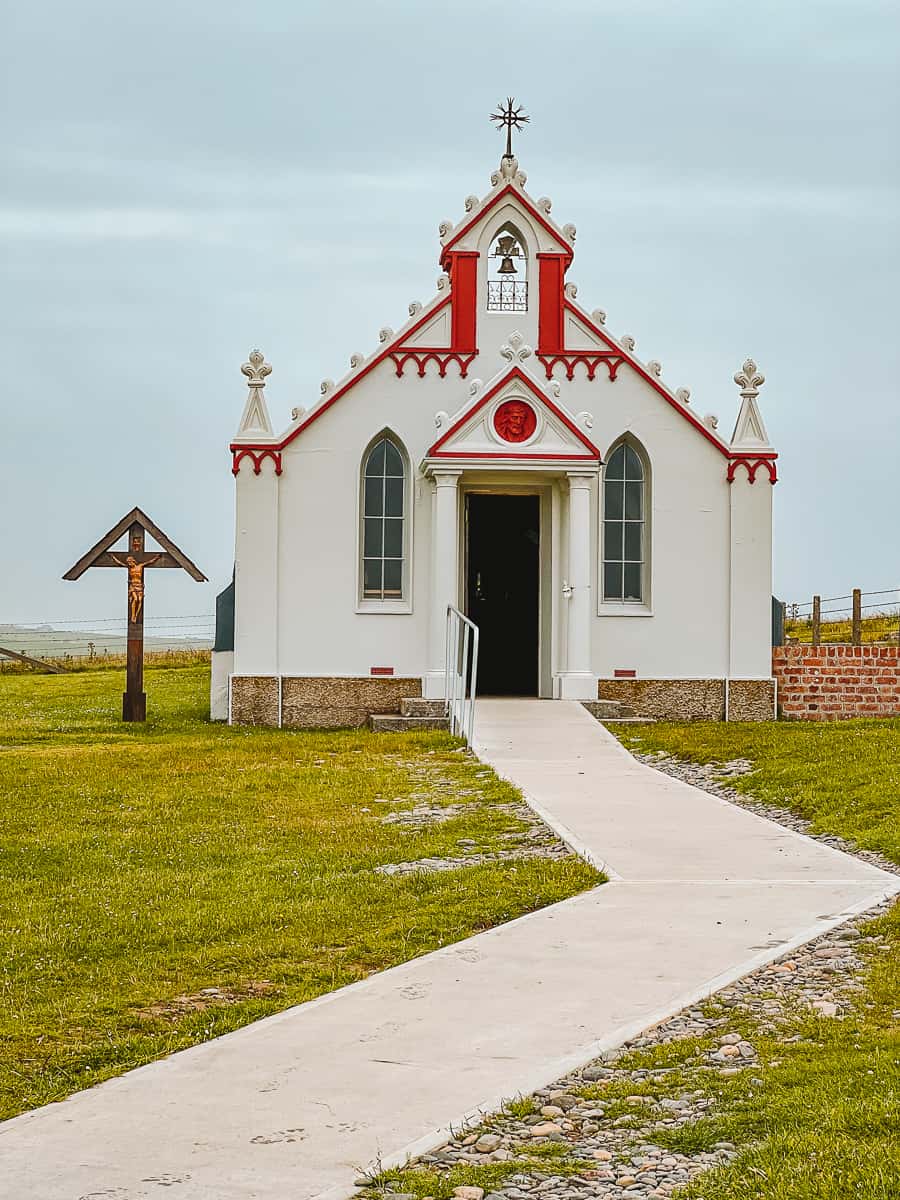 Orkney Italian Chapel history
In 1943, Italy surrendered to the Allies and so the Italian POW status changed on the Orkneys.
They weren't allowed to go home to Italy as they still needed to build the Churchill Barriers, but they were allowed more freedom on the island and were paid for their labour.
Following this, the POW requested a place of worship and sanctuary on the islands whilst they were living here.
Faith and a lifting of spirits were something that was desperately needed for the Italian POWs who were separated from their families.
Padre Giacobazzi convinced Major T. P. Buckland to allow them to construct a chapel on Lamb Holm Island.
They were given two Nissen huts to join together to build the chapel. This was on the condition that they worked on the construction in their spare time outside of building the causeways.
An artist in Camp 60 called Domenico Chiocchetti started work on the chapel joined by Giuseppe Palumbi who was a blacksmith and Domenico Buttapasta who was a cement worker.
Others also assisted such as Primavera and Micheloni who were electricians and Barcoglioni, Battiato, Devitto, Fornasier, Pennisi and Sforza.
Domenico Chiocchetti's artwork & legacy
Many people were involved in creating the Italian Chapel but it was Domenico Chiocchetti's vision that brought it to life.
Chiocchetti carried a small prayer card in his pocket given to him by his mother of the Madonna and Child by Nicolo Barabino.
He based his paintings above the altar on this and then continued to paint colourful frescos to make the church look beautiful inside.
After the POWs were sent home to Italy in 1945, Chiocchetti stayed behind to finish his paintings in the chapel.
It was an impressive feat considering the limited time and resources that he was provided on the island during the Great War.
Chiocchetti later revisited the chapel with his family from Moena in 1960. He said;
"The chapel is yours – for you to love and preserve. I take with me to Italy the remembrance of your kindness and wonderful hospitality. . . I thank the authorities of Kirkwall, the courteous preservation committee, and all those who directly or indirectly have collaborated for the success of this work and for having given me the joy of seeing again the little chapel of Lambholm where I, in leaving, leave a part of my heart". – Domenico Chiocchetti ­ ­-11th April 1960.
Today, over 100,000 people visit the Italian Chapel every year on the Orkney Islands and it is protected by a Preservation Committee.
Regular restorations take place to preserve Chiocchetti's artwork for future generations to enjoy.
Where in Orkney is the Italian Chapel?
The Italian Chapel is located on Lamb Holm on the southern Orkney Islands in the same place that it was constructed in 1943.
A legacy of the Italian Pow's hard work to build the Churchill Barriers is that it makes it much easier to visit this small island from Mainland Orkney.
The Italian Chapel is a 20-minute drive from Burwick Port, a 15-minute drive from Kirkwall, 35 minutes from Stromness Harbour, and 45 minutes from Skara Brae.
How to visit the Italian Chapel Orkney
The Orkney Islands and Italian Chapel are not accessible by car from mainland Scotland.
You can take a CalMac Ferry from Scrabster to Stromness or you can take one of the John O' Groats ferries to Orkney.
I visited the Italian Chapel as part of my Orkney Island Maxi Day Trip from John O' Groats which was amazing. We visited many highlights of the Orkney Islands in just one day.
Click here to book your Orkney Islands Day Trip from John O' Groats!
If you're driving around the Orkney Islands, you can reach Lamb Holm easily on a short drive from Hope, Stromness, and Kirkwall. There is free parking onsite.
There is a bus service from Kirkwall Travel Centre that runs to Hope (It's actually St Margaret's Hope but locals don't call it that!). You can alight near Lamb Holm to visit the chapel.
Orkney Italian Chapel address is Lamb Holm, Orkney KW17 2SF. Click here for a Google Pin!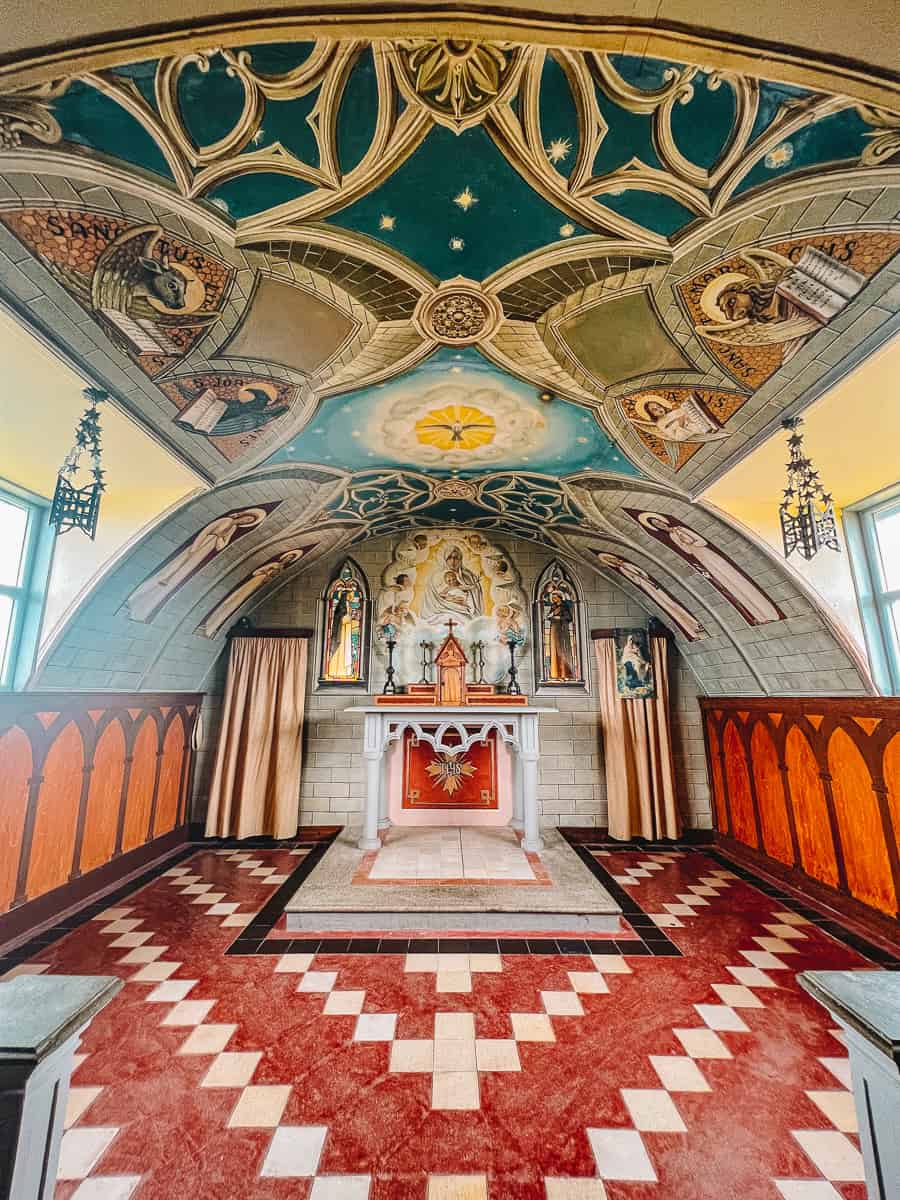 Italian Chapel ticket prices and opening times
The Italian Chapel costs £3.50 per person for those that are 12 and over. Under 12s get to go in for free. You will need to pay in the small Nessen huts outside the chapel.
You don't need to pre-book your tickets just show up and pay at the ticket desk! You can pay by contactless payments and it is preferred.
They have a small selection of gifts to buy here too and a guidebook if you were looking for a souvenir to remember your visit.
The Italian Chapel is open every day except Christmas Day and Boxing Day;
November – March – 10 am – 1 pm
April and October – 10 am – 4 pm
May and September – 9 am – 5 pm
June, July, and August 9 am – 5.30 pm
What to expect at Orkney's Italian Chapel
I wasn't sure what to expect on my visit but when the coach driver said we only had 10 minutes to go in I guessed it was a small place!
I got off the coach and paid for my ticket at the desk using my card. Then, made my way over to the chapel. There are some information boards about the story behind the chapel outside.
At the front, there is a white and red facade that covers the two Nessen huts that were connected together to build it.
As I stepped inside, I was so impressed by this tunnelled sanctuary! It's not very large but the detailed paintings, metal framework, and frescos around the altar are seriously celestial, colourful, and impressive.
Depending on when you visit and who you're with, it may be a little crowded inside. We had a coach load of us, so it was a little snug in the tunnel.
If you want empty photos of this place on a group tour my advice would be to either be at the very front of the group or wait for everyone to filter out! Just make sure to not miss your coach.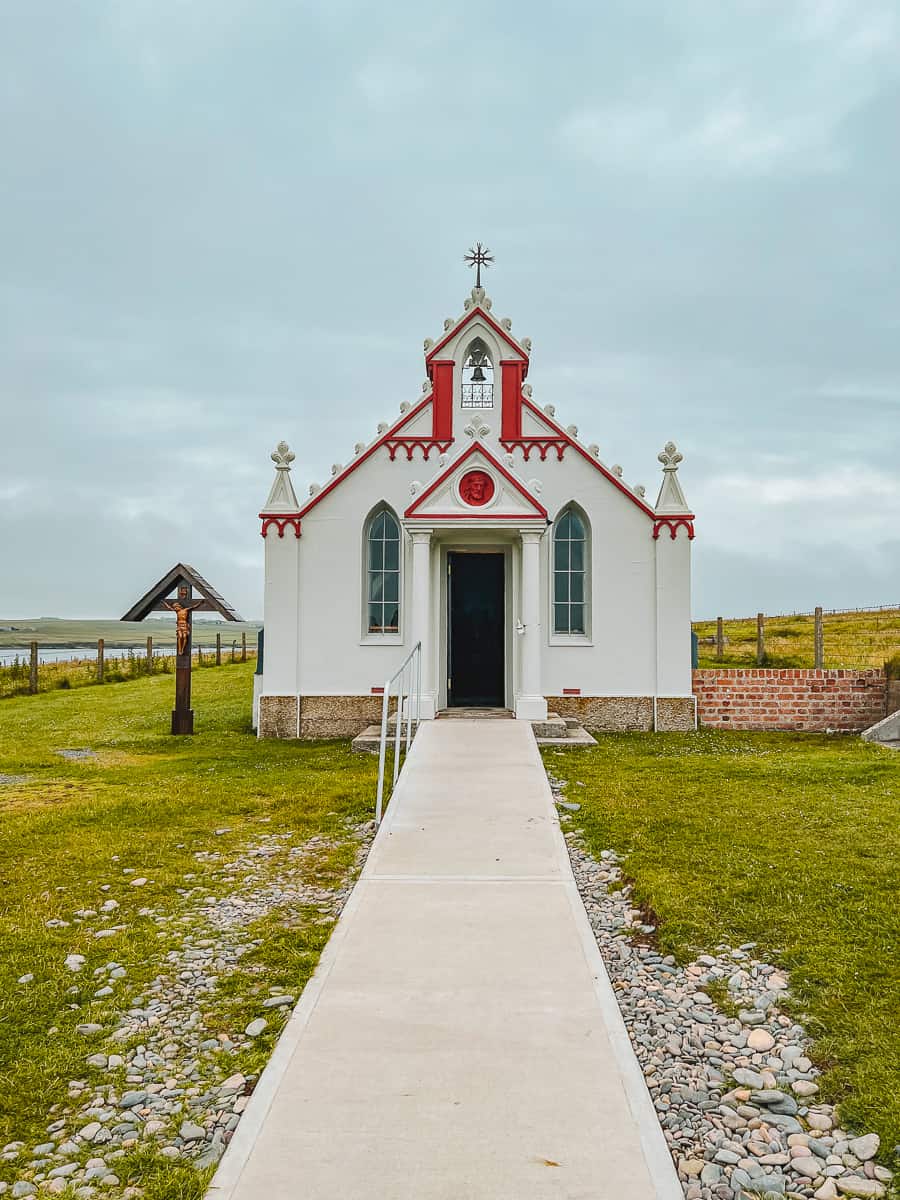 Orkney Italian Chapel heart
If you look on the floor just before the altar of the chapel between the red carpet and the flagged flooring, you'll see a small metal heart.
When the Italian POWs were here, they were not allowed to have relationships with any of the local women. But, this did happen quite a lot!
A man named Giuseppe Palumbi was allowed to travel to the Orkney mainland and he became friends with a local lady.
They often had meals together and it is thought that they became quite attached. When the time came for Palumbi to leave the island, he left a message for her in the form of a small heart. Although, it's thought that his wife back home was not impressed.
It's very easy to miss, especially if you're on a tour with lots of visitors. So, make sure to keep a look out!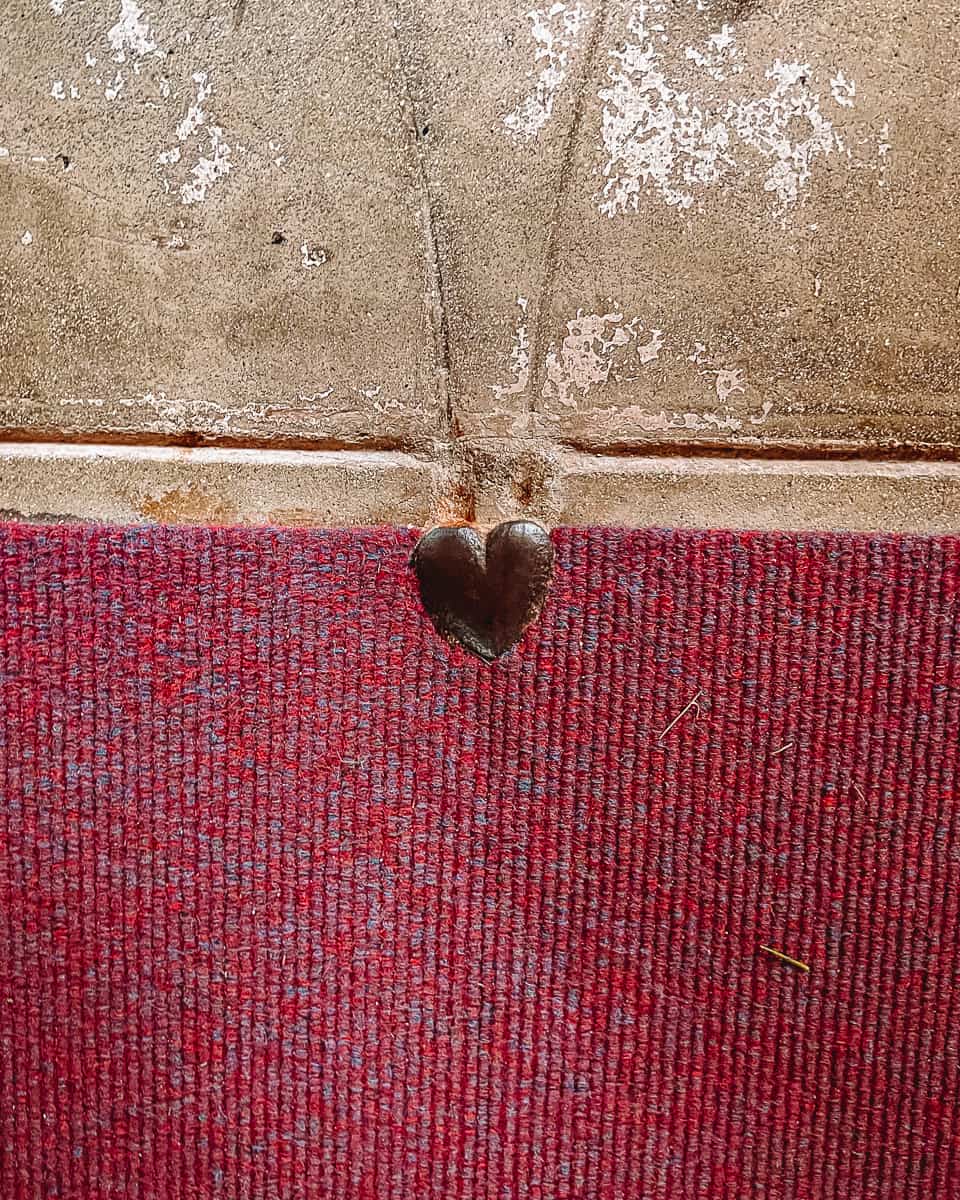 War memorial with St George Sculpture
When you leave the Italian Chapel make sure to stop by the war memorial built by Domenico Chiocchetti hidden at the back of the car park.
It's a statue surrounded by barbed wire and made of concrete that symbolises good triumphing over evil in the Great War.
On top of the memorial, you'll see St George in his armour valiantly slaying the dragon. It's packed with symbolism as St George is the patron saint of soldiers and it was designed to lift the men's spirits.
It was completed in 1943 and reads 'P di G, Italiano, Li 7-8-1943'. P di G stands for 'Prigioniero di Guerra' which in Italian means 'Prisoner of War'. Just overhead you'll see an Italian flag.
Churchill Barriers
If you look beyond the Italian Chapel towards the sea, you'll see one of the famous Churchill Barriers which were constructed by the Italian POW.
There are four causeways in total and they connect the Orkney mainland with Lamb Holm, Glimps Holm, Burray, and South Ronaldsay with a total length of 1.5 miles.
You can also visit the Italian Beach nearby which is just a short walk away next to the Orkney Wine Company.
If you want to stop to take photos, there is free parking on the side of the Orkney mainland near the Viking Totem Pole.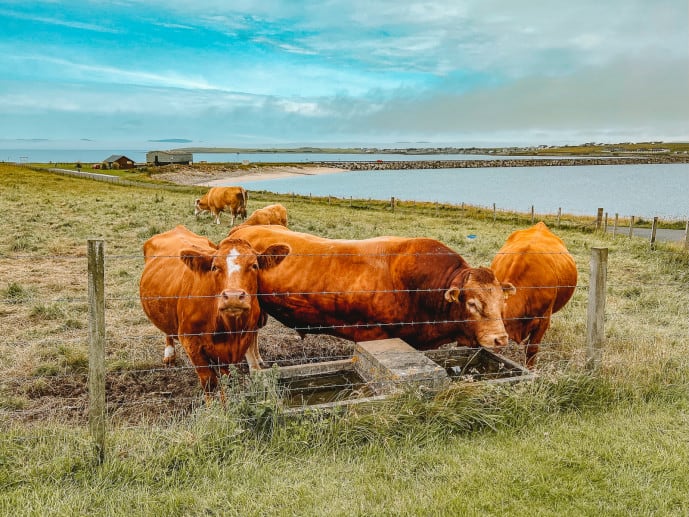 Italian Chapel Orkney FAQs
Who built the Italian Chapel? Italian POW on the Orkney Islands!
When was the Italian Chapel built? During the Second World War in 1943.
Do I need to book the Italian Chapel Orkney? No, advanced booking is not essential! You can turn up on the day and buy tickets.
Can you get married in the Italian Chapel Orkney? Yes, lots of people do and it looks magical!
Why not book an Orkney day tour from John O' Groats?
I visited the Orkney Islands on a convenient day trip from John O' Groats. It was fabulous as we got to see many of the highlights of the Orkney Islands in one day.
Only tickets to Skara Brae are included in our tour price so we did have to pay to go into the chapel but it's not a huge amount to see something beautiful.
We set sail from John O' Groats on the ferry and then boarded a luxury coach in Burwick to see the sights.
Our first stop was the Italian Chapel, then we headed over to Kirkwall which is the capital of the Orkney Islands.
We then drove to the gorgeous seaside town of Stromness and I loved seeing the shops and cute little houses with whale bones by the sea.
We also visited the most popular attraction on Orkney which is the pre-historic village of Skara Brae which is older than both Stonehenge and the Pyramids of Giza! Skaill House is a 17th-century mansion you can visit nearby.
Then, we finished our trip at the Ring of Brodgar, a Neolithic stone circle, and the ginormous Standing Stones of Stennis.
It was a great way to get a taste of the Orkney's if you're low on time in Scotland and it was fantastic value for money! I would highly recommend it.
Click here to book your Orkney Islands day trip from John O' Groats!
Read more of my Scotland articles
Where is the pink castle in Scotland?
How to visit the Kelpies in Falkirk
Edinburgh Harry Potter locations
Outlander locations you can visit in Scotland
How to visit Lallybroch from Outlander
Visiting the Fairy Pools on the Isle of Sky
Magical Kilchurn Castle viewpoint
Smoo Cave & Waterfall walk in Durness
How to get to the Balmoral Pyramid
Visiting the Corpach Shipwreck near Fort William
How to visit Dunrobin Castle – Scotland's fairytale chateau
Why you must visit Leakey's Bookshop Inverness
Save the Italian Chapel Orkney for later!