If you're heading to Jaipur to start your Rajasthan adventure, you're in for a real treat as this is where your journey into India will really begin!
My heart always gives a little flutter when I start to see the first glimpses of the pink city in Rajasthan from the train window heading out of Delhi.
Well, although it's nicknamed the pink city, it isn't really pink. The buildings are actually more of a peach or orange colour.
But, it's beautiful all the same. Jaipur is the capital of Rajasthan and it's a busy, bustling city that is spread out over the old and the new.
The old side definitely has more culture but the new also provides some of the 21st-century comforts like shopping malls, bars, and clubs etc.
It can be quite a maze finding your way around, so here is an essential first-timers Jaipur travel guide to the Pink city (which isn't pink lol).
How to reach Jaipur in Rajasthan from Delhi or otherwise
Jaipur is easily accessible in India and it's only 4 hours out of Delhi by train. The best train which I would personally recommend is the Shatabdi express which leaves early in the morning.
There are limited stops and you get fed breakfast which is great. I would personally recommend Cleartrip.com for booking train travel in India.
Read more of my Indian train travel tips here
I'm not sponsored, but I've struggled enough with the Indian rail company website to know it isn't worth the stress! Jaipur also has an international airport, so you can fly in from Delhi in 45 minutes or so.
You can also get some really great deals on flights if you book far enough in advance. I would use flight apps like Skyscanner or Kiwi.com.
If you're looking for your next destination out of Jaipur, you can head to Pushkar which is only 3 hours by bus. It's one of the few peaceful towns of Rajasthan and one of my personal faves!
How to travel around Jaipur – the best ways to see the Pink City
As a lot of attractions are spread out in Jaipur it's best to hire a Tuk-Tuk (petrol rickshaw), Tam-Tam (electric rickshaw), or Taxi for the day.
The going rate for a full day (8 hours in a Tuk or Tam) is 500 rupees. For a taxi, you'll be paying 1600 rupees.
Uber also works in Jaipur so this could be an option if you're wanting to only head to a few places.
You can load your card details and pay the metered price. This is most of the time cheaper than what Tuk-Tuks will charge!
Read my guide on how to use Uber in India here
Top Jaipur travel tips before you go
The rupee is king here and it's recommended that you get cash. Although the ATM will probably give you 2000 rupee notes it's best to change them into smaller change as soon as possible.
This will help when paying for attractions, shopping, transport etc.
Some helpful Hindi phrases
Quick Hindi 101
Hello: Namaste
How are you? Aap Kase Ho?
I'm fine: Main Thik Hun (pronounced mai-te khum)
How much?: Kit na?
Thank you: Dhanyavad
The best places to stay in Jaipur
There are hundreds of budget options to choose from in Jaipur.
Personally, I'm a fan of the little boutique Haveli's (traditional Rajasthan hotels) as I feel it just adds to the adventure of where I am!
Nearby the railway station there are a lot of midrange Havelis which will cost you around £30-40 per night.
I stayed at Umaid Bhawan in Jaipur.
If you're looking for high-end luxury, look no further than the Rambagh Palace.
It has a hefty price tag but it looks SO worth the money if you have it spare. If you'd like to just peak inside they have a good cocktail bar and restaurant to visit.
The best things to do in Jaipur
Amer Fort
The Amer Fort sits around 15 kilometres away from the main city of Jaipur, so you'll need to get a Tuk-Tuk, Tam-Tam, or Taxi here.
I would recommend starting your day off here in the morning to beat the heat and the crowds!
This fort is the most beautiful in Rajasthan and showcases some fantastic history of Maharajas of old and royal apartments.
You can also get some awesome views of Jaipur and the Nahargarh Fort as it stands so high.
A lot of people choose to ride the elephants up the hill to arrive in style and although shamefully, I have done this in the past, I would recommend that you don't.
A lot of these elephants face long-standing abuse from their owners and I felt quite uncomfortable seeing the way they were treated with bullhooks.
If you were looking for an elephant experience that is safe and kind for elephants, I would recommend Elephantastic which I will go into below.
Related post – Why you must visit Panna Meena Ka Kund stepwell nearby!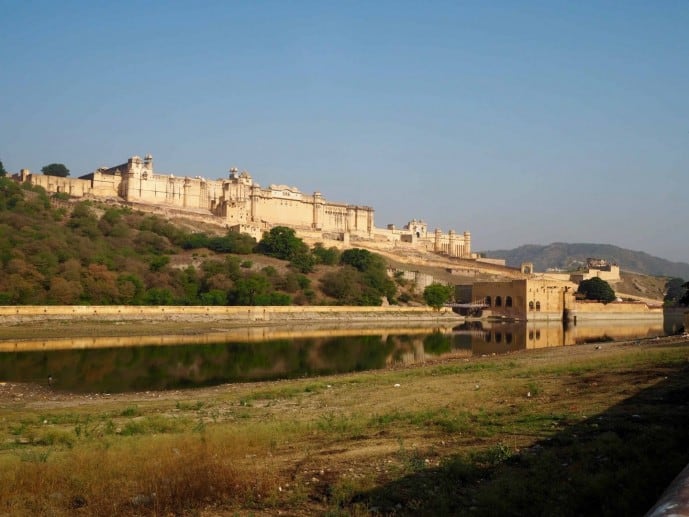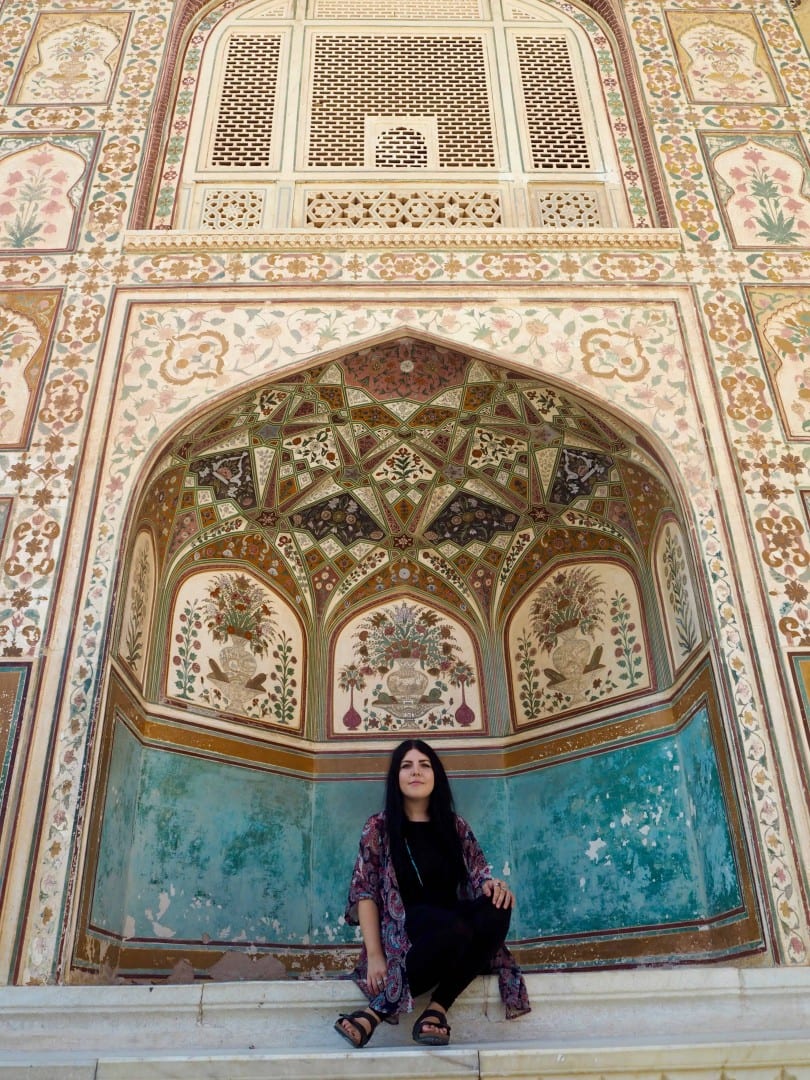 Elephantastic
Elephantastic is truly a beautiful sanctuary for our wise old friends. Rahul, the owner, used to be a rider at the Amer fort.
But, when he saw how the elephants were treated for tourism he decided to rescue them from harm and make a safe haven for them in his sanctuary.
Rahul truly cares for his elephants and ensures they are kept safe from harm, that they're well-fed, and have good medical treatment when needed.
When I booked my session, he wrote to me apologising for the fact that I wouldn't be able to wash them as it was too cold for them in winter.
This is truly a testament to the fact that it's not about making money, it's about ensuring the elephants are happy and well.
In his human-elephant interaction programme, you will meet his friendly elephants which you can hug, feed sugar cane, paint (will natural safe paints of course), wash them, ride (if you want to) and have a chat with :).
Then, depending on your package, you will meet his family and be treated to a home-cooked meal which is delicious!
It was a really touching experience and one I have cherished as a highlight of my travels in India.
For more details and for travel packages, check out his awesome website. You will receive a reply almost instantly as the service is second to none.
Jaipur City Palace
The City Palace in Jaipur is quite a basic one. It's not as grand as the one in Udaipur, but it does have some amazing architecture to marvel at.
The main thing which is quite iconic is the set of royal archway doors located in the centre.
This door is located on the cover of Lonely Planet for their Rajasthan and the north of India publication and I guess that's why people want a click there!
They have a pretty café that serves up some amazing melt-in-the-middle chocolate muffins and you can see some traditional puppet shows in peak season.
I would recommend buying a tourist ticket which includes entrance into this palace, Jantar Mantar, Albert Hall Museum, Nahargarh/Jaigarh fort, and more. It's around 1000 rupees but will save you money!
Hawa Mahal
The palace of winds is the most iconic palace in Jaipur. But, as it's on a busy road it's quite easy to miss as you whizz by in the traffic!
When you get dropped off there is a little area to observe and take photos within the market street.
Unless you want a really bad angled photo that is almost vertical, I would head across the street to observe it in the many cafés there.
The wind café serves up some good food and a banging chai. When I first got to Hawa Mahal, there was a guy snake charming and offered for me to join!
Super-tourist in action here, but it was SO fun! At one point, the snake did get a little angry and so it was time I bolted haha.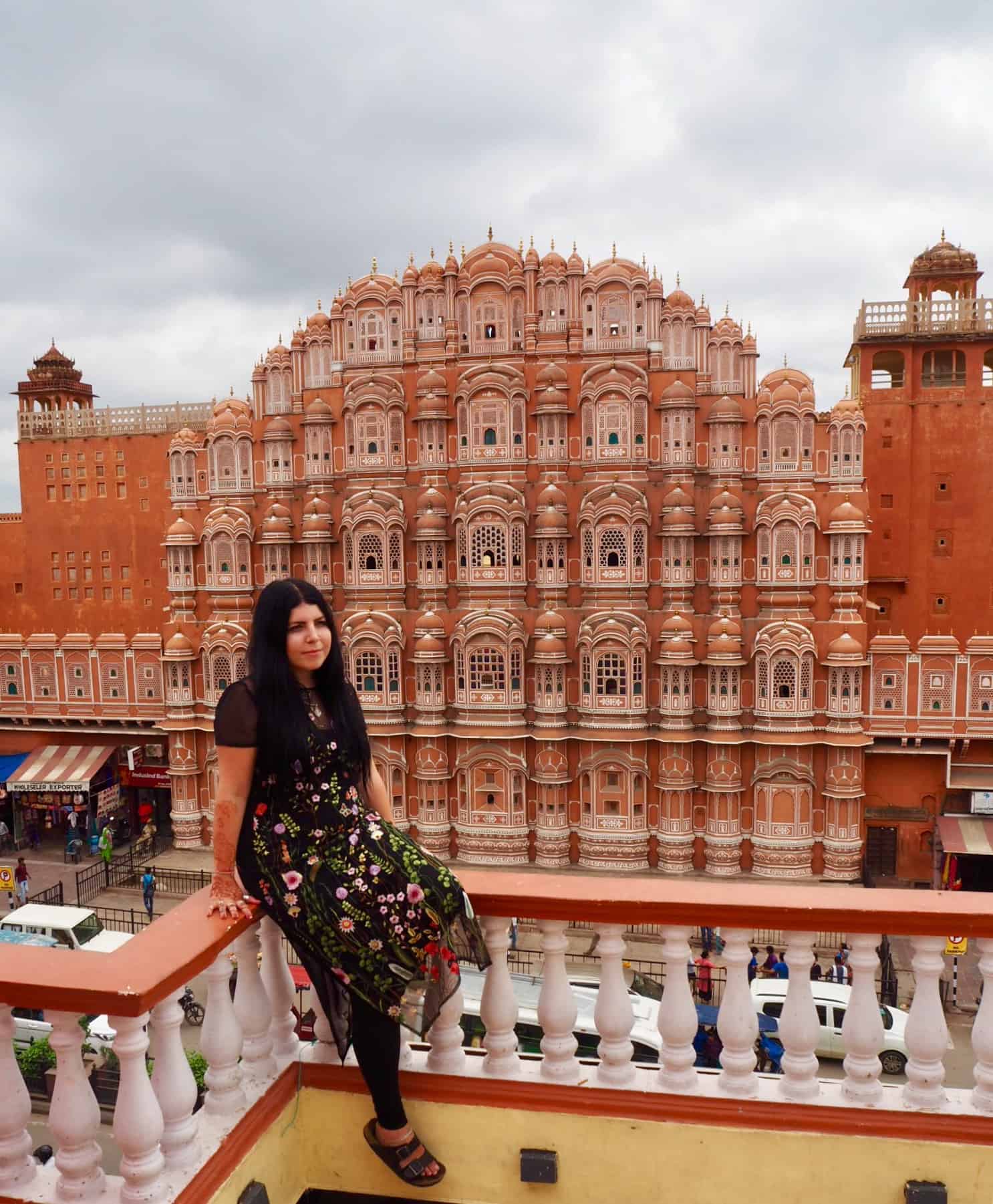 Hanuman temple | Galta Ji Temple
This temple is also known as the monkey temple in Jaipur, but I got told off calling in that.
But, most tourists know it like this due to the massive tribe of monkeys which have made the place their home!
There are two parts to this place, on the one side there's the part where you can meet the monkeys. There are so many making mischief around, so if you're afraid of getting bitten, I would avoid it.
We hired a Bandar walla (monkey guy) to take us up to the top. We bought some monkey nuts and he will teach you how to feed and touch them. At first, I kept dropping the peanuts as soon as they got near.
But, after I became a little more comfortable I let them climb on my shoulder. I did also get an offer to be trained in the art of monkey calling. Two months is all he needed and I would be set. Nice offer, but I think I'll give it a miss lol.
On the other side, is the part where there is a bathing area. One for women and one for men. I wouldn't recommend it as it's crawling with boys! The woman's area was pretty much deserted.
Nahargarh fort
There are two forts in Jaipur, the Nahargarh fort and Jaigarh fort.
Nahargarh Fort has a far more impressive view and if you're going to choose one let this be it.
There's a cute restaurant at the end of the fort which provides the view in the below photo.
I think I paid like 50 rupees to get in but I got a drinks voucher to enjoy a coke with the view.
I was actually here to celebrate my first Diwali last year and so this fort provided a birds-eye view of all the colourful lights, fireworks, and fun!
The best places to eat in Jaipur
Chokhi Dhani
This tourist attraction some would deem tacky, but I absolutely LOVED it! It's essentially a tourist cultural village, which gives you an insight into traditional Rajasthan culture.
You pay for your meal choice. You can have the traditional Indian tali non-Air Con, the Indian tali AC, and the International cuisine restaurant.
My friend and I chose the traditional A/C as we thought it would be more comfortable to eat.
A thali is essentially a tray that comes with little pots of traditional Indian foods. You'll have curries, chutneys, rice, naan bread, dessert, and even buttermilk (YUK).
You'll eat to the sound of traditional Rajasthan music which is really nice.
After, you can enjoy loads of entertainment which comes included in your ticket. Puppet shows, seeing how chapatis are made, camel rides, dancing, fortune-telling, and a cheap marketplace are all here.
You can even get some traditional henna done for free and dress up in traditional Rajasthan dress.
This photo kickstarted my trail of getting dressed up for photos on my trip to India. It's just so fun.
I would highly recommend this if you're stuck for somewhere to go in the evening, you won't regret it! For more information see their website.
Café Palladio
When I first saw this café on Instagram, I couldn't believe it was in Jaipur let alone India.
The design is flawless and the wallpaper is to die for! It looks like something out of a fairy tale. So, when I knew I was heading back to Jaipur I had to check it out.
The menu serves up international cuisine including my favourite pastry dessert Baklava!
Unfortunately, this was sold out when I got there (maybe it's seasonal) and so I just went for coffee. It actually tasted like real coffee too, which was a welcome taste from Bru (cheap Indian coffee which tastes like water haha). It was only 110 rupees too which was a bargain for the setting.
Their food menu boasts fresh salads and Italian pasta dishes which actually have authentic ingredients.
A treat for the taste buds after so much curry! See my full review on Café Palladio here.
Save this complete Jaipur travel guide for later
I absolutely love Jaipur and it's somewhere I come back to time and time again.
It's the definition of Rajasthani culture in action and it will stay with you months or even years after you've left.
If you're looking for a place to celebrate Diwali, I would recommend coming here as it's a special time to find yourself in the city.
The whole place is lit up in all different colours and beautiful fireworks. Make sure you don't miss it when you're in India.
Read more on Jaipur
If you want to read even more on Jaipur, check out some of my articles on the Pink City of Rajasthan below;
The best way to travel around Jaipur
Instagrammable places in Jaipur
A complete guide for the Patrika Gate
Why you must visit Panna Meena Ka Kund
Heading around Rajasthan? Check out these posts!
My complete guide to the Pink City of Jaipur
A photography guide for Jaipur
My top travel tips for Jaisalmer
A camel safari in the Thar desert
Why Bundi has to be on your bucket list
Top places to visit in Bikaner
Visiting the rat temple in India
Save this Jaipur travel guide for later!