The Jamaica Inn is one of my favourite pubs of all time. A mysterious smuggler's pub that stands alone, high on a windswept peak of Bodmin Moor.
The famous creaking sign sways back and forth over the cobbled patio and the warm glow of light guides you inside from the never-ending darkness of the moor.
There aren't many pubs in Cornwall that have a history and reputation like the Jamaica Inn.
Centuries ago this was a hive of smugglers, bootleggers, and wreckers. A dangerous place that the authorities wouldn't dare venture.
Thankfully today, it's a safe place to visit and they have an amazing pub, restaurant, and hotel!
Ever since I was a child I have visited this pub and still remember when they had the parrot that would speak to you when you passed by.
If you are on a road trip to Cornwall, I would highly recommend making a stop here. There are so many things to do in the Jamaica Inn and it has one of the most amazing stories to tell!
What is the Jamaica Inn Cornwall?
Jamaica Inn is a traditional inn and 'olde world' pub that sits isolated in the wild landscape of Bodmin Moor.
It used to be an old coaching inn for weary travellers and a dangerous place where smugglers would hide their contraband away from the authorities.
It became immortalised when Daphne du Maurier wrote her famous classic novel in 1936 and ever since it has inspired millions.
There have even been films made of the story by Alfred Hitchcock and TV productions by the BBC.
Today, the massive complex has a pub, restaurant, farm shop, museum, gift shop and you can even stay here in their unique accommodation!
A (really) brief history of Wreckers and Smugglers in Cornwall
So, this is probably about time I should explain what Smugglers and Wreckers were in Cornwall if you're not already aware.
Of course, smuggling in its basic definition is to bring or take something illegally. But in Cornwall smuggling was a dangerous full-time profession for some.
In the reign of both King George II and III in the 18th century, huge tax levies were introduced on imported goods.
Things like brandy, silks, tea, rum, gin, and salt for fisherman faced a levy and some had increases of 250%! These taxes were primarily to fund the crown with the various battles.
If you were rich, the tax levies were a mere inconvenience but for the poor, it meant you wouldn't survive.
So, fishermen and common labourers started to loot ships that wrecked on the shore and 'smuggle' the contraband onboard to sell on to traders in their communities.
This escalated and 'wreckers' would even entice ships to shore with a false beacon or navigation light. Once the ship came into the bay and was wrecked on the rocks, the smugglers would loot the ship and some would kill the men on board.
If you were in the illegal business of smuggling or wrecking, it was a hanging offense. So it was a dangerous game to play.
They would usually hide the contraband in caves on the shoreline or in the Cornish pubs away from the authorities.
Cornwall became known as the "haven of smugglers" and it is thought that more than half of all smuggled brandy during this time landed on its shores.
The dark history of the Jamaica Inn
There has been an inn on this part of the moor since the mid-1500s but the building today has stood here since the 1750s.
The Jamaica Inn was an old coaching inn for weary travellers who would need a place to stay on long journeys. Almost like a modern-day service station!
Some of the travellers that stopped here were less than savoury and would use the inn to hide the contraband that was looted on the shore.
At this point in time, the inn was completely isolated and there was nothing around it for 20 miles. It was the perfect hiding place!
It eventually got a reputation as a dangerous hive of criminals and the authorities wouldn't venture here as it was so exposed.
Bodmin Moor was also unknown territory and a dangerous place in itself. Many lives had been taken by people getting stuck in the bog and dying from exposure. So, it wasn't worth the risk.
A question I had for the barman was how the men were able to drag the contraband from the shore to the inn.
Well, there are thought to be over 100 secret routes that the smugglers would take from the shore over the moor.
They would drag the contraband on a wagon to the inn and stop off here to hide it. Eventually, they would move on with their goods to Devon and even London to sell them.
How did the Jamaica Inn get its name? You'd think that the Jamaica Inn got its name from all the rum that was smuggled from Jamaica. But, it was actually named after the Trelawney family. Some of their relatives served as governors of Jamaica in the 18th century.
Daphne du Maurier's Jamaica Inn
Daphne du Maurier truly immortalised the fame of the Jamaica Inn when she published her classic novel in 1936.
Her first introduction to the inn was when she and her friend got lost on the foggy moor and the lights from the inn led them to safety!
While she was here, a local captured her imagination with tales of ghosts and smuggling pirates. Later, du Maurier spent a lot of time at the inn and fell in love with it.
Her novel places a gang of smugglers at the inn that plans their seedy operations from here.
They hide their contraband from the authorities and the nail-biting story is told through the eyes of the recently orphaned Mary Yellan. She becomes embroiled in a tale of smuggling, murder, and deceit.
Her novel has inspired millions and it has sealed the fame of this legendary inn forever.
The amazing story has even been made into an Alfred Hitchcock film in 1939 and more recently a 2014 BBC TV series. Many fans visit here based on reading her book.
If you were an admirer, you can find out more about Daphne Du Maurier and her life inside the smuggler's museum here.
Is the Jamaica Inn haunted?
An inn that has been the scene of smugglers and even a mysterious murder is bound to have a few friendly spirits hanging around!
There have been reports of mutterings in strange languages, the sound of horses' hooves and stagecoach wheels with nothing to be seen, even footsteps in the creaking corridors.
At the turn of the 20th century, Jamaica Inn caused a stir in the press with a mysterious gentleman sitting outside the inn.
He didn't speak, or acknowledge anybody but looked like a missing man who was thought to be murdered here.
There are so many paranormal goings-on, the inn has been featured in Most Haunted and they regularly hold paranormal events to attend.
Having stayed here for the night myself, I didn't experience any creepy goings-on. I'm not sure if I should be disappointed or count myself lucky!
The best things to do in the Jamaica Inn
today
Today, there are SO many things to do in the Jamaica Inn, it's like a Cornish tourist attraction in itself!
From the smuggler's bar, pedlars restaurant, the museum, and gift shop – there are plenty of reasons to stop at this famous inn on your travels.
I always find that I stop here on my way home from Cornwall, it's a nice end to the trip on the border.
1. Check out the famous inn & Jamaica Inn sign!
The Jamaica Inn can be seen clearly from the A30 as you're driving out of Cornwall. It almost stands like a beacon luring you in over the moor – especially on a dark night!
The famous sign hangs nearby and can be heard creaking and flapping in the wind. The cobbled floors and stone building really paint a picture and feels like you've stepped back in time.
Outside the pub, you can still see the old oil lamp that stands outside to guide travellers inside, and apparently, it hasn't changed much since it was first built in the 18th century!
Today, there is an old rusty anchor that sits in the courtyard, with a red telephone box, letterbox, and some outside seating so you can enjoy a pint in the sunshine.
It's well worth taking a look around the building on the cobbled courtyard and getting a few photos. Don't forget to take a cheesy snap of you in the stocks ;)
2. Cross the threshold into the Smuggler's Bar
For Daphne du Maurier fans, stepping inside the Jamaica Inn is almost like a pilgrimage and can make you feel pretty starstruck. You'll be grinning from ear to ear.
Sure, Joss, Mary, Jem, and Patience aren't inside, but the building certainly makes it feel like they're waiting for you to come in!
As soon as you go to enter the Smuggler's Bar there's a sign that hangs above the door that says;
"Through these portals passed smugglers, wreckers, villains and murderers but rest easy…t'was many years ago"
Squeal, big fangirl moment here haha!
It definitely feels almost scary to enter and see what you may find. But as they say, it's a really cosy and friendly place nowadays.
3. Try their local Jamaica Inn ale at the Smuggler's Bar
The pub area of the Jamaica Inn is by far the best part. It not only has the most atmosphere but an amazing history to it as well.
Inside they have a roaring fire, old wooden seats, stained glass windows, and lots of old flagons and memorabilia on the walls.
This was the original part of the inn and you can still see the original sign that used to hang outside at the end of the bar.
The bar serves up some amazing locally brewed ale including their own Jamaica Inn ale, lager, and cider.
As you would expect they also serve up a huge selection of rums including a 'smuggler's rum' that's on popular demand.
As well as the regular pub favourites, they also serve up Poldark ale on tap – this ale is delicious and I had a fair few pints of it while staying here. I even bought some to take home!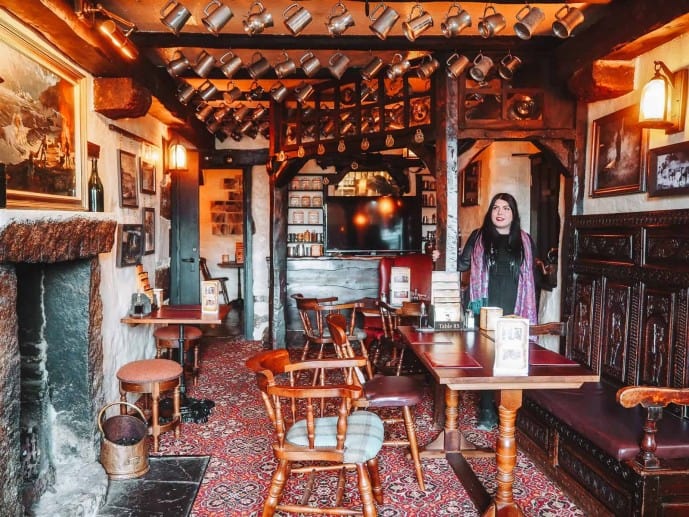 4. See the spot where Joss Merlyn was murdered
The Jamaica Inn does bring in a fair few Daphne du Maurier fans of her book and it's nice that the inn has a few bits and pieces here to celebrate the fact.
One of those is the spot where Joss Merlyn was murdered!
Of course, I don't want to give too much away about this so you'll have to read the novel for the full story. But, you can visit the very spot where it happened!
When I was a kid, before I had read the story, I thought this was the spot of an actual murder in the inn itself.
Although a murder didn't happen in this exact spot. The inn has been involved in a fair few murder cases over time.
Nearly a century ago, a man was enjoying a tankard of ale at the inn and was summoned outside. He left his half-drunk tankard on the table.
The next day, his lifeless body was found on the moor! No one knows who the murderer was to this day. They say the dead man's ghost haunts the inn and he comes back to finish his ale.
5. Take a cheesy photo at Joss's Bar
Another awesome opportunity for fans of the Jamaica Inn novel is to take some photos at Joss's bar at the back of the pub.
There's a model of Francis Davey, the vicar of Altarnun, and Mary Yellan behind the bar. You can stand with them.
They have a few props and costume pieces that you can use for photos including tankards and a sign of the Jamaica Inn!
So, don't be shy. You'll see plenty of people doing it every time you visit.
6. Have some delectable food at the Pedlars restaurant
As well as the bar, the Jamaica inn menu has food that is served from morning until late at night.
Breakfast options, lunch, afternoon teas, and wholesome pub favourites are served up at dinner time.
Although the pub area is quite cosy and small, they have a massive extension at the back. So, there's always a ton of room for large groups and parties throughout the day.
I've actually had lunch, dinner, and a coffee here on my visits and every time it's been fabulous home-cooked food and service.
They serve up food from around 7.30 am – 9 pm at night, so there's lots of time during the day to pop in for a bite to eat if you fancied it.
7. Visit the Jamaica Inn Smuggler's museum
It definitely seems fitting that the "haven of smuggling" should have a museum all about it and the smuggler's museum at Jamaica inn has one of the largest collections of smuggling artifacts in the country!
If you were curious to know more about smuggling and about how smugglers used to operate and hide contraband in Cornwall, this is the stop for you.
They used to hide illegal items in wigs, corsets, under their shoes, barrels, and even rare tortoiseshells!
There are also old wanted posters, model ships of a wrecking scene, and some items from smugglers who operate today.
I particularly enjoyed the short film explaining the history of Jamaica Inn that will go into the smuggling trade and how the inn shot to fame.
Daphne du Maurier memorial room
Fans of Daphne du Maurier's Jamaica Inn will also be fascinated by a recreation of her old room in the museum.
It was made to commemorate her death in 1989 which was a great loss felt by the local community.
Inside is a display with countless pieces of memorabilia. The highlights include her old Sheraton writing desk, typewriter, and a packet of du Maurier cigarettes named after her father.
The Smuggler's Museum is open from 8 am – 9 pm and costs £3.95 per adult and £2.95 for children to enter
8. Get some awesome souvenirs in the Jamaica Inn gift shop
Every time I have attempted to visit the gift shop, I have just missed the opening time or visited too late in the evening.
So when I finally checked in and stayed the night here I was super chuffed I was able to visit this shop and look for some souvenirs.
They had all sorts of Jamaica Inn goodies like tankards, beer glasses, mugs, magnets, and even old smuggling posters. I was 100% in my element.
But, it got even better when I found out they had a whole section dedicated to Poldark…take my money!
I am a huge fan of the BBC TV series and the smouldering Aidan Turner, so it was like a gold mine.
I quickly picked up some Poldark Ale and gin. If you visit and they're open I would definitely make a stop here for some Cornish souvenirs.
They have all sorts in this treasure trove. Even lucky pixies and pasties!
9. Buy foodie gifts in the organic farm shop
As I have gotten a little older, I have really started to appreciate taking home foodie gifts from the places I visit.
I love to vicariously travel through cooking some dishes at home that I have tried in different countries or savouring something that you can only get in one place.
The Jamaica Inn farm shop is an awesome place to pick up some locally made food products and alcohol. They have a massive stock!
From conserves, veggies, cheeses, cured meats, fruits, and ales – they have everything you could want. It's almost like a luxury supermarket.
I went to town in here and became the proud owner of a Jamaica inn jute bag. I actually still take it with me when I go shopping.
10. Enjoy the spectacular views of Bodmin Moor
As the inn is located high on Bodmin moor, there are some amazing views to be had from outside the inn.
In the summer, it's a really lovely place to sit outside with a pint or food alongside the backdrop of the hills.
Bodmin Moor is an Area of Outstanding Natural Beauty and is well worth exploring if you get the chance.
It makes the perfect road trip as there are plenty of spectacular lakes, woodland waterfalls, ancient sites, and scenic walks that you can take on this wild and mysterious landscape.
11. Attend a ghost hunting weekend or murder mystery night!
It's no secret that the inn has some paranormal activity and there have been countless ghosts heard and spotted in the inn.
They have even been featured on the popular TV series Most Haunted.
If you wanted to learn more about the spooky goings-on, you can join their Paranormal Team on a ghost hunt. Your ticket includes a 3-course dinner and discounted room rates are available.
Every month they also hold a murder mystery evening and you can figure out whodunit with the chance of winning some prizes.
The scene changes each month to places like Jamaica and India. Tickets include a 3-course meal.
12. Check into the Jamaica Inn hotel!
I have always just stopped by the Jamaica Inn on my way home from Cornwall but on the most recent visit, I decided to stay there for the evening.
It has long been a dream of mine to stay at this inn so I almost had goosebumps when I booked online.
I was actually going to be staying at the famous smugger's inn. Eek!
Although the 300-year-old building does inspire images of creaking floors and dusty rooms, The Jamaica Inn hotel rooms are actually extremely modern and luxurious.
There are 17 unique rooms that have en-suite showers and bathrooms and even some with four-poster beds!
My room was really cosy with a super soft double bed and had a fantastic view of the moor from my window. I had coffee and tea-making facilities and the bathroom was also squeaky clean.
I'm also happy to report, I didn't hear or see a ghost at all during my stay.
In the morning you'll get a fully cooked breakfast included in your room rate which was much-needed comfort food for a rainy day.
I absolutely loved my stay here – it's not every day you can say you've spent the night in a famous smuggler's pub.
Click here to book your stay at the Jamaica Inn!
Jamaica Inn opening times
The Jamaica Inn is open every day from 7.30 am for breakfast at their Smuggler's Bar and the pub then closes around midnight!
Food is served throughout the day and last orders for the kitchen are around 9 pm or just before.
The museum is open from 8 am – 9 pm throughout the year and the gift and farm shop is open at varying times. Usually, these open at 9/10 am and shut around 4 pm/5 pm.
Where in Cornwall is the Jamaica Inn?
The Jamaica Inn is located high on Bodmin Moor just off the A30 between Launceston and Bodmin.
It's a famous tourist attraction so you'll see plenty of brown tourist signs as you're driving in and out of Cornwall.
It's located in a place called Bolventor, a small hamlet that sits inside the wider Altarnun civil parish.
Nowadays, as well as the Jamaica Inn, there is a small housing estate and a church too.
How to get to the Jamaica Inn
It's definitely easiest if you have your own car to access the Jamaica Inn in Bolventor.
It's located off the main A30 road heading in and out of Cornwall. The postcode is PL15 7FP for SatNav's or use the coordinates 50.5622° North by 4.5668° West.
As soon as you arrive there is a large FREE car park for you to pull into.
The Jamaica Inn is located around;
10 miles from Launceston
10 miles from Liskeard
15 miles from Bodmin
15 miles from Tintagel
25 miles from Newquay
25 miles from Fowey
30 miles from Plymouth.
60 miles from Land's End
Is there a bus to Jamaica Inn?
Yes, there is a bus service that can drop you off opposite the Inn in Bolventor from the nearby town of Bodmin.
The bus service 176 heads out from Mount Folly in Bodmin and drives straight to Bolventor. It drops you off opposite the inn – the journey takes 20 minutes.
Bodmin Parkway is the nearest train station and you can get the train there from the main cities like Plymouth. You can then connect with the bus service to Bolventor.
Some Quick FAQs
How old is the Jamaica Inn? It was built in 1750 so just over 270 years old!
Who owns the Jamaica Inn? Allen Jackson, it was once owned by the novelist Alistair McLean.
Why is the Jamaica Inn famous? It used to be a notorious smuggler's bar in Cornwall and Daphne du Maurier featured it in her world famous novel! Now, thousands visit every year.
Is Jamaica Inn a true history? Daphne du Maurier's book and characters are a work of fiction. But, it is based on the REAL smuggler's history that surrounded the inn. Smugglers would indeed hide illegal contraband on the premises.
Can you stay at Jamaica Inn? YES! It has 17 cosy and unique rooms to check into. It's also really reasonable rates, click here to book.
Is Jamaica Inn dog friendly? Yes, I saw lots of dogs in here on leads and there is doggy bowls with water. They can even get a doggy treat at the bar. You can also request dog friendly accommodation and they can go inside the museum.
Looking for more places to visit on Bodmin Moor?
Although Bodmin Moor used to be quite a scary place that many would avoid years ago. Today, it's a gorgeous area that is perfect for a day out.
There are plenty of scenic walks that take you across the moor, or you can take a road trip and stop off at the many beauty spots along the way.
Just nearby is the beautiful Colliford Lake or you can stop by Golitha Falls which is a beautiful waterfall cascade hidden in fairytale woodland.
Stop by the famous Hurlers Stone Circles near Minions which is an ancient ceremonial site or hike up to Stowes Pound to see the bizarre-looking Cheesewring standing stones.
Trevethy Quoit and King Doniert's Stone are also great ancient places to visit if you're a fan of history. Plus, there are the Trippet stones, the Stannon stone circle, and the Stripple stones.
If you're looking for more Bodmin Moor walks, popular routes are Showery Tor, Alex Tor, Rough Tor, Hawks Tor, and Brown Willy.
Click here to read my complete Bodmin Moor travel guide with more amazing places to visit!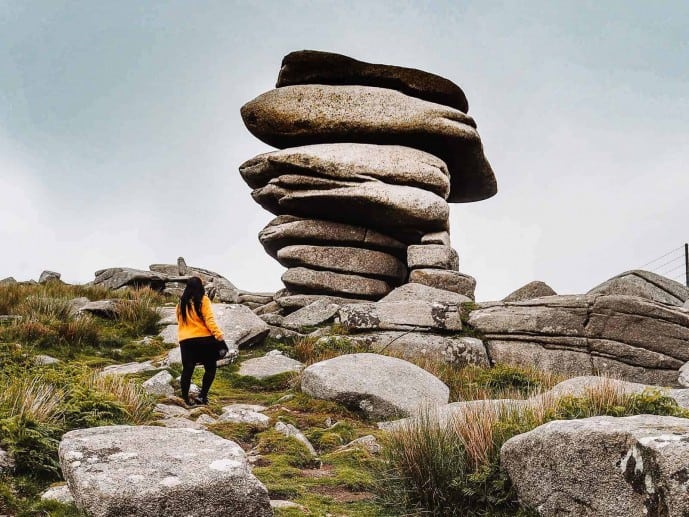 Read more of my Cornwall guides
St Aubyn Estates Cottages review
How to visit Tregothnan Estate in Cornwall
Things to do in Mousehole Cornwall
How to visit St Michael's Mount in Cornwall
Things to do in Charlestown Cornwall
The Museum of Witchcraft in Boscastle
How to visit the Lost Gardens of Heligan
A complete guide to Porthgwarra Cove
Why you must visit Minack Theatre
Secrets of the Admiral Benbow Inn
Where is Driftmark filmed in House of the Dragon
How to visit Holywell Bay from House of the Dragon
Magical things to do in Kynance Cove
Save these Things to Do at the Jamaica Inn for later!