You may have heard of the blue pearl Chefchaouen in Morocco, but have you heard of the Blue City of Jodhpur in India? It's a city you cannot miss while you're here.
A little bit underrated, it's a bit of an injustice to skip this beauty out when travelling through Rajasthan.
It's simply an awesome place to visit and you won't regret spending a day or two exploring.
Of course, the main attraction and what peaks curiosity for tourists is the fabulous 'blue city' which includes hundreds of blue-painted houses spread all over the place.
I mean, who doesn't love the sound of an ancient blue city in the middle of the desert?!
Beyond this, there is also a load of cool things to do in Jodhpur being the very definition of traditional Rajasthani culture, you'll definitely have an adventure exploring this ancient gem.
Here's the ultimate guide to the Blue City of Jodhpur in India!
How to reach the Blue City of Jodhpur?
The Blue City of Jodhpur is slap bang in the middle of the 'golden triangle' route. You can easily access it by train or bus from Jaipur, Udaipur, or Ajmer.
There is also a domestic airport here which has daily flights from Delhi if you can't face the length of travel.
Personally, I decided to reach Jodhpur from Ajmer after visiting the holy city of Pushkar by the local bus.
It was only a 5 hour or so ride but I often question whether the cheap price tag is worth it going local.
It was 150 rupees one way but it was also hot, stuffy, dusty, claustrophobic, and all-around crazy.
The drivers are a little sketchy and if you're at the back prepare to be airborne if you go over speed bumps!
I've given up on trains as I hate the waitlist, they're pricey for AC carriages and buses are so much more convenient.
I'm rubbish at planning ahead when I travel so last-minute bus bookings are life.
From here, you can head to Jaiselmer for the camel safari experience or head to Udaipur the romantic city of lakes.
I got a government AC bus to Udaipur for 450 rupees and it was only a 5 hours journey – it beat the grim local bus for sure!
Where to stay in the Blue City of Jodhpur: RAAS
Although it has a hefty price tag this is a beautiful hotel located within the walled blue city of Jodhpur itself.
With cascading waterfalls and a pool that has a view of the fort, it's an oasis of calm amongst the chaos outside.
My deluxe suite had a huge bathtub and a private garden I could relax in. My own personal garden!
I'm from a country town and so having a bit of greenery was fantastic and a taste of home in the dusty desert.
It also had a sun lounger which was perfect to bask in the sun.
The cherry on the cake here is that they have a panoramic rooftop bar that overlooks the fort.
So you can have cocktails by candlelight in the evening. Truly spectacular!
Of course, you can just come for dinner and drinks if you're not a guest – reservations are recommended!
Want to stay at RAAS? For available dates and rates see here.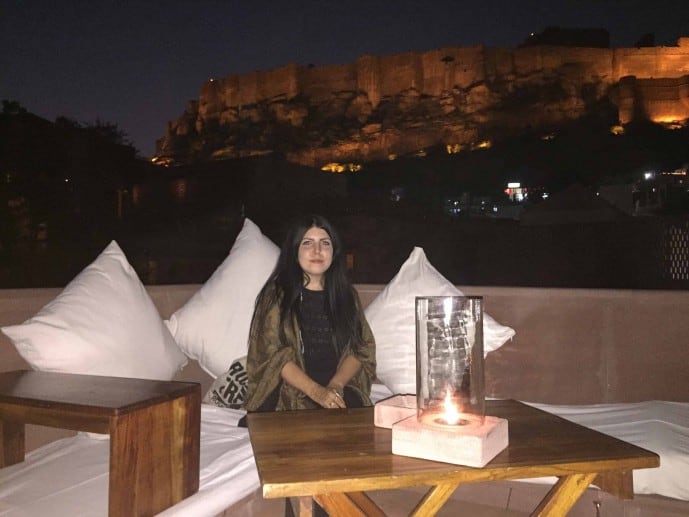 Amazing things to do in the blue city of Jodhpur
Although there isn't a ton of attractions in the blue city of Jodhpur like the neighbouring cities, it's actually nice just to be able to relax and explore a few places each day.
If you were to stretch it and you're willing to sacrifice a few bits; you could even cover the blue city of India in just one day!
Then you can be off to your next destination double-quick.
Mehrangarh Fort
Of course, the showcase attraction which you can see above from all over the city is the must-see Mehrangarh fort.
You're probably thinking 'oh no, not another fort! I've seen so many already!' But, I promise this one trumps them all with the birds-eye view of blue!
You can pay to go into the museum which is 600 rupees per foreigner, if you're taking photos you'll get a photo charge of 150 rupees and you get a little tag to put on your camera.
I usually just sneak mine in but security was checking so I had to pay (boo).
The museum is just okay (nothing to write home about) and in winter it's packed with tour groups so go early if you want to beat the crowds and guided tours.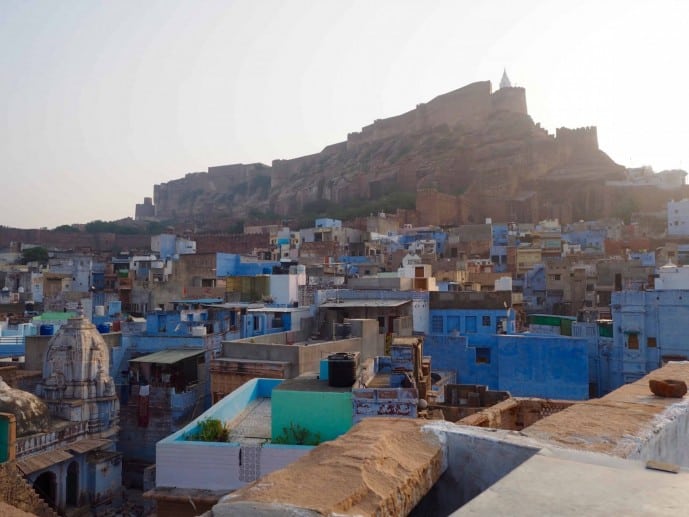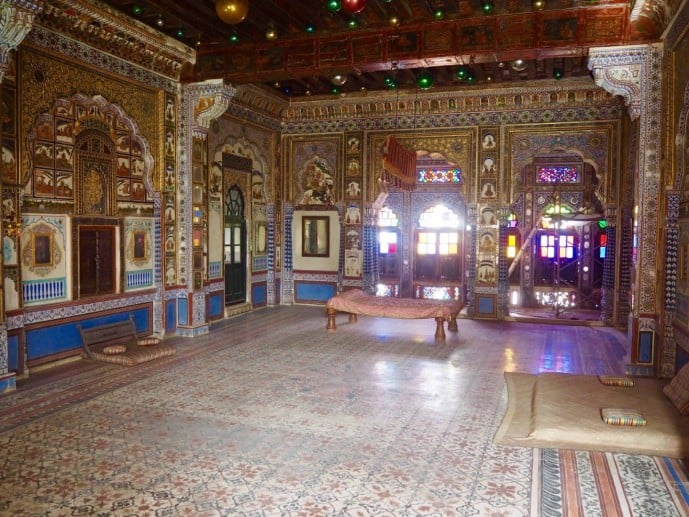 The best views are actually behind the temple within the fort itself.
If you walk past the cannons, you can head down to the spot which is perfect for aerial photos.
Supposedly, you don't need to pay to go to this side of the fort but as I'm a westerner I didn't want to risk it.
From the windows of the fort walls, you get the perfect picture of the blue city.
Explore the main part of the blue city of Jodhpur
At the bottom surrounding the fort is the blue city of Jodhpur all us tourists want photos of.
Although there are blue houses all over Jodhpur, there's a section which is just wall to wall sky blue!
It's a bit weird wandering around here as it feels like you're heading into dodgy alleyways plus there are dogs everywhere guarding houses.
But, it's worth it for the old city scenes and relatively I felt safe.
Be careful of the street kids, they seemed to follow me everywhere asking for 'photo, photo' and 'foreign currency'! They were running after me, pulling my hair and I had one kid touch my butt.
Now, I'm not talking a light tap or slap- I'm talking a finger in my crack. Yup, you read that right. Of course, I instantly shouted at him and he ran at the speed of light. I mean, ew!!
Maybe he was dared by his friends, who knows. I was taken aback for sure. If they bother you, get your phone and pretend you're calling the police. They soon run a mile!
To get the photos below, I actually had my Tuk-Tuk driver show me the view from the roof of his friend's house!
A little kid wanted a small tip but it was worth it for the shot.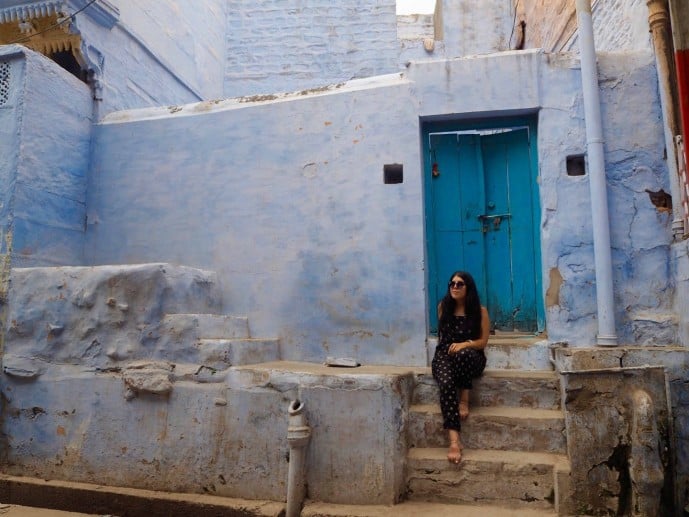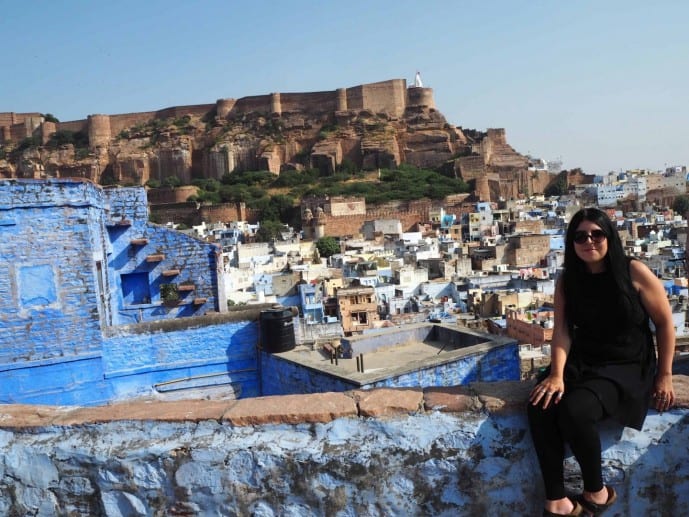 Jaswant Thada
Around a kilometre away from the fort is the royal cemetery of kings.
It's built-in beautiful white marble and the Indian artwork will blow you away.
Constructed in 1899, the cenotaph was built to commemorate the Maharaja (king) Jaswant Singh II.
It's worth bringing your camera as the views from here are breathtaking of the fort and beyond.
Umaid Bhawan palace
This living palace is 20% residence of Jodhpur royalty, 10% a museum, and 70% a 5* luxury hotel.
If you want to stay here you'll be burning a hole in your wallet! It's owned by the Taj group who are kingpins of 5* luxury and have transformed old palaces into affordable holiday retreats.
That means you can live like a queen for a night or two! I even called to ask how much it would be to look inside or have tea but the minimum spend was £50!
It's strictly blocked off for guests and you'll hear the fanfare as those moneybags arrive in the reception.
Us regular folk can visit the museum for a measly 100 rupees to take a peek at the fantastic building.
It will explain all about the palace, the royal family and a little history.
Designed by an English architect from London in the 1920s, the architecture is definitely worth a see.
It's located above a swanky rich neighbourhood and my driver was telling me it costs millions of rupees to get a house there!
Want to stay at Umaid Bhawan Palace? Check available dates and rates here.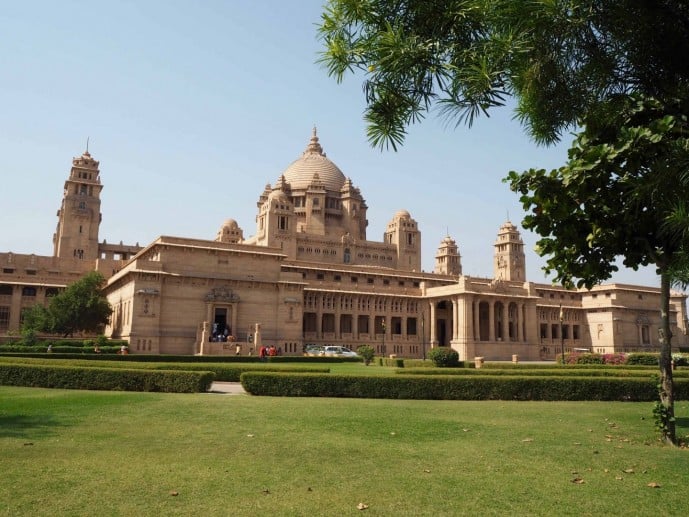 Clocktower Bazaar
The clocktower is a great place to shop the marketplace is a stall to stall souvenir heaven. Wall hangings, duvet covers, and pashminas from all over are sold here.
A lot of the shops, like the Student Shop, export their wares to designers from all over the world like Armani and Louis Vitton.
He'll tell you the export price and then tell you theirs which is of course, much lower.
They've also designed for celebrities like Mick Jagger who bought wholesale and the guy even showed me the newspaper article clippings to prove it!
It's funny to think that people spend thousands back home in the west on these items, but they probably have no idea where they came from.
Some little old lady is making blankets in a little village in Rajasthan and probably won't see a fraction of what these designers are selling it for!
The Step Well (Toorji Ka Jhalara)
If you missed the famous royal step wells of Rajasthan, this is the perfect opportunity to visit one.
It's completely free and you can make your descent down the labyrinth of stairs and you can see the murky waters below. Watch your step and be careful!
There are actually some really cool bars, cafés, and shops including the stepwell café and a rooftop restaurant at Hotel Haveli around here. Be sure to poke your nose around.
Where to eat in the blue city of Jodhpur!
I would personally always pick one of the many restaurants that have a rooftop overlooking the fort while you're eating.
Be aware that in the off-season (April-October) a lot of the rooftops will not be open at lunchtime.
At night, however, you will be rewarded by a magnificent view of the fort which is dramatically lit up against the night sky.
Pretty much all restaurants have a decent view of Mehrangarh and a varied food menu but here are some of the best.
Indique
Indique has 5* cuisine at a mid-range price tag. Located above Pal Haveli opposite the clock tower bazaar, they serve a whole range of Indian and international dishes in veg or non-veg.
They also have a fantastic list of their very own cocktails. I always go back to places that give me great service and it's second to none in here.
I've always dined solo and felt totally relaxed with the staff who are friendly and curious to know you.
In peak season this place is pretty much packed out every night so make sure you call Pal Haveli to make a booking the night before.
You can risk it But you'll be waiting for a good hour or so.
They'll make you sign their cute little welcome book for feedback, pretty much all of it was comments of praise.
It just goes to show it's an awesome place to eat in Jodhpur.
Ravla Rooftop
A budget range restaurant with a great sense of character and soul, Ravla packs a punch with flavoursome dishes that won't hurt your wallet.
It's mainly Indian cuisine and again, you have incredible views while you dine.
Most of the time when I'm travelling I have Indian veg dishes as they are cheapest and in here it's delicious. They even gave me a free chai – legends!
Are you heading elsewhere around Rajasthan?
I've travelled extensively around Rajasthan in India and I've written up some of my experiences in my detailed travel guides.
Make sure you take a look for more travel inspiration in Rajasthan;
My complete guide to the Pink City of Jaipur
A photography guide for Jaipur
My top travel tips for Jaisalmer
A camel safari in the Thar desert
Why Bundi has to be on your bucket list
Top places to visit in Bikaner
Visiting the rat temple in India