Manali is the perfect location in Himachal Pradesh for some scenic hikes and trekking. You'll be walking in amongst lush forests, over babbling streams with mountains all around you!
However, if you're on a tight time frame, you may find that a 2/3 day hike is not possible on your itinerary.
But, don't fret. There are many really lovely short treks you can do around Manali as well. One of those is the Jogini Falls Trek.
This easy hike from Vashisht will lead you to one of the best waterfalls in the area and, from here, you can get some incredible views as well.
A lot of companies seem to advertise that you need to pay to go on this trek with a guide. But, it's easy to go self-guided as well and it won't cost you a penny.
Here is my complete Jogini Falls Manali Trek guide with detailed directions and everything you need to know before you go!
What is Jogini Falls?
The Jogini Waterfall is a 160-foot cascade that crashes over the mountains and into the Beas River and Kullu Valley below.
It's located near Vashisht village in Manali and the waterfall gets its name from the village goddess known as Jogini.
The area, river, and forest around the waterfall are seen as sacred due to it being a place where one of the Shakti Peethas fell. Making it a place of Feminine Power.
If you're unfamiliar with Shakti Peethas, they are considered holy places to Hindus.
According to sacred Hindu texts, a Shakti Peetha is a place where Lord Shiva's Wife's body fell. She was called Sati and, when she died, Shiva could not stop mourning her.
He carried her body around endlessly and started to perform his 'Rudra Tandava' or dance of destruction. He was causing havoc in the process and threatened to destroy the Earth.
Knowing full well that Shiva could not be tamed while he had Sati, Vishnu decided to cut her body up into 51 pieces and they fell across India. Now, there are temples dedicated to each place where Sati's body parts fell.
In Vashisht and the Jogini falls, the goddess is said to reside in the waters of this waterfall. So, it's important to respect the area surrounding it on your visit.
A very basic description. But, if you wanted to learn more, you can read my Kamakhya Temple guide. It's for Guwahati. I've actually been to 10 of these Shakti Peetha temples now!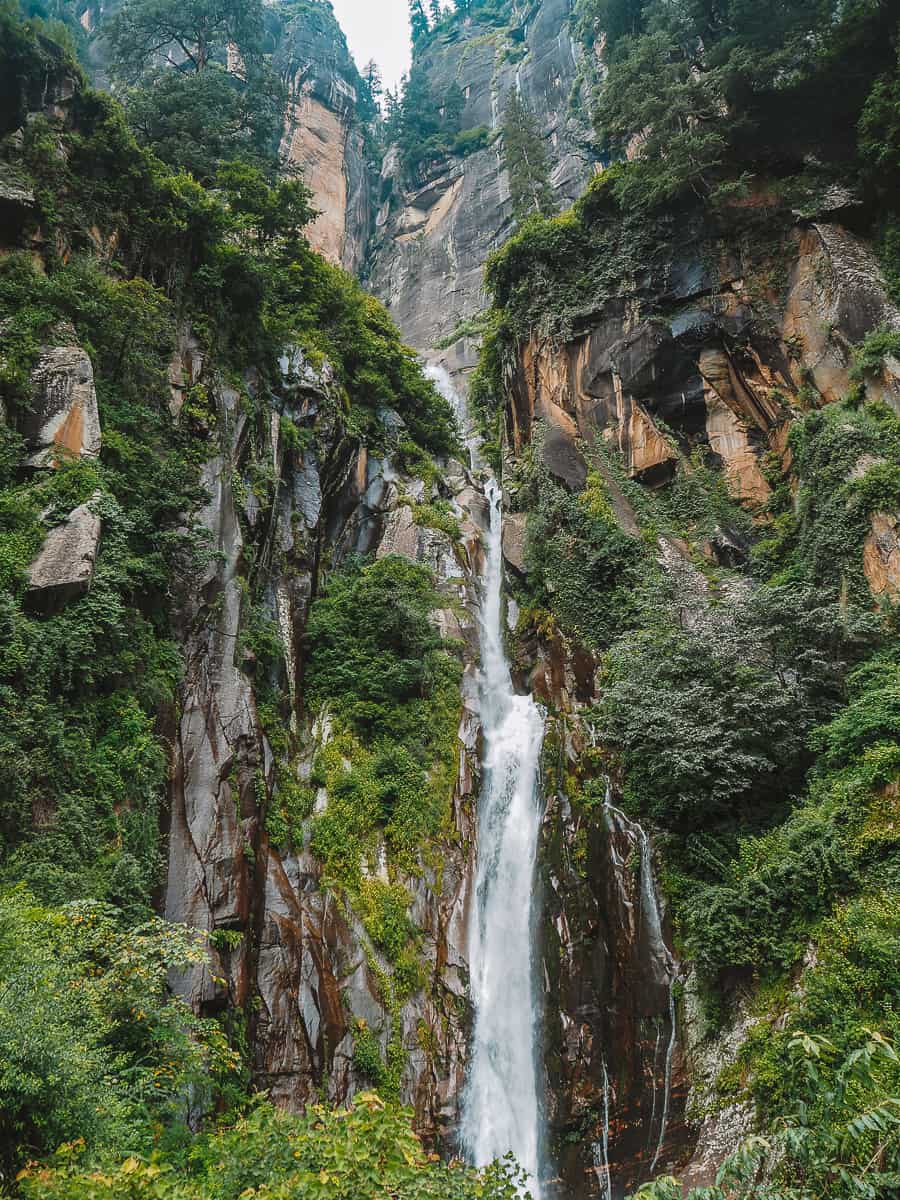 Where is the Jogini Falls in Manali & how to visit?
Although many people advertise this waterfall as being in Manali, it's actually accessible around 4 kilometres away from New Manali in the village of Vashisht (Bashisht).
There is no short way to access Jogini Falls by car or by rickshaw. You can only access the waterfall by taking a trek.
From New Manali, you'll need to trek around 4 kilometres to access the start of the Jogini Falls trail in Vashisht village.
So, if you wanted to save some energy you could take a car or rickshaw to Vashisht temple. From there, you can start your hike.
From Vashisht Temple, the trek to Jogini Falls is around 3 kilometres through a forest trail. But, it's not a flat path and does have some steep hills and steps in order to access it.
How long does the Jogini Waterfall trek take?
This completely depends on where you start from, your levels of fitness, and whether you want to take breaks or not. You'll also need to schedule in time to relax at the waterfall, if you want to go swimming, take photos etc.
If you're starting your trek from the Old/New Manali area, it will be around 6/7 kilometres one way (14 kilometres total). So, the walk and visit will take you around 3-6 hours.
If you start off your trek in Vashisht, it will be a lot shorter at 3 kilometres one way (6 kilometres in total). You'll probably save yourself an hour or so. So, I'd factor in around 2-4 hours from Vashisht itself.
Again, it depends on a variety of factors like if it's been raining making the path muddy, whether you choose to stop for chai, how long you decide to stay at Jogini falls etc.
But, I'd definitely plan at least a half-day out of your Manali itinerary to complete this walk. Don't leave it too late in the afternoon as you don't want to be out here trekking in the dark.
As we had just got off our overnight bus, we decided to hit the ground running and go out straight away for this trek. Ha, that was a huge mistake!
So, as we were tired, we took our time getting there over a few hours. But, I didn't mind as the views were incredible anyway.
We also spent way more time than we anticipated at the falls just relaxing and dipping our toes in the water. As well as drinking a steaming hot cup of chai in the treehouses on the way back. It was a lot nicer to go slower and take it all in.
What is the best time to visit?
Like most of India, Manali in Himachal Pradesh is a seasonal town. Winters can see it completely snowed under with no transport to access it!
Most attractions and restaurants open from around April – September. So, if you did want to visit Manali, I'd plan to travel around the Summer/early monsoon season.
But, saying that, Jogini Falls isn't a paid-for hike or attraction. There is no entrance fee. It's open 24 hours a day, 7 days a week, all year. There are no restrictions on when you visit.
The best months to visit Manali are in India's summer season around April – June. This is when there is less chance of rain and landfalls. The temperatures are cooler and paths won't be as muddy.
By June – September, Manali does see a lot of rainfall. It gets quite muggy and, if there have been heavy rains, the pathways here could be pretty mucky. So prepare with waterproofs.
If you did visit in the offseason, you can still go on this trek but it will be riskier as it's icy. However, I've heard that the Jogini falls freeze into ice and it's magical!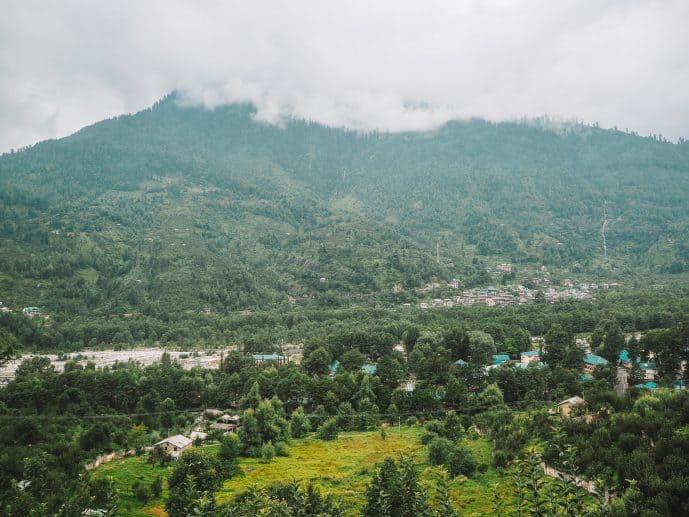 Does it cost money to visit & can you go self-guided?
No, the Jogini Falls trek is completely FREE to go on and you don't need to go with a guide either.
A lot of companies will advertise this trek as a tour in a package in order to make money. They will make it seem like you can't go alone. But, this is not true at all.
It's completely possible to visit Jogini Waterfall self-guided.
Although there aren't any signs on the trail to guide your way to these falls, it's really easy to follow the single-track trail through the sanctuary forest.
There is even a Google Map pin for it, so you could download an offline map on Maps.Me if you have no signal or data.
To help you out, I'm going to give you some detailed directions below.
Things to prepare for your Jogini Falls Trek
Before you go on the trek, there are a few things you should prepare;
Walking shoes – I wouldn't say you need proper walking boots to do this trek but a good pair of shoes like trainers is easier. I wore my sandals and it was a stupid idea. It made walking up and down the steep hills that much harder and I kept slipping!
Waterproofs – I usually don't wear overalls or waterproofs in India as I find it too muggy. But, it's a good idea to have a waterproof backpack for your valuables and electronics in monsoon. You can get soaked.
Offline Map / Maps – I didn't have any sort of map or directions as I asked locals on the way. But, you could easily download an offline map to help out if you were afraid of getting lost.
Water – Always take water with you. Whether you choose to buy some in Vashisht or take your own reusable bottle. Although the water from the falls is fresh and you could refill your water bottle with it, I don't recommend drinking it. If you're not used to the local water, it could make you seriously ill. That is unless you have something like purifying powder to clean it with.
Snacks – There are plenty of cafés and chai stalls on the way. They sell chai, coffee, water and some fizzy drinks. They even have some snacks available like biscuits and instant Maggi noodles. But, if you want food at Jogini falls, there are no facilities. So, stock up for a picnic.
Please: if you take food in plastic bags and wrappers or buy single-use bottles, remember to take your trash with you to dispose of it later.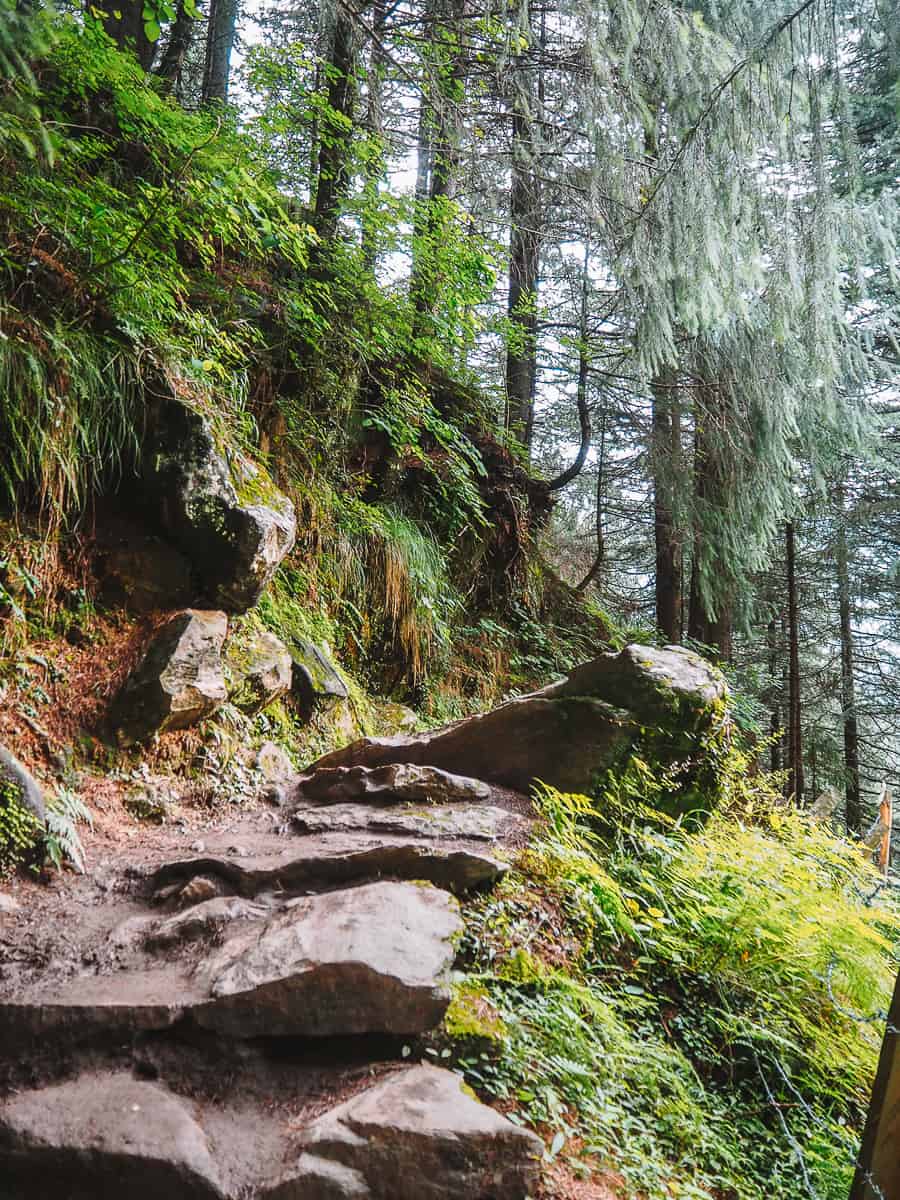 Detailed Jogini Waterfall Trek directions
There are a few ways to access the trail for the waterfall but the easiest way is to firstly access the small village of Vashisht and start from there;
1. Navigate over to Vashisht village
If you want to access Vashisht in Manali, you can easily walk from either Old Manali or New Manali in around an hour (4km).
Vashisht is actually much cheaper for accommodation and food. So, if you were on a shoestring budget, you could base yourself here for trekking!
This used to be the main place to stay for hippie travellers before Old Manali. This is because it's much more peaceful with less traffic and bother.
If you're based in New Manali or Old Manali and didn't fancy walking, you can easily grab a rickshaw to Vashisht for around 100 rupees.
I wouldn't blame you as it's best to save your energy for the hike!
2. Locate Vashisht Temple
So, once you've arrived in Vashisht town, you'll need to make your way over to Vashisht Temple.
It's a tiny place, so you're not likely to get lost. But, if you find yourself stuck, ask a local to direct you to the main temple here.
This temple is actually really pretty, intricately carved out of wood, and worth a look in. Like all temples in India remember to take off your shoes and make sure you're appropriately dressed.
Vashisht temple is also famous for its 'hot springs' nearby that apparently have healing properties.
We were tempted to look for it but, for me, I've always been a little disappointed with these 'hot spring' type attractions. They always sound more magical than reality.
For one, women can't really swim in there without being fully clothed meanwhile boys can swim around almost naked in their boxers. Yes, I know it's the culture but it doesn't half annoy me sometimes.
Also, there's rarely ever any 'hot' water involved in these natural hot springs But, you're welcome to try! Anyway, I digress, that's a post for another day.
Once you find the Vashisht Temple, follow the trail behind it to access the Jogini Falls walking trail!
3. Start the trek towards Jogini Mata Temple through the Sanctuary Forest
You'll instantly be relieved as soon as you walk out of Vashisht Town. Although it is quieter than that of Manali, it's still not immune to traffic and noise.
Once you're out in nature, you'll love the feeling of hearing nothing. Just peace and quiet!
It's a single-track path really the whole way and nearer the start/end of the trek, you'll find many cafés and stalls on the path. You could stop here to buy snacks or have a warm chai (more on that later)!
After you walk past the majority of the cafés, you'll end up entering amazing apple orchards, rolling rivers, and bridges over babbling brooks! It's extremely scenic.
Eventually, the trail will lead you inside a dense Sanctuary forest. These are sacred grounds that are part of the Jogini Temple.
Many villagers come here to meditate, pray and leave offerings for the goddess. You may even find locals sleeping overnight, places where food has been prepared, or small offerings.
There are signs to tell you but it's important to remain quiet through this forest out of respect. Lots of people come here for healing and don't want to be disturbed from their peace.
Not that many people seem to heed this notice. But, I always believe it does no harm to respect the rules.
Once you've come out of the forest, this is when you'll see the Jogini Mata Temple with another more modern shrine nearby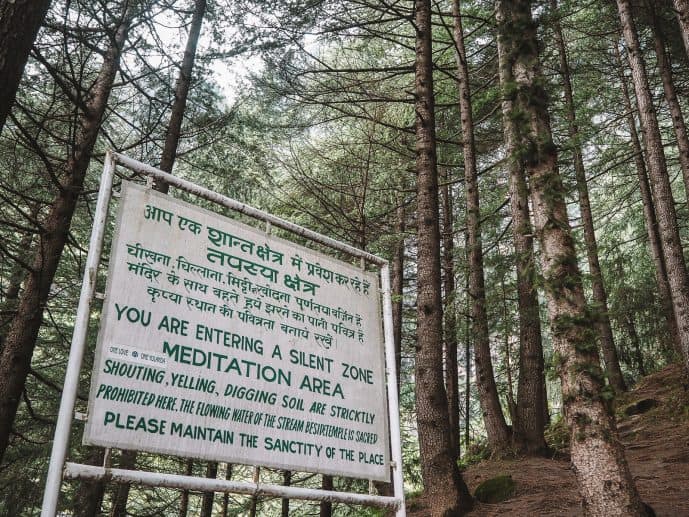 4. Walk passed the Jogini Mata Temple and you've made it!
From what I could see, this temple is not a place where tourists can visit. But, it is still nice to stop and have a quick peek from the outside.
Just beyond the outskirts of the temple area is the bottom of the Jogini Waterfall!
From here, you can access the Beas River and a small pool at the bottom where lots of people cool off and dip their feet. Lots of people also go swimming in the pool as well.
You can chill out here and relax at the bottom of the falls, even pull out a picnic by the water if you wanted to.
But, you can barely see the waterfall cascade from the bottom. So, if you wanted to get a closer look at the waterfall in the mountains. I'd recommend hiking up the steep hillside to the upper viewpoint.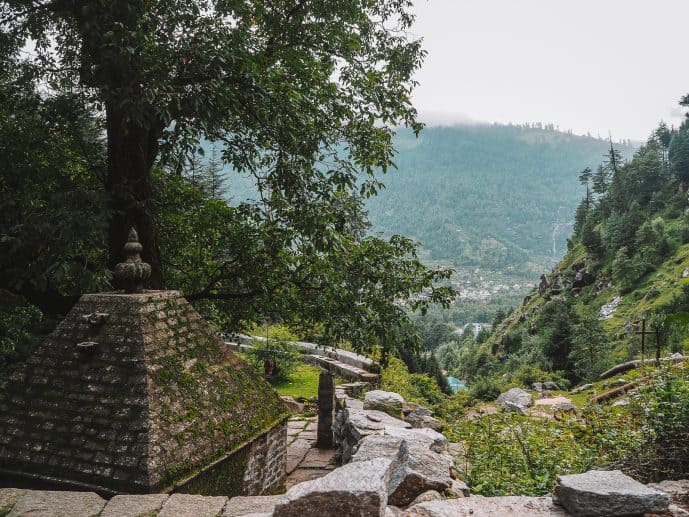 5. Alternative route – head up the hillside to take a closer look at the waterfall
Now, I'm not going to lie to you, the walk up the hillside to get a closer look is pretty steep.
Remember that I said I had sandals on?! Yeah, I really regretted my choice of footwear when I decided to climb up this hill. Don't be as irresponsible as me.
There isn't really a beaten track or trail at all to get to the top. So, you're almost scrambling up the hillside to reach the peak.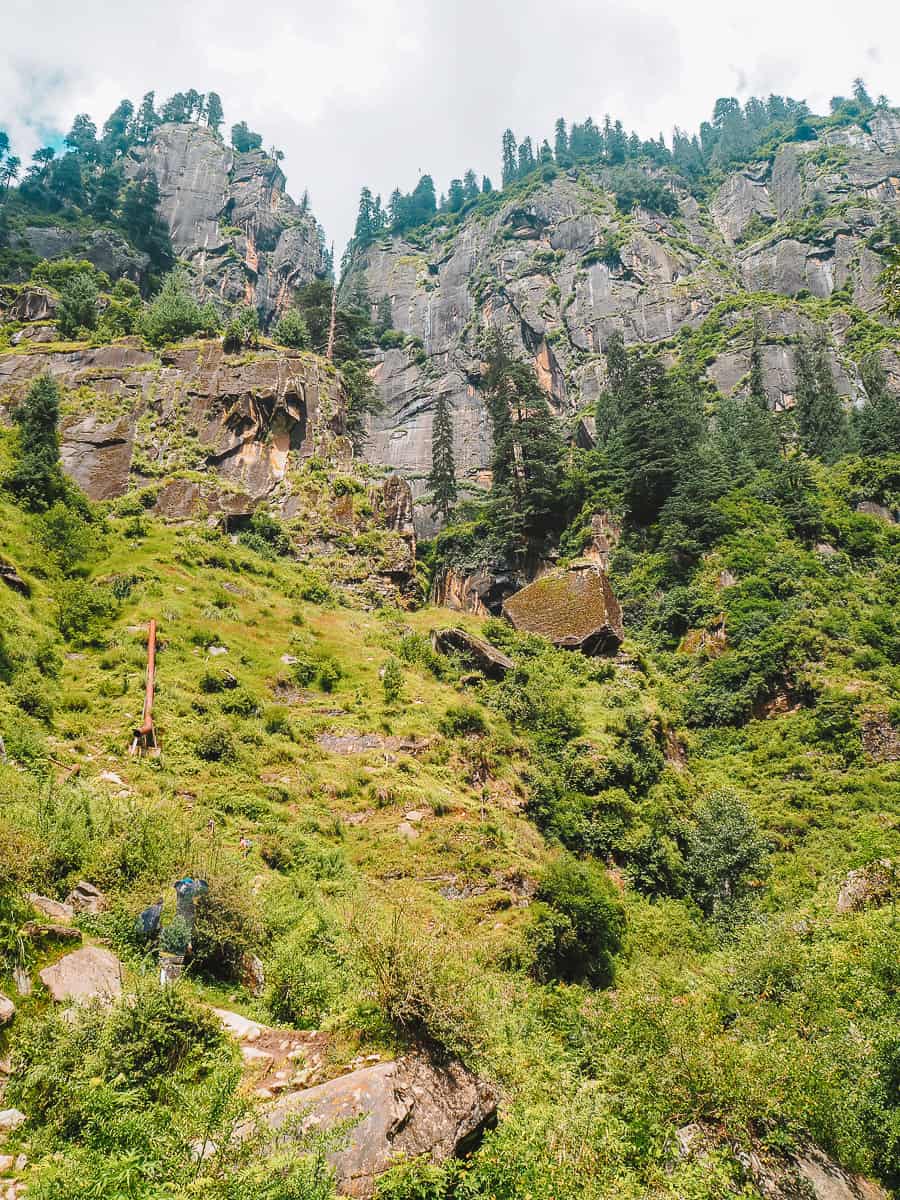 At one point, due to the hill being muddy, I fell and almost tumbled down the hill! Luckily, my friend grabbed me but he said his heart nearly fell out of his chest! Thankfully, I didn't roll too far haha!
Despite the scrambling, it is well worth climbing to the top. From here, you can really see the cascade falling through the mountains and the views are spectacular as well.
There are also lots of overhanging rocks that you can climb and little places to explore around this area. So, go for it!
The only thing I did hate more than going up, was trying to get back down.
The trail doesn't really lead anywhere else beyond the waterfall, or, not that I'm aware. So, we just started to head back to Vashisht once we were done.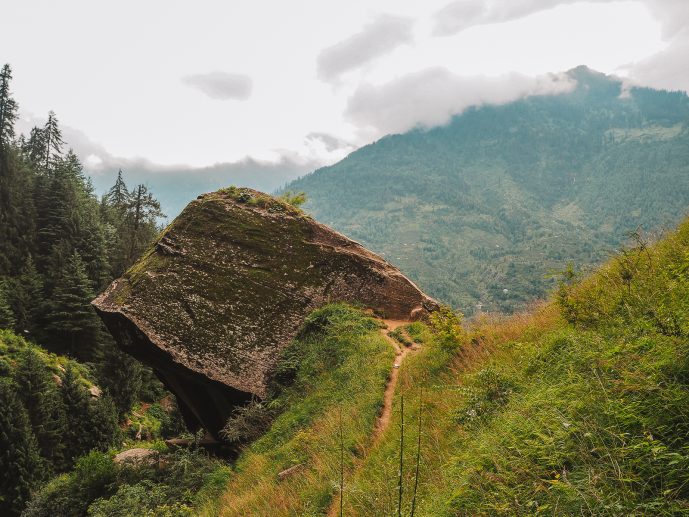 6. See the lower Jogini waterfall
As well as seeing the view of the waterfall, there is the option to trek over to the lower waterfall area up the mountain a little bit.
This is by far the most impressive experience as you'll see the full force of the cascade but it will take a lot longer to trek too.
Here you can go stream hiking, swimming, and explore the cave beneath the mountains where the waterfall hits the Beas River.
For us, we were simply too tired and were pretty happy with our impressive lookout from the top!
But, if you're feeling energised, you can head further on into the waterfall if you wish. It will require a bit of climbing upstream but I've heard it's well worth the extra effort.
7. Stop off at the many chai stall 'treehouses' on the way back!
So, once you're ready to head back, you'll come across those amazing tea stalls that will be waiting for you!
We decided to treat ourselves to a steaming cup of chai on the way back from our walk. It was almost like a treehouse that overlooked the mountains and it was the perfect place to chill out for a while.
I definitely slept well later that evening as we were pretty much running on empty.
I was so glad we did it though as the Jogini waterfall is well worth seeing in Manali!
Looking for more things to do in Manali?
Manali is breathtaking! As it's located high up in the mountains of Himachal Pradesh, you don't have to go far to see the views. They will be all around you!
A lot of travellers choose to hang out in the many amazing cafés here, I'd highly recommend checking out Dylan's Café and trying their incredible cookies.
If you do fancy exploring some of the areas, there are lots of amazing attractions to explore. You could visit the amazing Hadimba temple to learn about local Hindu culture.
I loved my day trip up to the Rohtang Pass, also known as India's most dangerous road! We hired a car with some other travellers and made the journey up into the mountains. You can read about that here.
A few days later, we then also made our journey up to Leh Ladakh via the same road. If that is your plan next make sure you read my bus journey guide here. Or, my Ladakh travel guide here.
There are so many amazing things to see in Manali. So, make sure you read my complete Manali travel guide for more options.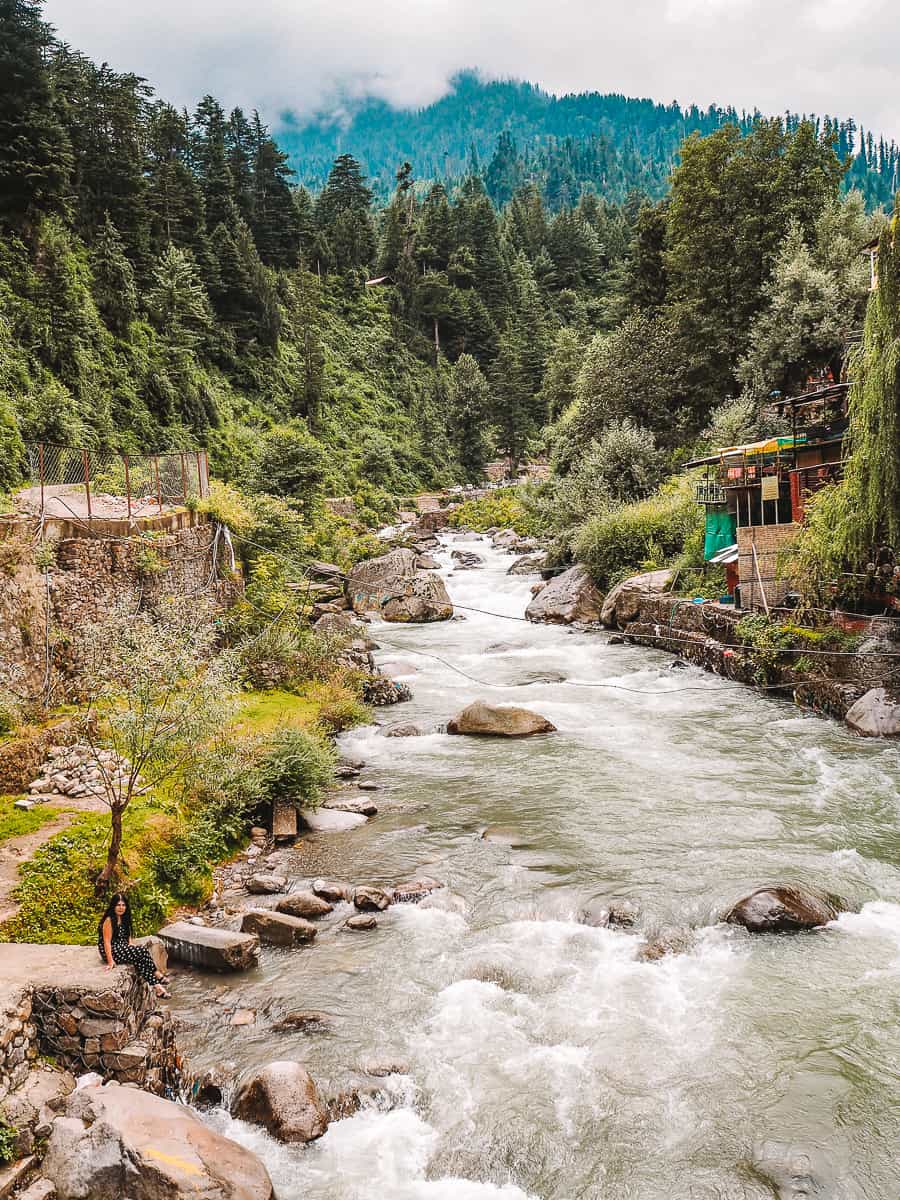 Read more of my North Indian articles
Here are some more articles for exploring Himachal Pradesh & beyond;
Off the beaten track Ladakh, Thiksay, She and more
Top things to do in Mcleodganj
A complete Bhagsunag waterfall guide
The ultimate Rishikesh travel guide
Visiting the Beatles Ashram in Rishikesh
Save this Jogini Falls Trek for later!