If you want to find details of visiting the John Lennon Wall. You've come to the right place.
Last year, I decided to visit Prague, also known as the City of a Hundred Spires!
It was such a beautiful place, full of red-roofed buildings, churches, cobbled streets, fairytale castles and the famous Charles Bridge.
I had such a wonderful time, exploring all the little streets and seeing what surprises were around every corner.
I found the 'old' area of Prague stunning and being a little bit of a history addict, I felt I could spend a lifetime there.
One of my favourite attractions which I stumbled upon while exploring was the John Lennon Wall.
It's a colourfully creative spectacle, covered in Beatles lyrics, symbols of peace and artistic flair.
It started as just a humble wall, down a small street near the Charles Bridge. But since the 1980s, it has transformed into a cult classic of its streets!
After John Lennon was tragically murdered, he became a symbol of pacifism and the Czech youths decided to commemorate him with this wall.
The wall is now a symbol of peace and freedom. Despite numerous attempts to take it down, it doesn't stay blank for long and the spray cans and marker pens will come back threefold!
It's really worth checking out if you do find yourself in Prague and so here's a little guide to tell you all about it.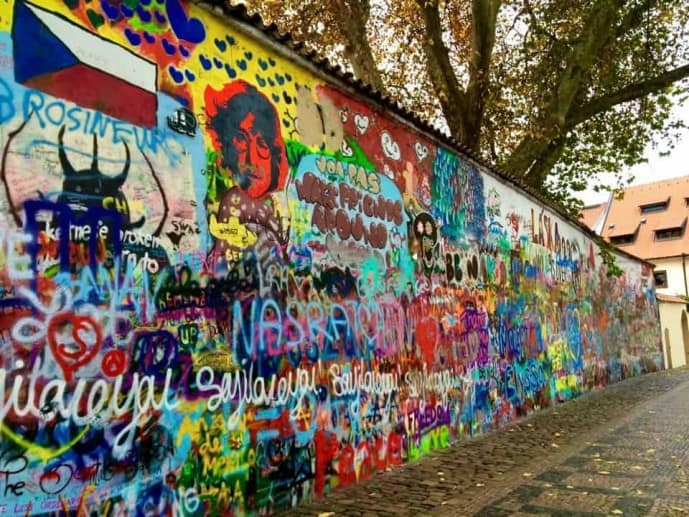 How to find the John Lennon Wall in Prague
The Wall is located on Velkopřevorské náměstí – if you can pronounce that!
It is situated across from the French Embassy.
You can cross the Charles Bridge and take the stairs down to the lesser quarter and it should be a short walk from there!
What is the best time to visit the John Lennon Wall?
Personally, I love to get to places early.
If you are going to cross the Charles Bridge at sunrise to beat the crowds, make sure you have a little detour to the Wall as well.
That way you can get your photos without any selfie sticks in sight!
What to do while you're here
Admire the wall- make sure you have a look at all the cool quotes, lyrics, names and portraits that are layered all over the wall. They're all in beautiful bright colours which, although different, match perfectly to make the wall stand out.
Take pictures- Of course, I would advise asking someone to take it for you. I tried using my selfie stick and had absolutely no joy!
Sing- along to The Beatles with the buskers: It is the John Lennon Wall after all! There will be buskers there which add to the atmosphere. Sing along to Hey Jude and get involved!
Bring a marker and put your stamp on it! The wall is constantly changing and people from around the world put their mark on it. Why not you?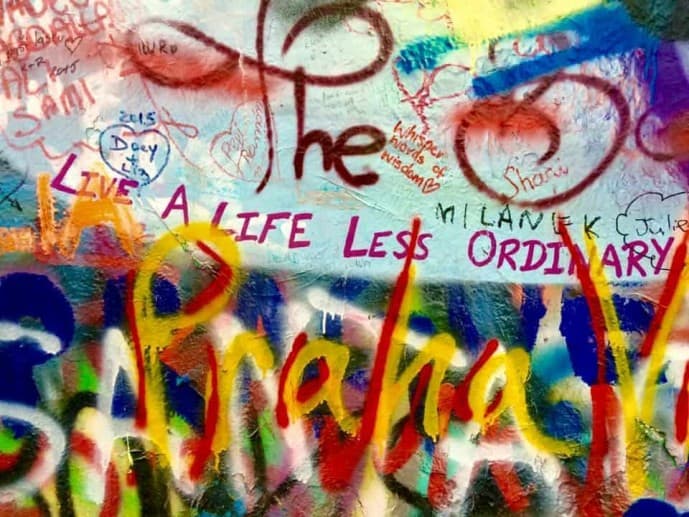 How much does it cost to visit the John Lennon Wall?
Absolutely free!
Where did you get your photo taken?
I made a poor attempt to take some snaps with my selfie stick but alas I couldn't seem to get a good angle. I wanted to get the whole thing in but struggled big time!
Luckily, there was a very friendly local photographer who can take a professional picture of you like the one above.
I think I paid around 7 euros but it is so worth it for a nice souvenir of the visit.
Plus, you get a little personalised envelope with a John Lennon stamp to send it home!
Final Words…
The Lennon wall was my favourite find on my trip and it was definitely worth the visit on my trip there!
Make sure you include it on your itinerary when you're next in the Czech capital.
Read more of my Czechia guides
How to see the Prague Astronomical Clock & Walk of Apostles
How to visit Sedlec Ossuary – the bone Church of Kutna Hora
How to visit the Klementinum Library in Prague
Secret Infinity Book Tower in Prague
How to visit the Strahov Library Prague
Magical Cloak Bridge in Česky Krumlov
Uncover the secrets of Prague's Golden Lane
Visit the mysterious Dripstone Wall Prague
Save this John Lennon Wall guide for later!