Okay witches and wizards of all houses, did you know that you can visit a real-life Hogwarts in the city of Manchester in England?
It's called John Rylands Library and the producers of Harry Potter used this beautiful space as inspiration for Hogwarts School of Witchcraft and Wizardry and Dumbledore's Office.
Although they didn't film the movies here, you'll still feel like you're wandering around the Wizarding World in their ancient cloisters, ornate staircase, and historic reading rooms.
It's a must-visit for Potterheads. Here's a complete John Rylands Library Harry Potter guide and how you can visit a real-life Hogwarts in Manchester!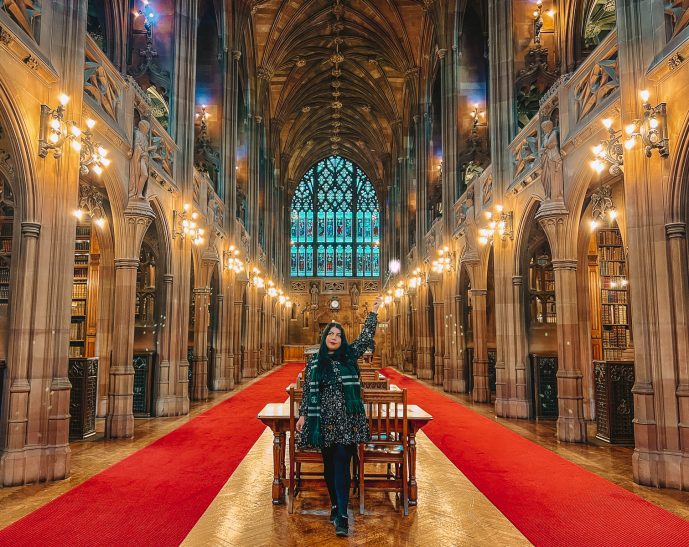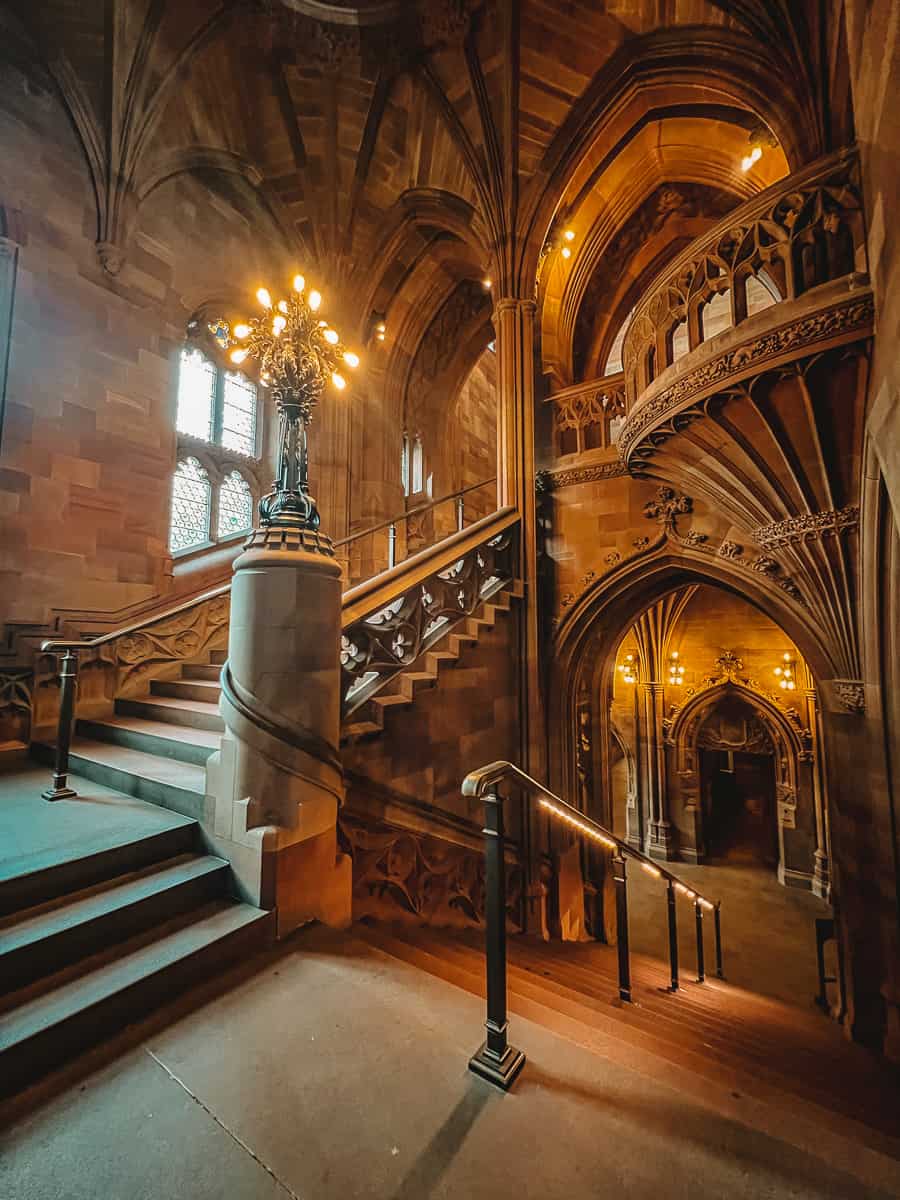 John Rylands Library history
John Rylands Library is a fabulous Neo-gothic building that looks like a cathedral when you step inside of it.
It was founded by Enriqueta Rylands as a memorial to her late husband John Rylands. She bought the land in 1889.
Enriqueta Augustina Tenant was born in Havana, Cuba in 1843 and moved to Manchester for her education.
She became good friends with Martha Rylands who was married to John Rylands at the time. After Martha's passing, Enriqueta married John Rylands eight months later.
They stayed together until John Rylands died in 1888 and it was then that she had the vision to create a library in his memory.
She hired the architect Basil Champneys to help her build the library in a Victorian Neo-gothic style.
While it was being built, Enriqueta sourced many precious books for the library's core collection and it opened to the public on the 1st of January 1900.
For her contributions to Manchester, Enriqueta was gifted the Freedom of the City and this library became the first to be electrically lit in Manchester.
The historic rooms look exactly as they did when it first opened but the rest of the library had a £17 million refurbishment in 2003.
Today, many people feel that stepping into this amazing cathedral library feels like Hogwarts from the Harry Potter movies!
The John Rylands Library Harry Potter connection
Although this gorgeous gothic cathedral structure does look like it was featured in the Harry Potter movies, I'm afraid to say that it wasn't used for the films.
None of the Harry Potter movies were filmed in this library however, don't despair, there is definitely a firm link to the Wizarding World.
Apparently, the producers of Harry Potter made a visit to John Rylands Library before the first movie even started filming.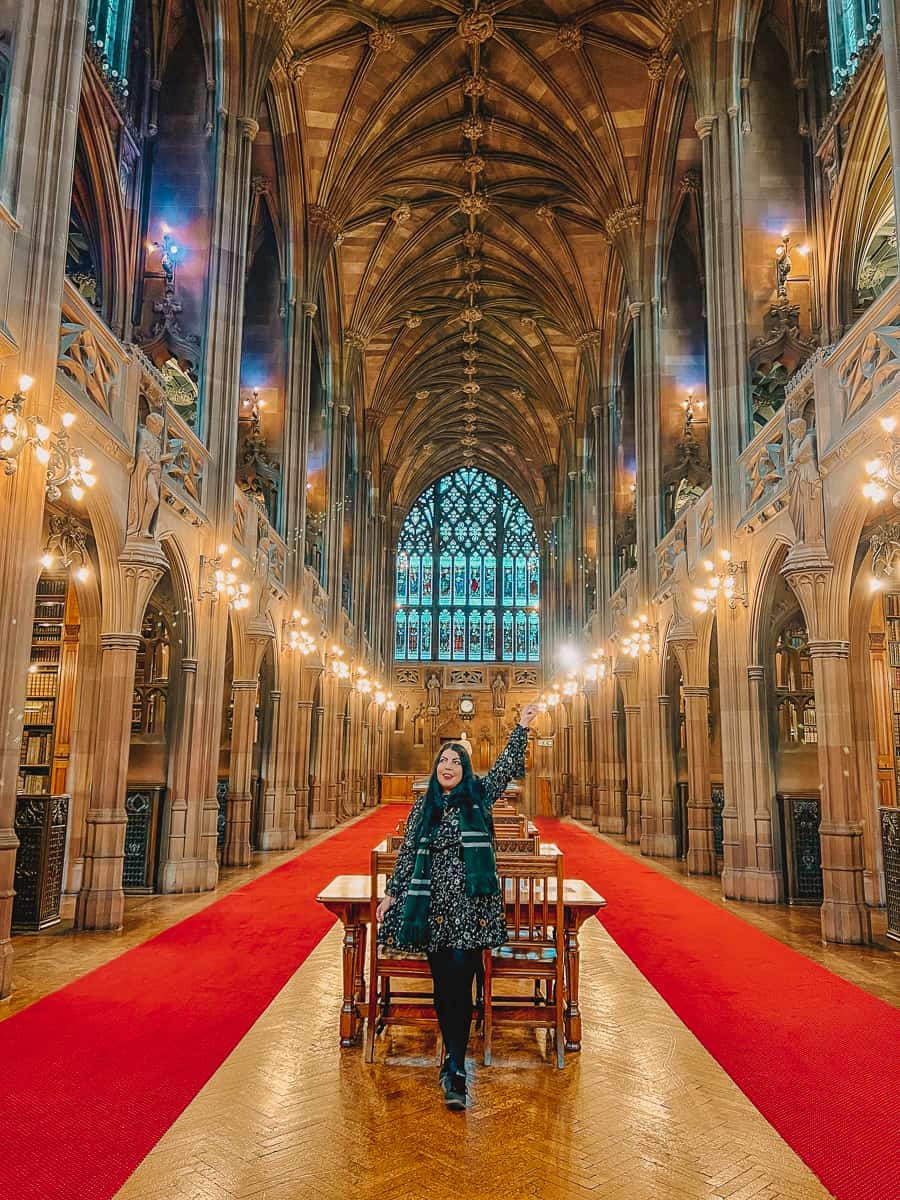 They took lots of photos, made sketches, and measured the cloisters and reading rooms to inspire movie sets that were going to be built in Warner Brothers Studios in London.
According to one of the staff, they used part of the library as the inspiration for Dumbledore's Office!
So, although John Rylands Library wasn't used in the Harry Potter movies, you can rest assured that this ancient cathedral-esque library was an inspiration for Hogwarts.
Visit a real-life Hogwarts in Manchester!
So, if you're a Potterhead that has ever dreamed of attending Hogwarts School, you must visit John Rylands Library in Manchester.
It's completely FREE and you can find it located on the bustling Deansgate which is in the very heart of the city centre.
Here are all the magical things that you can do there on your visit;
John Rylands Library cloisters
So, when you're walking up to the historic reading room, don't forget to appreciate the historic cloisters on your way through.
These honestly look like the ones used in Hogwarts and you could just imagine Harry, Ron, or Hermione walking through here to their lessons. Or a very angry Snape with his cape in tow!
Traditionally, cathedral cloisters were used for studying by monks or priests so it's rather appropriate that you'll find some in this Neo-gothic library.
Want to visit the real cloisters used to create Hogwarts in the Harry Potter movies? You can find them in Lacock Abbey, Gloucester Cathedral, Durham Cathedral, and Oxford!
John Rylands Library Staircase
Next, you'll approach the famous John Rylands Library staircase area and this is where you'll feel like you've stepped into Hogwarts.
Imagine huge vaulted ceilings, ornate architecture, and a staircase that looks like you're on your way to dine in Hogwarts Great Hall!
This was one of my favourite parts of the visit and it's a great place to take some photos and videos. Bonus points if you bring Hogwarts house robes.
It can be quite hard to get this staircase to yourself for a while to take photos but a bit of patience can go a long way.
John Rylands Library historic reading room
The most impressive room at John Rylands Library is their Historic Reading Room which looks like the inside of a cathedral.
You'll find a huge stained glass window at the back of the room along with magical alcoves that are filled with ancient texts to hide in. It really does feel like Hogwarts Library!
Here, you can learn about the history of the library as well as the statues of John Rylands and Enriqueta Rylands – they are at either end of the room.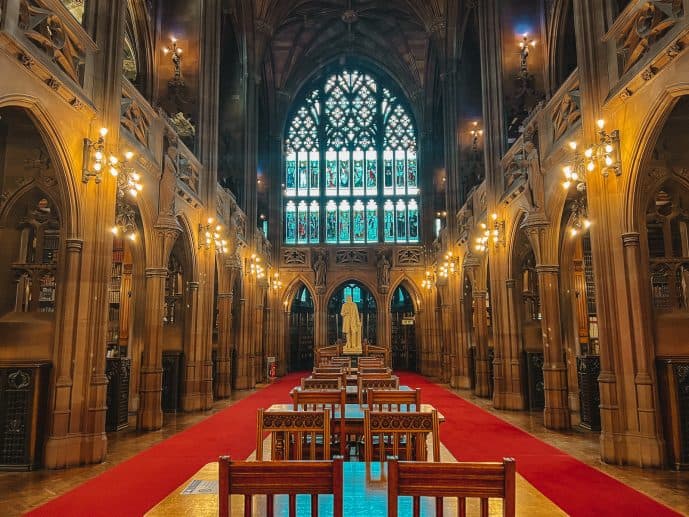 Unfortunately, you can't access the upper floor of this historic reading room as it's a private workspace!
It would have been a dream to see it from this level and it's in all the photos they use to advertise it. I guess you'll need an invisibility cloak to access this restricted section.
Apparently, they used to do guided tours of this floor but they've stopped them for now. Fingers crossed they come back!
Is this Dumbledore's Office?
On my visit, I was desperately trying to see what part of the library was used for Dumbledore's Office and I'm pretty sure it's located in the Historic Reading Room.
At the very back, behind the statue of John Rylands, you can see a curved bookcase area that looks like a close comparison to Dumbledore's Bookcases in his office!
Okay, on second thought, that may be a slight stretch but still, I think it looks pretty similar to me. What do you think?!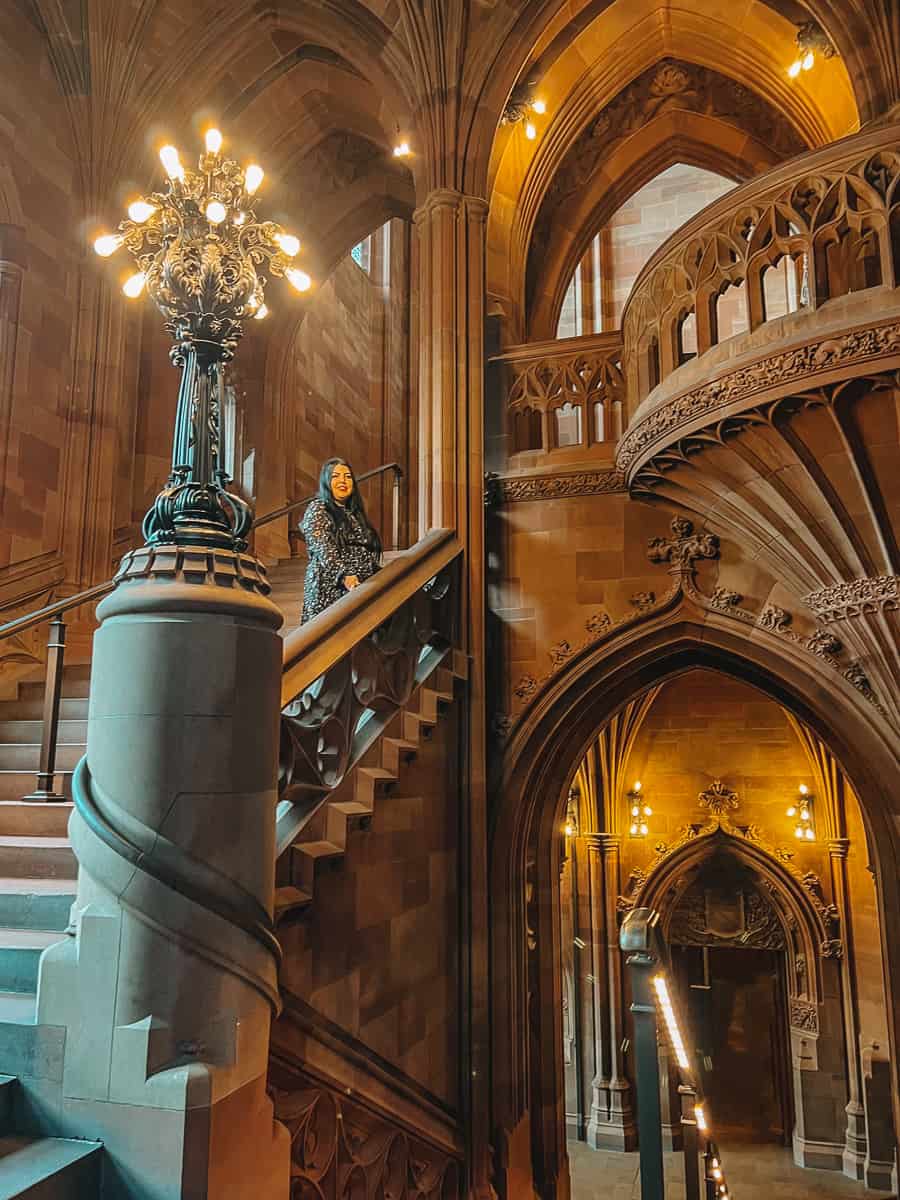 Museum exhibits
As well as wandering around the library rooms that make you feel like you're in Hogwarts, don't forget to check out some of their museum exhibits.
You'll find gleaming cabinets hidden inside the dark cloisters that have some of their prized collection of historic books and parchments on display.
Or, you may find something entirely different altogether. They regularly have musical artists' lyrics, poetry, posters, and many other things you can find in their collection.
A few years ago, I visited for their 'Magic, Witches & Devil's' exhibit. It explained the history of the Witch trials and 'satanic panic' that swept the globe in the Middle Ages.
On my recent visit, they had a British Pop Archive where you could see highlights like Ian Curtis' handwritten lyrics and Tony Wilson's vision for Factory Records.
These displays and exhibits regularly change each season so always make sure to check out their calendar to see what's going on!
John Rylands Library gift shop
Before you leave, you should definitely check out the library gift shop for some souvenirs to remember your visit.
They had lots of postcards and magnets of photos of the library as well as a great collection of books to purchase.
I bought this amazing classic hardback copy of Mary Shelley's Frankenstein that I've been after for an age! It had a woven pattern of heart organs on the cover and I knew it had to be mine.
Unfortunately, I didn't see any Harry Potter books or any Wizarding World souvenirs for fans which is a shame.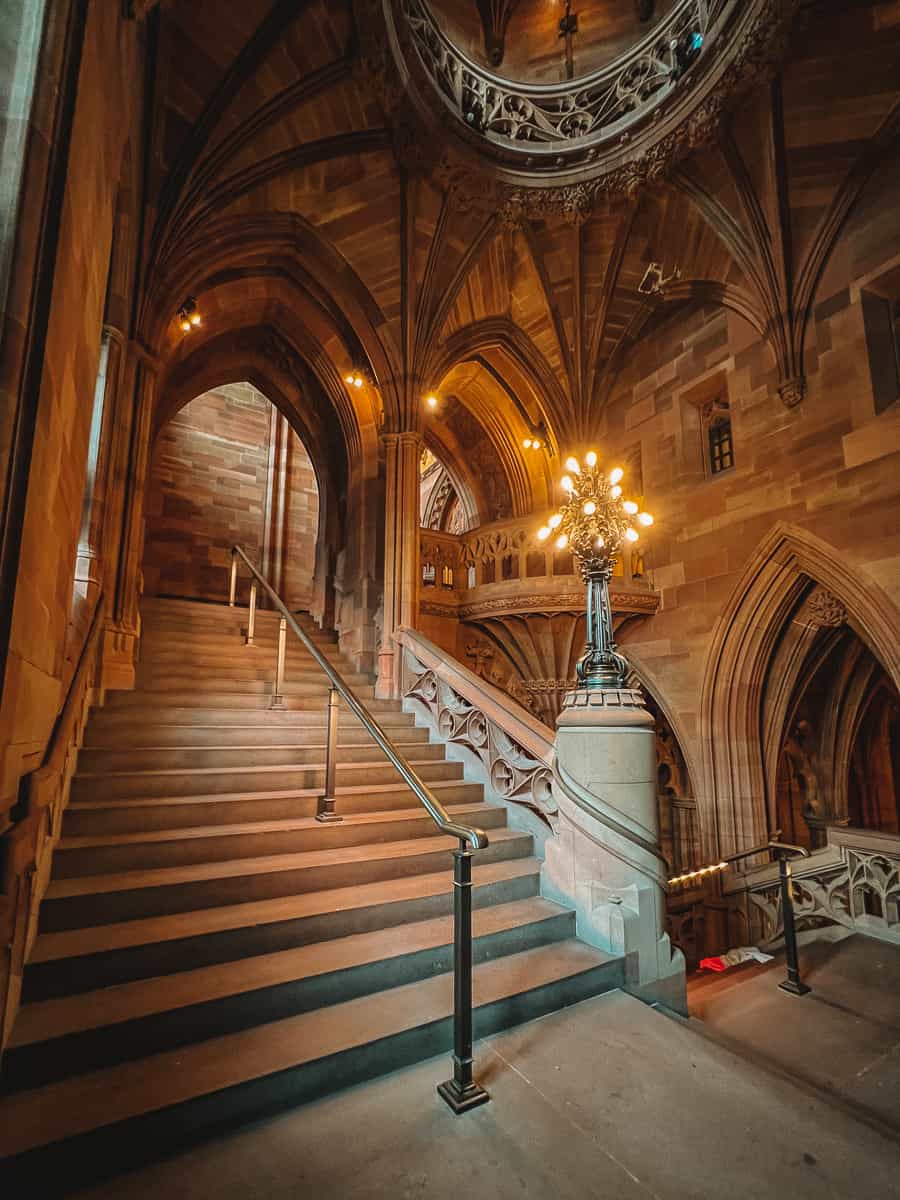 Can you study in John Rylands Library?
YES, if you're like Hermione and wanted to indulge in a bit of light reading *ahem* then you're more than welcome to privately study in the library.
Anyone is welcome to use the historic reading rooms and study spaces that are available to the public on your visit.
You can bring your laptop, books, paper, quills, wands, and whatever else you need! It would be the best space to study in if you're a fan of Harry Potter!
However, if you wanted to browse any of their special collections and use one of their special collections reading rooms, you will have to pre-book your visit at least 3 days in advance.
You will also have to register as a reader and bring the appropriate form of identification with you!
You can find out more on their Specials Collections pages
How to visit John Rylands Library in Manchester
John Rylands Library is located in the vibrant city of Manchester that is in the North West of England.
You'll find the library on Deansgate which is right in the city centre so it's best to take public transport to access it.
Manchester Picadilly is a major train station in the UK and regular direct trains run from London Euston to Manchester every day. The journey takes just over 2 hours.
There are also direct trains from Liverpool, Leeds, York, and Edinburgh. So, it's easy to add Manchester to a UK trip itinerary.
From Manchester Picadilly, it's a 20-minute walk to the library or you can make use of Manchester's Metrolink Trams. The number 1 service drops you right outside the library (stop WH).
John Rylands Library address is 150 Deansgate, Manchester, M13 9PP. Click here for a Google Pin!
John Rylands Library opening times and ticket prices
You may be surprised to know (as I was) that it is completely FREE to visit John Rylands Library in Manchester so it makes a great budget thing to do while you're here.
I mean, who wouldn't want to visit Hogwarts every day if they could get the chance and not spend a single penny?!
However, it's good to note that the library is not open every day of the week.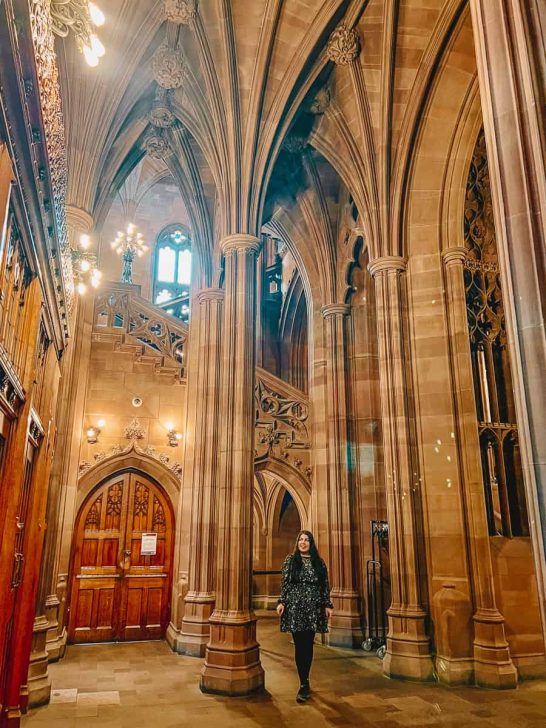 So, if you had your heart set on visiting, you'll need to plan your visit around when it's open. An Alohomora spell isn't an option here, muggles!
John Rylands Library opening times are from Wednesday – Saturday from 10 am – 5 pm.
I would always recommend avoiding Saturdays if you can as it can get very busy in here, especially in the afternoons.
John Rylands Library photography tips
John Rylands Library is a stunning location for photography. I was absolutely blown away by the architecture, cloisters, reading rooms, and the famous staircase.
You're free to take photos and videos in this library but just make sure not to use your flash.
It can be a challenge to get empty photos of this library as it's so popular. In summer, hundreds of people visit this library every day.
I visited for opening time on a Saturday morning and had it pretty much to myself for maybe 5 minutes before the crowds haha!
I would prioritise the Historic Reading Room first to capture it without crowds then visit the staircase and cloisters which are easier to have to yourself for a few moments.
Another way you could get it to yourself is by waiting until the very end of the day for photos. But, this does mean risking being ushered along at the closing time.
Many of the photos of this library used in marketing are from the upper floor of the library but this is closed off to the public as it's a private office space. They used to run tours of this but no longer.
I also didn't realize before I visited that tripods are banned inside. There was a tiny sign in the dark cloisters, hidden to the side of an exhibit that I totally missed and I got told off! Oops.
This tripod rule really sucks if you have a DSLR camera as it's so low light. But, luckily most phones have low-light settings these days.
My top tips for visiting John Rylands Library
Visit early in the morning for a quieter visit and I mean as soon as it opens. This way, you'll avoid crowds.
Sometimes, the John Rylands staircase and historic reading room are closed off for events.
They used to run tours of the upper library but these have stopped for the time being. Fingers crossed they start running them again soon.
There is more to this library than just the historic reading rooms, there are five floors! Make sure to explore their other floors too.
No food or drink is to be consumed in the library. There are signs on nearly every table.
Although it is a popular tourist attraction, it is still a working library and so there may be people studying or working here. Make sure to talk in hushed voices.
There are lots of steps in the library to access the five floors, they have lifts to help you should you need them.
Make sure to use the toilets, they're Victorian and the ladies have a 'bustle space' for their large dresses!
John Rylands Library FAQs
Why is Rylands library famous? It's gorgeous, has stunning architecture, and looks like Hogwarts!
Is John Rylands Library open to the public? YES, you can visit from Wednesday – Saturday in Manchester
Is John Rylands Library free to visit? YES, John Rylands Library aka Hogwarts is completely free to visit!
When was John Rylands Library built? It started being built in 1890 and opened to the public in 1900.
Where is the closest John Rylands Library parking? Unfortunately, this library is very centrally located in Manchester so parking is not cheap! The closest would be the NCP Great Northern which is a 6-minute walk away. But, be warned that 2-3 hours of parking is over £10!
Looking for more bookish things to do in Manchester?
If you're a bibliophile and Harry Potter fan, there are plenty more bookish things to do after your tour of John Ryland's Library.
One of my favourite Manchester libraries has to be Chetham's Library. Again, you will feel like you've landed straight into Hogwarts.
Although they didn't use this library as an inspiration it looks like the restricted section of Hogwarts Library. It's a Tudor medieval building with over 120,000 historic tomes.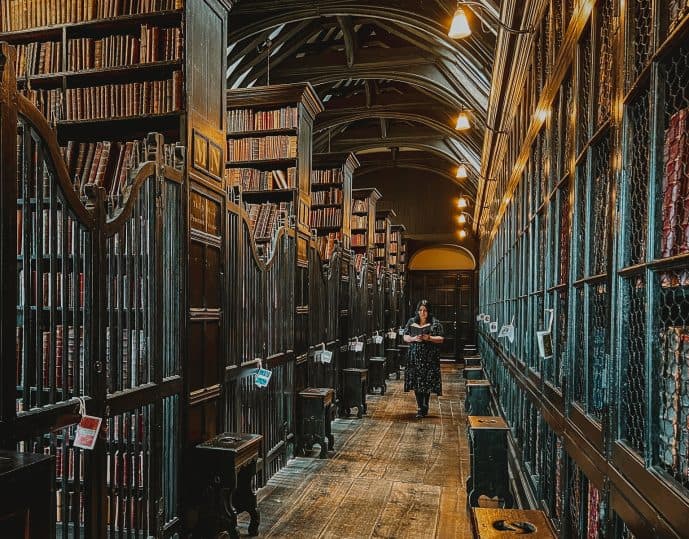 Just nearby, you can visit the Portico Library which is a great place to have lunch or a drink. This is a Georgian library that has a café at the centre. So, you can sip tea whilst surrounded by endless knowledge.
Lastly, you should visit the Manchester Central Library which feels like a step back in time. It's circular and you'll be surrounded by historic colonnades!
If you're interested in travelling further afield, why not head to Salford and visit the Working Class Movement Library?
As the name suggests, it was a library founded during the industrial revolution by working-class men and women who wanted access to knowledge for education.
Was Harry Potter filmed in Manchester?
Although the producers of Harry Potter visited John Rylands Library for sketches and inspiration for creating Hogwarts, I'm afraid to say that none of the Harry Potter movies were filmed in Manchester.
Although, it can be quite hard to believe it as some of the cloisters and stairways here looked like an exact copy from the movies. Even the historic reading room looked like Hogwarts Library!
However, if you are spending some time in the North of England or you're on a Harry Potter pilgrimage, there are a few Harry Potter filming locations you can plan to visit near Manchester.
I've been to nearly all of the UK Harry Potter filming locations now and written detailed guides on how to visit them to live your best Wizarding World life!
Click on any of my guides below and start planning your magical Harry Potter road trip;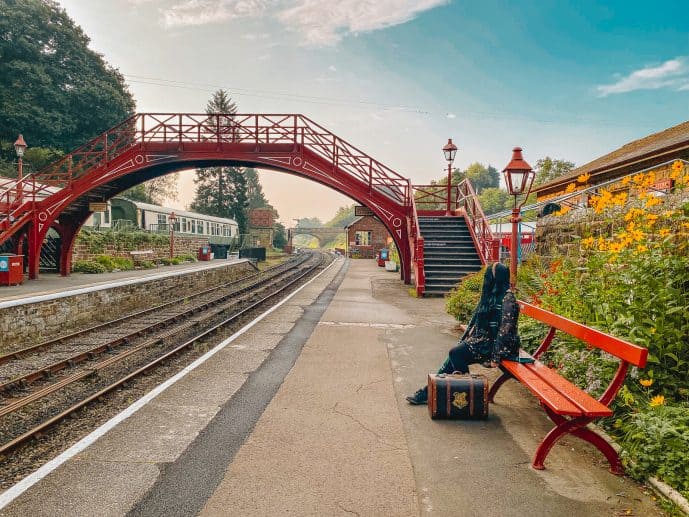 Harry Potter filming locations in the North of England
Durham Cathedral Harry Potter filming locations
Harry Potter filming locations in Alnwick Castle
Harry Potter locations in York
The Shop That Must Not Be Named
Malham Cove Harry Potter guide
Staying in a real life Hagrid's Hut in Yorkshire
Goathland Station Harry Potter guide
Forbidden Forest Experience in Cheshire review
Liverpool Fantastic Beasts filming locations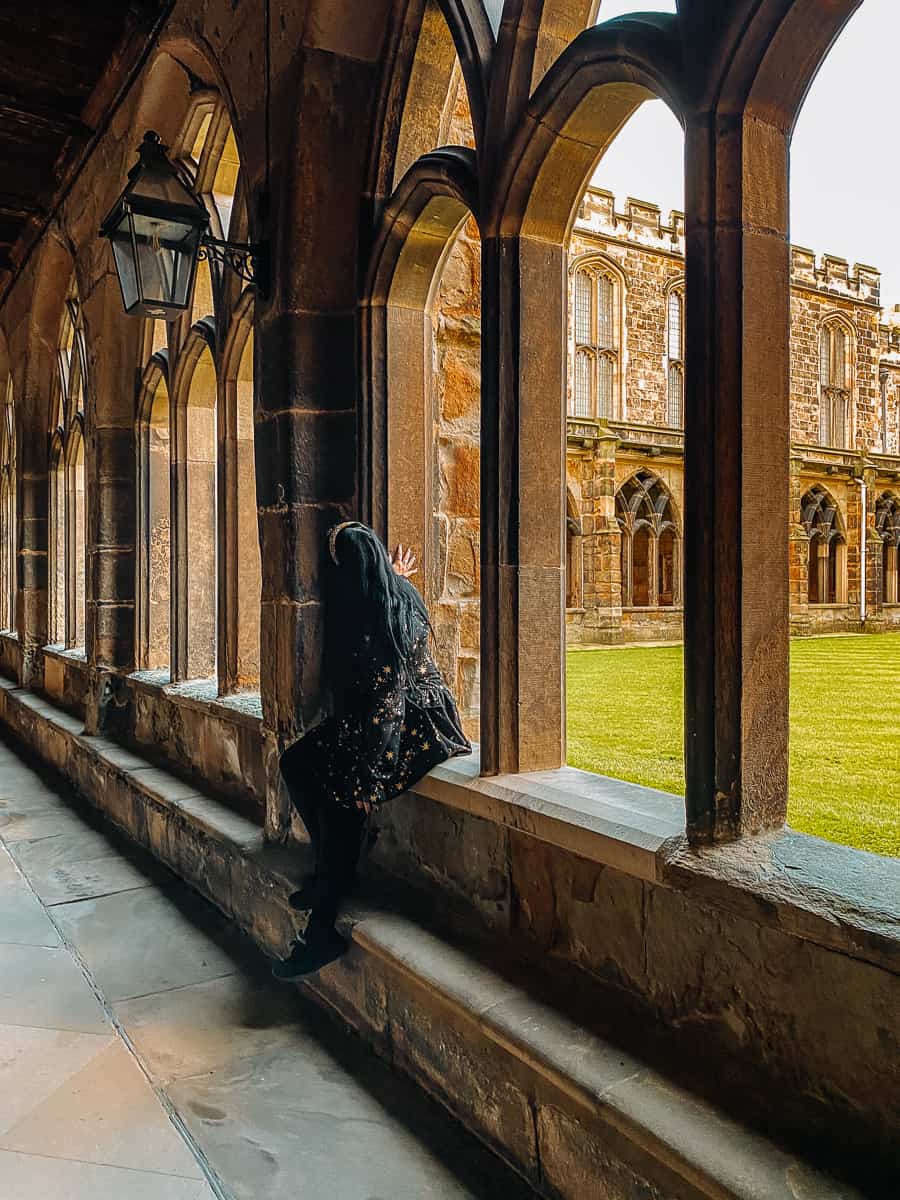 Save time and book a tour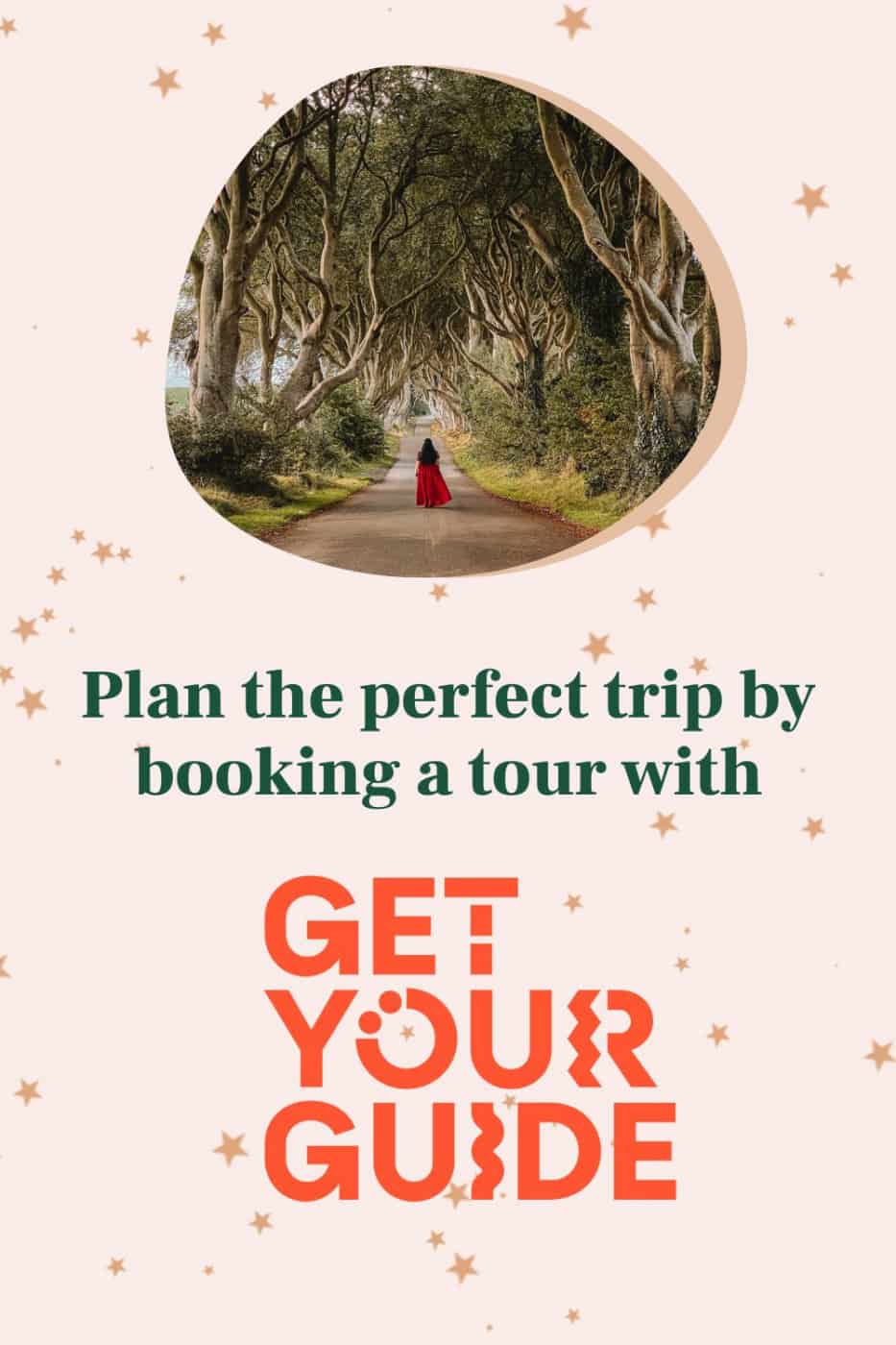 Book tours & tickets for Manchester!
Read more of my Harry Potter guides
How to ride the real life Hogwarts Express in Scotland
Harry Potter filming locations in Oxford
How to visit the real Godric's Hollow in Lavenham
Harry Potter locations in Lacock
Harry Potter locations in Edinburgh
All the Harry Potter filming locations in Scotland
How to find the Harry Potter Tree at Blenheim Palace
How to find Dobby's Grave in Wales
Harry Potter filming locations in Gloucester Cathedral
How to see the Hogwarts Express in Scotland
How to visit Dumbledore's Grave in Scotland
Visiting Malfoy Manor in Real life!
Where to find Tom Riddle's grave in Edinburgh
Visiting the Quidditch Town of Tutshill Tornados
Harry Potter locations in Exeter along with Gandy Street and the Room of Requirement
Virginia Water – the Other Hogwarts Lake
Instagram locations at the Wizarding World of Harry Potter
How to visit Hagrid's Hut in Scotland
How to visit the Harry Potter Waterfall in Scotland
Celebrating Back to Hogwarts Day at King's Cross Station
Save this John Rylands Library Harry Potter guide for later!