If you're heading to the Hashemite Kingdom of Jordan, more than likely you will require a visa to enter the country as a requirement.
But, did you know that as well as the tourist visa on arrival, the country has the Jordan Pass?
Not only does this pass include your visa to enter Jordan, but it's also a ticket that includes entry to some of the main attractions in the country. Even Petra, which is one of the most expensive UNESCO sites in the world!
In this detailed post, I'll go through a full Jordan Pass review and whether it's worth buying one when you visit Jordan.
Thinking of renting a car? Click here to see my detailed post with driving tips!
What is the Jordan Pass?
The Jordan Pass is a discount programme that is provided by the Jordan Ministry of Tourism and Antiquities.
It's a ticket that combines a tourist visa with FREE entry to over 40 tourist sites and attractions across the country.
This includes the likes of Petra, Amman Citadel, Jerash, Wadi Rum and so much more!
It's only available if you plan to spend over 3 nights in Jordan and there are a couple of options available for you depending on your type of trip.
The Jordan Pass comes as a PDF document that you can print off and/or keep on your phone.
On the document will be your personal details and a QR code that is scanned on arrival to Jordan and at all the attractions. It's important to have a few copies with you so that you can use the card at all times!
Jordan tourist entry visa vs the Jordan Pass
So, what's the difference between the Jordan Pass and a normal Jordan tourist visa? Well, mostly it's the amount of money you'll be paying for it.
A tourist visa on arrival in Jordan will cost you around 40JOD (£45/$56USD). But, the Jordan Pass will naturally cost you much more than that as it also includes entry fees to attractions.
The Jordan Pass prices start from £80/$106 – £91/$113 depending on how many days you want to spend in Petra.
It's good to note that your tourist visa on arrival for Jordan will not include any extra benefits like entrance fees. So, you'll be paying out of your own pocket.
How much is the Jordan Pass?
This all depends on what type of pass you want to buy and how long you're planning to spend in the country.
There are 3 Jordan Pass options;
Jordan Wanderer – Price: 70 JOD (£80/$98USD), 1 day entry for Petra
Jordan Explorer – Price: 75 JOD (£85/$105USD), 2 consecutive days entry for Petra
Jordan Expert – Price: 80 JOD (£91/$112USD), 3 consecutive days entry for Petra
So, you should probably decide what sort of pass would be right for your needs. Personally, I went for the Jordan Expert which included 3 days in Petra.
As I was planning on spending 10 days in Jordan, this was the best option for me as I knew I wanted to do lots of hiking in and around the complex.
But, if you're only going to spend 3/4 days in Jordan, then I would buy the Jordan Wanderer.
Most people tend to buy the Jordan Explorer which includes 2 days in Petra.
I mean, it's only $7 dollars extra to have one more day in Petra added on to a pass as a just in case. If you were going to buy an extra day's entry to Petra at the site, this would cost you $127!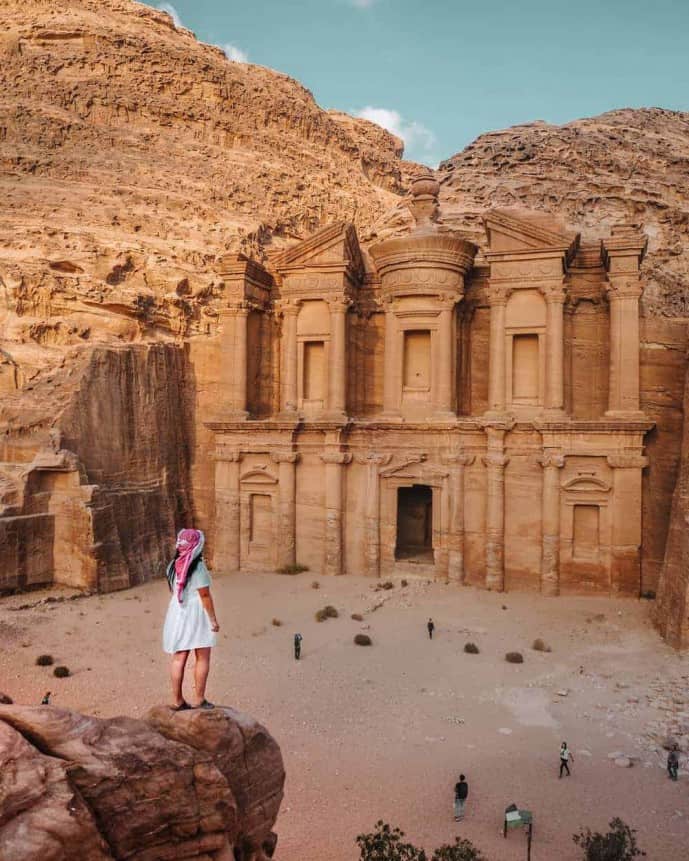 What does the Jordan Pass include?
All of the Jordan Pass options above include;
Free one time entry to over 40 attractions in the Hashemite Kingdom of Jordan. This includes things like Amman Citadel, Petra, Jerash, Ajloun Castle, Umm Qays, Qasr Al-Azraq, Wadi Rum etc.
Waiving of your tourist entry visa fees if you are eligible for a visa on arrival in Jordan. As long as you stay over 3 consecutive nights in the country!
You can use it for over 12 months following your date of purchase. But, once you have scanned it at the airport, it will automatically expire after 2 weeks
Up to 30 days stay in Jordan with the Jordan Pass (but the included attraction entry fees are only valid for 2 weeks)
A FREE travel guide that gives you important information on travelling around, attractions, tips etc.
It's good to note here that if you spend less than 3 nights in Jordan, you'll be charged the 40JOD visa entry fee on exit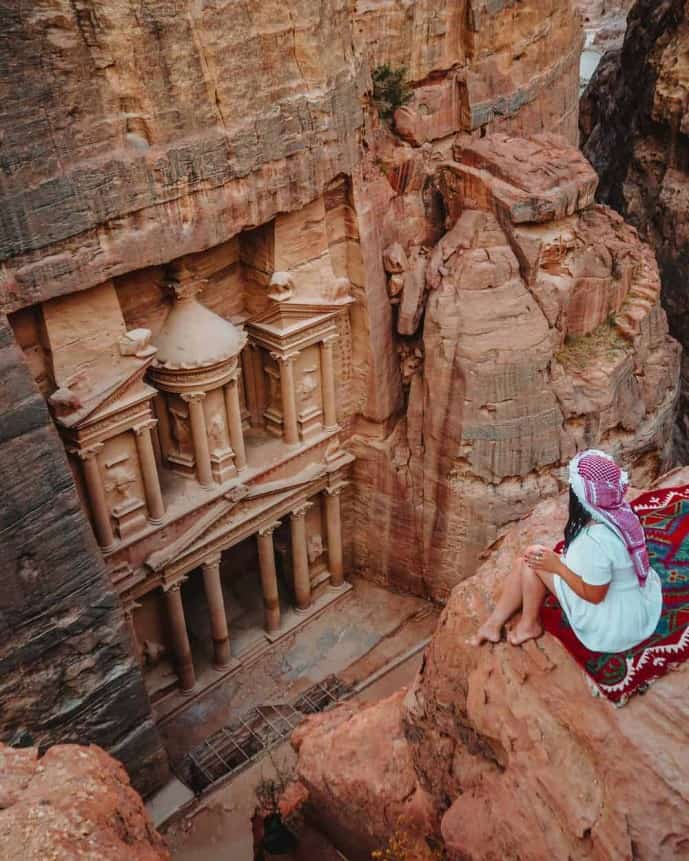 What it doesn't include
Petra by night – You will still need to spend 17JOD (£19/$23) on your ticket for Petra at night
Wadi Rum jeep fees – these will be separate. You only get your permit fee included. I would recommend booking your jeep tours in advance (although I didn't)
Swimming in the Dead Sea – But, this is free anyway if you find the right spot along the coast. You'll get this included with your hotel rate or you can pay a hotel to visit as well.
Wadi Mujib – this is a completely separate attraction and will cost you 13JOD (£14/$18)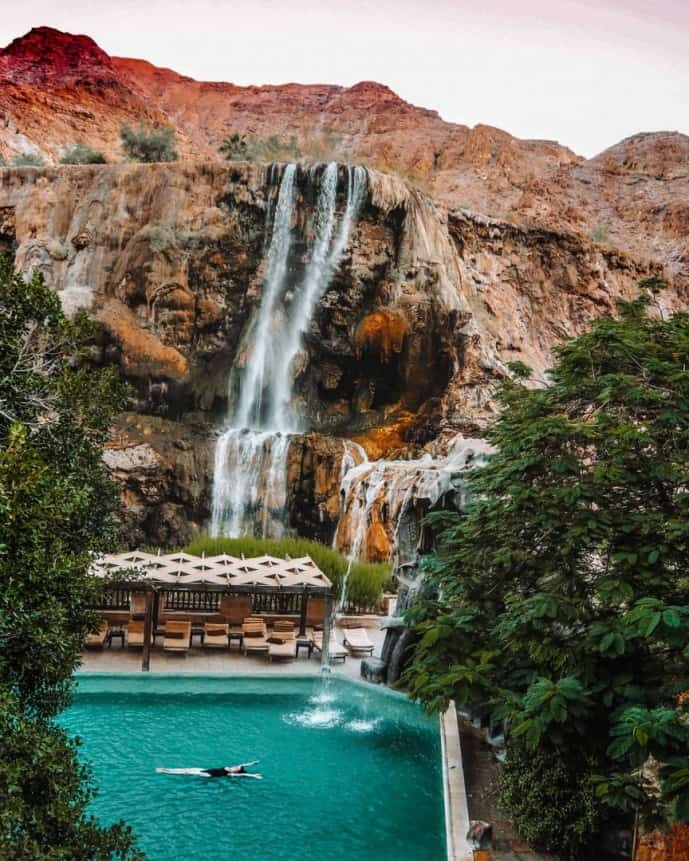 Who can buy the Jordan Pass?
Anyone who is eligible for a visa on arrival in Jordan and is planning to spend over 3 nights (4 days) in the country can buy the Jordan Pass. This applies to over 137 countries at the moment!
It definitely makes sense for independent travellers who are arriving in Jordan or couples that are travelling independently of a tour. Sometimes, tours companies include your visa and entry fees.
For me, I was travelling solo, so it definitely made the most sense for my trip! But, it's not the most ideal option for many travellers.
Here's who the Jordan Pass is not ideal for;
If you're from South Africa, Malaysia, Hong Kong, Japan or the Vatican City – you don't need to pay a visa fee to enter Jordan. So, a pass isn't required.
If you're from an Arabic country or have Arabic nationality, you will get local discounts on entrance fees.
There are some countries that are banned from buying the Jordan Pass at this time. Always be sure to check.
Children under 12 do not need to buy a pass as they get free entry to attractions as long as they are accompanied by an adult.
Can you buy the Jordan Pass at the airport?
No, you must buy the Jordan Pass in advance of travel and the purchasing of it online is the thing that tourists complain most about!
Here is the official link to purchase one – https://www.jordanpass.jo/.
The checkout process with card payments can be a little bit of an issue with errors and processing. So, if you're buying your pass last minute, this can be a little stressful.
There are 3 'speeds' you can choose from these are Standard Processing (3 Business Days), Rush Processing (maximum of 2 Business Days), Super Rush Processing (1 Business Day). Obviously, the speedier you want your visa the more it will cost.
My personal advice would be to purchase the Jordan Pass at least one week before you plan to visit Jordan.
This way you can ensure you sort out any purchasing problems and you don't miss out on getting it for your trip. It's a real money saver!
The pass is valid for 12 months after your purchase it, so it's really not a big deal if you purchase it well in advance.
Helpful steps for buying the Jordan Pass
Click this link – https://www.jordanpass.jo/. to enter the Jordan Pass Website
Then click on the 'Buy Now' button on the top right hand corner
You'll need need to put in your details, like your name, email address, telephone number, what ticket you would like (drop down menu) and then the number of tickets you'd like.
Proceed to payment and enter your payment details. (tip – be careful, don't click 'pay now' too many times as you can be double charged).
Review your application and make sure all your details are correct. This is important. Make sure your name on the pass is identical to your passport!
Submit your application and then you're done! Now, just wait for your pass to arrive.
How does the Jordan Pass work?
So, once you've sent off your application for the pass, you should receive your pass via email within 3 business days as a standard. But, if you've spent more money for a 'speedier' service you'll get it quicker.
You'll receive your pass as a zip file in your email. Once you've opened the file, you'll see 3 documents there.
One is your Jordan Pass PDF, one is a mobile-friendly version of your Jordan Pass (just the QR code) and you'll also receive a free travel guide/map of the country as well.
Once you get the PDF and mobile-friendly version, I would recommend saving the PDF to your phone and taking a screenshot of them as well. Just in case you cannot connect to WiFi while in Amman at the airport.
You don't need to print out a physical copy of the pass, having it on your phone will work when you scan into the airport and attractions. But, if you're worried about your phone dying while you're in Jordan, I would say it's best to print out a couple of copies to keep with you.
When you reach the airport, you'll be able to fly past the normal visa on arrival queues by entering the Jordan Pass queue.
Then whenever you arrive at an attraction in Jordan, you can present your Jordan Pass at the kiosk.
You'll receive a special ticket for the attraction that won't cost you anything! Or, the security at the entry gates for the attractions will scan your QR code on your ticket. It's really easy to use and worked well for me!
Is the Jordan Pass worth it?
If you are one of the qualifying countries that can purchase a visa on arrival, you're travelling alone or independently from a tour group and you're planning on spending more than 3 nights in Jordan – I think it's totally worth buying the Jordan Pass!
I'll help you out and do some of the math for you;
If you bought a tourist visa on arrival for 40JOD (£45/$56USD), then you added on a day entry to Petra which is 90 JOD (£103/$127 USD) that alone would cost you over 130JOD (£150/$183).
If you compare that to the Jordan Wanderer pass which waives your tourist entry fee and includes one-day entry to Petra which is only 70JOD (£80/$98USD). You've already made a massive saving of over 60JOD (£68/$84) already, without any of the other attractions yet!
That's why I decided to buy the Jordan Explorer pass for 80JOD (£91/$112USD) which got me 3 days in Petra for only 40JOD (£45/$56USD) minus the visa fees.
This already saved me over 230JOD on Petra tickets (£263/$324) not to mention I went to the Amman Citadel, Amman amphitheatre, Jerash, Wadi Rum with it too.! So, I saved hundreds of pounds by purchasing it.
Plus, there are many other benefits of having the Jordan Pass, other than just saving money;
You don't have to keep getting cash out from the ATM for attractions
You can skip the visa lines at Amman Airport
My experience using it in Jordan
To me, the Jordan Pass was a no-brainer. I had a lot of time in Jordan (10 days) and I knew that Petra was at the top of my to-do list!
So, rather than rush it, I decided to buy the 3 days in Petra pass so that I could take my time there to explore and do as many hikes as possible.
I bought my pass around 5 days before I entered Jordan. I was a little concerned as I had read many horror stories about visas not coming through in time and many tourists being overcharged on credit cards. But, my payment went through fine. I actually got my visa within 2 business days which was a bonus.
The arrival in Amman airport was a breeze and I felt pretty smug skipping past all the visa on arrival queues by heading to the Jordan Pass queue. I was the only one there!
Amman was definitely a learning phase for me with the Jordan Pass though. I made my first mistake by paying for the Amman Amphitheatre early in the morning, even though this was included in my Jordan Pass.
Maybe I was just tired or didn't have enough coffee so I forgot. But, when I told the staff member on the kiosk if I could get a refunded ticket, he refused as it was my mistake. It was only 3JOD but still…
Other than that hiccup, I had no problems using the pass throughout my travels! In fact, it saved me so much time and money. I didn't even have to think about getting enough cash or using my card for anything really.
The Jordan Pass was a lifesaver – I would highly recommend it.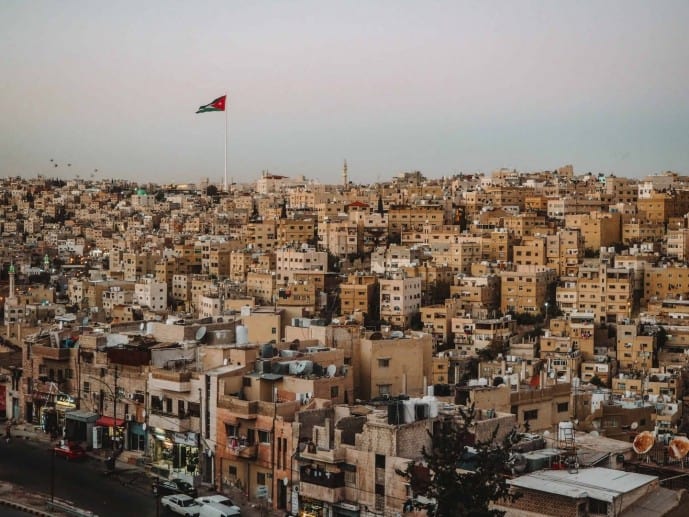 Final tips for using the pass
Once you've made your decision about what Jordan Pass you want, you can't upgrade or downgrade your pass. Personally, the difference in price is so little, I'd always add on a day at Petra just in case. It beats, paying the 90JOD again…
Always check if your Jordan Pass is valid for an attraction before you pay for a ticket. Don't make my mistake.
Make sure you have your passes on your phone. Take a screenshot, have it on file in your inbox/documents folder and take a few paper copies. You don't want to lose it for Petra as this is the most expensive attraction.
Are you heading around Jordan?
So, that's my full Jordan Pass review and whether it's worth it…Now, let's start planning your trip to Jordan!
The best places to visit would be Amman, The Dead Sea, Petra, and Wadi Rum. But, there are also many more amazing places including the Ma'in Hot Springs, Wadi Mujib, Aqaba as well.
I would definitely recommend renting a car in Jordan if you're travelling independently. Taking taxis is an expensive activity in Jordan. For example, a taxi from Amman to Petra is well over $200USD! Click here for my detailed guide.
If you're debating whether to skip Amman, I would highly recommend that you don't. It's a fantastic city with so much to do, here's my complete guide with all the things to do here.
Like it? Pin it!