Thinking of getting the Jorhat to Majuli Island ferry and wanting times and prices? You've come to the right place!
I'm going to go through everything you need to know about it in this guide.
Majuli Island is the largest river island in the world and lies within the Brahmaputra river in Assam.
It's hot on every traveller's list right now as it's, unfortunately, an island that isn't going to be here much longer.
Every year the island is eroding away and, in twenty years or so, it may be classed uninhabitable.
So, if you do find yourself in North East India you must put this awesome island on your list!
It's called Assam's capital of culture because it still retains Assam's traditional values.
You won't find any sky-high buildings, traffic or city life. You'll find bamboo huts with looms underneath to make dresses, mud pits to make clay pottery, people making fishing nets, traditional mask makers and wooden boats being made by hand.
Getting here can be a bit of a mystery though, especially to know all the information about the ferry.
It's important to know when the last one takes off, or, you may find you've travelled a long way only to turn back. Well, keep reading to get all the information you need.
How to reach Jorhat and then Jorhat to Majuli Island?
To make your way over to Majuli Island you'll need to reach the city of Jorhat for the Jorhat to Majuli ferry. There really isn't that much to do in this city and most people just skip through to catch the ferry.
From Kaziranga National Park, you can take the AT road up to Jorhat. It's around 74 kilometres so it's not far to go and should take you max 2 hours depending on traffic.
Or, if you're heading here straight from Guwahati you can take the National Highway 27 and the AT road and it should take 7 hours.
Kaziranga is a great place to stop off on the way! Check out my guide for Kaziranga here.
Regular buses to Jorhat stop outside the shops on the main high street in Kaziranga and should take around 2 hours.
The alternative is to take a private taxi which you can book through the travel shops in Kaziranga, but this may be costly.
I actually got to Jorhat from Nagaland which was seriously complicated. I had to catch a sumo jeep from Longwa to Mon.
Then from Mon, I got a sumo jeep to Tizit. Then from Tizit, I got a public bus to Shiv Sagar. Then, when I reached Shiv Sagar I jumped on a bus to Jorhat!
It took a lot of faith but we got there in around 12 hours. It was super tiring but surprisingly inexpensive (less than £5). So, definitely plan your route properly when in Nagaland if you're using public transport!
For more of my North East India public transport tips, see here
Where to stay in Jorhat
When I arrived in Jorhat, I had NO idea where to stay. I arrived in the evening and the ferries to Majuli Island don't run at this time.
So, I had to find a clean place to stay the night.
My traveller friends who I was on the road with checked in at a cheap place at 200 rupees a night. But, for me, it was just too dirty.
There was also a little cockroach friend in my room. I took a look around, saw the dirty bed and sheets and decided to head out of there as soon as possible!
It was only for one night but I couldn't sleep there.
The hotel owner, who didn't take offence but wanted a selfie (?!), suggested me to stay in the nearby tourist board approved Hotel Paradise.
I also double-checked with my friend Sange at Holiday Scout and he suggested the same. It's not overly luxurious but compared to the other place it was like a palace!
I got a single (clean!) bed, tea and coffee facilities, toiletries, towels, running hot water which was needed after my long dirty journey, a TV, and free breakfast in the morning.
All, for 700 rupees a night (!). It was awesome. For a double non A/C luxury room it's 900 rupees.
I found the place a little tacky but adorable. It had a cheap and cute restaurant which was Assamese themed and got me all excited for getting to Majuli island the next day.
The staff were also really lovely and were at hand with all sorts of tips for the ferry on a budget.
How to reach the Jorhat to Majuli Island ferry
From Jorhat the ferry dock is around 30 minutes away so make sure you leave enough time before the ferry is going to take off.
You can take a private taxi or tuk-tuk to the ferry dock but it cost you. A private three-wheeler will be around 500 – 800 rupees. A taxi will be 1200 rupees one way.
Alternatively, if you're on a budget, you can catch one of the many government-funded auto rickshaws to take you to the ferry. These will cost 30 rupees a journey.
But, as you're sharing and people will hop on and off I'd leave at least 45 minutes to an hour to allow for stops.
In peak times these pack up full of people, so be prepared for your luggage to potentially be tied down on top!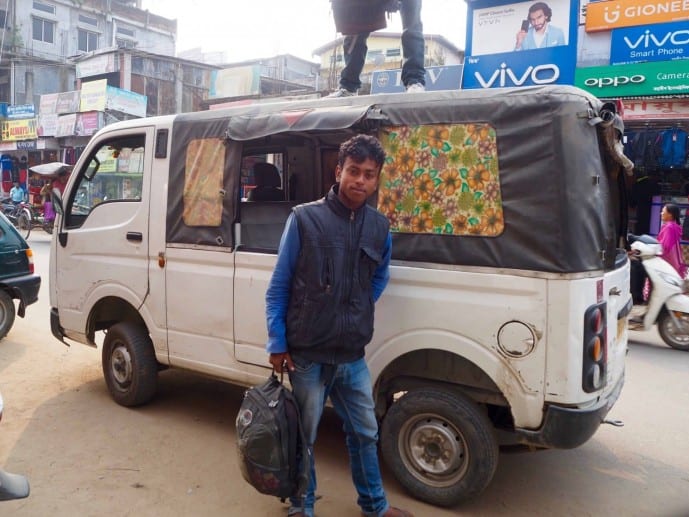 Jorhat to Majuli Island ferry timings
The ferry leaves from the Neemati Ghat (Jorhat) at 8.30 am, 9.30 am, 10.30 am, 1 pm, 2 pm, 3 pm and the last one at 3.30 pm
The ferry leaves from the Kamalabari Ghat (Majuli island) at 7am, 7.30am, 8.30am, 10.30am, 12.30pm, 1.30pm and the last one at 3pm
Making sure you get the ferry on time can be integral to your plans in Assam. The last ferry runs from Jorhat to Majuli around 3.30pm so you don't want to miss it or you'll be spending the night in Jorhat.
Here's a picture below of all the ferry times and prices. The Neemati Ghat is on the Jorhat side and the Kalamabari Ghat is Majuli Islands' dock.
In true Indian fashion, don't expect these ferries to be punctual! Every time I hopped on, they would leave at least 10 – 15 minutes after the scheduled departure time.
What are the Jorhat to Majuli Island ferry prices in 2023?
As these ferries are government-funded it will cost you next to nothing to hop on the public ferry.
For a single passenger without transport, the Jorhat ferry price was 15 rupees.
But, you're not paying for luxury, the ferry is like a wooden boat with vehicles crammed on top.
There are seats below deck but, you'll find it's crammed. I preferred being in the open air, so I sat up top with all the men keeping an eye on their bikes!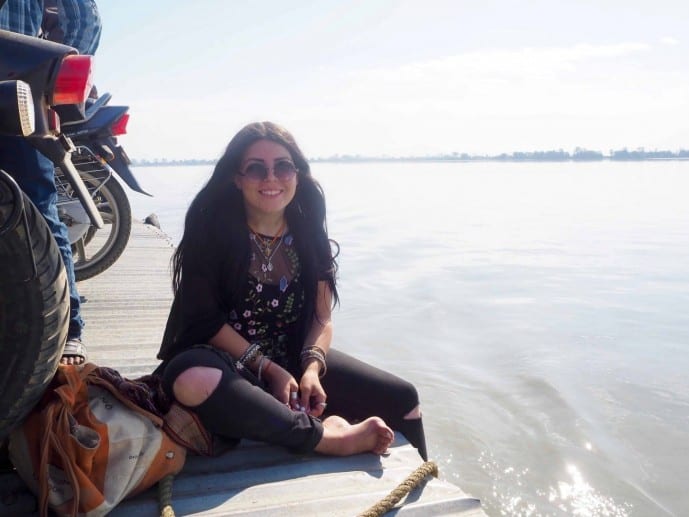 If you have vehicles you pay more. Motorcycles are really easy to load as they're small.
But, if you have a car you'll be paying more and there's limited space.
So, you may find you have to wait an hour for the next one if you don't arrive early.
Don't worry about buying tickets in advance, a conductor comes around and sells tickets once you're on the boat. Here's a full list of prices;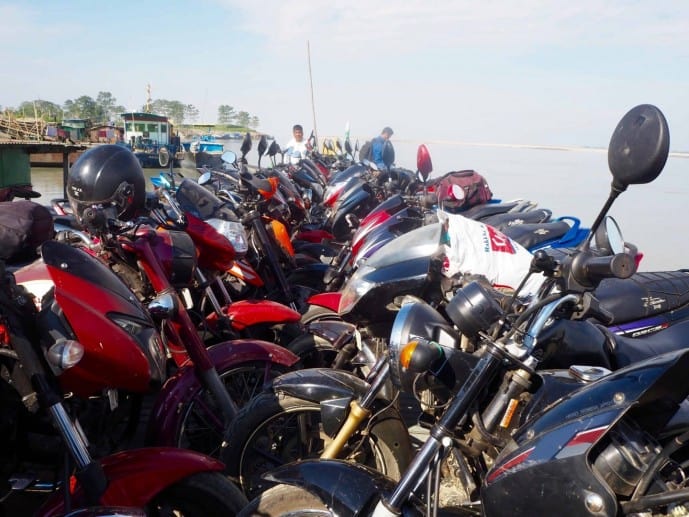 What is the Jorhat to Majuli ferry like?
I wasn't sure what to expect on the Jorhat to Majuli island ferry being honest. But, as it's a public ferry I expected it to be huge!
So, I was surprised when it was a little wee wooden boat with about 20 motorbikes on top and crowded with people.
There are no barriers and you can pretty much sit wherever you want.
Most of the locals were sitting in the lower deck and when I got in there it was crammed! So, I decided to just dump my bags down there.
There is always a shop on the boat which sells chai, biscuits, chewing tobacco and snacks.
So, I grabbed a Lal Chai (black tea) for 5 rupees and headed on up the top for some air.
I wanted to take photos too and it was the perfect opportunity above deck! I just had to find a space to sit in amongst all the bikes.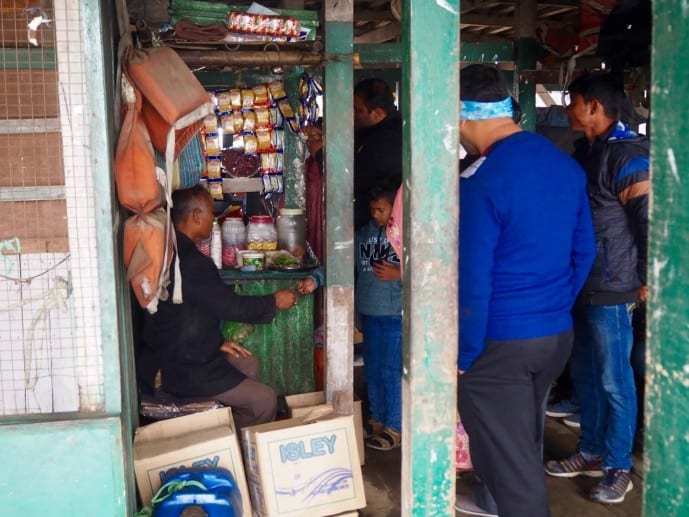 How long does the Jorhat to Majuli island ferry take?
If all goes to plan, it should take around a hour. But, as I said, don't forget to factor in the Indian timings.
They always take off a little later then scheduled. But, enjoy the scenes around you!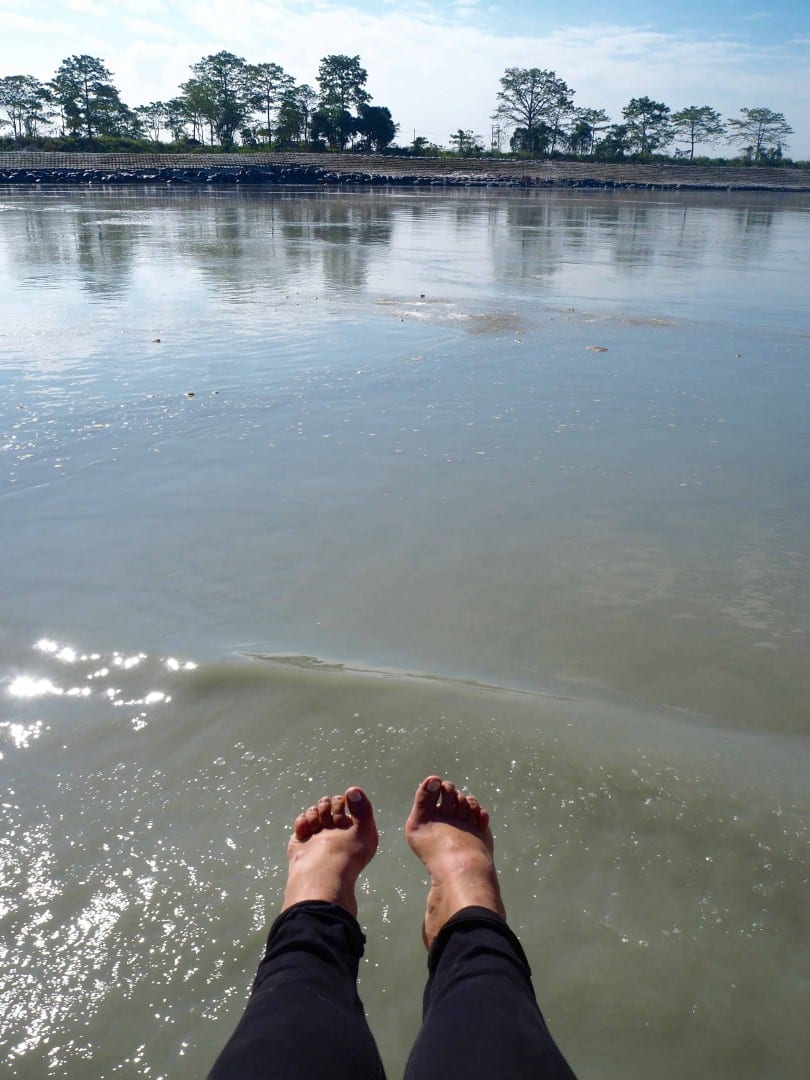 When I was returning from Majuli Island back to Jorhat, we got delayed by 3 hours due to thick fog.
The captain couldn't find the way so we ended up mounting a part of the island and getting stuck.
I lost all hope when we got unstuck and started to head back to Majuli but at that moment another ferry came along to guide us back! Nightmare.
It was so important that I headed back to Guwahati that day too due to my flight the following morning.
As you could tell, I did NOT want to get stuck on Majuli island haha. Although it is rare, it can be a regular occurrence even in winter due to the foggy mornings.
So, make sure you leave enough time or head out in the afternoon when the fog clears.
When you land and transport on Majuli island
When you land on Majuli Island you'll reach the ferry dock. From here, the nearest hotels and guest houses are around 2-3 kilometres away.
There are public rickshaws that will take you to the two main 'towns' of Majuli. That's right, it's so big there are municipalities.
These will be cheap but won't take you directly to where you're staying.
If you wanted to get a private transport, there are many private jeeps and rickshaws that will be waiting to take you.
I shared a sumo jeep with two other people and we paid 100 rupees each for 3 kilometres.
Our driver, Sun, was awesome and offered to take us for a day tour of the island the next day.
The taxi associations have a locked-in price of 1600 rupees for a full day tour (8 hours).
Majuli Island is huge and spans around 880 square kilometres. So, a driver may be a good idea if you want to cover a lot of ground in a short time.
Cycling is an option but bear in mind that the famous monasteries here could potentially be an 80 kilometre round trip from the main hotel area.
But, it's a personal preference and if you have bucket loads of time, where's the rush?!
Welcome to Majuli Island, the largest river island in the world!
As soon as I arrived on Majuli Island, I didn't think it was an island at all. Of course, when I landed all I could see was water all around me.
But, once you drive into the main areas, you forget you're actually in the middle of the Brahmaputra River!
I had the most amazing time exploring the beautiful island of Assam.
I visited Hindu monasteries, tried on Majuli theatre masks, helped make clay pots, watched beautiful Assamese dancing, saw boats being made, tried the traditional fish, and met loads of friendly locals.
To see my complete guide to Majuli Island click here or see my top travel tips for Majuli click here.
Read more of my posts on Assam
If you liked this Jorhat to Majuli Island ferry guide, make sure you read more of my helpful blog posts on Assam in North East India!
Taking a Ganges River cruise in Guwahati
My complete guide for Kaziranga National Park
Read more of my North East India articles!
Top things to do in North East India
A complete guide for Hornbill Festival
Best places to visit in Arunachal Pradesh
My ultimate Tawang travel guide
How to find the double-decker root bridges in Meghalaya
A complete travel guide for Guwahati
A complete Kaziranga Safari guide
My top North East India travel tips
Save this Jorhat to Majuli Island Ferry guide for later!