So, anyone that has visited the Berner Oberland region in Switzerland knows that the Jungfraujoch (pronounced young-frau-yock) is the king of the mountain range there.
As you're gazing at the trifecta mountain peaks of the Jungfrau, Monch, and Eiger and you're wondering what's up there over those mountains.
Did you know can catch a train there?! It's called Jungfraujoch Top of Europe and it's the highest altitude train station in Europe.
On a clear day, you can see the famous Sphinx weather station perched up on the peak, and admittedly, it does have a sense of allure to it.
I decided to take a trip up to Jungfraujoch Top of Europe, standing at 3,454 metres above sea level, to see what it was all about.
Here's a quick guide to the Jungfraujoch Top of Europe!
What is the best time to visit Jungfraujoch Top of Europe?
If you're flexible with your itinerary, you should visit on a clear blue sunny day.
That way you have the best views and you're not too chilly when you reach the top.
If it's cloudy, I'm sure it will still be spectacular but your view of the glacier may be scarpered.
Did you know that most Swiss weather channels have webcams including the Jungfraujoch?
So, you can check the footage on the day to see if the views are clear before you buy the expensive tickets!
Click here to see the official Jungfrajoch webcams
How much does Jungfraujoch Top of Europe cost?
Tickets for the Jungfraujoch are not cheap at 78 Swiss Francs an Adult, which does not include seat reservations. So, it's a little bit of a scrum for seats.
The only problem with booking in advance is that you cannot guarantee the weather and so you may want to wait until a clear day to buy your ticket.
If you book online, there are offers so make sure you keep up to date.
When is the best time to leave for Jungfraujoch Top of Europe?
Trains leave every 30 minutes from Kleine Sheidegg from around 6.35 am. If you can get up for this, it would be ideal.
I would recommend leaving early in the day to make the most of the clear skies as the clouds form quickly around the mountains.
Trains from Kleine Scheidegg to Jungfraujoch Top of Europe
Trains to the Jungfraujoch Top of Europe can be accessed from Kleine Scheidegg station.
From here Kleine Scheidegg, you can catch the red trains all the way up to the Jungfraujoch Top of Europe station.
To guarantee a seat, you should make a Jungfraujoch train seat reservation at 5 francs along with your ticket.
In my opinion, they're worth every penny as it's a bit of a scrum if you don't have one.
If you'd rather save your pennies, get in the queue early to take your seats or it's a long steep ride to the top standing.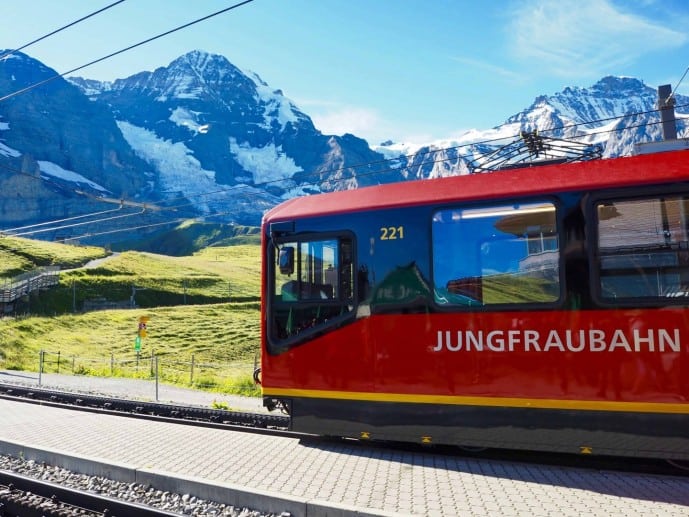 What to see on the train to Jungfraujoch
What I loved about the Jungfraujoch train journey is that they stop off on the way to get some good views of the glacier along the way.
They make two stops, first at the Eigerwand station and then secondly at Eismeer stations.
You only have 5 minutes at each stop so it's a bit of a rush, but the views you are greeted with are spectacular.
You can see all around the valley and the dramatic peaks of the glacial edge of the mountain.
There are also toilet stops if nature calls.
On your 40-minute train journey, they have a lot of promotional movies to entertain you, showing what you can see up there.
This includes the highest Lindt shop which I was very happy about what made me even happier was the fact there were free samples.
Things to do on Jungfraujoch Top of Europe
When you reach the top of Jungfraujoch, you can definitely feel the change in altitude.
You will join a plethora of tourist groups and it may seem a little chaotic.
But, everything is labelled to make your way around easily to all the attractions included in your ticket.
Here are the top things to do in Jungfraujoch Top of Europe.
The Sphinx
The best view of the glacier valley is the weather station platform in Jungfraujoch or the Sphinx.
You can see a 360-degree panorama view of the mountains here and it is jaw-droppingly beautiful!
You will come face to face with the edge of the Eiger and you can get some amazing photos to boot.
Watch out for the birds which fly about, they like to pose for you!
Go sledding, skiing or ziplining over the Jungfraujoch
One of my favourite places to go was the winter games. Here, you can get involved in all sorts of snow-related fun.
You can ski, sled, and even zip line over the Jungfraujoch glacier.
I decided to take part in the zip lining. As I made my way up to the platform I could feel my legs shaking!
It was pretty scary but so much fun! Prices are 20 francs ago!
Hike over to the Mönchsjochhütte
If you're feeling energetic and have a good pair of shoes on, you can make your way to the Mönchsjochhütte over the ice.
It's a long way and will take about an hour, but you get some outstanding views of the mountains as you walk.
When you arrive there is a small restaurant to warm your toes in and sip on a hot drink or grab a bite to eat.
Little dreams of Switzerland
A relatively recent feature of the Jungfraujoch is the Alpine Sensation exhibition.
The walls are peppered with glowing edelweiss and it showcases some charming sculptures and an impressive animated snow globe.
You can also see some history of the hikers who first succeeded in climbing the mountain too!
The Jungfraujoch Ice Palace
Another attraction included in your ticket is that you can surround yourself with walls and sculptures of ice – it's a magical place but extremely cold.
There isn't any type of slip-proof mat so make sure you've got good balance – not like me, I nearly slipped a dozen times!
The Flag point
If you needed another excuse to get out into the snow again, there's a second snowy platform that comes with a patriotic flag of Switzerland. It's called Flag Point.
Here, you get a view of the Eiger and glacial valley from a different perspective.
It is a tad slippy so make sure you've got good shoes on to prepare for the ice.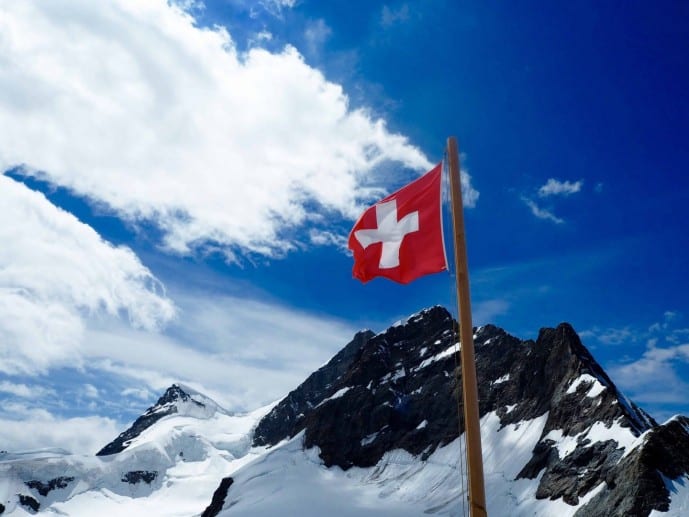 Restuarants at Jungfraujoch Top of Europe
There are so many restaurants here at the station to cover all budgets so you can take your pick.
If you're tired of Swiss food, there is an Indian restaurant 'Restaurant Bollywood' to book yourself into and enjoy a yummy curry at the top.
Jungraujoch shopping
There are oodles of shops to spend your SwissFrancs here.
From designer watches, jewellery, box standard Jungraujoch souvenirs with cowbells, and, for me, the all-important Lindt shop.
Here, you can try some free samples and see how it's made!
Making your way back from Jungraujoch to Kleine Scheidegg
The journey on the way back down is a little shorter as there aren't any stops on the way but you will get some great views of Kleine Scheidegg on your descent back down to earth.
If you have time make sure you check the Kleine Scheidegg station out! It's a quirky little place which boasts a famous tipi to enjoy a drink in.
My favourite part was watching the cows grazing in the mountains.
Where to go after Jungfraujoch
If you're looking for places to visit after the Jungfraujoch, there are a few things to do from here if you're still feeling energetic after your journey to the top;
Walk from Kleine Sheidegg to Manlichen
You will be walking uphill but the walk will provide some stunning views of the surrounding towns and valley.
The Mannlichen viewpoint is spectacular and you can take the Royal walk to its crown on the top of the hill.
When you're finished, you can get the cable car down to Wengen or Grindelwald.
I actually went the opposite way Mannlichen to Kleine Scheidegg. Check out my guide here.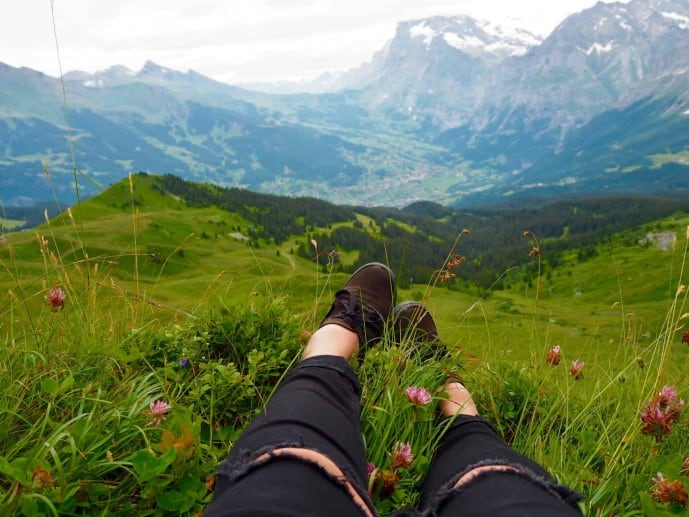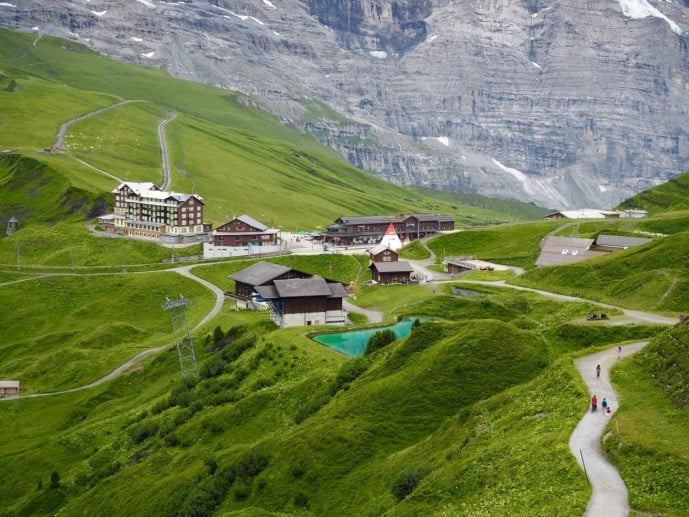 Take a cable car to Wengen
Wengen is a popular ski resort in winter and a nice place to spend an afternoon in summer.
It's a stop on the train down from Kleine Sheidegg if you wanted to get off and look around.
There isn't all too much to do here apart from shopping, but you do have some great views of the mountains.
Lauterbrunnen
One of my favourite places in the region is the small town of Lauterbrunnen.
It is notorious as a base location for backpackers and paragliders so there are some great budget places to eat.
If you walk up the main high street you can venture on to its famous Staubach falls or just wander around the town – it is as pretty as a postcard.
Read more articles about Switzerland!
A complete travel guide for Mürren
How to see the Matterhorn in Zermatt
The famous Kapellbrücke Bridge
A Sherlock Holmes guide for Meiringen
The best afternoon tea in Interlaken