Some say that you haven't visited Guwahati without stepping inside the famous Kamakhya temple.
A popular pilgrimage site for those of the Hindu faith, it was built to symbolise and honour the deity Kamakhya.
Representing The Female Power of Shakti and celebrating a woman's ability to conceive, this temple doesn't have an idol of Kamakhya to worship but a yoni (vagina).
According to legend, it marks the site where Sati's womb fell. It's the oldest of the 51 Shakti Pithas that still stands today and sees thousands of tourists, visitors, and spiritual pilgrims each year.
I personally loved my visit. I always think it's interesting to be exposed to new cultures and traditions.
It felt a bit like an Indiana Jones movie entering the inner sanctum and visiting the cave temple. It was dark and almost claustrophobic. With the fire, incense, and chanting, I felt overwhelmed with an energy I didn't quite understand.
Here is my complete guide to Kamakhya temple Guwahati with everything you need to know before you visit.
How to reach Kamakhya Temple in Guwahati
Guwahati is the gateway to the North East of India, so you'll most likely be landing at the international airport there. It's a huge city spread across a wide area.
As it's based 7km out on the west side of the city don't underestimate the time it takes to reach.
It can be really congested with traffic at peak times. The Assam State Transportation Corporation links are amazing in the city.
There is a direct service that runs back and forth to the temple from the main bus stand at Paltan Bazaar.
Bus prices are super cheap at anywhere from 15 to 50 rupees per journey. It charges by kilometre. For more info, see here.
Under Dharmajyoti, pilgrims receive a concessional fare of 50% off! So, if you were here on a pilgrimage, definitely take advantage of that. For more info, see here.
Or, you can grab a good old-fashioned Tuk Tuk (3-wheeler), but haggle hard. They were quite tough on prices here, especially with foreigners.
Even my Indian traveler friends were having a hard time because they were speaking Hindi instead of Assamese (the local language).
There is also Uber and the Indian version Ola (Ola works better in my opinion as there are more drivers) in Guwahati. But, I'd suggest that you must have an Indian phone number to keep track! They're good for not getting ripped off.
You simply need to download the app from the App Store or Google Play. Click here to read my guide about Uber in India.
What's the dress code for Kamakhya temple?
Like most temples in India, the dress code is strictly formal.
As this is a Hindu temple there is no need to cover your head but, this is a place of religious worship all the same so covering your shoulders and legs is a must!
Wearing traditional clothing isn't necessary, but some outfits to consider could be a pair of yoga bottoms and a blouse, leggings, and skirt, a maxi dress etc.
I wore a pair of jeans and a nice top but as the top revealed my shoulders, I paired it with a scarf and didn't have an issue.
5 things to know before visiting Kamakhya Temple
1. It stands on Nilachal Hill at 562ft high
As you wind your way up the Nilachal hill to the temple, you'll come across spectacular views of Guwahati.
Standing at 562ft, it definitely holds an air of mystery about the place.
I would highly recommend getting a taxi up the hill as it may be a bit of a mission to climb, especially with the humidity!
I decided to visit the temple late in the afternoon to avoid the crowds.
In the peak season of winter, the sun sets at around 3.45 pm and by 4 pm, you're in complete darkness!
So, if you want to visit the temple in daylight I'd say go anytime before 3 pm.
There are numerous viewpoints a little bit down the hill if you wanted to take in the views of the Guwahati.
2. There's an interesting legend surrounding the origin of the temple
I found the story behind Kamakhya temple really interesting.
According to the legend, this temple was the place where the Hindu Gods Sati and Shiva (the destroyer) first met.
Later, they were married. Sati wanted to attend a yajna (sacrifice) that her father was offering to the Gods, against her husband's (Shiva's) wishes.
She decided to go anyway, only to be insulted by her father who also insulted Shiva in the process.
Unable to bear the shame, she decided to sacrifice herself in the fire instead.
Shiva was so aggrieved when he found out what happened, that he took his wife's burnt corpse and started his dance of destruction or Tandav.
Shiva was causing so much destruction it was going to destroy the world. This made Vishnu, the operator God, send his chakra to cut the body and stop Shiva's rage.
Sati's body then fell into 108 pieces or Shakti Pithas. The Kamakhya Temple is where Sati's womb and vagina fell.
3. It's the most popular temple in Guwahati
A lot of Hindus head to Guwahati to perform a pilgrimage or spiritual journey here.
It's a famous temple and one of the oldest of the 51 Shakti Pithas. The Kamakhya temple is the main temple in the complex.
But, it's one of ten temples that were built surrounding it to honour the ten Mahavidyas (or, great wisdoms).
Mahavidyas are personalities of the one supreme Goddess Shakti. Revered by Shaktas, they believe that "the one Truth is sensed in ten different facets; the Divine Mother is adored and approached as ten cosmic personalities,".
So, essentially all these ten temples are one and are all built to celebrate the Mother Goddess and all the different personalities which make her.
If you are planning to make an offering in the temple, my advice would be to get here early!
Queues can be anything up to a few hours to get into the inner sanctum. Official opening hours at 5.30 am until 10 pm in the evening. For more information on Puja and ritual timings, see their official website here.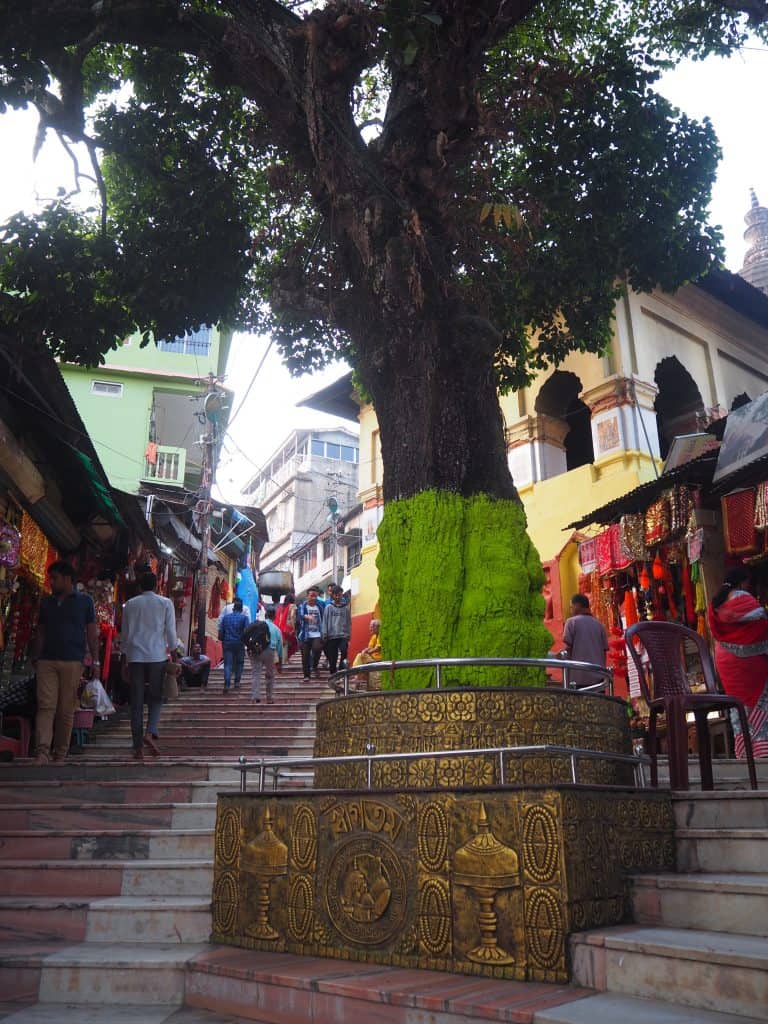 4. Kamakhya temple was built to honour the mother goddess… the bleeding Goddess of Assam
Along with the legend of Sati. The Kamakhya temple is actually unique in the way that Kamakhya (representing Shakti or the Feminine Power) is known as the bleeding Goddess.
Traditionally, the menstruation of women in India is frowned upon. But at this temple, it's celebrated.
It's believed that the inner temple or the 'Garvagriha' represents the womb or Shakti of the Hindu Deity.
There's actually not an idol representing Kamakhya here, only a Yoni or the vagina of the Goddess that is worshipped.
Once a year the temple holds an annual fertility festival or Ambubasi Puja. Supposedly, during this time the Brahmaputra turns red.
It's a myth that this is the day that Kamakhya menstruates… but don't quote me on that!
This temple celebrates a woman's ability to conceive, as opposed to shaming it! Which is totally cool in my books.
However, regardless of all this, women who are menstruating are forbidden from entering the temple.
5. Goats are sacrificed and… well, it's not pretty!
When I entered the temple I didn't know what to expect inside. It was so dark, hot, and stuffy it was almost claustrophobic and too much to bear.
There was also a huge queue to bring your offering so be prepared to be stuck inside waiting for a while. It honestly felt like I was in an Indiana Jones movie!
With the darkness, the fire, incense, chanting, and….a baby goat's head?!
I couldn't take my eyes off it. A cute little baby goat's head was placed on the altar.
I got blessed with the holy water and donated my rupees, but I couldn't take my mind off it. Although I know it's part of the religion it made me so sad.
In the 21st century, do we really need to sacrifice goats?!
Anyway, afterward, I heard from other travellers that just seeing ahead wasn't the worst of it.
There's a whole room where you can go in to watch the religious slaughter. So be warned, it isn't pretty! Especially if you love fluffy cute goats.
A tribute to the goats of Kamakhya temple
Can we just take a moment to appreciate the goats of Khamakhya Temple please? Little did I know when I took these pics they may be gonners now :( !
In all honesty, I thought they were kept as pets in the temple. I was so naïve.
I absolutely love goats so, I'm gonna put a few pictures here. Guys, I hope you made it!
Need a place to stay in Guwahati?
I know just the place! Check out Aditya's Bed and Breakfast Guwahati.
I stayed there 3 times when I was in North East India and it's honestly divine. You get your own bedroom (which fits three), a private sitting room, complimentary breakfast, and Assamese tea!
It's run by the most beautiful family and their guesthouse is really cheap, clean, and good quality.
You can now book this amazing guesthouse through Air BnB here.
Heading around Guwahati?
Guwahati was one of my favourite cities to visit in North East India. Sure, it's just a gateway for many but I would definitely encourage you to stick around and explore!
After your visit to Kamakhya Temple, you could visit Bashishta Temple which is located in the middle of the Brahmaputra River. You'll need to catch a ferry but it's definitely worth seeing.
Or, you could sail on the holy river via a relaxing river cruise! Alfresco Grand has an amazing selection of cruises that you can take with dinner. Click here for my full review.
For shopping, I would recommend Fancy Bazaar where you can find lots of clothes and handicrafts to buy.
Read next – My complete travel guide for Guwahati, Gateway to North East India!
Read more of my posts on Assam
If you liked this Kamakhya Temple Guwahati guide make sure you read more of my helpful blog posts on Assam in North East India!
My complete guide for Kaziranga National Park
A complete guide for Majuli Island
Things I wish I knew before heading to Majuli
Read more of my North East India articles!
Top things to do in North East India
A complete guide for Hornbill Festival
How to meet the Headhunters in Nagaland
Best places to visit in Arunachal Pradesh
My ultimate Tawang travel guide
How to find the double decker root bridges in Meghalaya
Why you must visit Cherrapunjee
My top North East India travel tips
Save these tips for Kamakhya Temple here!