If you've heard of the famous rat temple in India or Karni Mata Temple, then there are lots of things that you should know before you decide to pay a visit.
Of course, there is the obvious fact that there are thousands of rats that live in this temple.
So, if you didn't know that already, read on so you know what to expect or click away now if it's not your cup of tea (don't worry, it's not as bad as you think!).
Plus, there are also some other things to consider before visiting the temple and while you're there. Like, what is the best time to visit, how to get there (it's quite remote) and some rules for visiting while inside the temple of rats!
Here's my complete tourist guide for visiting Karni Mata Temple and some top tips you need to know before you go.
Warning: this post contains lots of photos of rats. So, if you're not a fan, or have a phobia, I would urge you not to read further.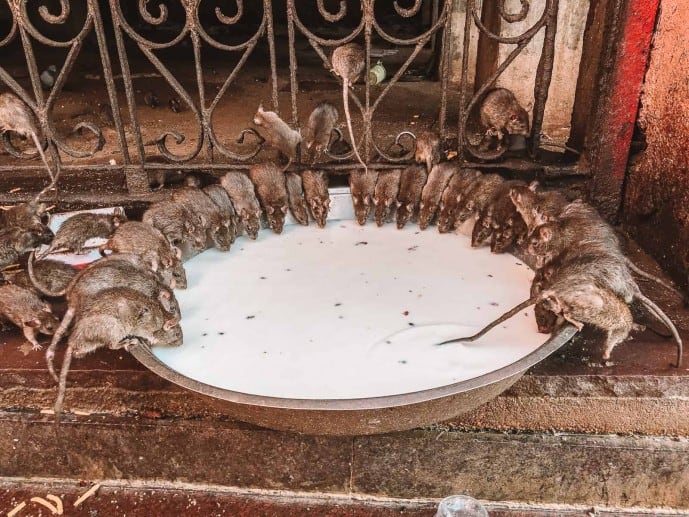 What is Karni Mata Temple?
Karni Mata Temple is the only temple in the whole world that worships rats. It's a Hindu place of worship that is dedicated to the 14th-century sage and mystic Karni Mata, or the 'miracle' Goddess.
Karni Mata was a Hindu warrior, also known as Shri Karniji Maharaj. She is worshiped as the incarnation of the warrior goddess Durga by her followers.
This temple sees visitors from all over the world pay their respects to the rats at the temple and pray to the Goddess.
Many Hindus believe that Karni Mata will grant them their wishes if they worship there.
The legend of Karni Mata Temple
So, why are there rats in Karni Mata Temple?
Well, the legend goes that Karni Mata's son Laxman was trying to drink from a pond in Kapil Sarovar and accidentally drowned.
Karni Mata was so bereaved that she begged the God of Death, Yama, to revive him.
At first, Yama refused but after some convincing, he then decided that he would let Karni Mata's son be reincarnated as a rat. The same went for all of Karni Mata's male children and clan.
So, it is thought that the rats, or Kabbas, are members of Karni Mata's family reincarnated!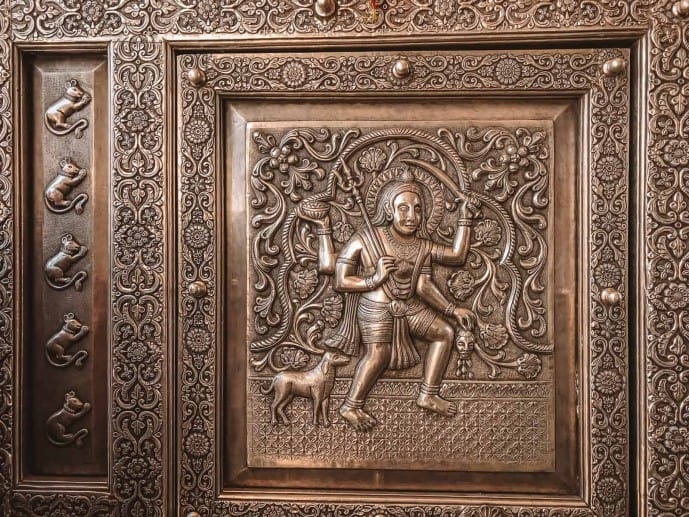 The history of Karni Mata Temple
The innermost temple is thought to be constructed in the 15th century, around the time when the town of Deshnoke was founded in 1470. They built the temple in honour of Karni Mata who fled her home.
The Karni Mata Temple we see today was built in the 20th century by Maharaja Ganga Singh.
He based the style on a Mughal architecture similar to the Taj Mahal. But, there have been many structures that stood here before that had weathered with time!
The temple was further enhanced in 1999 by Kundanlal Verma of Karni Jewellers.
How many rats are there in Karni Mata Temple?
No one knows for sure just how many rats, known as Kabbas, live inside the temple walls as they aren't tracked or monitored. But, it is estimated that there are over 25,000 rats at Karni Mata Temple!
Now, that number can seem overwhelming. But, don't fret.
You won't see all those rats at once when you visit the temple. In fact, although I saw lots of rats, there were only around a thousand. I say only a thousand in jest, I know it's still a lot haha.
It's quite a big temple area, so they are spread out inside the main building and around the outside courtyard too.
Is a visit to Karni Mata Temple right for me?
Although Karni Mata Temple is a top attraction to visit near Bikaner, it isn't for the faint-hearted.
Even for me, I was really excited to visit the temple and didn't think anything of it. But, when I got in the car to go, I had the sudden realisation that in around 30 minutes I was going to be surrounded by potentially thousands. of. RATS!
But, I had nothing to be worried about. It was fascinating (damn you scaremongering from the Black Death)!
Safe to say, if you don't like rats or have a phobia of them, this is NOT the temple for you. Also, if you don't like things that could potentially crawl over your feet or up your legs/over your body I would also give it a miss.
Karni Mata temple IS safe as the rats don't generally bite people. They are well-fed with offerings from pilgrims all day and eat more than enough. So, they won't be craving your flesh!
9 things you need to know before you visit Karni Mata Temple
1. It's located around 30 kilometres from the city of Bikaner in Rajasthan
If you're visiting Karni Mata Temple from the main city of Bikaner, you will need to travel quite far out of the city to reach it.
Karni Mata Temple is located in the town of Deshnoke so, by car, it will take you around 45 minutes to drive there. There is limited free parking outside the temple.
Luckily, it's pretty much a one-way road the whole way there along NH62, so you won't get lost!
How to get to Karni Mata Temple
If you don't have your own transport, you'll need to try and organise how to get to Deshnoke from Bikaner. It's a famous temple and many people that stay in Bikaner want to visit. So, you'll have lots of choices.
Train to Karni Mata Temple – The most convenient way is by train that runs every 4 hours from Bikaner to Deshnok, the whole journey takes around 30 minutes. From here, you'll need to walk around a kilometre to reach the temple. Tickets cost around 100 rupees one way. For more information on how to book trains in India, see my post here.
Bus to Karni Mata Temple – There is an option to take a local bus from Bikaner to Deshnoke. This is the cheapest option but maybe a little more adventurous than the train! All I'm saying is buses move fast, crazy turns, random stops, lots of horn beeping and needs you to keep an eye out to shout for him to stop at the temple. I always use redbus.in to book private buses and the RSRTC or Rajasthan Government website for local buses here.
Taxi to Karni Mata Temple – A round trip to Deshnok to visit Karni Mata Temple will cost you around 2000 rupees. So, I would make sure you negotiate the price beforehand and how much time that the taxi driver will wait for you to stay there.
2. It's best to visit Karni Mata temple during the day time for less crowds…and rats!
When I asked my tour guide, Salender, about the best time to visit. He told that if you're a tourist, it's best to visit during the daytime.
Why? It's because most of the rats aren't hungry and so there won't be many out on the floors of the temple to scurry about.
Apparently, in the morning at sunrise and in the evenings, there will be literally thousands of rats on the floor. They will be barely any space to walk amongst the rats and it could be quite overwhelming for your first visit.
Not to mention, as the sun goes down, a lot of pilgrims decide to visit the temple in the cooler temperatures and so it will be crowded, with long queues and you can hardly breathe!
Although it's a special experience to attend aarti at a Hindu temple, it may be best to avoid those times due to crowds and the number of rats around. But, hey, it's up to you!
Opening times for Karni Mata Temple
The temple is open from 4 am – 10 pm daily.
At 4 am each day the Charan priests perform a Mangla ki Aarti and give offerings to the temple in Bhog worship.
Pilgrims who wish to give offerings also do and it's supposed to be quite an amazing time to visit. But, you wouldn't get me out of bed at that time!
3. You will need to take your shoes off outside of the temple before you go in
Like almost all temples in India, you will need to take your shoes off to enter the temple. But, unlike other temples, there is no shoe counter at the very entrance.
The shoe counter can be found just outside of the car park in amongst all the shops selling offerings and cafés. There will be seats there so you can take your shoes off easily, instead of the usual hobbling around haha.
Keeping your shoes here is completely free, so watch out for anyone asking you for a donation or a tip.
You'll then need to walk across the tarmac (which can be hot) over to the temple, but from there it's mostly cool marble on your feet.
You can keep your socks on if you wish and honestly I wish I had brought some. I really don't like walking barefoot as I have a thing with stuff being stuck on the bottom of my feet!
There is a lot of sticky oils, milk, crumbs of sweets, rice, and of course rat droppings and pee on the floor. So, it's not a nice feeling walking around here really. Be careful as you go and watch your step. You should also wash your hands before you go inside the temple as a sign of respect.
4. You can buy offerings of food for the rats outside the temple
If you fancy buying something for the rats while you're here there are plenty of stalls selling little packages for the holy critters.
You can buy milk, sweets, ghee, or little packages that had been made with a mixture of things to offer to Karni Mata and her rats.
Usually, temples are honest with prices but I'd just be careful and haggle if it seems they're charging too much. Look at what locals are paying!
I personally didn't opt to buy offerings as I didn't want to attract more rats over to me than was absolutely necessary. But, it was nice to see the locals feed the rats in the temple.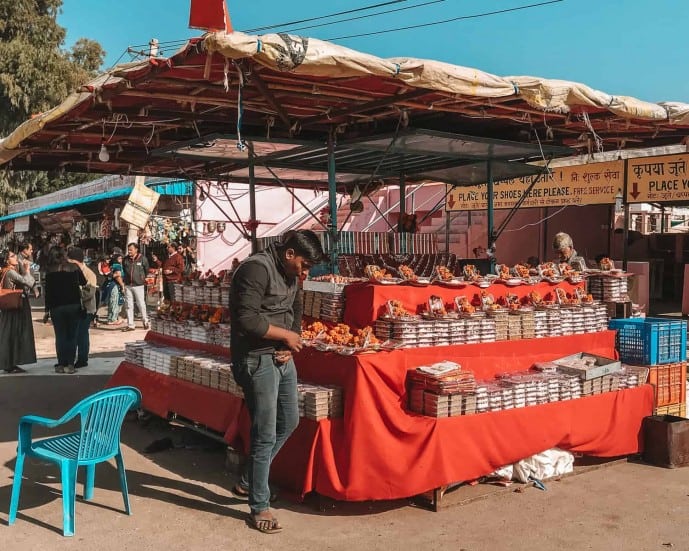 5. Entry to the temple is FREE but you will need to buy a photo/video pass
If you just wanted to visit the temple, see the rats and give an offering, it's absolutely free to go inside and wander around at your leisure for as long as you want. I would highly recommend leaving at least an hour to explore unless it gets too much of course.
Personally, I couldn't stop staring at the massive groups of them and trying to spot them on the gates, inside holes, and eating their sweets!
If you want to get proof that you visited the temple, get some serious bragging rights or just gross out your friends. You will need to buy a pass to take photos and video.
The prices are as follows:
Camera Fee: 30 rupees
Mobile Camera: 30 rupees
Movie: 70 rupees (I presume this means GoPro or professional video camera)
6. There will be rats literally EVERYWHERE at all times
I really wasn't sure what to expect with the rats before I got here. Would it be like Indiana Jones where they are jumping out of holes and crawling all over the floor?! I was clueless and, I have to admit, a little anxious too.
As I walked under the archway to the front courtyard, I couldn't see any rats at all. I think I saw one hiding in the corner nibbling on something. But, then, when I went inside the chamber to the inner temple itself… that's when I saw them in full swing.
There were rats scurrying on the floor, jumping out of the various holes in the walls, hanging off gates, crawling on top of doors, hiding in the nooks and crannies and you could see them everywhere.
That goes for outside in the back courtyard too. Mainly, the rats are looking for food or nibbling on something they've found. But, they also seem to like to play games with you and come up to introduce themselves too!
7. The rats here are considered holy and if they cross your feet it's considered good karma
There are quite a few myths that are believed in this temple and one of them is that if a rat crosses your feet, it means good karma.
I think this happened to me around 3 times on my visit. Sometimes I would feel a little sniff, or a nibble, or some claws of a rat that wanted to climb my leg haha.
It doesn't hurt, I could barely feel it, and is relatively harmless. But, I would try not to scream or freak out and kick it as this may make the rat angry. You don't want a rat attack!
Other myths in Karni Mata temple are;
If you share food with a rat, or eat food that has been nibbled by a rat, this is considered a "great honour" and will bring you good fortune.
If you accidentally kill a rat, you must replace that rat with one made of solid silver and offer it to the temple. They can be bought outside.
8. Look out for the white rat, it's considered good luck!
The majority of the 25,000 rats who live here are black rats. But, there are some exceptions that are white in colour.
Another myth here at this temple is that if you see one of the white rats, it will bring you good fortune and whatever you wished for at the temple will come true…
It's quite rare to see one, so I was super excited when my guide ushered me over as he had spotted one within minutes of us leaving the main temple!
I literally rushed over to what looked like a caged-off area for the rats and, I saw the white rat right in the middle of the floor.
As word spread that the white rat was around, I was crushed against the fence and was being pushed about with others wanting to see. I luckily got this photo of it before I decided to leave as it was a little claustrophobic!
9. It's not as scary as it sounds (or looks), at all
I think they're is always a little bit of a stigma around rats.
Although many people keep them as pets and they are studied as clean animals, I don't think people can shake their minds of diseases, plague, or the fact they live in the sewers.
But, there is a big difference between these temple rats and the ones you may see crawling out of a drain.
These rats are considered holy and, don't they know it! They are constantly fed and are treated like kings everywhere they go, so they have no reason to be aggressive towards you.
Karni Mata Temple is a beautiful, spiritual place that has a really nice vibe to it. There is colour, chanting, music, praying, friendly locals, and worship.
If you're still on the fence, I would urge you to at least try it out. You can always leave and the rats aren't that bad. Although many will disagree with me, I actually found them kind of cute!
Make sure you add Karni Mata Temple to your list of places to visit in Rajasthan! It will be a tale for the grandkids that's for sure.
Bonus tips for Karni Mata Temple
Toilets at Karni Mata Temple – There are some public toilets located outside of the temple. Saying that, I could smell them before I could see them. So, personally, I would hold out for a clean one unless you're really desperate. There is a 5* hotel down the street you could pop into and ask nicely.
Cafés / Restaurants – If you're feeling peckish there are some stalls around the temple serving up chai, coffee, cold drinks and snacks. There are also some street food stands selling cheap eats but nothing that resembles a sit-in restaurant.
Things to bring with you – I would bring a bottle of water to the temple, it can get quite hot during the day. Also, I would bring some anti bacterial gel if you happen to touch the walls or a rat while you're here. Just to be safe.
Karni Mata Fair
If you've planned your visit right, you may be able to attend the Karni Mata Fair, or Karni Mata Mela, which happens twice a year!
The largest fair is held from March – April and the second one is held from September–October. The fair coincides with Navratras and during Navratri thousands of pilgrims arrive at the temple on foot.
The fair, dedicated to Karni Mata, is open for locals and tourists to attend. It has multiple cultural and religious programmes plus you can get an insight into religious traditions too.
Where to stay near Karni Mata Temple
I based myself in the city of Bikaner and checked into the incredible Narendra Bhawan on my visit.
This Haveli was originally a palace to the last reigning Maharaja of Bikaner, Narendra Singh Ji who built it in 1969. After his death in 2003, it was transformed into a luxury hotel for all to enjoy.
Not only was the palace fit for royalty, my room a cosy retreat, and the food to die for but it also had the most incredible rooftop pool to enjoy the endless views of Bikaner! It's quite honestly one of the best hotels I have checked in to in Rajasthan.
I wrote a whole review about my experience there which you can read here. Or, you can book your stay via this link.
Looking for more things to do in Bikaner?
Bikaner is such an incredible and underrated city with so much to do in the area!
From taking a walking tour of the old walled city, exploring forts and palaces, visiting camel research centres, and visiting the famous historic havelis, I had an absolute blast and I'm sure you will do.
Make sure you check out my complete guide of all the incredible things to do while you're in Bikaner here!
Read more of my Rajasthan articles
My ULTIMATE Rajasthan itinerary
A first timers guide to Jaipur
My top travel tips for Jaisalmer
Taking a Tiger Safari in Rajasthan
Save these tips for Karni Mata Rat Temple in India for later!
With thanks to Narendra Bhawan Bikaner for hosting my stay and including a visit to the Karni Mata Temple as part of my day tour. Although I was a guest, all thoughts and opinions are my own.