A Kathakali Dance in Kerala was up there as the number one thing I wanted to do on my visit with India Someday!
It had been on my bucket list forever and I was so excited I was finally going to be able to watch a performance.
Kathakali is an ancient practice of religious dancing that is based on Hindu epics like the Ramayan. It takes six years of practice to perform it. You even study tirelessly to play the music and apply makeup too!
Watching a Kathakali performance is something you must do while in Kerala.
But, there are a few things you need to know before you sit down for a show! So, I'll give you all the details and my top tips here.
Heads up: my trip to Kerala was sponsored by India Someday. They are an awesome company that can plan your trip to India. Click here to read my full review of their service!
1. Kathakali Dancing is religious and has been around for hundreds of years
The art of Kathakali as we know it today has been around since the 16th and 17th centuries, but the origins go much further back than this.
Some say it originates back to ancient Sanskrit texts, like the Natya Shatra, from 200 BC! But, others claim it dates back 1500 years ago from ritualistic folk dances in the South of India.
Whatever the case, there are definitive records that the Zamorin Raja of Calicut wrote Krishnagiti, based on the life of Krishna, in the 17th century to be performed as Krishnattom.
This was a mix of ancient Sanskrit ritual dances, where the performers would mime the story and it was narrated by the musicians. Back then, only royalty was able to watch it in their temples and palaces.
Over time, this dance was shaped into the practice we see today and was performed at religious festivals in temples. The performances would go on for days!
Nowadays, as well as festivals, the performers put on shows for tourists like you and me.
2. It takes years of studying Kathakali before the dancers can perform it!
If you were to study Kathakali at one of the top-rated Kathakali centres in India, like Kerala Kalamandalam, you wouldn't graduate for 7 years after you started!
It takes years to practice the ancient art of Kathakali, so when you're watching the performers on stage, you know that they gave so much of themselves in order to perform it.
They say that there are five elements to Kathakali;
Natyam (Acting)
Nrithyam (Expression)
Nritham (Dance)
Sangeetham (Music)
Chutti (painting or makeup)
All of these elements need to be mastered, whether you're a dancer, musician, or makeup artist. So, you need to be pretty dedicated and know this will be your long-term career.
3. During festivals a Kathakali Dance in Kerala can go on all night
The main reason why people have mastered Kathakali through the centuries is because they wanted to perform it during religious festivals. Not for the small snippets, we watch today.
Years ago, when this dance was performed, it would be based on stories from the Ramayana or Mahābhārata, which are both epics about Krishna's life.
People believed that if they performed shows about Krishna and reenacted his journey, people would form an attachment and feel more connected to him.
So, even to this day, during festival times the Kathakali performances go on all night, sometimes reenacting endless chapters of the tale. It must be exhausting.
4. Kathakali makeup can take hours to apply
When you watch a cultural show while in Kerala, you're only watching a fraction of traditional dance. During an official performance, the makeup process takes well over three hours.
But, during the one you'll watch, the whole performance will take two hours. the first hour is watching the artists apply makeup which is an art in itself.
Most of the actors in the show I watched applied their own makeup, with the exception of the Pacha who has a green face. He needed extra work from a makeup artist (called a Chuttikkaran) to apply the white face enhancements on the side.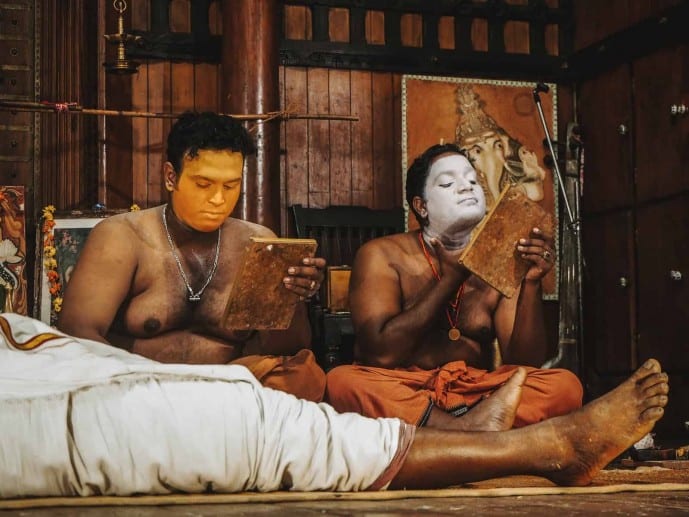 Although many find this part boring, I was captivated by it. I mean, it beats a lot of the makeup tutorials I've watched on YouTube!
During the show, we also learned that many of the makeup ingredients are organic and natural.
They use coconut oil as a base, powdered stones to make the yellow and red colours, lime and rice flour for the white paint, and gingelly oil to make the black. The green is made from Manayola and Neelam.
Some actors are so dedicated to their work, they put the seeds of flowers in their eyes to make them go red! It creates a sinister look.
5. The dancers communicate only by using their body movements
While you're watching a Kathakali Dance in Kerala, you may be a little confused about how it is performed.
There is no talking at all, only dancing through a series of movements. The actors learn thousands of unique expressions and movements which create a language on the stage.
A slight eye movement, eyebrow twitch, a flick of the wrist, or foot angle can mean a different thing is being communicated as part of the plot.
But, don't worry, with most shows, you'll be given the plot of the performance they are about to perform before. So, you'll get the general outline.
As part of the show I watched, they even gave us examples of movements used for a speech before it started. Like the shaking of heads at different speeds to say "no" or "get out", or cheeks and eyes moving to signify love or lust.
That way, it made a lot more sense while we were watching the dancing. It was gripping to see it in practice along with all the drums and music.
I cannot imagine how much concentration and effort it must take to remember all of the moves for the performances. But, I guess that's why they study for years to master it!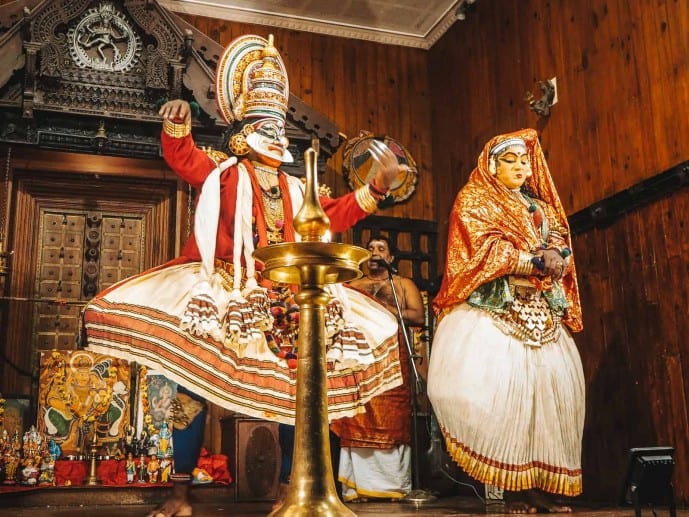 6. You can watch a Kathakali Dance shows all over Kerala
If you're interested to watch a performance while you're here, they can be found all over Kerala. So, there isn't one particular place to watch it. They perform in hotels, near the beach, and at cultural centres all across the state.
By far the best place to catch a performance is in the cultural hub of Fort Kochi. It's the perfect place to watch it as it really adds to experiencing the history of Kerala.
I watched my performance at the Kathakali Cultural Centre. Tickets were only 350 rupees and I was super happy that I got to bag a front-row seat.
I would highly recommend booking early as performances do sell out. Also, if you're interested in watching other performances, the cultural center has a wide range of shows they perform daily.
Click here for more details on the shows and courses the Kathakali Cultural centre offers!
7. Or, try a Kathakali workshop to have a go yourself!
Of course, to master the art of Kathakali takes years of practice, but you can have a taster by learning the dance, makeup and even the music from a trained professional at the Kathakali Cultural Centre.
They run small private classes for one day, up to longer more intensive courses that run for weeks.
If I had more time while in Kerala, this would have been right up my street as I love to try new things but unfortunately I was on a tight schedule.
But, if you have time and want to know more about the type of classes they offer, check out their website for more details!
Want to see more cultural performances in Kerala? Try Kalaripayattu!
If you loved the Kathakali Dance in Kerala, another cultural performance you may be interested in watching while in Kerala is Kalaripayattu.
This is an ancient form of martial arts that originates from the warriors of Kerala centuries ago! The training to master Kalaripayattu takes years and some train from when they are just a child until they are old.
I watched a performance in Munnar at Punarjani Traditional Village and was absolutely captivated by it. We sat in a round arena and it kind of felt like I was going to see Gladiators at the Colosseum!
During the show, we got to see the warriors fight using wooden sticks and swords with shields. They would kick footballs held metres up in the air and they even jumped through not one but three hoops of fire!
It's a must-watch and so, if you get the chance, buy that ticket, sit back and enjoy the fighting. Buy tickets online here.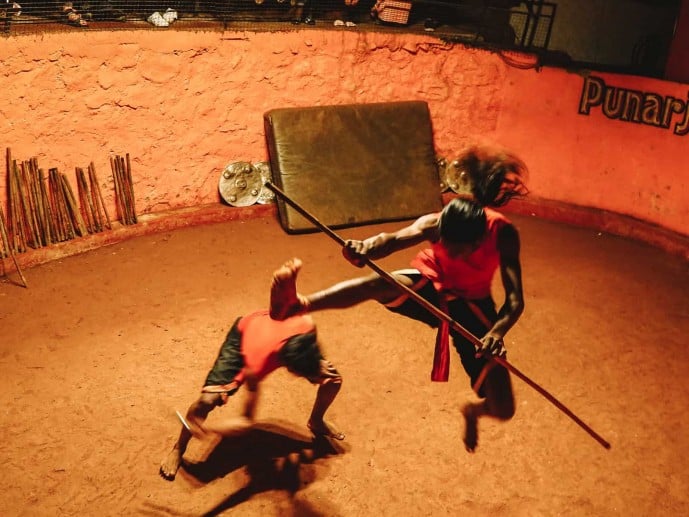 Looking for more travel inspiration for Kerala?
I spent a week here in Kerala and absolutely loved it. So, I've written some detailed guides about all my adventures here from the historic Fort Kochi, the hill station of Munnar to the backwaters of Alleppey as well.
Read more: The best places to visit in Munnar
Click on the links below to read my Kerala travel guides;
The top attractions in Fort Kochi
The best Tea estates in Munnar
The best sightseeing from Cochin to Munnar
Chinese fishing nets: How not to get scammed!
A complete road trip to Munnar guide
Top Station: is the drive worth it?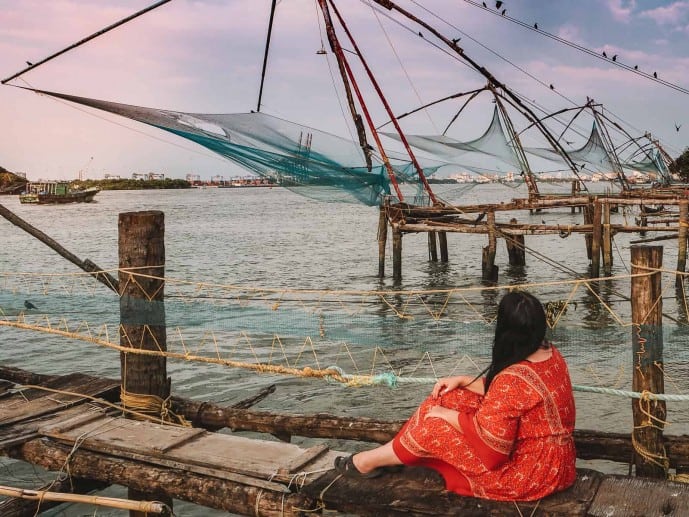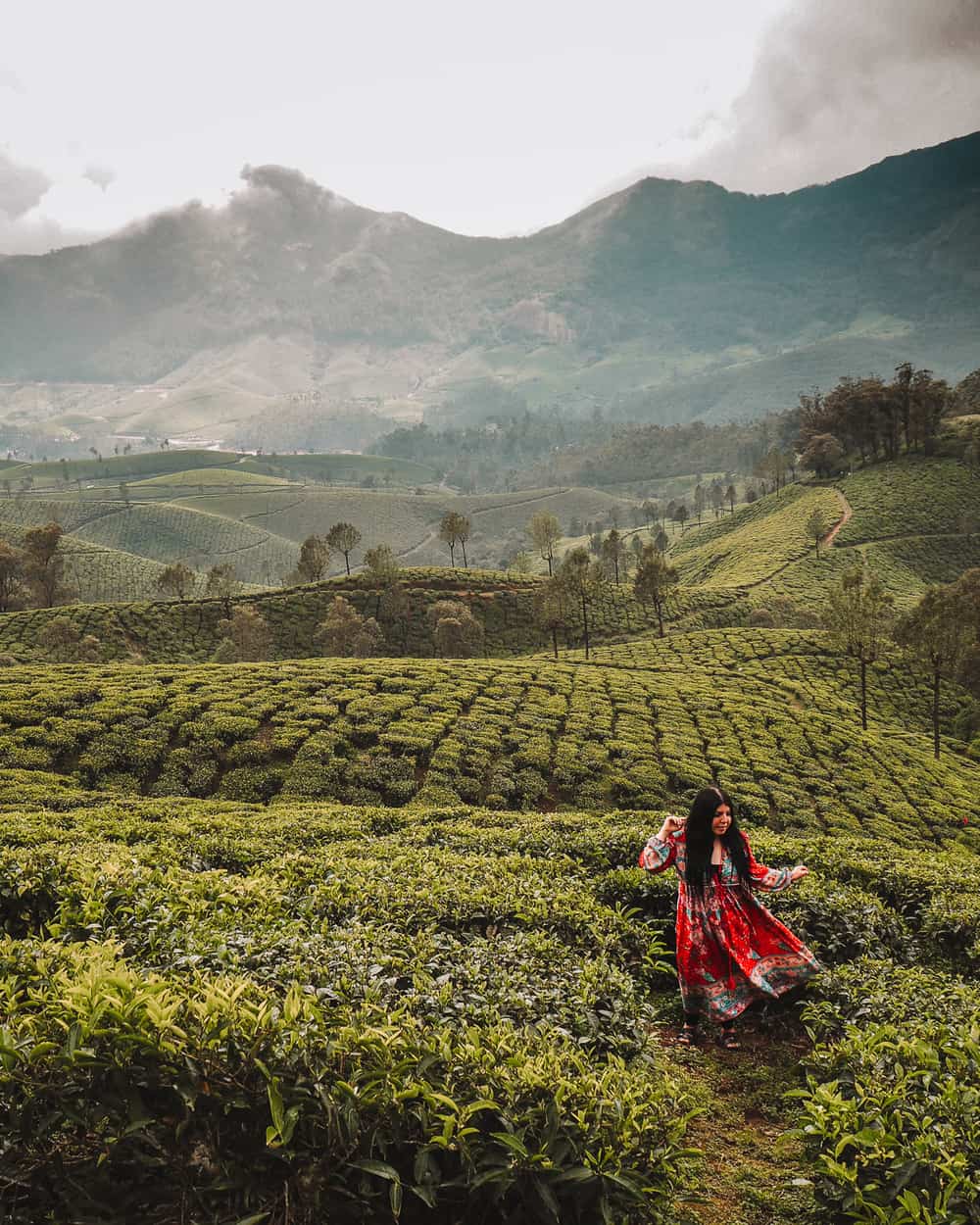 Save this Kathakali Dance Kerala guide for later!