Are you ready for the ultimate Kathmandu bucket list? This list will guarantee that you get the absolute best out of your visit to Kathmandu, however short.
Some will tell you to get out of here as soon as possible, but I think that this city deserves a little more credit.
It's a bustling, dusty capital of bright lights and filled with temples, markets, stupas, sadhus and friendly locals.
I have been here on two separate occasions and have loved every minute. I certainly didn't get bored and I always learn something new every time I visit.
Make sure you check off all the things to do in Kathmandu. Here we go!
WARNING: There are A LOT of photos in this post, you may get serious wanderlust!
Some important information before you visit Kathmandu
In April 2015, Kathmandu suffered a massive earthquake that hit a height of 7.8 on the Richter scale.
The devastation in its aftermath caused a huge tragedy with over 9 thousand locals and tourists dying in and around the buildings which fell.
Thousands more were injured. Many of the ancient stupas, temples, and people's houses fell to the ground.
The city is slowly being rebuilt back to its original state but it's taking some time, therefore you will see lots of rubble and construction going on all around you.
Although it has been two years since the quake, it is still felt by people today.
It's good to note that the dust pollution in Kathmandu is quite heavy and if you have any sort of breathing difficulties you may struggle with this.
I would personally bring an anti-pollution mask (or buy one there) and bring an inhaler or your usual medication.
Take A/C tourist buses and taxis when you can to avoid breathing it in.
15 unforgettable things to do in Kathmandu
1. Stroll clockwise around the Boudhanath stupa
Probably one of the best things to do in Kathmandu, even if you're there just for a day, is the mighty Boudhanath Stupa.
It's the biggest stupa in Nepal and when you approach it, with the compassionate eyes of Buddha staring down at you, you can't help but feel small.
Walk clockwise with the locals turning prayer wheels, and smell the incense and the sounds of Buddhist chanting.
There are some awesome cafés located all around the Boudhanath stupa for lunch or a quick coffee.
They come with a hefty price tag, but it's so worth it for the view and to snoop on what's happening below! So much selfie stick action haha.
I would personally recommend the Momos at the Buddha stupa view café. They will burn your head off but they're tasty. Wash it down with a locally brewed Everest beer.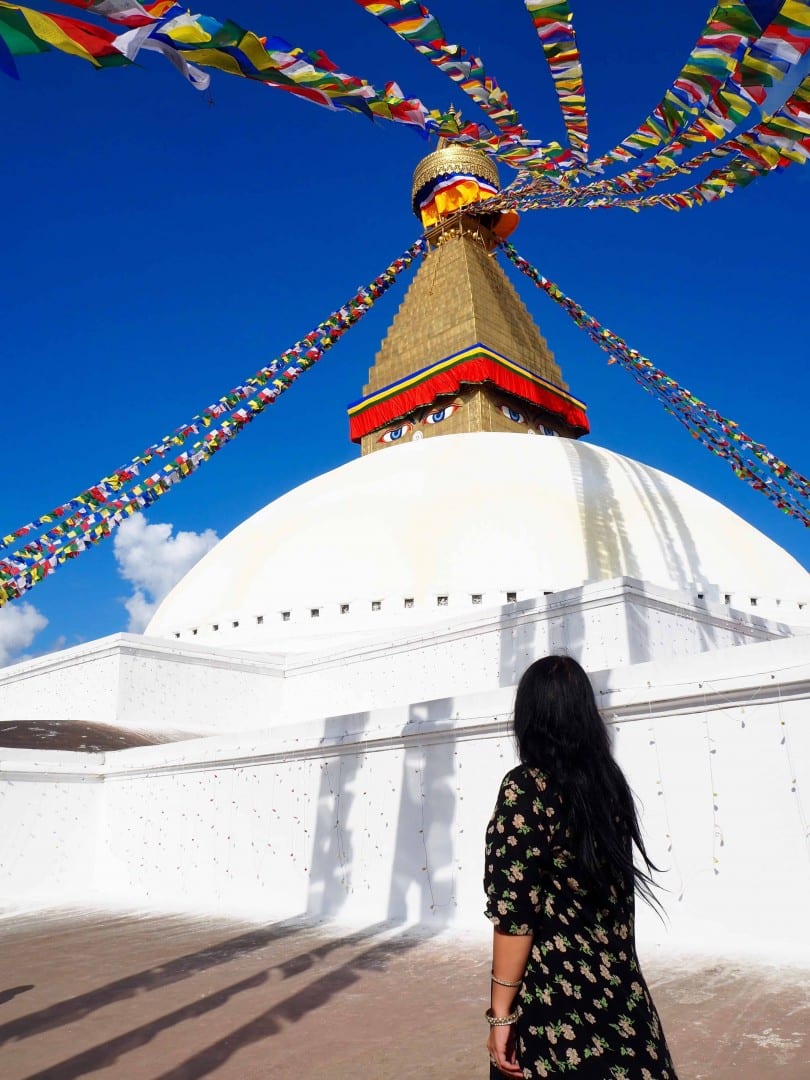 2. Get lost in the busy market streets in Thamel
Thamel is a labyrinth of busy alleyways, hawkers, shops, bars, and more. It's the tourist hub of Kathmandu and so it's crammed full of all the things tourists love.
This is without a doubt the best place to buy souvenirs, come for cheap eats or a cheeky drink or two in the evening time.
This is also where you'll find budget hotels in the middle of all the action. Personal favourites haunts are the Western Kitchen, Blueberry Kitchen, the Ship, Thamel Doner Kebab (so good), and Purple Haze.
Just be careful, it's easy to get lost!
Top tip: take a hotel business card and show it to a local if you can't find your way.
3. Meet the Sadhu's at Pashupatinath temple
Pashupatinath temple is a Hindu temple complex similar to Varanasi.
Open cremations happen here daily and it's a place that every Hindu should visit at least once in their lifetime.
Non-Hindus are not allowed to enter the temple (you even have to prove you have a Hindu surname with an ID card) but you can wander around the complex outside.
As you wander around you'll see many Sadhu (holy men) who reside at the temple.
These guys have given up worldly possessions, although some have designer watches!
They pose for photos and rely on donations to make money. But, I'm sure they spend it on smoking 'something' rather than food if you get my meaning.
Be prepared for them to quote a high price, some were asking for 10/15 dollars!!! But, just give what you feel. It was really fun meeting them and they blessed me with a vermillion dot and tied a thread around my wrist.
Click here to read my complete guide for Pashupatinath Temple
If you wanted some more information on what to expect on the open cremation side of things, you can see my 'What it's like visiting the Varanasi cremation ghats'.
Although this post is about Varanasi in India, it's the same religious tradition here.
4. Hang out with monkeys at Swayambu
Standing high above Kathmandu the Swayambu stupa does have an air of mystery around it and it's a siren that calls you in!
But, to get there you need to climb a pretty much vertical staircase.
If you've been training for trekking this should be no problem for you. For me, it was a struggle and I puffed all the way sweating from the heat haha!
However, once you reach the top you're rewarded with incredible views of the whole of Kathmandu valley. Remember to walk clockwise around the stupa, which is a Buddhist tradition.
It's also nicknamed the monkey temple for a reason! There are loads of cheeky guys messing around and baiting the dogs here!
There's an awesome café chain called the Café Stupa View which serves up a good meal and has a great vantage point. It's one of the best things to do in Kathmandu!
5. Relax in the Garden of Dreams
Possibly the most relaxing place in Kathmandu is the Garden of Dreams or Kaiser Mahal to locals.
It's a Rana palace complex constructed in the 1920s by Kaiser Shamsher Jang Bahadur Rana. But after the fall of the Rana regime in the 1960s, it was sold to the government of Nepal.
It lay in neglect for decades until the Austrian government restored and opened it for the likes of you and me in 2007.
An absolute oasis compared to the busy Thamel streets outside, you can bring a picnic, and a book and just take some time out.
There are some great little mats provided to lie down and you will get some entertainment, or inspiration, from locals taking selfies and photography shoots. Great to learn some new moves!
It's quite small but there are some awesome parts to it including the secret garden, waterfall, and the jungle swing they've installed.
There's always a massive queue from the Instagram gangs but it's worth waiting for.
It's quite tiny though, so if you have a big bum like me, you may get bruised :P.
This garden also houses my favourite restaurant in Kathmandu, the Kaiser Café. It's part of the Dwarika group (the fancy 5* resort) and so it does have a high price tag for food.
But, it's quite reasonable to pop in for a coffee and a key lime cheesecake. I still dream about this cheesecake now… take me back! I'll go into more about this café below. It was one of my favourite things to do in Kathmandu.
Tickets are 200 rupees per person regardless of nationality. You can buy a 'season' ticket at a discount for 15 trips.
Click here to read my complete guide for the Garden of Dreams!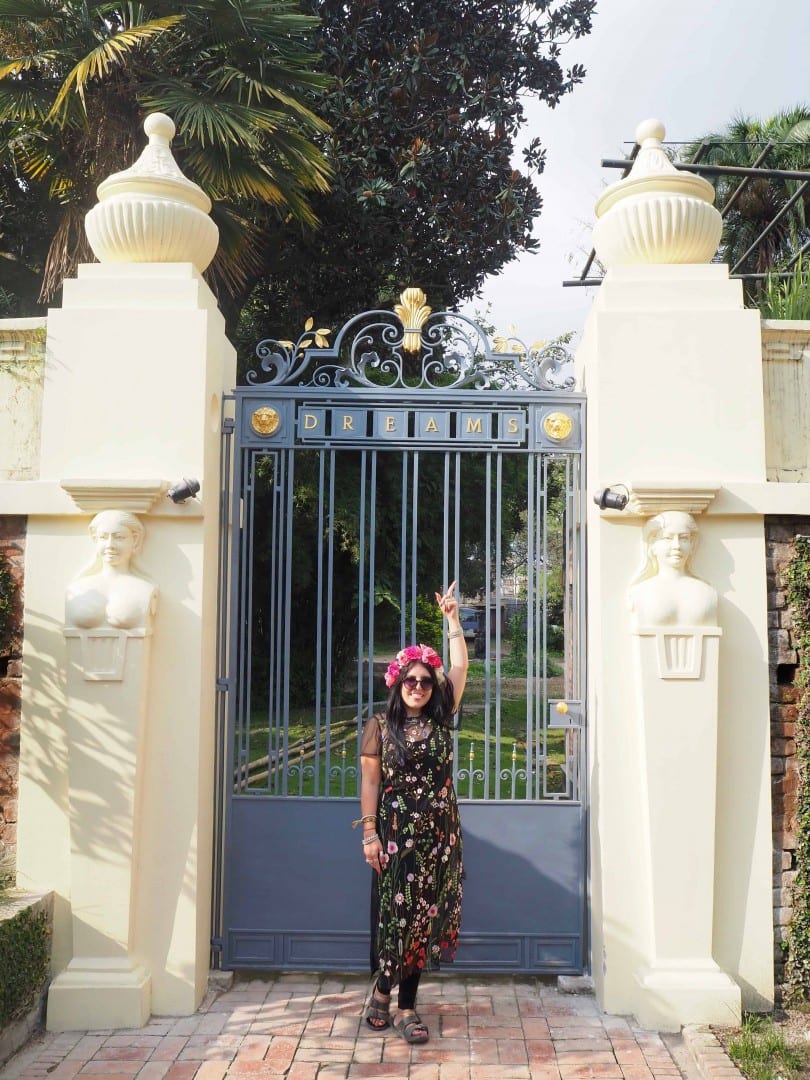 6. See a living goddess at Kathmandu Durbar Square
I was a little hesitant to visit this durbar square as it didn't seem to have as much allure to it as the likes of Patan and Bhaktapur, but, I was pleasantly surprised.
In fact, this became my favourite square of the lot!
It just had a really nice vibe to it and I loved the local markets which were hidden in the nearby narrow alleyways.
Although a lot of this square was destroyed due to the earthquake, you can still visit the palace and some of the temples dotted around.
But, the best part that most tourists flock to see is the living Kumari in Kumari Ghar.
Seeing the living Kumari in Durbar Square
The living Kumari is thought to be the living Hindu goddess Taleju on Earth, who is specially selected by Hindu Priests.
There is quite an extensive selection process to be selected as the Kumari includes a perfect body without blemish, the chest of a lion and the legs of a deer, etc.
She must also show no fear of death, and not cry when a buffalo is sacrificed. Traditionally, the Hindu priest will also slaughter 108 animals in her honour as part of the initiation process.
The living goddess can only remain a Kumari until just before puberty around 12 years old. She will then be sent back to the family home she was separated from.
She will reside in the Kumari Ghar until she hits puberty. The previous Kumari (which I saw) has now been sent back home.
To see the living goddess, you need to be in the Kumari Ghar at around 4 pm as this is when she will have completed her studies.
You will be with around 50 other tourists waiting for a peak. There is strictly no photography of the goddess and they are extremely strict about the whole thing.
Everyone waits in suspense for her to show her face. Then, she sticks her head out for 2 minutes and heads back inside.
Personally, I didn't feel anything special, I just saw a teenage girl.
Although it's her duty, it can't be easy staying in that place for 10 years and only going outside 13 times a year.
Especially when they are the most important years of development.
Imagine going back to a normal life after that? Making friends after having people worship you your whole life! But, who am I to say.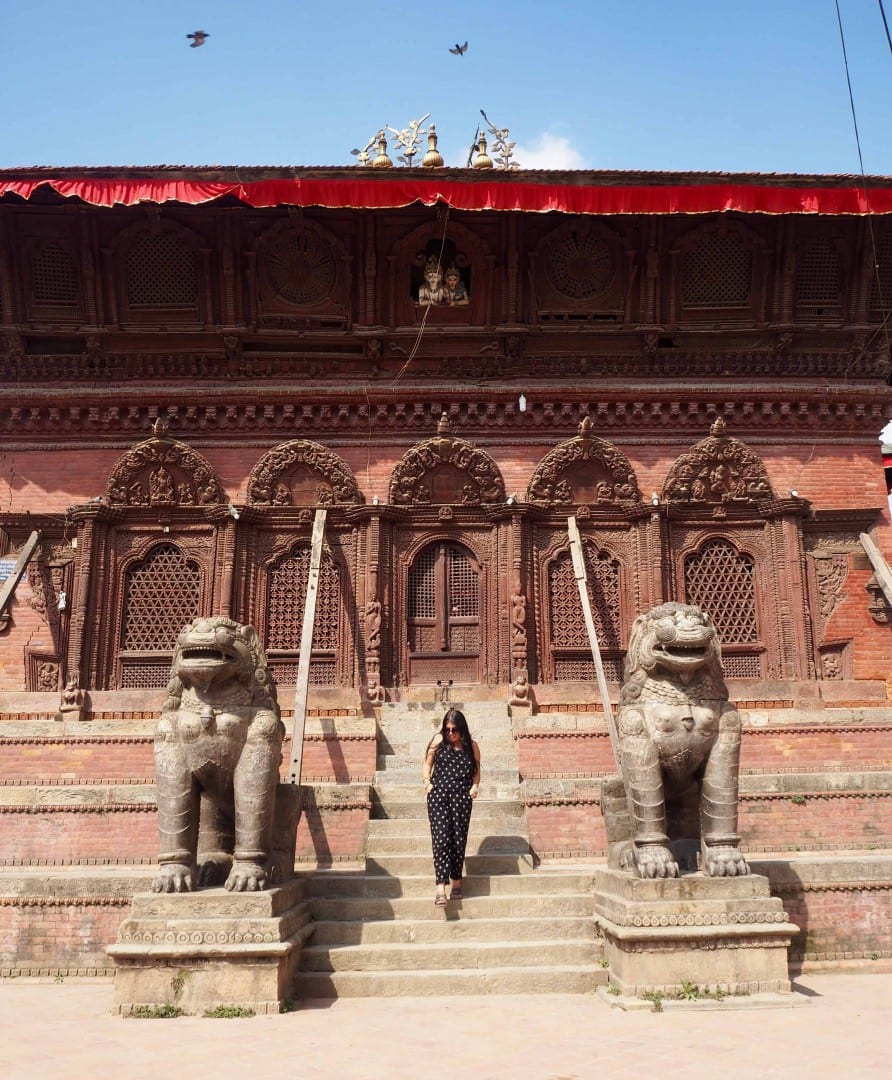 7. Rock out at Purple Haze
Purple Haze is the coolest venue in Thamel. Notorious for its live rock music.
You can join tourists and locals belting out Pink Floyd covers over a beer or three.
It does get pretty packed out, so if you want a seat I would head in early.
Plus, they have the coolest toilets I have seen, well in the Girls anyway… For directions and to check what's happening here see their Facebook page.
8. Take a mountain flight and see Mount Everest
Although it's expensive, when else can you say you've seen the biggest mountain in this world from the air?
On a clear day, you can see all over the Himalayan mountain range and meet the big guy himself the mighty Mount Everest!
I personally chose Buddha Air as they seemed the safest choice and the experience from start to finish was fantastic.
It was a great experience ticking this off the Kathmandu bucket list.
To read more and find out about my personal experience, see: 'What it's like taking an Everest flight from Kathmandu'.
9. Visit Patan Durbar Square
Some may say that when you visited Durbar Square, you've seen the lot!
But, Patan was the first durbar square that I visited and it was new and exciting to me then.
You can walk around the temples and museums and get an insight into Nepali culture.
The construction here due to the earthquake takes over quite a big portion of it, but you hardly notice as there are loads to see and locals to meet!
You only need around an hour here, then you can sip on a lemon ginger honey tea at one of the many cafés outside of it.
10. Head up to Nagarkot
If you want to experience the Himalayan mountain range from the ground and you aren't planning on trekking, Nagarkot is a great option.
It's only a 2-hour drive from Kathmandu. It's a nice place to head for sunset and you can see the mountains turn a pinkish hue from the Sun.
You can also stop at some awesome Buddhist temples along the way.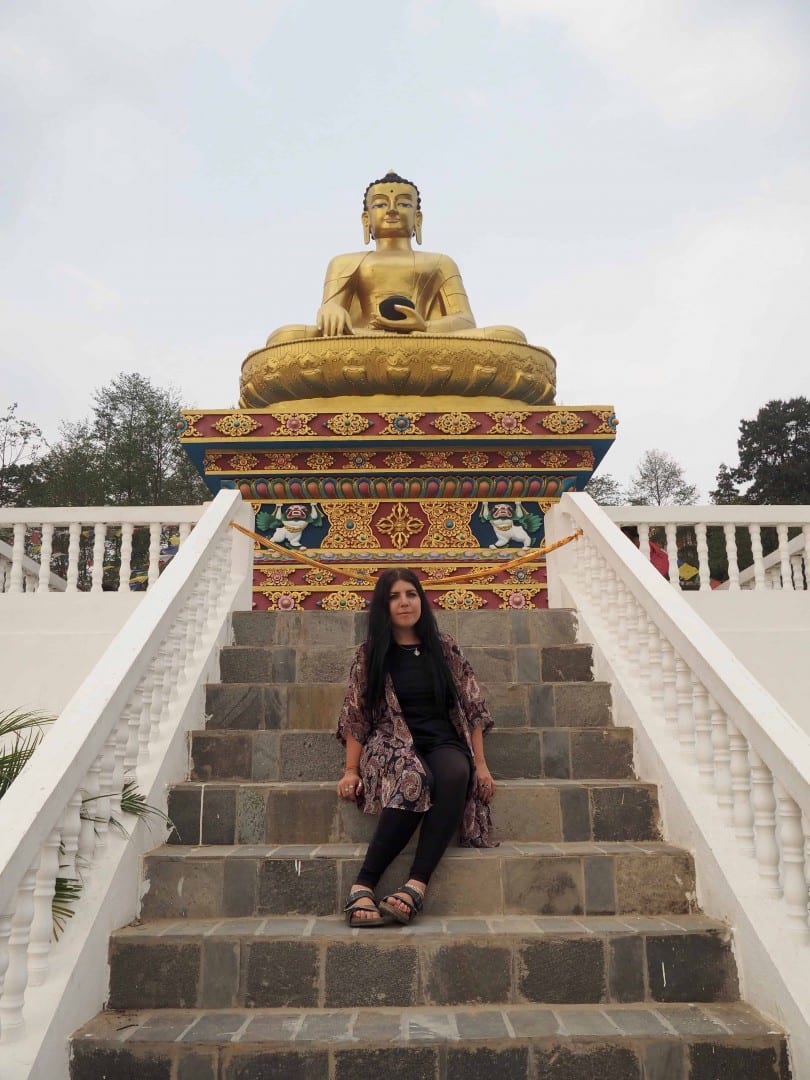 Unfortunately, I was here in the off-season and so the clouds covered up the mountains, but the rice terraces and vantage points were outstanding.
On a clear day, you can even spot Mount Everest in the distance!
A taxi here is a pricey venture, so make sure you negotiate with the driver.
The local buses here in Nepal are quite a risk but doable (but don't sit on the roof like the guys above!).
If you have time, you may wish to stay up in Nagarkot for a day or two for some fresh air!
11. Experience Nepali heritage in Bhaktapur
Bhaktapur literally translates to a place of devotees and the royal village on the edge of the Kathmandu Valley is worth an afternoon in your itinerary.
It's an ancient medieval Newar kingdom and a UNESCO world heritage site. Here, you can see some of the many palaces, temples, and museums which give an insight into what life was like in the Nepali days of old.
I was here around the Chinese new year and so it was absolutely packed! The same goes for any festival time here in Nepal, so be wary if you don't like crowds.
My favourite part of visiting here was having lunch in the Café Nyatapola, slap bang in the middle of the square.
Here, we got an amazing view of Bhaktapur away from the masses of people.
It's also a great place for spotting some antique souvenirs, so make sure you take some time to explore.
If you're staying here, be aware that it's a car-free area and so you'll need to carry luggage yourself from the taxi drop-off.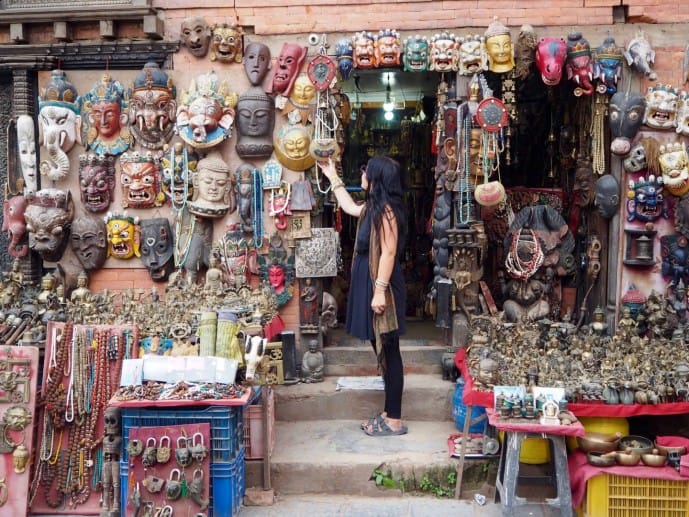 12. Try an Everest beer (or two!)
A Kathmandu bucket list item for sure, trying a locally brewed Everest beer is a must while in Nepal.
A lot of bars will sell you the big versions at 650ml but you can easily grab a few glasses and share.
As the most popular beer here, it's a smooth one and best enjoyed chilled outside the Boudhanath stupa.
13. Dine-in style at the Kaiser café
My absolute favourite café in all of Kathmandu is the Kaiser café located inside the Garden of Dreams.
It's perched inside a neo-classical palace complex and is an oasis of luscious greenery compared to the busy, dusty streets of Thamel.
Here, you can enjoy a splendid lunch or dinner overlooking the gardens. You will completely forget where you are!
It's quite a pricey place as it's part of the Dwarika group, but I usually just pop in for my favourite key lime cheesecake, it's just so good!
Update: The Kaiser Café is now permanently closed :(
14. Try Momo's
You simply cannot leave Nepal without trying Momos.
They are steamed dumplings and many places will sell them in a variety of different flavours. Meat, cheese, veg, and even chocolate are popular!
It's pretty much a staple item on any restaurant menu in Thamel, so it's down to you on your choice of restaurant.
I personally found these quite filling, so they're a great cheap meal option. But, it's best to share with friends!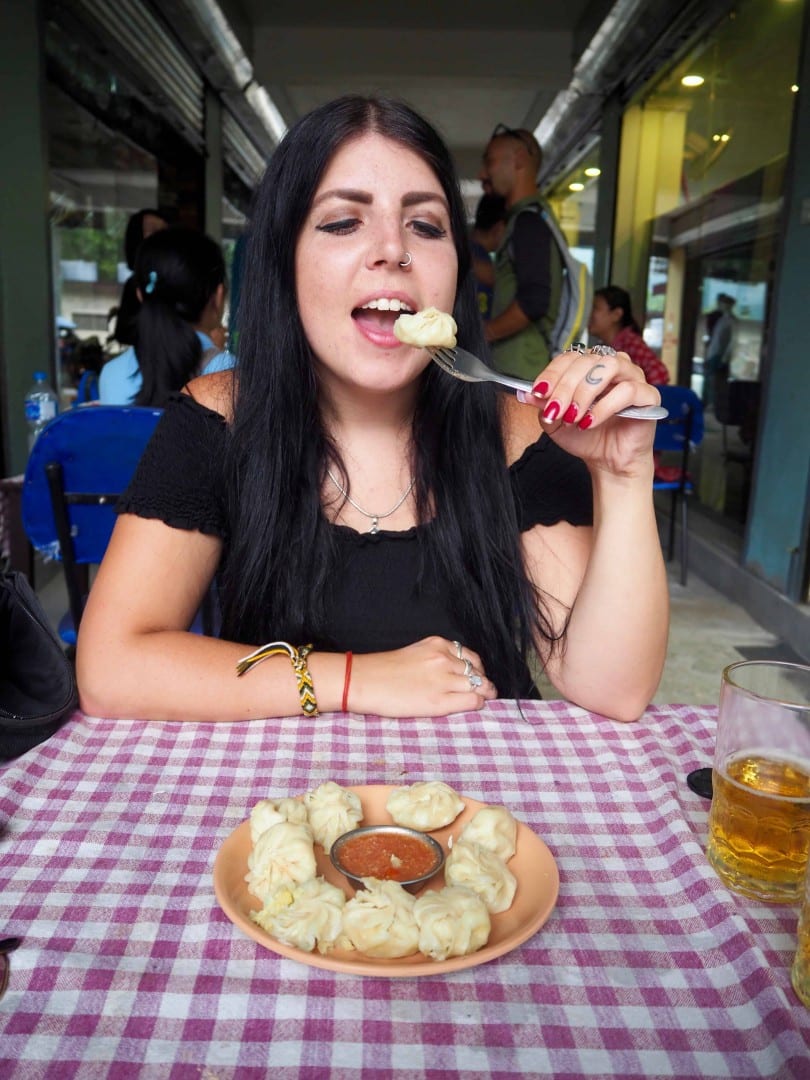 15. Get some Dal Bhat power!
Something like 22 out of 24 million people in Nepal eat Dal Bhat every single day, twice a day for their meals. Hence, the term Dal Bhat power!
It's essentially rice, topped with lentil soup and it's the cheapest meal you can get here, perfect if you're backpacking.
Make sure you try it at least once and experience the Dal Bhat power, 24 hours!
So, that's the ultimate Kathmandu bucket list
Of course, there are plenty more things to do in Kathmandu but the above will make sure you get the best out of it.
As always, if you have any more suggestions, please comment below!
I will never get bored with this incredible Himalayan city and it will always excite and thrill me.
Make sure you add it to your list and stay awhile. Namaste!
Heading to Nepal? Read more of my posts!
How to get from Kathmandu to Pokhara
A complete guide for Chitwan National Park
Taking a walking safari in Chitwan
The truth on elephant safaris in Nepal
My top travel tips for visiting the Birthplace of Buddha
Travelling overland from Nepal to India
Save these things to do in Kathmandu Bucket List for later!