Lough Tay is one of Ireland's hidden gems tucked away in the Wicklow Mountains National Park.
It is also known as the Guinness Lake and is by far one of the most photographed lakes in all of the country.
Fans of Vikings and Vikings of Valhalla will recognise this place as the real filming location of Kattegat in the TV shows.
It's very easy to visit from Dublin and there are many more beautiful places you can stop by in this area on a day trip.
Here is how to visit Lough Tay or the Guinness lake in Wicklow, the real Kattegat Vikings location!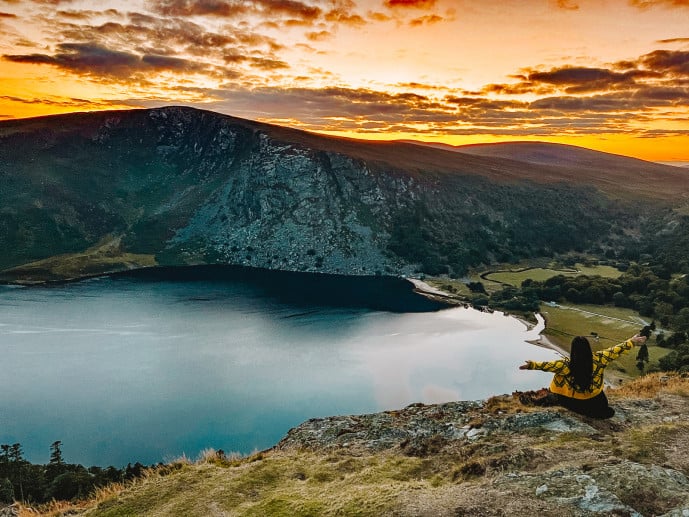 Introducing Lough Tay aka the Guinness Lake
Lough Tay is a small and scenic lake tucked away in the Wicklow Mountains National Park which is part of the private Luggala estate.
The name derives from the Irish Loch Té meaning 'Tea Lake' due to the minerals that give it a reddish colour.
The lake can be found sandwiched between the Mountains of Djouce (725 metres above sea level) and Luggala (595 metres above sea level).
The water is fed by the Cloghoge River which eventually flows into Lough Dan. It's also locally known as the Guinness Lake!
Why is Lough Tay called the Guinness Lake?
So, there are two reasons why this place is called the Guinness Lake;
1. The red dark waters here and the sandy beaches on the shore give it an appearance of dry stout. The sand looks like the froth on top of a pint!
2. The Luggala land was part of the former Guinness estate owned by the Guinness family trust. The Luggala lodge was first built by the La Touche family in 1783 and the estate was bought by Ernest Guinness in 1937 as a wedding present for his daughter Oonagh who married Lord Oranmore and Browne. It went up for auction recently and now has a new private owner.
Fun fact: the sand along these shores is not natural. It was imported by the landowners years ago!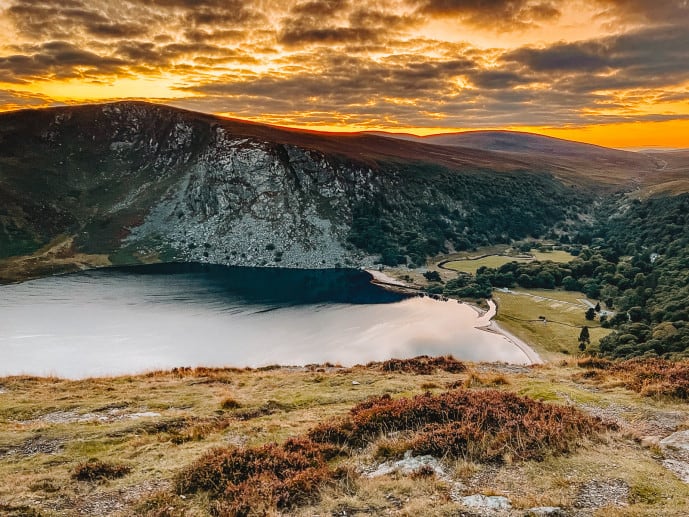 What is Kattegat in Vikings & Vikings of Valhalla?
So, I've been watching Vikings since it originally aired on the History Channel which is a decade ago now (eek) and the fjord village of Kattegat has featured throughout.
If you don't know, Vikings follows the story of the legendary warrior Ragnar Lothbrok who led the Viking invasions on the English coast in the 9th century.
Kattegat was originally where Earl Haraldson ruled and many important meetings were held here, especially about the raids.
When Ragnar kills him in combat, he becomes the new Earl and ruler of Kattegat with the Lothbrok family.
The ruler of this village in the Viking's kingdom switches many times throughout the six series. We see it ruled by Aslaug, Lagertha, Bjorn, Ivar, and Harald to name a few.
But, regardless of who it is ruled by, it is a fjord settlement that the fans have come to know and love.
I was so happy to see that Kattegat has remained for the sequel Vikings of Valhalla on Netflix! It's set 100 years later and is ruled by Jarl Estrid Haakon.
I'm sure we'll be seeing a lot more of Kattegat in the following seasons and spin-off series.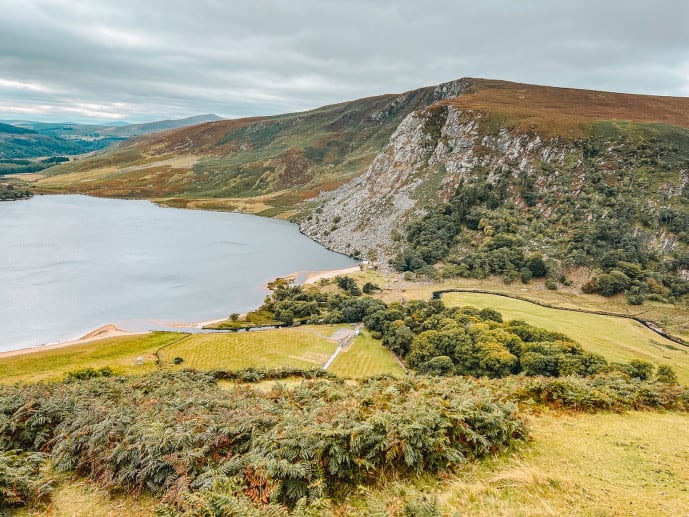 Does Kattegat from Vikings exist? Is Kattegat a real place?
Unfortunately for Vikings fans, you'll be sad to know that Kattegat in Vikings was a made-up settlement for the show.
It is a fjord village that's entirely fictional and doesn't actually exist in Norway. Although, due to the show, many people now think it does!
There is a real Kattegat that exists on the strait near Denmark, Norway, and Sweden. But, it looks nothing like the Viking kingdom we know and love.
But, never fear, there is some good news for Vikings fans. You can visit the real Kattegat Vikings location where they filmed 6 seasons of the show in Ireland!
Where is the real Kattegat Vikings location?
That's right, the real Kattegat Vikings location is actually filmed in Ireland at Lough Tay in the Wicklow Mountains National Park.
The production crews worked hard to set up a wooden pier and small village on the Guinness lakeside of to film the original Vikings series and now Vikings of Valhalla.
Although they did add scenes from Hellesylt in Norway in the backdrop with some clever editing to make this lake appear more like a Norwegian fjord.
In the series, Kattegat has a small inlet to let boats sail through to the port. But, Guinness Lake is very much closed off by land.
Throughout the series, we see Kattegat get much larger. So, more huts were added as the series went on and some were added with CGI.
They did have Viking longships set up on shore to film them sailing into the bay! In some behind-the-scenes footage, you can see they set up large fans to make a fake breeze as they were 'sailing'.
It is a must-visit for any fan as there are plenty more Vikings filming locations found around Wicklow!
Click here to watch the behind the scenes of filming Vikings in Lough Tay
Where is Lough Tay in Ireland?
Lough Tay is located in the Wicklow Mountains National Park that is in County Wicklow, near to Sraghmore, Oldtown.
Now, that might not mean a lot to most tourists visiting Ireland. But, it's basically an hour's drive from Dublin or around 2 and a half hours from Belfast.
It's a great place to add on with a trip to the Sally Gap drive and the Djouce Mountain Walk.
Lough Tay address is Oldtown, Co. Wicklow, Ireland. Click here for a Google Pin!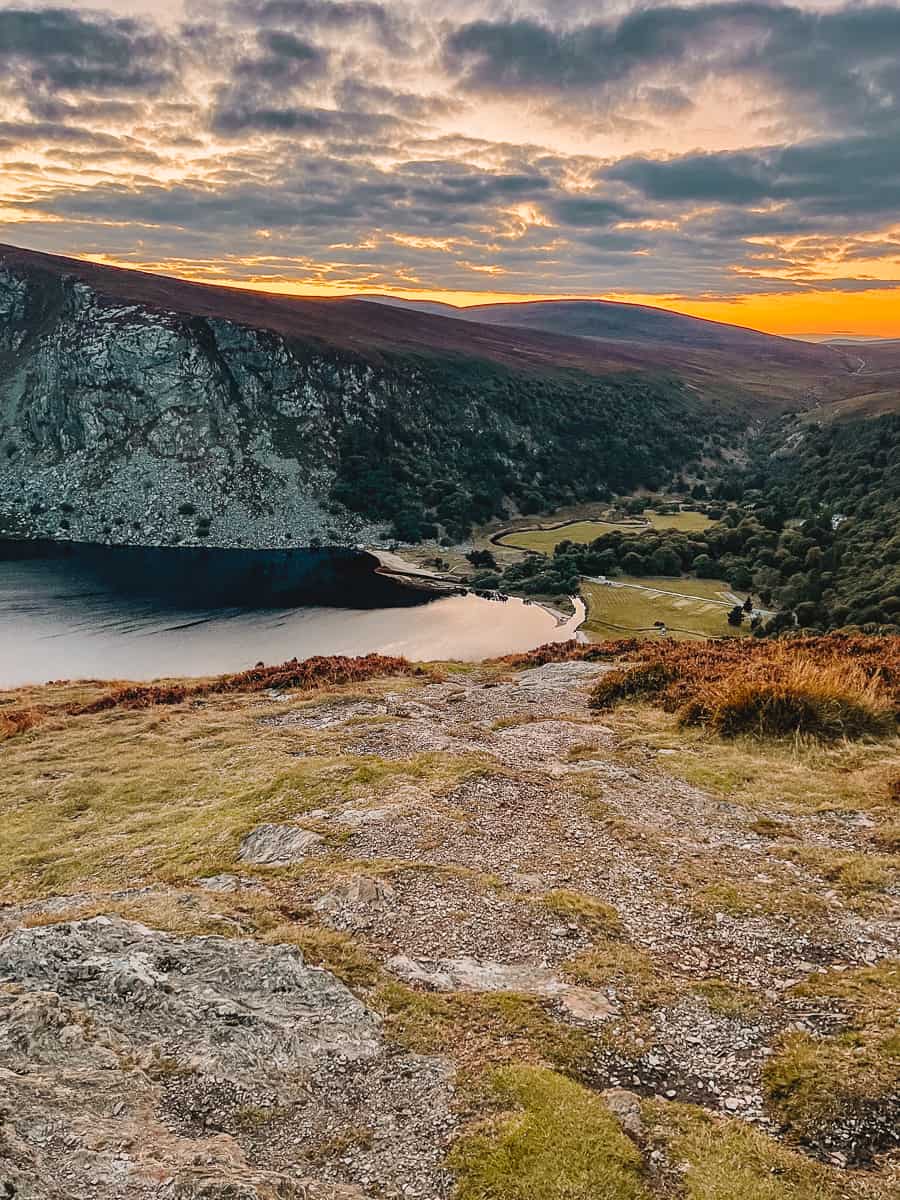 Can you visit Lough Tay or is it private?
Lough Tay is part of the Luggala estate that is privately owned. So, you cannot walk down to visit the lake itself.
However, there are plenty of viewpoints and places to stop above Guinness Lake to see the magnificent views!
These viewpoints have free off-road car parks nearby so you can easily walk over to take some photos.
How to visit Lough Tay, the Kattegat Vikings location!
It's easiest to drive to Lough Tay or the Kattegat Vikings location in Ireland. The Wicklow Mountains are quite a remote area with few transport links.
There are hardly any public buses that enter Wicklow Mountains National Park. So, if you wanted to explore self-guided it's best to have your own form of transport. Or, you could rent a car.
This lake is a popular attraction and is a 60-90 minute drive away from Dublin city centre depending on if you wanted to take the M50 toll roads or not.
The M50 toll is only a couple of Euro but there is no toll booth. You have to pay online with eFlow.
It's easiest to access Lough Tay from Dublin via the M50 and then the N11 road. Continue along the R755 until you reach Guinness Lake!
Wicklow Mountains tour from Dublin
Most of the land in the national park is privately owned so there are limited public transport options to visit.
There is a private bus service to Glendalough from Dublin you can book. But, it's a 4-hour walk over to Luggala!
Personally, if you don't have a car and wanted to explore Wicklow Mountains, I would book a group bus tour from Dublin.
It's very affordable and you get to stop at many locations in the Wicklow Mountains national park including the Guinness Lake.
You'll get to explore Powerscourt Gardens, Glendalough, Enniskerry and see filming locations from P.S. I Love You, Braveheart and of course Vikings & Vikings of Valhalla.
Click here to book your Wicklow Mountains day trip from Dublin!
Lough Tay parking
Once you reach the Wicklow Mountains near Luggala Estate, you'll find many parking options in the area. Some are paid and some are free;
Wicklow Way car park (paid) – this has a port-a-loo and refreshments but is a paid car park with opening times (9 am – 7.30 pm) and so it locks when it's shut. Not to mention, this is at the bottom of the hillside so you'll have to walk uphill for a long while in order to see the Guinness Lake. Personally, I'd skip this car park and continue on up the hill to the other free ones. Click here for a Google Pin.
Ballinastoe car park (free) – this is a great car park but it is small with limited spaces. If you park up here you can access a side-on Lough Tay viewpoint and Ballinastoe Woods. I parked up here and it was an incredible viewpoint for photos. I've pinned it here for you here.
J B Malone car park (free) – this is slightly further down the lake but it's a much bigger car park. You can park up here for a Lough Tay view and a visit to the J B Malone memorial leading into Ballinastoe Woods. It's also the starting point for the Djouce Mountains hike. Click here for a Google Pin.
Lough Tay Viewing Point car park – another large car park that is closest to the beach where they filmed Kattegat. It's a great view with a hillside that lets you walk down a little bit to see views of the lake (but take care). It's where I got my photos taken here! Click here to find it on Google maps.
Note: all the car parks in the area are gravel and have potholes. So, be mindful when parking up!
Lough Tay viewpoints
All of the free car parks above are close together and provide incredible views of Lough Tay. So, you could easily visit all of them on your drive to see the lake from different angles.
Personally, I liked both the views found opposite Ballinastoe Car Park and the Lough Tay Viewing point best.
But, really, there isn't a bad view of Lough Tay, it's stunning from all sides! Saying that, it is best to visit on a clear day for the best visibility.
When it's raining, this area is completely exposed. It can be misty and you won't see the mountains or the sweeping views of the countryside at all.
At the various viewpoints, there is plenty of space to walk around and see the lake. You could bring a picnic on a nice day or just sit and admire the views.
Warning: if you step over the wall of the Lough Tay viewpoints, you do so at your own risk. It can be very steep and unsafe. So be careful!
Is there a Lough Tay walk you can do?
Not really no. As Lough Tay is privately owned, there is no walk that lets you go down and visit the lake.
So, you can't visit Kattegat beach, unfortunately. You'll just need to admire it from the viewpoints.
But, many people opt to do the Djouce Mountain Walk from here which has incredible views of the Guinness Lake from above!
You can start off this hike in the J B Malone car park and the trail is around 8 kilometres. So, you'll need 2-3 hours to complete it.
It's best to do this walk on a clear day to guarantee views. But, you'll find it could be busy with many other people wanting to do this walk too.
Arrive early to guarantee a parking space, especially on the weekends. This area packs out!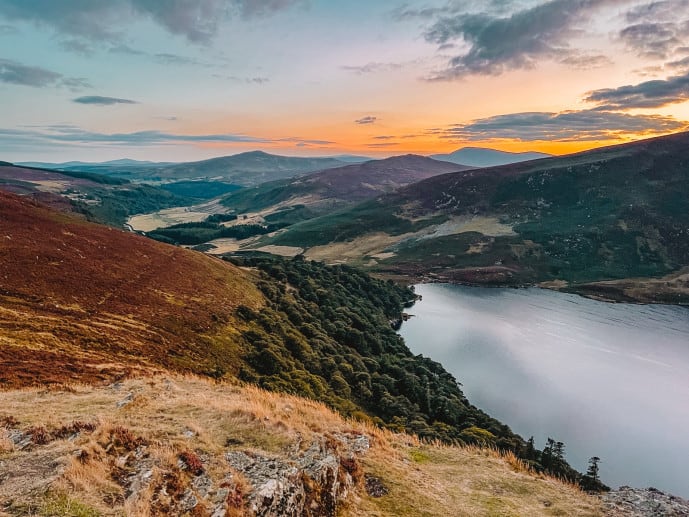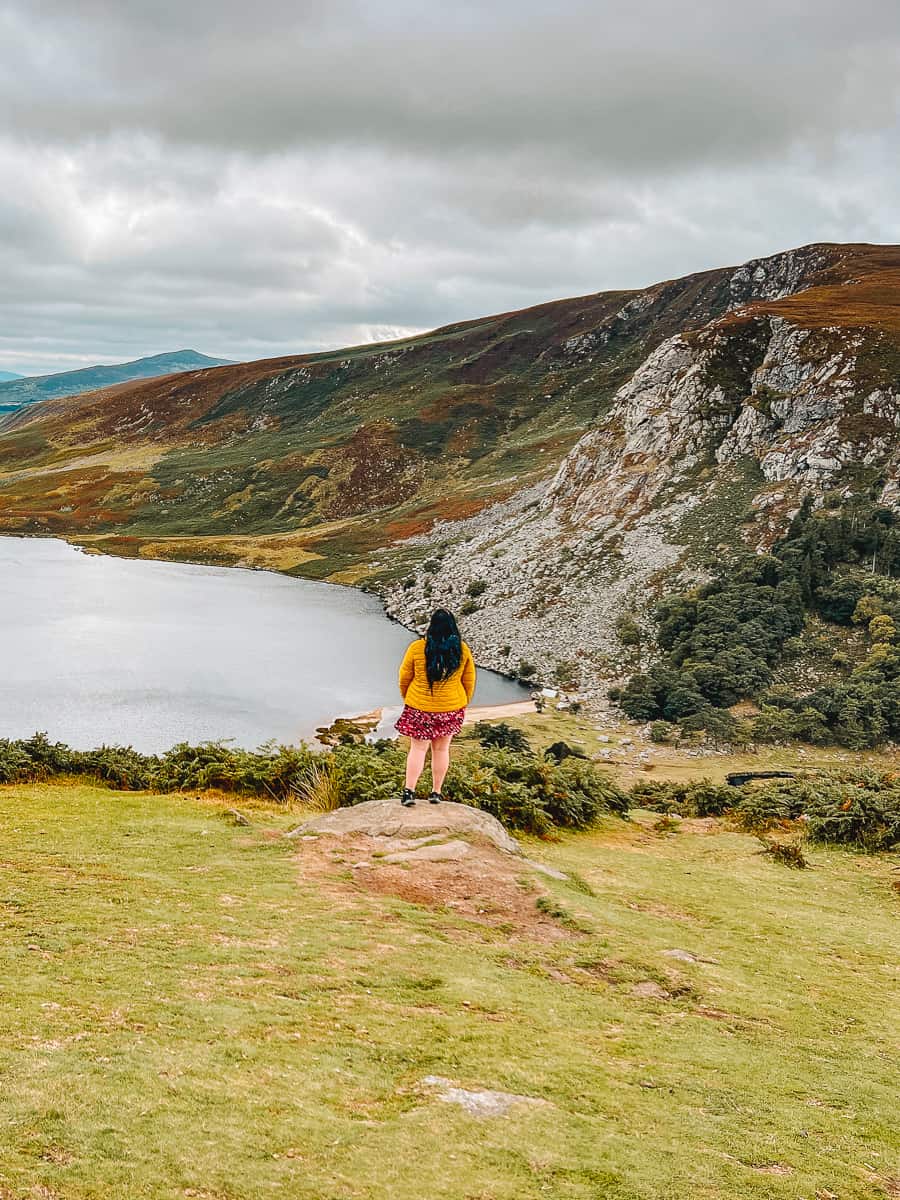 My tops tips for visiting Guinness Lake
Visit on a clear day – if you can, I'd visit on a clear day. You won't see any views if it's raining.
Try to get here early – on weekends and in summer, this area gets very busy. I'd visit early to guarantee a space.
Wrap up warm – even in summer, the Wicklow mountains can get very breezy and cold as you're so high up. Bring some layers to keep warm!
Take rubbish home with you – many people eat picnics up here but remember to take rubbish with you and dispose of it properly. Respect and protect these beautiful places.
Things to do near Lough Tay
So, once you've had enough of Guinness Lake, what else is there to do in Wicklow Mountains National Park?
Well, there's actually quite a lot nearby that makes it a great day out from Dublin. Here are some ideas of where to head next!
Ballinastoe Woods & Boardwalk
If you're visiting Lough Tay, you really cannot miss a visit to the scenic Ballinastoe Woods nearby.
It's a dense, atmospheric forest that has a mystical feel and it will make you feel like you've been transported to Middle Earth in the Lord of the Rings.
Most people visit Ballinastoe due to the scenic boardwalk that can be found in the heart of the woods.
It's the perfect place for photos and videos but it can be hard to find if you don't park in the right place.
Luckily, I have a complete guide that will tell you how to access this magical boardwalk in less than 10 minutes.
Click here to read my complete guide on how to find the Ballinastoe Boardwalk!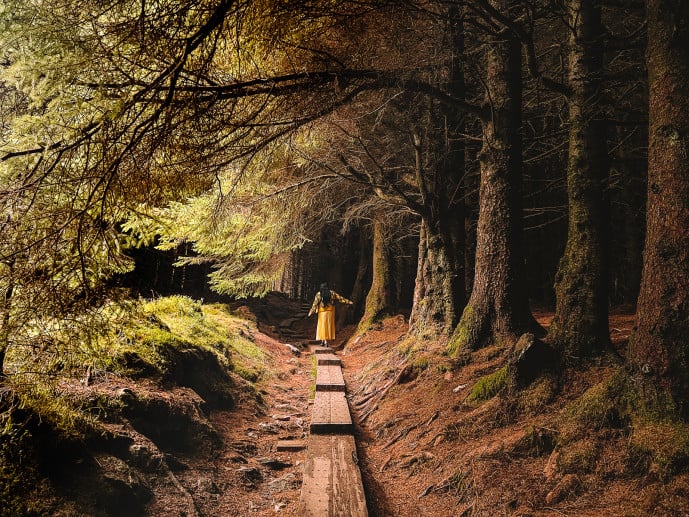 Chase filming locations in 'The Hollywood of Europe'
There are many Hollywood movies that have been filmed in Luggala and Wicklow. You'll find filming locations from some famous movies and TV shows all over the national park.
The following movies and TV shows were filmed here;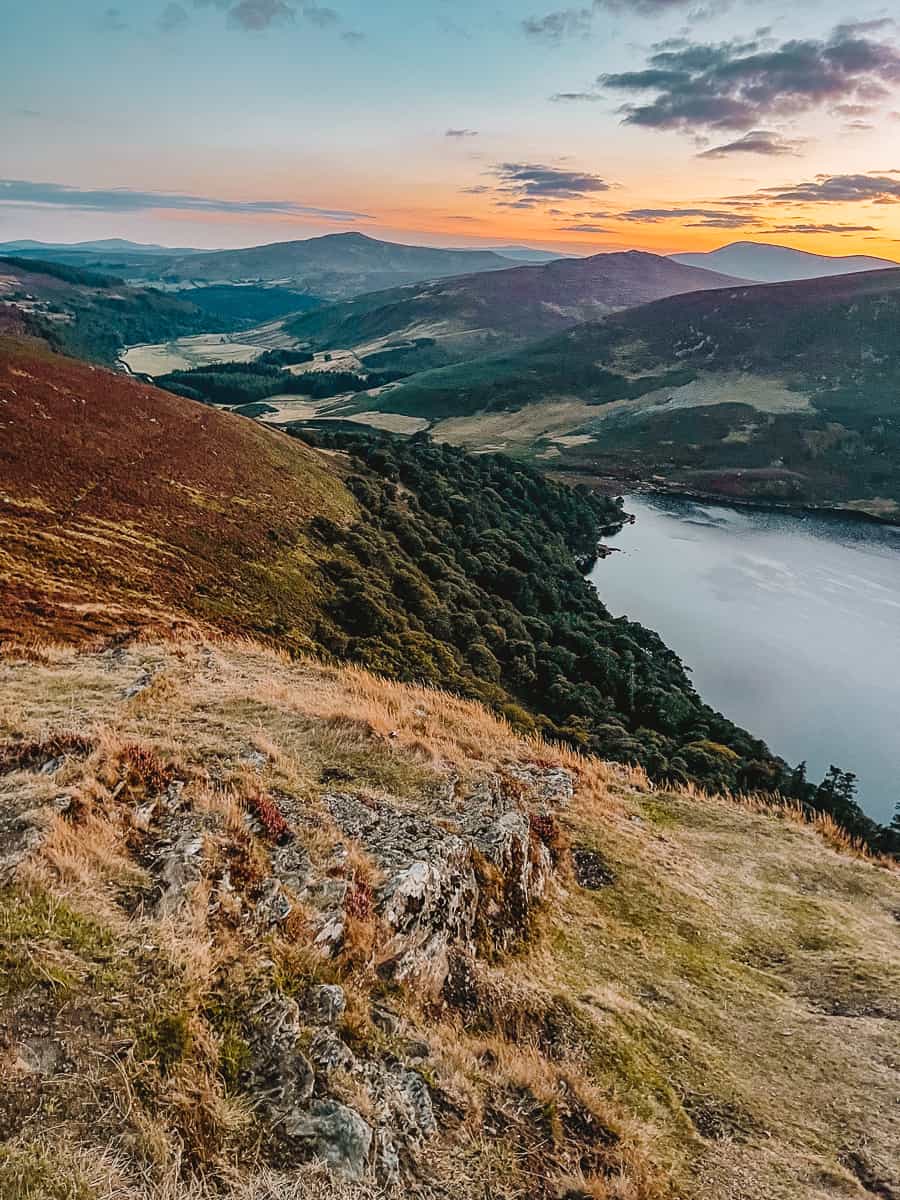 Sally Gap drive
The Sally Gap Drive is a great way to explore Wicklow Mountains National Park and you can include a stop at Lough Tay on the way.
As it's a mountain road, it is windy and the lane is single with passing places so you'll need to drive slowly and a bit carefully. But, the views are absolutely outstanding!
The whole drive is around 15 miles but it will take around 45 minutes to an hour without stops. I'd allow a few hours so you can take it at a leisurely pace.
You'll pass by Lough Tay, Lough Dan, Powerscourt waterfall, Eagle's Crag, and more!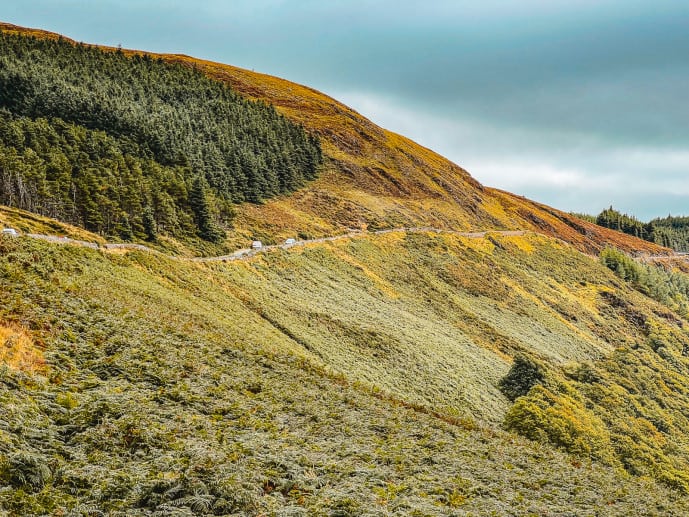 Other Vikings filming locations to visit in Wicklow
If you're a Vikings fan, you may be happy to know that there are even more Vikings filming locations you can visit in this area.
After Lough Tay, you can stop at The Monastery of Saint Kevin which is located in the beautiful Glendalough.
Blessington Lakes with the man-made Pulaphuca Reservoir is another place where they filmed several boat scenes.
Avoca Mines is where they filmed several battle scenes and Powerscourt Waterfall is where Ragnar travels with Athelstan.
Click here for more information on the Visit Wicklow website
Lough Tay & Kattegat FAQs
Can you visit Lough Tay in Ireland? The Luggala estate is private so you cannot walk down to the lake itself. But, you can visit Lough Tay viewpoints to see the Guinness Lake from above!
Is Ragnar Lothbrok the most famous Viking? It is argued that the real Ragnar Lothbrok was the most famous Viking of them all! He was a 9th-century legendary sea-king who led the raids in England.
Where is Kattegat in Vikings supposed to be? The village of Kattegat is meant to be located on a fjord in Southern Norway. But, it is entirely fictitious for the show and isn't known to have existed. There is, however, a real place called Kattegat in Scandinavia near Denmark.
Where is Kattegat Vikings? The real Kattegat Vikings filming location is in Lough Tay in County Wicklow! They built a set in Ireland and used footage from Hellesylt, Norway in the background.
Is Kattegat a real place? In Vikings? No. It was a made-up place and set for the show. But, you can visit Lough Tay to see where they filmed Kattegat in Vikings & Vikings of Valhalla in Ireland!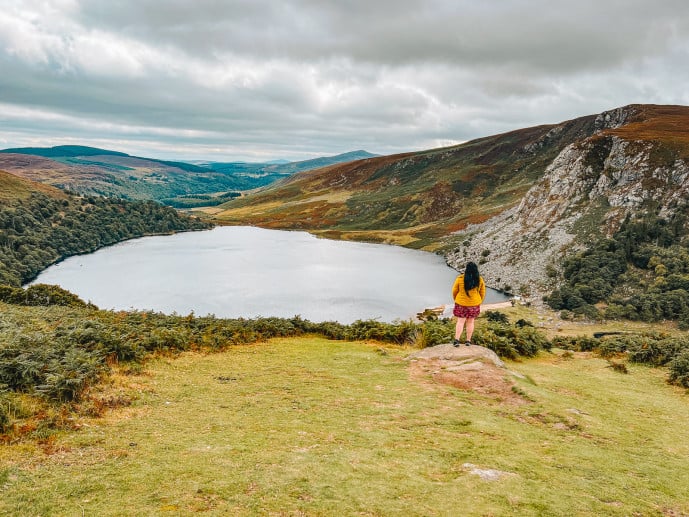 Save time and book a tour!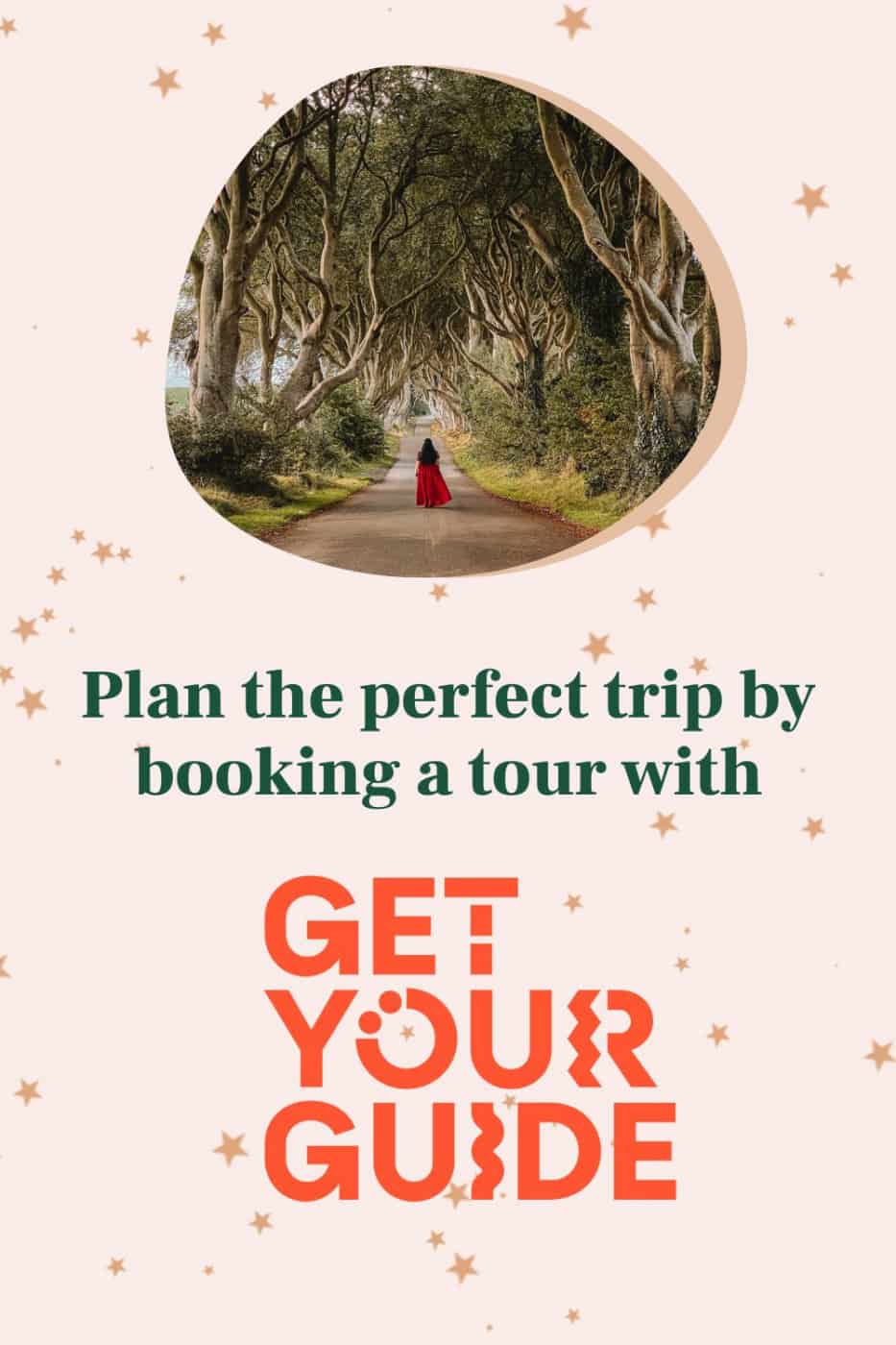 Book tours & tickets for Ireland!
Read more of my Ireland articles
Visit the magical Muckross Abbey ruins & yew tree
How to visit Torc Waterfall in Ireland
Marsh's Library – visit the oldest public library in Ireland
Visit Trinity College Long Room Library in Dublin
How to visit Ballysaggartmore Towers Ireland
10 Game of Thrones doors to find in Northern Ireland
How to find Umbrella Street Dublin
Visit the Cliffs of Moher Harry Potter Cave
How to visit Inch Abbey aka Riverrun from Game of Thrones
Magical Tollymore Forest Park Game of Thrones filming locations
Why you must visit Kinbane Castle
How to cross Carrick-a-Rede Rope Bridge
Visit Ballintoy Harbour aka the Iron Islands in Game of Thrones
Was Dunluce Castle used in Game of Thrones?
How to see the Game of Thrones Tapestry in Belfast
How to visit Cushenden Caves in County Antrim
How to visit the Dark Hedges in Northern Ireland
How to visit and capture Deck of Cards Cobh
Guinness Storehouse Dublin review
Save this Lough Tay Kattegat Vikings location for later!