If you're struggling to find up-to-date information for a Kaziranga National Park safari, you've come to the right place. I felt your pain.
There's little to no information online and Lonely Planet hasn't been updated for over four years. So, you may be surprised to find that the prices are higher than before! But, still reasonable for a backpacking budget.
Wildlife safaris run daily at Kaziranga NP. It's home to 70% of the world's one-horned rhino population so you're more likely to see one here than anywhere else.
I was specifically on the lookout for them and I'm was so lucky I got to see some. And not just one, but four or five of the cuties.
It was an awesome experience everyone should try – here's a Kaziranga National Park safari guide: home of the one-horned rhino!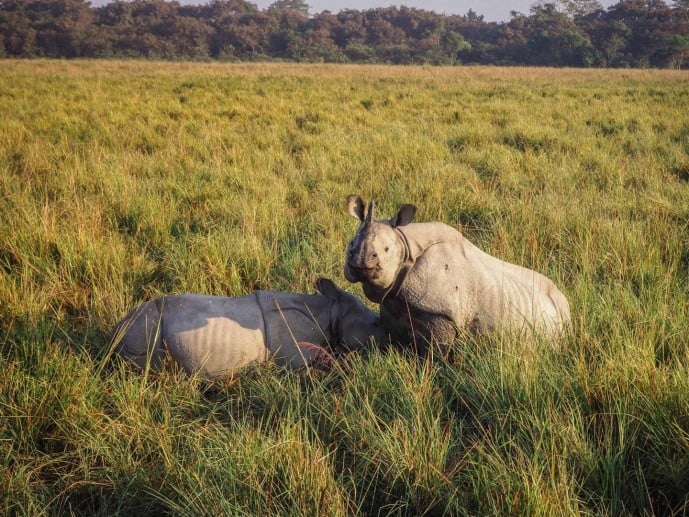 How to reach Kaziranga National Park
Kaziranga National Park can be accessed via the National Highway 27.
Surprisingly this road has been really well laid so it's a smooth 4-hour journey from Guwahati to reach here. Perfect if you have your own transport.
If you're travelling by bus, there are plenty of options that run from Guwahati: the gateway to the North East of India! For a city guide to Guwahati see here.
The main bus stand is at Paltan Bazaar and ASTC government buses run daily to Kaziranga. This bus cost me around 235 rupees for a single journey.
What usually happens is there's a shuttle bus from Paltan Bazaar to take you to the main bus stand which is around 10km out of the city.
From here, you can hop on your bus which is heading to your end destination (shuttle is included in the price).
For more public transport tips in Assam, see here
I didn't book in advance just showed up and booked at the counter. Top tip: try to sit as near to the front as possible.
Although the road is flat, the bus is old and you'll be bouncing at the back.
For private air-conditioned buses, you can book these in advance privately at the many transport offices in the city…
Where to stay in Kaziranga
For convenience, you should consider spending the night in the town which is nearby Kaziranga National Park. This is where you'll get dropped off on the bus.
I stayed at Jupuri Ghar, it was a beautiful traditional Assamese bamboo cottage.
It had two comfortable single beds, air conditioning, a clean bathroom, running hot water out of the shower (!), and a little lounging area.
A room for the night also came with a complimentary breakfast which was totally yummy!
Their restaurant is also Assamese themed and it was lovely to take meals in the open air.
The owners helped me out a lot with booking a safari and providing a transfer to the Safari point.
I had such an awesome stay! Jaipuri Ghar has been approved by the Assamese tourism board, so you're in good hands.
What types of Kaziranga National Park Safaris are there?
In Kaziranga, they do daily elephant safaris that run every morning at sunrise at 5.30 am and 6.30 am in the winter season.
Responsible travel does not recommend elephant safaris in Kaziranga.
When I visited two years ago, the report was that the treatment was good.
But, on reflection knowing what I know now about elephant tourism, I would recommend a jeep safari over an Elephant one.
For tourism, elephants have to be crushed or beaten into submission and the conditions are barbaric. So, please opt for a jeep safari that is also a good way to see the one-horned rhino.
They're well-fed and provided for with limited riding for their health and safety. But, I would encourage you to do some research and come to an informed decision.
Riding elephants is always a moral conundrum.
Jeep safaris are the alternative and you pay for the whole jeep, not per person. So, I'd recommend joining a group to get the price down if you're a solo traveller like me.
The jeep safaris are really fun and you can run them around a few areas in the park. Each area has a different price range and you're not as guaranteed to see one-horned rhino this way.
How to book a Kaziranga national park safari
For elephant safaris, you have to book the night before. You can head to the central booking office.
There are separate huts for jeep safaris and elephant safaris so make sure you queue at the right one!
But as before, I do not recommend an elephant safari.
If you're booking yourself, you'll be joined by around 20 park guides queuing for their clients. There are limited spots per day so you have to make sure you get one!
Luckily if you're a lady there are separate queues and it's ladies first! I had such a laugh with the guides when I pushed to the front! I laugh out loud looking back at the picture on my park permit!
Can you tell the guide was eager to get his ticket? These guys do this every evening. So, they know the drill.
It's good to note that you will need to arrange a transfer to the Elephant point in Kaziranga NP.
Your hotel can provide this. It's anything from 400 – 500 rupees return. Or, it's a 2km walk. But, at 6am I valued my sleep haha.
For jeep safaris, you can book these all day on the day.
You pay per jeep so you may want to wait around and join a group to get the price down. I waited 5 minutes, joined 4 others and my safari cost 500 rupees!
Kaziranga National Park safari prices
For elephant safaris, you pay 1950 rupees per foreign adult. For Indians, it's 900 rupees.
Camera fees are 200 rupees per foreigner, 100 for domestic tourists.
It's good to note that there are more places for foreigners on elephants than Indian ones. I can't say for sure why but I'm sure it's due to us paying a lot more.
For jeep safaris, you Pay 1750 rupees per jeep for the central reserve. You also pay a camera fee and entry permit as above (but not if you've paid these already for elephant safari).
As before, join up with a group to make the price go down if you're travelling solo.
You pay different prices per tour and area. See the sign below for all prices. With this, you get a jeep and a well-trained driver that speaks English and Assamese to guide you on a safari
What will I see on Kaziranga National Park Safari? Is it just the one horned rhino?
Apart from 70% of the one-horned rhino population living in the National Park, there is so much more to see than just the rhinos.
You can see tigers, deer, wild buffalo, a variety of birds, and the cutest tortoises!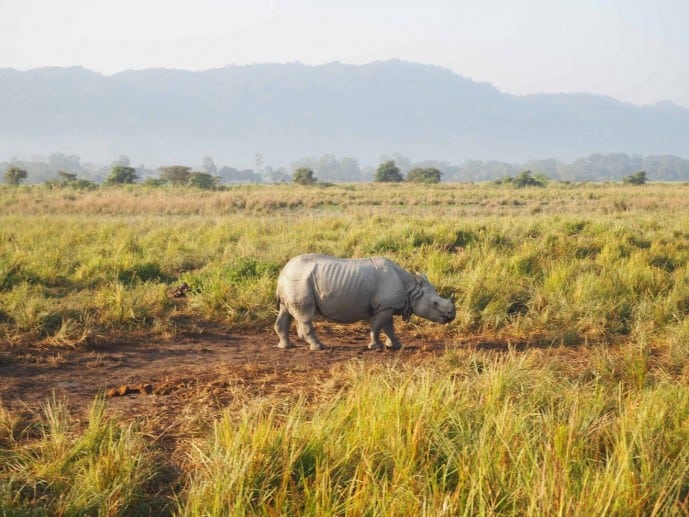 Your guide should be able to translate and point these out but it's so much more fun to keep an eye on.
The guide will drop you off at certain lookout points where they have 'bird's nests' that you can climb.
From here you'll get an amazing view to try and spot some wildlife!
Restaurants near Kaziranga National Park
I stayed in Kaziranga for two nights (but that was a little too long in my opinion). So, I ate in a few places while I was here.
Jaipuri Ghar has an amazing restaurant that provided a wide range of local meals including pork and bamboo shoot.
I also ate at the Assam Tourism board approved Rhino Café, and had one of the cheapest and best egg curries!
You definitely get value for your money here. I ordered a portion of rice for one and it came in a salad bowl size!
I simply couldn't eat all of it. I hate wasting food so I tried to eat as much as I could.
Another recommendation I had from the Tourist Information was the Pelican Dhaba, it's located a 10-minute short walk away and provided an awesome Assamese Thali.
If you're not aware of what a Thali is, it's usually a portion of rice in the middle of a platter and you get little dishes of curries, chutney, pappad (like poppadoms) on the side. It was super cheap at 70 rupees!
Other things to do in Kaziranga
There isn't all that much to do in Kaziranga aside from the Safaris.
But, I definitely kept myself occupied with a few things while I was here.
Explore a Tea field
It wouldn't be Assam if you didn't explore a few tea fields and there is a rather famous one here.
The Hathkuli plantation was one of the first established in Assam.
Usually, in the summer/rainy season you will see the tea pickers hard at work here. But, as it was winter I hardly saw any.
It's still worth a look though, watch out for pesky monkeys.
Go Shopping in Kaziranga village
There's also a small shopping street where you can shop for some souvenirs.
I was on the look out for a little rhino souvenir as a reminder of my safari.
I found the perfect handicraft place, just take a look at all these amazing creations!
What to do in Kaziranga at night
In the evening, the whole place is like a ghost town and you'll be walking around the town primarily in the dark. But, there is some entertainment if you would like to see some traditional Assamese dancing.
Near the safari booking offices, there is a traditional dance performance by some of the local workers on the plantations.
It was a great show as you got to learn about traditional instruments and dances.
In the end, they were asking for people to join in. I decided to go for it. But, I quickly regretted my decision – it was a proper workout.
We seemed to be dancing forever!
But, it was totally fun and I don't regret going. Tickets were 250 rupees each at the door.
You don't need to book in advance, it starts at 6.30 pm each evening.
If you need wifi in Kaziranga…
My hotel didn't have wifi and neither do many hotels/guesthouses in the area. But, if you are in need of internet access you can visit the Tourism information office in town.
If you sign their guestbook, you get complimentary wifi access and free green tea!
They were also really helpful in recommending transport options, hotels, restaurants, directions, etc and have won awards for their services. Go check them out (but remember to sign with your feedback ;)
Kaziranga was an awesome Assamese adventure!
I absolutely LOVED Kaziranga National Park. Not only did I get to see one-horned rhinos but also got lose myself for a few days.
It's refreshing to get away from busy city life and into nature spotting wildlife.
I found it a real adventure and the adrenalin was high. Make sure you visit Kaziranga National Park while you're in North East India. It's a bucket list staple!
With thanks to Holiday Scout and Jupuri Ghar for hosting my stay. Your gorgeous bamboo hut and professional service were unforgettable! I'll certainly be back.
Read more of my posts on Assam
If you liked this Kaziranga National Park Safari guide, make sure you read more of my helpful blog posts on Assam in North East India!
Taking a Ganges River cruise in Guwahati
Top things to do on Majuli Island
Read more of my North East India articles!
Top things to do in North East India
A complete guide for Hornbill Festival
Best places to visit in Arunachal Pradesh
My ultimate Tawang travel guide
How to find the double decker root bridges in Meghalaya
My top North East India travel tips
Like it? Pin it!