Gone are the days of carrying a bulky paperback Lonely Planet guidebook and relying on word of mouth when we travel.
The digital age of the 21st century means we can all find up-to-date information on our phones at the touch of a button. But, we all rely on one thing; good WiFi!
The way we travel is changing. Acquiring a location on Google Maps, ordering an Uber taxi, booking a last-minute hotel via an app, or video calling friends and family is all possible nowadays. But, sometimes we cannot rely on a hotel or café's public WiFi to do it.
As a travel blogger and digital nomad, WiFi for me is extremely important. Without it, I cannot work and keep in contact with my audience on social media.
Recently on my travels in Egypt, I learned a big lesson very quickly about how being a few days behind due to sketchy WiFi can mean big delays with work.
That's why I've recently invested in a Keepgo global WiFi mobile hotspot so I can keep online on the go. Whether I'm on a remote island, the desert, or a country that has bad service I know I'm safe in the knowledge I can keep online.
Here's my Keepgo review with the full low down of this neat little gadget that can help you stay connected on the road!
As part of writing this Keepgo review have given me a special 10% Keepgo discount code for my readers. Simply click on this referral link and enter the coupon code 'THIRDEYE10' at checkout. Or, click the banner below and enter 'THIRDEYE10' at checkout to activate your discount on any Keepgo product!
What is a mobile WiFi hotspot?
A WiFi device is a travel-friendly battery-powered tablet that you can switch on that will act as a WiFi hotspot.
It's a portable router that you can take around with you. It requires a SIM card and you can then connect this WiFi hotspot to your mobile, laptop, or tablet.
What I love about Keepgo is that their device is feather-light and doesn't take up too much space.
It's only 9cm long and 5 centimetres wide.
I find some portable devices quite bulky and don't fit inside your pocket or handbag easily. So, it was refreshing that this one was so teeny and I could hardly feel it when carrying it around.
About the Keepgo WiFi hotspot
Keepgo has been around for a number of years but their most recent device is the Keepgo lifetime 4G LTE WiFi Mobile hotspot.
It's a Huawei model but you'll be connected via Keepgo and their wireless carriers. This comes with their own SIM card inside the hotspot and a rechargeable battery and USB cable.
This is sometimes the only downside of a hotspot is that it's one extra thing to remember to charge!
But, it is a USB charger so if you are using a power bank charger for your phone you can easily put it on a charge through that if you forgot overnight.
Once charged, it can give you up to 6 hours of connection time and 300 hours of standby time. That's one powerful little gadget!
It can connect you up to 16 devices at once (at a 10-metre range), so if you're feeling generous you can make sure your friends or family are connected too.
Keepgo global WiFi pricing and how it works
If you're only buying the Keepgo lifetime mobile WiFi hotspot, you can buy this with a prepaid 1GB of 4G LTE data for the bargain price of $99 USD! You will have one year to use up the prepaid data.
To put it into perspective, 1GB of data can give you 1000 page visits, 1000 minutes of music, 130 minutes of video calling loved ones back home, and 1300 minutes of playing online games!
But, watching HD videos however will zap that data into oblivion and will give you only 30 minutes, so I would be selective in what you use it for.
Topping up the Keepgo hotspot
After you've used up your 1GB you can easily top-up via the Keepgo website, they have many options from as little as 500MB for $14 and 10GB for $165. All of these are 'forever' prices, but again you must use this up in one year.
If you're worried about people stealing your WiFi data if you're in a public area once switched on, you can easily set up a private password for your hotspot so that others can't intrude.
What countries do Keepgo cover?
Keepgo has a wide range of mobile carriers around the world and their coverage is amazing; it currently covers 150 countries!
This includes countries in, North and South America, Europe, Oceania, Asia (limited for China), Africa, and the Middle East.
I was pleased to see that Included Egypt, which would have been super handy at the time. If only I knew…
For a full list of countries that are covered along with mobile carriers and what sort of data is supported, see here.
Ordering and setting up the Keepgo device
Ordering your Keepgo hotspot is really easy and the bonus is there is FREE worldwide shipping that comes with it, so you're paying a $99 flat fee. So, there aren't any pesky hidden charges when you get to checkout.
They can deliver to your home, hotel, or place of business. Just click on the express checkout option to purchase!
Once you receive it in the post, setting up is really simple;
Insert the battery into the hotspot, the SIM card should already be inside when you receive it
Plug the hotspot cable into a USB plug adapter (I use my iPhone plug) and wait for it to charge
Meanwhile, you can activate the device via the Keepgo website which takes minutes and you're ready to connect
Once the hotspot is charged (when you see the green button by the battery icon), press the round button in the middle of the hotspot and wait for the green light by the signal icon
When pressed, click on your WiFi options on your device and you should see your WiFi key (Huawei-xx)
Click on the Huawei WiFi name, insert your admin password located inside the cover of the hotspot
You can check your balance at any time on the website to know how much you're using or have left.
Who is the Keepgo device good for?
Someone who has a locked phone and cannot use a local SIM card
If you're travelling with friends you could split the cost of using the private WiFi together
If you don't have time or don't want the hassle of buying a local SIM card
If you're a blogger/long term traveller who needs connection in different countries
If you want an instant connection to WiFi as soon as you land or you're on a short trip/layover in a destination
If you're mobile provider charges you for data coverage abroad, this can cap your fees!
But, can't you just buy a SIM card at the airport?
Yes, but if you have a locked phone like me, you can't always buy a SIM card that will pick up the local networks.
Getting your phone unlocked is quite expensive and means having to hand your phone to someone to do it. So, having the Keepgo tablet that will do that work for you makes more sense to me.
Plus, I don't have to queue at airports for my SIM card and do this in every single country. I just have one Keepgo tablet I can use for all the countries covered on the road!
But, if you were after an international SIM card instead of a WiFi Hotspot, Keepgo has its own data sim card that you can purchase that works with unlocked phones for $49. This works the same as the hotspot, covers 150 countries and you can top up on the road.
Reasons why you need a WiFi hotspot when you travel
1. You no longer have to rely on sketchy hotel wifi
It's an absolute pet peeve of mine when hotels offer free WiFi but it may as well be non-existent.
When I constantly keep having to re-enter my details whenever my phone locks. Or, if there's only one router that the whole hotel/hostel is trying to connect to, it can be super frustrating. Especially, if I need to get work done or find out something urgent.
Even in Egypt when I was sometimes staying in five-star hotels, the WiFi was so bad! I couldn't believe it, many people there on business were complaining as they needed to connect.
What I love about having a WiFi hotspot is that I can instantly be online. I no longer care if the hotel forgot to give me the WiFi password or it's dead slow. I can get connected in an instant and it's fast and reliable no matter what time of the day.
2. You can stay connected to loved ones back home
I remember once in North East India, I had to call my Indian friend in Jaipur to tell my Mum I was okay as I had no service for three weeks!
I couldn't call the UK as it would be too expensive, so I just had to leave my Mum in the dark. As you can imagine, she was super worried.
What I love about having a WiFi hotspot is the fact that I can easily keep in contact with my family via WhatsApp and social media wherever I am in the world. Or, I can video call them to keep in touch. So, no more worried parents!
3. It's perfect for locating attractions on Google Maps
There's something so comforting about having WiFi on your phone so you can use Google Maps to locate your hotel, a tourist attraction, or a restaurant. I love knowing that I won't get lost, especially as I travel solo more often than not.
Before, I used to load up the route when I was on the public WiFi. But, if my phone decided to restart the app or I lost GPS, I would lose my way and have to rely on paper maps or locals who may not know the place themselves!
Google Maps also allows you to know what public transport to catch to reach a location, so I know I won't be late or go in the wrong direction.
It's a relief to know that I can access all this through the WiFi in my pocket!
4. You can order an Uber at the click of a button
Ordering Uber is something I do often in countries as it's cheap and I know I'm not being ripped off. But, it can be frustrating to order on WiFi as when you leave to grab the Uber, you could lose the signal and not know where they are!
Having a WiFi hotspot which I can keep on me is perfect as I can easily order a taxi and keep online so I know when it will arrive and can keep in touch with the driver.
5. It means no WiFi worries for the rest of your days!
Okay so it's not all Hakuna Matata, everything has a downside. You could not be in the range of signal or the battery could run out.
But, more often than not having a WiFi device to hand is a positive addition to my tech that I carry around when I travel.
When I land at the airport and have no idea how to get to my hotel, or if I need to contact someone, I wanted to keep in touch on my social channels or simply browse google for things to do in a new city. Having a WiFi hotspot is one less thing to worry about!
Now I can blog using my hotspot no matter how bad my WiFi connection is at the hotel, and even get a connection on remote islands or the desert!
I don't need to buy five cups of coffee at a cafe to keep connected or throw my phone at the wall in frustration with slow service. It's all in my pocket!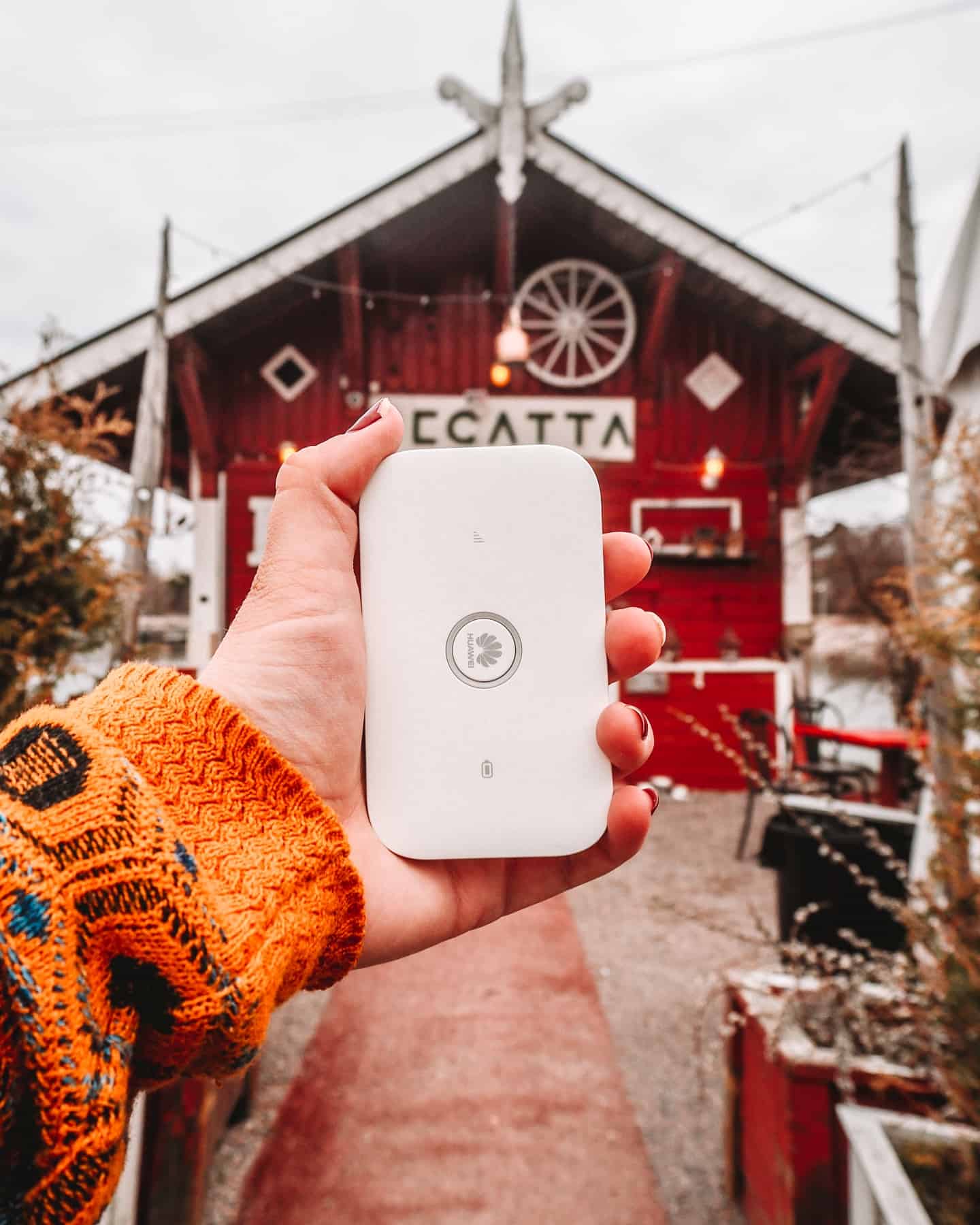 Buy a Keepgo hotspot today with my 10% discount code
As part of writing this Keepgo review, they have given me a special 10% off Keepgo discount coupon code for you if you wanted to purchase your very own WiFi hotspot or data SIM card.
All you have to do is click on this referral link and enter 'THIRDEYE10' at check out and you will automatically get 10% off your purchase!
Refer friends and get extra data for FREE
Another great benefit of the Keepgo hotspot is that if you refer your friends to buy a product, you will automatically get 300MB of data FREE for each referral.
You can use this referral code as many times as you like so it's a win-win situation. Your friend gets a new data hotspot/SIM to use when they travel, you get free data – simple!
Save this KeepGo Review for later!
With thanks to Keepgo for gifting me their wifi hotspot and keeping me online! Although this was a sponsored review, all thoughts, photos, and opinions are completely my own.