Did you know that there was a Kelvingrove Park Outlander location? Because I didn't until I did some further research on Glasgow!
Although there are many Boston scenes in Outlander, not one of those was actually filmed in the states. They were, in fact, all filmed in Bonnie Scotland.
Kelvingrove Park is located in the bohemian West End of Glasgow, which is the perfect place to start an Outlander walking tour and explore some of the famous attractions nearby.
So, come with me on this e-tour and I'll take you through what Kelvingrove Park doubled up as in the series, how to find the exact filming location and other Outlander locations you can visit in the city!
What is Kelvingrove Park in Glasgow?
Kelvingrove Park is a woodland estate that was purchased by the Glasgow City council in 1852. It was one of many Victorian parks that were built in response to the rapid growth and overpopulation in the city.
Sir Joseph Paxton was the leading designer who is famous for his design of the Crystal Palace in London. It has been used for the International Exhibitions in 1888 and 1901 and, as part of that, the Kelvingrove Park Art Gallery and Museum was born.
There are many highlights to Kelvingrove park including the River Kelvin that snakes through it, The Stewart Memorial fountain, the bandstand and amphitheatre, sunlight cottages and more!
It's a popular spot in the city where many locals use it as a jogging route, lunch spot or a place to relax.
What was the Kelvingrove Park Outlander film location?
In Outlander Season 3, Episode 2 'Surrender' we see Claire walk through Kelvingrove Park.
Firstly, we see Claire pushing Bree's Pram through the park in Boston when Bree is just a baby. Later on in the series, we see her walk through here again on her way to medical school.
You'll remember that Claire sees a bagpipe busker in the park and it reminds her of her time in Scotland and Jamie. So, she leaves some money and walks on.
This part of the park can be found on the Prince of Wales Bridge inside the park that bridges over the River Kelvin.
It's important to know what bridge to head for as it's a big park and you may not find it signposted. The next big location is the Kelvingrove bandstand and it's a short walk from there.
How to find the Prince of Wales Bridge from Outlander
The best way to head into the park is from the road at the bottom of the hill from the University of Glasgow. There is an entrance located via Kelvin Way that will take you on a ramp straight down onto the Prince of Wales bridge.
If you're entering on the opposite side from the Lord Robert's Monument head straight on towards the University that will take you over the Prince of Wales Bridge.
From Kelvingrove Art Gallery and Museum it's a short walk of around 10 minutes so it's the perfect add-on to your trip if you're an Outlander fan!
Parking around Kelvingrove park
As a photographer, I like to head out to locations before the crowds. So, it was an early morning start for me on a Sunday morning. Thankfully, there was hardly anyone about in many of the main spots in Glasgow.
The good news about heading out early is that parking spaces are free before 8 am and after 6 pm. So, if you didn't want to pay to park you can make use of this. If not, you can pay a very low fee of around 50p an hour to park.
Kelvingrove Park opening times
The park is open 24 hours a day and is FREE to enter, so you can explore anytime that you like.
If you're like me and want to beat the crowds for photos, then early morning on a weekend would be best. But, if you're not fussed, then any time of day is a convenient time.
Save time and book a tour!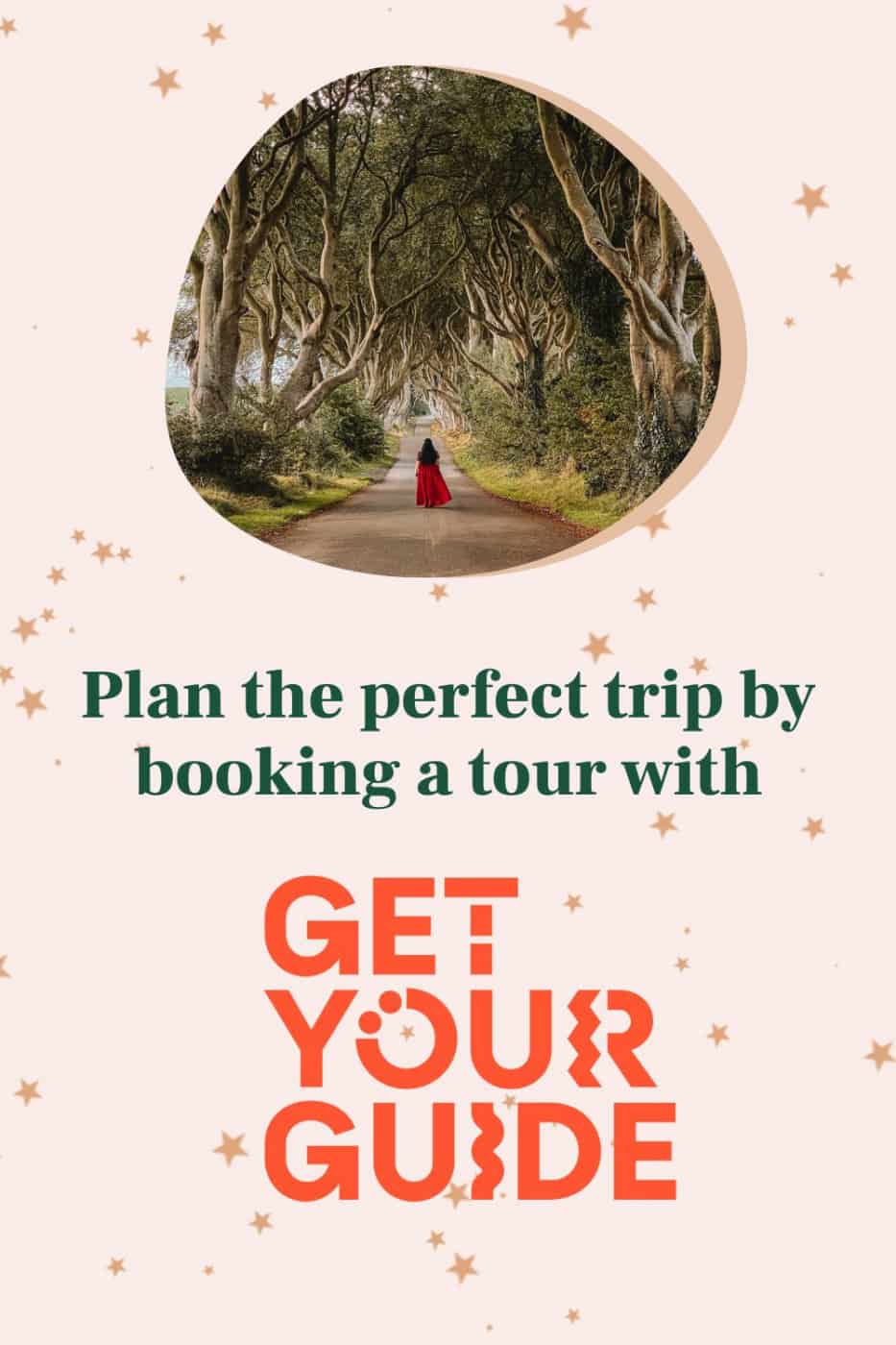 Book tours & tickets for Glasgow!
Want to explore more of Outlander's Boston?
If you would like to explore more of the Boston locations used in Outlander, then there are quite a few dotted around the West End of Glasgow. The perfect addition to your trip to Kelvingrove Park.
It's more than easy to walk from place to place, or you can make use of Glasgow's amazing public transport like buses, trains, and even a subway, click here for more info.
Or, you can go for the open-top bus tour which takes you around Glasgow's top attractions and near some Outlander locations too.
Click here to see my full list of Outlander filming locations for Boston in Glasgow!
University of Glasgow / Havard University
Frank takes up a position as a professor at Harvard University and that's why Claire and Frank decide to move to Boston in the first place.
The University of Glasgow, with its beautiful cloisters on campus, featured as the grounds of Havard University throughout series 3.
Although, having been there myself I didn't see much resemblance. It does make a beautiful backdrop for one of the oldest universities in the USA.
Glashow is one of the oldest universities in the world and it is one of the cities top attractions. As you walk around you'll also feel like you've stepped into Hogwarts with its magical towers and classrooms. Although it is believed that Harry Potter was filmed at the University of Glasgow, it was actually at Alnwick Castle.
Click here to read my complete Outlander guide for Glasgow University!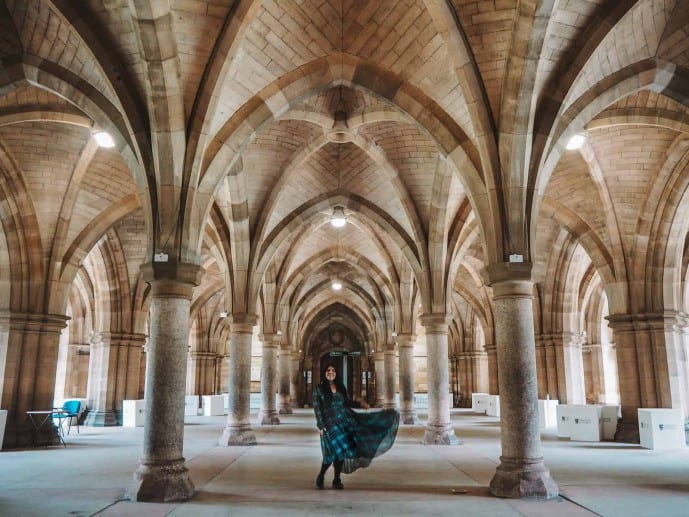 Joseph Black Building / Bree's Classroom
The Joseph Black Building in the University of Glasgow was used for one of Bree's classrooms at Harvard. This was the class where Bree was distracted while the class was discussing Paul Revere.
As far as accessible locations go, I would avoid trying to arrange a visit in term time while classes are running. The summer or half-term breaks would be best, but you can contact the University to see if it's possible.
Dowanhill Street / Furey Road
If you're looking for Furey Road in Boston where Claire and Frank's house was filmed. You only need to head to Dowanhill Street in the West End of Glasgow.
The red-brick Victorian Houses here do have a resemblance to Beacon Hill in Boston which was lucky for the Outlander Starz team.
You're more than welcome to visit the outside of the house but be aware it's a private residence. Don't invade private property to disturb the residents!
Click here to find the EXACT house in Glasgow!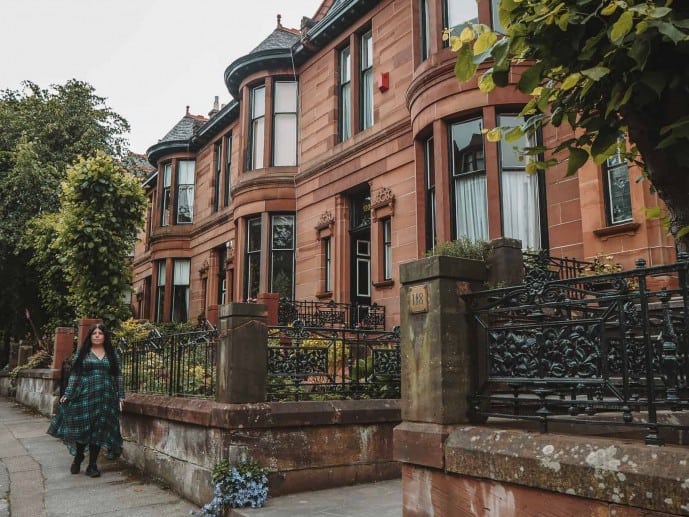 More Outlander locations in and around Glasgow
Glasgow has plenty of Outlander locations to explore, you could spend a whole day!
You can visit L'Hopitale De'sange from season 2 at the Glasgow Cathedral or George Square is the spot where Claire and Frank get married. Make sure you book a Glasgow City Chambers tour, it's a must-visit.
Dean Castle Country Park featured in the Fox's Lair, Beaufort Castle. Or, head an hour out of Glasgow to visit the Devil's Pulpit, a fairytale cavern in the countryside.
Troon Beach featured as the spot where Claire, Murtagh, and Jamie boarded the Christabel, Hunterston house played Mrs. Baird's B&B and the Reverend Wakefield's House and Dunure was the castle on the Silkies Island.
You can read my ULTIMATE list of Outlander locations in Scotland here, or read my Outlander in Edinburgh guide.
Save this Kelvingrove Park Outlander guide for later!