Chandni Chowk is an attack on the senses for any traveller who visits Delhi, but I think the one area that tops them all is Khari Baoli or the Old Delhi spice market.
As Asia's largest spice market, you can be sure that this street is not only busy and chaotic but the air will be filled with spices too!
It's hot, crowded, intense and you'll be sneezing all the time. But, it's an experience you cannot miss when you're here.
This is the place where all that aromatic flavour in those yummy curries and snacks comes from. Plus, you can buy some spices yourself to cook with some authentic ingredients back home.
As well as stalking spices, if you're a photography lover Khari Baoli has an endless source of inspiration. Including the highly Instagrammable Old Delhi Spice Market Rooftop!
Here's a complete Khari Baoli Market guide with directions to the famous rooftop included!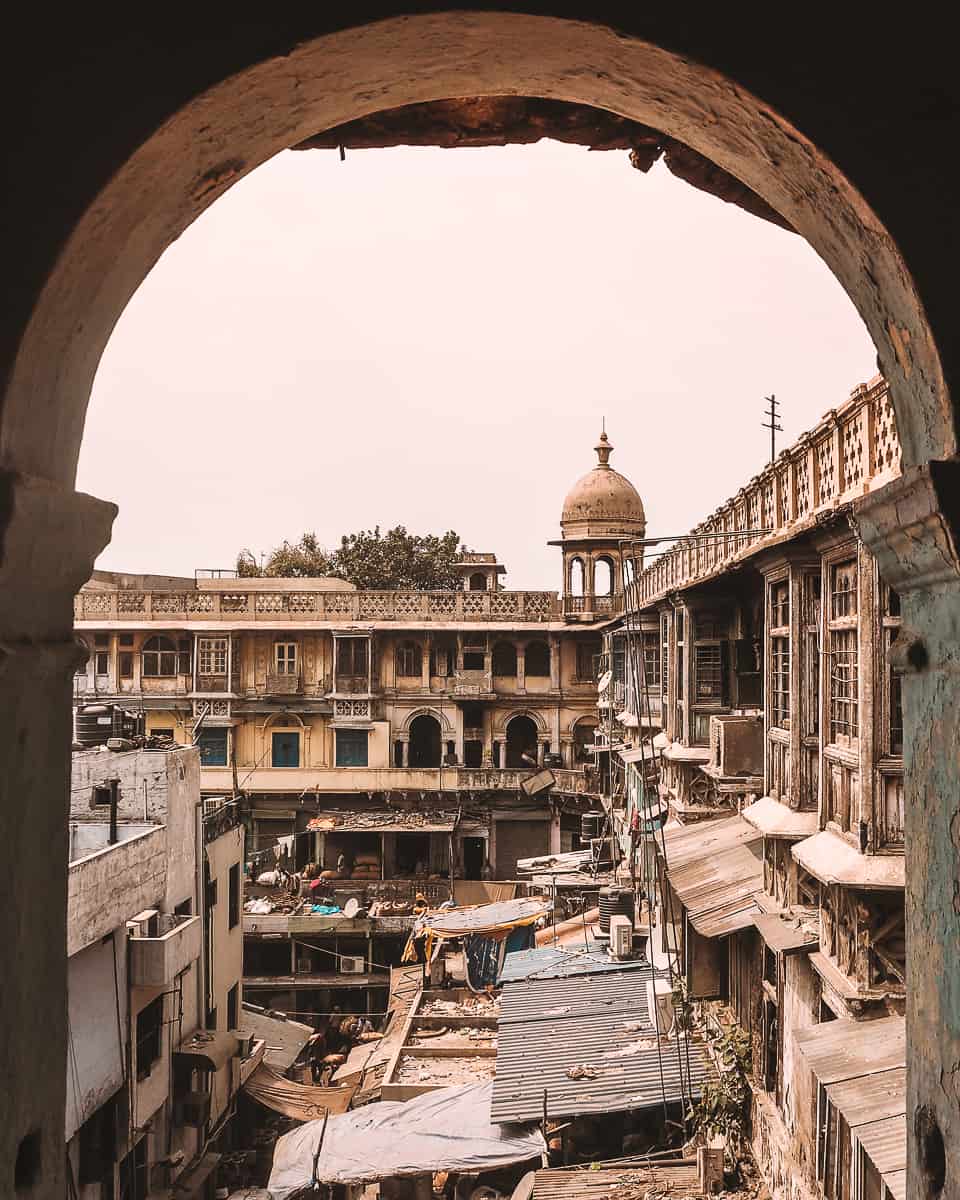 What is Khari Baoli or the Old Delhi Spice Market?
Khari Baoli is a famous street in Chandni Chowk, Old Delhi that is known for selling wholesale spices, herbs, and nuts. Plus, bags of rice and tea by the kilo!
Its origins started in the 17th-century and have remained a busy market area ever since. Today, it's Asia's largest spice market! Businesses, restaurants, and locals all come here to barter for cooking products every day.
It's also the place that organises spice trade with the majority of North India. Khari Baoli trade routes stretch to the likes of Rajasthan, Jammu, and Kashmir and even as far as Madhya Pradesh.
As you can imagine, this is a huge operation. Not only are there countless stalls, but also hundreds of carriers and people organising the bags of spices in warehouses, everywhere!
The history of Khari Baoli
The origins of this market start with the Khari Baoli stepwell that was laid down by Khwaja Abdullah Laazar Qureshi during the reign of Salim Shah in 1551.
If you want to learn more about the historic stepwells in Delhi, read my guide on Agrasen ki Baoli!
Although nothing remains of the stepwell now, a community started around this water source. Later, religious buildings were constructed including the Fatehpuri Masjid mosque built in 1650.
This mosque was built by Fatehpuri Begum, or Empress Begum, who was one of the wives of Emperor Shah Jahan. He is most famously known for building the iconic mausoleum of the Taj Mahal for her!
Around this time, the market area became known as Khari Baoli. Khari means Salty and Baoli means Stepwell. The water was apparently used for bathing animals.
Most of the traders who live in Khari Baoli are now 9th or 10th generation owners from their families who settled here in the 17th and 18th centuries.
You'll find that many restaurants and traders in this part of the city have made a reputable name for themselves. They have been providing the residents of Delhi with spices and food for centuries!
Nowadays, it's also one of the top tourist sites in Old Delhi and one you cannot miss off your list.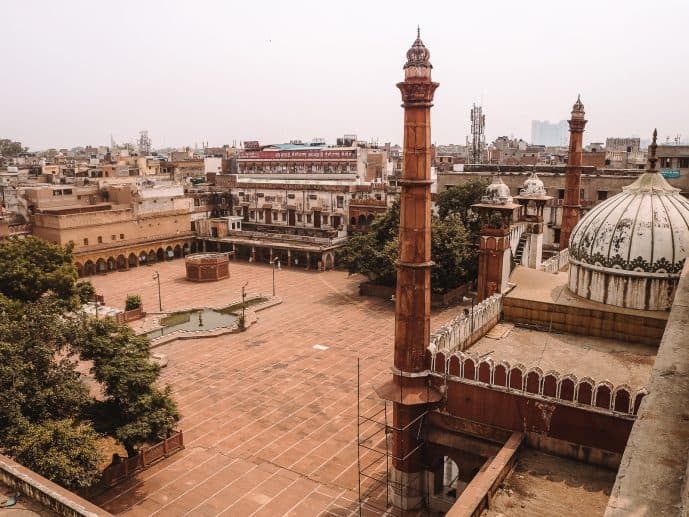 Facts about Khari Baoli
Khari Baoli is Asia's largest wholesale spice market
Many of the street names and trader names are the same as when they were set up over 400 years ago! You'll find names like "Chawal Wale 13" and "15 Number ki Dukaan" etc.
Although the market looks like utter chaos, it's actually extremely organised with well planned operations in delivering and organising the spices
As well as trading spices, the market also sells rice, tea, nuts, Ayurvedic medicines and Khoya milk to make sweets. You'll find all sorts here!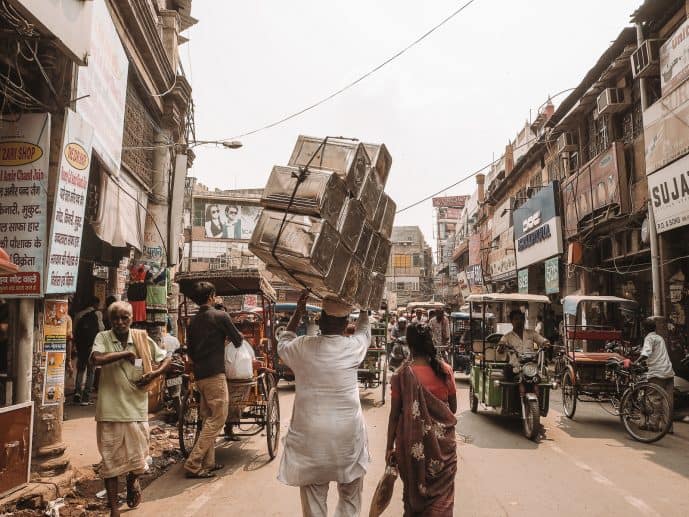 When is the best time to visit?
The market is open every day except Sunday and it runs from around 10am to 8pm in the evening. But, like most of India, you'll find that stalls open later if business is good.
The best time to visit Delhi would be in the winter season from November – February as the temperatures are much cooler and more tolerable.
If you visit in the summer season or monsoon, the heat can be unbearable!
I would also recommend getting here early in the morning to avoid the mid-day sun. Walking around during the day will drain you. Hence, why we hired a rickshaw for a tour.
What to expect on an Old Delhi spice market tour
If this is your first time visiting India and Delhi from the West, then this is definitely the place to arrive for a culture shock!
Khari Baoli is one of the busiest streets and trade operations in Chandni Chowk. You'll find rickshaws, pedestrians, bikes, cars, and people carrying spices on their heads!
You'll smell the intense smell of spices, probably sneeze a few times and hear the loud bartering from people trading.
It's hectic, loud and almost appears like complete chaos. But, it works and it brings in millions of dollars every year!
As well as exploring the main street, this area is full of little alleyways and corners that would give Diagon Alley in Harry Potter a run for its money. These were some of my favourite areas away from the main strip.
If it's your first time exploring Chandi Chowk, I would highly recommend hiring a guide or rickshaw to take you around and see the highlights.
You could go self-guided but it may be difficult to find the right areas amongst the crowds! Plus, it's nice to meet a local who knows the area.
The first time I visited Chandni Chowk, I did a self-guided tour with my friend and we hired a rickshaw (bike) to take us around the markets.
Our rickshaw driver acted as our guide then stopped at Khari Baoli and allowed us to explore. He also gave us some top tips for buying spices from reputable retailers.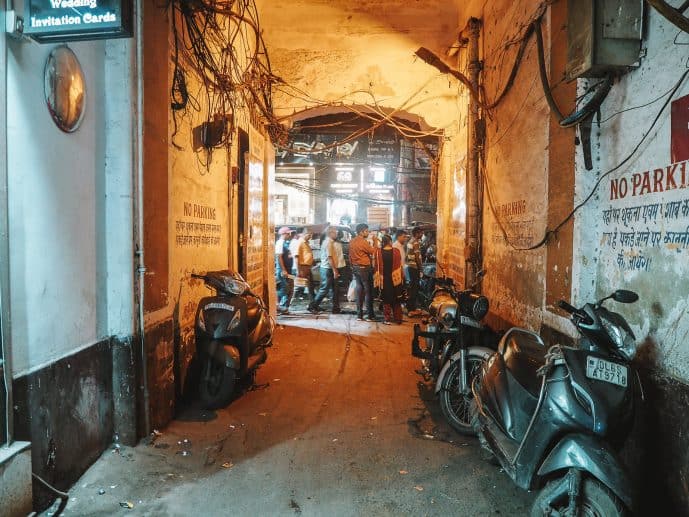 Tips for buying spices & exploring Khari Baoli
Always go for a reputable retailer. The most famous shop in Khari Baoli is the Mehar Chand and Sons warehouse. They were established in 1917. You can buy many quality spices and bags of tea here. I bought some mango tea which was really unique and delicious!
Although it's a wholesale market, you don't have to buy it by the kilo if you don't wish too. Many of the shops expect tourists and have smaller quantities available.
Most of the time the spices are weighed and you pay per the price that day. But, some of the 'tourist' packets are pre-paid to avoid haggling.
Like most things in India, prices are negotiable! Don't feel shy in bartering for a fair price if you feel it's overpriced as you're a tourist.
Most tour guides will take you to a reputable retailer. However, In my experience, there are no 'fake' spices or dodgy spice trade sellers here. They have made a name for themselves in Delhi over hundreds of years. I doubt they would tarnish their reputation by pushing faux spices!
Saying this, watch out for pickpockets. Chandni Chowk is famous for petty theft on the streets. Make sure your belongings are in sight at all times, keep pockets zipped up and bags closed.
Avoid visiting Chandni Chowk alone late at night or in the early hours of the morning. It's simply not safe. Always make sure you have a guide at this time.
How to find the Old Delhi Spice Market Rooftop at Gadodia Market
In recent years, one of the most famous areas of Khari Baoli is the Old Delhi Spice Market Rooftop for photos!
This is on top of the Gadodia Market Complex building which was built in the 1920s. This building is at the centre of Khari Baoli.
It's actually a series of buildings with tight-knit alleyways, rooms, and corridors. There are around 4/5 floors to get to the top.
Most Old Delhi tours make a stop here as it's one of the most amazing views of the old city! You can see the endless houses, minarets of mosques, as well as a birds-eye view of the historic spice market.
On my first tour of Old Delhi, I actually almost missed out on this as I was worried our guide was taking us somewhere dodgy. I didn't trust it!
It's actually in a dark building, down an alley and you need to climb a dirty old staircase to access it.
This rooftop location is easily missed and is not the easiest to find on your own. Once you enter the Gadodia Market building I would ask a local for directions.
Personally, I would always recommend you hire a local to guide you to the top. This is especially important if you want to visit for sunrise.
Chandni Chowk is not safe in the early hours. Plus, it will be dark. So, it's best to hire a driver or rickshaw guide who can show you the exact location.
One thing I would say about getting photos here is that all those famous Instagram photos with the pretty blankets, mats, cushions, and marigolds are just set up. You won't find any of that here normally.
The views from here are just as pretty without all that fakery! However, if you did want to 'stage' a photo, you could organise your own.
Why not support some of the traders by buying marigolds and blankets in Chandni Chowk?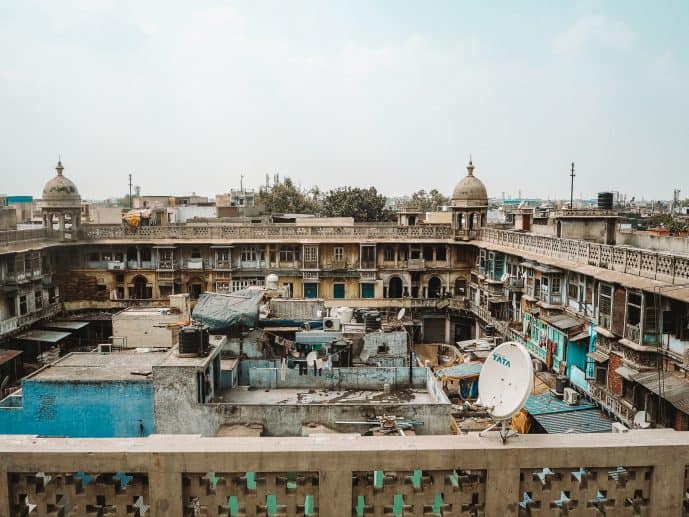 The best time to visit for photography
Many people suggest visiting the Old Delhi spice market rooftop for sunrise. To be fair, it is a lovely time with the morning light and you're there before the city wakes up.
However, I would personally make a visit when the market is open later in the morning. That way you can truly experience Khari Baoli at its finest.
It simply isn't the same without the noise, the people, the spices, and the life that goes on around here.
Taking portraits of the locals, the busy laneways and the colourful spices is also a great muse for your collection!
Where is Khari Baoli in Old Delhi & how to get there?
Khari Baoli is a street that is located in the Chandni Chowk area of Old Delhi. The easiest way to find the area is to locate the Fatehpuri Masjid mosque and it will be just near there.
As above, I would always recommend exploring Chandni Chowk on a tour. But, you could go self-guided and hire someone to take you around from there.
The most convenient way to explore Delhi self-guided, in my opinion, is by taking the Delhi Metro. It works on a coin-token system and it's extremely cheap.
The nearest metro station to Khari Baoli, would be Chandni Chowk station.
What else is there to see in Old Delhi?
As well as the spice market, Chandni Chowk has an endless list of attractions that are on the heritage tourist circuit.
You can visit the famous Red Fort that was built by Emperor Shah Jahan. This was a palace of Mughal royalty when the capital shifted from Agra to Delhi. Nowadays, it's where the Independence Day celebrations are held.
Or, you can visit India's largest mosque Jama Masjid, also built by Shah Jahan. This red sandstone temple is huge and you can climb up the minarets for a stunning view of the city.
If you're looking for restaurants, I would recommend Karim's which is world-famous and has even been showcased on the BBC. Their goat curry is incredible.
Popular street food would be from the Kuramel Kulfi Wala, the Jain Coffee House for sandwiches, or Shayam's Sweets – the best samosas in town.
A great rooftop view of Chandni Chowk is from the Haveli Dharampura, they have a rooftop restaurant that overlooks the domes of Jama Masjid!
Book an Old Delhi tour!
A great way to explore Old Delhi and not get too overwhelmed as a tourist would be to take a tour.
As one of the most popular tourist spots in the city, you'll find a variety of ways to experience it!
Click here to book a heritage walking tour of Old Delhi. Or, if you wanted to book something in advance, you could book a Rickshaw ride here.
Personally, I loved taking an Old Delhi Cycle Tour where we got to see Chandni Chowk wake up and set up their stalls in the morning. We then finished with breakfast at Kharim's. Click here to book a tour.
Or, if you're a foodie lover, why not go on an Old Delhi Street Food Tour? Then, you can learn about traditional foods and your guide can take you around some of the best food stalls in the area!
Click here to see my YouTube video with some of the best places to try Old Delhi street food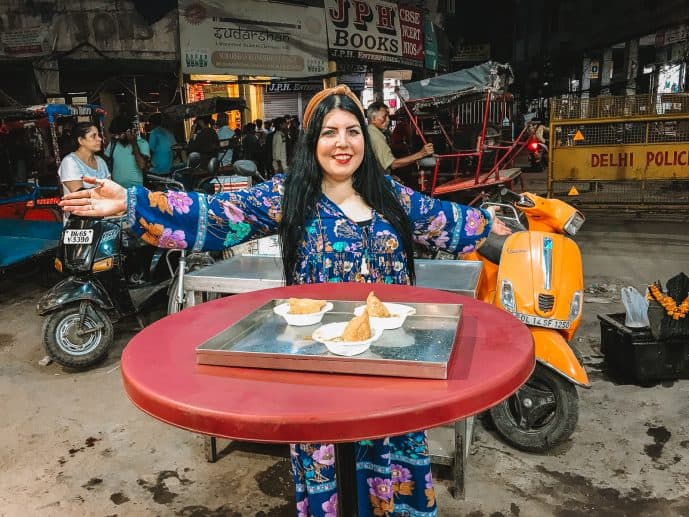 Are you looking for more photography spots in Delhi?
The Old Delhi spice market rooftop and Chandni Chowk are just the tip of the iceberg when it comes to photography spots!
Delhi is a huge city with many amazing districts to photograph. From the tombs of royalty, ancient stepwells, pretty gardens, impressive temples, and street art – it really has it all.
To make sure you don't miss out and read my Instagrammable Delhi guide!
Where to stay in Delhi
Delhi is huge, chaotic, and busy at all times of the day. Where you stay in the city can have a huge effect on whether you enjoy it as a tourist or not.
Most travellers tend to choose Paharganj as this is where most of the backpacker hostels are and cheap guest houses. But, It's not the most peaceful. In fact, it's noisy pretty much all hours of the day and night.
When I backpacked through Delhi, I chose Paharganj. Personally, I don't mind it and I love the atmosphere around the area in the evenings. However, it's not for everyone. I can recommend the budget Yes Please Treebo Natraj (it's actually quiet) or the mid-range Hotel Ajanta.
For more luxurious residences, I'd always choose The Imperial New Delhi, Taj Palace, or the Leela Ambience near the airport.
For a more peaceful area, I'd pick New Friends Colony or somewhere near Hauz Khas Village. There are a couple of 'Poshtels' here and some friendly Homestays which provide more of a relaxing dwelling.
For hostels, I like the Zostel chain. They come highly recommended and I've stayed in a few myself. As a bonus, the Zostel Delhi is located in Connaught Place.
Read more of my Delhi & India articles
Agrasen ki Baoli – the most haunted place in Delhi!
The ultimate Rajasthan itinerary
A first timers guide to Jaipur
My complete guide for Rishikesh
Save this Khari Baoli & Old Delhi spice market rooftop guide for later!