If you're looking for the best place to experience some of the spectacular street art in Kaunas, then look no further than Kiemo Galerija.
This street art yard is a unique concept in the city that challenges the idea of a traditional art gallery.
Inside the yard, you can find the most colourful, quirky, and inspiring art in the city. So, I would make sure that you schedule some time in your Kaunas itinerary to check it out.
Personally, I was not expecting such amazing street art in Kaunas. At all. In fact, it hadn't even crossed my mind. So, when I arrived and saw such vibrance and individuality on every street corner, I knew I had to uncover more.
So, in this helpful guide, I'll also give you some inside tips on how to find the best street art in Kaunas too!
What is Kiemo Galerija or the Courtyard Gallery?
Kiemo Galerija, is a courtyard in Kaunas that has been transformed into an alternative art space.
Originally this was set up Vytenis Jakas with a few art pieces inspired by the Jewish residents that used to live here during the interwar period.
It challenged the idea of "home", whether it is a space with a lock and key or a community, and how modernisation has alienated societies and neighbours.
But, over time, the street art yard has expanded and invites local artisans and street artists from around the world to take part.
Walking inside Kiemo Galerija is almost like entering an alternate reality, where anything is possible.
Art Illusions, ghosts from the past, famous characters, colourful murals, and protest pieces cover the walls making it an interactive creative space enjoyed by anyone who visits.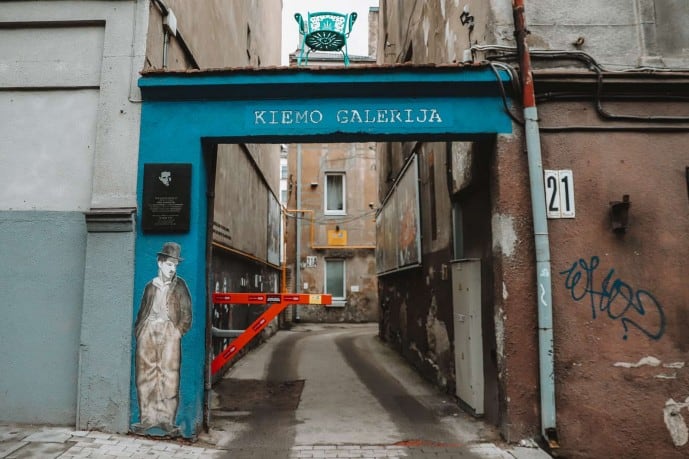 The history of Kiemo Galerija
The Kiemo Galerija was started by Vytenis Jakas who moved into the residential space above the courtyard.
He was annoyed about the lack of community spirit in the area. What used to be a thriving community of people who all knew each other, turned into residents living separate lives with a nod or a quick hello. It also was used as free parking and there was lots of litter that was taking up the area.
So Vytenis decided to take a stand and decided to ask his neighbours for their stories. He collected photographs, memories, happy times, and sad and decided to create art pieces in the courtyard from them.
And, the project worked. Over time, it slowly eroded the alienation between them and brought the community together. To understand each other and make an effort to connect. You can read his full interview here.
It also helped clean up the area and stopped so much rubbish from being dumped. With a little help from the courtyard cat sitting in the yellow shuttered window – something, I'll explain later!
How to find Kiemo Galerija in Kaunas
I was introduced to this wonderful area of Kaunas on my free walking tour with Vilnius With Locals. It was an incredible walk, even though it was freezing, and really took you through the whole city learning about its colourful history.
During our tour, our friendly hosts explained a lot about the stories behind each of the statues and street art pieces as we went. So, it really brought the city to life!
But, if you'd rather walk through the city self-guided, then you can find Kiemo Gelrija on Ožeškienės street.
It's easy to find as you'll see a bright blue gate with the name above it and some street art as soon as you arrive!
Opening times for Kiemo Galerija Street Art Yard
This street art yard in Kaunas is unlike any art gallery that you have visited before. In fact, the owner was trying to defy the concept of a regular art exhibition.
So, not only is it FREE to visit, open for all to experience, but it's accessible 24 hours a day, every day. So, you can pop along anytime to see the amazing artwork.
Just be mindful that there are residents who live in the area and it's important not to disturb anyone while you're looking around. Especially early in the mornings or late at night.
What to expect in Kiemo Galerija courtyard gallery
I think it's a safe bet to assume that you can expect anything to happen in Kiemo Galerija. So, the best way you can prepare for a visit to the courtyard gallery is to expect the unexpected!
From Charlie Chaplin, portraits and photos of Jewish Ghetto residents, a big pink elephant, street art murals, and bikes on the walls. There's so much to it, that you'll need to spend some time to take it all in.
There are illusions, benches that you can sit on, and a local cat that keeps an eye on all the residents to make sure they aren't littering the place.
Also, there is an interesting piece of art that everyone can contribute to.
When you walk into the main courtyard, you'll see a window with two dustbins underneath it with what looks like a lot of rubbish. But, in fact, it's all contributing to an art piece called 'Stick Your Memory'.
People can discard anything that they don't want to hold onto, whether that's a photo of their ex, tickets that have been cluttering your wallet, or knick-knacks that you won't do anything with.
So, if you do have something you could let go of here, you can stick them on the wall too! Who knows who will see it?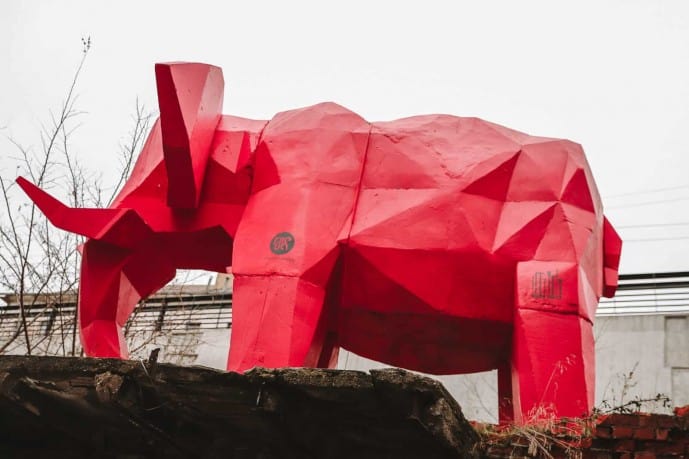 Top tips for visiting Kiemo Galerija
As it's a residential area, there may or may not be cars coming in and out of the courtyard. So mind out if you're taking photos.
That being said, it is important not to disturb the people that live here. So, no loud noise in the early hours!
There is art hidden in pretty much every corner of the Street Art Yard so make sure you take a good amount of time to explore and find all the pieces.
New pieces are being added all the time, so make sure you go back regularly to check out the new artwork there from local artists and those abroad.
The yard is meant to be interactive and inspire you to think differently. So, don't forget to have some fun and bring a camera to capture some of the memories!
Where to find the best street art in Kaunas
Now, Kiemo Galerija is just the tip of the iceberg when it comes to street art in Kaunas. So, if you're up for a little bit of an adventure, you can take a guided walk to explore all the street art in the city!
I'm not going to lie to you, this could fill up an entire day as there is just so much street art to be found. But, I could think of worse ways to spend 24 hours in Kaunas.
So, if you have time, make sure you pop into the Kaunas Visitor Centre on Rotušės a. to pick up a walking map to guide you to where all the street art pieces are.
Yep, street art is legal here in Kaunas and they even have a map with all the places and artists too – something I don't see often in cities.
Street art has been around since the Soviet Era in Kaunas, but it's now gone wild with the introduction of the Kaunas Street Art Festival NYKOKA (more on that later).
Kaunas Street Art Map / Wallographer Notes
The map you're looking for in the Kaunas Visitor Centre is the "Wallographer Notes" map.
"Wallographer" is a word that Kaunas invented as a nickname for YOU as an observer of street art!
This colourful map not only has the locations of street art pieces, but what they look like too so you can pick and choose the street art you'd like to see while you explore.
What I loved was the fact it recognises the artists that painted them! So, you can check out more of their work and just know a bit more about the person behind the artwork.
Most cities ban street art, labelling it as graffiti, so I was happy to see that Kaunas accepts and celebrates it.
If you're more of the turn the pages of a book type, then click here to purchase a book all about The Street Art in Kaunas made by the local artists in the area.
Click here to download a copy of the map!
Street Art Murals
Some of the most creative, colourful, and outright bazaar pieces can be found on the walls of buildings in Kaunas.
So, keep your eyes peeled for pink elephants, old men smoking a pipe, polar bears, and princesses on horses!
Here is a selection of my favourite street art pieces that I found as I was walking around Kaunas.
Contemporary Ladies
This mural can be found on the outside of Kaunas University of Technology and can be seen from the street, don't worry you don't have to go inside!
The colourful wall by Linas Kaziulionis features two ladies from Leonardo Da Vinci's paintings; Lady with an Ermine and The Beauty of Ferronnière.
The artwork shows that they are both wearing headphones and decided to come together to listen to some music.
The Wise Old Man
Probably the most iconic piece of street art in the city is The Wise Old Man found on Jonavos Gatve.
The building it is painted on used to be a Footwear factory but then transformed into an art space called Fluxus. As a tribute "Gyva Grafika" painted a mural dedicated to the "Father of Fluxus" Jurgis Mačiūnas.
It caused a bit of controversy at first due to the fact it had a pipe and the locals thought this would encourage smoking. But, now it has become an icon for the city and there will be hell to pay if someone paints over it!
The rainbow house in Kaunas / The Cabin
What's a clever way to bring life back into an old abandoned building? Paint it in all colours of the rainbow of course!
This beautiful house on V. Putvinskio Gatve, really stole the show for me. With its bright coloured wooden panels, a sketchbook style door, and even chairs on the roof (do people have tea parties up there?!) – it was such a cool Instagram spot!
The Cabin was the brainchild of Kaunas Artists House which invited painters to make an abandoned house visible again. Well, they certainly did that!
The Kaunas Cats
Another famous trend that can be found all over Kaunas is the Kaunas Cats!
These aren't just found on the walls, but also on bins, bollards, signs, drains, and a lot more. Apparently, my guide told me that a lot of the cats have been painted over now but you can find many small ones across Kaunas.
On our small walking tour, we were challenged to find all five of these cats and I managed to spot them all.
The artist chooses to remain anonymous but has caught the city by storm inspiring cat tags on trams too!
If you want to see a collection of all the Kaunas Cat murals then head to the Instagram account @allcatsarebeautifultome or read the interview about why it started here. You can even buy a pin badge here.
Other Street Art walls in Kaunas
Pink Elephant – Just up the street from Kiemo Galerija is the famous Pink Elephant by Vytenis Jakas, the same guy who invented the Street Art Courtyard. It's was inspired by the writing on the wall "Deima + Arūnas".
Princess on a Horse – This painting was inspired by six-year-old Gabija Menkevičiūtė. It won the Nykoka Festival competition and was then brought to life on a 14 metre high wall!
Wall – If you head on over to Nemunas Quay, you can catch a glimpse at street art from many Lithuanian and international street artists including a Polar Bear and others.
Unicorn – Another classic by Vytenis Jakas. This magical mural was set up to bring some character to Kaunas' biggest neighbourhood, Šilainiai, and brighten up the grey walls!
Interesting statues and objects
As well as murals painted on the walls, there are many statues and artistic objects that have been placed around the city. So, keep your eyes peeled for them on the city streets.
If you're looking for some pointers on where to find the most unusual, cute, and downright funny, here's a list of the highlights!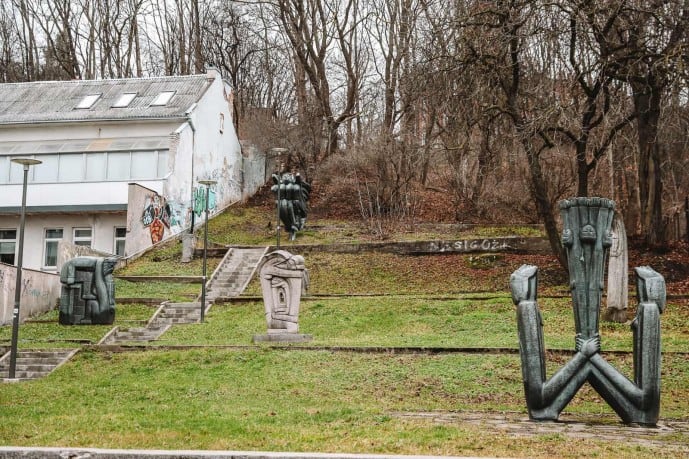 The Naked Man
The bold sculpture called 'Sculptured Man' outside the M. Žilinskas Gallery did not go down well when it was first built.
I mean, any statue that has a naked guy with his privates on the show isn't going to please everyone, is it?
But, after consideration and the independence of Lithuania, the people decided that it would stay as a statement. So now, the statue which is meant to symbolise a man's body and soul welcomes you into the museum with open arms. But, try to keep your eyes upwards…
The Boy on the Bike or "Nežiopsok!"
The cutest statue that I came across in Kaunas was The Boy on the Bike locally known as "Nežiopsok!". On the surface, it just looks like a cute kid who's playing with his dog but it actually tells a unique story.
The oldest street in Kaunas, Vilnius Street, used to lead straight to the capital. But, over time, the urban development of both cities meant that streets in both Kaunas and Vilnius had changed.
The road no longer leads to the capital city. Along with the development, you can see the path change at this exact spot from cobbles to a more modern paved road which tells part of the tale too.
So the story of the statue, by Kęstutis Balčiūnas, is that the dog is warning the boy that he is riding up old Vilnius Street but there is now a building directly in front of him.
Will he see it on time or heed the warning? Only the observer can tell the rest of the story.
Star Seeder
Another controversial piece was Star Seeder that can be found on the grounds of the Kaunas War Museum.
If you stroll around the area, you'll notice three statues that have an important meaning about Lithuania and its independence.
The statue of the mother and daughter reading represents passing down the Lithuanian language onto children when the language was banned in the Soviet Era.
The man with the sack is transporting illegal books written in the Lithuanian language and the man holding a box is a seeder.
In 2008, Morfai, illegally added the stars which sit behind the statue. When the nighttime falls, the street lighting causes a shadow on the statue and he becomes a star seeder too!
After some controversy, it won the Kaunas Highlights competition and was loved so much it was revived!
Insects of Ladislas Starevich
If you walk from the Kaunas Town Hall square, you'll find a memorial for Vladislavas Starevičius a famous pioneer of puppet animation.
He began his career in Kaunas and in his honour are an ant, a grasshopper, and a stag beetle which he used in his movies.
The Zen Rabbit / Zen Triusis
The Zen Rabbit guards the subway to the Old Town with a message to slow down and enjoy the moment.
People, whether travellers or residents, rush through the subway, passing by, not taking time to enjoy what they see all around them. People are just thinking of their own day, troubles, or what the future holds.
So, the Zen Rabbit reminds us to be in the present, be kind to our fellow travellers and enjoy the Old Town rather than rush through it.
So, do as you're told, the Zen Rabbit knows all!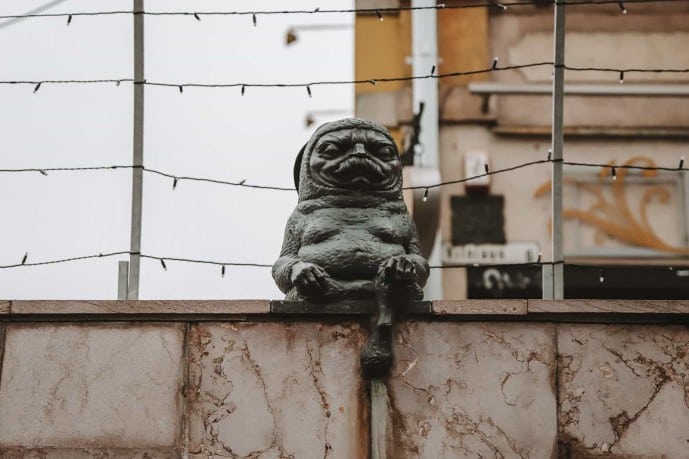 Kaunas Street Art Festival NYKOKA
If you're really into your street art and would love to meet some famous street artists from all over the world, then you should schedule your visit around the time of the Kaunas Street Art Festival.
NYKOKA invites tourists, artists, and locals to submit their own drawings to the festival.
Like Gabija, you could have your own art to win the competition and see it come alive!
Kaunas Street Art Souvenirs
Did you know that many of the street art pieces that can be found on the walls in Kaunas can be bought as souvenirs?!
Yep, you can buy some of your favourer pieces in the form of badges, mugs, t-shirts, and bags in the Kaunas Visitor Centre which makes a unique souvenir to take home.
My favourite was the Kaunas Cat and you can buy it as cute pin badge.
But, if you forget, or if you'd like to browse their selection they have a handful of Kaunas souvenirs you can order online here.
Free walking tours of Kaunas
If you're here on a Saturday, then I would highly recommend that you book onto the free walking tour of Kaunas with Vilnius with Locals.
The walking tour is brand new for summer 2019 and it's a great way to get introduced to the city and hear some of the interesting stories behind all the attractions and buildings. We also got to see a lot of the famous street art included in this list!
I actually visited Kaunas on a day trip from Vilnius as it's only 90 minutes away by train. So, I was able to make it for the tour that started at 12 pm on the dot.
As always with most free walking tours, a tip is expected at the end for what you think the tour was worth.
Personally, I was blown away by how great the tour was. It was only meant to be 2 hours but ended up being over 4!
We had such a lovely group and the tour guide really made an effort, especially on a Saturday in freezing cold temperatures.
Click here to book a FREE Kaunas walking tour
Where to stay in Kaunas
If you're exploring Lithuania and are staying for a few days in Kaunas, there are lots of hotel choices in the city that you can book;
Looking for more inspiration for Kaunas and Lithuania?
In Kaunas, you can visit many of the top sites like Kaunas Castle, Fort IX the Town Hall, or the famous Devil's Museum which has over 3,000 artifacts of Lucifer!
Check out the top attractions in Kaunas here
Also, If you are researching locations to visit on your Lithuanian adventures.
Make sure you read some of my informative guides as I covered a lot of ground while I was here;
40+ places to visit in Vilnius
A photography guide to Vilnius
The Instagrammable Love Story Cafe of Vilnius
Top attractions in the Republic of Užupis
My complete Trakai tourist guide
The best viewpoints in Vilnius
The ultimate guide for Three Crosses Hill
Hill of Crosses: How to reach there from Vilnius
Why you need to visit Vilnius in December
Like it? Pin it!