Kilt Rock and Mealt Falls is one of the best viewpoints on the Isle of Skye's Trotternish Peninsula.
It's a majestic waterfall that cascades over a sea cliff with a view of Kilt Rock in the distance.
You can take a short panoramic walk along the cliffs to see this enchanting landscape with the sparkling waters of the Sound of Raasay below.
The great news is that visiting this magical vista requires very little effort. It's just a quick, flat walk from a parking area.
Here is a complete guide for visiting Kilt Rock and Mealt Falls on the Isle of Skye including how to visit, things to see, and the new parking prices.
Update July 2023: the new Kilt Rock car park is now open! It's lovely and so much nicer to park in. But, you now have to pay. Have fun and stay safe on Skye.
What is Kilt Rock and Mealt Falls?
Kilt Rock is a 90-metre tall sea cliff on the Isle of Skye that is made up of basalt columns. Many people think that these look like the pleats of a kilt.
The curious pattern was formed over millions of years of volcanic activity. The lava would flow over the sandstone and then cool forming these long vertical pillars.
Mealt Falls is a 55-metre waterfall that drops over the cliffs and into the sea below. It is fed from the freshwater Mealt Loch nearby.
Both of these attractions can be seen together at a popular viewpoint area in the Trotternish Peninsula. It makes a stunning backdrop for a photo.
You can walk along the edges of the cliff to see the panoramic views but there is a safety barrier for protection.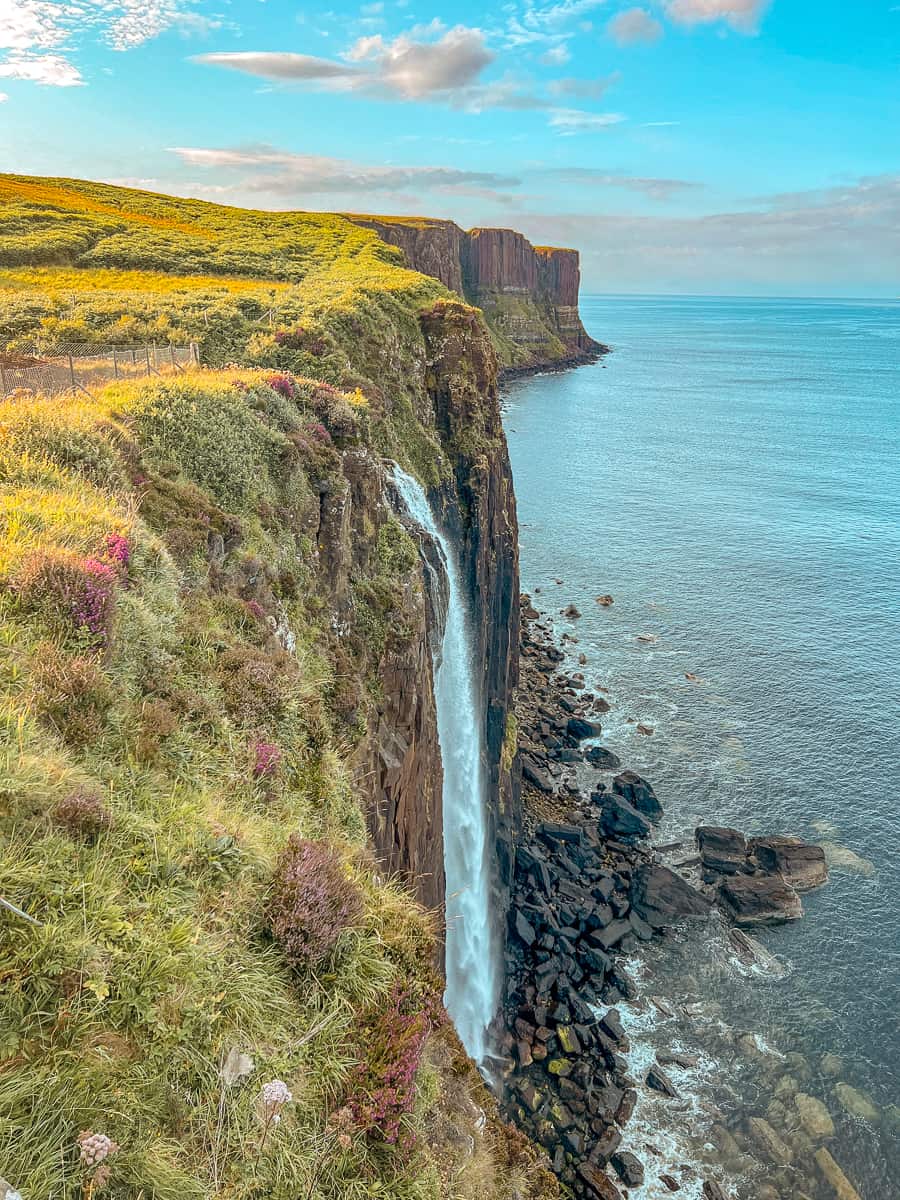 Why is it called Kilt Rock?
Kilt Rock lies in an area of Skye called Staffin on the Trotternish Peninsula.
This modern name derives from the Old Norse word 'Stafr' given to the area by the Vikings.
It means 'the place of pillars' which describes the thousands of basalt pillars found in the rock face.
This area in Gaelic is called Creag an Fheilidh which roughly translates as Kilt Rock or Kilt Wrap.
Many people think that these pillars look like the pleats of a traditional Scottish kilt. With the rouge sediment, some say that it even resembles red tartan.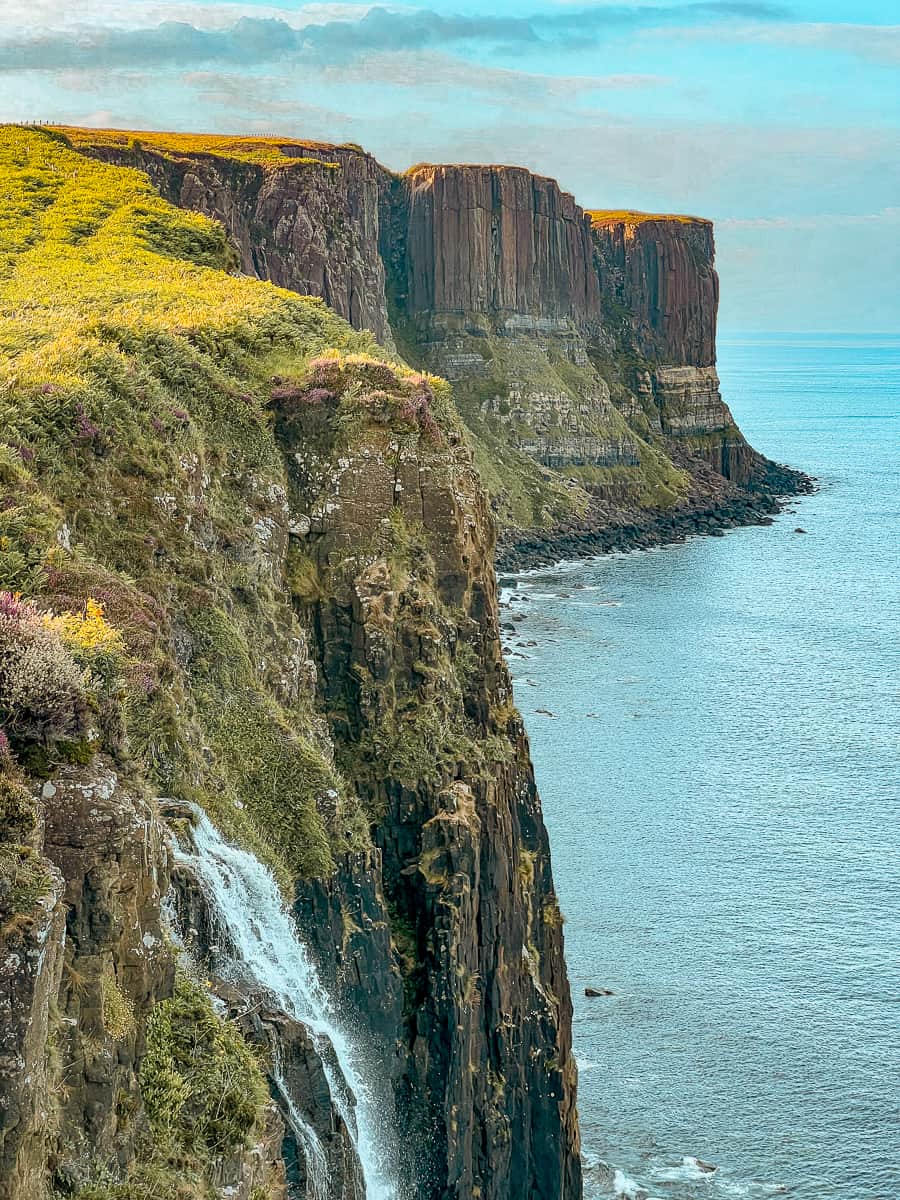 Where is Kilt Rock and Mealt Falls on the Isle of Skye?
Kilt Rock and Mealt Falls can be found on the Trotternish Peninsula in the far north of the Isle of Skye.
The island is accessible from the mainland of Scotland via the Skye Bridge and you can find it on the West Coast of the Scottish Highlands.
The Mealt Falls area is around 15 miles from Portree which will take you around 30 minutes to drive.
However, if you're heading here from places like Skye Bridge and Kyleakin, it's a good 50-mile drive and will take you around 90 minutes!
Kilt Rock postcode is Portree IV51 9JE. Click here for a Google Pin!
How to visit Kilt Rock and Mealt Falls
Visiting Mealt Falls and Kilt Rock is easiest by car on Skye and there is a car park found at the site.
After you've parked up, the viewpoint is right next to the car park, and takes less than a minute to walk there.
It can be accessed via the A855 road that loops around Trotternish. So, it's easy to visit this viewpoint as well as visit other attractions in the area.
If you're not driving around the Isle of Skye, there is the option to take a bus or cycle to this viewpoint.
The 57 Stagecoach bus service from Portree does a loop around the entire Trotternish Peninsula and can drop you off outside the Staffin Dinosaur Museum. It's then just a 5-minute walk to the viewpoint.
Kilt Rock parking
There is a large, new, and improved public car park that has opened to visit Kilt Rock on Skye.
This has recently re-opened after a huge construction project by Syke Highland Council. There are now clearly marked parking spaces.
It has lots of space for cars but these still can fill up very quickly as this is such a popular attraction.
Luckily, most people park up here for a short while to see the waterfall and then leave. So, spaces free up all the time.
The only downside is the new car park is now chargeable from 8 am – 8 pm. Parking prices are £2 for 1 hour. Payments are made by cash or contactless cards. Ringo App is shortly to follow.
As most people only stop for a quick photo and it's always ridiculously crowded, this seems a little weird to me. But, I guess they want to milk that cash cow for all it's worth.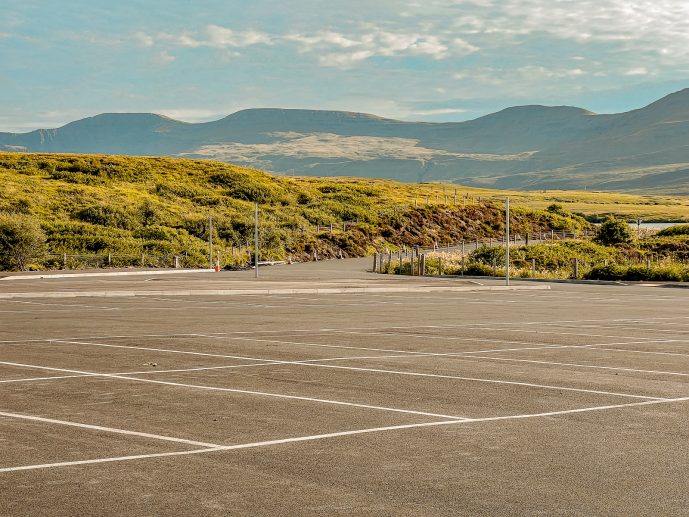 What to expect on your visit
So, once you've parked up you can head over to the viewpoints on the sea cliffs.
Although there are safety barriers, you will feel like you're flying as you're so high up. Prepare for it to get a bit windy.
Although it's best to visit the waterfall after rain, on a clear day you can see Kilt Rock clearly and all the way over to the Outer Hebrides.
It's a great little pitstop on Skye that only takes a short time to visit but has some of the best views on the entire island.
Things to do at Kilt Rock and Mealt Falls
Most people think that this area has just one view of the waterfall over the cliffs but there are actually a couple of viewpoints and things to do around here.
Don't miss out on these things to see at Kilt Rock.
Viewpoint 1 – Kilt Rock and Mealt Falls
It should come as no surprise that the most popular viewpoint here is the one that overlooks Kilt Rock.
You can see it in the far distance and when it's good weather the red sediment looks like pleats of a tartan kilt.
The waterfall is Mealt Falls and this can be seen closest to the barrier. It's so dramatic as it falls it crashes down into the sea.
It's best to visit this cascade after a few days of heavy rainfall. In summer, this waterfall can often dry up. Although it will still be pretty, it won't be as dramatic.
If you're scared of heights, don't look down as it's a huge drop!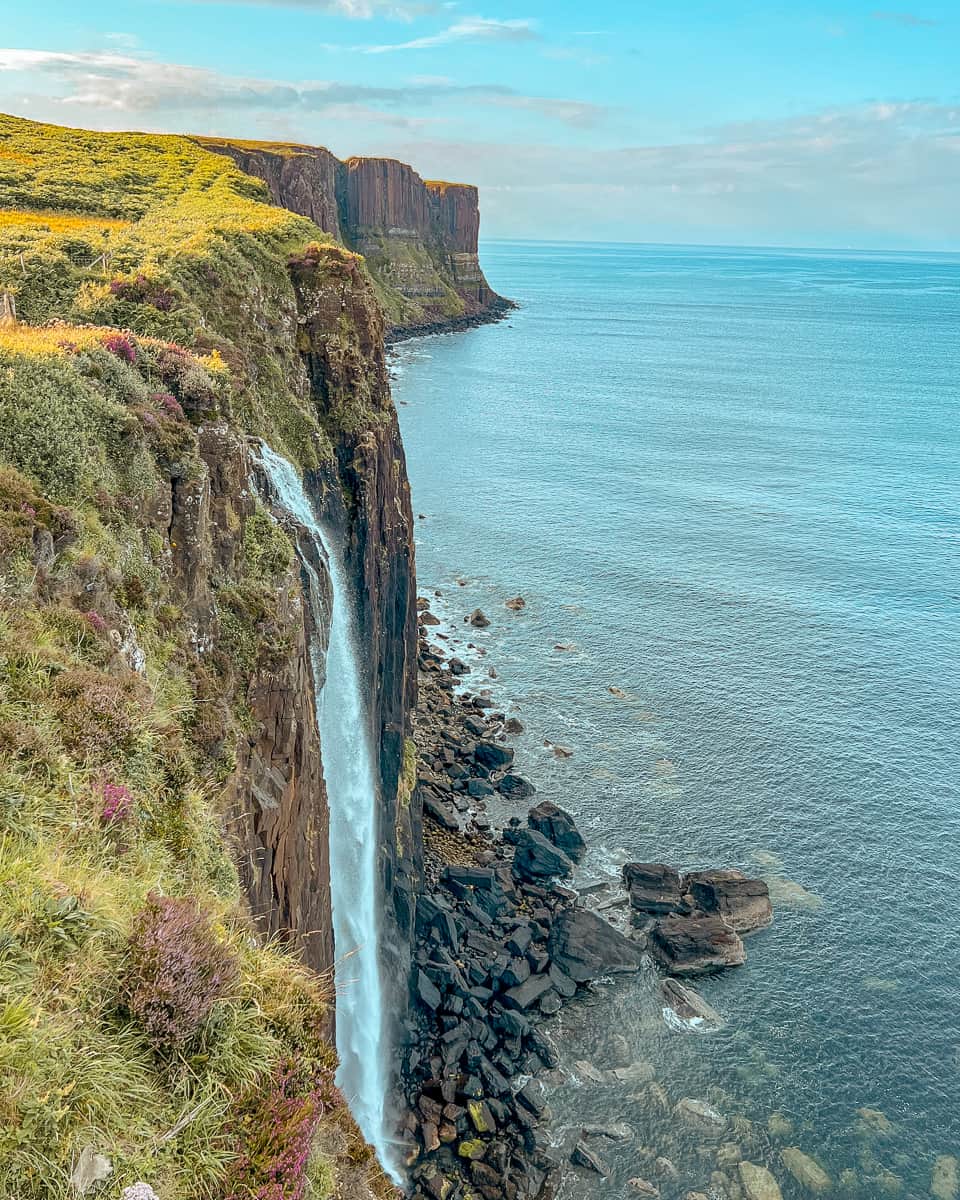 Viewpoint 2 – Trotternish sea cliffs
After you've taken snaps of the majestic Mealt Falls and Kilt Rock, don't leave just yet. There is still one more viewpoint to see.
You can head in the opposite direction to see more of the dramatic Trotternish sea cliffs.
Although there is no waterfall here, it is still a fabulous view of what this magical landscape on Skye has to offer.
Along the way, there are some fabulous views over the sea. On a clear day, you can even see the end of Brother's Point and beyond.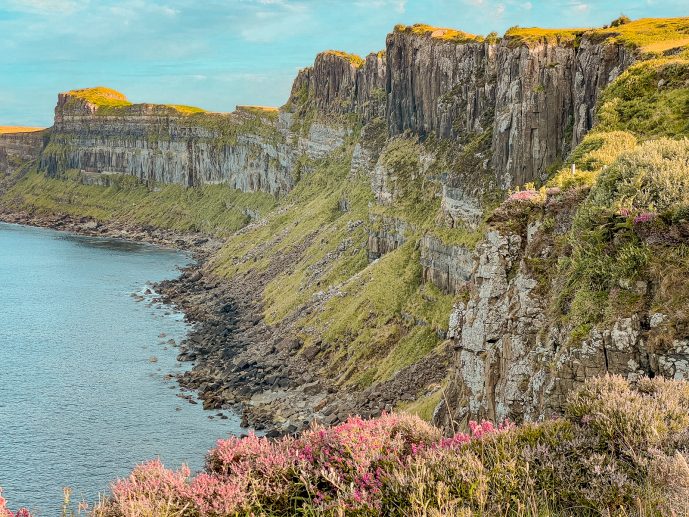 Discover a land of Dinosaurs
Millions of years ago, Skye was a land where Dinosaurs roamed and Staffin has the most evidence left over from the Jurassic period.
Dinosaur footprints can be found all over this peninsula like Brother's Point and An Corran Beach.
There is even a Staffin Dinosaur Museum nearby called Taigh-Tasgaidh which showcases many prehistoric artefacts.
Kids will love the Dinosaur sign set up here at the Kilt Rock viewpoint. They can compare their foot size to many different species of dinosaurs!
Hear the haunting siren song
Although the views from here are incredible, make sure to listen out for a haunting melody that sounds like a siren song.
The wind here can be very intense and blasts through the gaps in metal safety barriers. This creates a 'singing' effect.
It can be quite hard to hear, especially with all the crowds. But, if you visit in the early morning or evening you should hear it perfectly.
How long do you need at Kilt Rock and Mealt Falls?
This viewing area is less than 40 metres from the car park and has two dramatic viewpoints that you can admire. The panoramic walk on the cliffs between them is 5 minutes tops.
You could easily visit this attraction in around 15-20 minutes. Most people just stop here for a quick photo.
Personally, I would allocate around 30 minutes. This is just in case the viewpoint is crowded, parking is full, etc.
Is visiting Kilt Rock waterfall worth visiting?
Yes, not only is this one of the most beautiful viewpoints on Skye it's also one of the most accessible waterfalls on the island.
In just a minute's walk from your car, you are treated to these enchanting views that look like something from a fairytale.
It's an area filled with history and legend and is well worth stopping for, even if it is for a quick photo.
Don't miss a visit to the majestic Kilt Rock and Mealt Falls on the Isle of Skye, you won't regret it!
My top tips for visiting
Visit early – the car park here can get full as it's a popular attraction on Skye. Visiting early means a quiet experience and a guaranteed parking space. Alternatively, later in the afternoon is quiet. This is what I did and there was nobody there.
Bring some cash – there are often bagpipers who play here during the day. Bring some cash for tips.
Bring layers – the wind here on Skye and especially on the cliffs can be biting. Make sure to have a layer with you as it can be freezing even in July/August.
Kilt Rock and Mealt Falls opening times and prices
This viewpoint is open 24 hours a day and 7 days a week so you can visit any time you like on Skye.
But, there is little point in visiting in the dark as you won't see much. There is no artificial lighting.
Kilt Rock Viewpoint is also completely free to visit, you just pay for parking. But, charges only apply between 8 am – 8 pm.
Things to do after Kilt Rock and Mealt Falls
The Trotternish Peninsula has some of the best attractions on the Isle of Skye due to its dramatic, mythical landscape that was once home to Jurassic dinosaurs.
There are plenty of pitstops you can make after Kilt Rock Waterfall if you are exploring on a road trip.
Here are the best things to do after Kilt Rock and Mealt Falls.
Lealt Falls
Most people confuse Mealt Falls with Lealt Falls but these are two entirely different places.
Lealt Falls is a dramatic waterfall in a gorge and some say it's one of the best on the island. It's just a 5-minute drive from Kilt Rock (3.5 miles).
There is a large parking area and several viewing platforms that have been set up for you to see the waterfall below.
The viewpoints are great but you can also opt to hike down into Lealt Gorge to see the falls and there is even a chance to go wild swimming.
It's a steep 15-minute descent and, of course, what goes down must come up. But, it's well worth the stretch to get a closer look and hear the mighty roar of this cascade!
Old Man of Storr
One of the most popular hikes on the Isle of Skye is deservedly the Old Man of Storr.
The area is actually called The Sanctuary and the 'Old Man' is just one pinnacle on this dramatic landscape overlooking the Sound of Raasay.
There are many legends that this rock was from a giant who fell and died there and was slowly consumed by the earth. His thumb is all that remains… well, that's the polite version of it anyway!
The walk is quite tough and will take you around 2 hours but it is so worth it as this is one of the best viewpoints on all of Skye.
I have a complete hiking guide with the legends, how to visit, and everything you need to know.
Read my complete guide for the Old Man of Storr hike
Dinosaur Footprints on An Corran Beach
The Trotternish Peninsula looks like a fantasy realm of magical folk and it was also once home to prehistoric dinosaurs.
You can learn about Jurassic Skye in the Staffin Dinosaur Museum called Taigh-Tasgaidh.
It was established by Dugald Ross in 1976 and its prehistoric collections have grown every time more discoveries are made.
It's just up the road from Kilt Rock car park and is open seasonally from April – October. Tickets cost £4 for an adult and £2 for a child.
After, make sure to head to An Corran Beach to search the bay for Dinosaur footprints!
It was well worth stopping here to see a footprint made millions of years ago by an apex predator. But, the beach is also very scenic.
Fair warning, the prints are pretty difficult to find on the rocks and you should go at low tide for the best chance of spotting some.
Other things to do on the Trotternish Peninsula
Brother's Point – Another 2-hour hike where you can see some incredible landscapes that head out into the sea. Look out for more Dinosaur footprints on your way down.
Quairing – One of the most dramatic landscapes on Skye is the Quairing. You can easily drive there and see the undulating peaks from a viewpoint. Or, you can take a longer hike to see features like the Needle.
Skye Museum of Island Life – the Skye Museum of Highland Life is a wonderful museum that will show you what life was like living on the island over time. I would also recommend the Flora MacDonald memorial in the ancient Kilmuir Cemetery.
Duntulm Castle – Duntulm Castle is a gorgeous ruined fortress by the sea that is accessible on a short 5-minute cliff walk. You can see the ocean through the ruins and it's so beautiful.
Fairy Glen – The Fairy Glen is my favourite place on Skye. It's an emerald glade that looks like a fairytale. You can walk around the peaks, visit the runs of Castle Ewan and make a wish.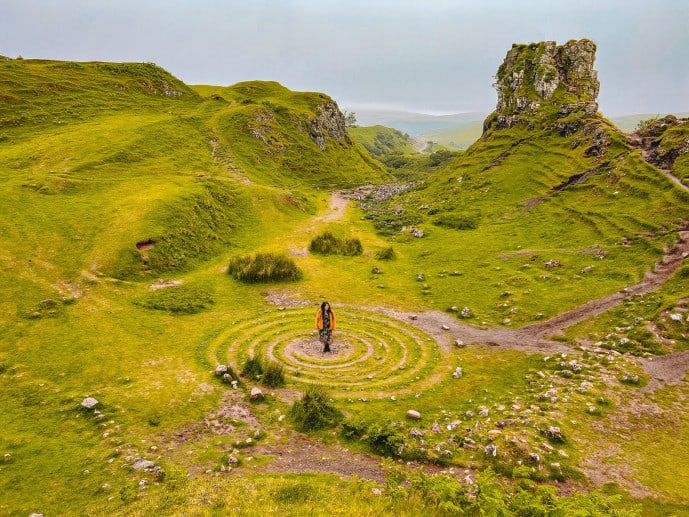 Where to stay on the Isle of Skye
There are many places that you can base yourself on the Isle of Skye but most opt for the colourful harbour town of Portree.
Accommodation on Skye is limited so it's best to reserve your stays around 3-6 months in advance for the best availability and rates.
I stayed in the wonderful Elfin Cottage which is a lodge just outside of Portree. It was quite remote and had a portrait window overlooking the countryside.
If you have the budget, I would recommend the spectacular Cuillin Hills hotel. It has an incredible view of the Portree and looks like a dream with its panoramic restaurant!
Kilt Rock and Mealt Falls FAQs
How long is the walk to Mealt Falls? It's a minute's walk from the car park.
What can you do at Mealt Falls? There's an accessible viewing platform where you can see two viewpoints of the incredible Kilt Rock, Mealt Waterfall, and Trotternish cliffs.
How high is Kilt Rock? 90 metres high or 295 feet!
How tall is Mealt waterfall? It's a 55-metre single-drop waterfall that flows over the cliff and into the sea.
Read more of my Isle of Skye travel guides
Visit the Fairy Pools on the Isle of Skye
Visit the Portree Colourful Houses viewpoint
The legend of the Fairy Bridge on Skye
How to visit Eilean Donan Castle for Free
The best view of Eilean Donan Castle
Save Kilt Rock and Mealt Falls for later!