One of my favourite castles that I visited in Northern Ireland was the magical Kinbane Castle.
A medieval ruined keep that is built on a headland and is projected into the Atlantic Ocean. It looks like something from a fantasy world like Westeros in Game of Thrones.
Kinbane is located on the Causeway Coastal route but it's a bit of a hidden gem that sees fewer visitors than its popular neighbour Carrick-a-Rede rope bridge.
You do have to walk down some steep steps on the cliffside but, once you reach Kinbane Head, you can enjoy the ruins and some breathtaking views of the coastline.
Here is how to visit Kinbane Castle Northern Ireland, a magical hidden gem on the Causeway Coast!
Kinbane Castle history
The name Kinbane translates as 'White Head' due to the white limestone that the headland is made out of.
It was built by Colla MacDonnell in 1547. He was the younger brother of the famous chieftain Sorley Boy MacDonnell.
Over the past 500 years, the castle has suffered significant damage. In 1551, the castle was taken under siege and damaged by English troops led by Sir James Croft. Then it was damaged due to English cannon fire in 1555.
Underneath the castle ruins there is a sea cave that has the nickname 'Lag na Sassenach' or 'Hollow of the English'. This is because the English soldiers who were laying siege to the castle were trapped and killed there.
After the English left, Colla MacDonnell had to rebuild the castle. He lived here until his death in 1558.
His son Gillaspic MacDonnell then inherited the castle. Later, Gillaspic then traded Kinbane with Sorley Boy for another property.
Sorley Boy then gifted the castle to the MacAlister family in exchange for their loyalty to their clan.
The last people to live in Kinbane Castle did so in the 1700s and it's fallen into ruin over time from disuse and ocean erosion.
Today, it's owned by the Causeway Coast and Glens Borough Council and is a lesser-known tourist attraction in Northern Ireland.
Where is Kinbane Castle located?
If you wanted to visit Kinbane Castle for yourself, it's located in County Antrim in Northern Ireland.
You'll find it on a headland that sits between Ballycastle and Ballintoy on the Giant's Causeway Coastal route. More specifically, it sits in a townland area called Cragganboy.
Kinbane Castle is around a 60-minute drive from Belfast, a 30-minute drive from Coleraine, and a 7-minute drive from Ballycastle.
It's a great place to add to a Northern Ireland road trip as it's near popular attractions like Carrick-a-Rede Rope Bridge, Ballintoy Harbour, the Giant's Causeway, Dunluce Castle, and the Dark Hedges.
How to visit Kinbane Castle in Northern Ireland
To visit Kinbane Castle, you must first park up at the Kinbane parking area and then walk down some steep steps to the ruins at the bottom of the cliffs.
It's best to drive here and it's only a 10-minute drive from Carrick-a-Red Rope Bridge on the B15 or Whitepark Road. It's also a 7-minute drive from Ballycastle.
You'll see Kinbane Head clearly marked as a brown tourist road sign. Turn off and then you will be driving down a narrow road to the car park.
After the B15 turning, the road is a single lane with passing spaces so remember to take your time and drive with caution.
If you're not driving, it is possible to take a bus from either Ballycastle or Coleraine to Kinbane Head. The 402 bus service will drop you off at the Kinbane Castle stop on Whitepark road.
You will then need to walk the rest of the way to the parking area to access the walk. It is just over half a mile from the bus stop and will take roughly 15 minutes.
Kinbane Castle address is 81 Whitepark Rd, Ballycastle BT54 6LP. Click here for a Google Pin!
Kinbane Castle parking
After you have made your way down the single lane with passing places, you'll end up at a large gravel car park to begin the Kinbane Castle walk. There are lots of spaces here to park in.
Unlike other attractions on the Causeway Coast, this place rarely gets full as it's a bit of a hidden gem.
Kinbane parking is completely free and there are some toilets that you can use in the car park.
I would highly recommend using them before you head down the cliff as there aren't any facilities at the castle ruins at all.
Kinbane Head opening times and prices
As Kinbane Castle is on the Causeway Coast, it's open 24 hours a day in Northern Ireland.
But, I obviously wouldn't recommend traipsing down these steps in the dark. It's risky enough during the day.
Also, it's completely free to visit Kinbane Castle and even the parking is free. So, it makes a great budget stop on a road trip.
Although Kinbane Head toilets are also free, they do have opening/closing times and are locked around sunset.
Tips for the Kinbane Castle walk
Wear sensible shoes – The steps down are mainly concrete but once you reach ruins it's very uneven. Bring walking boots or a pair of ankle-supporting shoes!
Try to pick a sunny day – Although not always possible, it's best to do this walk in the sunshine for the views. On a rainy day, you may not see anything due to the clouds/mist.
Be careful in inclement weather – If it's raining and windy, it can be quite dangerous to attempt the steep walk down. If you must do it, make sure to take your time.
Pack water and snacks – there is sometimes a food van at Kinbane car park in the summer months. In early October, I didn't see one. But, I would bring your own food and a water bottle just in case! Remember to take any rubbish home with you.
Watch your step – Although it is quite safe and the castle ruins have a fence it's best to watch your step anyway and stay away from the headland edges on windy days.
How long does it take to walk to Kinbane Castle?
From the car park to Kinbane Castle, you'll be walking down 140 steep steps down the cliffs to the ruins.
It's not necessarily the distance that takes the time but how you handle walking down steep steps.
Going down the steps is actually not that bad but it's so much worse climbing back up!
The time it will take is completely subjective to you. I'm very slow and was constantly taking photos/videos on the way down and it still only took me around 10-15 minutes to reach the castle from the top.
Going back up though was an entirely different story. It took me around 20 minutes as I kept having to take breather breaks.
My hips, legs, knees, and lungs all hated me – but visiting this castle was SO worth every bit of pain!
I would recommend leaving around 1 hour to explore Kinbane Castle. This leaves enough time to walk down there, explore the headland and castle ruins then head back to your car.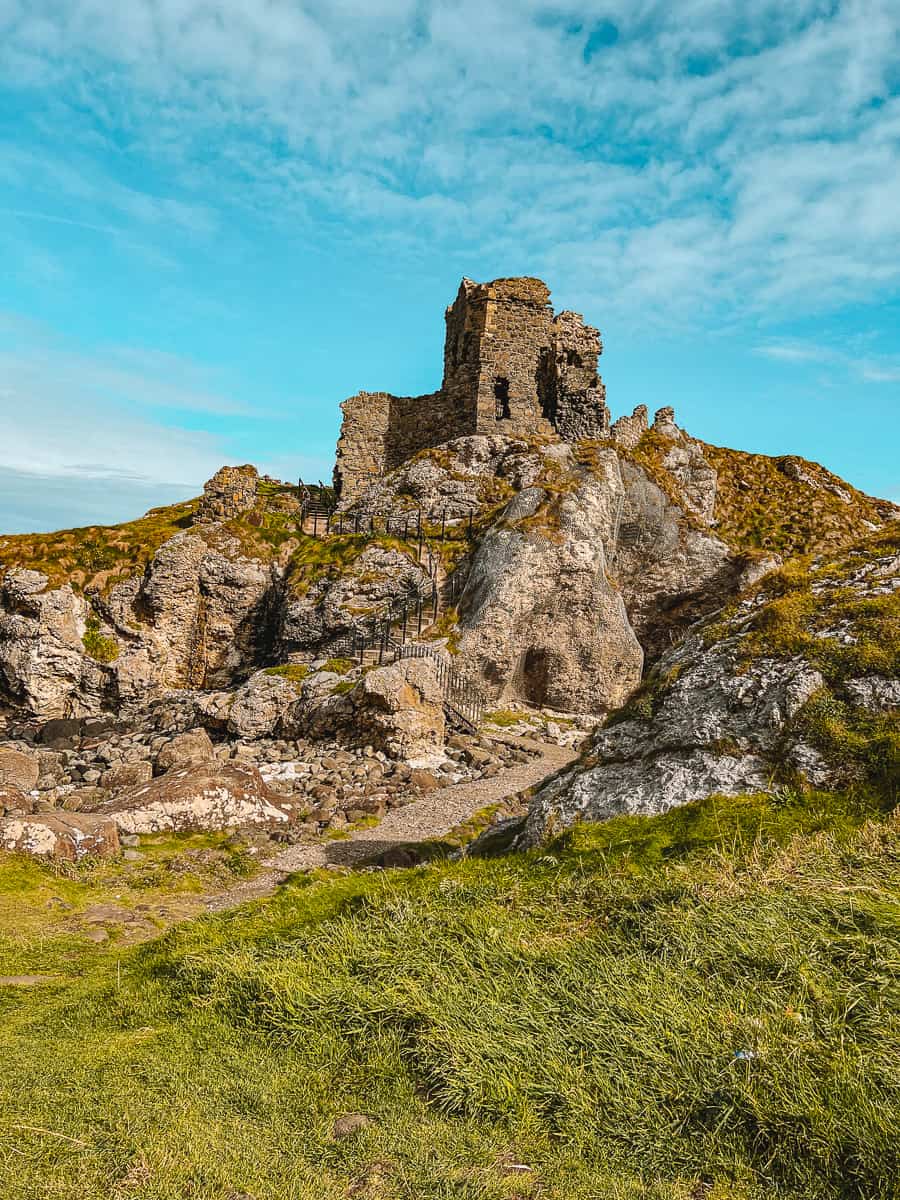 Things to do at Kinbane Castle
Although Kinbane Head was a short visit on my Northern Ireland road trip, these dramatic ruins were still memorable long after I left.
I love visiting castles, especially ruined ones. But, there's something so romantic and magical about Kinbane as it is so close to the sea!
I would highly recommend visiting. Here are all the things to do at Kinbane Castle.
Head down the MANY steps to the ruins
I have to admit, I was a little worried before I set out on the Kinbane Castle walk. From what I read online people had said it was pretty dangerous.
But, after their recent conservation works, I found this trail to be very easy and safe! They now have nets on the cliff face and castle ruins to limit any falling rocks.
There are green fences beside the steps as you head downwards on the cliffside that you can hold onto.
Although these are flat concrete steps they are very steep so prepare for your knees to crack, snapple, and pop!
Once these green fences stop, you're on your own but it's not as steep after this point. It's just a short walk down the grass and over to the ruins and Kinbane Headland.
Exploring the Kinbane Castle ruins & headland
Once you reach the bottom of the steps, the views of the ocean and the castle ruins will take your breath away.
There is a flat pathway that leads you over the castle and a convenient staircase with a barrier that allows you to climb up and explore the ruins.
You'll see a small information board next to the main castle tower with the history of the castle and the landscape.
If you head inside the tower, you can see what remains of the medieval keep! When it was originally built by Colla MacDonnell it had two levels and a watch tower. The views of the cliffs from the 'windows' are spectacular on a sunny day.
Behind the tower, you can then walk up to the very end of the headland. You can sit down and relax on the grass or simply enjoy the views!
Enjoy amazing views over the Giant's Causeway Coast!
Although there is not much left of Kinbane castle and the ruins are quite small the views you get from the headland are jaw-dropping.
As I visited on a sunny day, I could see for miles down the Causeway Coast over the Atlantic Ocean. You can even see Rathlin Island and Dunagregor Iron Age fort.
If it's a dry day, it's the perfect spot to relax for a while or sit and have a picnic with an epic backdrop!
Heading back to Kinbane Castle car park
So, now all that's left is to face the music and make your way back up all 140 steps to the car park!
As before, going up these steps takes considerably more effort than going down. But, it's easy enough to take breather breaks as you go.
Although I didn't see many visitors at all, the ones I did see were more than a little breathless. So, we're all in the same boat!
Kinbane Castle FAQs
Is Kinbane Head open? Yes, Kinbane Castle has now reopened to the public.
Did they film Game of Thrones at Kinbane Castle? No, it's a common misconception that they filmed at Kinbane Castle. Although it does look like it could fit in with Westeros, they filmed at Dunluce Castle nearby.
How many steps down to Kinbane Castle? 140 steps and some of them are VERY steep. So, take your time whilst heading down.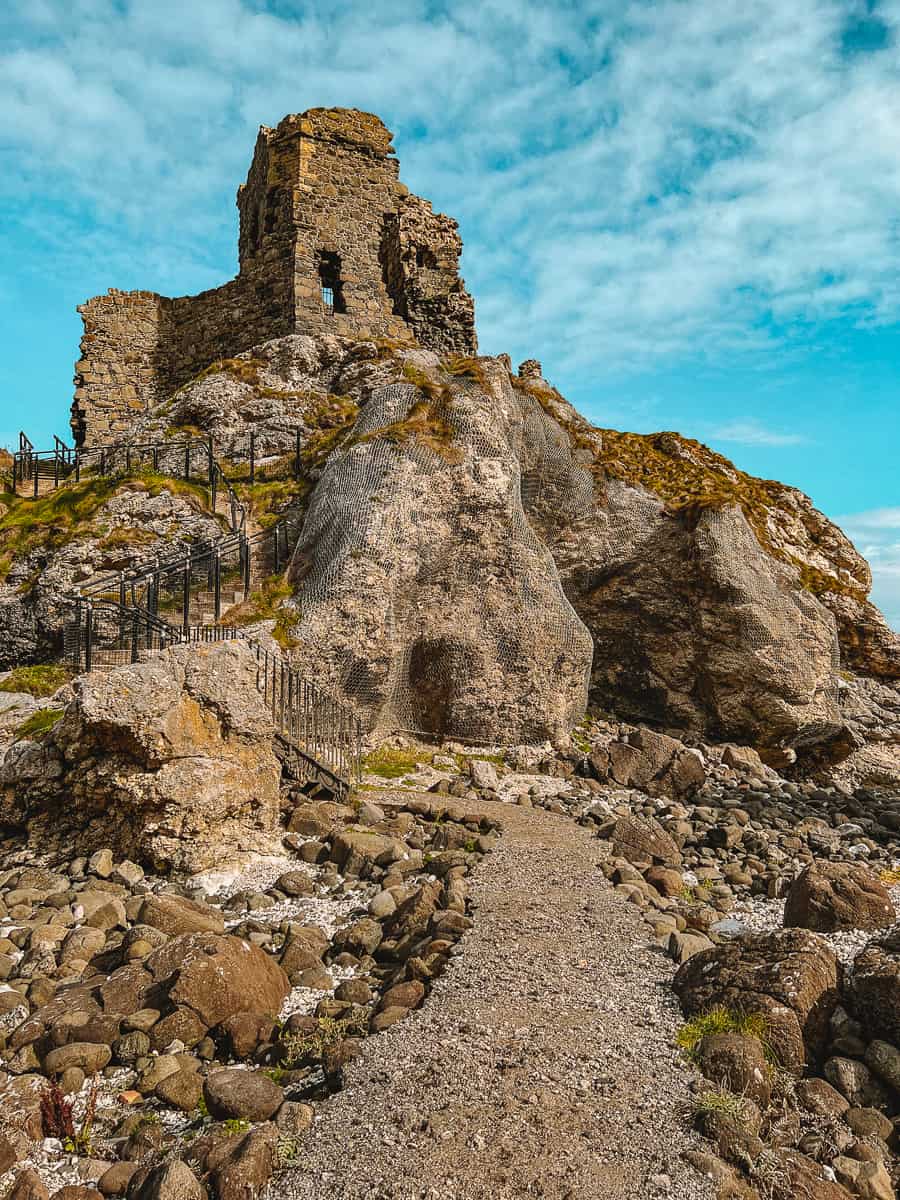 Things to do near Kinbane Head
After you have explored this hidden gem on the Causeway Coast, there are many places that you can visit nearby.
There are so many gorgeous stops on this stretch of coastline, it can be hard to choose! But, here are some I would highly recommend.
Carrick-a-Rede Rope Bridge
Just 10 minutes away from Kinbane Castle is the famous Carrick-a-Rede Rope Bridge.
As the name suggests, this is a small rope bridge that allows you to cross over the sea to a Carrick-a-Rede island.
You'll be walking for twenty metres over the sea and it's a 30-metre drop below! It's super exhilarating.
In the 18th century, fishermen used to sit on a far thinner piece of rope to go fishing for salmon here.
This is a National Trust property that sees high numbers of visitors all year, so you may have to book your visit in peak times. Also, it can close if there is inclement weather.
Don't forget to pick up your rope bridge ticket when you go past the toll booth as you'll need it to cross over!
Click here to read my complete guide on crossing Carrick-a-Rede Rope Bridge
Ballintoy Harbour
A further 20 minutes drive along the Causeway Coast will take you to the historic and scenic Ballintoy Harbour.
It looks like something from a postcard and is perched at the end of Knocksaughey Hill. It's a popular place for swimming, kayaking, and fishing.
Game of Thrones fans will love visiting here as it was the filming location for the Iron Islands.
In the series, this harbour was Lordsport, the main port of Pyke. You'll remember scenes from Theon Greyjoy's baptism to reaffirm his allegiance to the God of the Sea.
Afterward, remember to pop into the Fullerton Arms for some food where the crew used to sip on a pint after filming. You can also see their Game of Thrones door on the Journey of Doors trail!
Click here to read my Ballintoy Harbour Game of Thrones guide!
Giant's Causeway
One of the bucket list stops in Northern Ireland would be a visit to the Giant's Causeway.
It's a magical, sacred and ancient place with some 40,000 black basalt columns that lead into the sea.
Although this is a National Trust property, it's a common misconception that you have to pay to enter and that you can only visit when their visitor centre is open. But, as it's the coast they can't technically close it.
So, you could easily come here early morning to beat the crowds if you stay in the local area or park up nearby and walk down.
National Trust is a charity that maintains the causeway so I would always recommend exploring their visitor centre as it has a café, exhibitions, and shop.
Fair warning: even from the visitor centre parking, it is a good 20-minute walk down to the most recognisable part of the causeway with the columns. But, there is a shuttle bus service available.
Dunluce Castle
Another one of my favourite castles in Northern Ireland has to be Dunluce Castle which is a short drive from the Giant's Causeway.
If you can believe it, Dunluce used to be an entire village surrounding the castle centuries ago. Now, all that remains are romantic ruins.
This area has over 2,000 years of human settlement history but the castle we can see was built in the 16th – 17th century. It was inhabited by both the feuding McQuillan and MacDonnell clans.
Although not technically a filming location, Game of Thrones fans will also love visiting here as they used these ruins as inspiration for Castle Greyjoy.
They took this romantic ruin and then built on it with CGI to create the Iron Islands stronghold for the show!
Click here to read my Dunluce Castle visitor guide
Dark Hedges
No visit to the Causeway Coast would be complete without heading inland to visit the Dark Hedges.
This is a row of gnarled beech trees that look like something from a fairytale and were planted in the Georgian era.
Today, they are famous as they are featured as the Kingsroad in Game of Thrones when Arya Stark escapes King's Landing with Gendry and Hot Pie!
As one of the most photographed places in Northern Ireland, this place can be heaving. So, I would visit early morning to avoid crowds and visit on a weekday if you can.
Click here to read my definitive guide for visiting the Dark Hedges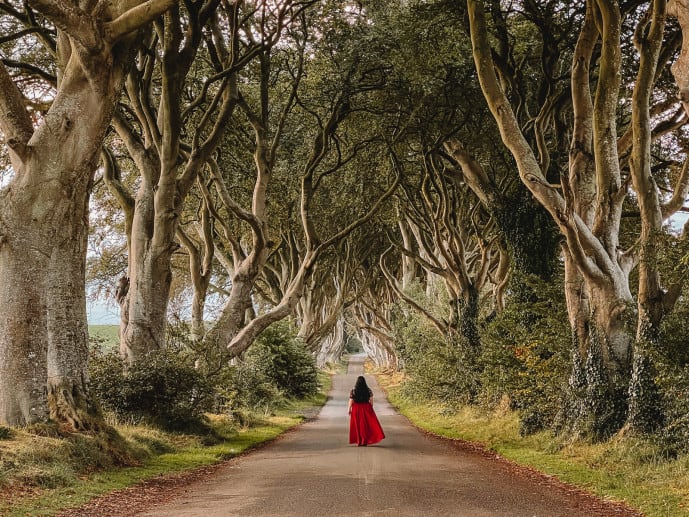 Save time and book a tour!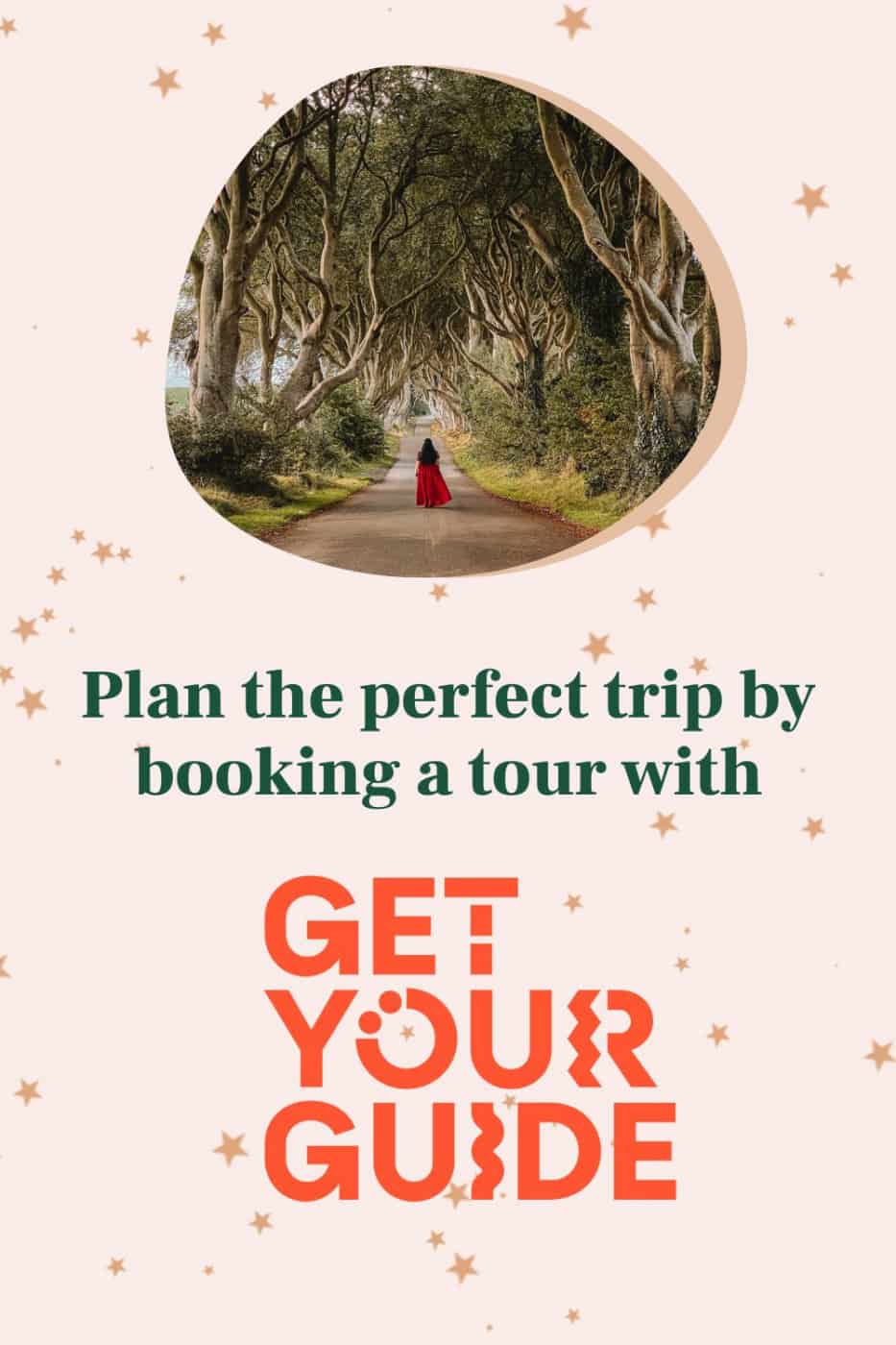 Read more of my Ireland guides
10 Game of Thrones doors to find in Northern Ireland
Game of Thrones Studio Tour Review
How to visit Belfast Umbrella Street
How to visit the Pollnagollum Cave Game of Thrones location
Tollymore Forest Park Game of Thrones filming locations
How to see the Game of Thrones Tapestry in Belfast
Glass of Thrones walking trail in Belfast
How to visit Lough Tay aka Guinness Lake
How to visit Cushenden Caves in County Antrim
How to find the Ballinastoe Boardwalk in Wicklow
Guinness Storehouse in Dublin review
Save how to visit Kinbane Castle for later!