If you're looking for amazing places to visit in Wiltshire or Somerset, then I would highly recommend stopping by the incredible King Alfred's Tower Stourhead.
Although it is named after King Alfred the Great, who was Saxon, this quirky three-sided folly was actually built a few centuries after that era.
It was the brainchild of Henry Hoare The Magnificent who transformed Stourhead estate in the 18th-century.
He built this monument to commemorate the end of The Seven Years War against France and to show his appreciation for King Alfred who hoisted his flag nearby to rally his army and fight the Danes!
Strange but true, this folly serves absolutely no purpose today. However, it does make a great stop on a visit to Stourhead and provides breathtaking views from the top.
Here's a complete guide for visiting King Alfred's Tower and what to do here.
What is King Alfred's Tower?
King Alfred's Tower, also known as Stourton Tower, is a 3-sided folly that's perched on a hillside near Bruton, Wiltshire on the wider Stourhead estate.
A folly in Britain is a sham castle that was built by gentility as a sign of their wealth and for entertaining guests on their grounds.
This folly stands alone on Kingsettle Hill which is owned and protected by the National Trust and is now a Grade I listed building.
The triangular tower is hollow but there is a spiral staircase that allows you to climb 250 steps to the very top.
The viewpoint provides spectacular views over three counties on a sunny day. Those are Somerset, Wiltshire and Dorset!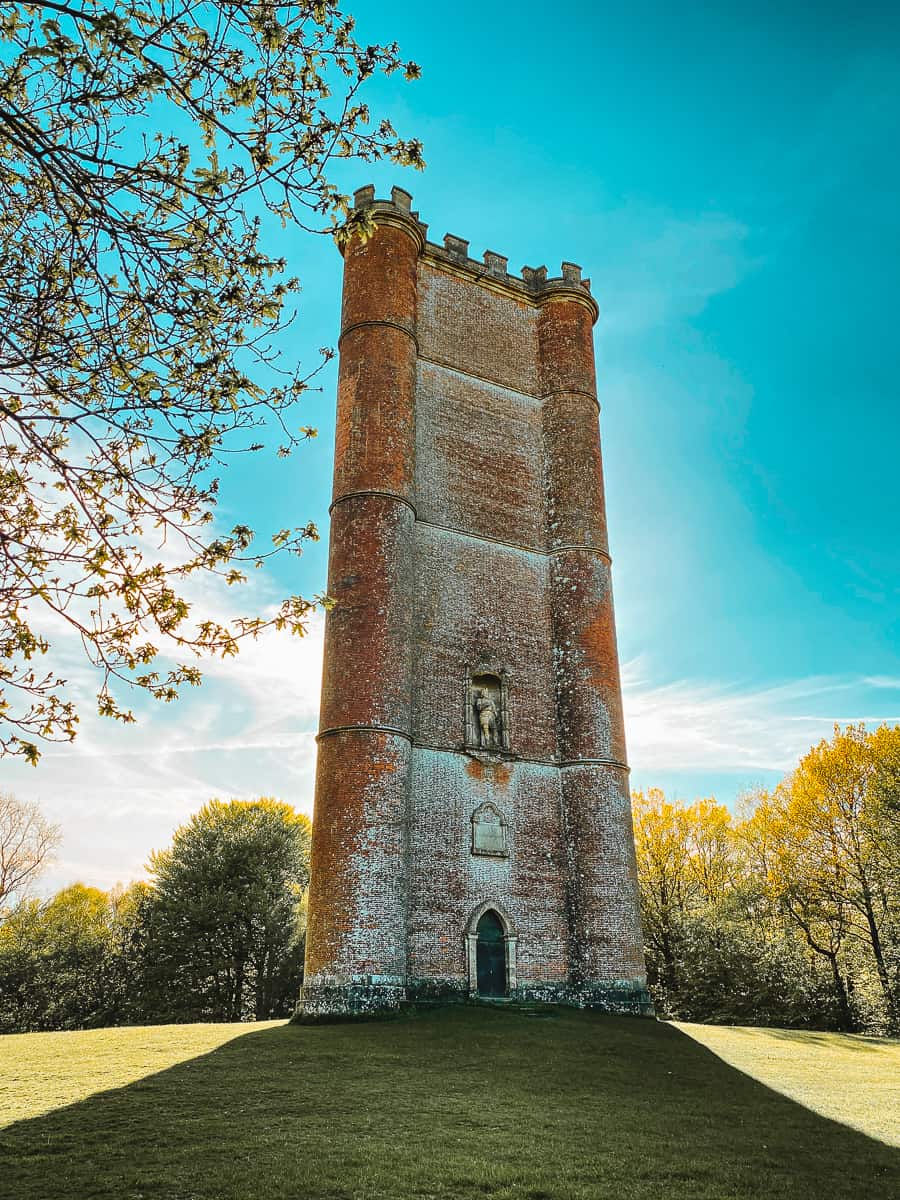 King Alfred's Tower history
In May 878, it is said that King Alfred the Great was camped at Egbert's Stone which stood nearby the tower.
This location is meant to be the place where King Alfred rallied his armies to defeat the Danes at the Battle of Edington.
However, it was not built at that time. The tower we see here today was built by Henry Hoare II, also known as Henry the Magnificent, in 1762.
He was a wealthy banker and also an avid lover of history and so he felt inspired to build his tower in honour of King Alfred.
It also was built to commemorate the end of the Seven Years' War against France and celebrate the fact that King George III now sat on the throne.
He worked with Henry Flitcroft, a Palladian architect, who helped create Stourhead gardens. He designed all the temples, bridges, and grottos you see there today.
It was finally finished in 1772 and featured a ten-foot-tall statue of Alfred the Great with an inscription of remembrance.
What was King Alfred's Tower used for?
Henry Hoare was a gentleman gardener who took pride in his transformation of Stourhead Estate.
He didn't spend all that money and time to keep it all for himself, it was a place he wanted to share and boast about with the world.
Henry wanted the gardens to be famous, to be featured newspapers and for visitors to be astounded by them!
To give you an idea, the Temple of Apollo at Stourhead was made to 'outdo' the Temple of the Sun at Kew Gardens. Henry Hoare was that set on his garden being the best in the country!
That's where his nickname The Magnificent came from as his gardens allowed visitors to feel like they were walking through a painting.
This tower was to show off his wealth and would have been a signature part of a Stourhead estate tour for visitors.
As the tower is hollow it wasn't used for much but visitors were taken up to the top to enjoy the birds-eye views all around! Much like it is used today.
How tall is King Alfred's Tower?
King Alfred's Tower is a whopping 49.3 metres high or 161 feet tall. It has three sides and a girth of 51 metres or 167 feet.
Each corner is rounded and the inside is completely hollow. No one really knows why the tower was built three sided today! It wasn't recorded in any of Henry Hoare's records.
Some believe that it was built with three sides because it was cheaper, other people say it's because the tower borders three counties. Who knows…
King Alfred's Tower also took over 1.2 million bricks to build! It was cheaper than stone and was chosen as it was better for weathering.
Apparently, the builders didn't use scaffolding while constructing it. According to records, they sat on the rising walls as they were being built.
This is hard to imagine for me, especially as the tower got higher and higher – unless they made 100 foot ladders!
I guess they built the spiral staircase inside at the same time so they could just climb up the stairs and build from there?!
Either way, it sounds pretty risky but luckily there were no deaths or accidents while the tower was being built.
Thomas Hardy
Another reason why Alfred's Tower is so famous is the fact that it inspired the famous poet Thomas Hardy.
It features in his poem "The Channel Firing" in 1914;
"Again the guns disturbed the hour,

Roaring their readiness to avenge,

As far inland as Stourton Tower,

And Camelot, and starlit Stonehenge."
It was written just months before WWI began and imagines that the dead have been awoken in a graveyard by the sound of warships training at sea.
The dead have a conversation with God believing that the apocalypse is here with the sound. But, God reassures them that it's a usual occurrence on Earth.
It's one of Hardy's most famous satirical works and represents a rather pessimistic view of human history and modern war. Later, Hardy would call it prophetic.
King Alfred's tower plane crash
Unfortunately, Stourton Tower wasn't completely immune to damage during World War II.
A Noorduyn Norseman aircraft flew into it in 1944 which was quite ironic. Tragically, three out of five air crew who were flying in it died and the accident severely damaged the top 10 metres of the structure.
It wasn't repaired until 1986 when a Wessex helicopter was used to lower and place a new stone cone on the top!
The King Alfred statue also suffered damage and he managed to lose his left arm! So, he was also restored to his former glory.
Why you must visit this amazing folly today!
Today, King Alfred's Tower is still an impressive monument that stands on Kingsettle Hill.
Although thousands flock to enjoy Stourhead Gardens every year not many take the time to visit this hidden gem on the estate.
It's often overlooked as the National Trust do not have much information about it on their website. But, it is incredibly impressive even if you don't plan on hiking to the very top.
As well as Alfred's tower to enjoy, there are many walks that you can take around the Stourton area from here as well.
As a bonus, this monument marks the start of the Leland Trail which is a popular 28-mile hike across Somerset!
Is King Alfred's Tower free?
Many people don't realise that if you just wanted to see Alfred's Tower from the outside, visiting the area is completely free. You only need to pay if you wish to go up to the top!
Although Kingsettle Hill is protected by the National Trust, you don't need to buy a ticket to visit the area around the tower or go walking around the wider Stourhead estate.
There are plenty of permissive pathways around Stourhead that are free of charge and the woodland area around King Alfred's Tower is one of them.
This also includes Six Wells Valley nearby which is home to St Peter's Pump!
Things to do at King Alfred's Tower
Admire the quirky triangular folly with King Alfred's statue and inscription
Even if you don't plan on walking up the folly, I still think that is it worth paying a visit here.
As the folly has three sides, it's quite quirky and unique. Plus, you'll see just how large it is towering over Kingsettle Hill.
Although I couldn't personally go inside, I loved seeing the statue of King Alfred the Great on the front. We don't see that many monuments of him in England. It's huge and below him is a small inscription.
It's actually really hard to see what the inscription says as there is quite a bit of weathering on the stone tablet! So, here is a copy;
ALFRED THE GREAT

AD 879 on this Summit

Erected his Standard

Against Danish Invaders

To him We owe The Origin of Juries

The Establishment of a Militia

The Creation of a Naval Force

ALFRED The Light of a Benighted Age

Was a Philosopher and a Christian

The Father of his People

The Founder of the English

MONARCHY and LIBERTY
Can you climb King Alfred's Tower?
YES you can! Although it's not open all the time and entirely depends on the season and weather.
King Alfred's Tower opening times are usually Saturdays and Sundays during the spring and summer (April – October).
It's often completely closed during the winter season due to bad weather conditions.
You can tell when the tower is open by heading to the National Trust's website that will say whether it's open that day for tours or not. Prices are free for National Trust members. Non-members pay a small fee of less than £5 an adult.
Take the King Alfred's Tower Stourhead walk
Once you've finished your visit to Alfred's Tower, you can take a walk around the wider Stourton estate.
The Stourhead circuit is a 5-mile circular hike that takes you around by Stourhead Gardens and through the woodlands to the tower. You also return through Park Hill Camp Iron Age Hill Fort and Turner's Paddock.
Although the walk is free, the route takes you to the National Trust attraction which requires a fee. But, there are some longer alternative routes around the estate that avoid the ticket office.
For more information and directions, see the full walking route here. Also, there are reviews of this walk on AllTrails.
Alternatively, you can head out on the Leland Trail which will take you through the Somerset countryside. You'll walk to the likes of Cadbury Castle Hill Fort and the trail ends in Stoke Sub Hamdon!
Look out for The Convent cottage
Around 15 minutes walk from Alfred's Tower is a fairytale cottage called The Convent that looks like it's something from Hansel and Gretel!
It was another one of Henry Hoare's inventions and built in 1765. Although it is called the Convent it's never had a religious order staying here. It gets its name from its ecclesiastical style and has stained glass windows from Glastonbury Abbey.
In Henry Hoare's time, it was built as a convenience pavilion for visitors on the estate who were horse riding and as a venue to host all manner of parties and picnics!
After that, it was occupied by gamekeepers and labourers working on the estate for over 200 years.
Unfortunately, by the 1960s it was left neglected and was terribly vandalised. But, it was renovated by architect Christopher Bowerbank in the 1980s. He won an English Heritage prize in 1990 for the best restoration of a historic house.
Recently, it went on sale and sold at auction for nearly a million pounds! You can take a peek, just be mindful it is a private residence.
Pay a visit to Six Wells Valley & St Peter's Pump
Around a mile away from King Alfred's Tower, you can find a small car park that provides entry to the gorgeous Six Wells Valley. This is free to visit on a permissive pathway around the Stourhead circuit.
As soon as you enter, you'll be greeted with amazing views and the historic St Peter's Pump.
This monument dates back to 1474 and was originally situated near St Peter's Church in Bristol where it supplied water to the city!
Later, Henry Hoare moved the pump here in 1768 to mark the source of the River Stour whose spring feeds the lake at the landscape garden.
Without this water source, Henry Hoare's gardens at Stourhead would not have been possible! So, I guess this is the start of Stourhead's story.
The reason why it's called Six Wells Valley is because in Henry Hoare's time there were six springs found here.
Over time, many of these springs were dammed to create a series of fish ponds on the estate. It's only St Peter's Pump spring that remains. There were also a series of cottages in the valley up until around 70 years ago.
Today, you'll most likely see cows or sheep grazing around this area. So tread carefully as to not disturb them!
Explore Stourton village & St Peter's Church
Another thing that many people do not know is that the village of Stourton near Stourhead is also completely free to visit.
Although Stourton is more of a hamlet, it's incredibly quaint and there are a few monuments that are worth seeing like the historical St Peter's Church.
Unlike the Palladian gardens it overlooks, this is a medieval church dating back as early as 1291. Although it was renovated by Henry Hoare II when he took over the estate.
It's completely free to pay a visit inside and is well worth it. Features include a Norman font and statues of the Lords of Stourton and their family members.
There is also the Spread Eagle Inn which is a great place to stop for some lunch or a pint on your walks around the estate!
Visit the incredible Stourhead House and Gardens
Of course, no visit to Stourton would be complete without exploring the magnificent Stourhead gardens.
It is quite a lot of money if you're not a National Trust member but, in my opinion, it's worth every penny.
As well as exploring Stourhead House, the lakeside walk in the gardens allows you to stroll by incredible temples like the Temple of Apollo that featured in Pride and Prejudice. It really does feel like you're walking through a portrait.
There is also the Temple of Flora, The Pantheon and some magical grottos with statues and cascades.
Not to mention the Palladian bridge, Gothic cottages, waterfalls, a mill and rhododendrons surrounding a show-stopping lake!
It makes an incredible day out in all seasons. As always, National Trust members get in for free.
Where is King Alfred's Tower in England?
King Alfred's Tower can be found in Bruton, Wiltshire which is nearby Stourhead House and Gardens on the wider Stourton estate.
It lies in between three counties, so it makes a great day trip whether you're in Somerset, Dorset or Wiltshire!
Unless you plan on walking the five mile circuit from Stourhead House, it's easiest to drive to the tower as it's in quite a remote location on Kingsettle Hill.
It's around 2 miles north of Mere and from the National Trust Stourhead car park down a single track country lane.
King Alfred's Tower car park
There is a free car park provided for visitors of King Alfred's Tower by the National Trust. It is a large gravel car park with plenty of spaces for cars and camper vans.
When you see the tourist sign for King Alfred's Tower just keep driving straight down the unnamed country road.
You'll spot the turning for the car park after 2 miles. It's then only a five minute walk (one hundred metres) to Alfred's tower from there.
It's completely free and open 24 hours a day for visitors who would like to walk in the area.
Note: there are signs everywhere warning of car vandalism here. So, make sure to lock doors and don't keep valuables on display.
Top tips for your visit
Photography – by far the best time to visit for photos would be in the morning same as Stourhead gardens. I visited in the evening and the sun was setting behind the tower which made it terrible lighting for photos!
Toilets – there are no toilet facilities here at the tower or the car park. The closest facilities would be National Trust Stourhead car park or the Spread Eagle Inn of Stourton.
Facilities – there are also no cafés or gift shops at Alfred's Tower. Only the shops in Stourton village. So, bring your own snacks and bottles of water with you!
Footwear – Although my visit on a sunny day in spring meant that the ground was dry, it is recommended to bring good footwear if it's been raining. The ground around the woodlands and estate can get boggy.
Is Alfreds Tower dog friendly? Around the tower itself, there are no animals grazing and so dogs can be let off their leads. However, if you are planning a walk on the Stourhead estate, dogs will need to go on a lead as these are areas where animals graze.
Read my Wiltshire & Somerset travel guides
A walk down the medieval Cheap Street in Frome
How to see Stonehenge for FREE
How to visit Imber, the abandoned ghost village in Wiltshire
Harry Potter locations in Lacock
Is Castle Combe the prettiest village in England?
How to walk up Glastonbury Tor
Why you must visit Burrow Mump
The abandoned pier of Weston-super-Mare
How to find the lookout tower in Clevedon
Discover Rickford chapel in Somerset
Clifftop Cheddar Gorge walk guide
How to visit SEE MONSTER in Weston-super-Mare
Save King Alfred's Tower Stourhead for later!