One of the most beautiful libraries in the world has to be the Klementinum Library in Prague.
It was built as part of a Jesuit College in the Baroque Style and is home to a collection of 20,000 rare books!
As well as bookshelves of tomes, you'll find frescoes, astronomical globes, and portraits that decorate the room.
It's truly breathtaking and it looks like something from a fairytale or Hogwarts Library in Harry Potter.
The only way you can visit this magical place is on a guided tour and they do have a tendency to sell out. So, it's worth planning ahead to avoid disappointment.
Here is how to visit the Klementinum Library in Prague, one of the prettiest book troves on earth.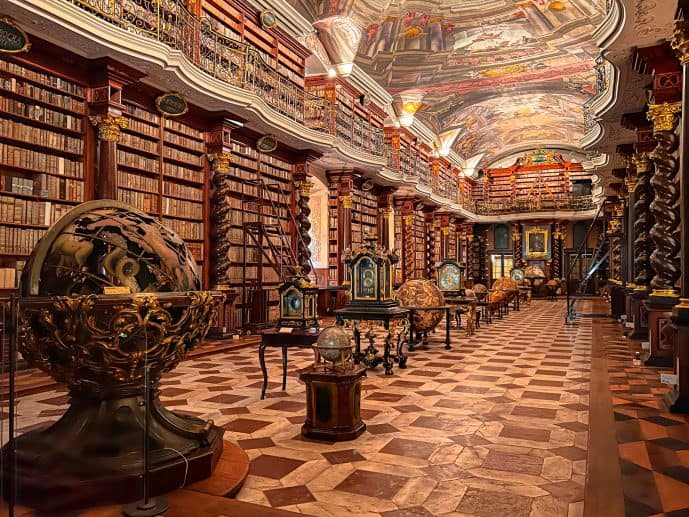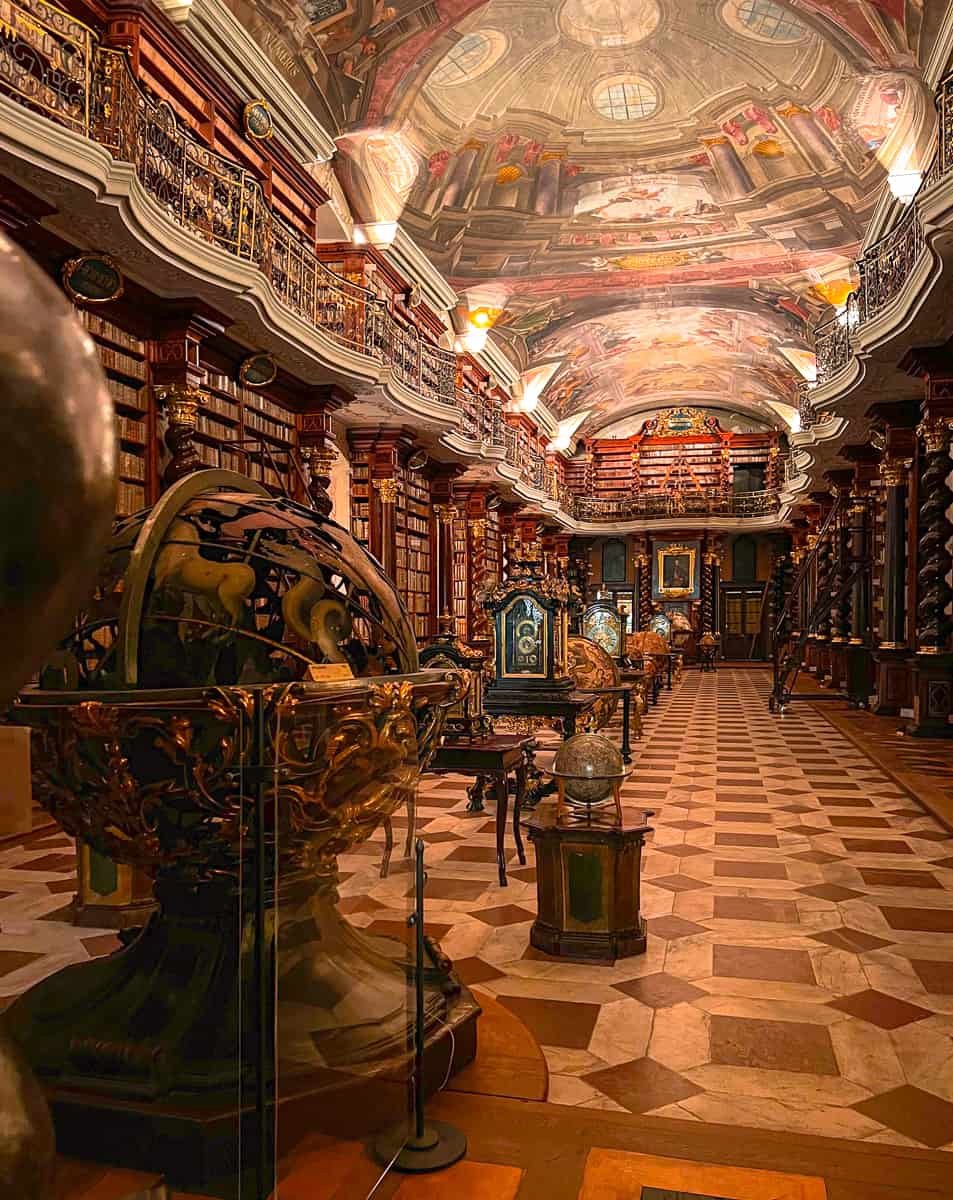 Klementinum history
The Baroque Library is located inside Prague's Klementinum which is a series of buildings in a complex just a few metres away from the Charles Bridge.
This area was originally founded as a chapel dedicated to Saint Clement in the 11th century and a monastery was built around it in the medieval period.
In 1566 it was converted into a Jesuit College and, at that time, it was the third largest Jesuit college in the world!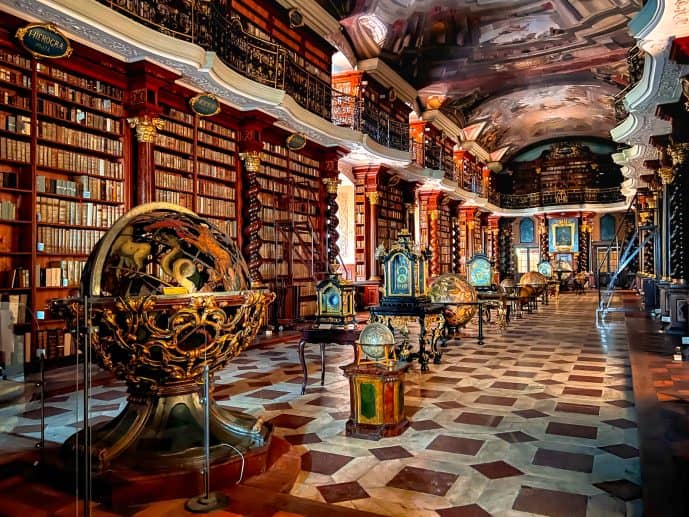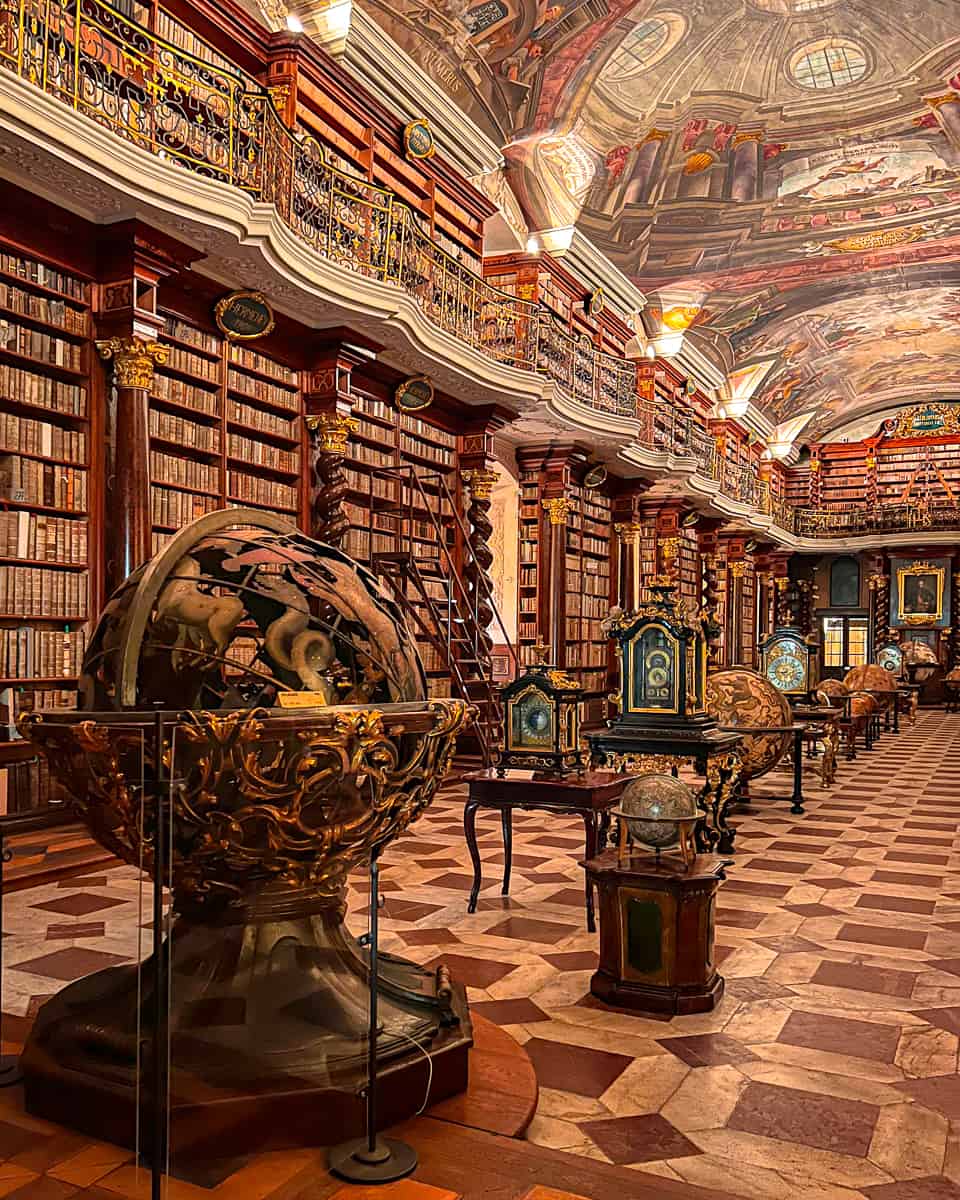 The Jesuits transferred many of the books in Charles University to the Klementinum Library in 1622 and later the two educational bodies merged together.
The Jesuits then remained at the university until the order fell out with Pope Clement XIV in 1773. They were then removed following the worldwide Suppression of the Society of Jesus.
After that, the Clementinum was established as an observatory, library, and part of Charles University.
Klementinum Library – the most beautiful library in the world?
Many people book a tour of Prague's Klementinum complex to see the majestic Baroque Library which is located on the upper floor.
It's also known as the National Baroque Library of the Czech Republic and was built in 1722 by Kilián Ignác Dienzenhofer.
It was originally constructed as part of the Jesuit University. According to a local legend, the Jesuits had just a single book when they arrived in Prague but eventually amassed a collection of 20,000 volumes!
Inside the Great Library are wonderful frescoes by Joself Hiebel that have been painted with the themes of sciences and the arts.
You'll see the Temple of Wisdom from Greek mythology on the ceiling, medallions of important Jesuits and founders of the university.
There are different types of astronomical and geographical globes in the centre of the hall and at the far end there is a painting of Emperor Joseph II.
The bookshelves are made of dark wood and lined with spiralling colonnades that are topped with gold leaf!
As part of the 20,000 volume collection, you'll find endless theological tomes. Highlights are the Voynich Manuscript codex, a 'Devil's Bible' called the 'Codex Gigas', and 'Liber Sapientiae' a witch's grimoire written in both German and Latin.
After the Jesuit College was abolished, it became part of Charles University. Today, it's a section of the National Library which has over 6 million books in its archives.
The Klementinum Library has been consistently voted as one of the most beautiful libraries in the entire world and it's well worth seeing in Prague!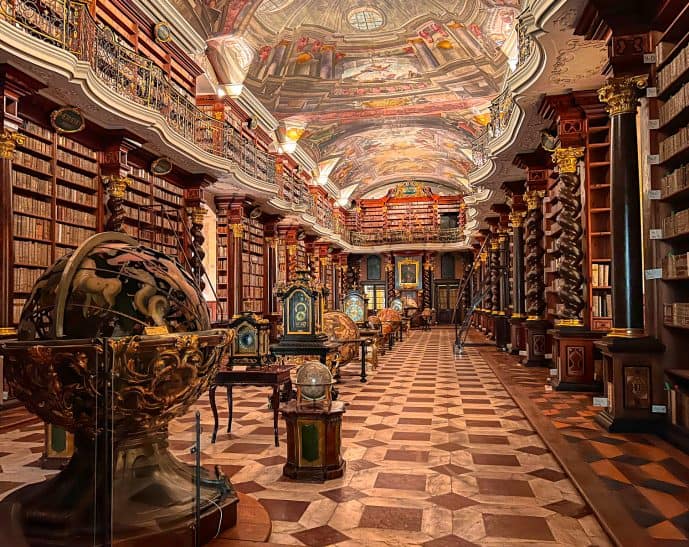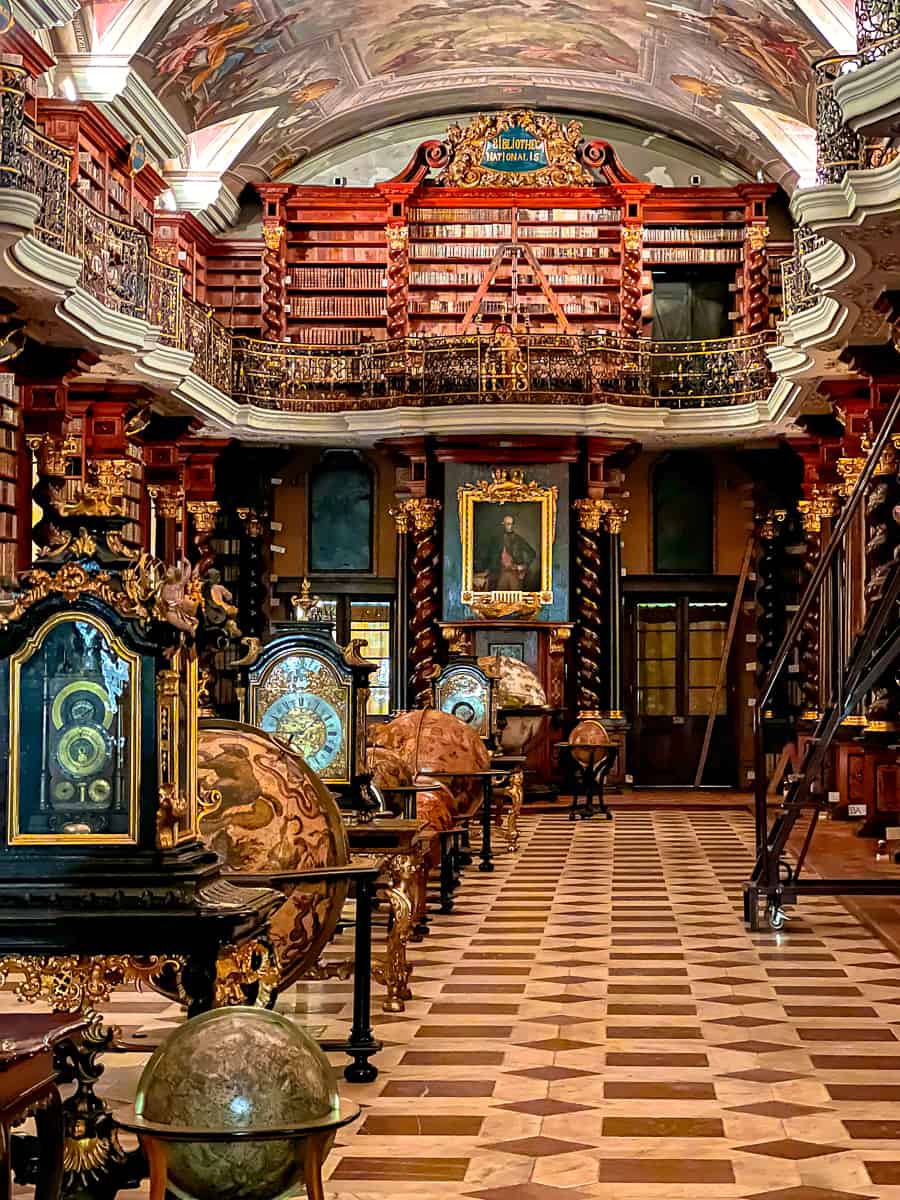 How to visit the Klementinum Library in Prague
The only way that you can visit the Klementinum Library in Prague is with a guided tour that is mandatory.
The Klementinum complex is just a few metres away from the Charles Bridge so it's really easy to plan a visit.
There is no official website to book Klementinum tours online, so your only options are to book in person at their ticket desk or book a tour online through a third party like Get Your Guide.
Booking through Get Your Guide is probably your safest option as when I arrived at the ticket desk on a weekday in April all the tours were 'sold out' for a few days.
I decided to try my luck anyway and actually got very lucky with a 'non-guided tour' of the Klementinum.
What this meant was we were chaperoned through the building but there was no commentary provided.
It was just an opportunity to take photos which I was fine with and it ended up being a bit cheaper.
Actually, it was great as they left the Klementinum Library doors open for a good 20 minutes to allow everyone to get their photos.
Only once everyone was finished taking pictures did they close the doors. Typically, they only open for about 5 minutes on the guided tours and it can be a bit rushed.
Klementinum tour times & ticket prices
Klementinum guided tours run for around 50 minutes and take place every 20-30 minutes throughout the day. The first tour starts at 9 am and they run until late evening.
They are provided in both English and Czech languages but these can sell out a few days in advance so make sure to plan ahead!
Klementinum tour ticket prices are £5.31 / 6 Euro / 140 CZK / $6.50 USD online via Get Your Guide.
Take note that even if you book your tour online you may have to queue at the desk to exchange your PDF voucher for a paper ticket. So, arrive in plenty of time before your tour begins.
It's also worth remembering that time slots via Get Your Guide are a little more limited than if you book in person.
Regardless, I would still recommend booking your tour in advance to guarantee going inside. Even in the shoulder months, Prague attractions can get very busy.
Click here to book a Klementinum Tour with Get Your Guide!
What to expect on a Klementinum tour
When you first arrive for your tour, you'll usually be asked to wait in the entry hall until your tour guide arrives. Then, you will be invited into the Klementinum complex and your ticket will be scanned.
Although the Baroque Library is very ornate, I was surprised that most of the corridors in the building are very plain which is such a contrast to the historic rooms.
To reach the library floor, you'll ascend up a large, steep, and narrow winding staircase. This made me feel so dizzy, especially on the way down.
Magical Baroque Library
When you finally reach the room with the library in, your tour guide will explain a little bit about the Great Library first. Or, in our case, we just got straight down to business.
When it's time, they open up a door and switch the lights on. You can then walk to a small platform that allows you to observe the library from the far end of the room.
It's good to note that you cannot enter the Klementinum Library on your tour at all. All of your photos will need to be taken from the small platform.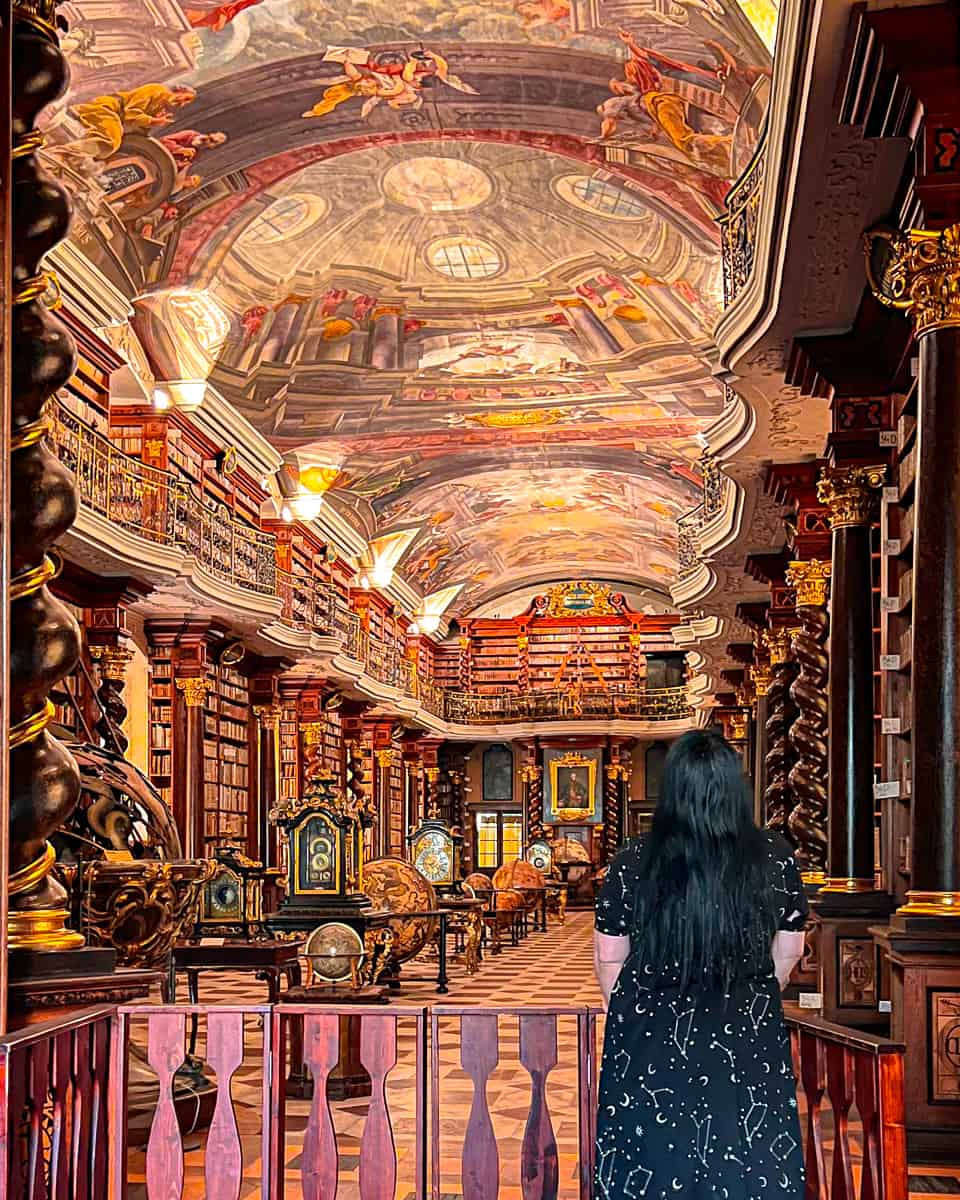 Despite not being able to enter the room, this book trove honestly took my breath away! This is one of the prettiest libraries I've ever seen and looked like something from a fairytale.
I've been wanting to see this library for years and I was blown away by how beautiful it was. So, many ornate details and it was a dream come true for an avid reader.
You could honestly see this library in Hogwarts from Harry Potter. So many of the people on my tour were Potterheads and some even brought wands and house scarves. It was so cool!
Klementinum Library photography tips
If you're on a guided tour, the Baroque Library part of the visit can be quite rushed depending on who is guiding you.
Once you reach the library, the doors will only open for around 5-10 minutes to allow people to see the room and take photographs.
Although this sounds like enough time, this isn't very long considering the size of the tour groups!
As you cannot go inside the library, there is only a small platform to take photos from and so it can be a bit of a scrum.
Not to mention that the library is extremely dark and you're not really meant to take photos with a DSLR camera (although I definitely saw people do this).
My top tip would be to stand near the doors on the far right when you reach the library floor, which is the one that they open.
Then you can get to the front for photos but obviously sharing is caring and there will be many people behind you wanting their photos too (so play nice).
I luckily was on one of their 'non-commentary guided tours' and our chaperone opened up the library for 20 minutes and just let everyone get their photos and have enough time to observe the room.
If photos are important to you, I would recommend doing something like this. The staff are really nice at the ticket desk and they can usually arrange something like this for you. It's not a guarantee but it's worth trying!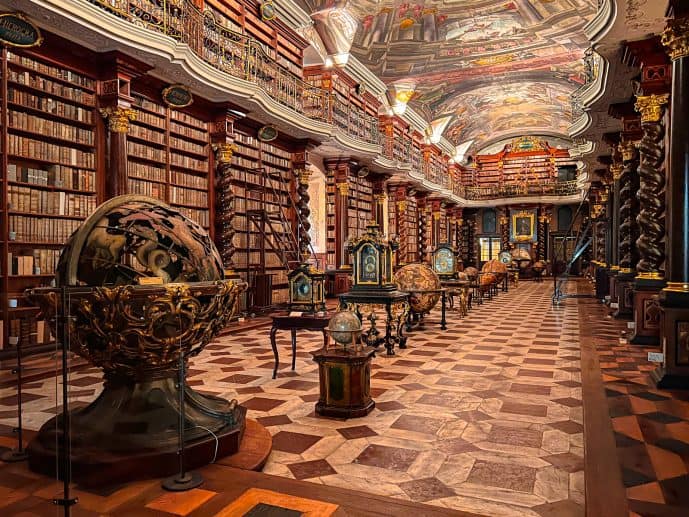 Meridian Hall
On your way up to the Astronomical Tower you'll make a stop at the Meridian Hall and at first it doesn't look like much.
But, this ancient room is where Jesuit astronomers were able to determine the Prague Meridian or High Noon.
There is a string hanging in the room and once the sunlight touched the right part of the string, it meant that it was noon. The astronomers would then wave a flag from the tower.
After the flag was signalled, a cannon was fired from the Bastion of St Magdalena to let the citizens know that it was midday!
This took place every day until 1928 when the astronomers moved to a new observation tower.
As well as the strings, there are many more astronomical tools in this room used to make climate observations.
Astronomical Tower
To finish off your tour of the Klementinum, you climb up to the top of the Astronomical Tower.
This is 52 metres high and to get to the top you have to climb 172 steeps steps. Some of these are very narrow and uneven so be careful on the way up.
It was originally used as a viewing tower but, later, was equipped with astronomical devices so that Jesuit students could make climate observations.
You can see many of these tools in cabinets at the top of the tower. But, the main event comes from climbing to the very top!
Clementinum Viewpoint
The Astronomical Tower was used for science but the highlight of the tour is the incredible views you get from the balcony!
You can see for miles over the city towards Prague Castle, Charles Bridge, and the Church of Our Lady before Týn in the Old Town Square.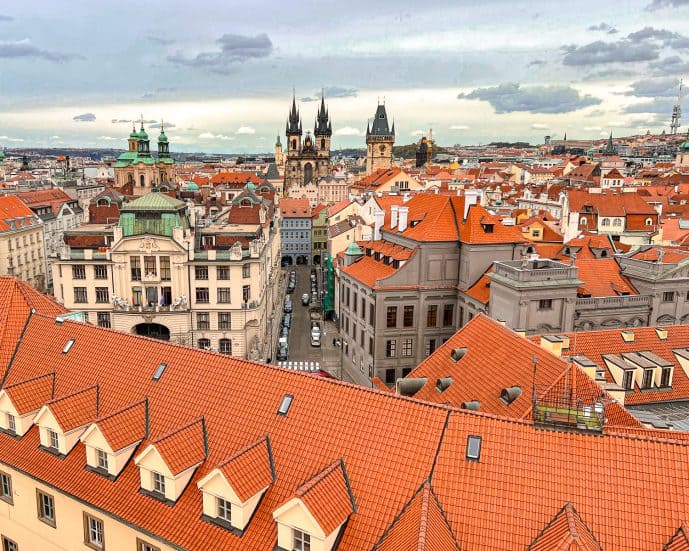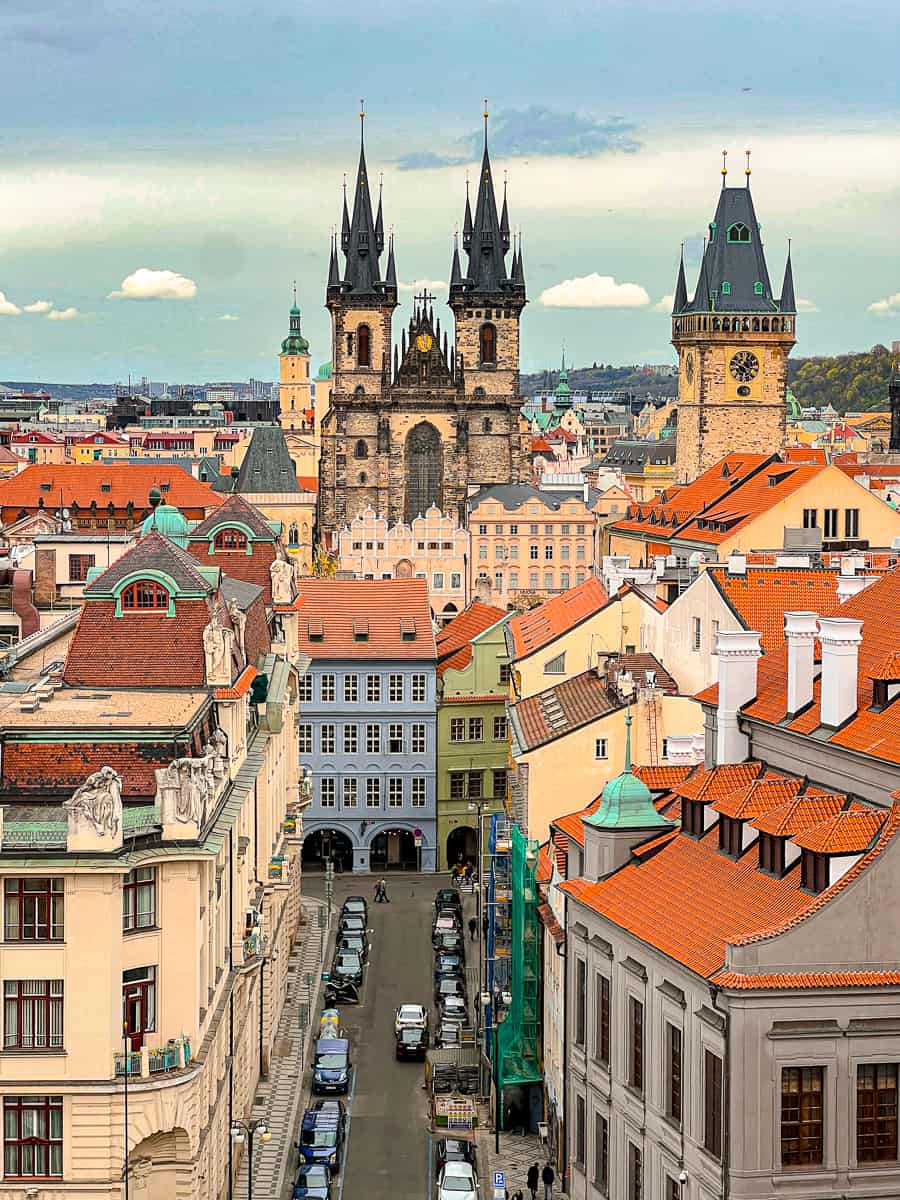 I loved seeing all the red rooftops, domes, clocks, towers, and spires you can see! The views of this city never get old, Prague is like a fantasy kingdom.
This astronomical tower is not to be confused with the tower of the famous Astronomical Clock. That's the Old Town Hall Tower and is a completely separate attraction. Confusing, I know!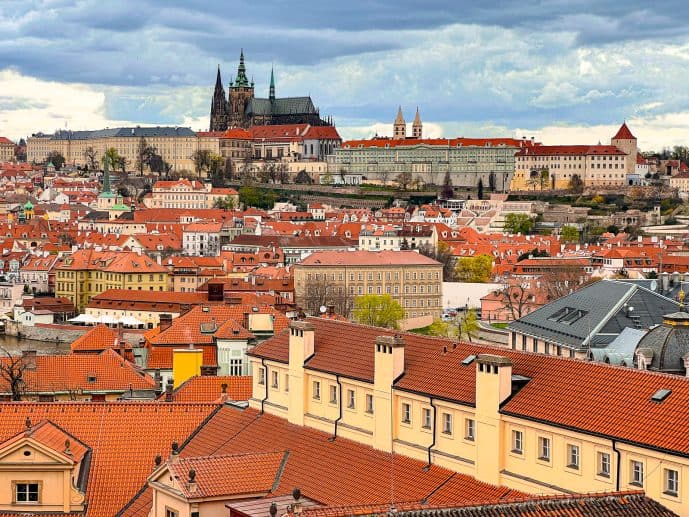 Churches & Chapel of Mirrors
Although not included in a regular guided tour, if you wanted to extend your visit you could book one of the Klementium concerts that take place in the Chapel of Mirrors.
It was again part of the Jesuit College and was originally dedicated to the Annunciation of the Virgin Mary.
Inside, you'll find it richly decorated with mirrors (hence the new name) and ornate decoration as well as a baroque organ in the centre.
Classical music performances regularly take place here and you can buy tickets at the entrance to the complex on concert nights.
Is visiting the Klementinum Library worth it?
Many people are disappointed on their Klementinum Tour and end up feeling 'ripped off' as you cannot enter the Baroque Library on your visit. You only get to see this beautiful book trove from the doorway.
But, personally, I think it was well worth seeing one of the prettiest libraries in the world even from the small platform!
It honestly looked like a library from a fairytale and it reminded me of Hogwarts Library in Harry Potter or the library from Beauty and the Beast.
If you're a book lover, this is definitely the tour for you and the panoramic views you get from the Astronomical Tower are a cherry on top!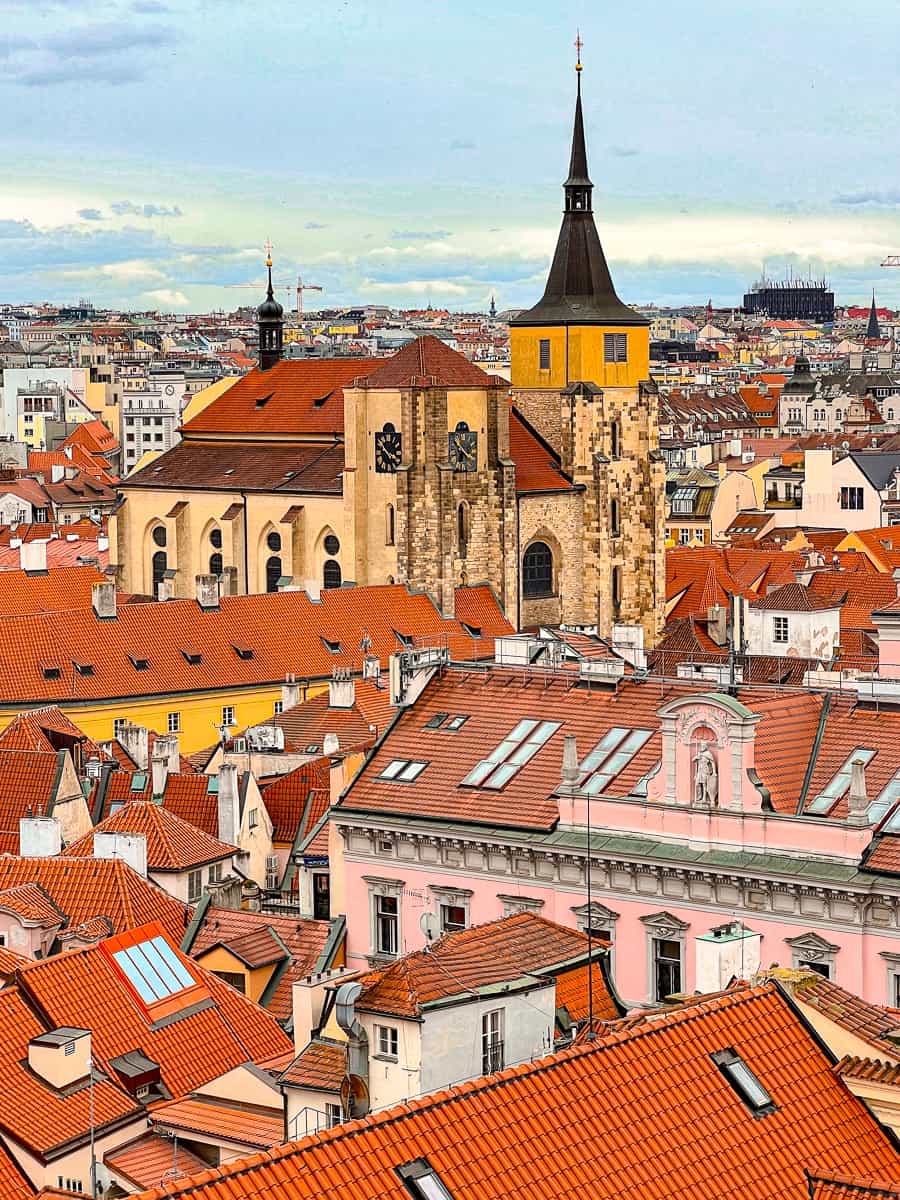 My top tips for visiting the Klementinum
Book tickets in advance – Klementinum tours do tend to sell out. So, I would book your tickets in advance if you can. You can either book at their ticket desk in person or online via GetYourGuide. This option may be safest as it was 'sold out' on my visit.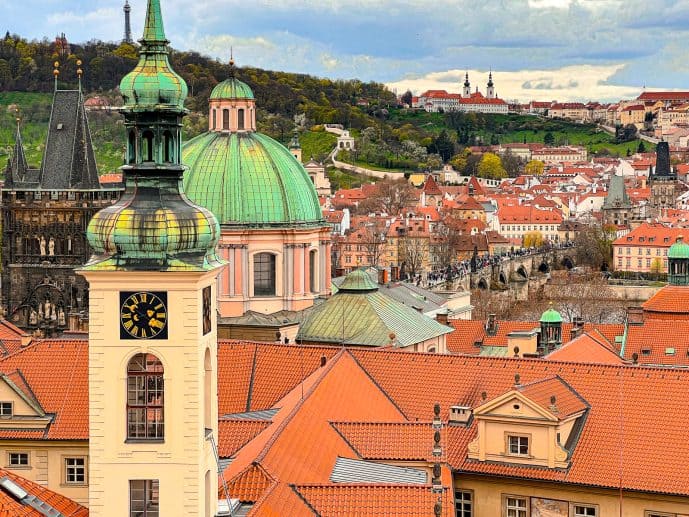 Prepare for steep steps – There were steep winding staircases to reach the library floor and then very steep and uneven steps to reach the viewpoint. Wear sensible shoes and take your time! There was an elevator to the library floor but it was out of service on my visit. Accessibility is very much not a thing here. So, I would clarify with the staff before you book your tour to see if you will still be able to enjoy the highlights.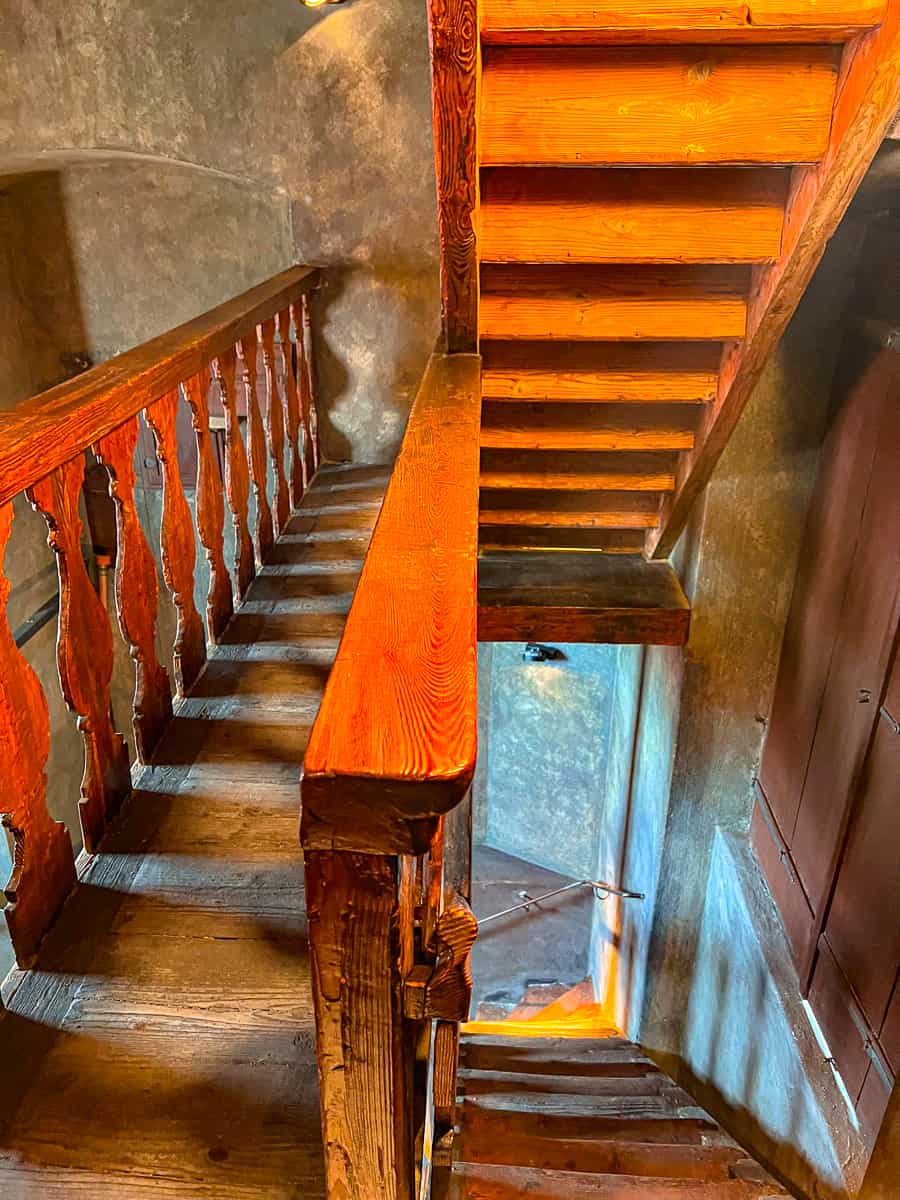 Photography is allowed – You can take photos and videos on the tour just remember that flash is not allowed. DSLR cameras are usually not allowed so phones only.
It can be crowded – they seem to pack you in on a Klementinum tour! So, it can be very crowded in the library viewing area and Astronomical Tower. Hang back a bit if you don't want to be cattle herded.
Don't be shy – the library doors only open for a short time so make sure to get those pics!
Looking for more bookish places to visit in Prague?
Once you've visited the Klementinum in Prague, there are plenty of other bookish locations you can visit in this city.
Here are all the places I would recommend visiting if you're a bibliophile;
Infinity Book Tower
Just around the corner from the Klementinum complex, you can visit the Prague Municipal Library.
Unlike the Baroque Library, this is a public library and it's open to anyone who would like to visit. It's also completely FREE and you don't need to book a tour.
The most popular thing to do inside is to visit the Infinity Book Tower or Prague Book Tunnel called 'Idiom' at the entrance which is an optical illusion.
You will see a huge pillar of books that reaches the ceiling but if you pop your head inside it looks like you can see volumes for days!
Despite it being a bit of a hidden gem, it's VERY popular so prepare to queue. I would personally try to visit early morning if you can to avoid a long wait time.
Click here to read my guide on visiting the Infinity Book Tower in Prague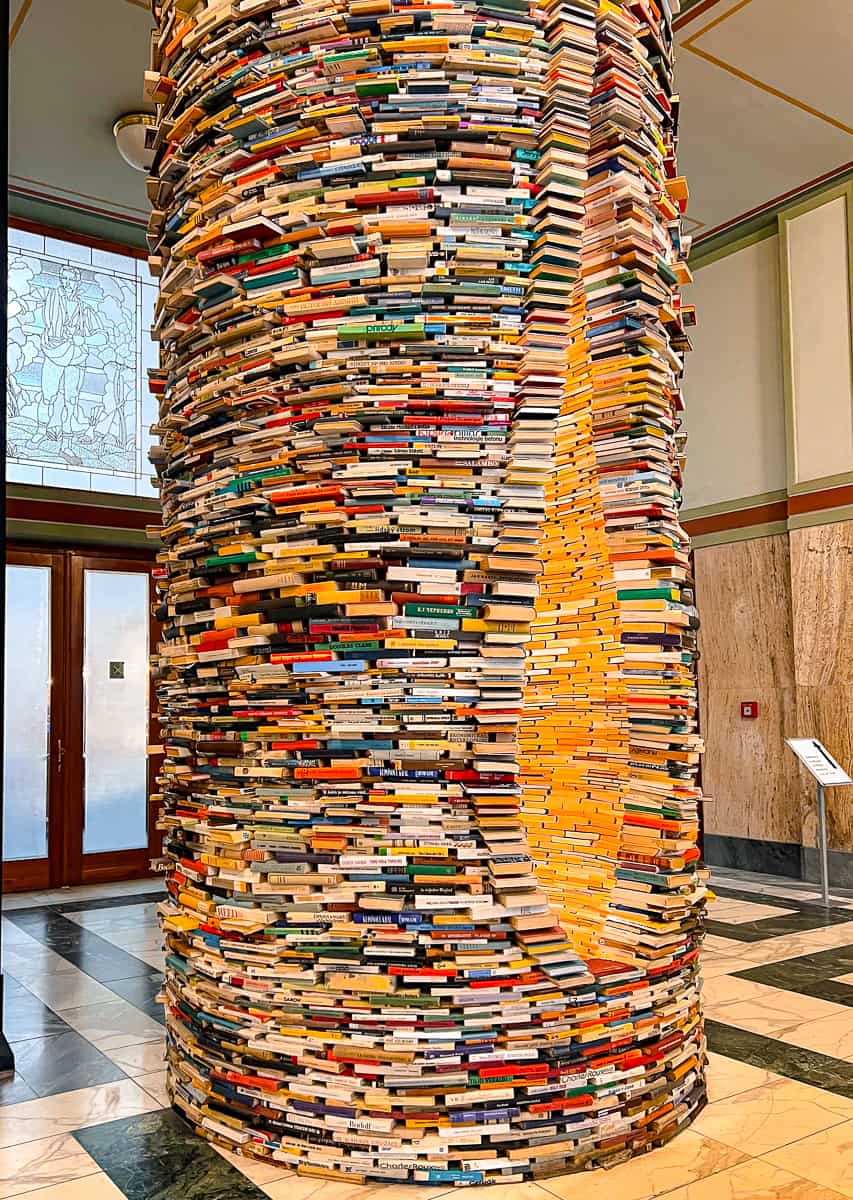 Strahov Libraries
If you're up for seeing more incredible historic libraries, there are two more I would recommend visiting in Prague.
The Strahov Library is a set of two famous rooms, the Philosophical Hall and Theological Hall. Both of these magical book troves were built in the Baroque style and are breathtaking.
You can visit these libraries daily at Strahov Monastery throughout the year and they are open from 9 am – 5 pm. But, they do have a 'lunch break' in between.
The only way to buy tickets is at the ticket desk located in the information centre on the day of your visit. Although I read online they only take cash, they do take card payments as well.
Again, you will view these gorgeous library rooms from a roped-off doorway and there is a 'hallway of curiosities' in between them.
If you book a few months ahead, there is the option for a 'special tour' where you get to go inside the rooms. You can look up details on their website.
Click here for my complete guide on the Strahov Library Prague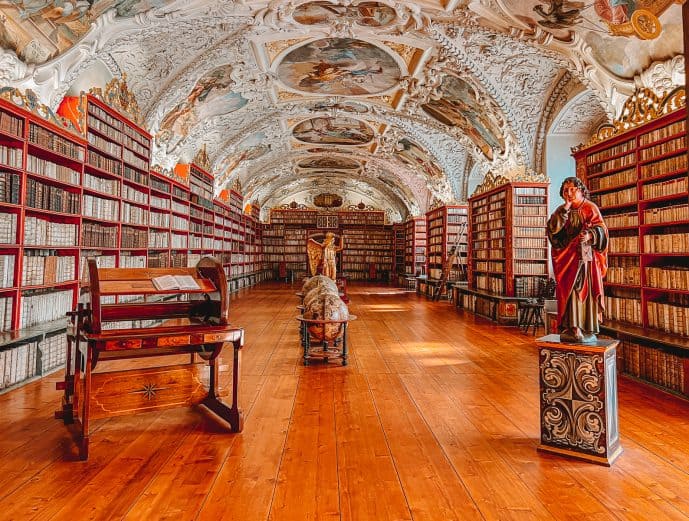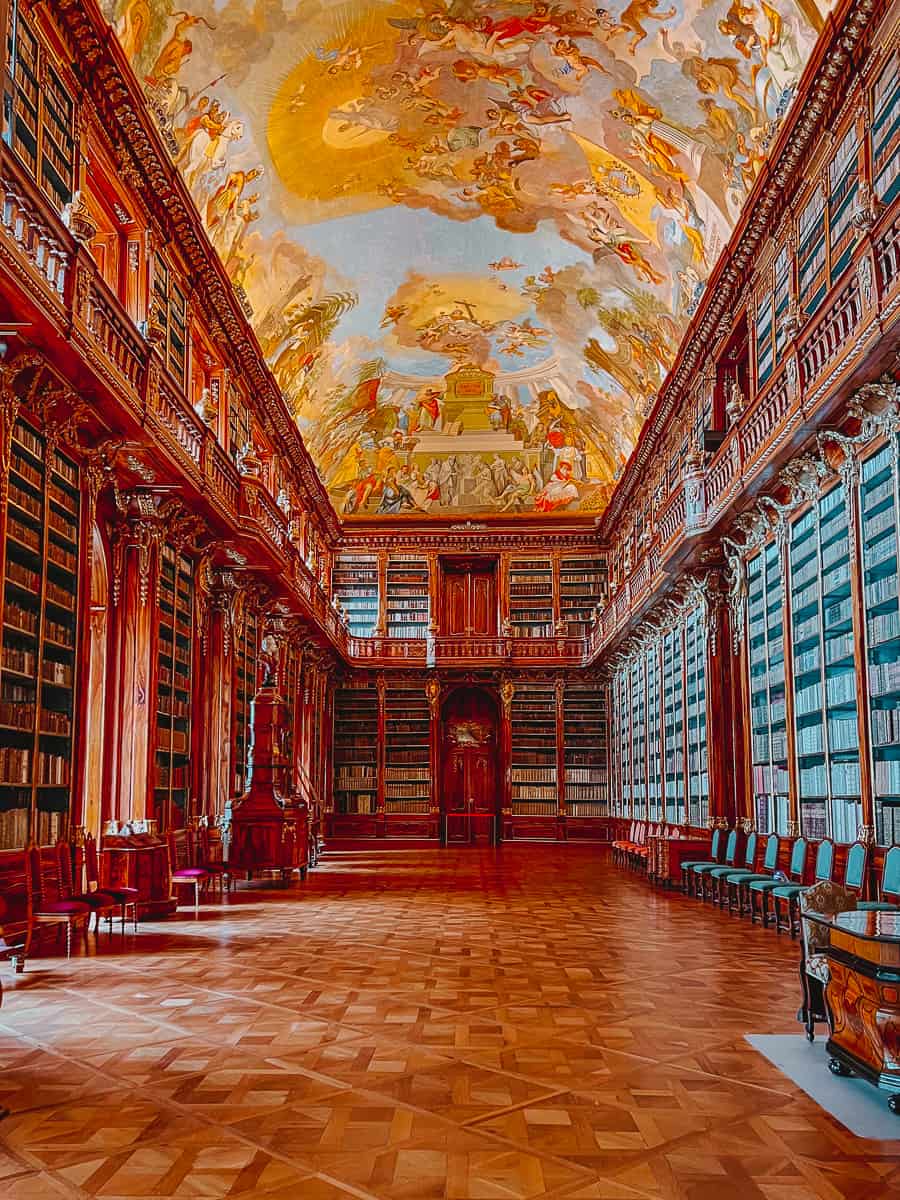 Franz Kafka attractions
You really can't escape references to Franz Kafka in Prague, a Modernist Bohemian author who was based in the city.
He wrote famous books like 'The Metamorphosis and 'The Trial' and there are many sites where you can find out more about his life in the city.
The most famous attraction is the Kafka Museum and it's an existential exhibition that takes you on a journey into the world of Kafka – it is very trippy!
Don't forget to take a picture with the famous 'peeing statues' outside. Or, visit the Kafka rotating head on Nové Město.
As its name suggests, it's a modern artwork of Franz Kafka's head that rotates every 15 minutes. It's huge and weighs over 39 tons.
Personally, one of my favourite Kafka sites is his tiny blue house at Number 22, Golden Lane. It's now a bookshop and you can visit as part of a Prague Castle tour!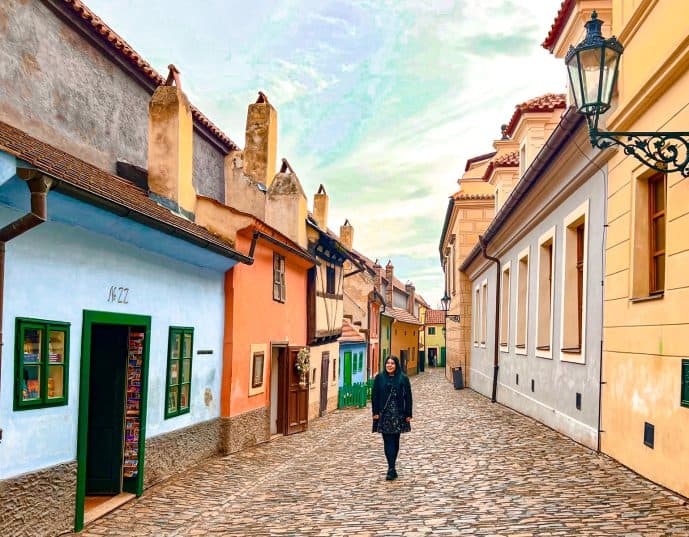 Read more of my Czechia guides
How to see the Prague Astronomical Clock & Walk of Apostles
A complete guide for the John Lennon Wall
How to visit the Bone Church of Kutna Hora
Magical Cloak Bridge in Česky Krumlov
Uncover the secrets of Prague's Golden Lane
Visit the mysterious Dripstone Wall Prague
Save how to visit the Klementinum Library for later!