One of the most scenic journeys in Kerala is the one from Kochi to Munnar. As you wind your way up this picturesque hill station, you can enjoy some of the best scenery that Kerala has to offer.
Rolling hills, miles of jungle, spice plantations, wildlife, and waterfalls all await you here!
This was by far my favourite drive on my visit to God's Own Country with India Someday. Although the journey times were really long, the amazing sightseeing and tasty lunch stop along the way helped to pass the time.
So, if you want to know more details about the long journey from Kochi to Munnar, with all the amazing stops en-route; this is your guide!
Heads up: my trip was sponsored by India Someday who can help plan your trip to India! Click here to read my full review of their services.
What is the distance between Kochi and Munnar?
Kochi is located around 126 kilometres from Munnar. So, a drive without any traffic will take you a minimum of 3/4 hours.
But, as Munnar is elevated at around 1,500 metres above sea level, you'll need to wind your way up along long winding roads.
As some of these bends can be quite tricky for two cars to pass and there are often road works, there will be hold-ups along the way. Not to mention that the road is super busy due to hundreds of tourist cars visiting and leaving, hence lots of traffic.
So, the journey time between Kochi to Munnar will be around 5 hours and, if you add in sightseeing, around 6. During peak tourist times (like festivals) my driver told me it could take all day.
If you're heading here on a day trip I would leave as early as possible to avoid peak traffic times!
When is the best time to visit Munnar?
Personally, I always avoid peak times to travel. I always find this makes hotel prices go up threefold and the place is so busy you can't really enjoy it! But, it couldn't be helped this time.
While I was visiting, it was a Navratri Festival in October and so a lot of domestic tourists were visiting Munnar over this time. That made the roads extremely busy as well.
Like a domino effect, all the attractions were packed out and the roads were jammed too!
The peak season of Kerala is September to March which is the best time to visit for the weather. But, I'd expect big crowds.
April – June is the summer months, which although hot, is the perfect time for wildlife spotting. It will be busier due to everyone wanting to escape the heat in the clouds.
Another great time to visit is in Monsoon from July – September. The rains will fall, making all the jungle nice and lush, plus there will be lots of waterfalls to enjoy in full force!
I would suggest the in-between seasons at the end of March or the end of September. This is still counted as the 'off' season so everything will be cheaper and you'll avoid some of the heavier crowds too.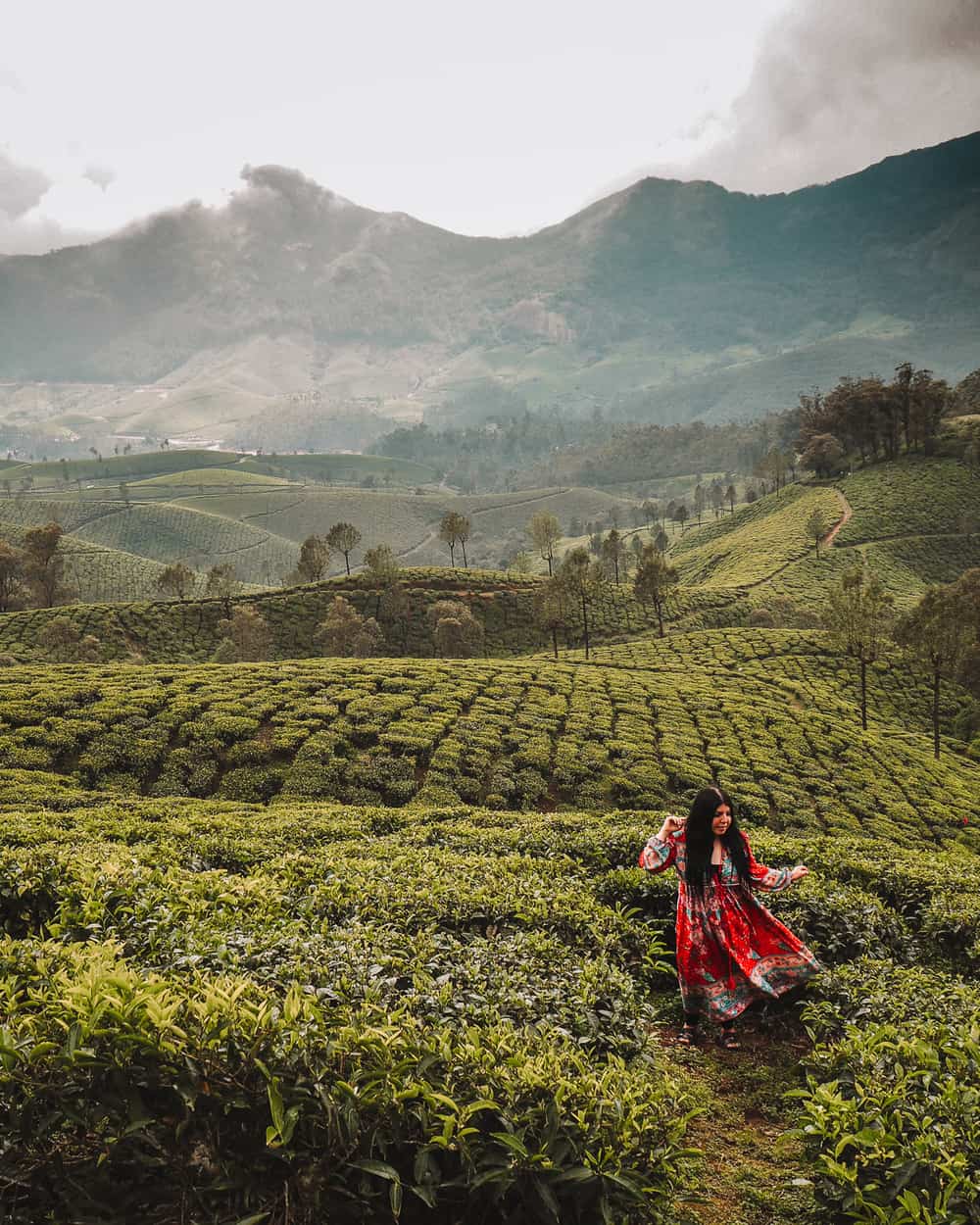 How to reach Munnar from Kochi
The easiest and most convenient way to reach Munnar from Kochi is to self-drive. This means you can take your time, stop where you like, and have the freedom to go sightseeing.
But, there is the option to hire a driver if you don't plan on driving and also take a shared taxi too.
Public government buses are available but I'd recommend this as your final option or if you're on a shoestring budget.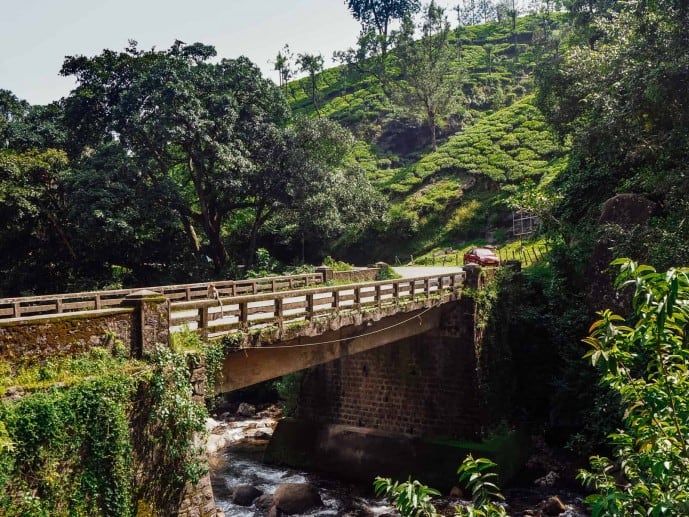 Do trains run from Kochi to Munnar Hill Station?
Although Munnar is technically a hill station in India, that boat sailed as soon as the British left.
There used to be a train that would run up to Munnar and even Top Station, but now both of those are relics and what is left was moved to museums.
In fact, the old train station in Munnar is now a factory and what is left of Top Station is simply cement!
The only way that you can get up to Munnar from Kochi is to drive up the winding hills by car or bus…
Kochi to Munnar bus
There are public buses but there aren't really many government/private buses (like on redbus.in) designed for tourists to get here.
So, you'll need to do a bit of working out in order to reach where you're trying to go.
If you decide to take the public buses, you will probably end up getting around three buses in total and the journey will take around 5/6 hours without stopping.
Speaking from personal experience with riding hundreds of hours on local buses, I wouldn't recommend it unless you're on a tight budget! Imagine honking, crazy drivers going way to fast and lugging all your luggage around in the sweaty heat…
The whole journey will probably cost you less than 100 rupees though so it is a bargain if you're willing to make the effort.
Kochi to Munnar by self driving, taxi or a tour
If you have your own car and can self-drive up to Munnar, this is your best bet!
Not only will having your own transport mean you have more freedom and can stop where you like but when you get to Munnar all your sightseeing can be done by car too.
Most tourists tend to hire a private taxi or sharing a car to make their way up from Fort Kochi to Munnar. Or, you can do a day trip to Munnar too.
To me, hiring a car makes the most sense as once you're here, getting around can be quite a challenge without one.
But, if you are backpacking or you're without a means of transport, have a look at some of these day trips to Munnar here;
Private Day Trip around Munnar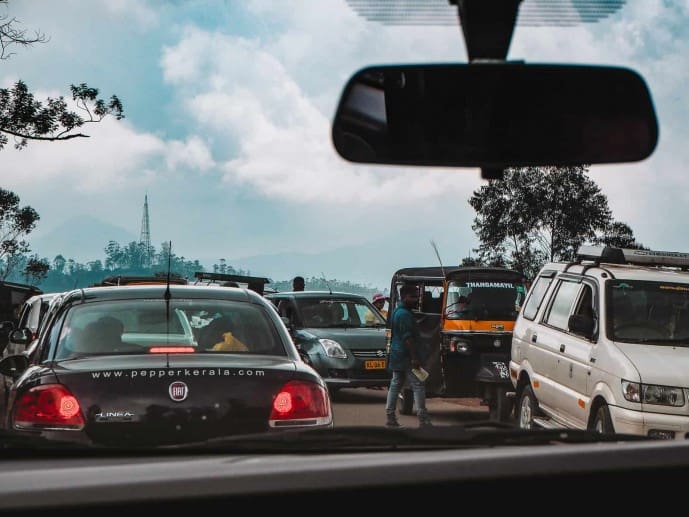 Places to stop en-route to Munnar for sightseeing
It isn't really hard to pinpoint the popular sightseeing stops on the way up to Munnar.
As you wind your way up you can spot the masses of crowds with selfie sticks and see the cars parked up for what seems like miles along the roads before you get there.
But, although there are many, not all sightseeing spots are created equal here!
I will go through all the ones worth visiting on your way from Kochi to Munnar and the ones to absolutely avoid.
Cheeyappara Falls
Our first stop on the way up was the amazing Cheeyappara Falls which are around 300 metres high!
As soon as you arrive you'll spot cars stopping, market stalls selling all sorts of hats and selfie sticks, food stalls, and of course the big crowd at the bottom of the waterfall.
The best time to visit the falls is during or after Monsoon season and you see it crashing to the floor during this time! In Summer, this may be dried up due to the lack of rainfall.
Once you arrive, head to the viewing platform and join everyone else taking photos and selfies! I was lucky to get a photo by myself for two minutes, although that was mainly because people were staring at me instead haha!
It's FREE to visit and worth a photo stop, but you probably won't spend more than ten minutes here unless you want to hang around.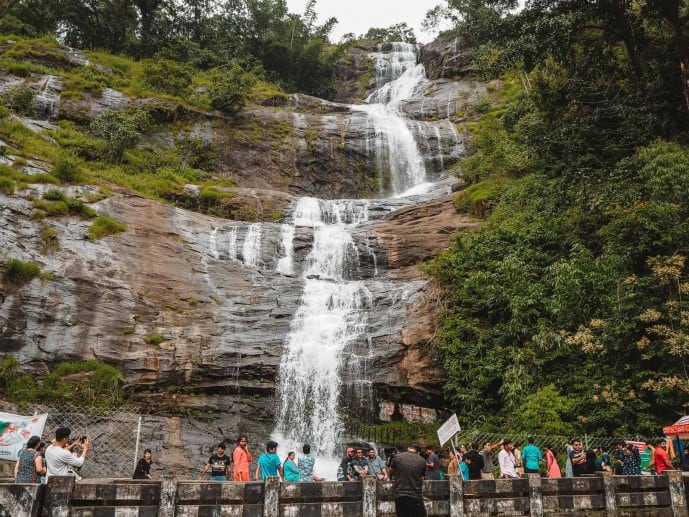 Valara Falls
The Valara Falls is another famous waterfall stop just a little bit further up from Cheeyappara falls.
When we first arrived I couldn't believe the strength of the waterfall. But, my driver told me that this was 'weak' compared to the water flow in Monsoon!
It's FREE to visit but you can't trek down to see the waterfall or get anywhere near close.
This is really just a viewing platform where you can take a quick photo from the road. As there is just a wall and no real space to view, just be careful of fast cars tearing past! At this point, you'll be over 1000 feet above sea level.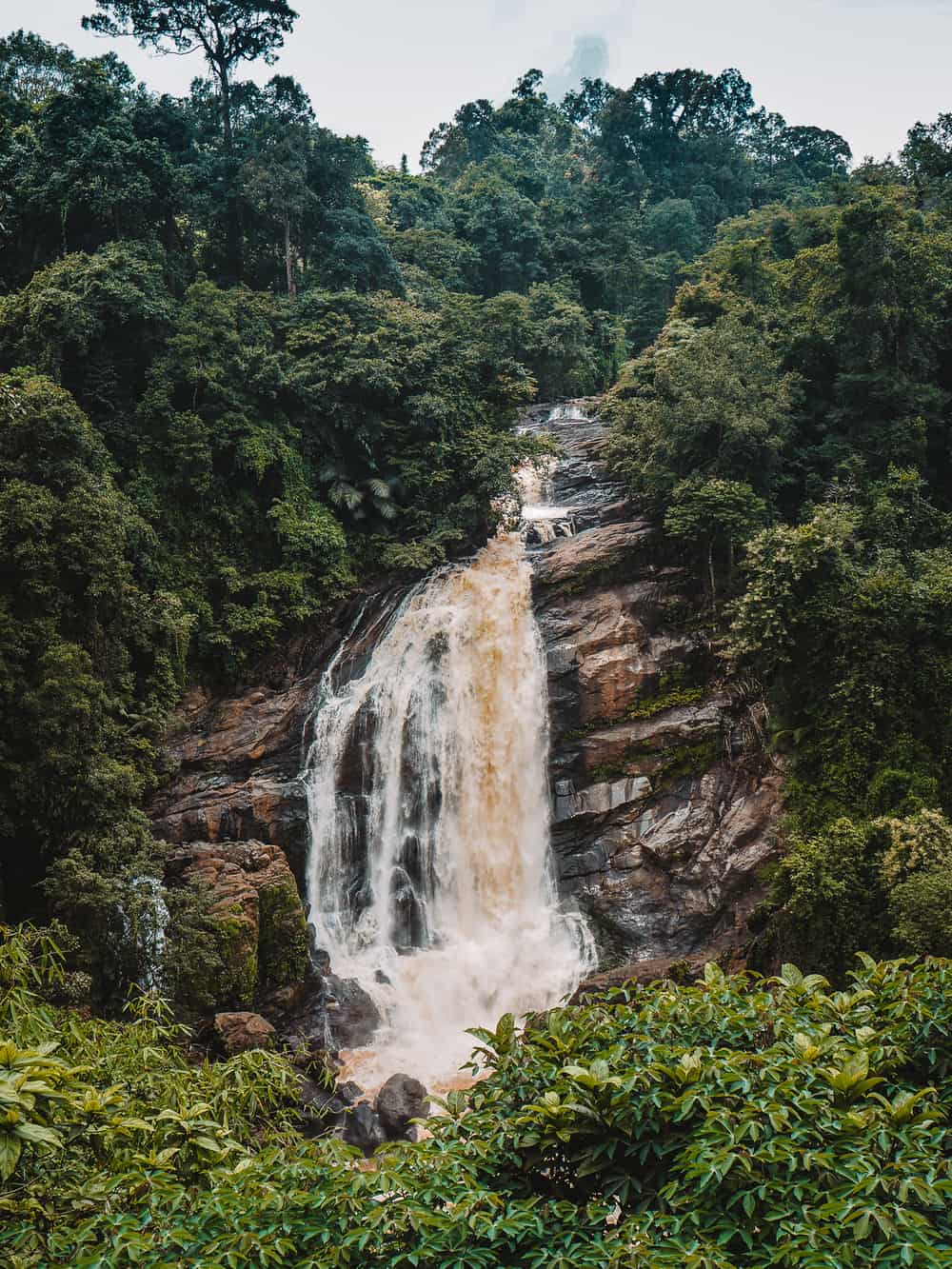 Karadipara View point
At this point, you're pretty much in Munnar. But, this viewpoint is a great introduction to your journey here.
Karadipara is a restaurant stop that has a fantastic vantage point of all the rolling hills and the peaks of the mountain tops; you can see for miles and miles into the distance.
The restaurant serves up an amazing spicy chai and cheap eats if you wanted to stop for lunch there with the view.
But, if you want to just stop for a photo, you can pay 10 rupees to head down onto the viewing platform.
It makes an amazing photo spot and you can spend as long as you like there!
Stop at a spice garden
There are many spice gardens that are advertised on the way up to Munnar and most are pretty much the same.
You go on a quick tour of the spice farm where they tell you what spices grow there and what they use them for. You can also try some of the organic spices and you exit through the gift shop!
There will be all sorts of spices to buy but just make sure that they are the genuine product and you're not getting ripped off.
You'll also see a load of Ayurvedic and chocolate shops too – my guesthouse owner said to avoid them as most of them aren't good value for money or sell genuine products. It's best to wait until you get to Munnar and visit a recommended outlet…
DON'T STOP at the elephant camps
Please. Don't stop at the elephant riding camps! These are to be avoided at all costs.
The treatment of the elephants who have been domesticated for tourism is barbaric and there has been lots of research that shows that riding elephants is bad for their health.
In Munnar, you really don't need to visit an elephant camp to see one. If you're lucky, you can spot a wild elephant on your way up to Munnar in the fields! It's a common sight here.
It's far more special to see an elephant roaming free in the wild than it ever will be to see one who is unhappy and forced to entertain tourists.
So, I beg you to avoid them. The more people who boycott this practice the better it will be for the elephants here.
Where to stop for lunch between Cochin and Munnar
On our way up to Munnar, my driver stopped at a traditional Malayali restaurant 'Clay Oven' which is really popular but most importantly hygienic and clean.
I was recommended to have the traditional Malayali feast on a banana leaf and, they're not lying when they say it is a FEAST!
I had dishes upon dishes of curries, chutneys, and sauces, a massive serving of rice, papad, banana chips, a banana, and even desserts too! It was a banquet that was all incredibly tasty.
I then washed it down with a freshly squeezed pineapple juice and by that time I was ready to enter a food coma for the next few hours haha!
All the food and the drink only cost me around 350 rupees which was a bargain. I would highly recommend visiting on your way up, but come hungry. You'll need the room.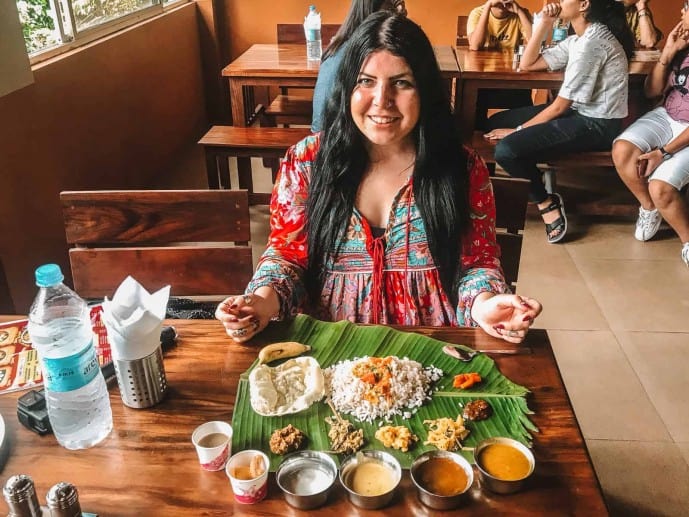 Where to stay in Munnar
If you're looking for the best hotels in Munnar, I would avoid staying in the city centre. Yes, the accommodation is really cheap around that area but Munnar city really isn't attractive.
It's busy, with lots of traffic and buildings pretty much built on top of each other.
If you want to really experience the serenity of Munnar, I would recommend staying a little outside of the city in the countryside.
Mistletoe Homestay was a gorgeous family-run property and each room had breathtaking views of the rolling hills from the balcony.
One of my favourite moments was sipping on coffee overlooking the views! I felt so lucky I could enjoy them from the comfort of my own bedroom.
The rooms were spacious with a desk and a huge bathroom with a powerful shower too!
I ate here more often than not and the homemade food was divine. I always asked for a surprise and the meals just got better and better.
Click here to read my full Mistletoe Munnar review
Things to do in and around Munnar when you get here
The journey from Kochi to Munnar is just the tip of the iceberg when it comes to the attractions in Munnar itself.
It's a huge emerald green paradise that goes on for miles and you'll find incredible places to visit around every corner!
Here are some of my favourite spots in Munnar that you need to add to your itinerary;
Read more: the best places to visit in Munnar
Visit a tea plantation & have a tea tasting
Did you even visit Munnar if you didn't visit a tea plantation?
This is one of the top things I think you should do while you're here but it can be difficult to find the right one to visit.
It all depends on your preferences really. If you just want to take photos of one, there are endless possibilities. You can just stop on the road and take photos.
But, if you want to learn about how tea is made, have a tea tasting, hike around the fields or enter the tea fields. You'll need to do some planning.
I off-roaded on a jeep safari through Lockhart Tea Plantation with Route 49 adventures.
They had a permit so we could enter the private areas, we learned about how tea is made at the factory and we then topped it off with a tea tasting to finish. It was perfect as we avoided the crowds too.
But, as well as Lockhart there is also the KDGP museum which is run by the oldest and largest organisation here in Munnar. So, the choice is yours.
Hiking will be a completely different ball game but easily organised with your homestay or a travel company in the area. Read my guide for more details.
Read about the best tea gardens in Munnar here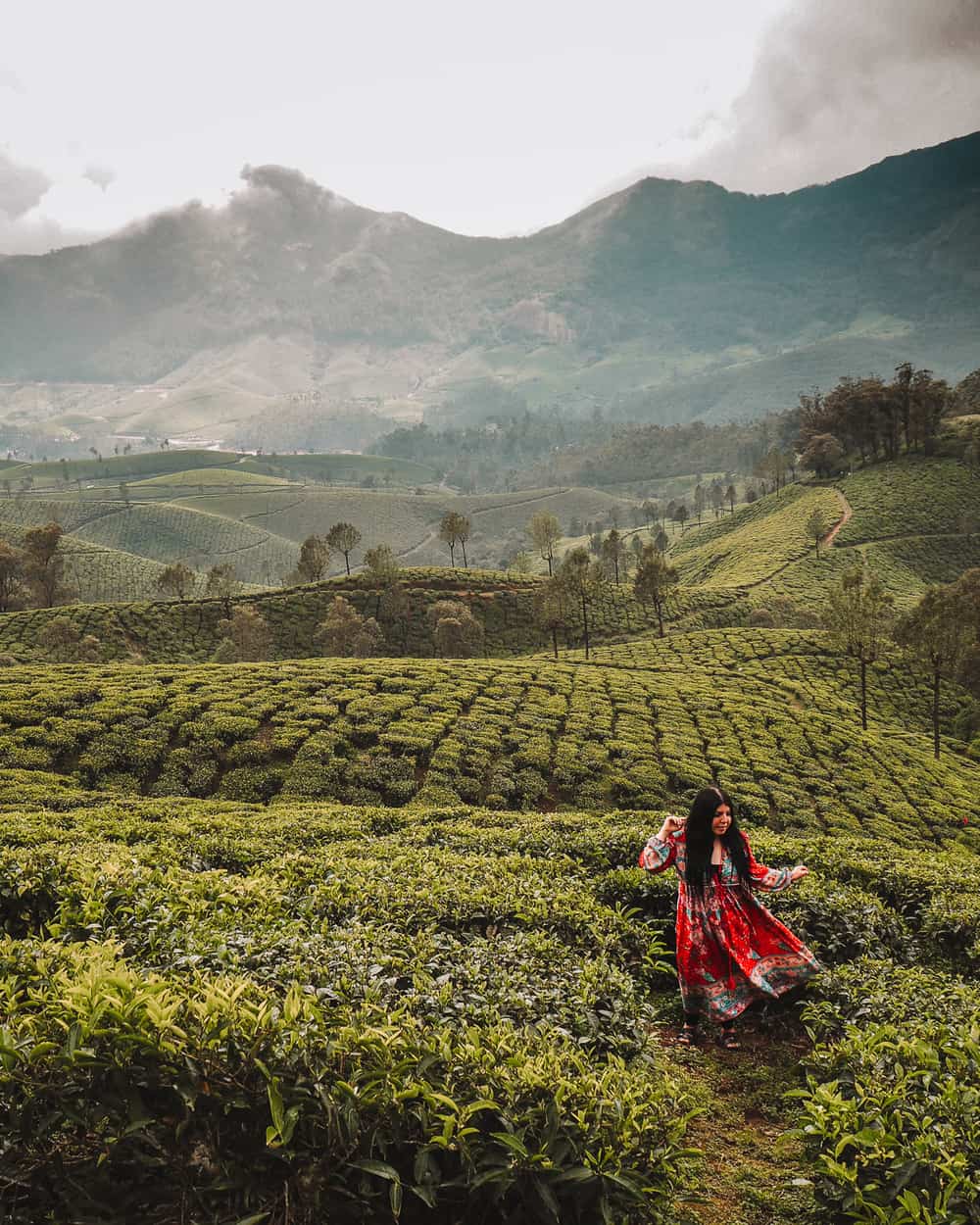 Visit the border of Tamil Nadu at Top Station
Top Station is the most popular route in Munnar and so it comes with the most traffic and crowds.
In fact, despite it being one of the most visited tourist attractions I wasn't too impressed. Maybe it was the weather and the fact we couldn't see a view, or the fact we were stuck in traffic jams the whole time. But, I just couldn't see what the big hype was all about.
Top Station used to be a trading post during the British era. Here, you're actually on the border of Tamil Nadu and so the British used it as a trading post with Madras (now Chennai). Nowadays, it's a popular viewpoint where you can wander around and take in the sights…if you get lucky.
More often than not, as you're so high up, you'll mostly see clouds! So, I would leave as early as possible before they roll in.
You'll also walk through what seems like miles of food stands, chai stalls, and gift shops. So, you're being hassled the whole time.
But, if you stick around, the clouds do move and sometimes make way for some pretty views. So, grab a chai and see.
Read more – is a drive to this viewpoint worth it? With tops tips!
Spot a Nilgiri Tahr at Eravikulam National Park
The Nilgiri Tahr used to be thriving in Kerala, but when the British arrived their intense hunting practices nearly made them extinct!
This is until the Kerala Government decided to protect the area and make it a national park.
The Nilgiri Tahr is still on the endangered list but Eravikulam National Park is home to the biggest population of them in the entire world.
You don't go on a wildlife safari or anything, you walk a few kilometers into the park. Seeing a deer is not guaranteed but it is possible. I have pictures to prove it!
Read my complete guide for visiting Eravikulam here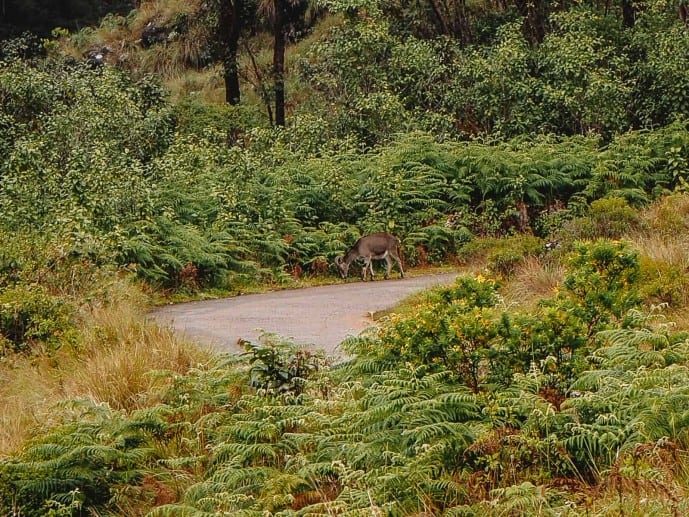 Swim in Lakkam Falls
Just down the road from the oldest national park is Lakkam Falls. These actually fall from the Eravikulam plateau but you don't need a ticket to the park in order to see it. Tickets only cost 20 rupees.
My favourite part of these falls was the fact that you could swim inside and cool down from the heat. Another surprise was that fish nibbled at my feet, a bonus of a natural fish spa!
These falls truly are spectacular and if you didn't want to swim, they make an awesome photo stop.
Guided treks are also available if you want to experience them a different way.
Read my complete guide for Lakkam Falls here
Watch a Kalaripayattu performance
There isn't a lot to do for entertainment in the evenings in Munnar, but there are a few cultural performances you can watch.
As I had already seen a Kathakali Dance in Fort Kochi, India Someday and my driver recommended that I check out a Kalaripayattu performance.
This ancient practice originates from the warriors of Kerala and as soon as I walked in, it looked like I was going to watch gladiators at the colosseum!
This martial arts takes years of practice and you can watch the warriors sparse with sticks, swords, and even jump through fire.
Don't forget to join them at the end for a few photo opportunities. What do you think? Do you think I'd make a good warrior? Lol!
I watched the show at the Punarjani Traditional Village, ticket prices depend on your seat tier, click here for more details and to book tickets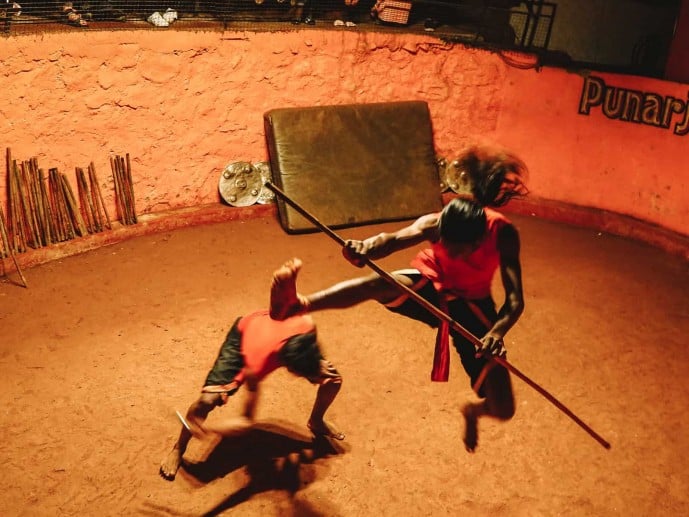 Looking for more inspiration for Kerala?
If you're currently planning a vacation in Kerala, don't forget to check out my detailed articles on everything you need to know about Fort Kochi, Munnar and Alleppey too;
The top attractions in Fort Kochi
Chinese fishing nets; how to avoid getting scammed!
Kathakali Dancing – where to watch a show?
Save this Kochi to Munnar road trip guide for later!