If you're a lover of pretty cafés and even prettier cakes, then you have to visit Konditorei Kormuth Bratislava.
It's a historic museum and patisserie in one that is more like a cabinet of curiosities.
The entire place is decorated in colourful Renaissance frescoes and filled with a plethora of ancient antiques.
The best part is their amazing menu of Italian coffees and freshly baked treats that are all served on fine porcelain. It's truly a unique gastronomic experience in Slovakia.
This was one of my favourite places to eat in Bratislava and it was so good I went back twice.
Here is why you should visit Kormuth Confectionary, the prettiest café in the city!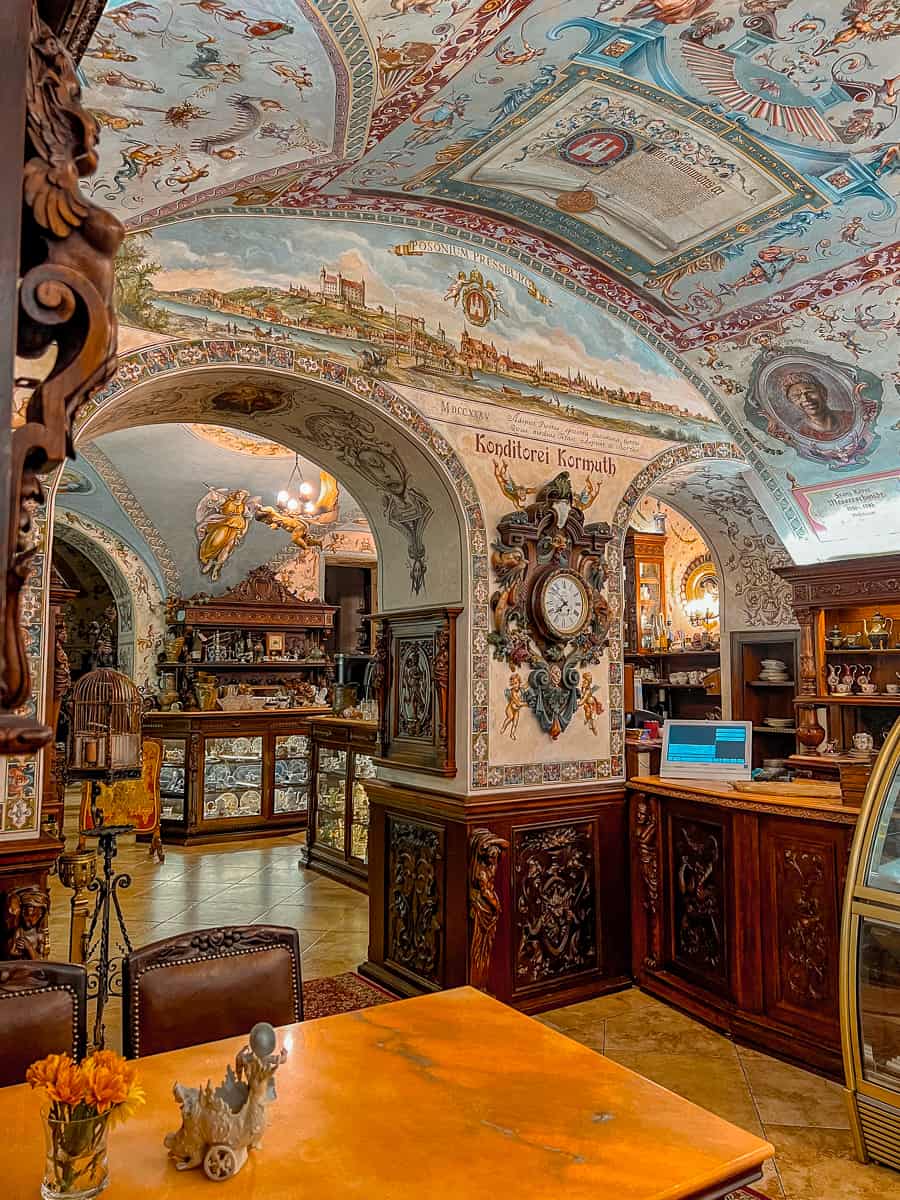 Kormuth Confectionary history
This historic confectionary in Bratislava will take you back to the time of the Austro-Hungarian monarchy.
It has seen many of the city's vast transformations over the years and was recently renovated by the current owner of the shop.
Even before you enter the confectionary, you will see a lady dressed up in Renaissance clothing in the window.
When you step inside the café, it will feel like you've stepped through a portal that allows you to travel back in time.
Every wall is covered in baroque frescoes and there are genuine antiques in every corner. Some of them date back as early as the 16th century.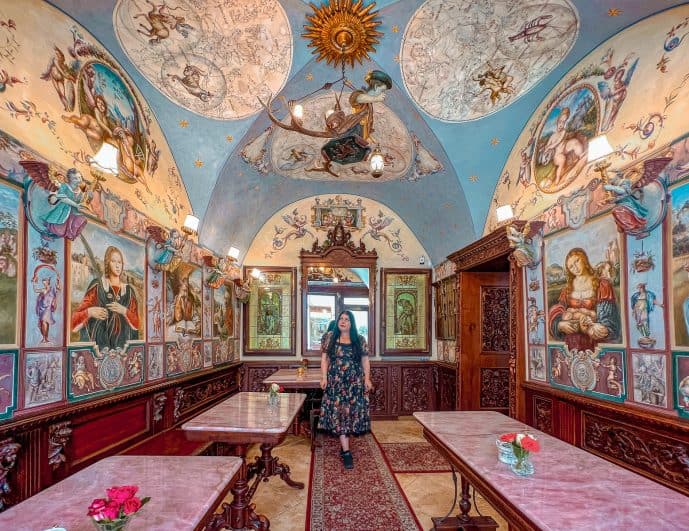 Why you must visit Konditorei Kormuth
Konditorei Kormuth prides itself on providing a unique gastronomic experience in Bratislava. It's both a museum and patisserie all in one.
You can enjoy Italian coffees served on fine porcelain china along with fresh sweets and cakes from their bakery.
With all the frescoes that surround you, the entire place is a feast for the senses and makes the perfect location for a break whilst exploring the lively Old Town.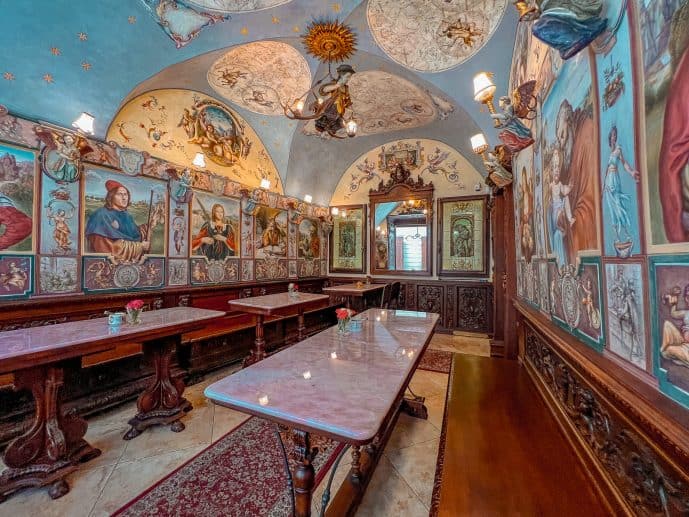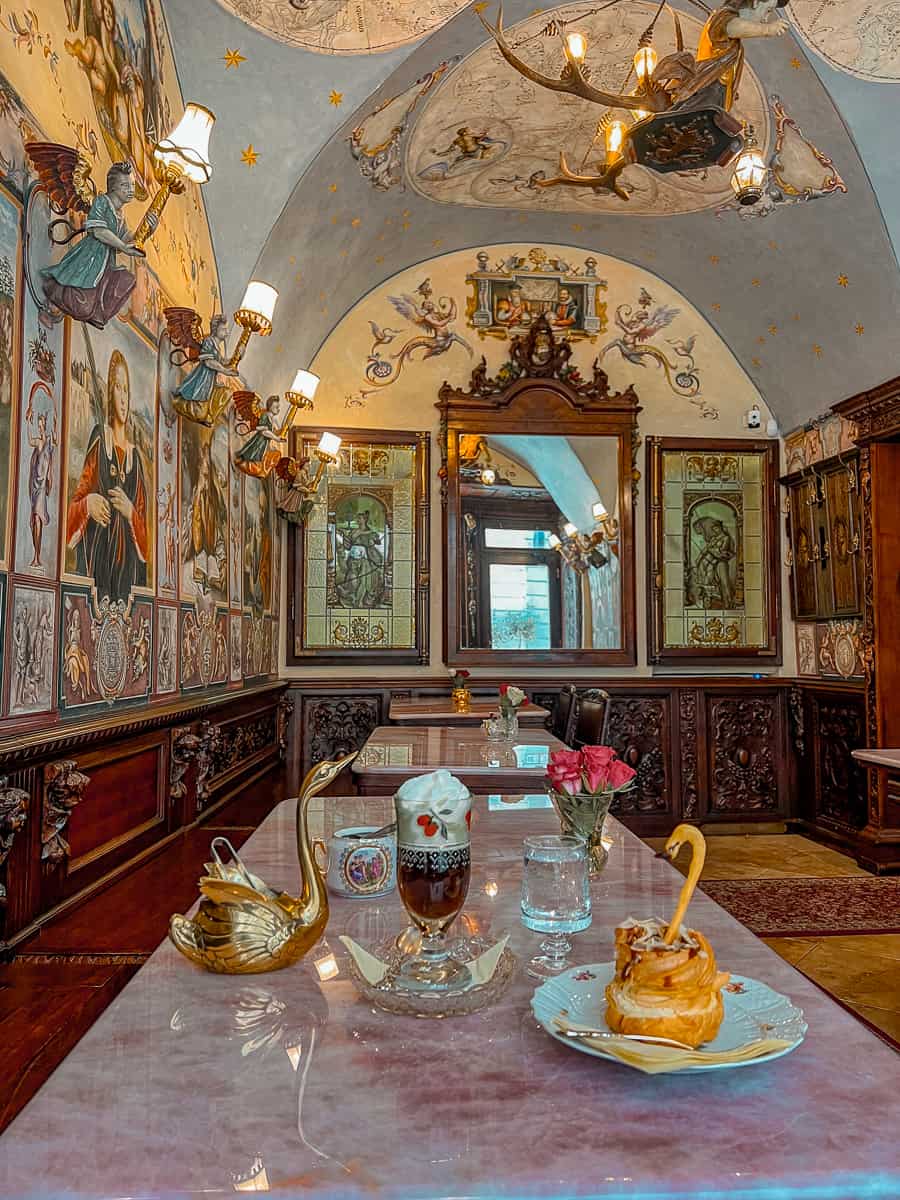 What to order at Kormuth Confectionary
Konditorei Kormuth has its own bakery that makes freshly made cakes and desserts using only the freshest and finest ingredients.
As they have a love for tradition, many of the recipes date back to the Austro-Hungarian Empire. Also, all of the cakes avoid artificial flavours and preservatives.
I particularly loved their strawberry cake which had a topping of strawberries and fine layers of vanilla cream and sponge.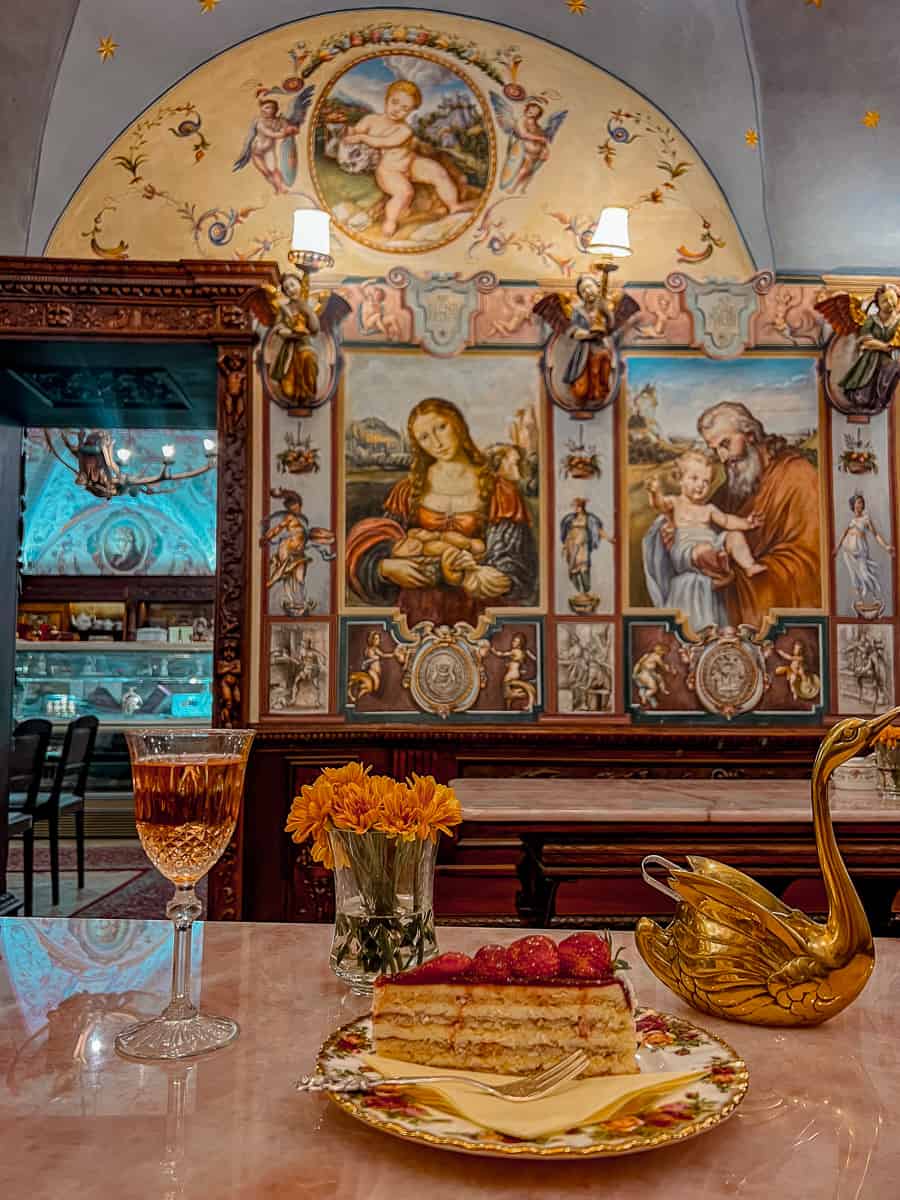 But, I also loved their swan choux bun or Saint Honoré Caramel. This was delicious with a hefty mix of caramel cream but it was very sweet.
If neither of those takes your fancy they also have traditional Dobos Cake which has layers of chocolate and buttercream.
Or, there is a rum cake topped with berries, blueberry cake, chocolate cake, coconut cake, and lots more.
As they use fresh ingredients, some cakes may change with the seasons. At least it gives you a good reason to go back.
You can pair up your sweet treat with one of their specialty coffees or a glass of local wine!
Exploring the gorgeous confectionary
You must take a look around this confectionary on your visit as there are so many paintings and a hodgepodge of artifacts that decorate the space.
It's hard to believe that this café wasn't a church or part of a palace years ago as it looks that grand.
The main room has spectacular Renaissance-style frescoes that tell the story of the history of Bratislava.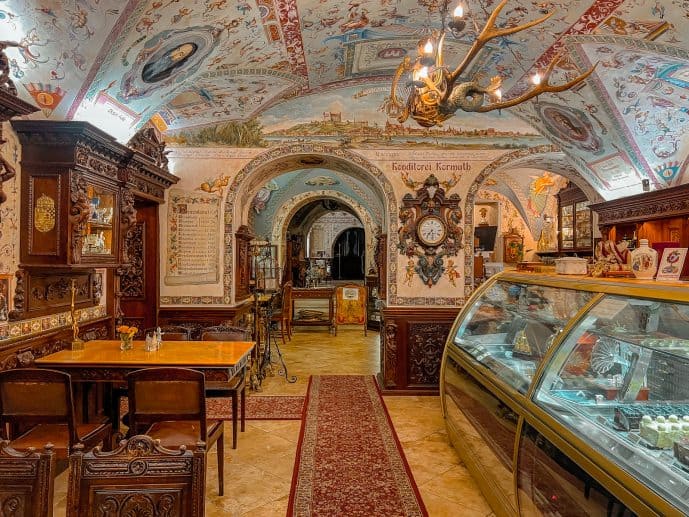 You can see the city skyline with Bratislava Castle near the ornate clock. But, it's from the time when Bratislava was called Pressburg during the Austro-Hungarian reign.
You'll also see portraits of kings, city timelines, coats of arms, and famous figures from centuries past.
Many of the antiques inside the confectionary date back to 16th – 19th centuries. The only thing that's modern is the fridge that contains all their freshly made cakes!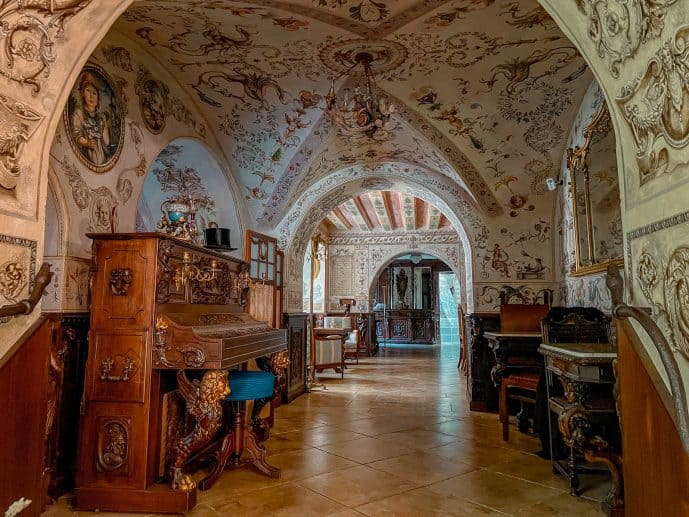 The opulent seating area
Although the main room is nice, my favourite room was the large seating area next door.
Again, this entire room was painted with murals of patron saints and beautiful angels held the lamps that lit the space.
The tables are a mix of expertly carved dark wood along with beautiful pink marble tables.
They were the perfect place for a 'flat-lay' photo of your afternoon tea. But, admittedly, my flat-lay skills are pretty rusty these days.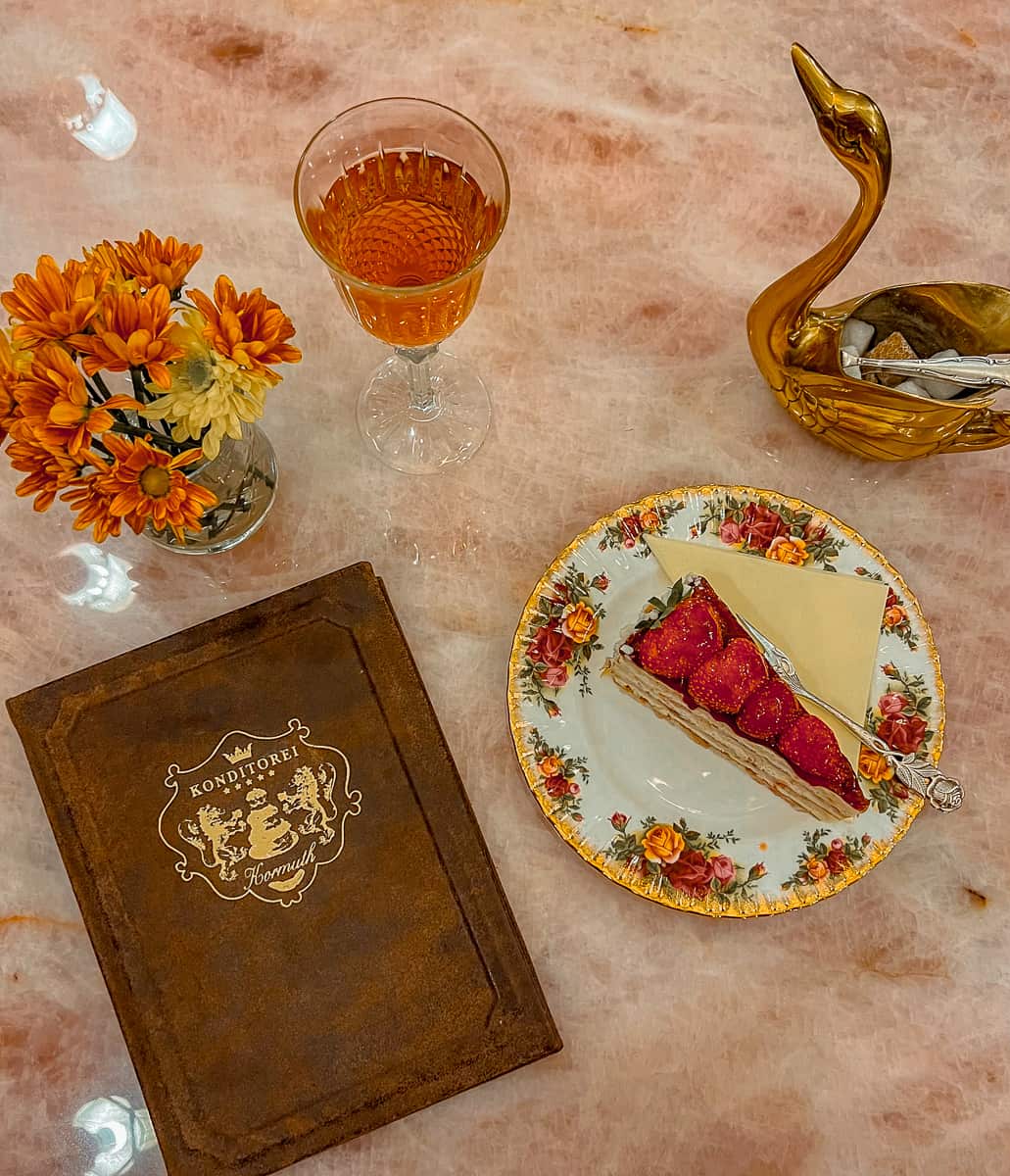 If you look up at the ceiling, you'll see a night sky of stars with constellations and signs of the zodiac.
This room is where I sat both times for my coffee and cake breaks and I had no regrets. I couldn't stop taking pictures as I was in awe.
If you sit by the window you can also watch the world go by as you sip on your drink. It was divine.
Don't forget to visit downstairs too
Before you leave the confectionary, make sure to head downstairs to check out their bathrooms.
You'll follow a winding staircase with stained glass windows to the cellar where there are other stunning rooms with character to enjoy.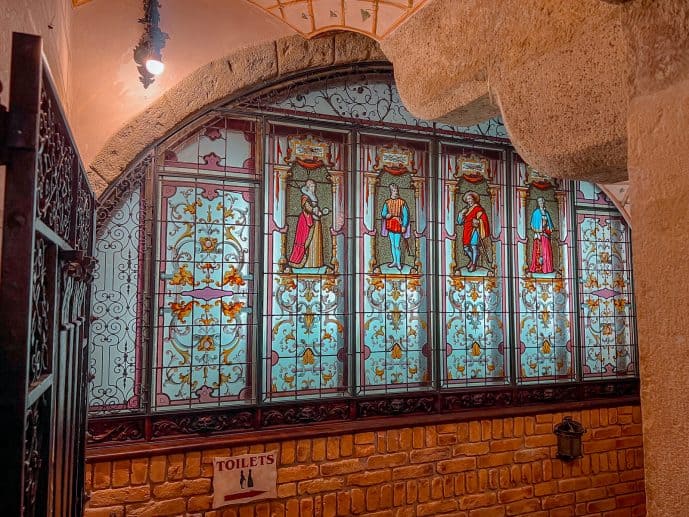 The toilets are also really pretty and have beautiful decor on the walls and sinks, there is even amazing artwork of angels in the toilet bowls!
This entire place is an Aladdin's cave of treasures. You could spend weeks admiring everything inside.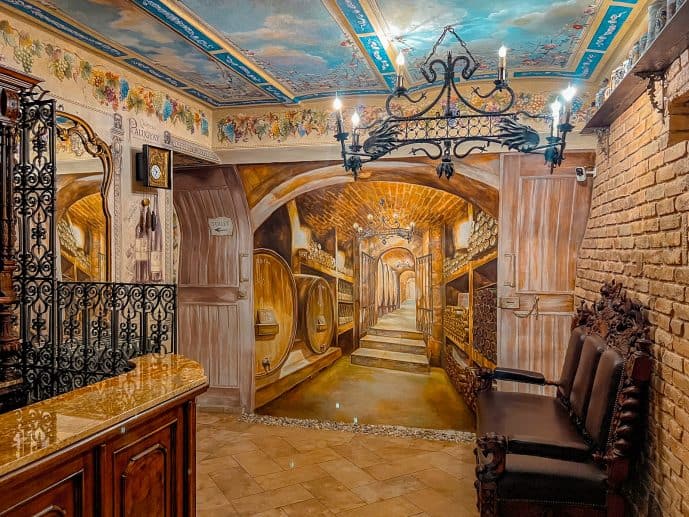 Is Konditorei Kormuth worth visiting?
It's pretty obvious by now but yes, I would definitely recommend visiting Konditorei Kormuth when in Bratislava.
Not only is their menu delectable but the venue is absolutely stunning. Every time I looked around at all the paintings and antiquities I would find something new.
It's not the cheapest place to get coffee compared to other cafés in the city but I thought that the experience was well worth paying for.
Don't skip this historic confectionary when in Bratislava, you won't regret it!
Where is Konditorei Kormuth in Bratislava?
You'll find Kormuth Confectionary on Sedlárska Street in Bratislava which is just beside Hlavné námestie (main square) and the Maximilian Fountain. So, it's really easy to locate.
As the Old Town of Bratislava is pedestrianised, the only way to get here would be by walking. But, the good news is that this city is super compact.
I found that the main attractions in the Old Town were no more than 5-10 minutes walking time apart.
The address for Cukráreň Konditorei Kormuth is 363 Sedlárska Street. Click here for a Google Pin!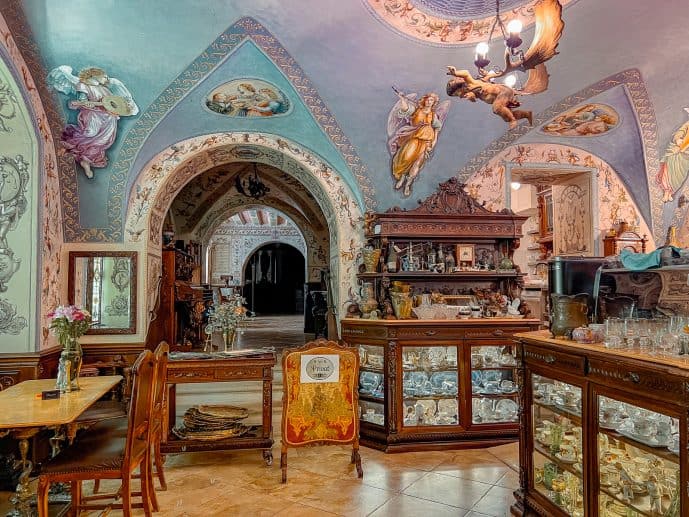 Konditorei Kormuth opening times
Konditorei Kormuth is open every day of the week in Bratislava and is open from 9 a.m.
Opening time is a perfect time to go as it's quiet. So, you have the best chance of getting a table.
It closes at 8 p.m. from Sunday to Thursday but stays open until 9 p.m. on Friday and Saturday nights.
I visited this café in the evening and it made a great place to go after sundown. I much preferred having a glass of wine and a cake in this beautiful venue than visiting one of the busy bars.
My top tips for visiting
Visit early – there are limited tables in this beautiful café and are available on a first come first served basis. I would get earlier or later in the day for a more peaceful visit.
Make sure to support the business – Many people just visit for a quick photo but I would encourage you to sit down inside for one of their coffees and try some delicious cake.
Bring cash – there is a minimum spend of 14 euros if you want to use cards. Make sure to have cash if you manage to spend less. But, with their amazing menu, it's not hard to reach that amount.
Looking for more things to do in Bratislava?
After you've spent some time in Konditorei Kormuth Bratislava, there are plenty of beautiful places to visit in the city.
Just nearby you can find the pretty pink Primate's Palace. You can wander around the gorgeous courtyards for free to visit the central fountain and there is a great café serving homemade lemonade inside.
If you have the time, I would urge you to take a tour of the palace as well. You can visit the Hall of Mirrors where the Treaty of Bratislava was signed in 1805 between France and Austria.
The Town Hall is a great place to visit near the main square where there are many statues dotted around like Čumil, the man at work.
Just nearby you can head to the Slovak National Theatre or pop along to the Blue Church in Bratislava which looks like a fairytale chapel.
Bratislava Castle is well worth a visit for its panoramic terrace. From here, you can see the incredible UFO tower over the Danube River.
I would recommend heading up the UFO tower for some amazing views of the city and a great time to go is sunset to see the sky change colour.
They even have a bar to enjoy some cocktails or you can dine in their swanky restaurant.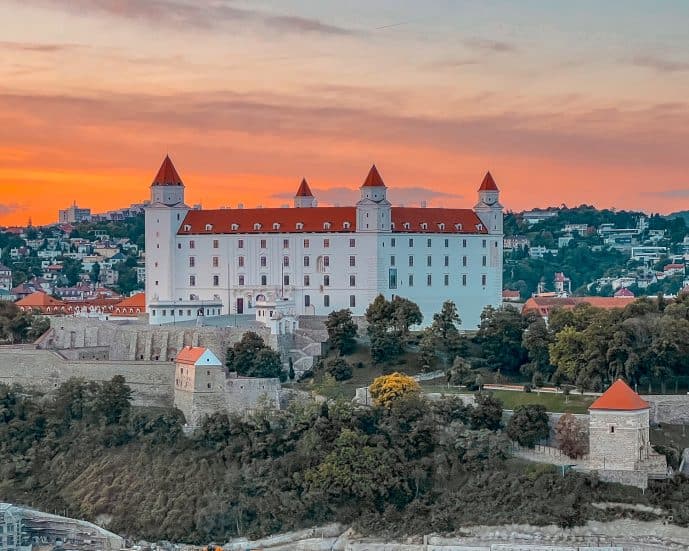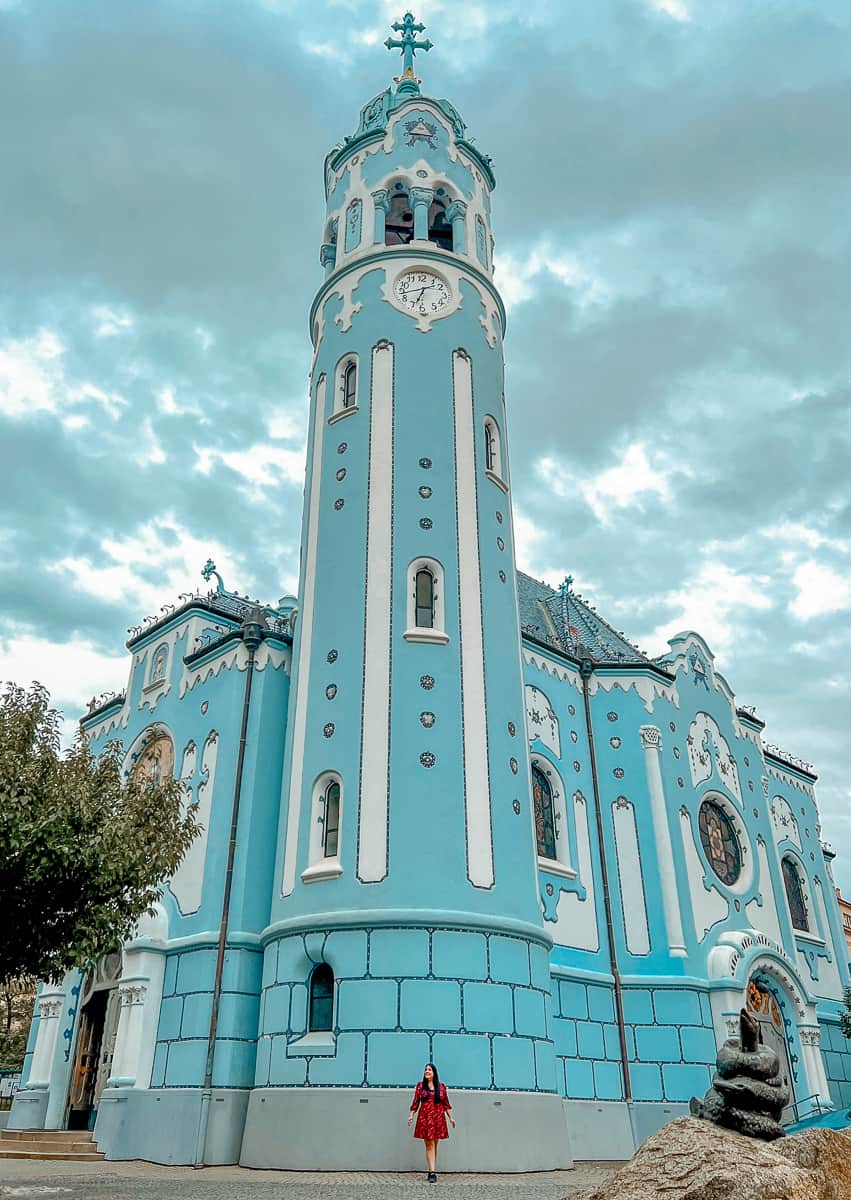 Read more of my Slovakia travel guides
Why you must visit the Primate Palace in Bratislava
Visit the fairytale Blue Church of Bratislava
Čachtice Castle – How to visit Elizabeth Bathory's Castle
Save Konditorei Kormuth Bratislava for later