When I was looking for places to stay in Udawalawe, I really wanted somewhere that felt like I was going on a proper safari.
I usually love to camp but I also like a little bit of luxury that comes with that. So, when I saw Kottawatta village it was just the ticket.
Luxury camping, or what I like to call it; glamping! Kottawatta village is a resort based in Udawalawe and is really close to the national park entrance, making it the perfect oasis in between scouting for elephants.
You can stay in their luxury boutique bungalows, use their outdoor bathrooms (!) chill out by the pool and feel refreshed after your early wake-up call for a safari.
I really rate this place as it feels like 5* luxury but it comes with a 3* price tag! Here's what you can expect and a full Kottawatta village Udawalawe review.
My complete Kottawatta village Udawalawe review
The village entrance is based on the main road and when I saw the location, I thought the worst.
I imagined loud traffic and horns keeping me up all night. But, as we walked into the resort, it was far away from the road and you enter a peaceful oasis.
The property has accommodations that cater to every budget.
You can stay in their non-A/C tents, book a room in their glamping bungalows or upgrade to a little brick wall cottage type of thing.
What I liked about it as well as there were more than just rooms around the resort. There was a large restaurant, places to relax, tree houses, a beautiful pool, and palm trees to admire.
A peek inside my crib for the night
As soon as I saw where I was staying, I was so excited to get inside!
The bungalows are kind of like a tent-style but have a weatherproof rooftop, wooden flooring, brick walls, and air conditioning.
It had a ton of electricity points (heaven), tea and coffee-making facilities, and a little dining table if you wanted to sit away from the bed.
When I walked in the double bed was beautifully decorated with petals which were a warm welcome.
The cutest part was the little elephant towel animal on the bed to get me excited about the elephants I was going to meet the next day!
It also comes with a mosquito net which was DEFINITELY needed, especially in October in the rainy season when bugs like to come out to play.
Kottawatta village Udawalawe has an outdoor bathroom!
Ashamedly, the reason why I booked this resort was due to the boutique-style outdoor bathroom that they have in the bungalows!
It was quite extraordinary and refreshing to wash and use the toilet outside for a change. Don't worry, no one can see you – each bathroom has a tall wall to shield prying eyes.
Plus, as it's a quiet area there is no one around but trees anyway.
But, I can't imagine what it's like if it's raining.
The roof only covers so much of the bathroom and the shower was out in the elements. And when it rains in Sri Lanka, it pours!
Luckily, it was sunny when I was staying there.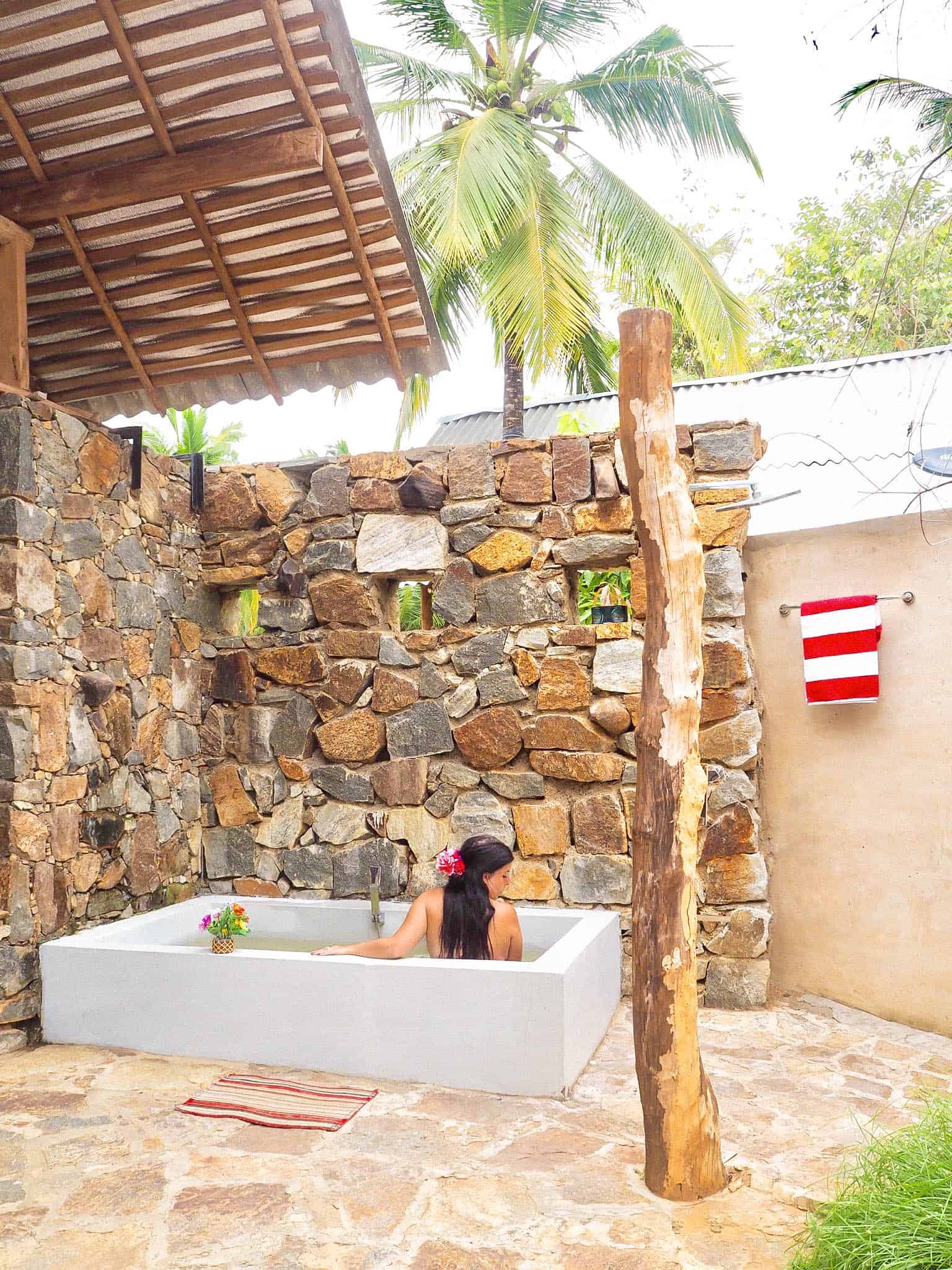 Chilling out poolside
Another selling factor for this resort is it's luxurious pool that is laced with swaying palm trees.
Here, you can relax after or before your safari. The pool was temperature-controlled and wasn't freezing like some resorts.
What I liked about it the most was the nighttime.
After the sun goes down, there are pretty little lights that glow at the bottom of the pool which makes it feel a little more special when going for a nighttime dip.
Make sure you order a candle-lit dinner service (absolutely free!)
I saw some couples enjoying dinner by candlelight and I couldn't believe the setup. There were flames everywhere!
When I say candlelight, I actually mean torches, candles, and tea lights all set up for a romantic meal for two.
I asked how much extra it was for the service, they said it was absolutely free!! I couldn't believe it.
Being by myself, I was doubting whether I should go for it. Would it be sad as a solo female to have this dinner alone?
Then I thought, f**k it, and just went for it.
I decided to go for the more bohemian setup of the carpet on the floor and cushions so it didn't look like I was stood up for a dinner date haha. It was truly a magical dinner!
I felt like I was a witch in the American Horror series Coven or in the movie Ninth Gate. It was in my element.
One of the waiters, even took my arm to show me to my seat. It was so cute!
Warning: If you do this for your girlfriend/boyfriend they will 100% think that you're going to propose. Just saying.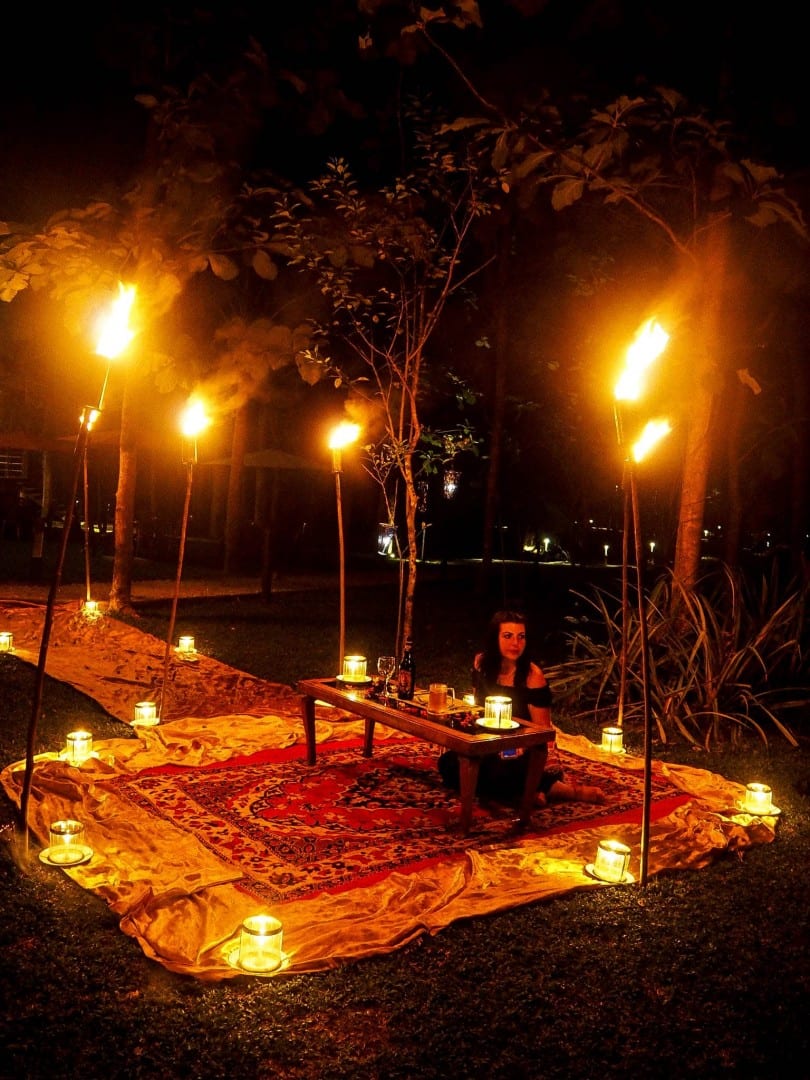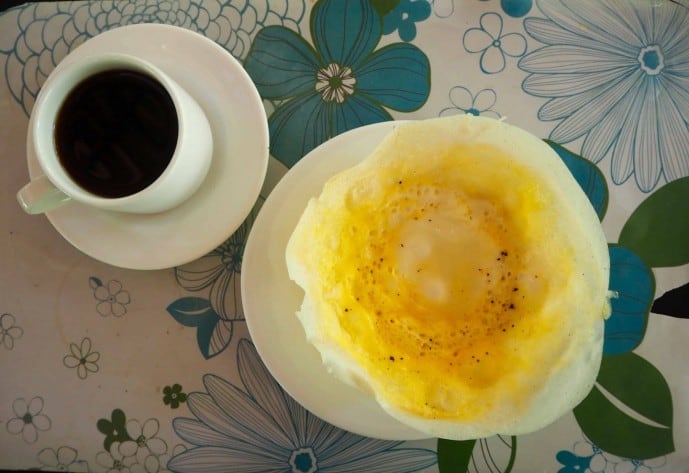 Safari services they offer
The safari service they offer is reasonable and doesn't come with a hefty 5* price tag!
Safaris are 4000 rupees for a morning or afternoon session and come with a private vehicle. So, if you're alone, it may be worth pairing up with a couple or another solo traveller in the hotel to reduce the cost.
The reception can easily ask around for you to try and get you a person to share with.
You will then need to pay an extra 3500 rupees for the entrance permit for the National Park.
It's good to note that you need to pay this every time you enter the park, it's not a 24-hour permit kind of gig.
So, if you want to do two safaris in one day, it will be 8000 rupees plus 7000 for the park fees.
If you want to read more about the safari in Udawalawe you can read my complete guide here!
Some things to consider before checking into Kottawatta village Udawalawe
The only downfall I found with this property was the bugs that came inside the bungalow.
It was the rainy season of October so it is common for bugs to be everywhere. But, you also have to think you're in and around the jungle in Udawalawe.
There were little beetles, ants, and other little bugs crawling and flying around. That's where the mosquito net comes in handy.
I used to tuck it completely under the bed so none came in! If you see any holes in it, make sure you tell them to plaster it up!
The food was tasty here, but not really good quality reflecting the price of menu items.
As I wanted to stick around the resort (and enjoy that amazing candlelit dinner) I ate there, but there are other options if you were willing to walk/get a tuk-tuk into the main town.
Final Words…
I really enjoyed my stay at the Kottawatta Village Udawalawe and seriously didn't want to leave.
Not only was it a taste of luxury for a small price tag it had a really nice vibe to the place and I would go back in a heartbeat.
I highly recommend Kottawatta village as your home if you're planning on taking a safari in the National Park.
Check here for available dates and rates for Kottawatta village!
Read more of my Sri Lanka travel guides!
My ULTIMATE Sri Lanka Bucket List
The top places to visit in Galle Fort
A complete guide for Nuwara Eliya
Tips for hiking up Sigiriya Rock
The ancient town of Polonnaruwa
The ULTIMATE Udawalawe Safari guide
A complete guide for the Sri Lanka south coast