If you're looking for truly unique, local experiences on your travels in West Bengal. Then, you have to visit the clay statue village of Kumortuli in Kolkata!
There are over 500 pottery workshops in this quarter where the potters make lifelike statues of Hindu Gods and Goddesses from the clay of the Ganges River.
As well as learning about Hindu Culture, you can witness the traditional heritage of Kumortuli, seeing the potters or 'karigars' hard at work.
For me, this visit was totally unexpected on my guided tour of Calcutta. So, it was even more exciting when we arrived here.
I couldn't believe the skilled craft that goes into making these statues and was even more intrigued by the story behind it.
So, here are all the reasons why you need to visit Kumortuli, Kolkata.
This includes why the tradition of Kumortuli began, the process of making the statues, and what happens to the statues too.
What is Kumortuli?
The word Kumortuli or Kumartuli originates from the traditional Bengali word 'Kumore' which loosely translates to 'Potter' in English.
Over time, it has developed into the name Kumortuli.
During the British Raj (1858 – 1947), Joseph Holwell a member of the East India Company separated the Indian districts in the North of Kolkata by their skill set.
So, he created a series of bazaars in Chitpur, or 'Black Town'. 'Coomartolly', as it was called back then, was the Potters quarter.
There were also quarters for wine merchants, tanners, carpenters, chicken sellers etc.
Although in the North of the city, many tradesmen have come and gone over time. The potters or Karigars of Kumortuli have always remained. Selling their clay pots and statues for centuries at Burrabazar.
Today, there are now over 500 workshops in amongst a labyrinth of laneways that build clay statues of Hindu idols.
Although they are here all year, the best time to visit is around Durga Puja when the streets are filled with statues for the religious festivities.
Top tips for visiting Kumortuli
Before you decide to visit Kumortuli in Kolkata, I thought I'd give you a heads up on a couple of things you should know before you go.
Although the potters quarter is open to all, it's best to be prepared and know what to do while you're here;
Clothes / footwear – Walking around Kumortuli is almost like a muddy labyrinth and quite hectic. The floors are usually wet so I would watch your step and make sure you don't slip over into anything. I wore a long dress with Birkenstocks which was less than ideal.
Tipping / fees – During Durga Puja you may be charged to walk around the area and to enter some of the workshops. But, it's also always nice to tip some of the potters for their time. The trade is a dying one and many look for alternative work as they don't earn a lot here.
Asking permission for photos – Before entering any workshops or taking any photos of the potters or their statues, always ask their permission. A lot of the Karigars are really friendly and want to get to know you, but it's a matter of respect to ask.
Be careful – of pottery and people – The area is really congested, cramped and hectic. Space is limited in Kumortuli, especially around Durga Puja when people are making hundreds of 20 foot clay statues. So, mind your step and watch out for the people moving statues and dragging them through the street. You don't want to get in their way.
Be respectful – I shouldn't have to say this, but please be respectful of the artists and their craft while walking around here. This all part of the local culture, so come armed with an open mind and heart.
8 amazing reasons to visit Kumortuli
One of the great reasons to visit Kumortuli is that it wouldn't be a place you would just stumble upon in the city. It's almost like a hidden gem that's waiting to be discovered.
This maze of potter workshops isn't mentioned in the Kolkata 'bucket lists' as a super popular attraction like the Victoria Memorial.
Although I do love visiting the tourist spots in any city, visiting unusual places is also one of my favourite past times.
You won't find many tour groups or crowds wandering around here and it hasn't been ruined by over-tourism either. Making it a really nice authentic experience rather than a tourist trap.
You won't be charged for every step you take, nothing felt forced and it definitely isn't an 'Instagram' hotbed, so you can just meet the local karigars and watch them do their good work.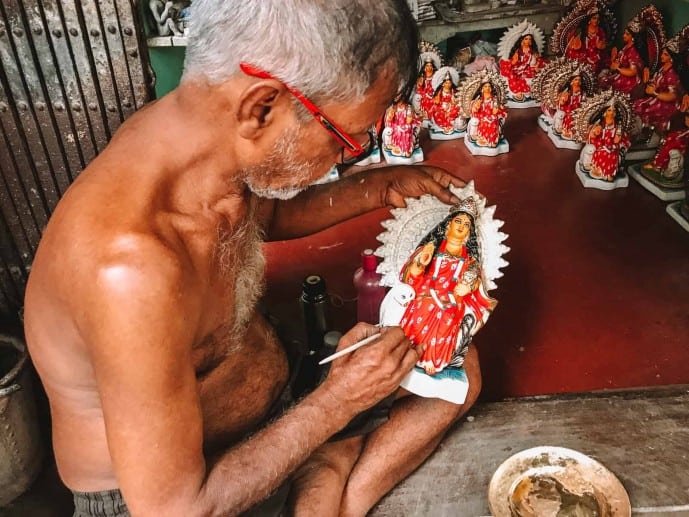 2. There's a long history of Durga Puja and Kumortuli
Kumortuli has a long history and tradition associated with Durga Puja, one of the biggest festivals celebrated in Kolkata each year!
It's an event to celebrate the Hindu goddess Durga, the goddess of war, during the period of Navaratri.
Although Durga Puja is celebrated by all those who believe in the Hindu faith, Kolkata's celebrations in West Bengal are particularly special.
The city comes alive during this time, with millions of pilgrims walking the streets to visit Puja Pandals.
These are temporary alters and works of art created for the Goddess.
There are also street parades, all-night parties, worship that goes on 24 hours a day and idols from Kumortuli are immersed in the river. It's HUGE and you should definitely visit while it's all going on.
Although this festival has roots dating back to the 1600s, it wasn't really celebrated with idols until the 18th century.
A legend has it that Raja Krishna Chandra Roy was the first royal in Bengal to worship Durga with an idol after the goddess appeared to him in a dream.
He ordered a potter from Krishnanagar to make the idol in Kolkata.
Ever since wealthy Bengalis have ordered idols to be made to worship her. So, potters settled here in Kumortuli.
After the Indian independence in 1947, the whole city has celebrated Durga Puja as a huge event that goes on for several days.
It's a religious holiday to spend with families and friends.
The potters of Kumortuli work hard to provide all the idols needed for the celebrations every year and even export them for those of the Hindu faith around the world.
3. There are over 500 pottery workshops around this area
While you walk around, you'll be amazed by just how many workshops are packed inside this area.
It's like a labyrinth of laneways, with storage areas all crammed in, using up all the available space there is!
Many of the karigars will work in small stalls, selling miniature idols for people who want to buy their homes.
But, some have huge warehouse-like rooms to store the bigger idols they are creating. The clay statues can be anything from 5 feet to 30 feet! So, they need lots of room.
You'll see doorways and warehouses all over, with different stages of the clay models. From the straw-like shapes to the clay outline, to the finer details or fully painted statues!
It's amazing what you can find and you could get lost for hours here.
4. Kumortuli is where all the clay statues are made for festivals and events
As I visited the day after Durga Puja, the whole of the area was filled with Durga and Kali statues. Every workshop was making them to cater to the demand.
However, as well as making statues for Durga Puja of the goddess Durga. The karigars of Kumortuli make other statues all year round as well.
You'll see them making statues of Kali, the monster goddess, Laxmi, the Goddess who leads to one's goal, and Ganesha, the God of Luck. Krishna, the operator God, and Shiva, the destroyer too.
As well as religious idols, they also make statues of animals, busts of famous figures, neoclassical designs, and anything that is commissioned for them to make!
So, if you did miss Durga Puja, don't worry. There will always be potters working hard in Kumortuli throughout the year.
5.
Here, you can see the Kumartuli idol making process from end to end

The biggest takeaway I got from visiting this area is learning about the whole process of how these statues are made.

From where the clay is sourced from, to the process of making them, the hours of work that goes into carving, the decoration, and then where the statues end up!

The whole cycle was fascinating to learn. Here is a quick overview of the Kumartuli idol-making process;
Firstly, the mud is taken from the clay at the bottom of the Ganges river
I didn't know this, but all of the clay that is used for the statues here is sourced from the bottom of the Ganges river nearby.
The Ganges is considered holy in the Hindu faith and is a place where many bathe, drink and wash their clothes every single day.
So, the fresh clay that they source from the river is considered holy too and the appropriate tool to make these religious idols.
A weird fact I learned on my tour is that if someone wants to make an idol of Durga, a priest must take soil from outside the home of a prostitute.
This soil is called 'punya mati' or 'Nishiddho Pallis'. This is then joined with the clay of the Ganga, Cow's urine, and Cow dung too.
All these four things must be present to prepare an idol of the goddess. They then perform a small ritual before using their hands to make the clay statue.
Second, they craft the shape out of straw
The second part of preparing an idol is to make the initial shape or framework made out of straw.
During my visit, I saw many of these statues in this stage of the building. It almost looked like a mannequin without any features.
Some would have many arms, to represent Kali. Some were human, and others looked like the beginning of animals.
The potters bind the straw together using other pieces of straw or string. It takes a long time for this process and some imagination to foresee what the idol will look like in the end.
Apparently, the karigars source special straw from the Sundarbans area to make the statues.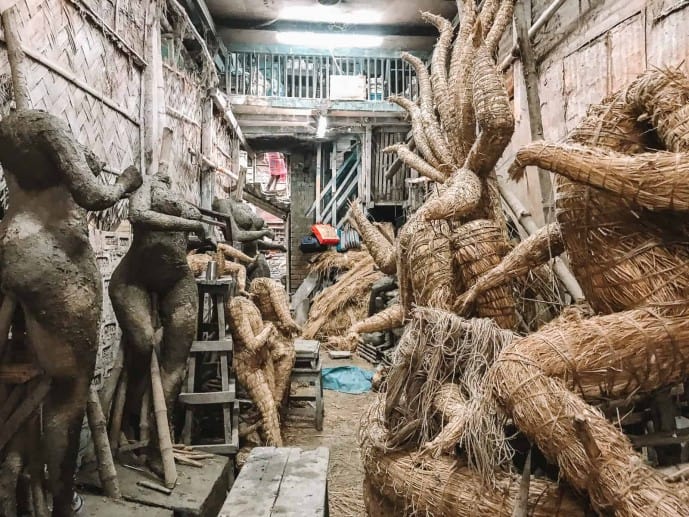 Then the clay is added to the idol is left to dry
Once the initial outline of the statue is created, the clay from the Ganga is added by hand.
Plus, in the case of Durga, the 'punya mati' and cows pee and dung. The idol is held up with bamboo.
The Potters will get to work adding layer upon layer of clay to the straw outline and smoothing it with tools as they go.
Once the initial hay statue is covered in a smooth layer of clay, the statue is then left to be sunbaked…if the sun is out of course!
As we arrived in monsoon, many had fans drying their statues to speed up the process for the festivals.
The fine details are added and then it is painted
Once the first layer is dry, the potter will get to work adding the fine details and features like the head with facial features, hands with fingernails, feet, toenails, and body parts, everything!
This part is one of the hardest as they have to work for a long time on all the finer details. It could take a few days until the potter is happy with his work.
Again, once finished, it is left to dry naturally until completely sun-baked.
The next part is the painting process where they will add all the colours to the idol.
For Durga, the skin is mostly yellow, for Kali the skin is black, Krishna is blue and Ganesh is green.
Their eyes and eyelashes are painted on, eyebrows, bindi, lips, and everything to make it look realistic.
The statues are then decorated with wigs, clothes and jewels
The final part of preparing the idol is to dress it in clothes.
They add colourful robes in sacred colours, add wigs and head crowns to make the idol more authentic.
Others will even have instruments added to hold in their hands, like Krishna and his Bansuri.
Once everything has been done, the idol is complete and is collected or bought by someone for the festival!
Then the statues are collected and taken away for immersion into the river
Once the statues are finished they are usually collected by families, temples, pandals, or for religious events. During Durga Puja the statues are collected to be immersed into the River Ganges.
So, the statue almost does a full cycle where it starts in the Ganga and ends in the Ganga. Many believe that by putting the statue back into the river, they are connecting the Goddess with Nature.
You'll see many of these statues floating down the river during the festival.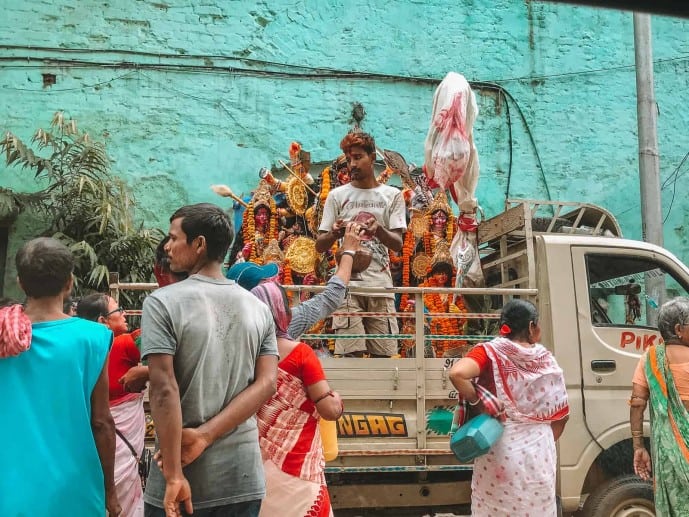 6. It's a great way to learn about Hindu culture and traditions
Of course, you can read about the Hindu religion on Google or in a textbook. But, there is nothing quite like learning through seeing and in action.
If you visit one of the temples or pandals during Durga Puja, you'll probably see the end product of the idol. But, in Kumortuli you really get to learn the whole process and why they're needed.
I'm definitely someone who needs to see the whole cycle of something to really make it sink in so that I understand.
I'm always questioning the 'why do you that?' and 'how does it work?', so I really get it, If you see what I mean.
So I found Kumortuli really fascinating and I learned a lot while I was here.
Now, when I see the idols around the city or being immersed in the river, I understand why.
7. You'll get to meet and speak to some of the friendly potters here
I couldn't get over how friendly everyone was here and eager to get to know you.
Although I was there, eager to see them at work, I really didn't expect them to be so interested in who I was.
Of course, we had a language barrier but our guide helped by answering questions and replying. So, it was a great way to meet the locals in the area and see the place from their perspective.
Many were extremely busy and didn't take their eyes off their work, which as an artist, I totally understand. But, some would take a break and just say hello!
Nothing was forced, no one was begging for tips and no one wanted to scam you either. It was just great.
Although many of the potters around the area are men and traditionally the potters quarter is a male-dominated industry, you will find some women potters here too. Which I thought was pretty epic!
8. It's a unique experience that you won't forget!
As cheesy as it sounds, the more you learn, your perspective changes and you'll expand your mind.
The reason why I have always travelled and explored places like this is to grow and to break down my limiting beliefs.
I want to experience different cultures, meet different people and get out of my comfort zone.
Kumortuli checked all the boxes and did just that! It's truly a unique experience to walk through the maze of Kumortuli and at times can be quite hectic.
But, I think that this experience was one of the most memorable of my time here in Kolkata.
So, make sure you pay a visit and support the tradition of karigars at Kumotuli!
Where is Kumortuli in Kolkata?
You can still find Kumortuli in its original neighbourhood since the 17th century in Burrabazar.
This neighbourhood is located to the North of the Hooghly River.
There are plenty of ways to get here by metro, train, ferry, or taxi;
How to reach Kumortuli
Kumortuli by metro
The Kolkata underground metro is a cheap and efficient way to get around the city.
But, it is hot and sweaty work as there is no air conditioning down there! Just fans seemed to generate more hot air. You simply buy a token at the machines or the counter. Tokens are priced by the kilometres you'll go.
It starts at 10 rupees for 5-10 kilometres. The max price is around 25 rupees for 25 kilometres and above.
There is only one metro line, so you won't get lost. The best metro stop for Kumortuli is Shobhabazar Sutanuti and it's a 10-minute walk from there along Abhay Mitra Street.
Kumortuli by taxi
The yellow ambassador taxis around Kolkata are also a great way to get around. But, they can be a bit of a scam unless you put the meter on. So, make sure you ask!
Also, Uber works really well here and I found it a lot cheaper. Click here for a special discount code on your first ride.
Kumortuli by ferry
There are many local river ferries that will transport you over and around the Hooghly River.
The closest stop for Kumortuli is the ghat at BagBazaar. It's a fun and local way to get around the city and they depart every 15-20 minutes.
They run until around 8.30 pm and tickets are 6 rupees per head.
Things to do after Kumortuli in Kolkata
So, after you've explored the Potters Quarter, what now? Well, if you're done exploring all the colonial attractions and are craving some local experiences to see the life of the city.
I have a few up my sleeve for you. From more chaotic markets, Hindu temples packed with pilgrims, street food, and botanical gardens;
Click here to read my ULTIMATE Kolkata travel guide
Flower Market at Mullick Ghat
If Kumortuli didn't put you off, there are many different markets that you can experience too. One of the best ones is the flower market at Mullick Ghat under the Howrah Bridge.
As Asia's biggest flower market, you can expect an endless trail of flower stalls and punters bartering for the best sales.
The best time to visit the market is at sunrise when the flowers come in for the day. But, the market is there throughout the day too.
I loved exploring this market and it was well worth getting up for! Just prepare for muddy floors and for it to be really busy.
Click here for my top tips for visiting the flower market in Kolkata
Kalighat Temple
Kalighat Temple is one of Kolkata's most famous Hindu temples. It's also the busiest, so you can expect big crowds throughout the day and especially at festivals and in the evening time.
It's a temple dedicated to the goddess Kali and homes one of the 51 Shakti Pithas. I visited one of the Shakti Pithas in Guwahati where I learned all about them.
Long story short, Shiva's wife Sati died and Shiva was so outraged and upset he carried her body with him in mourning. Vishnu then decided to cut her body up into 51 pieces.
The sites where these pieces fell are now called Shakti Pithas and have religious temples around them. You can visit them all on a pilgrimage through India if you wish.
The temple is really busy and you'll walk through a whole load of stalls selling religious souvenirs like conch shells, bracelets, plus offerings to bring to the goddess, etc before you go in.
Visiting the temple is a little bit like a tourist trap though. You can either wait for a few hours in a queue to enter or pay for a 'VIP' fee where you can skip the queues.
Most tourists opt for the fee. The Brahmin's also do this for domestic locals too who don't want to wait hours to pray.
So, you'll be guided around the shortcuts in the temple, blessed by the priest and given a red yellow thread or 'Kautuka'. I still wear mine now!
New Market
Kolkata
New Market is another interesting market area in the city. Even more interesting for us as the whole area was flooded!
It was definitely an adventure but something I didn't expect was that we walked through the abattoir or slaughterhouse. So, think of mirky water moving a lot of stinky animal entrails around. Yeah, not pretty.
We then walked through the fruit market which was a relief. Then, we headed into the main building of New Market.
This was like an indoor market area where you had, again, a massive maze of stalls to buy anything from clothes, street food, jewellery etc. It was a HUGE bazaar.
During the monsoon it was so slippy on the floors, I was almost ice skating around here. Don't forget to visit the Great Eastern Bakery from the oldest hotel in Kolkata; the Lalit Great Eastern.
Although in their 5* hotel they sell bakery goods at a sky-high price, they sell a lot of their cakes in here too for a fraction of the cost! I had one of their gooey chocolate brownies for only 50 rupees which was delish.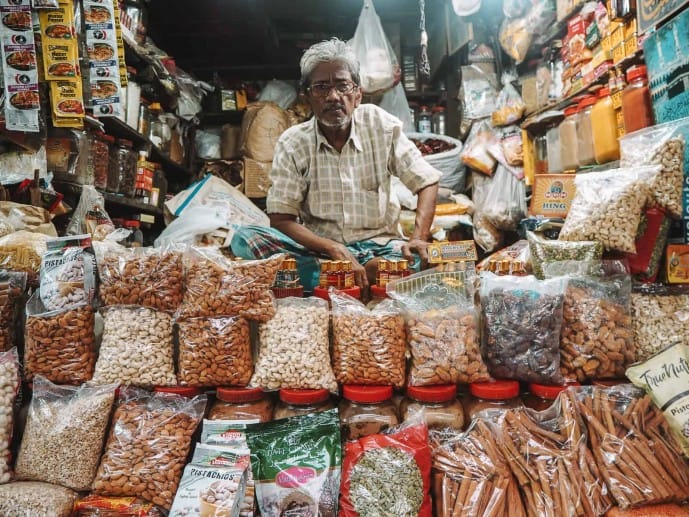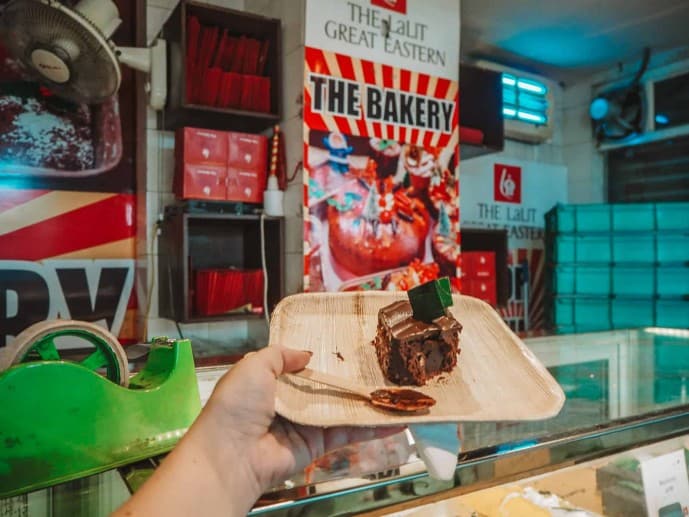 See The Great Banyan Tree!
Banyan Trees are sacred in Hindu Culture and they are mentioned a lot in religious texts as what God provided as shelter.
Hindu Gods and Goddesses used Banyan trees for shelter in the stories and it was also a resting place of Lord Krishna.
In Hindu Mythology, Lord Vishnu represents the bark of the tree, Brahma is in the roots and Shiva is in the branches. The tree then symbolises Trimurti.
Kolkata houses one of the biggest banyan trees in the whole world near the city. It's over 250 years old making it one of the oldest ones too.
It's called the Great Banyan Tree and can be found in Acharya Jagadish Chandra Bose Botanical Garden.
I went expecting one tree, but it's actually a series of trees that all connect underground. It's 3.5 acres, so it's the widest tree in the world too!
As a lot of the park was flooded, I had to take a tour by electric buggy. Which was fine by me as it was far too hot to walk the 3.5 kilometres there and back anyway. It's a really big park that covers over 270 acres!
You can't touch the tree, but you can see it over a fence. Within the park, there are also lots of rare flora and fauna like giant lily pads from the Amazon.
Click here to read all about the Kolkata Botanical Gardens
Read more of my Kolkata travel guides
The ULTIMATE Kolkata bucket list
Taking a Ganges River Cruise in Kolkata
A complete guide for South Park Street Cemetery
Why you need to visit the Victoria Memorial
Where to stay in Kolkata
I stayed in the amazing Oberoi Grand in Kolkata. As one of the oldest hotels in the city, it's like a step back in time and an oasis after a busy day of exploring.
Whether you chilling out in your deco room, having a bath in your tub, or chilling out by the pool, there are a lot of options to relax in peace.
Their buffet and afternoon tea at ThreeSixtyThree is amazing and the staff were super friendly and eager to please. I really felt like royalty here and they looked after me really well.
Click here to book a room at Oberoi Grand Kolkata for the night
Save this Kumortuli Kolkata guide for later!