Are you looking for all the Lacock Harry Potter filming locations? Then, I have a complete list of them right here.
Although Harry Potter was filmed over two decades ago, this pretty Cotswolds village still draws in plenty of Potterheads today.
So, if you wanted to stroll down the corridors of Hogwarts, look into the Mirror of Erised, or attend a potion class with Professor Snape. You can do all that here at Lacock!
Here's the best self-guided tour of all the Lacock Harry Potter filming locations 2023.
History of Lacock
Lacock is a gorgeous quintessential village in the Cotswolds that looks like it has been trapped in time. As one of England's oldest villages, you'll find a wealth of ancient medieval buildings on every corner!
It has a history since the Saxon era when the village made an income from the wool trade. At that time, it was recorded in the Domesday books as lacuc meaning 'little stream'.
An Augustinian abbey was founded here in 1232 by Ela Countess of Salisbury. Later, after the dissolution of the monasteries, the estate was sold to William Sharington and then the Talbot family inherited it by marriage.
The Talbot descendants completely transformed the abbey into a Classicist family home. Later, Henry Fox Talbot inherited the property and he is known as the inventor of photography!
The estate and village were then gifted to the National Trust in 1944 by Matilda Talbot.
Today, it's famous for being a starlet on the big and small screens! It first grew to fame after featuring in the 1995 version of Pride and Prejudice.
It's also featured in the popular television series Cranford, Downton Abbey, and The White Princess.
Holly wood location scouts never fail to miss Lacock's charm and so it's featured in huge films such as The Other Boleyn Girl and Mariah Mundi and the Midas Box.
But, by far, the most famous movies filmed in Lacock have to be the Harry Potter series and, more recently, Fantastic Beasts: The Crimes of Grindelwald!
Which Harry Potter was filmed at Lacock?
There were actually three Harry Potter movies that were filmed in Lacock.
They were Harry Potter and the Philosopher's Stone (2001), Harry Potter and the Chamber of Secrets (2002), and Harry Potter and the Half Blood Prince (2009).
Can you believe it was that many years ago now?!
Also, the latest production from the Wizarding World is Fantastic Beasts: The Crimes of Grindelwald. This was filmed at Lacock Abbey in 2018.
What was Lacock used for in Harry Potter?
There were many places that were used to film Harry Potter in Lacock in all three movies.
It stood in for the corridors at Hogwarts School of Witchcraft and Wizardry that Harry, Ron, and Hermione walk down together.
It was also used for many of the Hogwarts classrooms like Professor Snape's Potion Class and Professor Quirrel's Defence Against the Dark Arts lessons.
Plus, the scenes with the Mirror of Erised where Harry sees his parents were filmed here.
You can even pay a visit to Harry Potter's parent's house in the village and Slughorn's Hideaway in Budleigh Babberton.
All of these locations can be easily accessed on foot with a mini self-guided Harry Potter tour as the village is quite small.
Here is a complete list of the most magical Lacock Harry Potter filming locations that you must visit!
Lacock Abbey Harry Potter filming locations
So, the most recognisable Lacock Harry Potter filming locations that everyone wants to see are located inside Lacock Abbey.
This incredible place was used for scenes at Hogwarts. So, if you were disappointed that you didn't get your Hogwarts letter, this is a great opportunity to finally travel there!
It was first founded in 1232 by Ela Countess of Salisbury. She was a peeress and an immensely important female figure in the Medieval era. She founded the abbey for learning and worship.
Many nuns who stayed here were from noble families. They would come with extensive land and a dowry for the church in the hope that their family members could guarantee an entrance to heaven. The nuns had a strict daily schedule of learning and prayer and suffered in harsh conditions as a sign of sacrifice for their faith.
Later, after the dissolution of the monasteries, the property was sold to Sir William Sharington who transformed it into a private residence. He actually had to buy the land twice as he was nearly executed at the Tower of London for embezzling coins at the Bristol Mint!
Then, in 1714, John Ivory Talbot took over the land and turned the ancient abbey into a grand family home. It underwent a complete transformation in the Classicist style.
His descendent William Henry Fox Talbot then inherited the property in 1800. He is famous for inventing photography! There's a fab museum here that tells you of his story. You'll find the location of the first-ever photograph at the oriel window.
Unlike the village, Lacock Abbey is a paid attraction that is owned and protected by the National Trust.
Just a heads up, all of the Lacock Abbey Harry Potter filming locations can be found in the Abbey Courtyard on the grounds before you reach the entrance of the house itself. So, make sure you don't miss it!
1. Lacock Abbey Cloisters / Hogwarts Corridors
If you have ever wanted to travel to Hogwart's, now is your chance!
The Lacock Abbey cloisters surrounding a courtyard were used to portray the corridor scenes at the magical school.
There were plenty of scenes where you see Harry, Ron, and Hermione walking here. Plus, they saw plenty of Hogwarts students and teachers walking between classes.
McGonagall introduces Harry to Oliver Wood here to begin Quidditch lessons. Also, in the Philosopher's Stone, Harry wears his invisibility cape to escape Snape (who is shouting at Quirrel).
In the Chamber of Secrets, Harry hears the Basilisk talking to him in these very cloisters.
There are also plenty more locations in England where they filmed cloisters for Hogwarts like Gloucester Cathedral and Durham Cathedral courtyard.
If you were hoping to snap some empty photos of these gorgeous cloisters, all I will say is to come armed with patience!
It's often crowded, so I would recommend visiting as early as possible or waiting for a lull in between tour groups for this Lacock Harry Potter filming location.
2. The Lacock Abbey Warming Room / Quirrel's Defence Against the Dark Arts Classroom
This room at Lacock Abbey would have been the nun's favourite room as it was the only place that they were allowed a fire in!
Yep, and what's more the fire could only be lit from November to Easter! So, it would have been freezing for the nuns.
In Harry Potter and the Philosopher's Stone, the warming room was used by Professor Quirrel as his Defence against the Dark Arts classroom!
It was filmed on set without any CGI and was decorated with all sorts of plants, curious things, and of course Quirrel's pet iguana.
The huge cauldron here that features in the movies was not a Harry Potter prop that has been left behind. In fact, it has been a part of the abbey since the 1500s!
It was made in Antwerp but there is very little recorded of it. So, no one really knows why it's here! But, there are many theories with the most popular being that it was used by the nuns for cooking.
There is a local legend that says that the cauldron was used for Queen Anne in the early 1700s. Apparently, pork and a sack load of peas were prepared for Her Majesty to eat.
3. Lacock Abbey Sacristy / Snape's Classroom
I think any fan of the Harry Potter series remembers their first introduction to Professor Snape. Stern, cold and unforgiving – he definitely gives you the chills.
The Lacock Abbey Sacristy was used for his Potion's Class in Harry Potter and the Philosopher's Stone.
As the classroom is meant to be underground, in this Lacock Harry Potter filming location they covered up most of the windows to give it the desired dark and buried effect.
Sacristy translates in Latin to Sacred and this place would have stored the abbey's most prized possessions – books!
Religious places like this were huge learning centres as well as houses of faith. The nuns were in a privileged position as they were taught to read (most women in medieval times were not educated). They would often absorb knowledge in the abbey cloisters.
As books had to be hand-painted and written in medieval times, they were considered valuable treasures that needed to be well protected. So, they were stored here.
4. The Lacock Abbey Chapter House / The Mirror of Erised
Along the cloisters, you'll find an entrance to the Chapter House at Lacock Abbey. This is another Lacock Harry Potter filming location!
This amazing room with a vaulted ceiling was used for the Mirror of Erised scenes in the Philosopher's Stone.
Harry Potter fans will need no reminder but for those not in the know, this magical mirror reflects a scene of the most desperate desires in your heart!
It's actually quite a sad part of the movie, as when Harry removes the invisibility cloak he looks into the mirror and sees his parents for the first time.
This room also featured briefly in the Chamber of Secrets when the students are revising. The students are gossiping about Harry and wondering if he's the heir of Slytherin as he spoke Parseltongue in class!
5. Lacock Abbey Courtyard / Fantastic Beasts
Okay, so not technically a Lacock Harry Potter filming location but the Fantastic Beasts series is part of the Wizarding World.
If you haven't seen Fantastic Beasts it's another movie production by J. K. Rowling which is a prequel to the Harry Potter timeline. It's set in the 1920s.
The story surrounds Newt Scamander and his Mary Poppin suitcase full of curious creatures!
In the movie, you can watch Albus Dumbledore as a young professor at Hogwarts. Also, you can see some older pure-blood students like Leta Lestrange donning some vintage Hogwarts house robes (which are navy blue not black).
The Chapter House, Abbey Cloisters, and some of the abbey grounds were used as Hogwarts in Fantastic Beasts: The Crimes of Grindelwald. You'll see these locations in Leta's memories when she returns to Hogwarts.
Lacock village Harry Potter filming locations
So, once you've finished snapping all your photos of Lacock Abbey. Where to next?
Well, there are plenty of Lacock village Harry Potter filming locations to visit that are absolutely FREE!
Here's a list of places to look out for as you explore.
6. Potter Cottage – Harry Potter's parents' home
If you have ever wondered where they filmed Lily and James Potter's home in Godric's Hollow, then you only need to check out the pretty residence sitting behind St Cyriac's church.
In the stories, Hagrid and Harry are in the Leaky Cauldron and Hagrid tells the story of Harry's parents in the Philsopher's Stone.
We see a flashback of He Who Shall Not Be Named trying to murder Harry's family but his killing curse was rebounded on him by Harry Potter!
Tragically, Harry's parents die trying to protect him and Harry is sent to the Dursley family by Dumbledore with a lightning bolt scar.
From then on, Harry became known as 'The Boy Who Lived' and his future would be inevitably entwined with Voldemort's.
This Lacock Harry Potter filming location really is the place that started it all and you can find it to the right of Lacock Pottery.
The location of Potter Cottage changes in the Harry Potter and the Deathly Hallows Part 1 when it switches to Lavenham, a real-life Godric's Hollow.
However, please keep in mind that this is a private house so be respectful of the residents here. There is even a 'private' sign now on the gate and high bushes which tells you all you need to know about how they feel! You can have a quick peek from the outside gate, but don't be too nosy.
7. Horace Slughorn's Hideaway in Budleigh Babberton
In Harry Potter and the Half-Blood Prince, Harry's date with a waitress is rudely interrupted by Dumbledore.
He whisks Harry away to a house in Budleigh Babberton where Horace Slughorn is hiding away from Death Eaters! Dumbledore wants to convince Slughorn to become a professor at Hogwarts.
They come in to find Slughorn is pretending to be an armchair and the house is in tatters so Dumbledore puts it back together with magic.
The outside of this hideaway, where Slughorn agrees to be a professor at Hogwarts (on condition of a raise), can be found on Cantax Hill.
The easiest way to find it is to locate the Sign of the Angel pub and turn right on the corner to Cantax Hill. Cross to the opposite side of the road and walk up the hill until you see the entrance gate.
Note: again, this location is a private residence. But, it's another house you can have a look at from the front gate.
8. The Sign of the Angel on Church Street / Budleigh Babberton
In Harry Potter and the Half-Blood Prince, after Slughorn's House, we see Harry and Dumbledore taking a night stroll through the streets of Budleigh Babberton.
These village scenes and beautiful houses can be found on Church Street by turning to Cantax Hill in Lacock.
In the background, you'll see quaint ancient timber frame buildings and one of those is the 'Babberton Arms'. This is The Sign of the Angel Pub in Lacock!
This is a popular restaurant and lodgings in the village, so if you wanted to extend your stay in Budleigh Babberton this would be the best way to do it!
I kept looking out for the monument that's behind them in the movie. But, alas the market cross that you can see when Dumbledore and Harry apparate was only made for filming and is not real.
Extra Harry Potter Lacock locations
9. Watlings Gift Shop
So, if you want to carry on finding some extra Harry Potter in Lacock, then there is one shop you must visit.
Although this is not a film location it is still a place I would recommend for Potterheads to visit.
As you head down East Street which is opposite the Lacock Bakery, you'll find a Hogwart's Express sign for Platform 9 3/4's!
It's outside The Watlings which is traditionally a Goldsmith's but they do have a large gift store as well.
Inside, they sell plenty of Harry Potter-inspired souvenirs. You simply must check it out while you're here.
Lacock Harry Potter Filming locations Map
Click the map below for Google pins of all these filming locations!
Looking for more things to do in Lacock Village?
Lacock has plenty more things to do aside from looking for Lacock Harry Potter filming locations!
It's one of the oldest and prettiest villages in England that looks like it's been trapped in time. It's known as the birthplace of photography and you can learn about that in the Fox Talbot Museum.
At every corner of this historic village, you'll find a hotchpotch of medieval houses, shops, tea rooms and parks.
You can spot even more filming locations from big films like The Other Boleyn Girl, Cranford, Pride and Prejudice, The White Princess, and Downton Abbey.
Nearby Harry Potter's parent's house, there is the St Cyriac Church or you can walk down to see the packhorse bridge on the Old Ford.
By the village hall, you'll find a medieval tithe barn to explore. Or, you can browse one of the many Lacock shops! There really is so much to do around here that you'll be spoiled for choice.
Click here to read my complete Lacock guide with everything you can do here!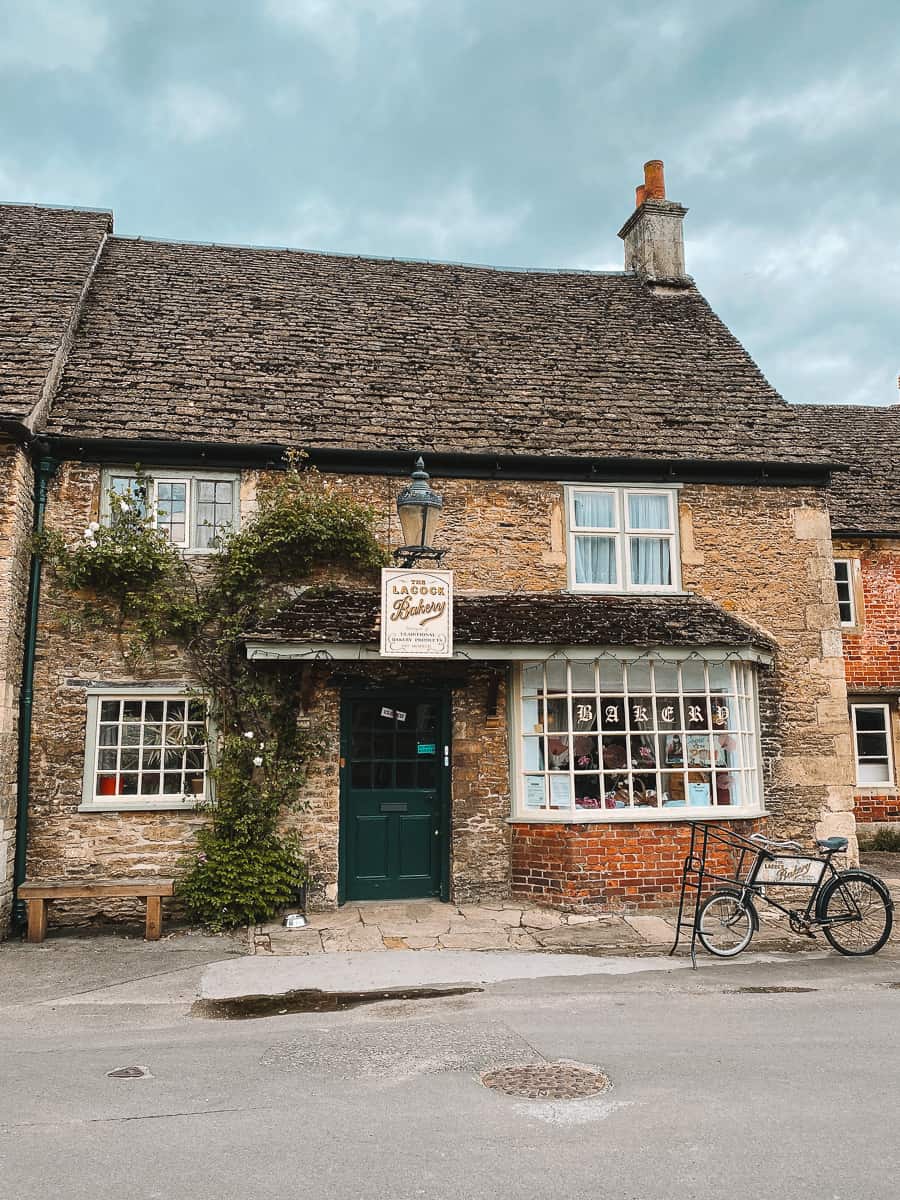 Important Information about Visiting Lacock in Wiltshire
Here is some important information about visiting Lacock village.
Including how to visit, Lacock Abbey prices, where to park, the best places to eat, and accommodation!
When is the best time to visit Lacock?
As Lacock is one of the oldest villages in England and has featured in a wealth of big and small-screen productions, you can expect crowds to descend on it all year!
This town is lovely to visit in all seasons. But, it also sees plenty of crowds in the summer months. You may find it a bit overwhelming during the summer holidays and on the weekends.
So, if you were visiting at this time, I would get here earlier rather than later to enjoy the village. Also, try to pick a day during the week.
I would always recommend visiting Lacock and the Cotswolds area in the shoulder seasons of spring or autumn. During these times the crowd levels are a lot lower.
Personally, my favourite time to visit is winter as there will be barely anyone here. So, it's perfect for photos.
How to find Lacock in the Cotswolds
The easiest and most convenient way to visit Lacock would be by car. The village is very close to the town of Chippenham and the village of Castle Combe, so it makes a great pitstop on a Cotswolds road trip.
If you were visiting from London, the journey is around two hours drive.
However, if you were visiting the Cotswolds car-free, you can get the train to Chippenham and then a connecting bus service to the village. You can take a look at the X34 Frome bus service times here.
Lacock Parking
There are two main car parks in Lacock that you can use.
One is a free car park that is located in the centre of the town by the National Trust's Horse's Stable Tea Rooms and public toilets.
But, this only has space for around 8-10 visitor cars at most. The rest of the spaces are provided for residents. As you can imagine, these free spaces fill up really quickly. Especially in summer.
The alternative is the large National Trust car park that is provided on the outskirts of the village near Lacock Abbey. The village is just a few minutes walk from there.
National Trust members can use their passes to park for free all day but non-members will have to pay £4 for an all-day parking ticket. Another reason to invest and join!
This car park is much better for those who are travelling with larger vehicles and camper vans as there are dedicated large parking spaces provided for them.
How to visit Lacock Abbey, opening times and prices
Lacock Abbey is located at the far end of Lacock Village near the Red Lion pub. It's a National Trust Property and so you will have to pay to go inside.
This will be the only Lacock Harry Potter location you'll need to pay to see here.
Lacock Abbey opening times are between 10am – 5pm and open every day of the week. However, the times are subject to change in winter seasons.
I would allow at least 2-3 hours for your tour. Also, the last entry to the house is usually around 3.30pm.
There is SO much to see and do from the abbey cloisters, extensive gardens, forest walks, abbey house and Fox Talbot Museum.
Lacock Abbey ticket prices are currently £10 per adult and £5 per child. There are family tickets available.
See here for the latest Lacock Abbey entry prices and opening times
Where to eat in Lacock
If you're spending the day here or just fancy a pick me up there are plenty of places where you can eat in Lacock.
If you were after some pub grub, then I would recommend The Red Lion which has an amazing menu of traditional dishes. The George Inn is also another historic pub with some great options.
If you wanted a traditional afternoon tea then I would suggest King John's Hunting Lodge Tearooms which is next to the Carpenter's Arms. They have a delightful traditional tearoom with lots of Blue Willow tea sets and a large garden to relax in.
For light bites, you could pop into Lacock Bakery or The National Trust's Horse and Stables Tea Rooms just outside Lacock Abbey.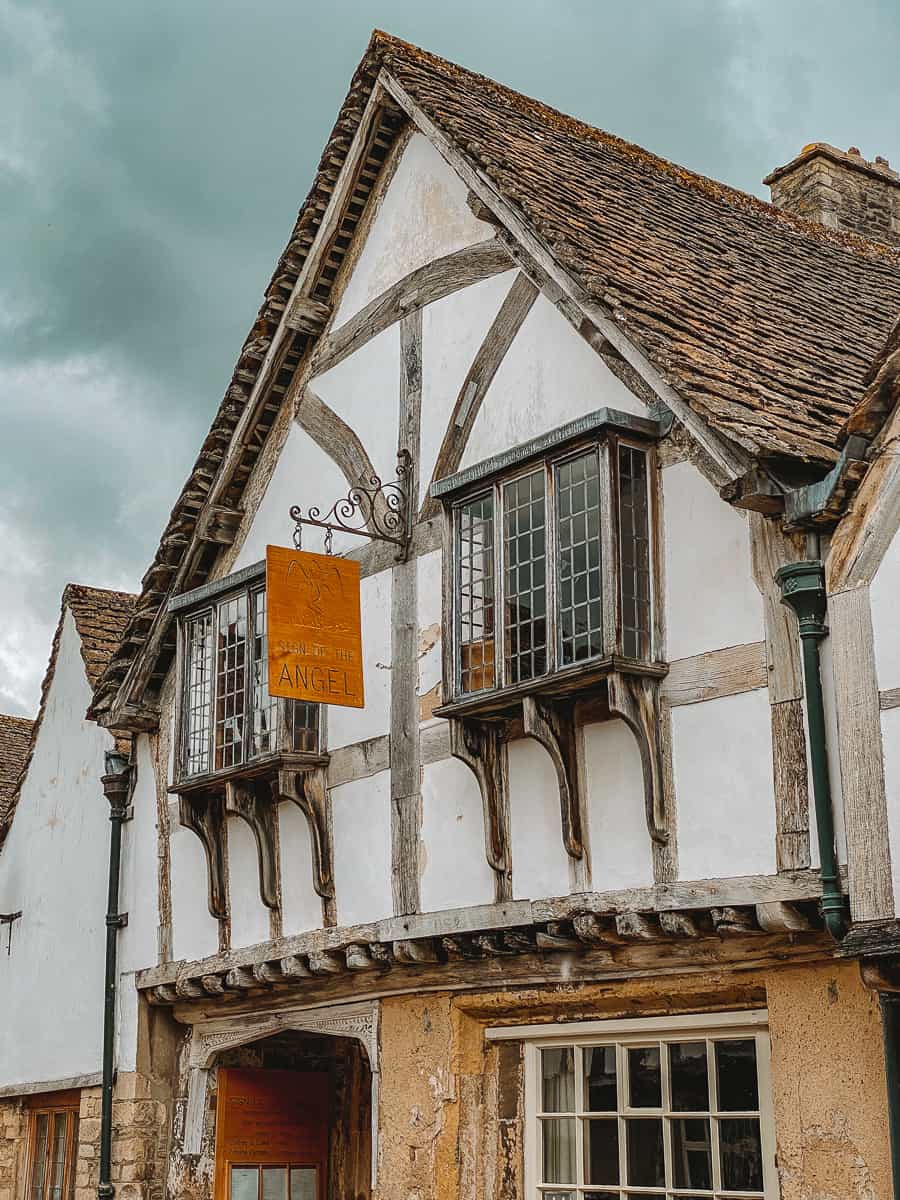 Where to stay in Lacock
If you fancied staying the night in the Harry Potter village there are plenty of places that allow you to do that here!
For example, why not spend the night in Budleigh Babberton?! The Sign of the Angel has some cosy accommodation for wizards and witches to spend the night.
Or, you can book a room at the Red Lion that starred in Pride and Prejudice!
Still looking for more Harry Potter locations?
So, if you're looking for more Harry Potter filming locations and magic in the area. Then, there are a few I would recommend that you head to nearby. These are just a short drive from Lacock Village.
The first would be Gloucester Cathedral where they filmed a lot of Hogwarts in the movies as well. You'll find most of the locations in the cloisters of the cathedral.
Here, you'll find the entrance to the Gryffindor Common Rooms, The Chamber of Secrets has been opened scenes, where Harry overhears Draco talking about the Unbreakable Vow and much more.
Oxford is another location which is full of Harry Potter filming locations and inspirations too! You can head over to the Duke of Humphrey's library to see the Hogwarts Library. Or, the New College Cloisters too.
You can even visit the Christchurch Dining Hall which was a huge inspiration for the Hogwarts Dining Hall!
Click here to read my complete Harry Potter guide for Oxford!
Or, you could head to Blenheim Palace which is just a few miles from Oxford. Here, you can visit the Harry Potter Tree from the Order of the Phoenix.
If you head into the Forest of Dean, you'll find lots of Harry Potter inspiration here. For example, Coppett Hill near Symonds Yat was where Harry and Hermione camp out in the Deathly Hallows part 1.
Also, you may recognise some familiar names from the stories! For example, the town of Dursley was an inspiration for Harry Potter's adopted family (because J. K. Rowling hated the town). Also, Stinchcombe village is where the Potter's family originate from. Linfred of Stinchcombe was the very first Potter!
But, one of the most recognisable is Tutshill, which is now an honorary Quidditch Town of the Tutshill Tornados and where J. K. Rowling's childhood home is! Click here to read my complete Tutshill guide.
Read more of my Harry Potter travel guides
How to ride a real life Hogwarts Express in Scotland (The Jacobite)
How to find Dobby's Grave in Wales
How to see the Hogwarts Express in Scotland
Harry Potter locations in Edinburgh
All the Harry Potter filming locations in Scotland
How to spend the night in Hagrid's Hut
Where to find Harry Potter in York
The Shop That Must Not Be Named
Magical things to do at The Potion's Cauldron in York
Alnwick Castle Harry Potter locations
Where to find Tom Riddle's Grave in Edinburgh
A complete Forbidden Forest Experience review
The Best Wizarding World of Harry Potter Photography locations
The best Draco Malfoy and Lucius Malfoy Quotes
How to visit Malfoy Manor in real life!
Harry Potter locations in Exeter
Harry Potter filming locations in Virginia Water
How to visit a real-life Knockturn Alley
Is Cecil Court a real Diagon Alley in London?
How to visit Dumbledore's Grave in Scotland
Harry Potter filming locations at Durham Cathedral
Heading to the Cotswolds? Read these guides
Is Castle Combe the prettiest village in England?
How to visit Cotswolds Lavender fields
Great Chalfield Manor as Poldark's Killewarren
Why you must visit Minster Lovell Hall ruins
Did this door inspire Tolkien in the Cotswolds? And this Pub?
The best things to do in Stow on the Wold
Top things to do in Lower Slaughter and Upper Slaughter
Things to do in Tetbury and the Chipping Steps
Places to visit in Bibury and Arlington Row
Save this Lacock Harry Potter filming locations guide for later!