Are you looking to head out to Ladakh off the beaten track?! Keep reading.
A lot of travellers who fly or drive into the incredible mountainous landscape of Ladakh, choose to head to Leh and use the beautiful town as a base, and for good reason.
It's the largest town in the region and has everything you need as an adventure-seeking tourist. Hotels, restaurants, coffee houses, trekking options, and some attractions are all here for you to enjoy.
But, if you were a little more curious and wanted to get out and see some of the 'real' Ladakh, it's so easy to get out and explore its off-the-beaten-track places!
Your phone network will be dead in Leh and there is only a handful of places that provide wifi but the signal is pretty bad.
Add that to the fact that the town sometimes faces a complete outrage of signal and you're pretty much offline for your time here.
So, it's best to do some research on places you wanted to go to beforehand. Or, do as I did and head to the book store and buy an old school map! Then, it's pretty easy to navigate around.
Personally, I wanted to get around and see some of the amazing monasteries and palaces that Ladakh had to offer.
The landscape to me was fascinating and almost what I imagine Mars to look like.
The combination of saturated blue skies, deserted dusty land, and beautiful white-washed stupas and monasteries were like eye candy for me.
Here's the absolute best of Ladakh off the beaten track!
How to travel around Ladakh: sharing taxis via Choglamsar
When we asked the taxi drivers around Leh for prices for getting around, it was pricey. Most would charge around 2000 (£23) rupees just to travel around 10km return trip!
Now, if you're used to UK prices, this may sound like a good deal but these taxi drivers are making an absolute fortune!
I thought to myself 'surely, locals don't pay THAT much to travel a few kilometres down the road?'… and I was right!
Although some of the travel agents will try and convince you that everyone has cars in Ladakh as they don't like getting the bus (ha!), you can get some sharing taxis along with the locals from the main gate of Leh.
If you head to the massive colourful gate, you'll see a lot of locals sitting around or on it, waiting. Luckily, for you – they are actually waiting for a bus!
You'll see these little minibus-type things called 'Vikrams' which will pass by shouting 'Choglamsar! Choglamsar!'.
As soon as you hear it, hail them down, open the door and hop in. The journey will cost you around 20 rupees.
Choglamsar isn't exactly beautiful, but it is a great connection point to head to the different parts of Ladakh.
From here, you'll see a row of minibuses that are waiting to fill up and fly you to anywhere you want to go. We wanted to head to Thiksey and Shey, so we headed out via the public taxi point (below).
Try and avoid a 'booking' as it will cost you the same as a taxi, always make sure you get into the sharing taxis.
A lot of our return trips to and from Leh cost around 50 rupees each, which was a massive saving of 2000 rupees.
Plus, it was much more of an adventure meeting some locals and listening to the awesome local music (which I always imagine is like a soundtrack to my travel movie :P )!
Places to visit in Ladakh off the beaten track!
Thiksey (Thikse)
Most tourists when they head out to Thiksay actually want to visit the 'Thiksey Gompta' which is the spectacular monastery that they have to boast.
If you were planning to visit a monastery in Ladakh while you're here, let this one be it!
It's an iconic whitewashed building stacked on top of each other is a really picturesque sight that is any photographer's dream to capture.
It's one of the finest examples of ancient Ladakhi architecture, which is inherited from the Tibetan style.
When we approached it, we could hear the chanting and music from the monks who reside there. It added a mysterious feel to the place which created a peaceful atmosphere.
It was a great feeling just to sit and observe the place and feel the energies through the air.
You can go and explore around if you wish and it's 30 rupees for entry. Inside, there is a wealth of portraits, temples, museum artifacts, and more.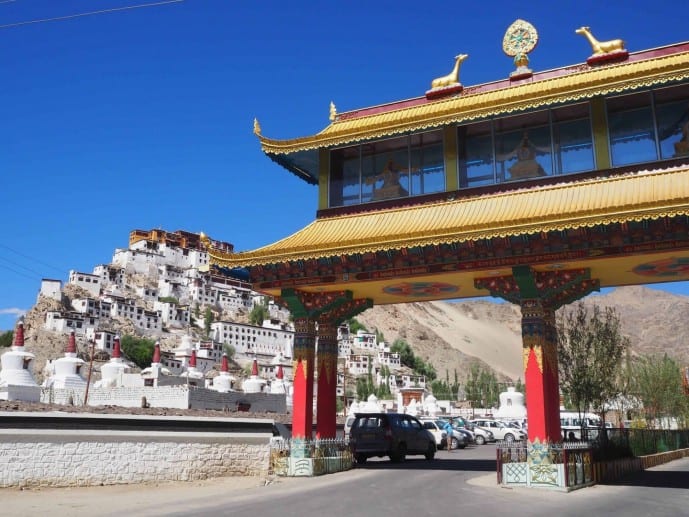 Shey
If you know anything about your history in Leh, you'll know that Shay used to be the capital of ancient Ladakh many eras ago due to it being a more convenient trade route for China.
It also holds the summer palace for the royalty of Ladakh and it's still here for you to explore today.
For me, I love that these ancient palaces have such amazing viewpoints of the mountains as they are all perched on a hillside!
There really isn't much left inside these old buildings and so it's great to explore the rooftops, pop your head out and see what view is in store for you.
Around the vicinity of the palace are also some pretty amazing stupas to explore with colourful flags.
If you head down from the palace, there's a Tibetan refugee market that showcases some amazing handicrafts and serves up some authentic cuisine by the 'holy fish lake'.
It's quaint, but it's really worth a see if you're heading through.
Chushot – see the double-humped Nubra camels in Ladakh!
As I didn't have enough time (or budget) to head to Nubra Valley, I was a little upset that I wasn't going to see an important part of my trip; to see a double-humped camel!
So, I asked around if there were any close in the area and luckily for me there were.
The double hump camel (Bactrian camel) Sanctuary in Chushot is a wonderful haven for these beautiful creatures. I had no idea before my visit here that they were at risk of extinction.
In fact, they are classed as 'critically endangered' by the International Union for Conservation of Nature! So, it was great to help out and meet these guys.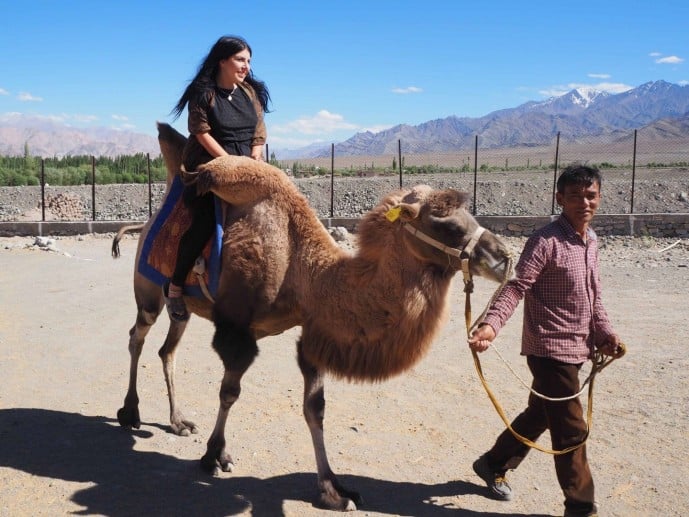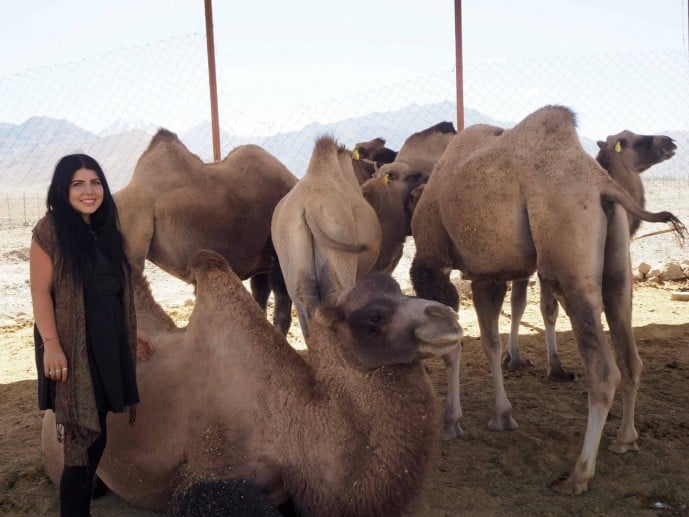 The entrance fee for the farm is only 10 rupees, the camera fee is 50 rupees and the riding is 100 rupees if you would like to.
I was happy to pay as I wanted to contribute my part to help.
The owners truly love their animals and really care for their welfare. They are actively playing a role here in preserving the Bactrian camel race and have a breeding programme that has welcomed their newest arrival, a two-month-old baby!
It was absolutely gorgeous, but the mum was extremely protective. I took so many photos of the little guy I think mama thought I was going to steal him!
As for the rest of Chushot, it's pretty much a ghost town! But, you're so close to the mountains and it's just uncensored viewing territory!
Make sure you go Ladakh off the beaten track!
If you're going to be staying in Leh, I would seriously encourage you to get out and explore a little more of what Ladakh has to offer you.
These little towns and villages don't look like much but they pack a punch with culture, friendly locals, and amazing architecture that would be a shame to miss if you're in this part of the country.
I mean, you made it here right? So, you may as well make the most of it. Make sure you go off the beaten track in Ladakh!
Read my complete Leh Ladakh travel guide next
Heading to the North of India? Read more of my articles
Manali to Leh by road, all you need to know
What it's like to travel to Leh, the land of high passes
Off the beaten track Ladakh, Thiksay, She and more
A guide to Manali, the hippie town in Himachal
Top things to do in Mcleodganj
A complete Bhagsunag waterfall guide
My complete guide to Rishikesh
Visiting the Beatles Ashram in Rishikesh
Like it? Pin it!