One of my favourite places in all of Edinburgh has to be Lady Stair's Close off the Royal Mile.
The entire courtyard is a step back in time and Lady Stair's House looks like something from a fairytale or Harry Potter.
This magical and charming part of the Old Town provides a peaceful respite from the crowds and makes a gorgeous photo opportunity.
But, it's also home to the Writers' Museum which celebrates three literary giants that have had a huge impact on this city.
These are Robert Burns, Sir Walter Scott, and Robert Louis Stevenson. You can visit to learn more about each writer and see some rare artifacts on display.
Here is a complete visitor guide for Lady Stair's Close, the home of the Writers' Museum Edinburgh.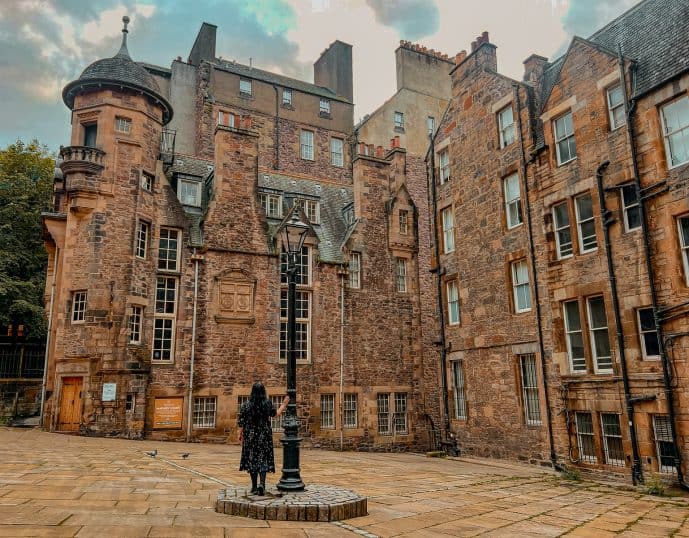 What is Lady Stair's Close?
Lady Stairs Close is a hidden gem in Lawnmarket and a historic courtyard filled with ancient buildings and oil lamps.
Although it can be found off the Royal Mile, you'll find this courtyard to be relatively peaceful throughout the day.
The most famous building in this close is the magical Lady Stair's House which is now home to the Writers' Museum.
But, you also find the Makars' Court literary monument and Gladstone's Land nearby, a historic house and museum owned by the National Trust.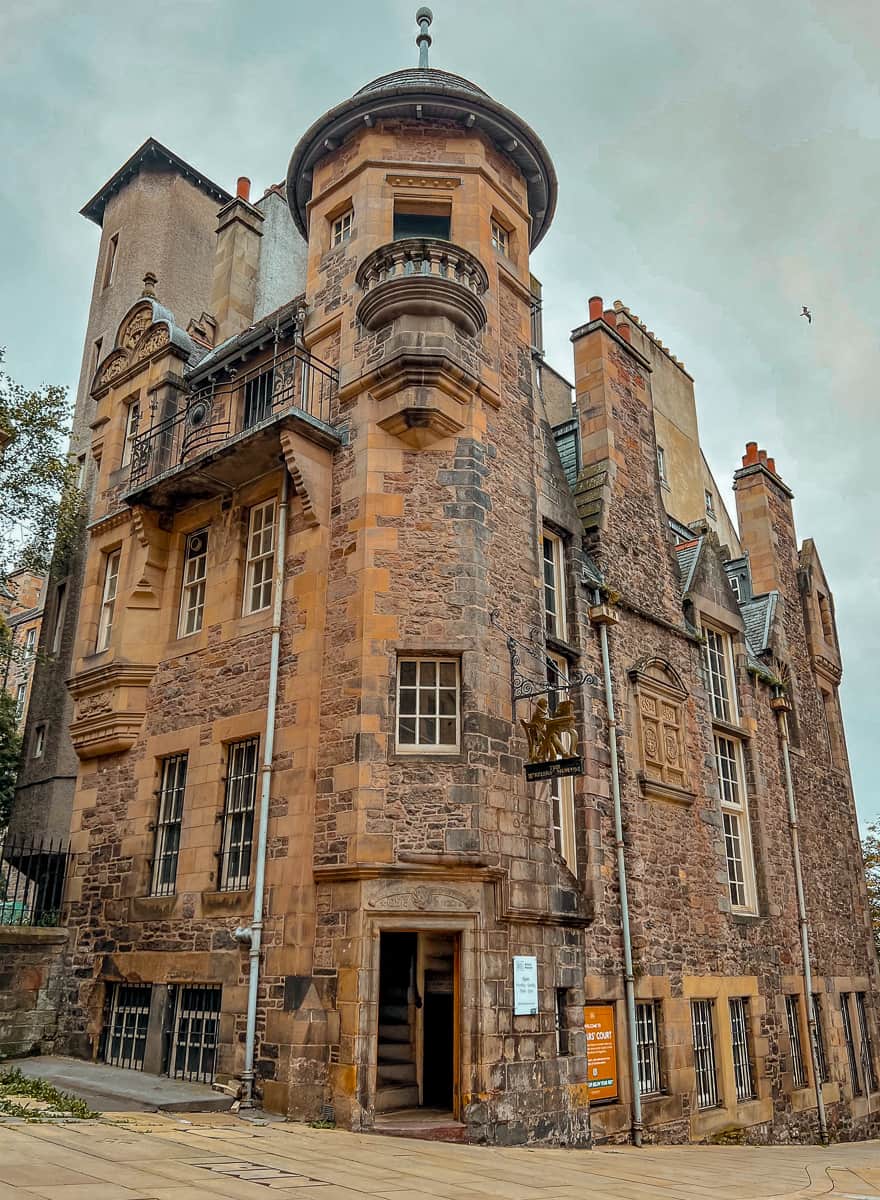 Lady Stair's Close history
The fairytale house that takes up this courtyard was built in 1622 for Sir William Gray of Pittendrum who was a Scottish baronet and wealthy merchant.
Unfortunately, he was on the 'wrong' side of the Civil War and so was arrested with the royalists in 1645. His daughter died of plague shortly after and he eventually died in 1648.
It was originally called Lady Gray's House in his widow's honour who lived here for years after he died.
However, when Elizabeth Dundas aka Lady Stair bought the property in 1719 it was renamed to Lady Stair's House.
She was the widow of John Dalrymple who was the 1st Earl of Stair. The courtyard eventually took on the same name.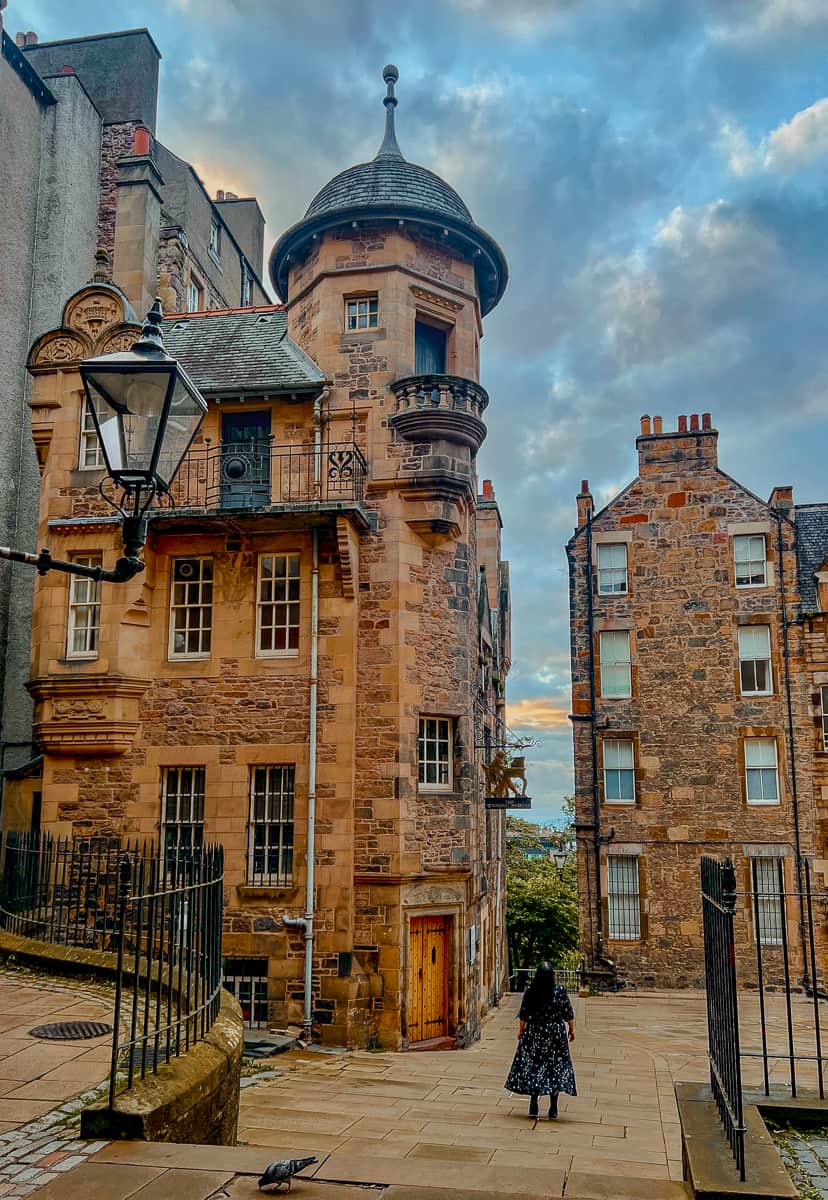 It fell into disrepair in the 1890s and was going to be demolished but was saved by Lord Rosebery, a descendant of Sir William Gray.
He added the turrets, Romeo and Juliet-style balcony, and Scottish baronial elements.
The building was eventually gifted to the city to use as a museum in 1907. But, it became a family home once more as a window was a custodian who lived here with her children.
Today, Lady Stair's Close is home to the Writers' Museum Edinburgh and Makars' Court.
What is the Writers' Museum Edinburgh?
The historic Lady Stair's House is home to the Writers' Museum, an exhibition that celebrates three literary giants connected with Edinburgh.
These are Robert Louis Stevenson, Sir Walter Scott, and Robert Burns. All have a huge cultural impact on this City of Literature.
It's a fabulous and free museum that not only has information on the lives and works of these famous writers but also personal artifacts belonging to each of them.
Where is Lady Stair's Close in Edinburgh?
The sleepy courtyard of Lady Stair's Close can be found directly off the Royal Mile in Lawnmarket near to Deacon Brodie's Tavern.
It's directly behind Gladstone's Land Museum and just a few metres away from Edinburgh Castle.
You will find a tunnel beside Gladstone's Land with a sign for Lady Stair's Close above it. Follow this walkway and the courtyard and museum will be right in front of you.
Although it's a famous site in the city, it is a little bit of a hidden gem as it's not so obvious to find.
You can also walk there via North Bank Street. You'll pass Makars' Mash Bar as you head up the steps to the museum.
The Writers' Museum address is Lawnmarket, Lady Stair's Close, Edinburgh EH1 2PA. Click here for a Google Pin!
What to expect when visiting Lady Stair's Close
As you make your way down the tunnel to Lady Stair's Close, you'll feel like you've entered a portal that allows you to step back in time.
The old Gothic architecture in this area has been relatively untouched by the modern age and so you'll be surrounded by ancient buildings and oil lamps.
Despite it being so close to the endless crowds of the Royal Mile, you'll find this courtyard to be a peaceful respite.
You can take a seat on a bench or just marvel at the incredible architecture of Lady Stair's House. It also makes a fabulous photo opportunity.
It was built in the 17th century and is one of the quirkiest buildings in the old town. It looks magical and like something from a fairytale.
You could almost imagine it being part of Hogwarts from Harry Potter.
Makars' Court
When you're inside Lady Stair's Close make sure to look down. Under your feet, you'll find Makar's Court which is an evolving literary monument.
Makar is a Scottish word that means 'one who fashions, constructs, produces and prepares' and this outdoor exhibit celebrates the skill and craft of writers.
Edinburgh is a City of Literature and they have created their own version of a Poet Laureate called the 'Edinburgh Makar'.
If you look on the floor around the Writers' Museum you'll find quotes etched into the flagstone from great Scottish authors over time.
There are passages from the 14th century all the way up to the present day and new quotes are added all the time.
Inside the Writers' Museum Edinburgh
Although I've been to Lady Stair's Close a dozen times on my trips to Edinburgh, I've never made it inside the Writers' Museum. So, this time I was determined to visit.
As soon as you step inside, you'll find it decorated with gorgeous paintings on the walls and winding staircases.
The great hall of the building is a welcoming red colour with chandeliers and a large fireplace. On the mantle, it reads 'BLISSIT BE GOD FOR AL HIS GIFTIS'.
If you look above you'll see a tapestry of all three writers together as well as their busts too. From here, you can visit the exhibits that are set across all four floors.
Robert Louis Stevenson
As you walk down the winding staircase, you'll enter the Robert Louis Stevenson exhibit which celebrates his life.
Although he had a love/hate relationship with Edinburgh, there is no denying that this city inspired many of his stories.
Treasure Island is his most famous book and was one of my favourite adventure stories when I was growing up!
It's based on a young boy called Jim Hawkins who finds a treasure map and sets out to find buried gold amongst buccaneers.
Along the way, he meets swashbuckling pirates like Billy Bones, Captain Flint and Long John Silver.
Listen out for the audio recording of the book as you explore cabinets filled with his artifacts.
You'll see his riding boots, his 'teller of tales ring' from Samoa, and a wardrobe made by none other than Deacon Brodie.
Brodie was a respectable cabinet maker by day and a fearsome criminal Highwayman by night.
His double life inspired Stevenson to write Dr. Jekyll and Mr. Hyde. You can visit a tavern named after him near St Giles Cathedral to learn more.
Sir Walter Scott
You really can't escape the footprint that Sir Walter Scott has on Edinburgh. So many streets, stations, and buildings are named after him.
There's even a Scott Monument which is a huge building you can climb up to see some views over Edinburgh.
His most famous work has to be 'Waverley', you can see the printing press that produced Scott's novel upstairs. Also, you'll see his ink well and rocking horse plus some first editions.
I actually went to visit his home in Abbotsford on the Scottish Borders at the end of my trip which is now a museum with beautiful gardens.
They discovered over 250 books about witchcraft, magic, and demonology in a corner of Scott's library which you can see on the shelves.
It was quite controversial back then to own these and he could have been arrested for it. But, many of these books inspired his famous tales.
In honour of this, they now have a Witch Corner which is a magical trail you can follow through the forest to discover more about Gaelic folktales. It was so much fun, even for bigger kids!
Robert Burns
Robert Burns is a literary giant that is celebrated all around Scotland and the world.
He was born in Ayrshire, started off as a ploughman and then became a renowned poet.
He was an avid traveller throughout his life and almost every county in the country has a story about 'Robbie Burns' to tell.
Auld Lang Syne is in the Guinness World Book of Records for being the third most performed song in the world and features in countless Hollywood Movies.
One of the most anticipated events in the Scottish calendar is Burn's Night on the 25th of January. It's where everyone gathers to have a Burns supper and raises a dram to him!
Highlights of his collection include original manuscripts, a plaster cast of his skull, and his writing desk.
Other literary exhibits and the gift shop
Of course, the museum does celebrate three literary giants from Edinburgh but there are other authors celebrated here too.
Look out for a bust of Helen Burness Cruickshank who was a founding member of Scottish PEN and poet in her own right.
Before you leave, you must browse their gift shop. They have lots of bookish souvenirs that you can purchase to take home.
You'll find copies of their books as well as keyrings, mugs, t-shirts, and toys.
How to visit the Writers' Museum Edinburgh
The easiest way to visit the Writers' Museum would be to walk there via the Royal Mile as Lady Stair's Close is pedestrianised.
Edinburgh has a wide range of public transport, the nearest train station for the Writers' Museum would be Edinburgh Waverley (named after Scott's novel).
The nearest bus stops would be either The Mound or South Bridge. But, it's a bit of a steep walk from both.
The nearest off-road parking can be found on Mound Place outside the Divinity School which is a two-minute walk away from the close.
This is pay and display and can be quite steep during charging hours. But, it's free before 8.30 am and after 5.30 pm from Monday – Saturday. It's also free on Sundays.
Lady Stair's Close & Writers' Museum opening times and prices
Lady Stair's Close is open 24 hours a day so you can visit to admire the stunning architecture at any time. Even at night time it looks like something from a fairytale.
The Writers' Museum is also open every day of the week in Edinburgh. You can visit any time between 10 am – 5 pm.
It has a last entry of 4.30 pm but I would recommend that you leave at least an hour to get the best out of your visit.
It's also completely free to visit the museum which I was so surprised about as it's a great exhibition.
Donations are always appreciated to contribute to the upkeep of the building.
How long does the Writers' Museum take?
I would say you need around an hour to explore the Writers' Museum if you plan to head inside and see the exhibits.
The building looks small but you will soon find that its size is deceiving. When you step inside you'll find four floors crammed full of literary items.
There's also a gift shop and lots of bookish things to see inside. So, don't rush your time in there.
If you only wanted to see Lady Stair's Close and Makars' Court then you would only need around 15-30 minutes.
The architecture is stunning for photos and there are lots of quotes to find on the floor.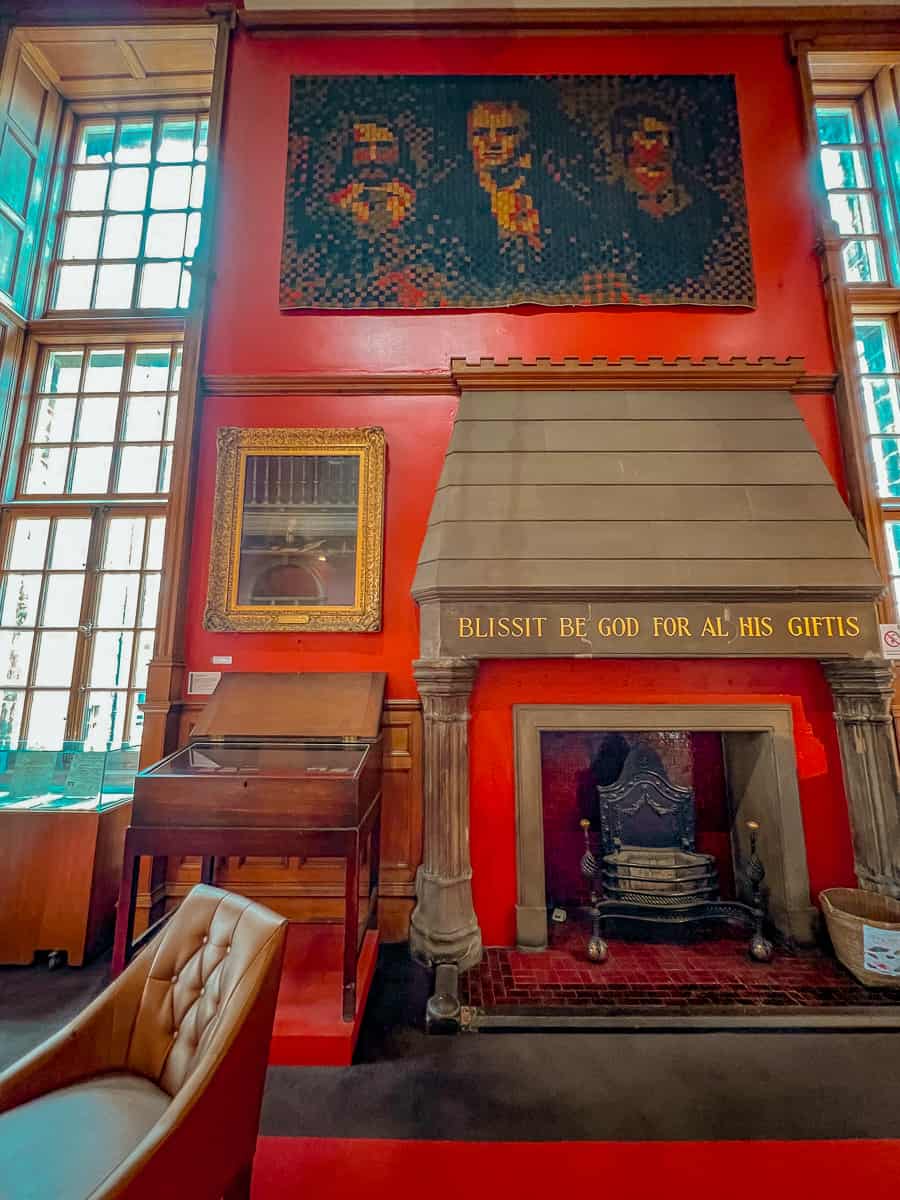 Top tips for visiting Lady Stair's Close Edinburgh
Visit early or later – if you plan to visit for photos, make sure to make it an early visit. It can be busy during the day. Later afternoons are also great after the Writers' Museum closes.
Don't forget Makars' Court – it's an evolving literary monument. Look out for quotes from great Scottish writers on the floor.
Enjoy the peace – honestly, Lady Stair's Close is a slice of paradise on the Royal Mile.
Get an ice cream – Gladstone's Land has an epic award-winning ice cream shop just nearby the tunnel entrance of Lady Stair's Close!
Is the Writers' Museum worth visiting?
100% YES. Even if you don't plan to head into the Writers' Museum itself, I would recommend visiting Lady Stair's Close and Makars' Court.
This is by far my favourite place in all of Edinburgh as its Gothic architecture is magical and looks like a step back in time.
But, it also provides solace from the endless crowds of the Royal Mile which can be overwhelming at the best of times.
Don't skip a visit to the Writers' Museum Edinburgh, especially if you're a book lover!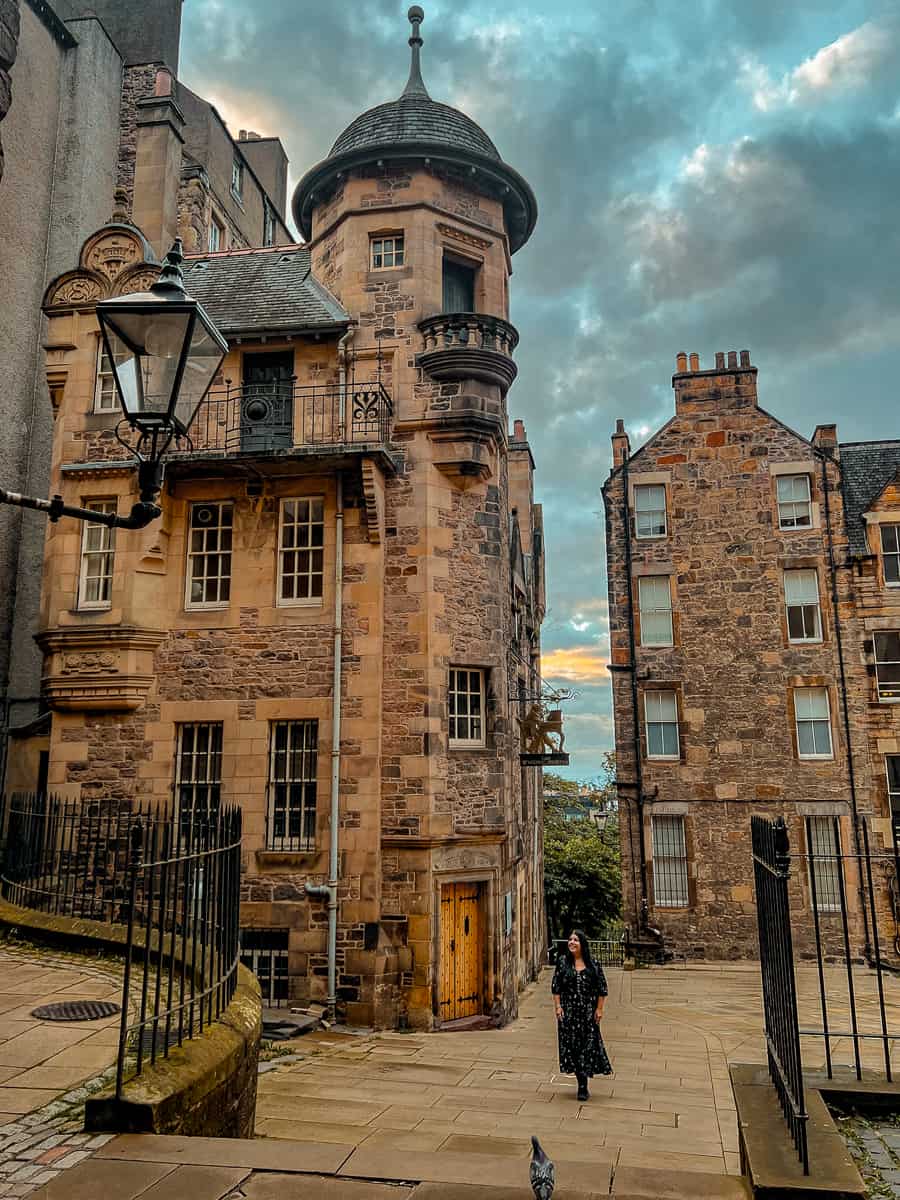 Where should you visit next on the Royal Mile?
Gladstone's Land – One of my favourite museums in Edinburgh is Gladstone's Land. It's one of the oldest buildings on the Royal Mile and is owned by the National Trust. It will show you what living on the mile was like over time. They also serve great ice cream.
Edinburgh Castle – You really can't leave Edinburgh without visiting the ancient seat of Scottish monarchs at least once. You can explore the staterooms, the fortifications and see the Scottish Crown Jewels! It's always busy but pre-book tickets in advance to avoid queues.
The Witchery by the Castle – One of my favourite restaurants in Edinburgh. You can eat in their Gothic dining room or the secret garden restaurant. The food is spectacular and I would visit for the Light Lunch. Click here to read my review.
School of Divinity – This amazing part of the University of Edinburgh looks like something from Hogwarts. You must visit the courtyard and it's only two minutes walk from Lady Stairs Close!
Looking for more Bookish locations in Edinburgh?
Edinburgh is a huge literary destination and is the birthplace of many great writers through time.
There are plenty more literary museums you can visit like the Scottish Storytelling Centre.
The Scott Monument is a huge Gothic structure dedicated to Sir Walter Scott. You can climb to the very top for amazing views over Edinburgh.
I would also recommend visiting the National Library of Scotland which has some amazing free exhibitions.
There are so many amazing bookshops in Edinburgh like Armchair Books, Lighthouse Books, Toppings Edinburgh, and Golden Hare Books.
Waterstones is also great on Princes Street that has a great view of Edinburgh Castle from their café.
Plus, look out for the Edinburgh International Book Festival which happens in Charlotte Square Gardens throughout August.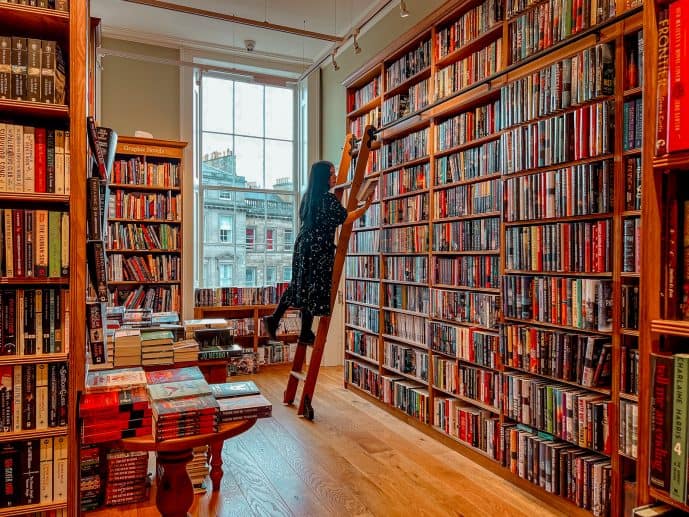 Are you a fan of Harry Potter?
If you're a Potterhead, you will be pleased to know that there are plenty of spellbinding places to find.
Although they didn't film any of the movies here, Edinburgh is known as the birthplace of Harry Potter. The streets and architecture inspired the stories and the very first chapters were written around the city.
I would start by heading to Edinburgh Castle which is supposedly an inspiration for Hogwarts.
If you look out on the Castle Esplanade you can see George Heriot's School which is rumoured to be another Wizarding school inspiration.
Greyfriars Kirkyard has some familiar names from the books to find and the Elephant House is a café where the first chapters were written (it's temporarily closed for the moment).
Victoria Street is a real-life Diagon Alley with its colourful houses and you must shop in Museum Context, an awesome Harry Potter shop.
Also, there are many immersive experiences like The Cauldron for a Potion's Class to make your own cocktails and the Potion's Tavern for escape rooms and cocktails.
Make sure to read my ultimate Harry Potter guide for Edinburgh which has a list of all the magical locations to discover!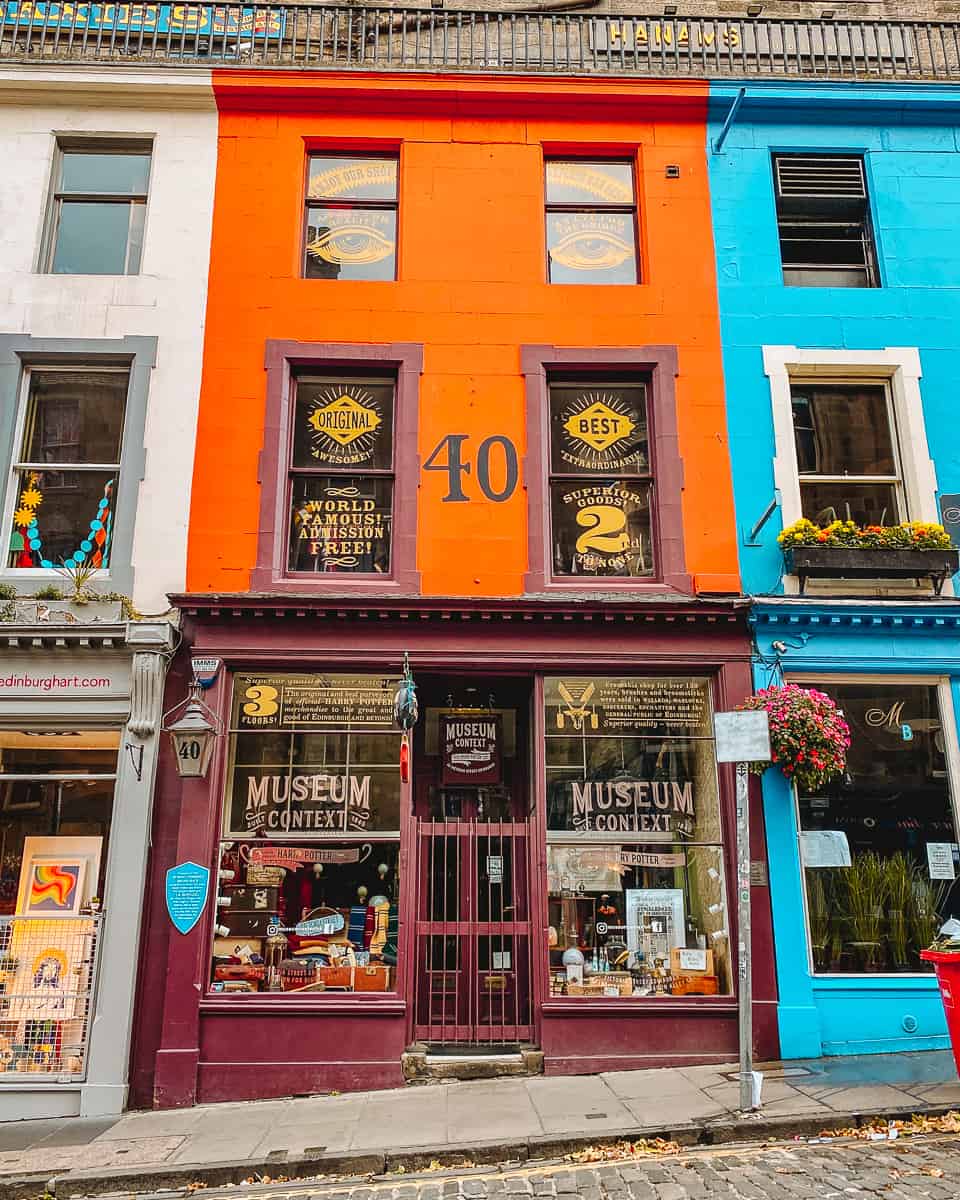 Lady Stair's Close & Writers' Museum FAQs
Who is Lady Stair? A Scottish noblewoman named Elizabeth Dundas was the owner of Lady Stair's House in Lawnmarket.
When was the Writers' Museum built? Lady Stair's House was built in 1622. It was owned by Lady Stair and later became the Writers' Museum Edinburgh.
How much is the Writers' Museum Edinburgh? It's FREE.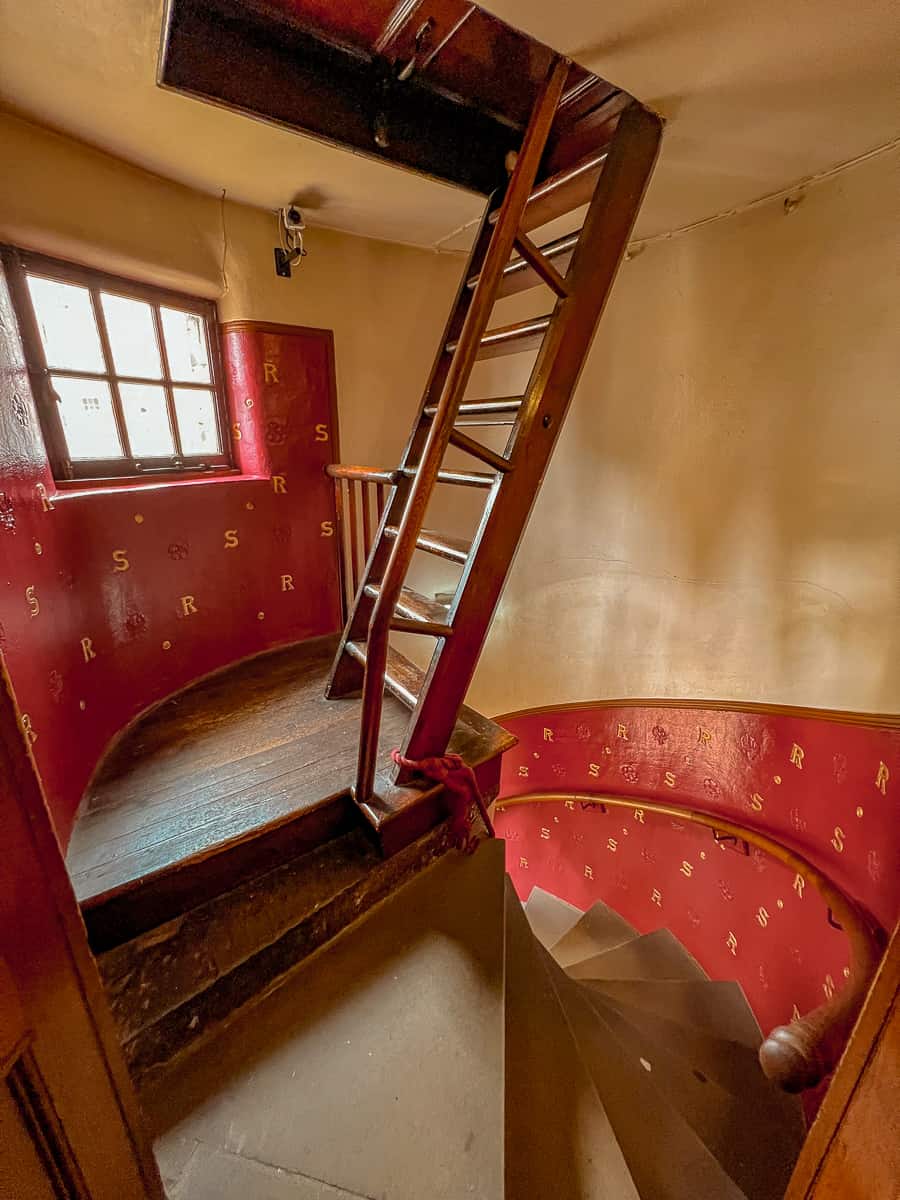 Read more of my Edinburgh guides
The ultimate list of experiences in Edinburgh
Harry Potter locations in Edinburgh
The best viewpoint in Edinburgh
Visiting a quaint village in the capital of Scotland
My complete photography guide to Edinburgh
Secrets of Queen Mary's Bath House
A complete list of Outlander film sites in Edinburgh
Why you must visit Bakehouse Close
A complete guide to the Vennel
The hidden gem of Tweeddale Court
Why Craigmillar Castle has to be on your list
Afternoon Tea? The Colonnades & The Balmoral are the best!
Discover Liberton Kirk in Autumn
How to visit the Ross Fountain
Save Lady Stairs Close & Writers Museum Edinburgh for later!