If there is one photo that comes to mind when you think of Glen Coe, it has to be the desolate white house sitting under the mountain peak.
Although many people pass this house in Glencoe, few know its name or what this lonely house actually is. Well, it's name is the Lagangarbh Hut!
But, what exactly is the story behind this mysterious wee white cottage of the Highlands? It certainly draws you in being the only residence for miles perched underneath the dramatic heights of Buachaille Etive Mòr.
According to sources, it used to be a Crofter's House but today it's owned by the National Trust and Scottish Mountaineering Club.
It's also one of the most popular photography locations in Glen Coe and sees thousands of photographers and tourists descend on it each year.
Here is a complete guide for the Lagangarbh Hut and how to visit the Wee White House Glencoe in Scotland!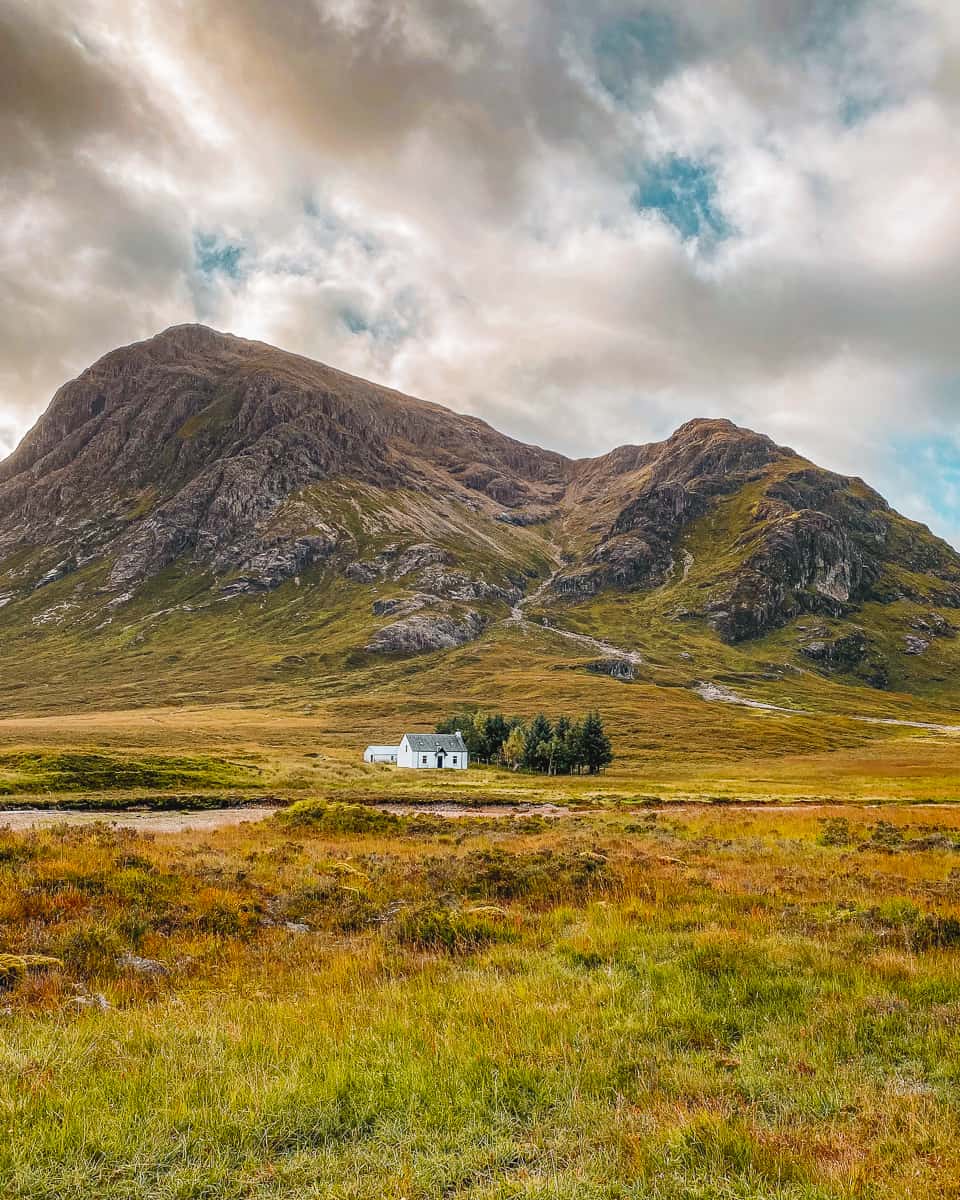 Lagangarbh Hut history
The Lagangarbh Hut was originally created as a crofting home. Crofting is a small agricultural community that rents a property together and lives off the land.
Crofting communities grow their own crops and farm animals and any profits they make are shared with all. It's something that is still practiced in the Scottish Highlands today!
The National Trust took ownership of Glencoe in 1935 including the Lagangarbh Hut. In 1946, the Scottish Mountaineering Club (SMC) took over the maintenance of the property.
It has been renovated many times over the years and they transformed it from Croft lodging to a bunkhouse that could be used by hikers that wanted to stay in the area.
Today, it still functions as a hostel by the SMC but it is also popular photography location and tourist attraction in Glen Coe!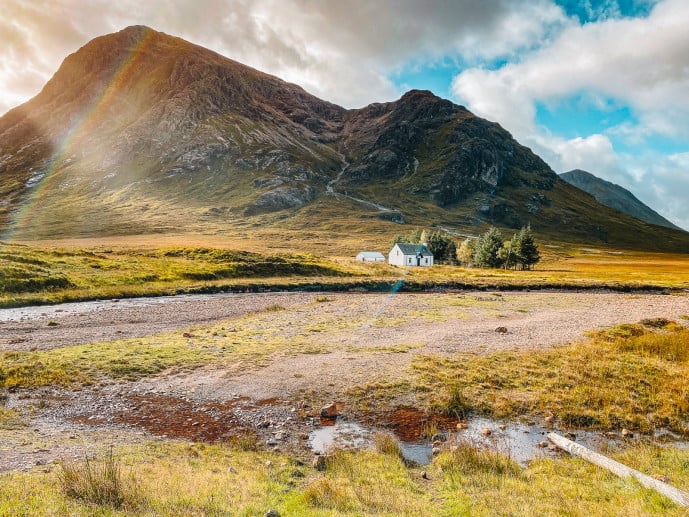 How to visit the Wee White Cottage in Ballachulish
If you wanted to visit the Glen Coe Photography House in Scotland then you'll need to make your way over to Ballachulish in Glencoe.
Glencoe can easily be accessed from either Edinburgh or Glasgow and it takes you around 2-3 hours drive to reach.
It's really easy to visit the Wee White Cottage or the Lagangarbh Hut as there is only one main road (A82) that snakes through the valley. It's impossible to get lost and the hut can easily be seen from the roadside.
The only part that may be a little complicated is trying to find some parking in order to get out and take some photos of the cottage! Parking is limited and can get full in peak season. Also, it completely depends on the quality of the track.
There are no buses that stop at Ballachulish in Glencoe. If you were without a car, I would suggest joining a day trip to Glencoe from Edinburgh and most tour buses will make a stop here for photos.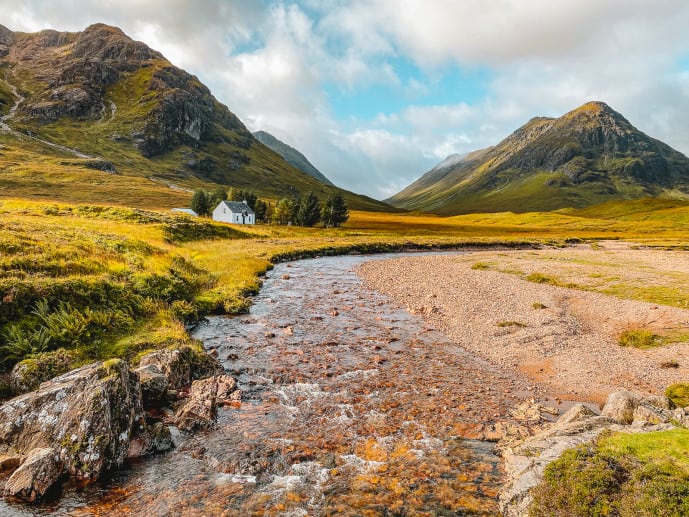 Lagangarbh Hut parking
There is limited free parking on the A82 road by Altnafeadh. On the main road itself, there is a small lay-by that you can park in so you can quickly nip out to take some photos.
There is a larger car park accessible off the roadside but whether you can actually park there entirely depends on the quality of the road.
When I visited in September, there were massive potholes blocking the way and I wouldn't trust taking my tiny Ford KA down there for fear of getting stuck. If you have an overland vehicle, you may have better luck.
I would say that parking in the lay-by on the north side of the A82 is your best bet. Then, it's a short walk down to the hut to take some photos!
You can walk all the way over to the River Coupall taking the small footbridge to traverse the water.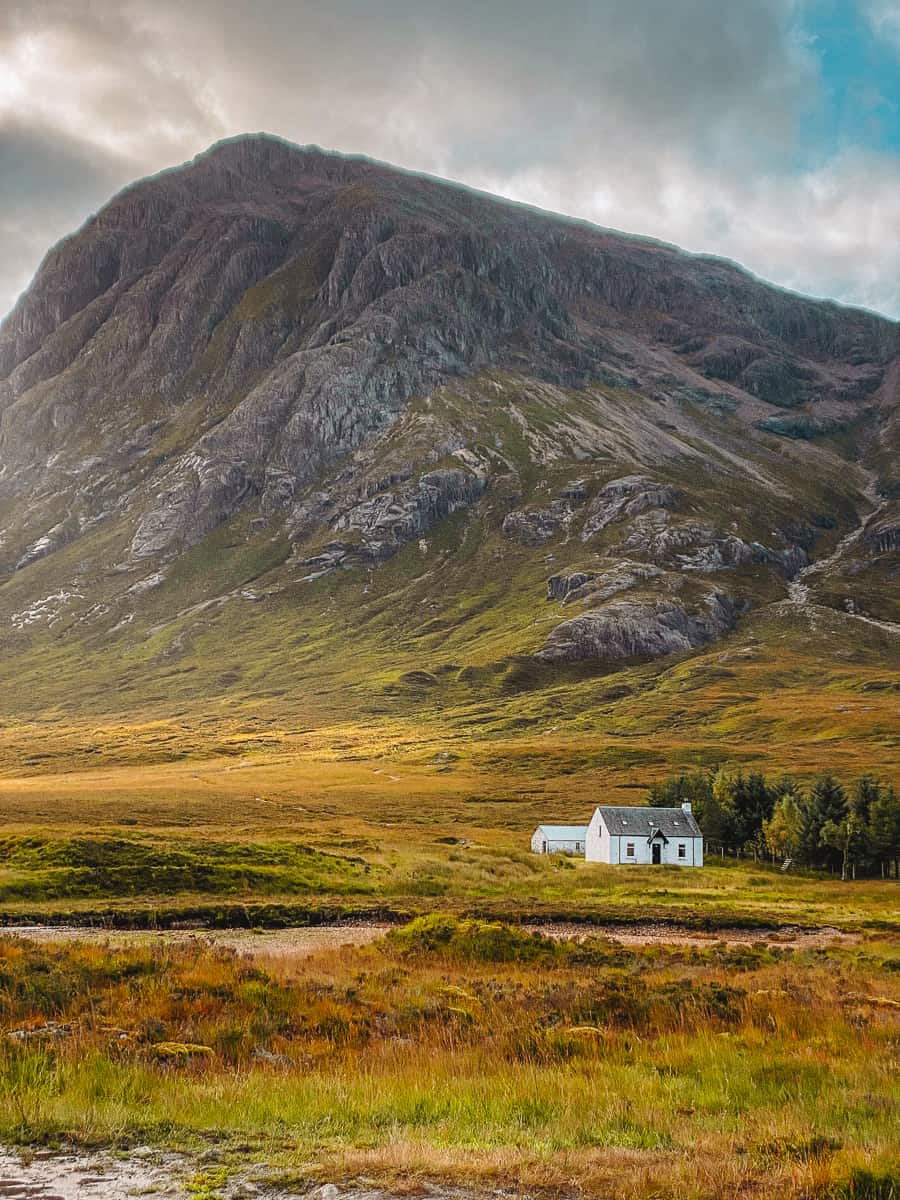 What to expect on your visit
I've driven through Glencoe many times and seen this gorgeous white house perched under the mountain on my way through. But, I've never taken the time to actually stop and get some photos here.
So, this time around, I decided that I would leave some time to walk over to capture it.
I have to admit, the parking situation was a little hilarious as I had to park in the lay-by and walk along the main road for a while to access the track down. It meant I had to avoid the cars speeding past but it was totally worth the effort!
As soon as you get onto the track that leads down to the River Coupall, it was actually a lovely scenic walk that you can take overlooking Buachaille Etive Mor.
Every step of the way provided a new composition of the Wee White House for photos. I could have spent hours here just wandering around getting lost.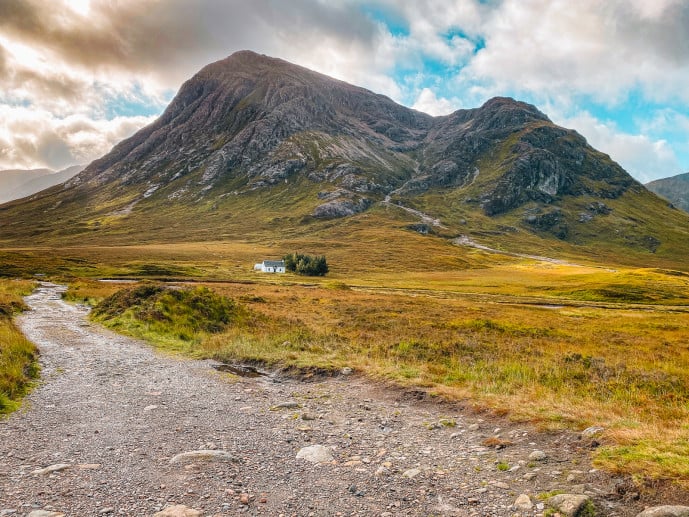 Wee White House Glencoe walks
Beyond taking photos of Lagangarbh Hut, there are plenty of walks you can take around Buachaille Etive Mor near the River Coupall.
So, if you wanted to extend your visit, you can leave your car in the parking area and head down towards the bunkhouse. There is a small footbridge that leads you over the River Coupall and into the valley.
Many people hike up around and up to the summit of Buachaille Etive Mòr as it is one of the best-known Munro peaks. Just be careful in the winter seasons as the terrain is steep and can be slippy in the rain.
Even if you didn't want to go the whole way up, you can easily walk to the Coire na Tulaich ridge and turn back! The dramatic landscapes here are well worth exploring for the incredible views.
Please take care when exploring the wild landscape of Glen Coe. Wear proper hiking boots, be prepared for all elements and stay safe.
Can you go inside Lagangarbh Hut?
No, you cannot go inside the Lagangarbh Hut as a tourist attraction even though it is protected by the National Trust. But, you can book a stay here if you were interested!
The hut functions as a bunkhouse run by the Scottish Mountaineering Club and it has 20 beds inside for groups.
It functions as self-catering accommodation and has a kitchen, drying room, toilets, and showers inside!
You do have to book your stay well in advance and you'll need to email the local SMC Honorary Custodian to apply.
But be warned that applications are only accepted from members of Mountaineering Clubs, Hillwalking Clubs, Individual members of Mountaineering Scotland, or the BMC (British Mountaineering Council).
Click here to book your stay at the SMC Lagangarbh Hut!
Are you looking for more places to visit in Glen Coe?
There is plenty to do in Glencoe besides taking photos of Lagangarbh Hut! I would always recommend you start your adventure at the Glencoe Visitor Centre to learn more about the history of this area.
You can find an infinite number of walks dotted around Glencoe where you can walk through the valley. Or, why not try to climb some of the peaks and go to Munro Bagging?
If you're a Potterhead, you have to check out some of the Harry Potter locations in Glencoe!
A little further down the road, you can turn off at Glen Etive that is also known as the 'James Bond Road' due to featuring in Skyfall. Head all the way down the road for 40 minutes or so until you reach Loch Etive and this is where they filmed Harry Potter!
Afterward, you can then head onto another spot called Rannoch Moor viewpoint where they filmed scenes of the Hogwarts Express!
Or, why not head towards the Clachaig Inn and Torren Lochan on the way to Fort William to see the spot where Hagrid's Hut was filmed in the Harry Potter movies?
Click here for my complete list of Harry Potter filming locations in Scotland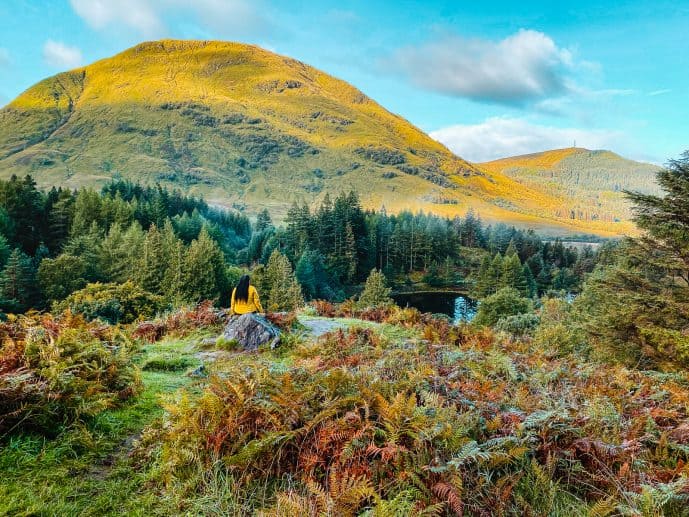 Read more of my Scotland articles
The most Instagrammable places in Edinburgh
Harry Potter locations in Edinburgh
Outlander locations in Edinburgh
Outlander locations in Glasgow
A complete list of Outlander locations in Scotland!
How to visit Dumbledore's Grave
A complete Steall Falls walking guide
How to see the Hogwarts Express at Glenfinnan Viaduct Viewpoint
Where is the pink castle in Scotland?
Visiting the Avengers End Game location in St Abbs
Manuela's Wee Bakery in Scotland!
Magical Fairy Glen on the Isle of Skye
Fairy Pools walk on the Isle of Skye
Save the Lagangarbh Hut for later!