There are two big lakes in the Jungfrau Region of Switzerland, Lake Thun, and Lake Brienz. Whichever you choose to visit, you will certainly not be disappointed by the spectacular views.
With high mountains all around you, crystal turquoise waters, and little villages dotted with traditional swiss houses around the lakeside – it will take your breath away with its beauty.
If you do decide to visit one of the lakes, each one provides an option of a boat ride and here, you can get some incredible views as you head into the valley.
I decided to visit Lake Brienz and caught the boat from the Brienz dock.
I bought a return ticket to Interlaken, which is the main town at the opposite end of the lake, and our boat headed off into the blue.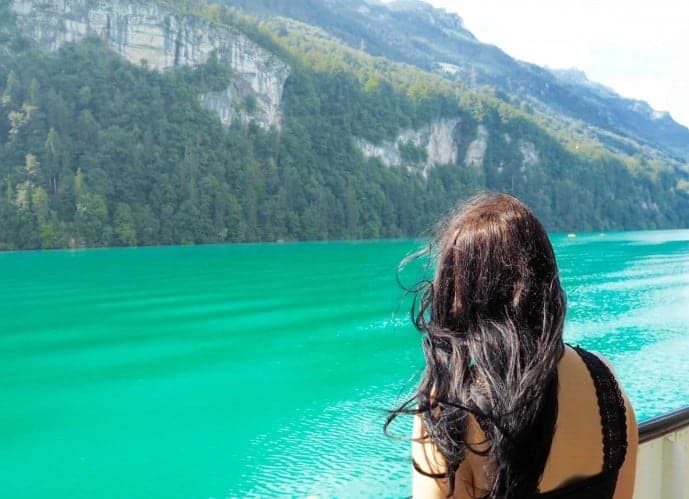 The Brienz Boat
There are plenty of boats which run around the lake as it is such a big area to sail!
All have their own names and unique character.
If you do decide to go on a sunny day, there are plenty of open seats to bask in the rays and catch the wind in your hair.
There are drinks served onboard but food options are limited, so it may be worth bringing a picnic or snacks with you!
Where do you stop on a Lake Brienz Boat Trip?
Lake Brienz is massive and there are plenty of places to stop off on your voyage until you reach your final destination.
One of my favourite places to stop off is the Grand Hotel Giessbach. When you first arrive at its dock, you will be greeted by waterfalls pouring into the lagoon.
The Hotel is situated on top of a hill and so you have two options in getting there;
1) Walk up the hill by the waterfall until you reach the top
2) Catch the Funicular!
It is a little pricey at 10 Swiss Francs return, but it's Europe's oldest mountain cable railway so you have to try it. It's super cute!
At the hotel, you can enjoy a drink or meal in their 'La Terrasse'.
You will have incredible views of the lake as you dine under their chic umbrellas and see the boats coming in.
As an alternative view on the other side of the outdoor seating, the hotel is situated next to a picturesque waterfall in the mountain.
If you're feeling energetic, you can climb up the falls and see a panoramic view of Brienzersee!
Click here to read my complete Grandhotel Geissbach guide
Lake Brienz Boat Ticket Prices & Times
Prices for an adult return boat ticket is around 26 Swiss Francs (£20). It may seem like a lot but the scenery is priceless and you won't regret spending a single swiss cent!
As for times, these vary by season but boats run nearly every hour in the summer and two hours in winter and so it gives you plenty of time to explore a little port/town and climb back on board!
The Views
These are the main attraction for jumping aboard and they do not disappoint.
The water is so blue, even when there's no sun in the sky. Mountains surround you on either side and the lake seems to go on for miles.
Hundreds of traditional Swiss houses are clustered all around and make for a postcard picture.
If you find yourself in the Jungfrau region of Switzerland, make sure you grab yourself a ticket to explore Lake Brienz by boat!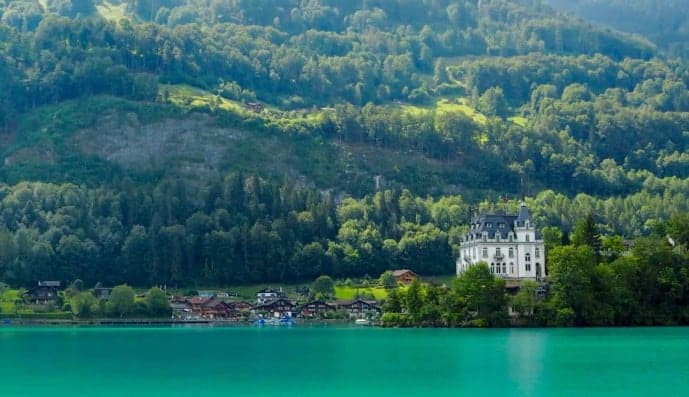 Read more on Switzerland!
A complete travel guide for Mürren
Heading up to Jungfraujoch – Top of Europe
How to see the Matterhorn in Zermatt
Männlichen to Kleine Scheidegg walking guide
The famous Kapellbrücke Bridge
A Sherlock Holmes guide for Meiringen
The best afternoon tea in Interlaken