Yes, Outlander fans, Lallybroch is real and you can become the next Lady or Laird of Lallybroch if you wanted too!
Lallybroch is the ancestral castle home of Jamie Fraser. Who is also known as James Alexander Malcolm MacKenzie Fraser (JAMMF), Laird Broch Tuarach, Alexander Malcolm, Red Jamie, Mac Dubh, The Dun Bonnet and the man of all men.
As a huge Outlander fan myself, visiting Lallybroch was the ultimate experience.
To walk down the same road that Jamie and Claire did in the series and see it for myself really was worth the journey.
In this ultimate guide, I'm going to give you the key to Lallybroch. You'll get all the details on how to visit, opening times, prices, what Outlander locations there are here, photo tips and more!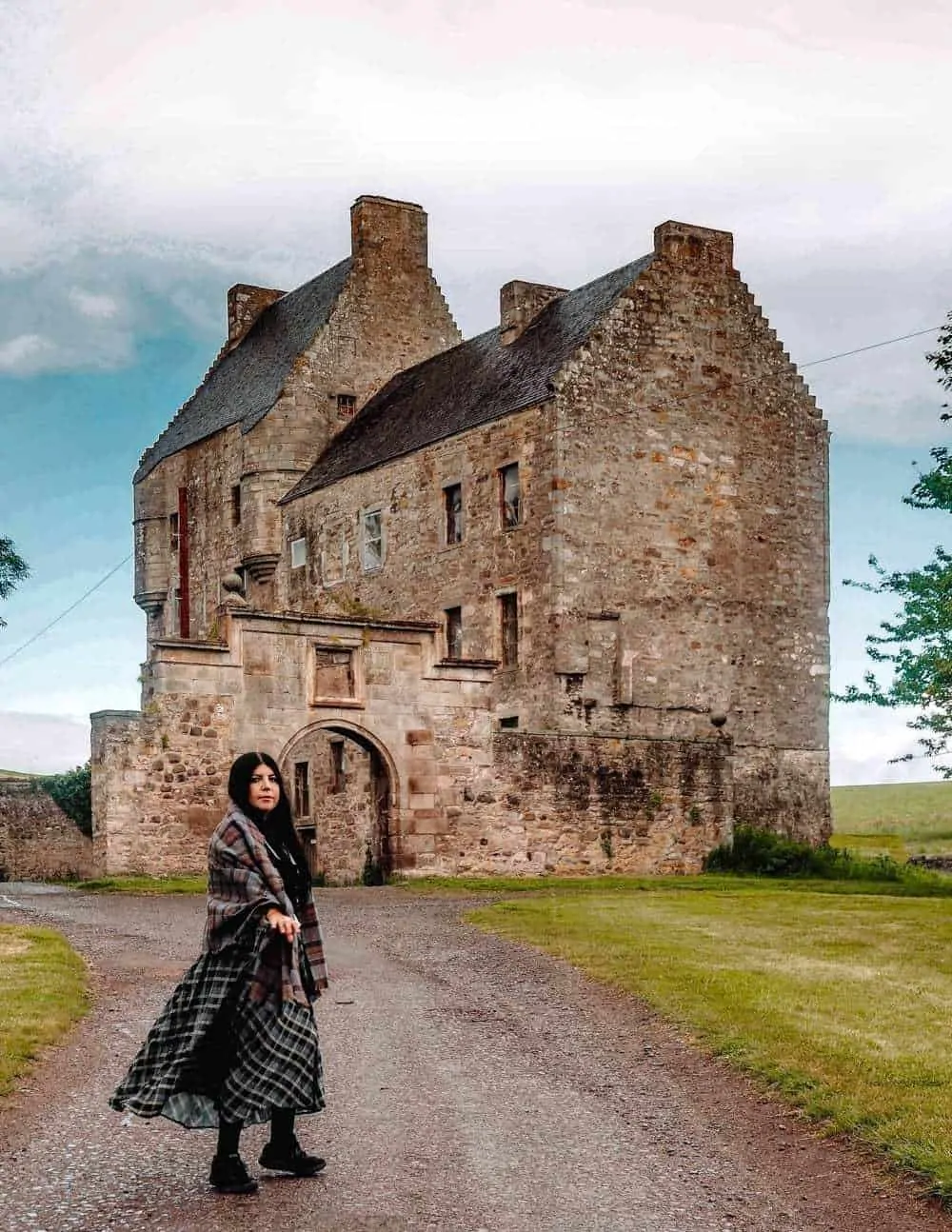 Where is the real Lallybroch? Is Lallybroch a real place?
Yes, my friends, Lallybroch from the Outlander novels and series is REAL. The real Lallybroch can be found at Midhope Castle just 30 minutes drive outside of Edinburgh in South Queensferry.
Midhope Castle, Lallybroch or Brach Tuarach, can be found on the wider Hopetoun Estate. This estate is brimming with recognisable Outlander locations and I'll go more into that later!
You won't find it on the latest Visit Scotland Outlander Locations Map as it's not technically a tourist attraction.
It's a working farm estate with residents living on her property. But, due to the popularity of the TV series and location, Midhope Castle allow visitors seasonally.
Outlander Gaelic translations;
If you're curious as to what some of the Gaelic names from the Outlander series and novel mean, I've got you covered;
What does Lallybroch mean? Lallybroch is the ancestral home of James Fraser and it translates to "Lazy Tower".
What does Broch Tuarach mean? Lallybroch is otherwise known as Broch Tuarach and translates to "the north-facing tower". So, Laird Broch Tuarach means the Laird of the North Facing Tower. In the book and the series, fans will remember that the tower or Broch is actually round but the door faces North. Unfortunately, you won't get to see the North facing tower on your visit to Midhope Castle, it was some clever CGI!
Where is Midhope Castle in Scotland?
Midhope Castle is encompassed by the wider Hopetoun Estate in Queensferry, West Lothian near Edinburgh.
This estate covers a whopping 6,500 acres of land! The listing building can be found in the hamlet of Abercorn.
If you're on a trip to Scotland, basing yourself in Edinburgh for a few days is most convenient for many of the popular city attractions.
It's also a great base if you want to visit Outlander film locations like Lallybroch while you're here. There are heaps around the wider Edinburgh area!
Midhope Castle history
If you're wondering about Midhope Castle's history, it was originally built in the 15th-century by John Martyne. He was laird of this castle until his death in 1478.
It was then passed onto Henry Levingstone and eventually owned by Alexander Drummond of Midhope. He was the Master of Work to the Crown of Scotland.
His job was to repair and maintain the royal palaces and castles for Scottish royalty. He lived there with his wife Majorie Bruce.
In the 17th century the third early of Linlithgow, George Livingston, made major renovations to the castle. John Hope then acquired this as part of the larger estate and gave it a facelift adding a courtyard.
By the 19th century, the castle thrived with a community living on the grounds around the castle. Eventually, in the 20th century, the castle fell into decline and is derelict.
It still is abandoned today, but there have been lots of restoration work. Eventually, the Outlander team selected the castle to be Lallybroch!
How to reach Midhope Castle / Lallybroch from Edinburgh
Midhope Castle By Car: If you're planning on visiting Midhope Castle self-guided then the best way to reach Lallybroch is by car.
You'll need to head to Queensferry and from here, you can head onto the Hopetoun Estate. It's a massive area and Midhope Castle is located in a remote place. Use the postcode EH30 9SL to locate it!
From personal experience, it's really easy to get lost around here with winding roads and the signs are small. So, leave lots of time to reach.
Midhope Castle Taxi: You can also organise a taxi here if you choose, but I would highly recommend organising this journey in advance. It's in quite a remote area of the estate!
Midhope Castle Bus: There really aren't any accessible public transport options to reach Midhope Castle. The closest you can get is to take the 23A bus service to Abercorn Road and make the 30-minute walk from there on foot.
Midhope Castle on foot: Popular walks around the Hopetoun Estate include the Sea Walk Trail from the Queensferry Bridge, so you can always add on Midhope Castle if that's what you plan to do on your day out.
Midhope Castle Tour: If walking isn't your bag and you're not planning on driving while in Scotland, I would recommend taking an Outlander tour that includes Lallybroch on the itinerary;
Midhope Castle parking and vehicle passes
There is a public visitor car park at Midhope Castle but there are only limited spaces.
You used to require to have a vehicle pass for parking. But, this is no longer required.
If you plan to arrive by minibus with a group, you will need to pay a permit fee of £40. Email estate@hopetoun.co.uk for arranging one in advance! Coaches over 16 seats must pre-book in advance and will be given alternate access instructions as it's a one-way road with limited space.
Midhope Castle tickets
Tickets to enter Midhope Castle are £6 per person. You now must buy tickets online via the Hopetoun House Website.
You will need to show the ticket desk your PDF ticket on your phone upon entry at the ticket kiosk. The timeslots are 9 am, 11 am, 1 pm, and 3 pm.
The kiosk also sells some cute souvenirs of the castle including magnets and postcards.
Great as a keepsake if you want to take something home to remember your visit to Broch Tuarach!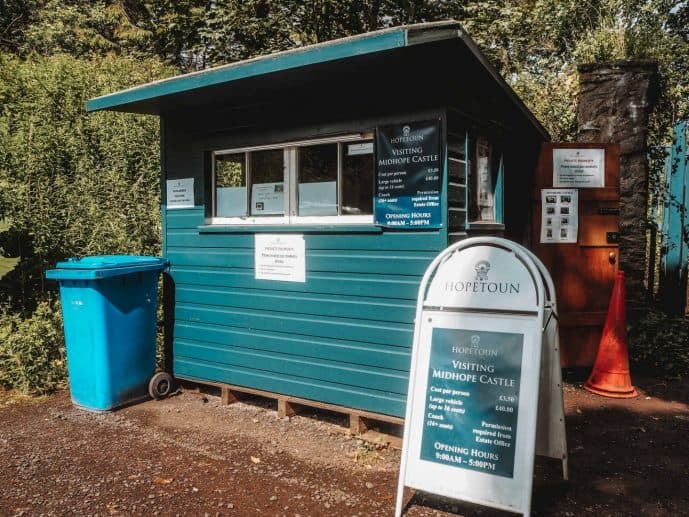 Midhope Castle opening times
Midhope Castle is only open seasonally throughout the year. Previously, anyone was able to approach the castle before opening times, but the estate has now installed gates to keep members of the public out.
This is to respect the residents around the area. So, it's pointless to turn up before it opens. I tried to ask for early permission but was denied haha;
24th December – 30th March: CLOSED
1st April – 31st October: 9 am – 5 pm daily
1st November – 23rd December: 10 am – 3 pm daily
Note: there are some days when the castle is closed to the public for safety reasons. Make sure you check the website for any planned closures before you visit on the day.
What is the best time to visit Midhope Castle?
My personal advice would be to get here as soon as it opens, especially in the summer months. If you want a clean photo, this is crucial.
The security guard saw me filming my video and he told me I chose the best time.
Apparently, in the afternoon is when all the tour groups arrive and it's almost impossible to get a car parking space or a clear photo!
People on tour groups don't spend long here, so you can just wait patiently for a lull between tour groups if you don't want an early wake-up call.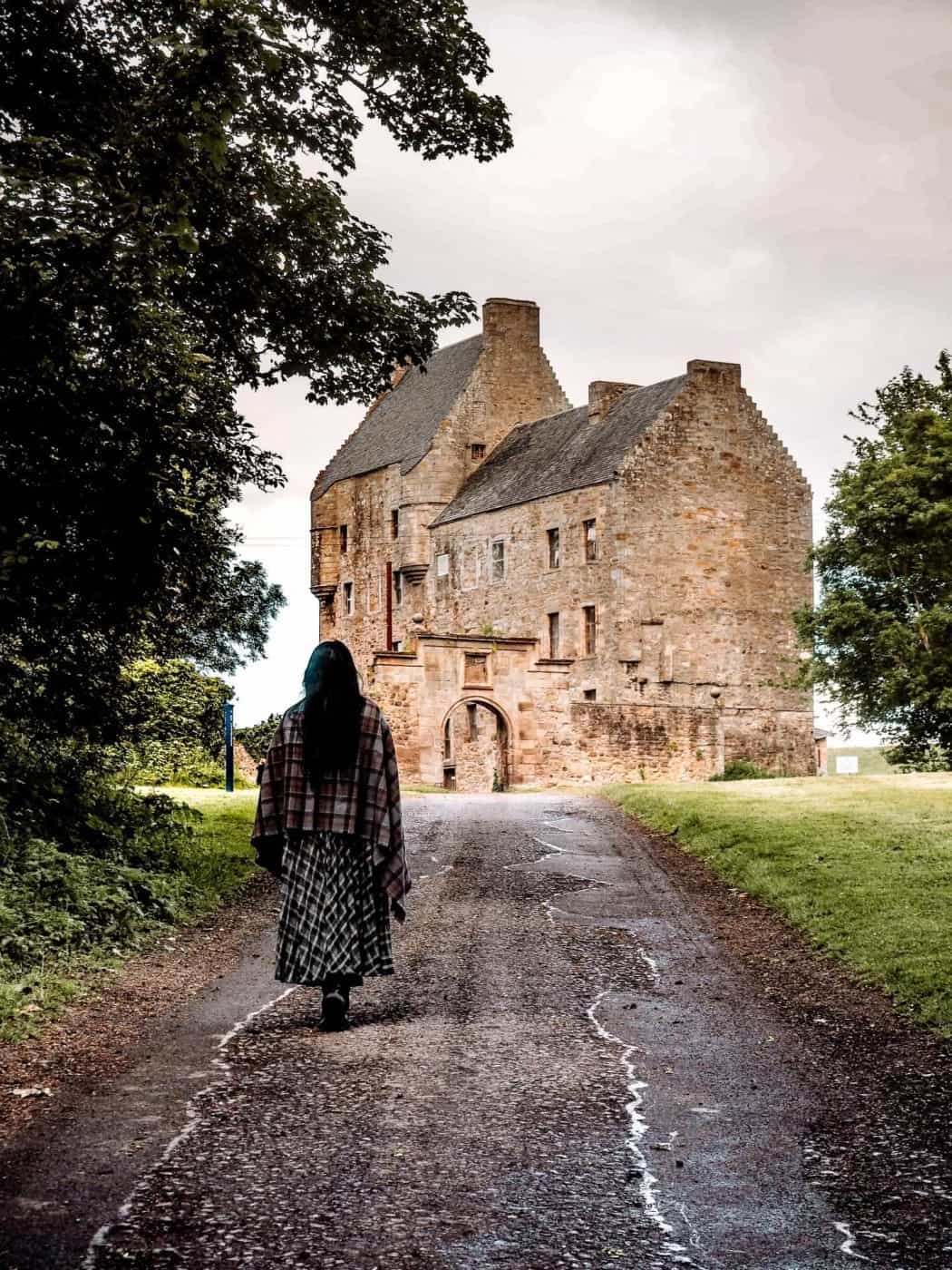 How much time do I need to visit Midhope Castle?
If you just want to approach the castle and take a photo, I'd say you could spend 15 minutes here and many tour groups do rush through. But, if you're an Outlander fan, I think that's almost impossible!
One, you're at LALLYBROCH and it's almost like an out-of-body experience (lol). Two, you'll want to take snaps.
So, I'd allow at least 30 – 45 minutes.
To first squeal with excitement, explore the castle, and grounds and take a trillion photos to make your friends at home jealous.
Midhope Castle Photography and Drones
Photography is permitted at Midhope Castle and comes included in the price of your entrance fee.
Drones are not permitted to fly without prior permission from the Hopetoun Estate.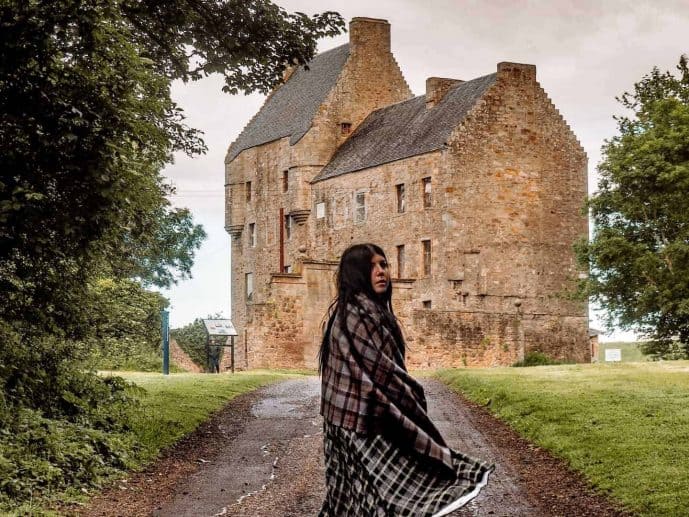 Midhope Castle facilities
If you're hoping for a coffee, cake, or a dram with the Laird of Lallybroch, I'm sorry but you'll be sorely disappointed.
There is no tea room at Midhope Castle and it's probably a good job as there are no toilets on site either!
Remember this isn't a tourist attraction. So, if you think you may need it, I'd pop to the loos before you get here.
If you were after a lovely bit of cake, you can pop to the cosy Stables Kitchen on the grounds of Hopetoun House. Their café is lovely and has some yummy treats on offer!
Outlander locations in Lallybroch / Midhope Castle & photo spots
Who can forget that emotional moment when Claire says "Take me home to Lallybroch"?!
After 'The Devil's Mark' when Claire narrowly escapes burning at the Witch Trial, Jamie and Claire flee to Lallybroch and away from Castle Leoch for safety.
Here are all the Outlander locations and epic photo opportunities you can get at Midhope Castle.
It's also featured in series 7 of Outlander in 2023! But, I won't give the story away :)
1. The path leading to Lallybroch
This is the iconic photo of Lallybroch. We first see this scene when Black Jack Randall and the Red Coats pay a visit in the flashback and again when Jamie returns home with Claire.
If you're a big Outlander fan, this moment will give you the chills and you'll really look like the cat who had cream for its supper as you approach!
I was the first one in and practically skipped down the path.
Out of all the photos of Lallybroch this one is my favourite. It's easier to get a clean photo here as it's further away from the castle.
2. The Lallybroch archway
How many times can you count scenes featuring this archway in the series?
Maybe it's the time when Jamie was flogged here, or when Claire looks out for Jamie who doesn't come home from the raid with The Watch, or that time when Claire has a flashback of Jamie when she visits in the 60s?
Of course, the Fraser sigil won't be here, that was installed for the filming of the Outlander series and removed again.
But, it's still the iconic archway, so this definitely has to be on your photo list.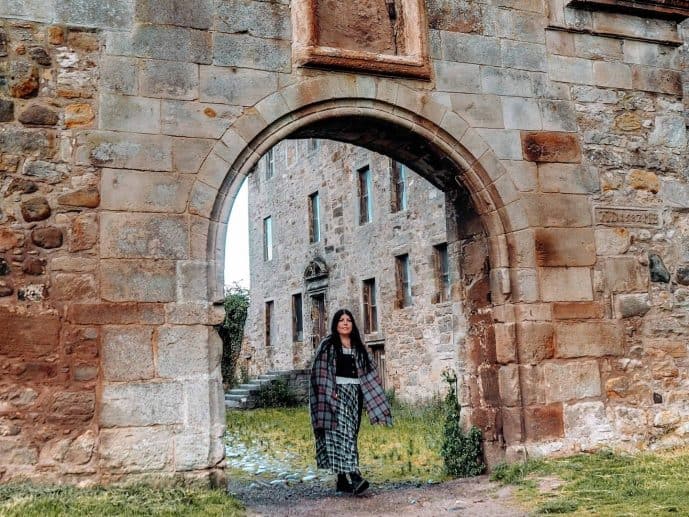 3. Lallybroch Castle steps
Up there as a close second with the pathway, has to be these steps! Sitting on the steps where Claire and Jenny sit together was the ultimate fangirl moment.
In the series when we see Lallybroch in the 18th century, you'll see lots of props to depict a working farm around the entrance.
Wash baskets, barrels, crates, plants, a doocot even with stables. None of that will be here on your visit.
The scene looks more like the one in series 3 where Claire revisits in the 1960s.
Midhope Castle is derelict, so you'll see the warning signs in the episode like you do on your visit!
As Jenny says, don't wait for Jamie too long, or you'll be there a long while haha.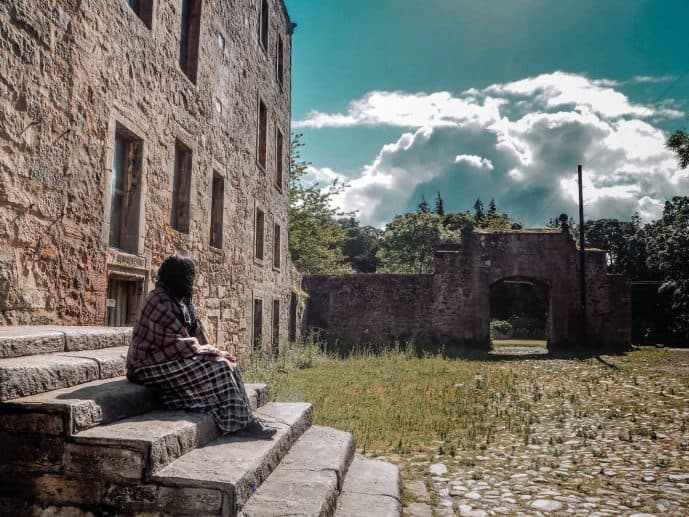 4. The Lallybroch Stables
If you head around the back of the castle, there won't be much to see. But, to me, this looked distinctly like the scenes of the stables at Lallybroch.
If you remember in the series, we see Jamie shoeing a horse and The Watch set fire to the hay and chaos ensues. But don't quote me on it!
5. The Dun Bonnet Cave
Another location that people don't often hear about is the entrance to the Dun Bonnet cave that was filmed around here.
The interior of this cave was filmed in a studio, but the outside can be recognisable. I didn't get a chance to visit here, but I've heard it's only a short walk away so it's worth checking out.
Apparently, there was a real Dun Bonnet called Jamie Fraser who took part in the rebellion in 1745.
His cave, where he hid out for 7 years away from the British Army, is called the Bonaid Odhair Cave near Inverness. Read more about that here.
Can I go inside Midhope Castle?
Unfortunately, you can't go inside Midhope Castle. It's a derelict property and dangerous at the moment to enter. But, if it helps, none of the filming in Outlander took place inside the castle itself.
All the interior scenes for Lallybroch are filmed inside a film studio.
While I was here, I did see some construction workers heading inside the castle!
So, who knows what developments may unfold!? More filming at Lallybroch? A hotel perhaps? Only time will tell.
The verdict: Is Lallybroch / Midhope Castle worth a visit?
I read lots of negative reviews about visiting before my trip, but I quite honestly don't know what people expected.
Jamie isn't home, it's abandoned, you have to pay, and there aren't any facilities. But, I still believe it's worth every penny for Outlander fans. I mean, it's Lallybroch for crying out loud!
I visited almost every Outlander film location in Scotland on the map and this was one of my top favourites. If you're here for an Outlander tour, I would prioritise this to the top of your list.
Is Lallybroch Mill at Midhope Castle?
No, but that is also another amazing Outlander location that you can visit while in Edinburgh! Preston Mill and Phantassie Doocot in East Lothian were featured as the Mill in Lallybroch.
There won't be any red-haired highlanders about but you can see the workings of a traditional grain mill and see the 'Outlander' wheel that featured in the series.
It's a really informative visit and well worth the journey.
Read more about visiting the Lallybroch Mill location here.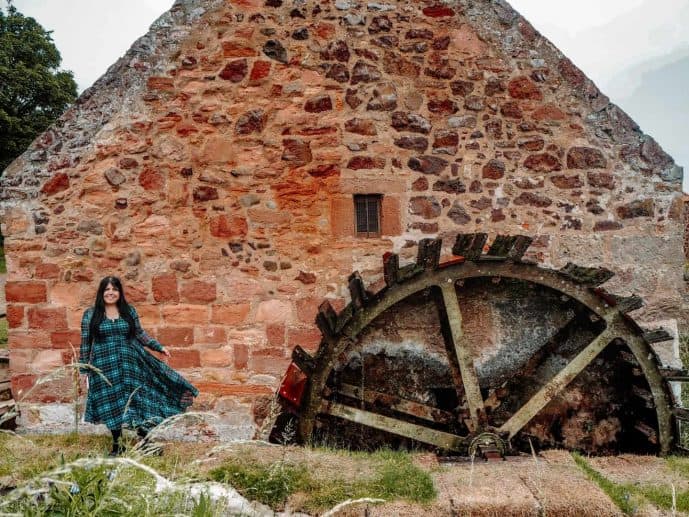 Where to stay on the Hopetoun Estate
Unfortunately, Midhope Castle is derelict so you can't stay on the property (yet!) and also Hopetoun House down the road doesn't have availability either.
But, there are places around Hopetoun Estate and Queensferry where you can stay the night.
Parkhead House, near Midhope Castle, used to be the residence of the groundskeeper of Hopetoun House.
But, now it's a cosy B&B which is perfect for Outlander fans to stay around the area. Click here to check availability. I stopped by on my way around the estate and loved their sign where they embrace the Outlander theme.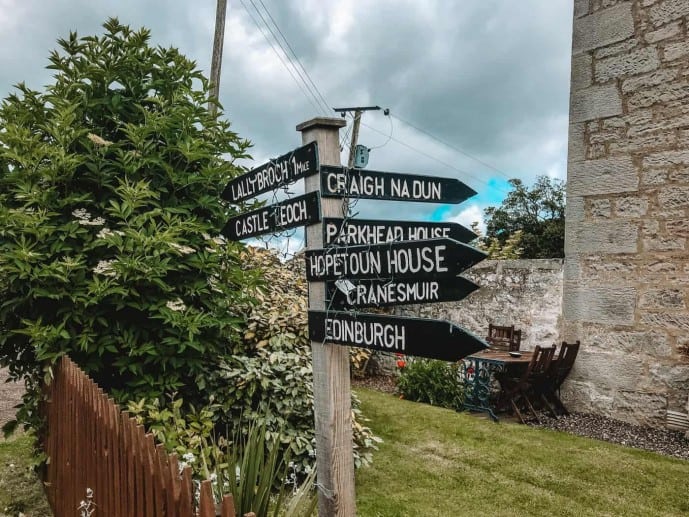 Outlander locations at Hopetoun Estate
The Hopetoun Estate is full of Outlander locations that feature scenes from all 4 Outlander seasons to date.
Abercorn Church nearby Midhope Castle plays a part in series 4 when Brianna mourns the death of Frank.
Hopetoun house has over 10 locations including the Duke of Sandringham's home, his red drawing-room, the entrance to Maison Elise, the stables of Helwater Estate, the exterior of the Earl of Ellesmere's home, and even the streets of Paris!
You could spend hours here getting lost in its lavish staterooms and grounds.
Read more: Outlander locations at Hopetoun House!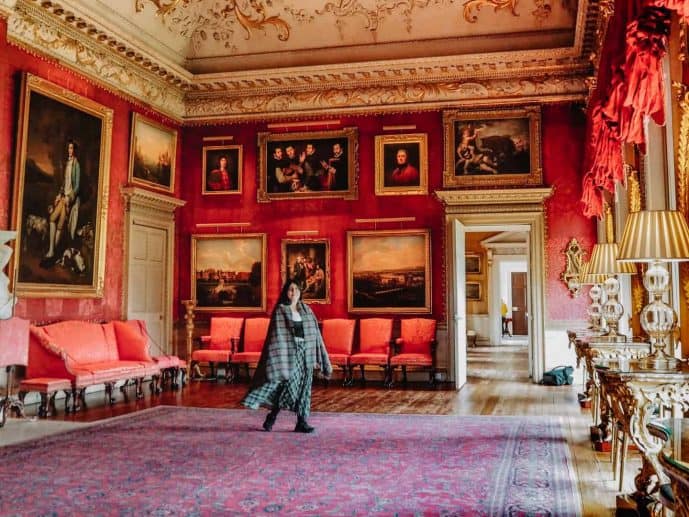 Looking for more Outlander locations in Edinburgh?
It is definitely worth basing yourself in Edinburgh for a few days so you can visit all the Outlander locations in the area. There are many, so make sure you leave time for them.
Nearby to Hopetoun is Blackness Castle that featured Fort William and Linlithgow Palace that was Wentworth Prison.
Also, Bo'ness railway played a part in the scene where Claire and Frank said goodbye in World War II.
In East Lothian, you can visit Gosford House that featured the Royal stables of Versailles and Helwater Estate.
Roslin Glen and its Gunpowder Mills are featured in series 1 and you can visit Glencorse Old Kirk to see the spot where Jamie and Claire were wed.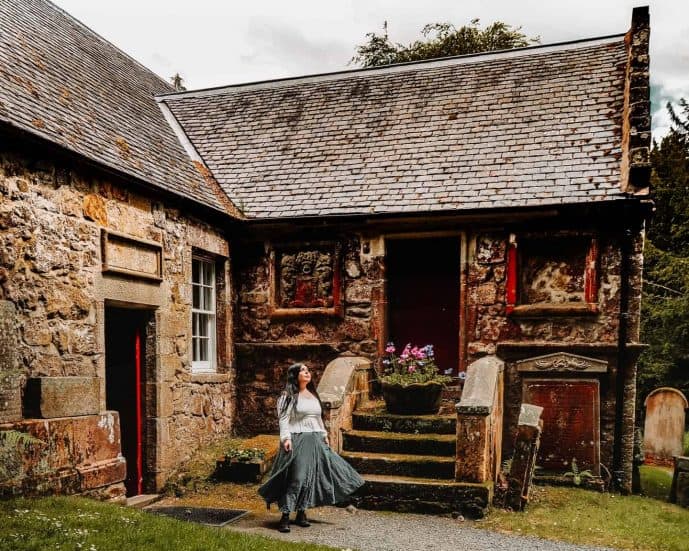 You can visit Doune Castle that featured as the seat of Clan MacKenzie Castle Leoch, Deanston Distillery to see Jared's wine store in La Havre or Drummond Castle Gardens that were the gardens of Versailles.
In the city centre, there are so many Outlander locations you can visit on the Royal Mile.
You can stop by at Bakehouse Close to see Alexander Malcolm's print shop, Tweeddale Court where Claire reunited with Fergus, The World's End where they save Mr Willoughby from a brawl, or have afternoon tea at the Colonnades that featured as the Governor's Mansion in Jamaica.
Be sure to check out my Outlander walking tour of the Royal Mile here!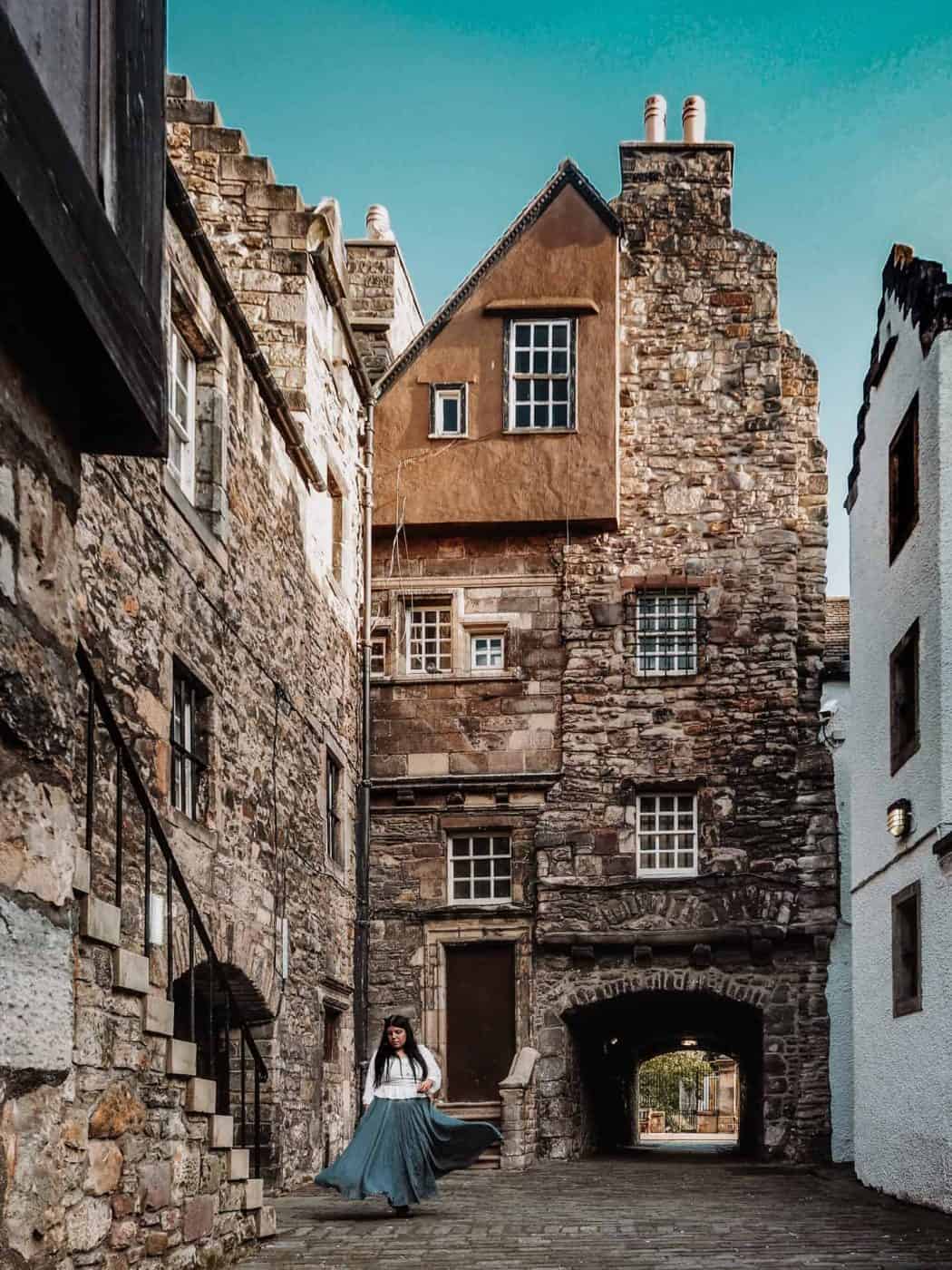 Summerhall featured a lecture room used by Claire where she met Joe Abernathy and Craigmillar Castle was Ardsmuir prison for Jamie and the Jacobite Rebels.
The historic Royal Borough of Culross doubled up as Cranesmuir with the Black Kirk and Falkland village featured as 1945 Inverness.
You can even book a night in the same room as Claire and Frank and pose where the ghost of Jamie stood!
Or, click here to learn How to find the Outlander Witness Trees from Fraser's Ridge!
If you're really keen to visit all the locations you can check out my ULTIMATE list of over 90 Outlander filming locations here. Plus, I have a list of Glasgow sites here.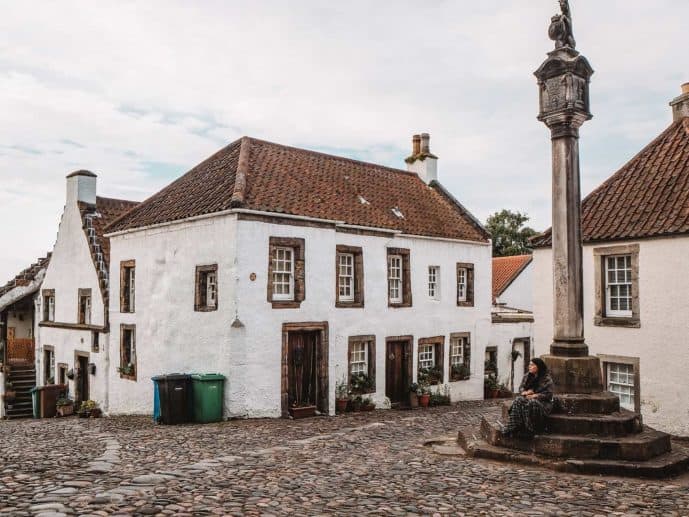 With thanks to the team at Hopetoun Estate for sponsoring my visit. Although I was a guest, all photos and opinions are entirely my own.
Save How to Visit Lallybroch for later!