Le Train Bleu Paris is one of the most spectacular restaurants in the city with the most breathtaking interiors reminiscent of the Belle Époque era.
Although it looks like it belongs in a grand palace like Versailles, you can actually find it within Gare du Lyon train station.
Originally created for the 1900 Grand Exposition of Paris, this stately dining hall has gained legendary status over time for serving celebrities like Coco Chanel.
Although the menu does have a rather expensive price tag, it's well worth splurging on as it's a Parisian gastronomic experience like no other.
Here is a Le Train Bleu Paris review and whether it's worth eating at this luxury restaurant in Gare du Lyon.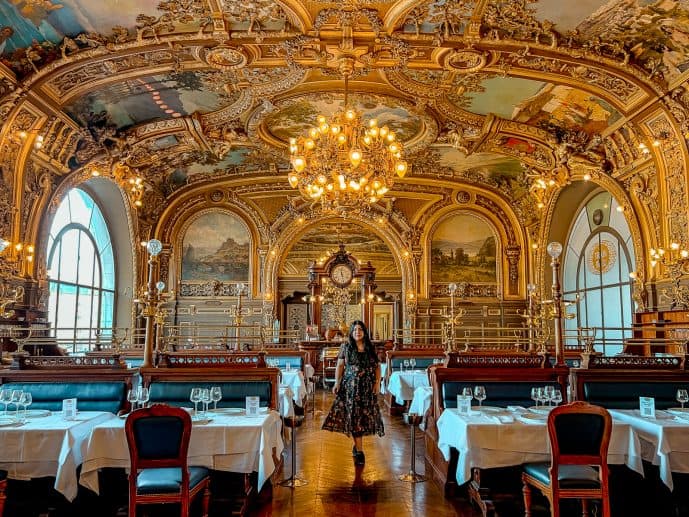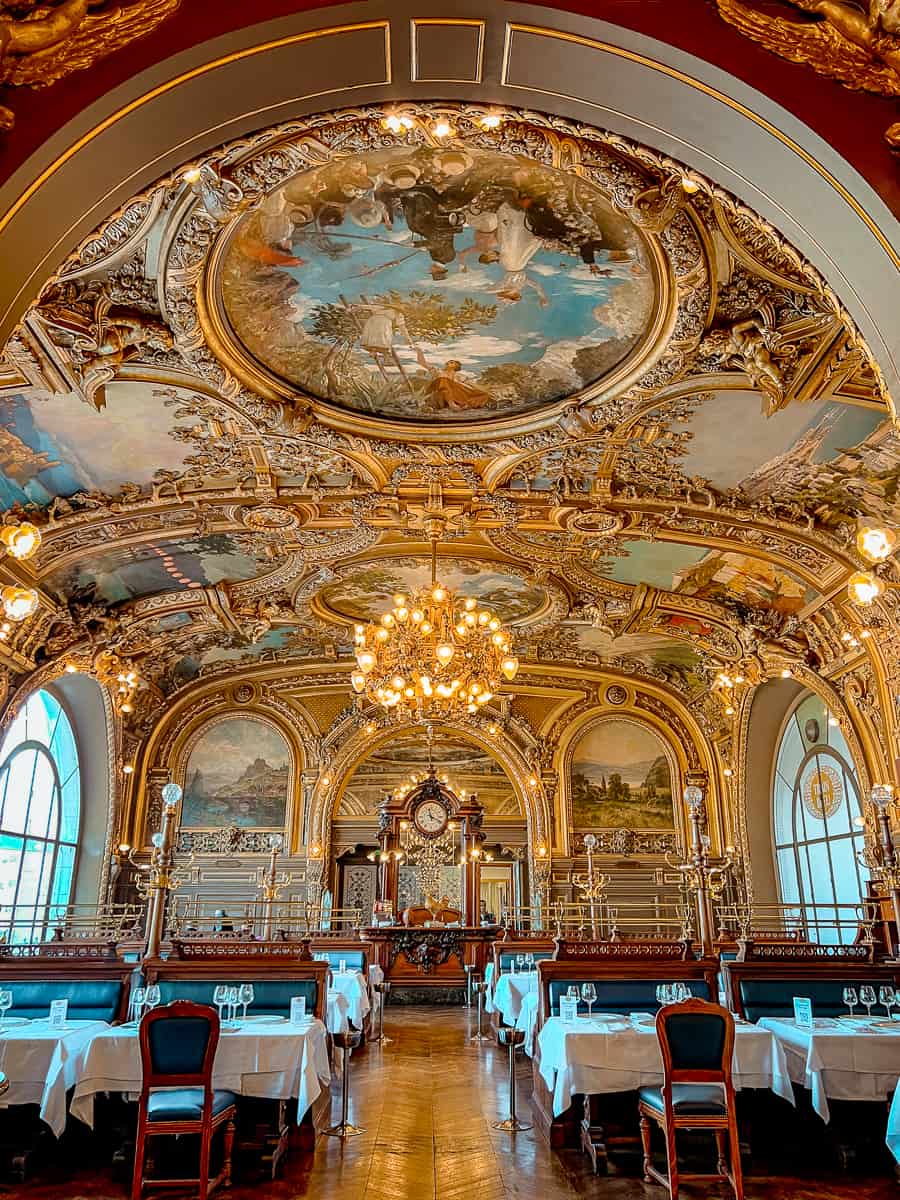 What is Le Train Bleu Paris?
Le Train Bleu is a majestic restaurant in Paris that has the most spectacular interiors in the city worthy of a grand palace.
It's hard to believe that a restaurant this grand is actually found inside the train station of Gare du Lyon. But, it's true.
In fact, Le Train Bleu is a two-time Michelin Star restaurant with staff dressed up to the nines who prepare dishes in front of you at your table.
Its magnificent interiors are heritage-listed so you'll feel like you're dining in a museum.
As soon as you step inside, it feels like you've entered a portal that transports you back in time to La Belle Époque.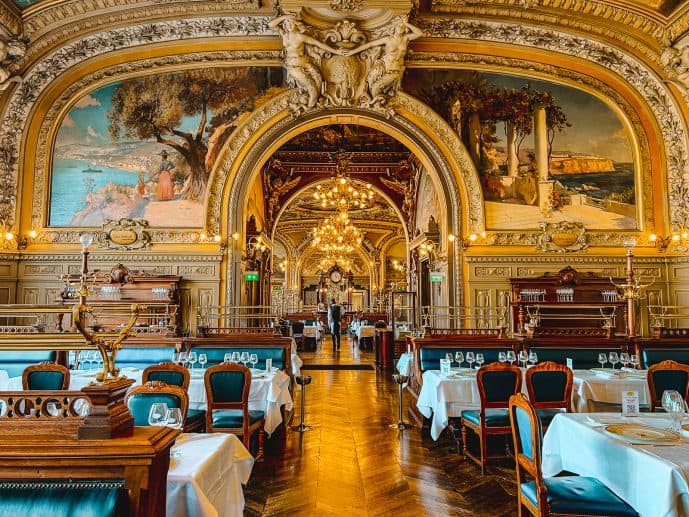 What does Le Train Bleu mean in English?
Le Train Bleu literally translates as The Blue Train in English.
It was named after the Paris-Vintimille line which was a French luxury night express train which operated from 1886.
It was a popular choice for the wealthy travelling to the French Riviera on holiday.
The locals nicknamed this train 'Le Train Bleu' due to its dark blue carriages and sleeping cars.
Le Train Bleu history
The restaurant was originally built at Gare du Lyon in 1900 for The Universal Exposition in Paris (La Exposición Universal de París).
It was built by the same architect who constructed the station clock tower and facade, Marius Toudoire.
As the eyes of the world were going to be on Paris for the exposition, Toudoire was under pressure and knew he had to make a good impression.
So, he created a station buffet with several ornate dining rooms that represent cities and regions in France.
There were also sumptuous lounges created to represent the colonies of the French Empire at the time like Tunisia and Algeria.
There were 41 elaborate paintings created by popular contemporary French artists along with gold gilt decor, sparkling chandeliers, sumptuous tables and wooden panelling.
It was finally unveiled by French President Emile Loubet in 1901 and attracted many people in high society.
It was originally called 'Buffet de la Gare de Lyon' but changed its name to 'Le Train Bleu' in 1963. By 1972, many of the historic features in the restaurant were listed as heritage monuments.
The restaurant has gained fame over time due to the many celebrities who have dined here like Coco Chanel.
It's also featured in movies like Mr Bean's Holiday, Nikita and Place Vendôme.
What celebrities have visited Le Train Bleu?
Beyond the fabulous interiors making this restaurant renowned, the main reason Le Train Bleu is so famous is from the celebrities who have flocked here over the years.
Here are some of the most famous people who have eaten at Le Train Bleu;
Coco Chanel – fashion designer and businesswoman
Salvador Dali – Spanish artist and surrealist icon
Brigitte Bardot – actress, singer, model and animal rights activist
Jean Cocteau – French poet and playwright
Marcel Pagnol – French novelist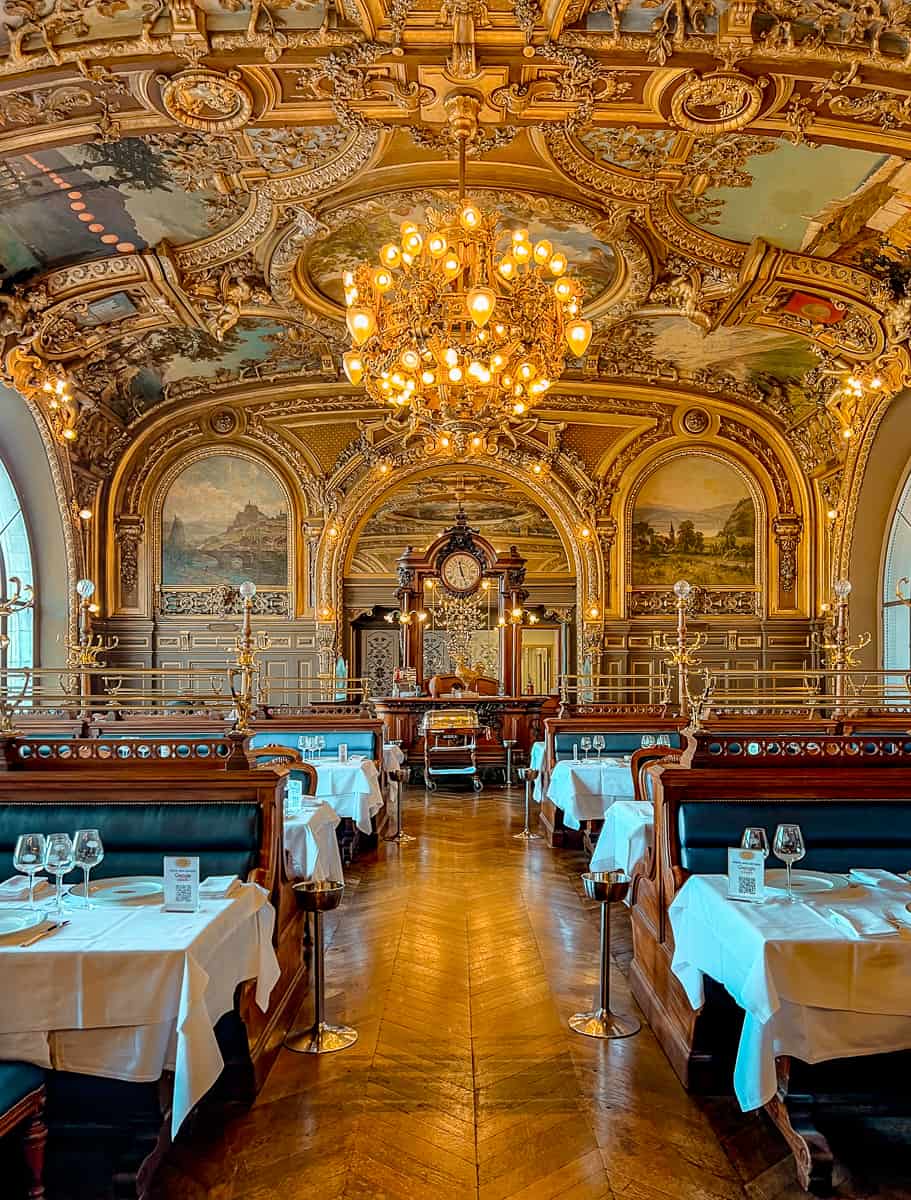 Le Train Bleu restaurant in Mr Bean
Another reason why people love to visit Le Train Bleu today is from seeing it featured in Mr. Bean's Holiday.
In the movie, Mr. Bean has some spare time in Paris so heads to this luxury restaurant to try some French food.
In a classic Bean move, he orders the 'Fruit de Mer' and is horrified. He can't stomach eating the oysters and prawns!
Lots of people love to sit at 'Mr Bean's table' so you could put in a request with the hosts if you're a fan.
Mr. Bean has always been a big part of my childhood so I loved following in his footsteps here.
I remember the classic episode of Mr Bean making a mistake in ordering a Steak Tartare and then trying to do anything other than eat it.
They actually serve blue Beef Tartare here, one of their famous dishes, if you want to eat something in his honour.
Where is Le Train Bleu Paris?
If you can believe it, this luxury restaurant can be found in Gare du Lyon train station in central Paris.
This is the second busiest train station in France after Gare du Nord. It has SNCF regional trains, TGV international trains and also the RER.
As you approach the front of Gare du Lyon station, you'll find Le Train Bleu near the entrance on the first floor.
It makes it the perfect place to eat some fine food before you set out on your train journey from Paris.
But, even if you're not travelling by train, you're more than welcome to dine here. You don't need a train ticket to dine at Le Train Bleu.
Le Train Bleu address is Paris Gare de Lyon (Doublon), Pl. Louis-Armand hall 1. Click here for a Google Pin.
What do they serve on the Le Train Bleu menu?
Le Train Bleu serves up a fine menu of traditional French cuisine. You'll find familiar and famous dishes like Pâté en croûte, duck foie gras, beef tartare and Fish bouillabaisse.
Most of the starters range from 25 euros to 50 euros and the main dishes can cost anything from 30 euros to 110.
As well as A La Carte options, the restaurant has a few set menus which may be of interest.
They have the Le Train Bleu Menu which is 120 euros, the PLM Menu (Paris Lyon Mediterranean) for 74 euros or the Travellers Menu for 54 euros per person.
There is also a children's menu for little ones up to 10 years old which costs 25 euros.
Drinks are not included on the set menus but they have extensive wine and cocktail lists. Also, you can choose a wine pairing to go with your set menu for 40 euros extra.
As a Diet Coke was going to set me back 9 euros, I actually decided to go for an Aperol Spritz as it was just slightly more.
Le Train Bleu Travellers Menu
As I wanted to try their speciality dish of the roast leg of lamb, I decided to go for their Travellers Menu which was 54 euros.
This included a main dish of roast lamb which is carved at your table on a serving trolley along with a hefty plate of dauphinoise potatoes.
I loved seeing my dish prepared at my table as it was like a mini show. You can see your meal prepared but also others too while you dine.
The staff will be preparing the beef tartare as well as making a mouth-watering crepe suzette.
The lamb was a really generous portion topped with gravy. It was so filling, I didn't even need the creamy potatoes as they were very rich.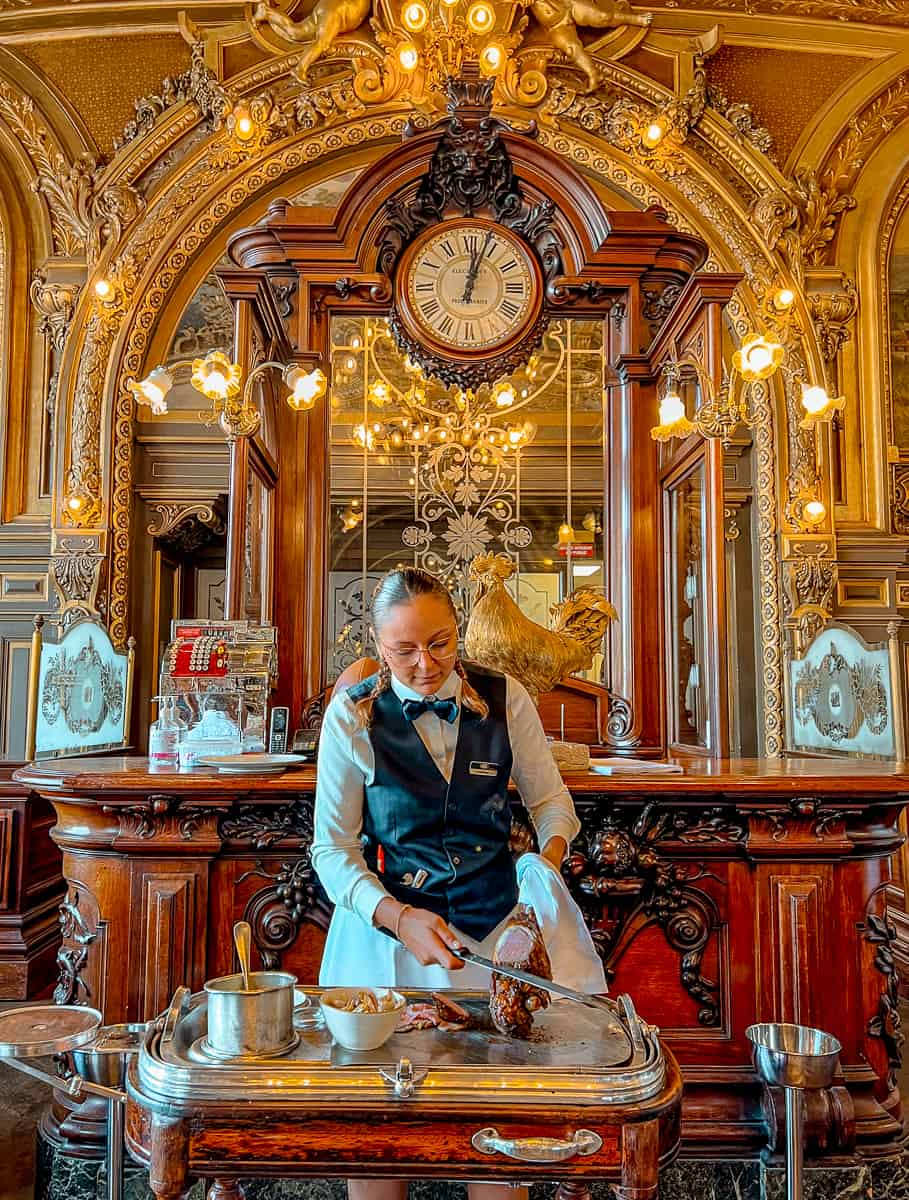 The traveller's set menu also came with a Strawberry Charlotte dessert to finish. This was a really tasty pink sponge with berry cream, covered in icing and served with real strawberries and raspberry coulis.
It was so beautifully presented I almost didn't want to eat it but I'm glad I did as it was really scrummy.
All in all, I would say that the traveller's menu is the best value for money here. Not only is the food delicious but you get a huge portion for the price compared to the A La Carte options.
Discover the spectacular interiors
During your meal, or afterwards, I would recommend having a look around this spectacular restaurant.
Everywhere you gaze, you'll discover something beautiful. There are 41 colourful paintings here that represent cities in France.
You'll also see coats of arms, gold gilt statues, chandeliers and a golden chicken by the clock tower which the restaurant was awarded for their cooking.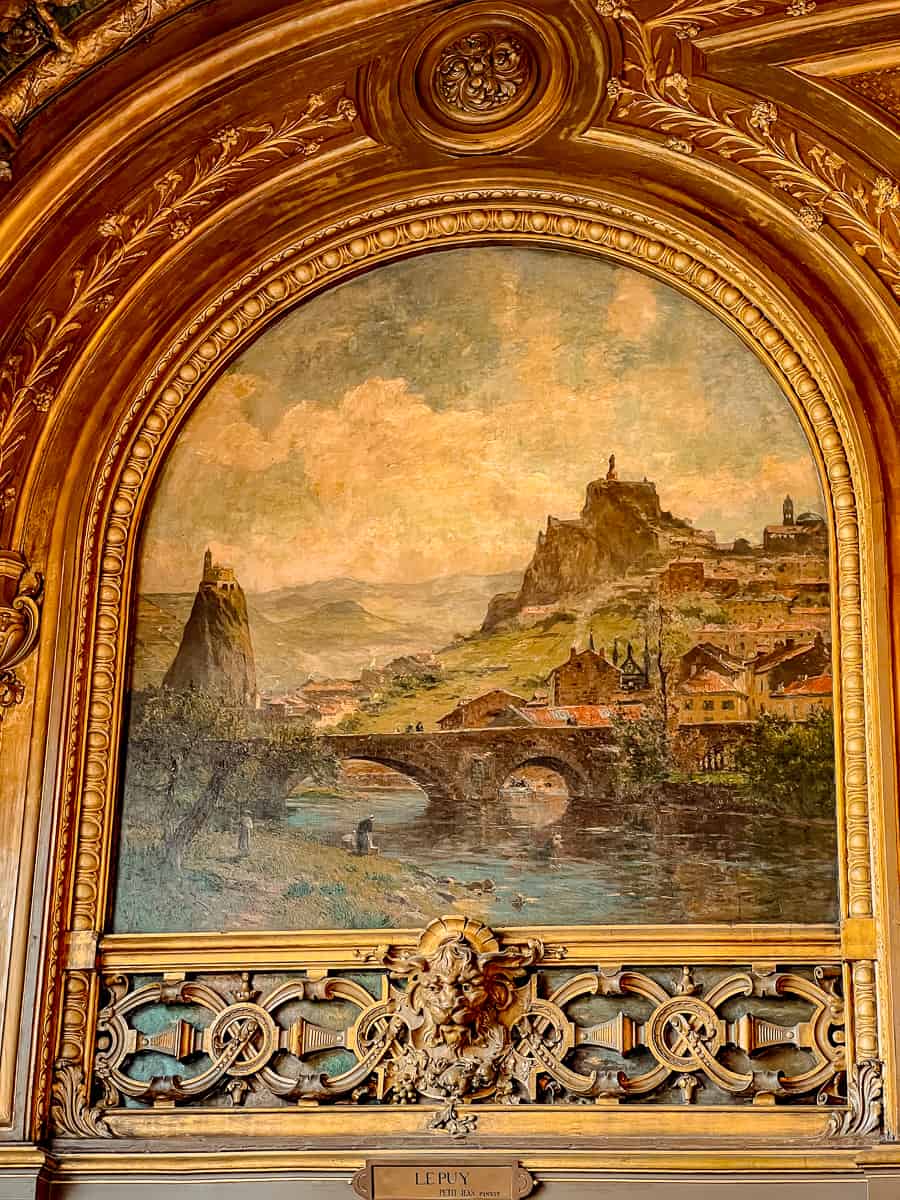 Honestly, it was mesmerising. There were floral displays, twinkling chandeliers and huge windows that let in lots of daylight with views of the 12th arrondissement of Paris.
I could have spent hours here just admiring all the splendour. The entire place, with its ornate dining rooms and lounges, is truly a work of art.
Is Le Train Bleu worth a visit?
Yes, Le Train Bleu is definitely a dining experience you need to try at least once.
Although it's not the cheapest place to eat in Paris and is a bit of a splurge, I thought it was decadent and worth every penny.
You will feel like you've stepped back in time here to the 19th century and you'll be walking in the footsteps of famous French celebrities like Coco Chanel.
It's a bucket list activity and something I would highly recommend doing in Paris, so make sure to book your table well in advance!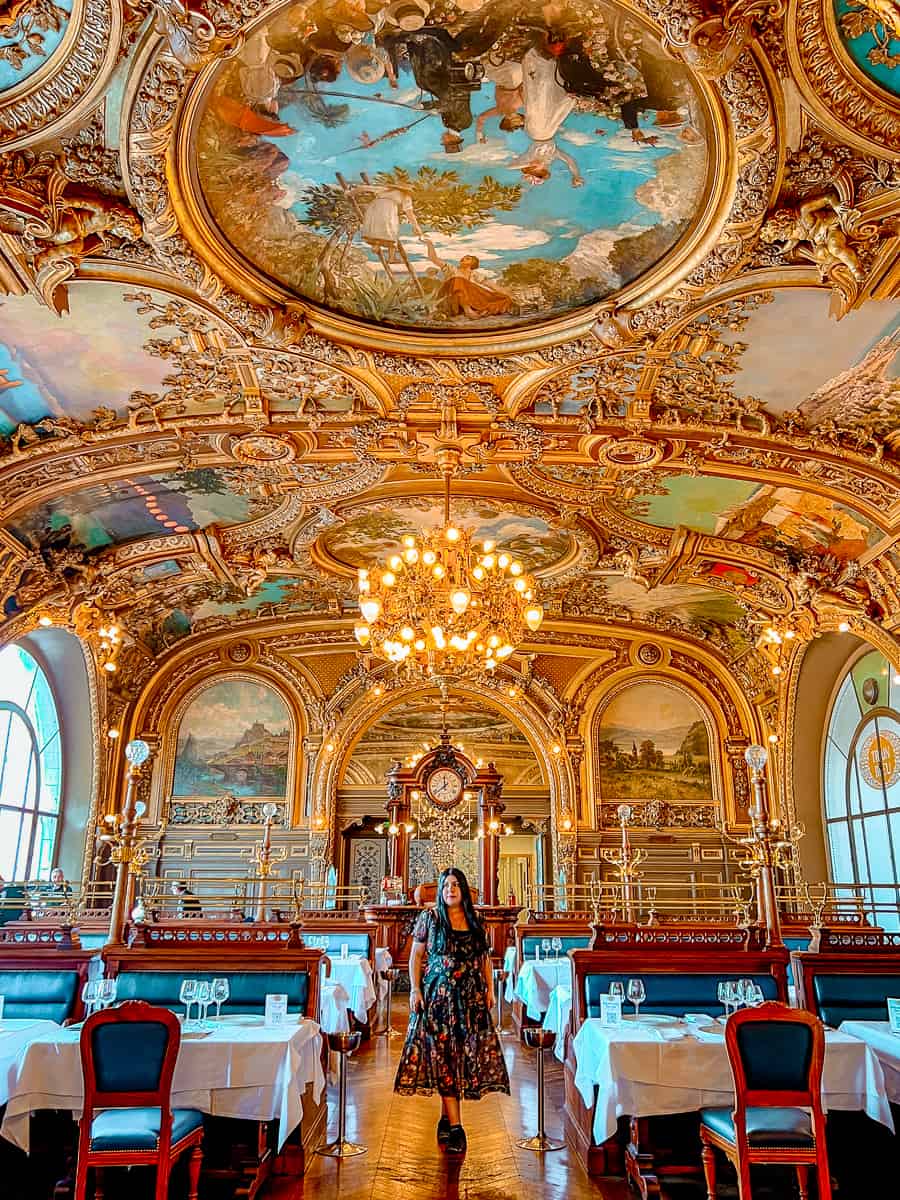 Do you need to reserve a table for Le Train Bleu?
As one of the most spectacular and famous restaurants in Paris, it is highly recommended to book a table for Le Train Bleu in advance.
I would say you should look to book a few weeks ahead of your travel dates at a minimum.
But, I wouldn't despair if you can't find any bookings online. You can easily call the restaurant and try to book a table.
This is what I did around two weeks before my visit and I had no problems getting a table for opening time.
When I got to the restaurant, there were a few people who were 'walk-ins' at Gare du Lyon and they did manage to find tables for people.
But, there are no guarantees that walk-in tables will be available and it's always a risk. If there is a waitlist, you could also be queuing for a long time.
I would always try to book a table in advance to avoid disappointment.
Is there a dress code for Le Train Bleu Paris?
No, as Le Train Bleu is a traveller's restaurant in a train station, it doesn't have a strict dress code. I would say that the dress code is smart-casual.
Lots of people are taking luggage with them and many people are dressed in comfortable clothes for a train journey.
But, that doesn't mean that you can't dress up or wear something fancy if you wish, especially in the evening.
It is a spectacular location and these interiors call for something glamorous.
Le Train Bleu restaurant opening times
The Le Train Bleu restaurant serves up its delectable lunch menu from 11.15 am until 2.30 pm. Dinner is then served from 7 pm – 10.30 pm.
If you're visiting Gare du Lyon outside of those times, the lounge bar at Le Train Bleu opens at 7.30 a.m. until 10.30 p.m.
Although it won't serve up the regular food menu there are drinks on offer and light bites.
If you visit the bar outside of the restaurant serving times (i.e. before 11 a.m.) you will get to see this fabulous restaurant empty!
How long do you need at Le Train Bleu?
If you're visiting the Le Train Bleu restaurant for lunch or dinner, I would say you will need to allow 90 minutes to 2 hours for your meal.
Many of the food dishes that are prepared at your table take time to serve and you don't want to rush the experience.
If you plan to take a train from Gare du Lyon after your meal, make sure to leave enough time before the departure so you're not rushing and/or miss your train!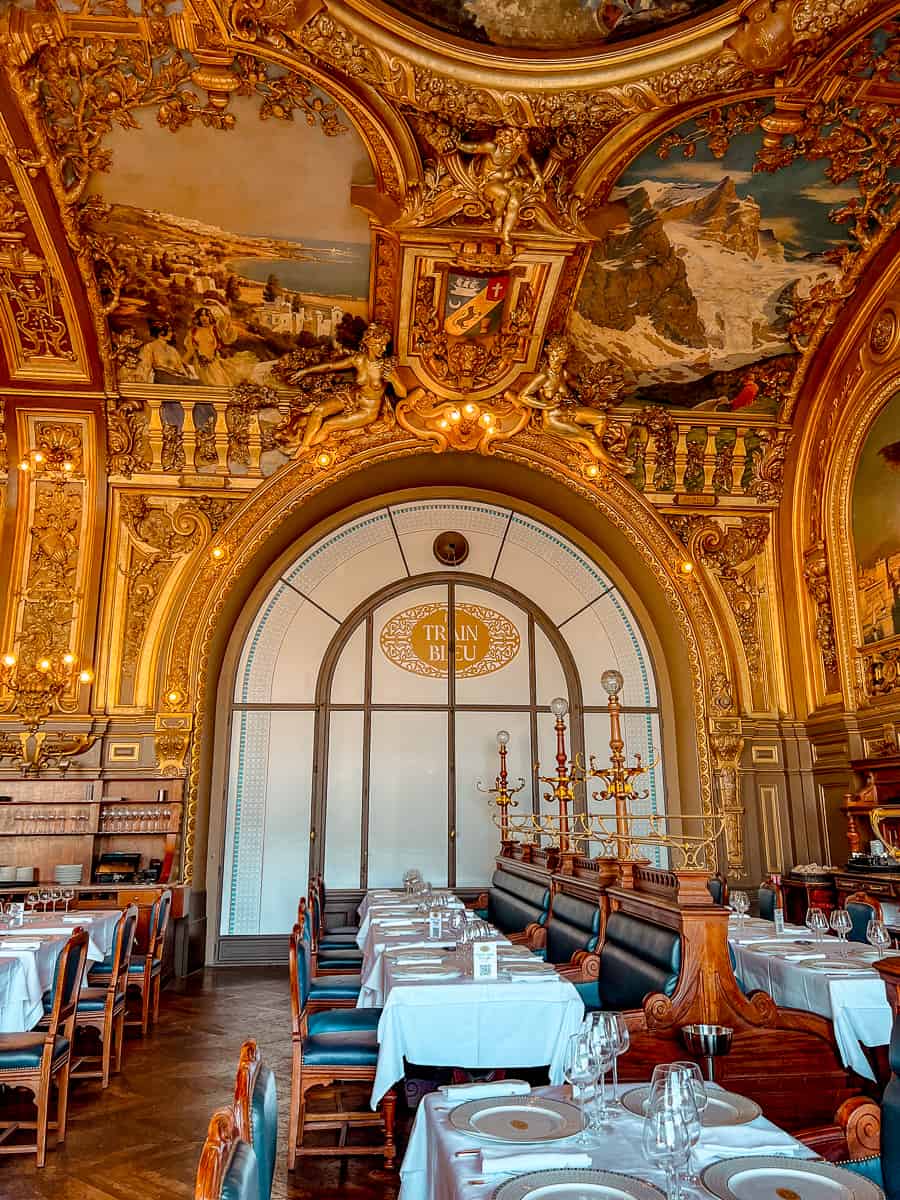 Le Train Bleu photography tips
Le Train Bleu is very popular due to its stunning interiors that are perfect to capture for photographs and videos on social media.
But, this restaurant does tend to be fully booked most days. In fact, tables sell out a few weeks in advance.
So, if you wanted to get photos of the restaurant a little emptier. I have some tips for you.
One is to book the restaurant for when it opens at 11.15 am for lunch. Then, you'll be one of the first to dine here and have the restaurant pretty much to yourself.
Another tip would be to book breakfast at their bar. Although you won't be sat in the restaurant itself, it's in the same place.
As I wanted to sample the amazing food here, I went in for lunch first thing at 11 a.m. and it was initially nice and quiet. But, by 12 pm every table was full.
Le Train Bleu FAQs
Does Le Train Bleu have a Michelin star? Yes, in fact, they have two Michelin stars. Not bad for a train station restaurant.
Why is Le Train Bleu famous? One reason is the fabulous interiors and the fact this is a listed heritage building. But, the other is that this restaurant has served famous celebrities like Coco Chanel, Salvador Dalí and Brigitte Bardot. It even featured in Mr Bean.
Does Le Train Bleu allow walk-ins? There were a few on my visit at opening time. But, it's never a guarantee. I would always recommend booking. If you can't be seated in the restaurant they do have a lounge bar area as an alternative and tables are on a first come first served basis.
Can you bring luggage to Le Train Bleu? YES, Le Train Bleu is located inside Gare du Lyon station. So, you're more than welcome to bring your luggage into the restaurant before your train journey.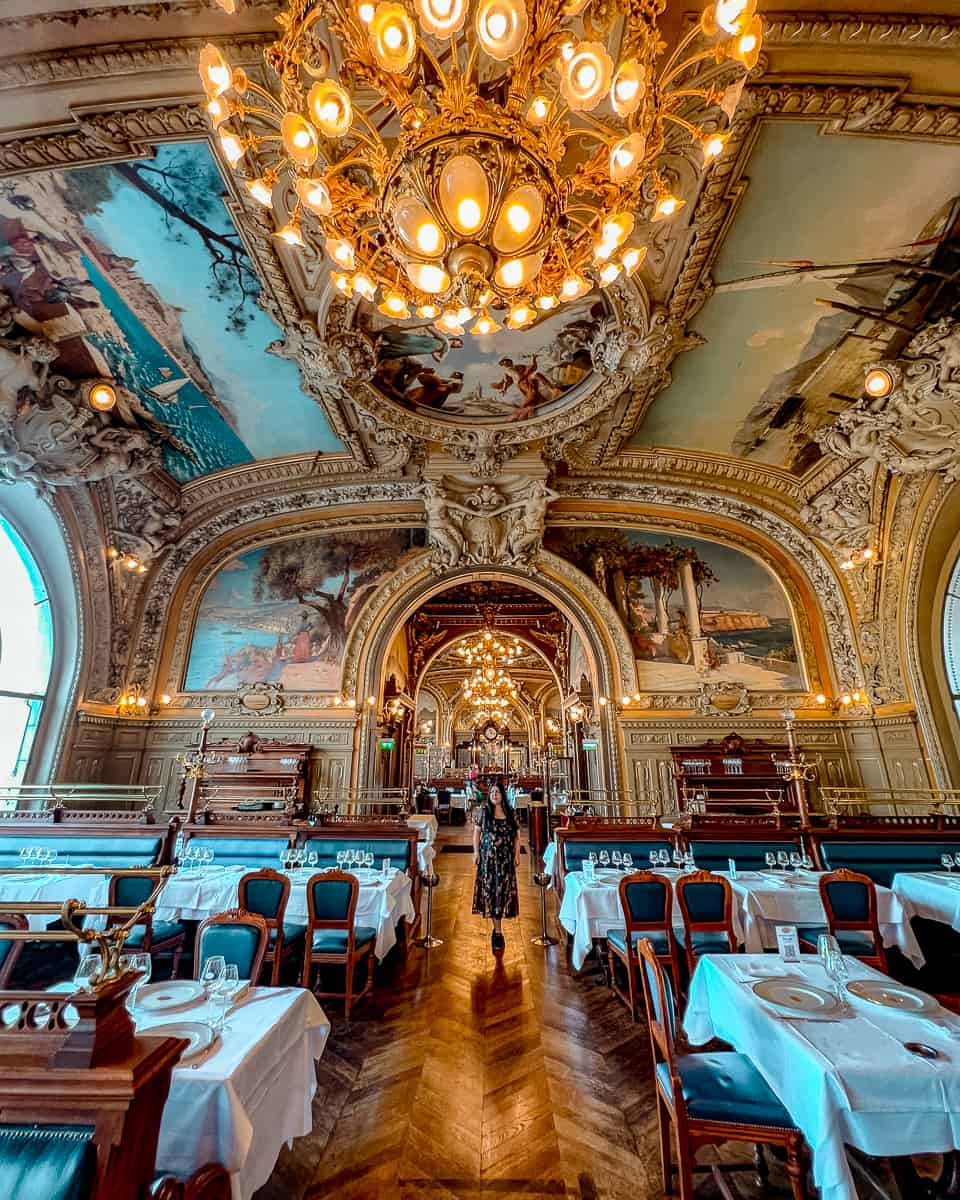 Read more of my Paris travel guides
Avenue de Comoens – the best Eiffel Tower view
Is Starbucks Opera the prettiest Starbucks in the world?
Why you must visit Saint-Chapelle – the Jewel Box church
How to get an empty Versailles Hall of Mirrors Photo
A complete Pink Mamma Paris review – is it worth it?
Visit the Medici Fountain in Jardin de Luxembourg
How to visit Marie Antoinette's Queen's Hamlet in Versailles
How to visit Merlin's Camelot Castle aka Chateau de Pierrefonds
50+ Instagrammable places at Disneyland Paris
25+ Things to do in Disney Village Paris
Don't miss the Disneyland Paris Dragon
Captain Jack's Restaurant Review
How to eat at Bistrot Chez Remy Ratatouille Restaurant
How to find Jim Morrison's Grave at Pere Lachaise Cemetery
Save this Le Train Bleu Paris Review for later!