Are you looking for all the Leadenhall Market Harry Potter filming locations that you can visit in London? Then, I have the perfect post for you.
If you didn't know, Leadenhall Market featured in the very first Harry Potter movie as the entrance to the Leaky Cauldron!
This is where Harry Potter and Hagrid enter and make their way to Diagon Alley, the magical shopping street of the Wizarding World.
So, if you're a Potterhead you simply must add this incredible historic marketplace to your London itinerary while you're here.
Here is a magical guide on how to visit all the Leadenhall Market Harry Potter filming locations!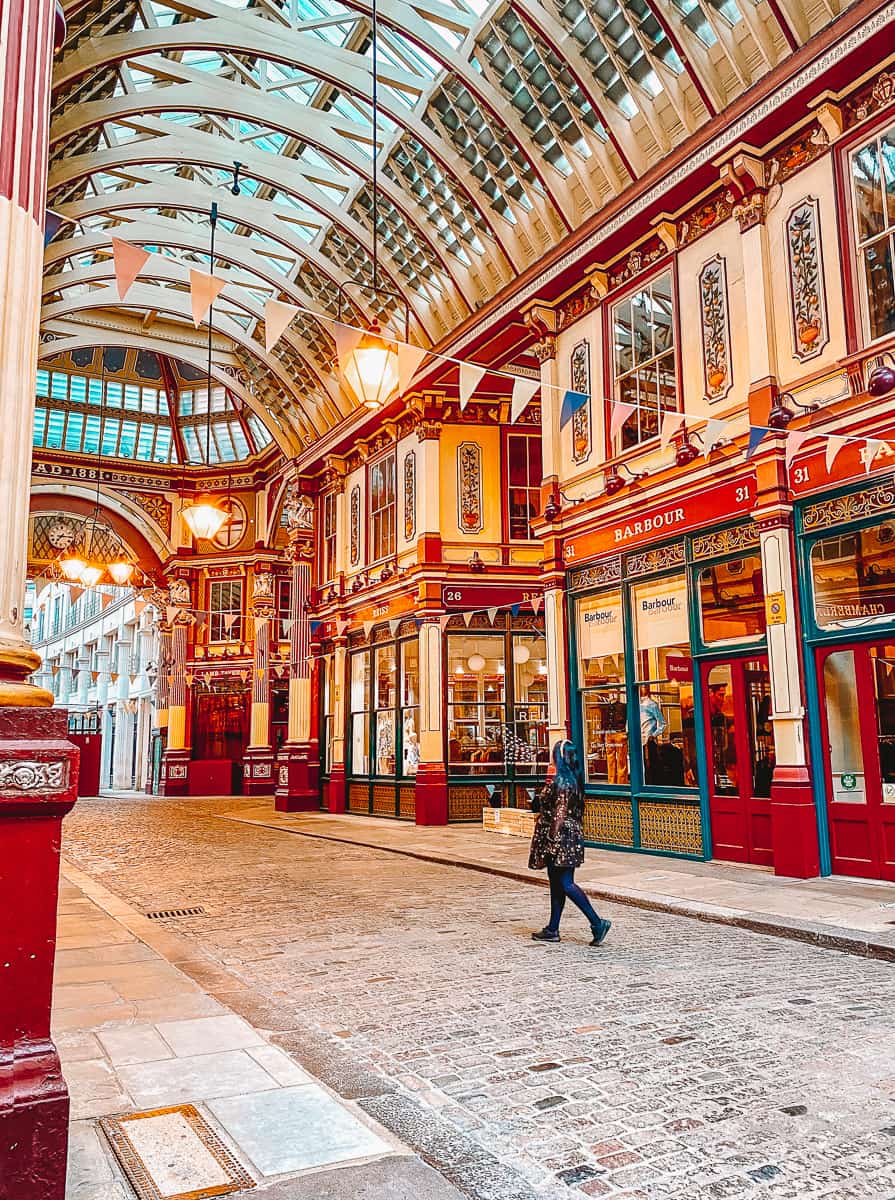 Leadenhall Market history
It is quite astounding to think that Leadenhall Market celebrated its 700th birthday this year! But, the history of this area actually dates back even further to Roman times.
Leadenhall was in the middle of the Roman settlement 'Londinium' and here was where the Forum (market) and Basilica (courts) were located. But, all this was later destroyed. Excavations have uncovered Roman tiles and artifacts here, you can see these items in the British Museum.
Its history as a market began in the 14th-century, around 1321, and it functioned as a popular meat and poultry trading post.
It was originally part of Sir Hugh Neville's manor estate but Lord Mayor Richard Whittington (also known as Dick Whittington) bought the lease in 1408 and gifted it to the City of London.
It's unsure where the name 'Leadenhall' came from but many suspect it was due to a Lead rooftop. Other theories suggest it's an adaptation of 'Leather Hall'.
For centuries, it was a noisy place that was a hive of activity and the stalls were often a little unruly. So, the decision was made to redesign the market in 1881.
It was Horace Jones who designed the gorgeous iron and glass structure that we see today. The cobbled floor, vibrant Victorian shopfronts, and oil lamps hanging from starry sky ceilings have not changed since!
It became a Grade II listed building in 1972 so it will forever be preserved this way. Nowadays, instead of trading meat and poultry, Leadenhall Market is filled with high-end retailers, bars, and restaurants to enjoy.
Old Tom the Gander Goose!
One of my favourite stories about this place is Leadenhall Market Old Tom, who is one of the market's most famous residents!
Old Tom was a Gander goose from Ostend in Belgium who became a bit of a market mascot around these parts.
The story goes that one day the goose was due to get the chop but took a liking to one of the female geese nearby. Tom then got plucky and miraculously escaped! He then became a regular face with the sellers of the market.
He used to love visiting The Lamb Tavern and would regularly get fed scraps by the shop owners here.
Tom lived on until the ripe old age of 37 and eventually died of natural causes – which is pretty impressive for a Gander goose at a poultry market!
His impressive age gained him the nickname 'Old Tom the Gander', after he died there was even an obituary dedicated to him in The Times newspaper.
Although Old Tom died in the 19th-century, his name lives on here. So, look out for references for him in the market. There's even a pub called 'Old Tom's Bar' you can visit, so why not raise a glass to him there?
What is the Leadenhall Market Harry Potter connection?
So, Leadenhall Market is famous for another reason in London and that is due to its connection with Harry Potter.
You may recognise this incredible place from the first movie, Harry Potter and the Philosopher's Stone (2001).
If you can remember back all those years ago, this is where Harry and Hagrid visit the Leaky Cauldron off Charing Cross Road to access Diagon Alley!
Diagon Alley is the place where all young witches and wizards grab their magical equipment before a new school year at Hogwarts School of Witchcraft and Wizardry.
It has attracted Potterheads in droves ever since and many Harry Potter tours of London make a stop here too.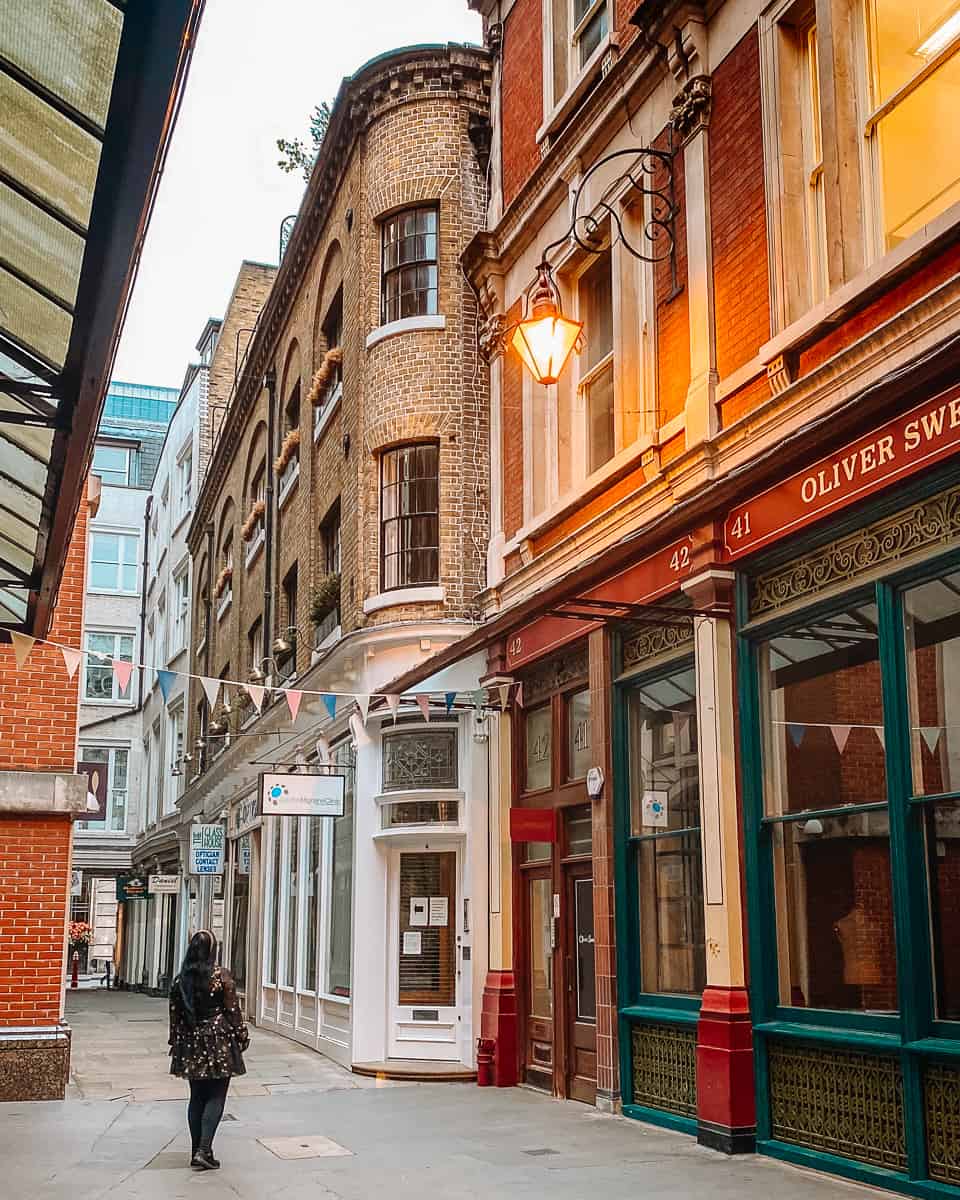 Where in Leadenhall Market was Harry Potter filmed?
So, Leadenhall Market only appeared once in all of the Harry Potter movies and this was in the very first.
In Harry Potter and the Philosopher's Stone, we see Leadenhall Market when Harry and Hagrid are walking through the city.
Harry is reading off his Hogwarts School list of all the things he needs to buy and is wondering whether they will find all of these magical items in London. But, Hagrid assures Harry and replies "if you know where to go".
Harry and Hagrid then enter a mysterious black door with no sign which is of course an entrance to the Leaky Cauldron.
Both of these scenes were filmed at Leadenhall Market and I will explain below how to find these exact filming locations on your visit.
Click here to watch the Leadenhall Market Harry Potter scene in Harry Potter and the Philosopher's Stone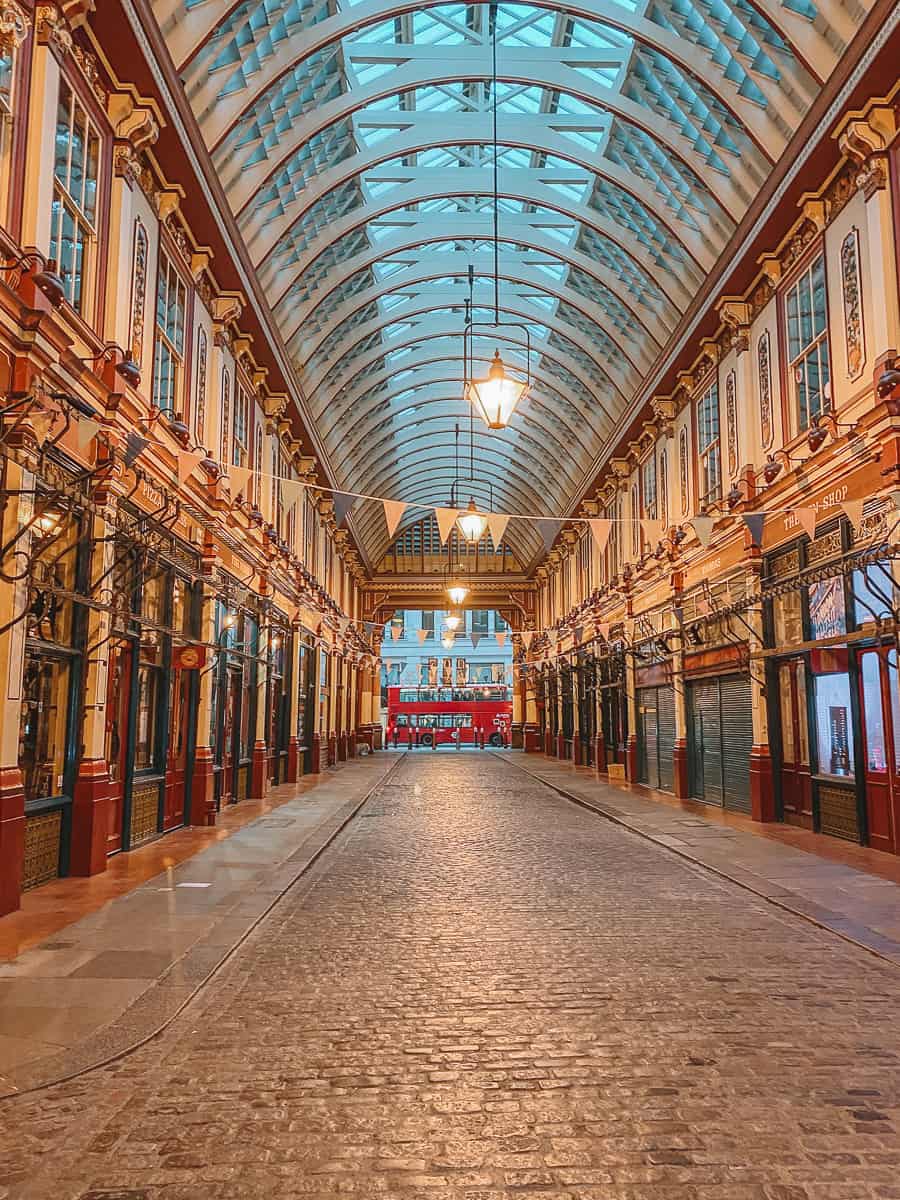 Leadenhall Market Harry Potter filming locations
1. The main entrance of Leadenhall Market
The first time we see Leadenhall Market in Harry Potter and the Philosopher's Stone are when Harry and Hagrid are walking through it.
This filming location can be found at the main entrance of Leadenhall Market which can be accessed from Gracechurch Street.
In the movie, you'll notice the ornate entranceway with a café and a greengrocer's to the left. These will not be there on your visit but the entranceway certainly will be!
When you first enter Leadenhall Market, its high arches, ornate shop fronts and old gas lanterns will take your breath away.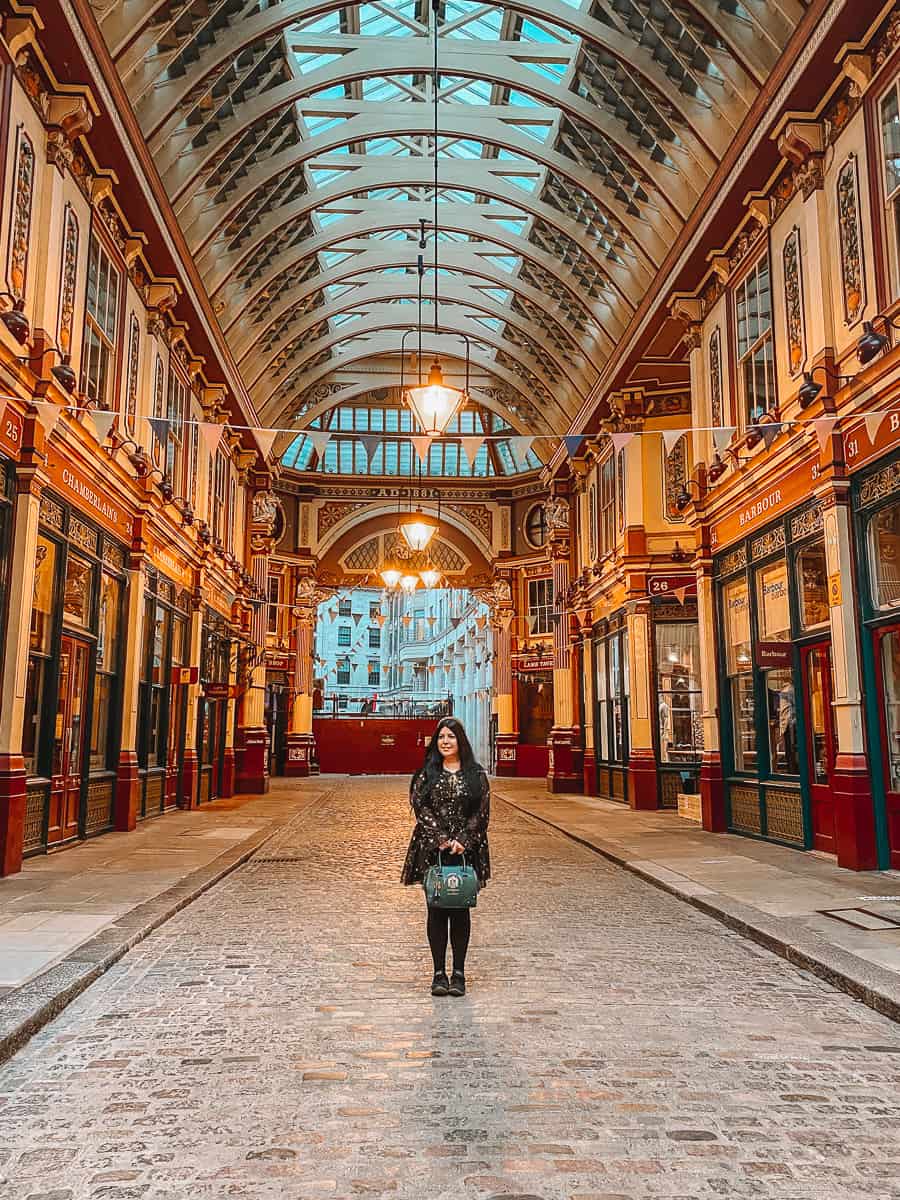 2. The Leadenhall Market Harry Potter door to the Leaky Cauldron!
If you wanted to find the Leadenhall Market Harry Potter door which was the entrance to the Leaky Cauldron, you need to navigate your way to Bull's Head Passage. This is a small alleyway off Gracechurch Street and it's on the Leadenhall Market side.
Of course, the door will not be black on your visit like it was in the movies. In fact, this door seems to change colour all the time.
For a while, the Leaky Cauldron door was blue when it was an opticians but now it's been painted in a clinical white as it's now home to a migraine clinic.
Whatever this store is today or will be in the future, it will always be the Leaky Cauldron to Harry Potter fans. So, make sure to get your camera out to take a photo, it's an opportunity you won't want to miss!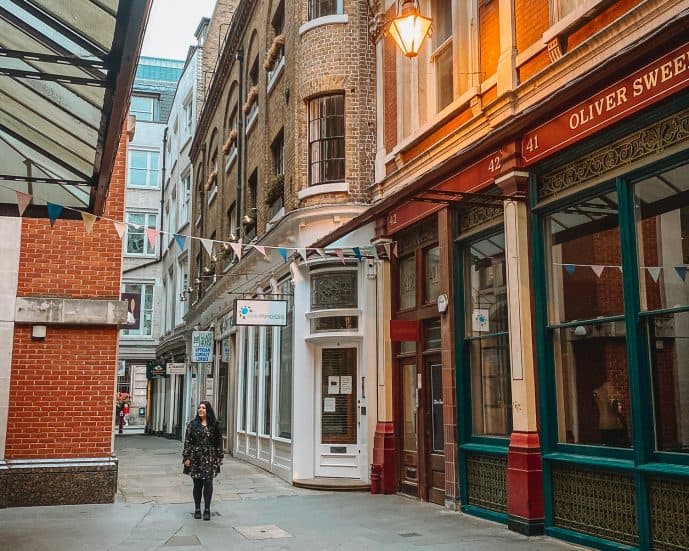 Is there a real Leaky Cauldron in London?
I'm sorry to disappoint you but there is no Leaky Cauldron pub in London. The entrance door in the Leadenhall Market is the closest you can get! They filmed the pub in a studio.
If you wanted to visit a traditional-style inn at Leadenhall Market, I would recommend The Lamb Tavern. Or, head to The Counting House nearby for the most spectacular interiors!
The Harry Potter Studio Tour in London has some props from the Leaky Cauldron like the huge cauldron they used inside. You can even walk down parts of the Diagon Alley set on your visit but, that's your lot I'm afraid.
If you wanted to visit a Leaky Cauldron pub that you can actually eat in, they do have a restaurant at the Wizarding World of Harry Potter in Universal Studios Orlando that is a replica. Admittedly, this is a bit far away from London!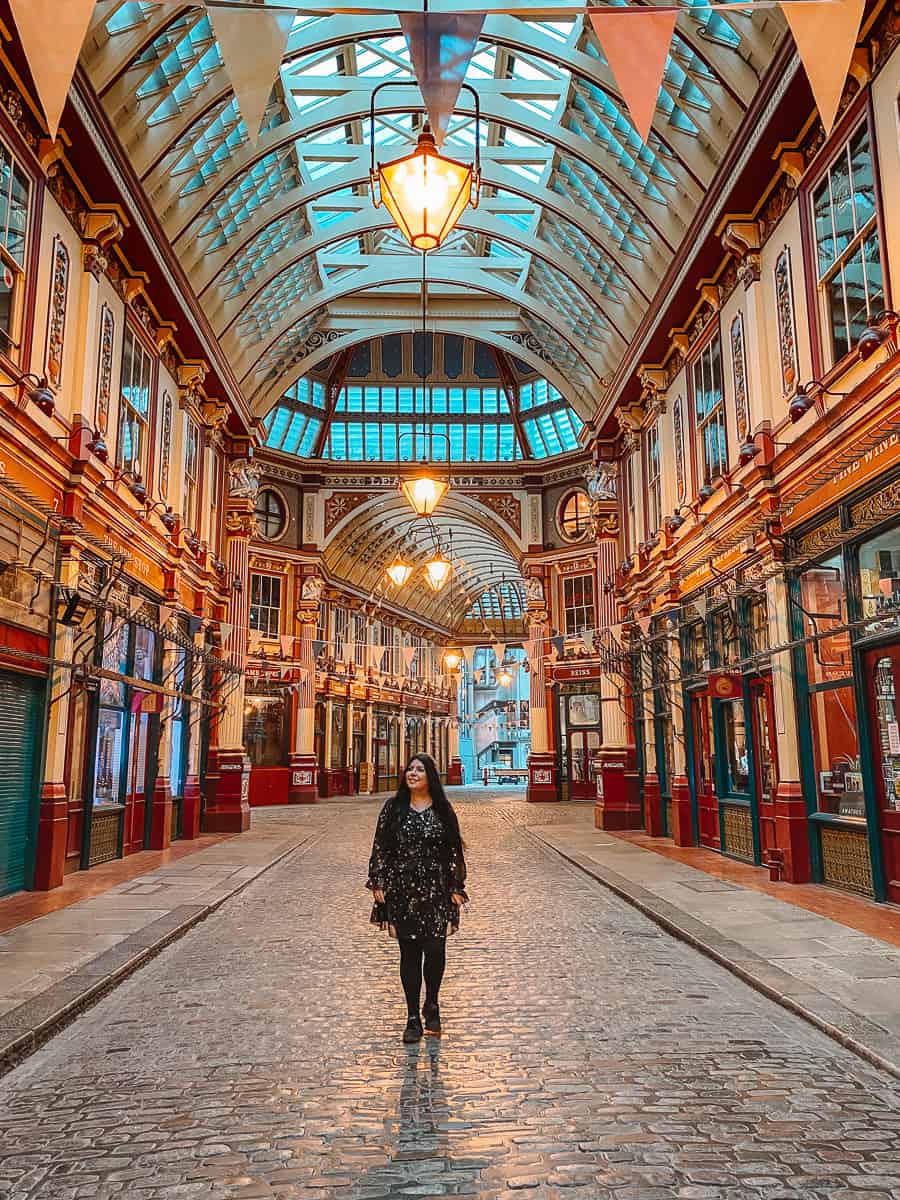 Visit more Leaky Cauldron filming locations in London
You may have noticed that the Leaky Cauldron entrance changes in the later Harry Potter movies.
When Harry catches the Knight Bus to the Leaky Cauldron in Harry Potter and The Prisoner of Azkaban (2004), he actually gets dropped off at an alleyway on Stoney Street in Borough Market.
The reason being is that the director, Alfonso Cuarón, couldn't fit a three-story purple bus prop in Leadenhall Market as the structure wasn't large enough! Plus, in the third movie, this is when the stories take a slightly darker turn and so this alleyway reflected this change.
If you wanted to visit this filming location yourself, head to Borough Market and look out for El Pastor Restaurant on Stoney Street under the railway bridge.
Aside from being a Harry Potter Filming location, El Pastor sells fantastic tacos and authentic Mexican food. So, you could reserve a table as part of your visit! Click here to see a menu.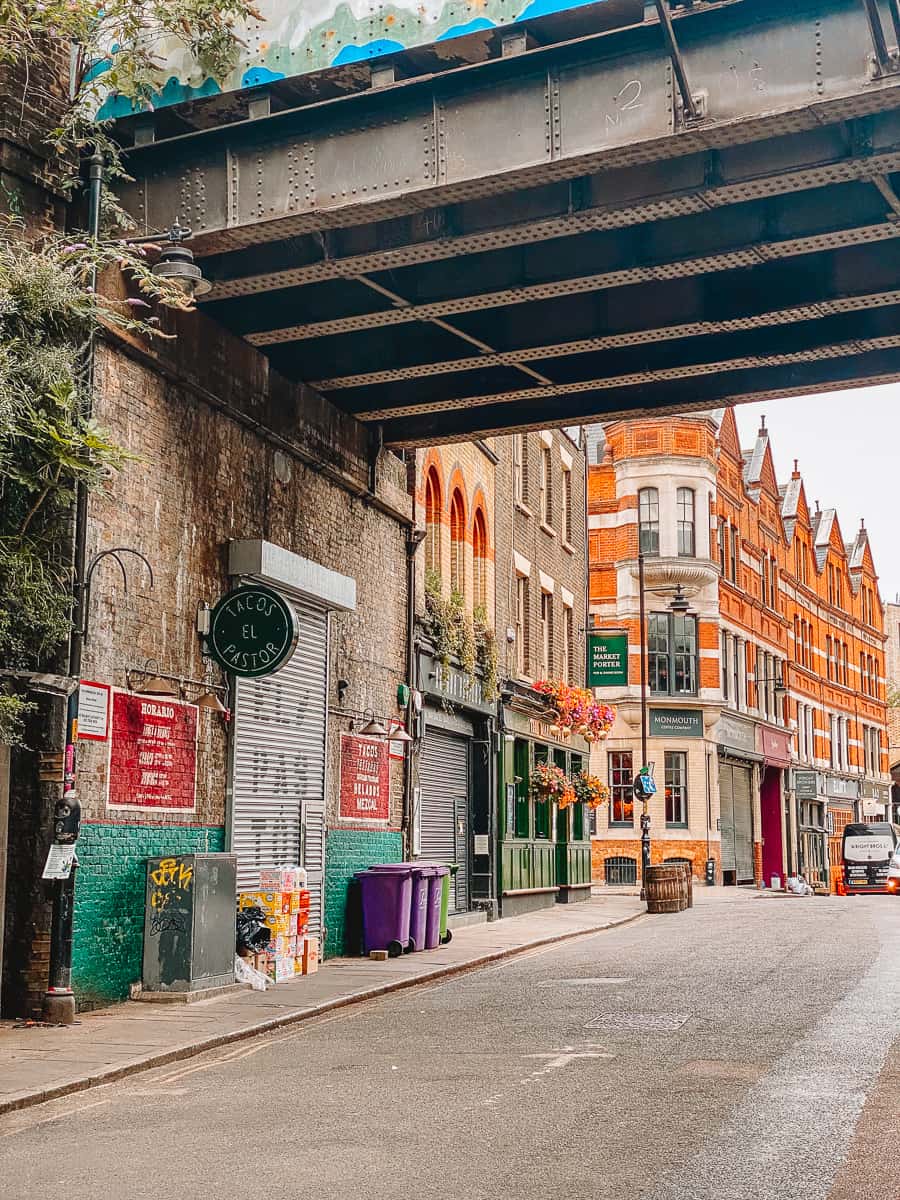 Things to do in Leadenhall Market
If you were looking for non-Harry Potter things to do at Leadenhall Market you'll be spoiled for choice.
Leadenhall Market is a top attraction in London due to its pretty shopfronts, vibrant boutiques, and endless choice of bars and restaurants.
Here are all the best things to do at Leadenhall Market.
1. Go Leadenhall Market shopping
Beyond hunting around for filming locations, Leadenhall Market is still a popular shopping area today.
You'll find a wealth of retailers selling all sorts of items. High-end clothes, jeweller's, florists, bookshops and candle makers!
There are also lots of local deli counters like 'Cheese' which offer an array of cheese, port, and wine pairings to take home.
Is there a Leadenhall Market Harry Potter shop? Unfortunately, there is no Leadenhall Market Harry Potter shop here. But, if you were looking for one, I would recommend The Harry Potter Shop at Platform 9 3/4's in Kings Cross Station London! As a bonus, it has the iconic trolley photo opportunity outside. Click here to read my complete Harry Potter guide!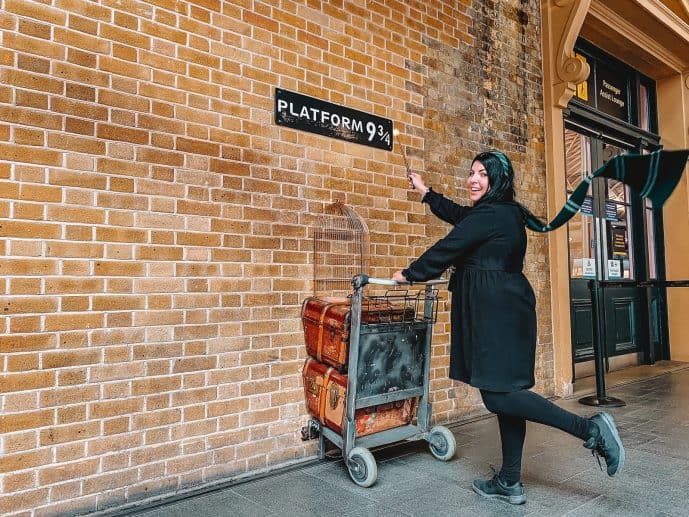 2. Look at the many art installations
What I loved about Leadenhall Market were some of the art installations that could be found around here.
These change regularly and with the seasons but they make an amazing addition to this vibrant shopping space.
They recently had a takeover from God's Own Junkyard! If you didn't know, they are the biggest collectors of Neon signs and have an exhibition in Walthamstow. You can read my complete guide to where neon never dies here.
On my visit to Leadenhall, they had these fabulous flags in all different colours and it was a collaboration with Sculpture in the City X Leadenhall Market.
This installation consists of 30 unique flags from the LGBTQ+ community all the way back to the original Pride Flag designed by Gilbert Baker in San Francisco in 1978.
Click here to see what's going on at Leadenhall Market on your visit!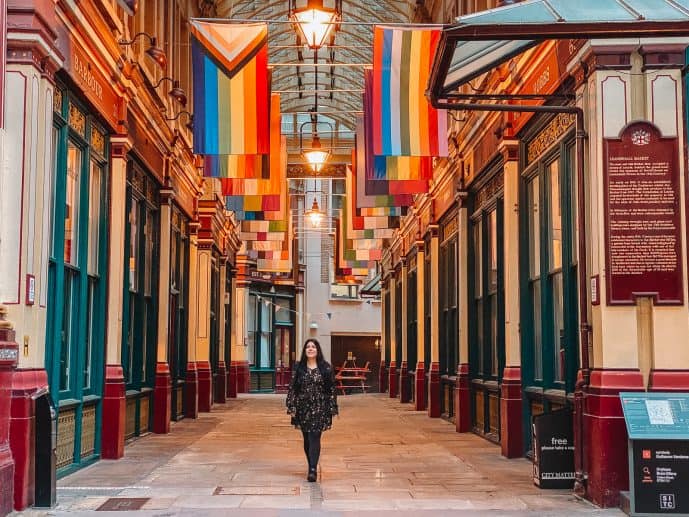 3. Have dinner or cocktails in one of the many Leadenhall Market bars
If you didn't fancy shopping here, there are plenty of bars and restaurants that you can visit on your trip to London.
Here are the best pubs and bars at Leadenhall Market:
The Lamb Tavern / Old Tom's Bar – This is the one I would recommend which is centrally located in Leadenhall Market. It's a traditional pub with a hidden cellar bar called Old Tom's to raise a toast to the famous goose!
Brokers Wine Bar – An upmarket wine bar and restaurant that's popular with suits working in the Financial District. Their top floor gives you a birds eye view of the hustle and bustle of the market.
New Moon – This is a very popular dark wood pub based at the entrance of Leadenhall Market from Gracechurch Street. Lot's of ales are served here and you can drink inside or outside with barrel tables to lean on.
Interesting Leadenhall Market facts
Leadenhall Market was built on the site of an old Roman Basilica as part of 'Londinium'. When excavations were made they found a Roman tessellated pavement and other artefacts. You can find what they found on display at the British Museum.
Leadenhall Market is one of London's oldest markets dating back to the 14th-century, the land was originally owned by Sir Hugh Neville as part of his estate! Later, Lord Mayor Richard Whittington (Dick Whittington) purchased it.
Sir Horace Jones designed the building we see today in 1881, he's the architect of the Tower Bridge, Billingsgate and Smithfield markets too.
Leadenhall Market became a Grade II listed building in 1972. This means that the building will be preserved and be protected and can be enjoyed for many years to come.
Leadenhall Market was used as part of the Marathon Event at the London 2012 Olympics
There is an annual Leadenhall Pancake race where The Lamb Tavern give away 500 free pancakes!
How to get to Leadenhall Market in London
Leadenhall Market postcode is City of London, EC3V 1LT but I would never recommend driving in London as it's too hectic with congestion and not to mention expensive.
The easiest way to get around London would be to take the London Underground, commonly known as The Tube, and then walk to Leadenhall Market.
Leadenhall Market nearest tube stations are Monument and Bank on Zone 1. Both stations are interlinked and are a 5/6 minute walk away from the Harry Potter filming location. Click here to plan your journey on the Transport for London website.
The market is a little hidden away from the main road but it can be accessed via Leadenhall Street, Fenchurch Street, and Gracechurch Street.
If you have a debit card, you can easily tap on and tap off with contactless for the Tube. It's called 'Pay as You Go' and the charge for using the tube will be capped at a certain price no matter how much you use it that day. The price cap depends on the day and time.
You can also buy daily transport cards for zones 1- 6 but these can be double the price of the cap.
Leadenhall Market opening times
The structure of Leadenhall Market Hall is open 24 hours a day and 7 days a week. So, it's really easy to visit even if you have limited time in London.
The shops and boutiques here typically open on weekdays from 10 am – 6 pm. Some are closed on Sundays. Make sure to check shop opening times of retailers before your visit.
There are also plenty of restaurants and bars that open every day of the week until the late hours. So, it's the perfect place to enjoy a few cocktails or have dinner if you were on a Harry Potter tour of London.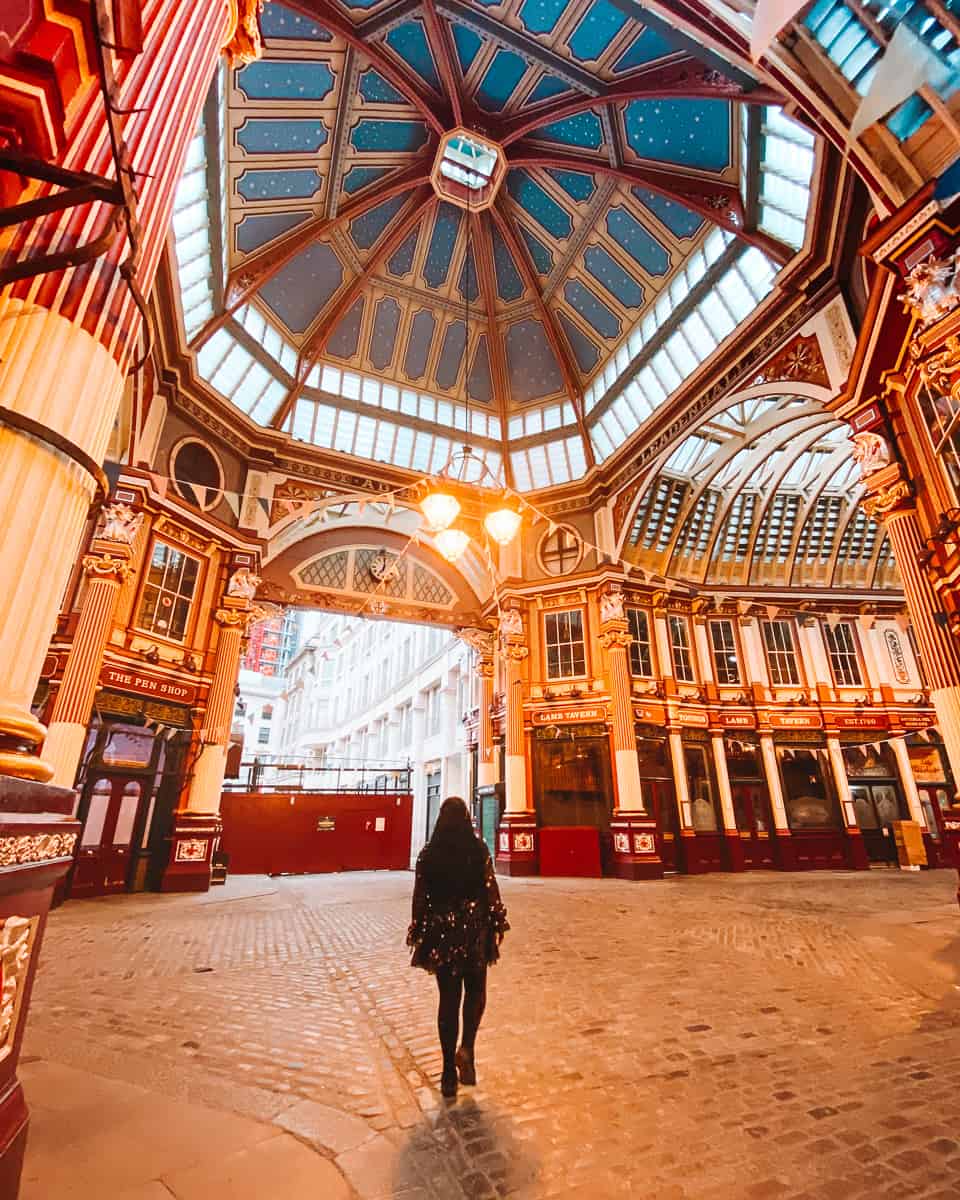 Leadenhall Market photography tips
This market with its gorgeous Victorian interiors is a gem to photograph and I would make sure to include it if you're planning a photography trip to London.
I would always recommend visiting this market as early as you possibly can but just know they don't turn the lights off for a long time!
So, you may find if you visit too early your photos of the market will have an orange glow, so make sure to work around this.
I visited early morning (around 6.30/7 am) on a weekday in September and found that it was pretty quiet still. Just a few commuters passing through.
The market structure is open 24 hours a day and some of the shops do close on weekends and that would mean fewer shoppers and commuters.
However, there are many bars located around here, so you may find a few drinkers who are still lurking around by morning!
Nearby, don't forget to visit the hidden gem of St Dunstan in the East Church Garden. It's a ruined church that is another amazing photography spot.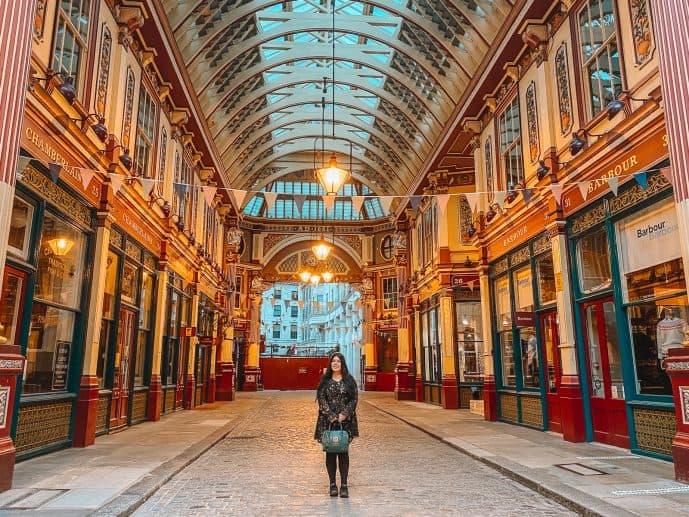 Leadenhall Market FAQs
Was Harry Potter filmed in Leadenhall Market? YES, they filmed Harry Potter and the Philosopher's Stone (2001) here. The scenes are when Harry Potter and Hagrid visit the Leaky Cauldron to enter Diagon Alley!
What has been filmed at Leadenhall Market? Aside from Harry Potter, many more movies have been filmed here including Lara Croft: Tombraider (2001), Johnny English (2003), The Imaginarium of Dr Parnassus (2009) and even an episode of The Walking Dead (2007).
Is Leadenhall Market open? YES! The structure of Leadenhall Market is always open to the public 24 hours a day as a tourist attraction in London.
When was Leadenhall Market built? It's one of the oldest markets halls in London and was originally built in the 14th-century. But, the market you see today was designed in 1881 by Sir Horace Jones which is why it's so popular!
What is Leadenhall Market famous for? Leadenhall Market is famous for being a stunning Victorian market with colourful shopfronts, lamps and starry sky vaulted ceilings. But, in recent years it's also become famous due to being a Harry Potter filming location.
Who owns Leadenhall Market? Leadenhall Market is owned by the City of London Corporation.
Is Leadenhall Market open on a Sunday? The Leadenhall Market is open 24 hours a day, 7 days a week. But, if you were looking for specific shops, it's best to check with the individual retailer to avoid disappointment. Many shops close on Sundays.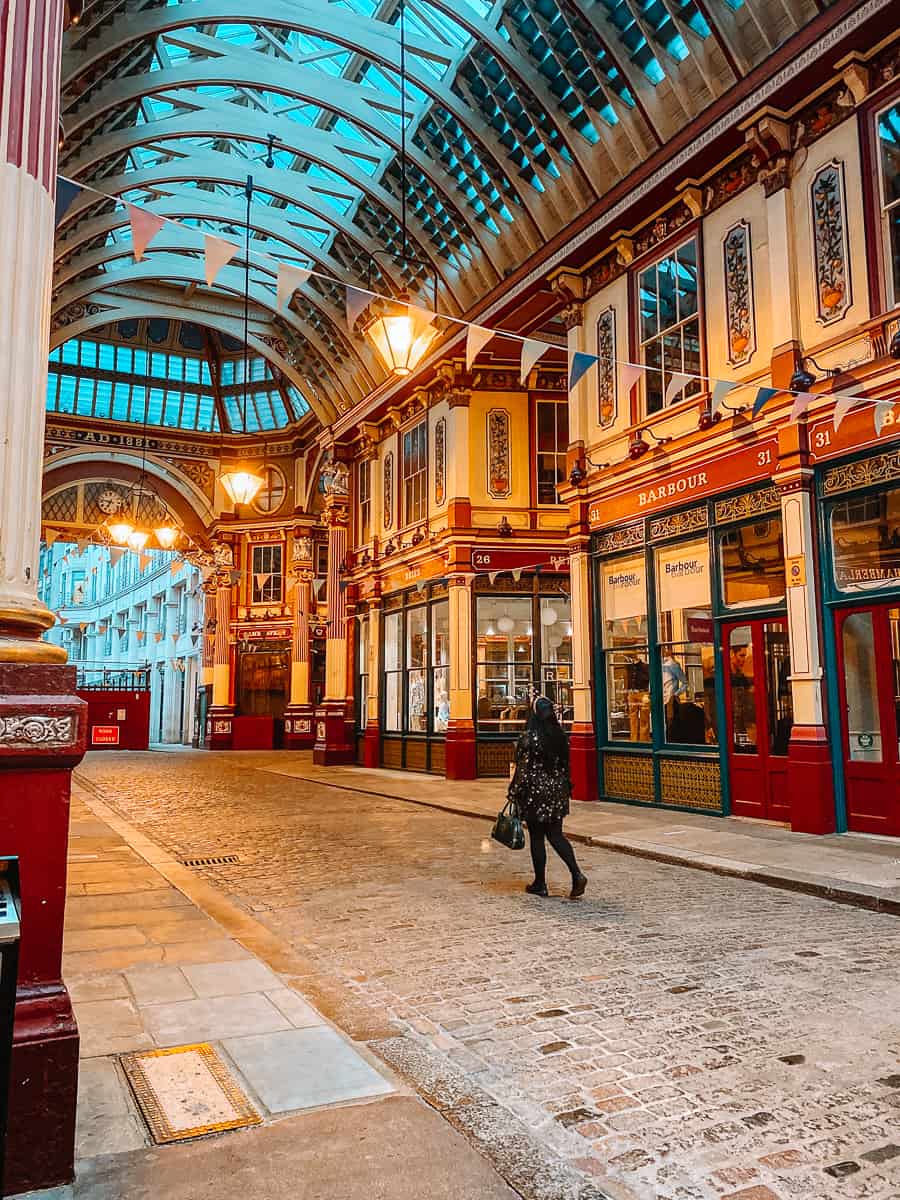 Are you looking for more Harry Potter experiences in London?
London is full of amazing Harry Potter filming locations, inspirations, and experiences to enjoy if you're a Potterhead.
After you visit, you may want to head over to the Millennium Bridge that's nearby along with the London City Hall and Borough Market that both feature as filming locations.
You can head into St Paul's Cathedral to see their Geometric Staircase that was the Divination Stairwell at Hogwarts.
Why not head to some of the inspirations from the books? Cecil Court and Goodwin's Court on Charing Cross Road are both thought to have inspired Diagon Alley!
You can watch the Cursed Child in Palace Theatre or hop inside the House of MinaLima who are the designers of most of the magical Harry Potter props in the movies like the Hogwarts Acceptance Letters and Daily Prophet newspapers!
Just nearby you have the iconic King's Cross Station. Although there is no Platform 9¾ in real-life, there is a Harry Potter Shop with a trolley nearby for a photo opportunity.
Near to there, you can find the Order of the Pheonix HQ and the St Pancras Renaissance Hotel where Ron flies his Ford Anglia!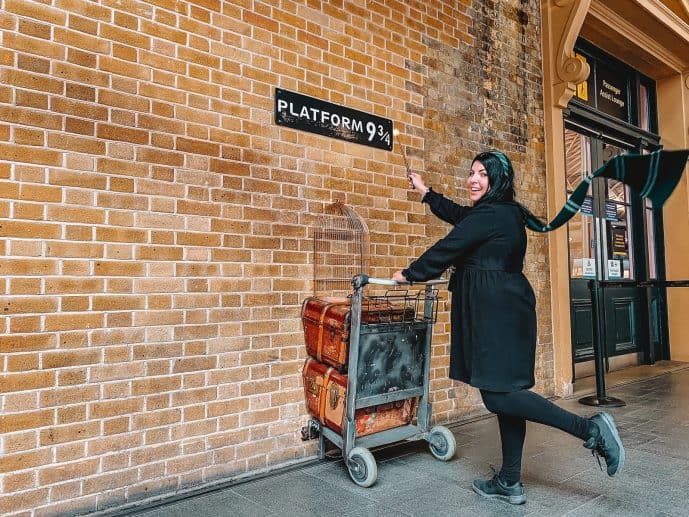 Harry Potter on Location Photographic Exhibition is an ideal attraction to visit if you're a Potterhead. Your ticket gains you access to the only Butterbeer Bar in London!
Or, you can enjoy some Harry Potter-themed experiences like afternoon tea at Cutter & Squidge in their Potion Room and head to The Cauldron for a magical cocktails experience.
No Harry Potter fan can leave London without visiting The Making of Harry Potter on a Warner Brother's Studio Tour.
It's filled with lots of real sets, props, and costumes that are featured in the movies. It's based in Watford but you can take an official Warner Studios Bus transfer from central London.
If you can I would recommend a visit around one of their special events like the Dark Arts at Halloween or Hogwarts in the Snow.
Click here to read my complete guide on London Harry Potter locations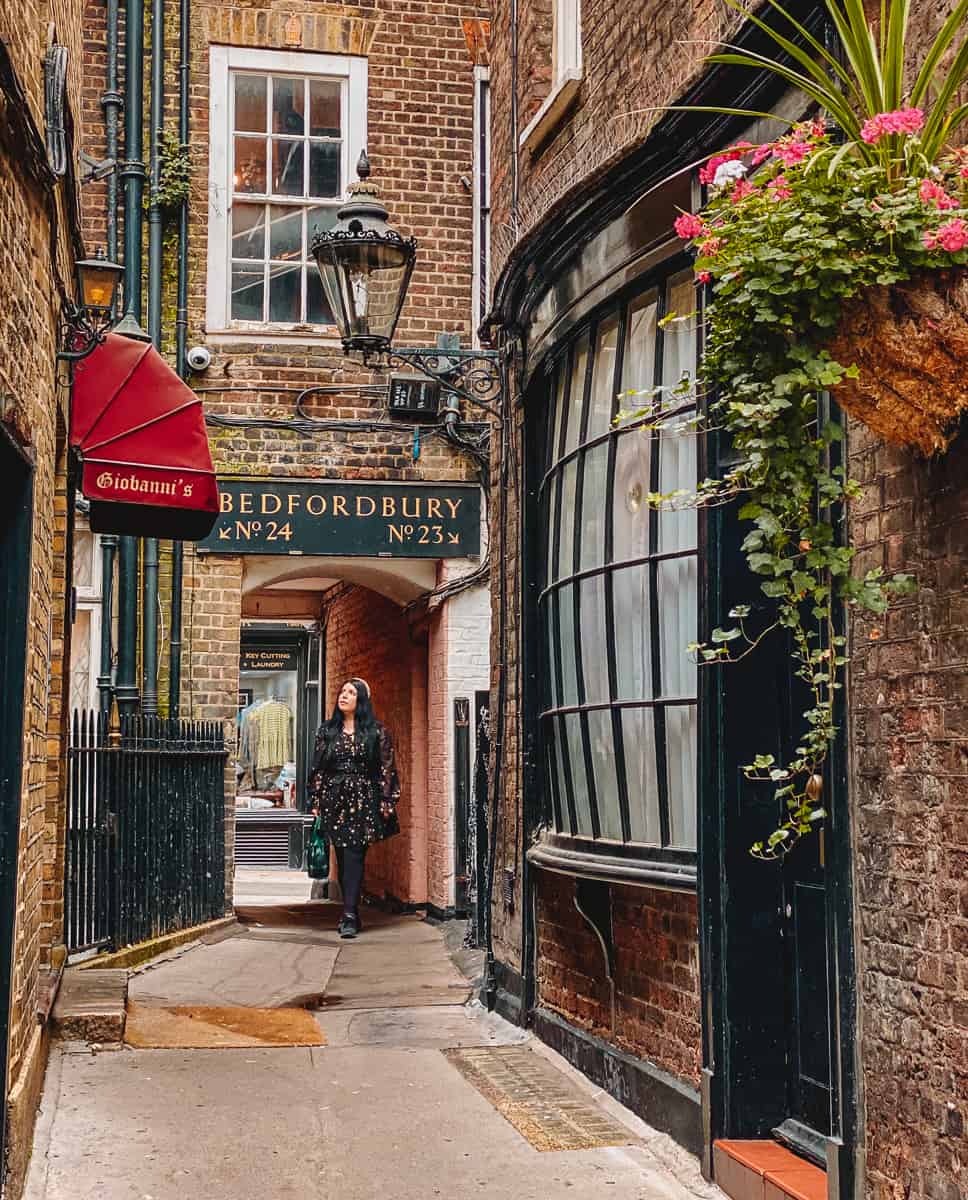 Read more of my Harry Potter travel guides
How to find Dumbledore's Grave in the Scottish Highlands
How to see the Hogwarts Express in Scotland
How to Find Hagrid's Hut in Glencoe
How to spend the night in Hagrid's Hut
Harry Potter locations in Lacock
Harry Potter filming locations in Oxford
Harry Potter locations in Edinburgh
All the Harry Potter filming locations in Scotland
Harry Potter filming locations in Alnwick Castle
Where to find Harry Potter in York
How to visit the real Godric's Hollow in Lavenham
A complete Forbidden Forest Experience Review
How to find the Harry Potter Tree at Blenheim Palace
The Shop That Must Not Be Named Review
How to find Dobby's Grave in Wales
Harry Potter filming locations in Gloucester Cathedral
Visiting Malfoy Manor in Real life!
Harry Potter locations in Exeter along with Gandy Street and the Room of Requirement
Virginia Water – the Other Hogwarts Lake
Instagram locations at the Wizarding World of Harry Potter
How to find the Malham Cove Harry Potter Deathly Hallows filming location
Harry Potter filming locations at Durham Cathedral
Save these Leadenhall Market Harry Potter filming locations for later!