Scotland is full of fabulous bookstores, but there is none so magical as Leakey's Bookshop in Inverness.
Set in an Old Gaelic Church over two floors, Leakey's is Scotland's largest second-hand bookshop with over 100,000 volumes to browse.
As a huge reader and Harry Potter fan, I could not believe how much this bookstore made me feel like I was wandering around Hogwarts Library.
Visiting is a must if you find yourself in Inverness and the Scottish Highlands. It's a tome labyrinth and bibliophiles' dream come true.
Here are all the reasons why you should visit Leakey's Bookshop, a magical Inverness bookstore in Scotland!
Leakey's Bookshop history
Leakey's Bookshop was founded by Charles Leakey and had its humble beginnings trading from Grant's Close in 1979.
The bookstore then eventually took up shop in this abandoned Old Gaelic Church. The kirk was originally built in 1649 for Christian worshippers who only spoke Gaelic.
It was rebuilt in 1792 and then eventually reconstructed by the architect James Smith in 1822. It then served as a Greyfriars Free Church.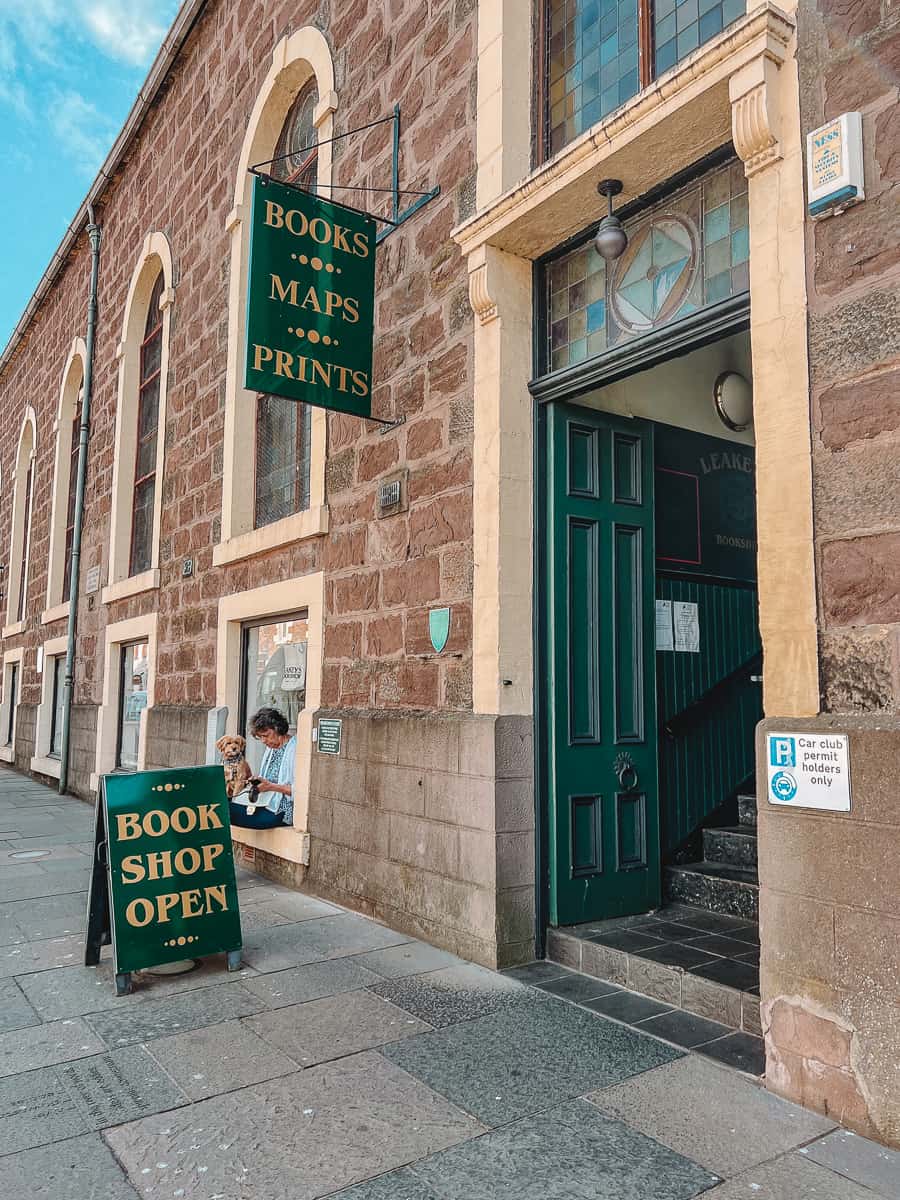 Eventually, it was no longer used as a religious centre and Leakey's moved in with oodles of used books. They built a mezzanine floor and their collection has seriously grown. They've since added added artwork and antique maps into the mix.
Today, Leakey's is Scotland's largest secondhand bookshop and they are an extremely popular Inverness bookstore!
You'll see hundreds of locals and tourists alike visiting each day. It's also very popular with Harry Potter fans.
Leakey's Bookshop Harry Potter connection
If you're on a Harry Potter tour of Scotland, Potterheads will fall in love with Leakey's Inverness. Although not a filming location, it will keep your wizarding heart content.
You can take their spiral staircases, find cute book nooks and explore their shelves filled with pre-loved volumes.
It will definitely make you feel like you're wandering around the Hogwarts Library and you can channel your inner Hermione.
In winter, they even have a crackling log fire burning to keep out the cold. Is there anything more magical than that?
Are you a Potterhead? Check out all my Harry Potter travel guides here!
What books do they sell in Leakey's Inverness?
Leakey's have a massive collection of pre-loved non-fiction and fictional books in all types of genres to buy.
You'll find books on art, auto-biographies, geography, printed letters, gardening, cooking, and travel books as well about the local area.
Although I felt I was drowning in the choice of non-fiction books, the only thing I would say is that their fiction sections were rather small.
There were so many SciFi and crime fiction books (lots of Agatha Christie) but not much fantasy which I wish was a bit larger!
I only tend to read Romantisy books so I struggled personally to find something that I wanted to read.
I ended up buying my mum a Vera book which she loves reading. But, I hope next time there will be some more historical fantasy books instore.
As well as books, I was surprised to find an impressive section for maps and artwork! It's worth having a look at their sketches, prints, and cartography that you can take home located upstairs.
Did you know? Leakey's also sell their books online on Abe Books! Click here to check out their online shop!
What to expect when visiting Leakey's Bookshop
Bookshops always bring me so much joy, especially when you don't know what you'll find. The prospect of buying a new book for my shelf and adding to my reading list is always exciting.
But, I was not expecting Leakey's bookshop to make my Slytherin soul so happy! It literally felt like I was exploring the Hogwarts Library. It was the perfect pitstop for chasing down some filming locations.
It's a must for Harry Potter fans exploring Scotland. If you are a Potterhead, make sure to check out my Harry Potter travel posts here.
When you get inside, you can explore their eclectic mix of second-hand books. I would plan at least an hour to look around as there were so many sections to browse.
As it's set in an old church with an upper floor, it's a huge place and can be overwhelming. But, the friendly staff are always on hand to help you if you want something specific.
Is there a Leakey's Bookshop cafe?
There used to be a Leakey's Bookshop café here but, alas, this is no longer running. The bright side is this leaves even more room for books!
If you are looking for a place to grab a drink or lunch after book shopping, I would recommend the Black Isle Brewery Bar on Church Street.
They serve up locally brewed craft ales, organic wines and whiskies. Their brewery is only a few miles away.
They also have a large menu of amazing food you can eat in their rooftop garden upstairs. You must try their signature wood-fired pizzas!
How to visit Leakey's Bookshop Inverness
Leakey's Inverness Bookstore can be found on Church Street which is in the city centre of Inverness near Old High Church.
It's only a 5-minute walk from Inverness Castle and a 5-minute walk from Inverness train station.
I would always encourage using public transport to reach Inverness and you can plan your journey using Traveline Scotland.
If you are driving, there is limited pay and display parking on Church Street for up to an hour between 8am – 6pm. Or, you can find all day parking at the Old Town Rose Street car park.
Leakey's Bookshop address is Church St, Inverness IV1 1EY. Click here for a Google Pin!
Leakey's Bookshop opening times
Leakey's Bookshop is open from 10 am to 5.30 pm from Monday to Saturday in Inverness. They are closed on Sundays.
It can get very busy in the summer season and on weekends. So, I would get in earlier rather than later.
I would try to visit at least an hour before closing time as there is so much to look through. You don't want to leave your visit too short and miss out!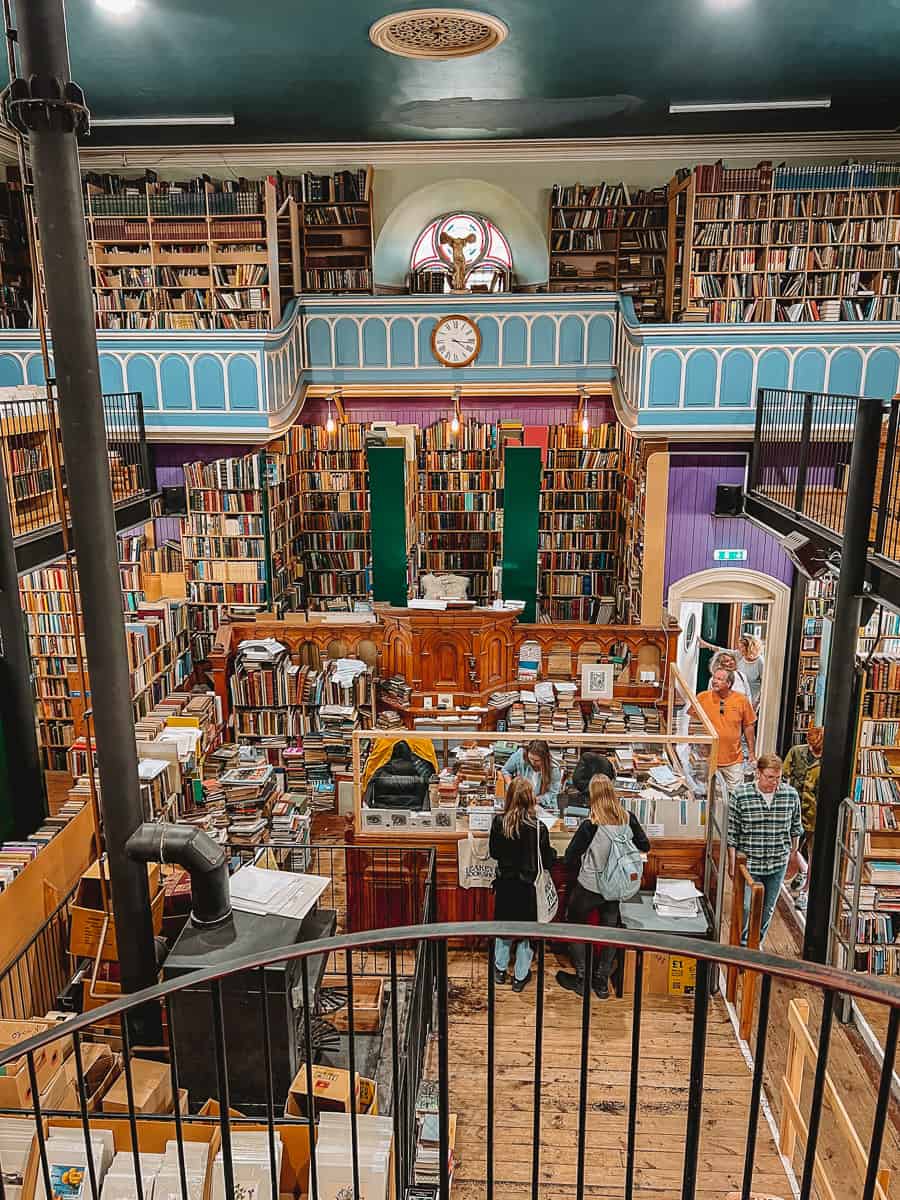 Looking for more places to visit in Inverness?
If you're basing yourself in Inverness, you'll find lots to do in this city! You can visit the city centre with Inverness Castle, the Black Rock Brewing Company and Fort George.
Also, you can head further afield to the likes of Culloden Battlefield which saw a gruesome end to the Jacobite Risings, or Clava Cairns which is an ancient Bronze Age site.
Loch Ness is just a few miles away and you can try and spot Nessie the Lochness Monster on a cruise!
Urquhart Castle is one of the most well-known castles in Scotland on the shores of Loch Ness that provides fabulous views.
It has over 500 years of history as a medieval fortress. You can explore the Great Tower, castle ruins, prison cells, and see their full-sized trebuchet!
If you're driving on the NC500 you can visit the likes of Dunrobin Castle, Lairg with The Wee Hoose, Wick, Duncansby Stacks, John O' Groats, Thurso, Smoo Cave, and Ullapool.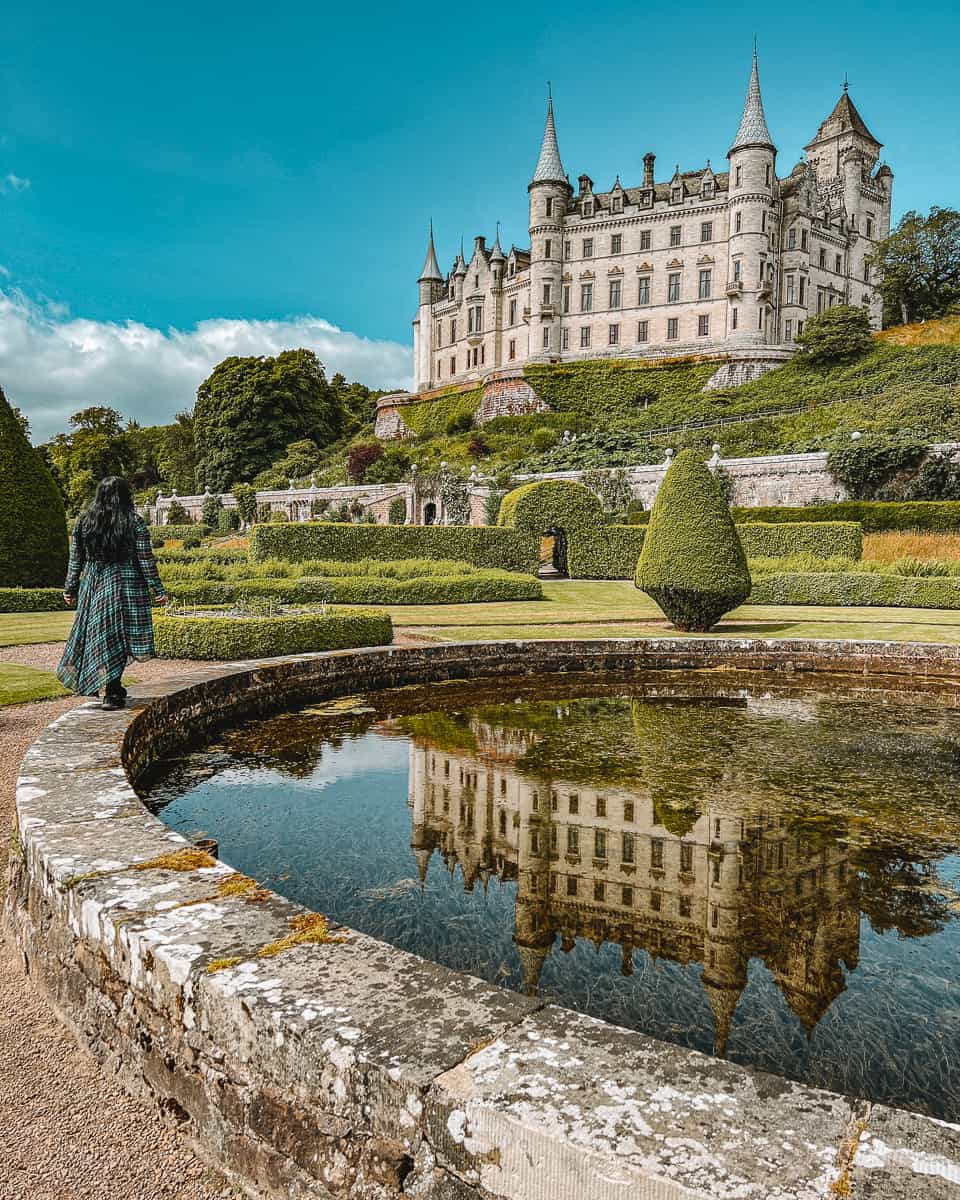 Most people head on over to the Isle of Skye to see attractions like Portree, the Fairy Pools, and Fairy Glen.
Or, if you're a Harry Potter fan I would recommend visiting Fort William. There are so many Harry Potter film locations here like the Glenfinnan Viaduct Viewpoint and you can even ride the Hogwarts Express with The Jacobite.
You can also see where Dumbledore is buried and visit Steall Falls, the waterfall you can see behind the Quidditch stadium.
Click here to read my complete guide for Harry Potter filming locations in Scotland!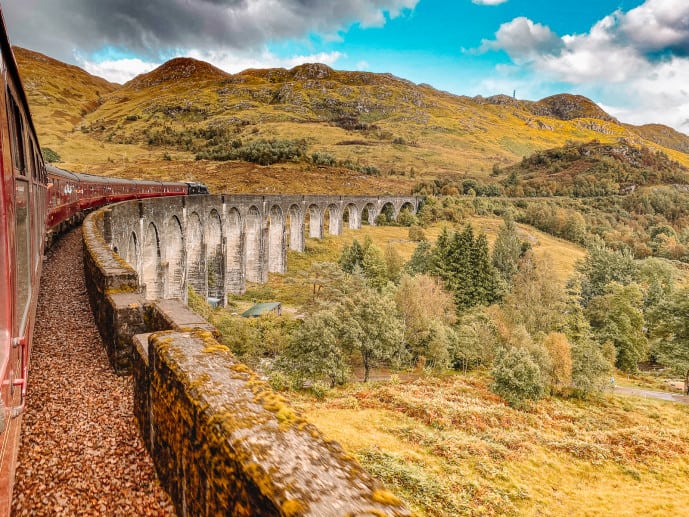 Save time and book a tour!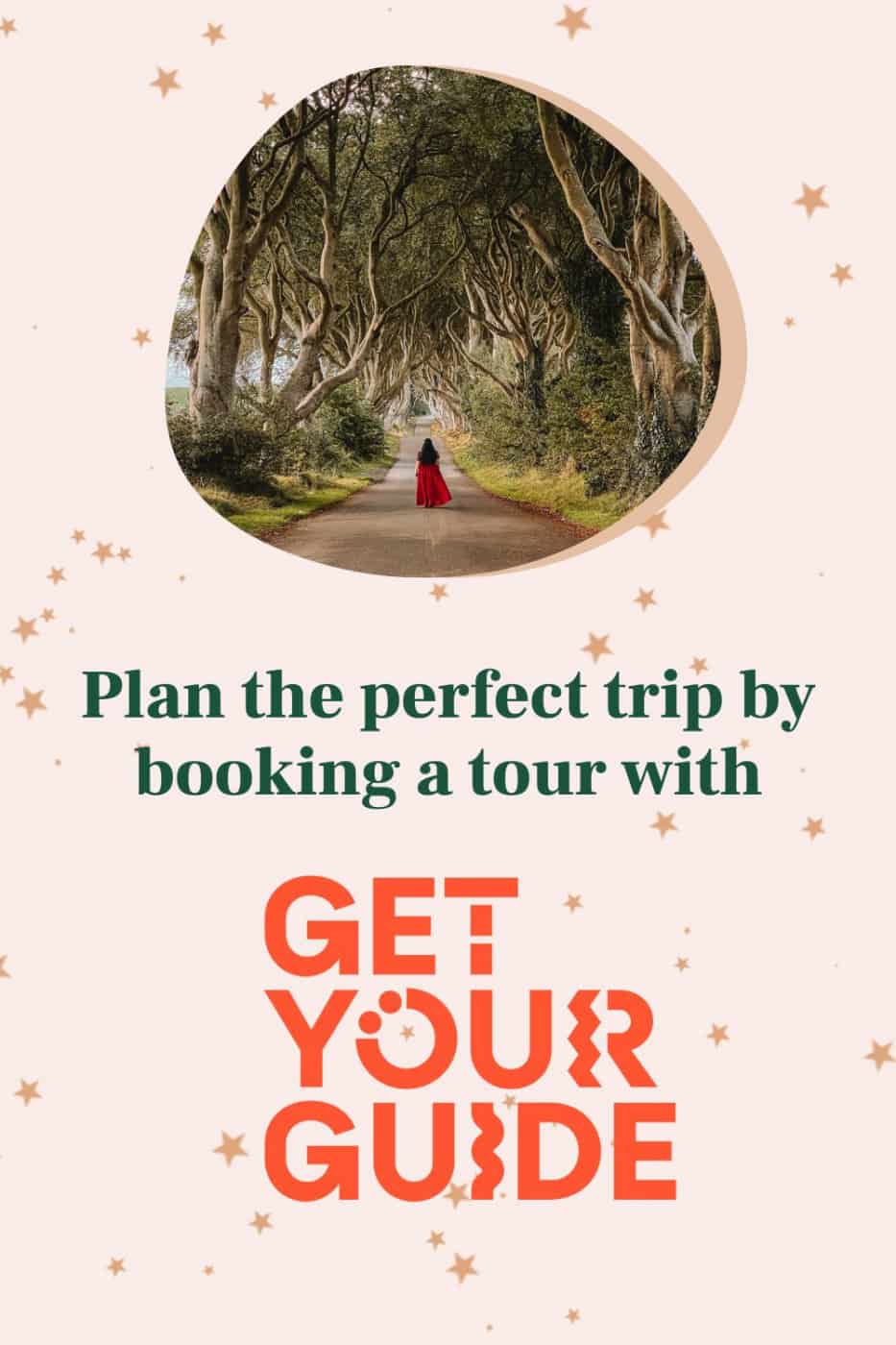 Read more of my Scotland articles
How to visit Eilean Donan Castle for free
Where is the pink castle in Scotland?
How to visit the Kelpies in Falkirk
Edinburgh Harry Potter locations
Outlander locations you can visit in Scotland
How to visit Lallybroch from Outlander
Visiting the Fairy Pools on the Isle of Sky
Smoo Cave & Waterfall walk in Durness
How to get to the Balmoral Pyramid
Visiting the Corpach Shipwreck near Fort William
Things to do in Gearrannan Blackhouse Village
How to visit the Callanish Stones on the Isle of Lewis
How to visit the Green Loch Aviemore
How to visit the Pink House on Loch Glass
Visiting the Puck's Glen Fairy trail
Isle of Mull Cheese Glass Barn Café review
Save Leakey's Inverness Bookstore for later!