The mysterious Dragon Hill that sits above The Manger and directly below Uffington White Horse in Oxfordshire has intrigued people for centuries.
It has been thought to play a role in a number of legendary tales and even famous fictional realms. The most common story involving Dragon Hill is the legend of St George.
This is meant to be the spot where he slayed a fire-breathing dragon!
It was also mentioned in the Arthurian Tales and is even thought to have been the inspiration for Weathertop in Tolkien's Lord of the Rings.
But, what is the truth surrounding this ancient chalk hillock and what secrets does it hold?
Here is a complete guide on visiting Dragon Hill on the Ridgeway Trail near Oxford and how you can uncover the mysteries for yourself!
What is Dragon Hill?
Dragon Hill is an ancient and rare natural chalk mound with an artificially flattened top!
It's around 10 metres in height and from here you can get some incredible views of the Uffington White Horse, the Manger, the Giant's Stairs and also the Oxfordshire countryside.
The hill is thought to have occurred naturally over 2 million years ago from glacial erosion by melting water in the Ice Age.
But, the flattened top is thought to have been a man-made influence from the Dobunni tribe who lived in Britain during the Iron Age. They settled here before the Roman invasion.
The legend of St George & Dragon Hill
Before its recorded history and groundbreaking excavations, this hill has often been embroiled in a range of historic legends that span the ages. But, the most famous of which is the legend of St George and the Dragon.
This is where the name of the hill is thought to have originated from!
The story goes that a fire-breathing dragon was causing panic in the town and the townsfolk tried everything to abate it. They gave it sheep, then were forced to give human sacrifices to satisfy its thirst for blood.
The sacrifices were chosen by the people and eventually, the King's Daughter was selected as a sacrifice. No one was willing to switch places with her, so the valiant St George stepped in to save her.
According to the legend, he rode his horse up to Dragon Hill, tamed and killed the dragon with his lance!
The dragon's blood spewed everywhere, all over the hilltop and the blood was so poisonous that the grass on that hill never grew again.
You can see evidence of this with the large chalk spot on top of the hill. This is supposedly the location where the dragon fell and grass mysteriously never grows there…There is also a theory that the White Horse above the hill is not meant to be a horse at all but in fact the evil dragon!
But, what evidence was there to support the story, and if this is true? In fact, very little.
St George was not English and was born in Cappadocia in Turkey. He has never been recorded visiting Uffington and the legend in many accounts took place in Silene, Libya.
However, it is nice to imagine that this tale took place here all those years ago..
The Arthurian Tales
Some say that the name Dragon Hill actually comes from the Arthurian tales which recount of the legendary characters of Merlin and King Arthur.
The famous antiquarian John Aubrey mentions that this hill could have been a burial mound in his Monumenta Britannica written in 1670.
Uther Pendragon, who was King Arthur's father, is thought to have fought the Saxons at Uffington, died in battle, and then been laid to rest at this very chalk mound.
Some say that the blood spot is not of the dragon but of Danish invaders.
After all, it is a well-known legend that Alfred the Great summoned his armies who were camped at Uffington Castle through the Blowing Stone of Kingston Lisle.
This is located just a few miles away from here. The soldiers would then march and go on to fight the Danes for a Saxon victory in the Battle of Ashdown in 871.
Is Dragon hill connected to Tolkien's Middle Earth?
Fast forward a few centuries and this spot also plays a role in other fantasy worlds! Dragon hill is thought to have inspired the legendary realm of Middle Earth.
J. R. R. Tolkien was an academic at Oxford and was well known for going on tours of the Berkshire Downs (as it was known in 1912). He would then visit this area often throughout his life.
His son, Christopher Tolkien, was convinced that Dragon Hill was the inspiration for Weathertop or Amon Sûl of Eriador. This is where Frodo Baggins is stabbed by the Ringwraith.
Of course, in the books, this hill rose to around 1000 feet and had a watchtower. But, this just goes to show what an imagination Tolkein had to create his beloved Legendarium.
Nearby, you can also visit Wayland's Smithy which is thought to have inspired his Barrow-Downs where the hobbits meet an evil barrow-wight! Or, the Rollright Stones in Oxfordshire is also said to be an inspiration.
Click here to read my Lord of the Rings guide to the Cotswolds
The real recorded history & excavations
Coming back down to human Earth and the real world, what is the true history of this mysterious mound? Well, although recent excavations cannot give an exact purpose they can paint a really good picture.
This ancient hillock dates back to around 2.4 million years ago. It is generally agreed that this hill was created naturally during the Ice Age from the formations of melting water.
But, the flattening of the top would have been a man-made influence that happened in the Iron Age with the Celtic Briton tribes.
It is thought to have happened due to the high level of potash found on the summit. This and the flat hill top was commonly used for pagan rituals and ceremonies which involved sacrifices.
Maybe they did this as an offering for the great white horse that scars the hill above? After all, this was also created around the same time over 3,000 years ago!
Many say that this hill resembles the likes of Silbury Hill, an ancient pyramid that lies on the Avebury World Heritage site in Wiltshire.
However, that one was completely man-made and to this day no one really knows why!
Around the 10th century, this summit was noted as Eccles Beorh meaning 'Church Barrow'. So, there could have been a Christian temple that stood here on the site. Probably to pester away the pagan rituals and sacrifices in honour of the white horse.
There are also theories that this was a Norman Castle mound with a motte-and-bailey below.
Recent excavations have discovered many Iron Age sherds and Roman coins buried here, but not much else could be confirmed.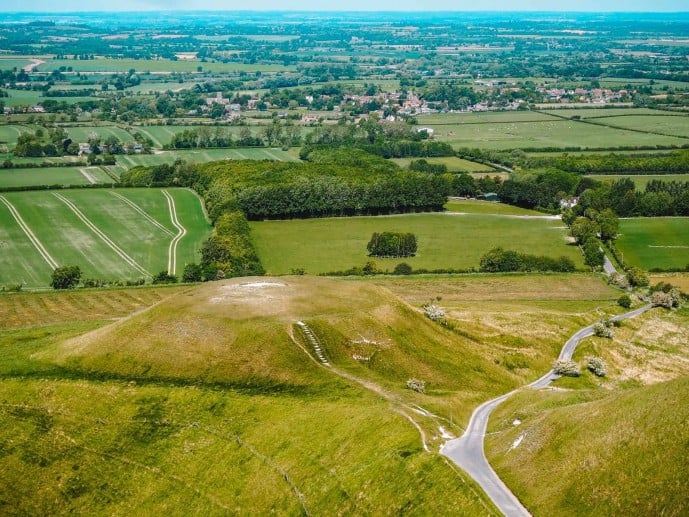 Where is Dragon Hill in England?
If you wanted to come and see this mysterious mound for yourself, then you only need to visit the Oxfordshire countryside.
Dragon Hill is located around 5 miles from Faringdon, 12 miles from Swindon, 25 miles from Oxford, and 80 miles from London!
It's perched on quite a remote area of the countryside and is accessible along the Ridgeway National Trail, the oldest road in Europe.
How to get to Dragon Hill
The most convenient way to access Dragon Hill would be to drive to Uffington White Horse. As Dragon Hill sits below the horse, you can easily access the mound from there.
As the area is jointly looked after by English Heritage and the National Trust, the site, roads, and walking paths are well maintained. There is adequate chargeable parking (free to National Trust & English Heritage members).
Also, there is some blue badge parking located a little closer to Castle Hill. There are also some facilities available, although there are no toilets.
It's completely FREE to visit and open 24 hours a day. Though I would suggest visiting in reasonable daylight as it's quite remote. Plus, it's supposedly haunted!
Walking to Dragon Hill from the car park will take you around 15 minutes and is STEEP, so bring a good pair of walking shoes.
There is the Castle Road option along the tarmac path and a scenic grassy hill option. The choice is yours.
To get up to the summit, there are some stairs which make it nice and easy to climb up. Not so easy to climb back down though as the steps are massive. So, take your time.
What can you see while you're here?
So, once you've made it to Dragon Hill, what is there to do here?! Well, not a lot really but it's a lovely spot to perch on and relax a while.
You will get 360-degree views of the Oxfordshire Downs and you can easily see the Manger and the Giant's Stairs which are the crevices in the nearby hillside. Also, the Uffington White Horse is clearly visible above you.
Don't forget to check out the white spot on the hill, this is the legendary location where the dragon fell. Supposedly no grass grows here due to its poisonous blood!
It's a lovely spot to bring a picnic (if it's not too windy) or sit with a good book. You'll find some lovely peace and quiet.
The only downside is having to walk back up the hill again to your car…
Things to do near Dragon Hill
Okay, so that's a complete guide for the incredible Dragon Hill. But, there are plenty of more mysterious ancient sites and breathtaking places to visit nearby!
Uffington White Horse is the figure that looms over the hillock. Is this really a dragon? It could be a pagan god. Or, is it a flying white horse that is ridden by a legendary saint? You decide.
Although you cannot walk onto the horse anymore, you can take a good look at it from the surrounding areas.
Click here for more things to do in Uffington nearby
Uffington Castle is also a brilliant example of an Iron Age hill fort that rests at the top of the hill.
Here, you can traverse the two immense circular chalk ramparts. Large forts from the Iron Age are extremely rare to come by so it's a great opportunity to explore one.
The Ridgeway Trail is also easily accessed from here which is Europe's oldest road. Travellers have traipsed along here for the last 5,000 years.
You can walk to many accents sites along here or just enjoy the surrounding countryside.
Wayland's Smithy is one of the sites that can be accessed along the Ridgeway and is a Neolithic house of the dead. You can explore this ancient burial chamber that inspired Tolkien's Barrow-Downs or simply relax in the shaded copse.
Click here for a guide on how to find Wayland's Smithy
The Blowingstone of Kingston Lisle is located just a few miles away from here in a residential front garden!
This was the famous place where Alfred the Great is meant to have summoned his troops to fight the Danes. Why not visit and have a go at making noise yourself? It's open at all times. Donations are welcomed and all proceeds go to charity.
Click here for directions to the Blowing Stone
Faringdon is a historic market town located close by in the Vale of the White Horse.
It has quite a quirky character drawing inspiration from its most famous resident Lord Berners who was a well-known eccentric.
There is plenty to do in Faringdon including a walk up to the iconic Faringdon Folly Tower.
Read more posts on Oxfordshire
Discover Burford, a gateway to the Cotswolds
Visit the ruins of Minster Lovell Hall
How to visit the magical Badbury Clump bluebell woods
Visit the Rollright Stones Circle near Long Compton
Like it? Pin it!