Edinburgh is always a gorgeous place to visit in the Autumn season when the foliage changes from lush greens to yellows, vibrant oranges, and reds.
But, Liberton Kirk is truly one of the highlights to visit in Edinburgh during the spooky season. This is when the blanket of ivy covering the church turns a ruby-red colour to match their Elven-style red doors!
Every year, I see beautiful pictures of these red leaves pop up on my feed. So, this year I thought I'd visit for myself. Luckily, I was here at just the right time before they started to drop off.
Here is a complete guide on visiting Liberton Kirk in Autumn and when you can see the red leaves!
Liberton Kirk history
The first recorded evidence of a Liberton Kirk was in 1143 when the monks of Holyrood Abbey were granted a chapel by MacBeth, the Baron of Liberton.
However, it is believed that there was a place of worship on this site before that. Two Celtic crosses were discovered here dating back to the 8th and 11th centuries.
Although not much is recorded about Liberton Chapel after 1143, a document references the transfer of the church from St Cuthbert's in Edinburgh back to Holyrood Abbey in 1240.
The control of Liberton Kirk remained under Holyrood Abbey until the Reformation in the 16th century. After that, it became a parish church.
Unfortunately, that ancient kirk burned down in the 18th century and was beyond repair and so it was completely reconstructed in 1815 with a design by James Gillespie Graham.
It hasn't changed all that much in two centuries. It has a tower, large graveyard, and you can see a table stone that has one of the earliest known depictions of ploughing. There is also a modern war cemetery just behind it.
Today, Liberton Kirk is still an active church with a large congregation that holds services every week.
The inside of the church is only open for worship but many visit Liberton Kirkyard to see the historic building as it's covered in a blanket of ivy leaves!
The best time to visit Liberton Kirk
Of course, Liberton Kirk is a gorgeous historic building that looks beautiful throughout the year. Especially in spring and summer when the vivid green ivy is out in bloom!
But by far the best time of year to visit Liberton Kirk would be in the Autumn during the spooky season in the lead-up to Halloween.
This is when the gorgeous blanket of Virginia Creeper ivy crawling on the church walls turns a gorgeous ruby-red colour and it looks like an autumnal treat!
Related – Why you must visit Greyfriars Kirkyard in Edinburgh!
Liberton Kirk in Autumn
Without fail every year, the blanket of ivy surrounding Liberton Kirk turns red to match the bright red doors in front of the church.
These church entrances were so ornate and reminded me of the Elven doors in Lord of the Rings. So, the whole place covered in foliage made it look extra magical.
You'll find the ivy crawling over the doors lined with old oil lamps and reaching up towards the ancient stained glass window frames and towers. It's honestly breathtaking.
The only downside is that you'll have to be quick to catch the Liberton Kirk red leaves as the colour only lasts a few weeks a year.
As they turn red, they eventually start to fall off the church and you'll only be left with vines. So, make sure to plan a visit to Liberton in October.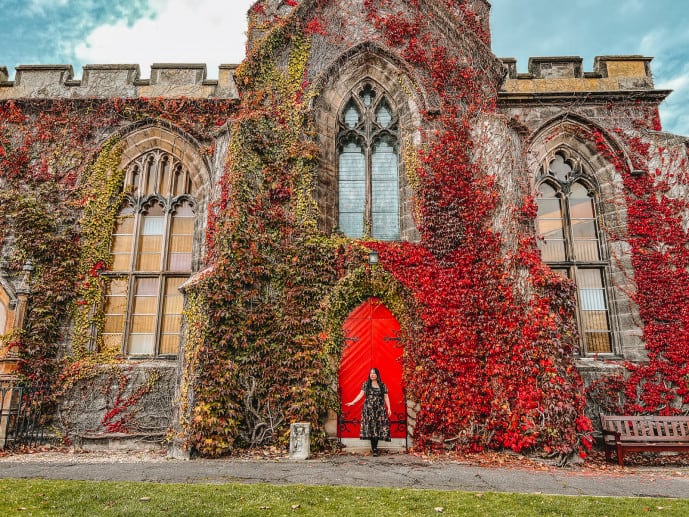 When does Liberton Kirk turn red?
Unfortunately, it's never an exact science when ivy will turn red in the UK. Of course, it's going to be during Autumn but there are a number of factors that affect the change in colour.
It completely depends on the previous season's weather, the current weather, temperatures, how much rain there has been, the amount of sunlight, the ivy's proximity to water with sediments, and a number of other factors.
Usually, though, it's a sure bet that the ivy leaves will turn red in the middle weeks of October leading up to Samhain!
I visited at the end of October and I don't think I caught it at the very peak time as lots of the leaves were already falling off.
But, the church was still very red (with some leftover green too) which was good enough for me and still looked amazing in photos and videos!
The best way to check is to keep following updates on social media. Many people like to capture this gorgeous building during the transition of green to red so you can keep up to date online.
Things to see in Liberton Kirkyard
So, although you cannot go inside the church, the kirkyard is well worth exploring when you're in Liberton.
Just beside the entrance gate, they have a small welcome centre that's open throughout the day that tells you the history of the church and its services.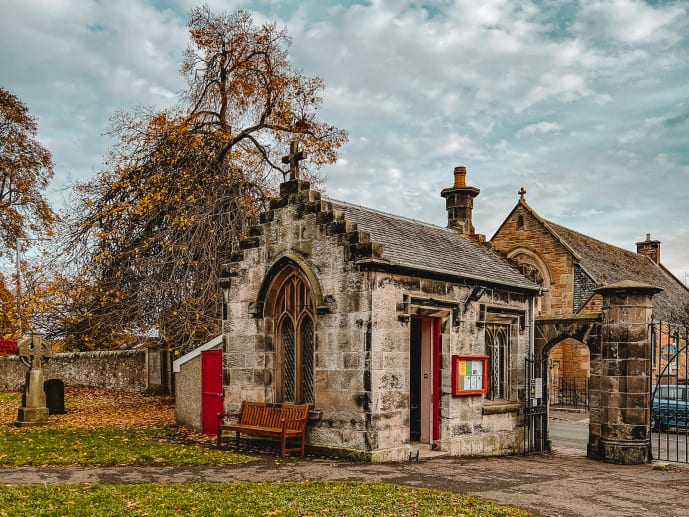 The front of the church has a few gravestones (mostly 18th-century skulls and crossbones) and you'll find some ornate ones around the back too.
You can take a spin around the graveyard which has lots of greenery and trees. Look out for the table stone that has one of the earliest known depictions of ploughing.
There are also a few benches set up around the kirkyard to perch on and find some quiet in this peaceful place.
Kirkgate Café
If you were looking for some refreshments while you're visiting Liberton, you can pop over to the Kirkgate Café over the road which is run by volunteers.
It's a lively café that provides hot drinks, refreshments, snacks, breakfasts, and lunches throughout the week.
There are also some daily specials, Fair Trade items on offer plus it has free WiFi!
Opening times of Kirkgate Café are Monday – Thursday from 9 am – 2 pm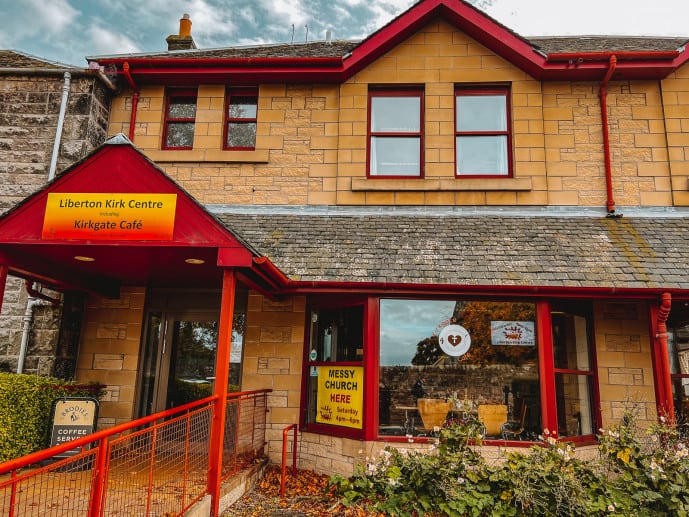 How to visit Liberton Kirk in Edinburgh
Liberton is a small suburb of Edinburgh and can be found in the south of the city, near The Inch district.
A fun fact is that Liberton was once home to Sir Arthur Conan Doyle who lived in a small cottage near the Braid Burn!
From the centre of Edinburgh, Liberton is just a short 16-minute drive away on the A7/A701 and there is some free off-road parking found just outside of the church on Kirkgate.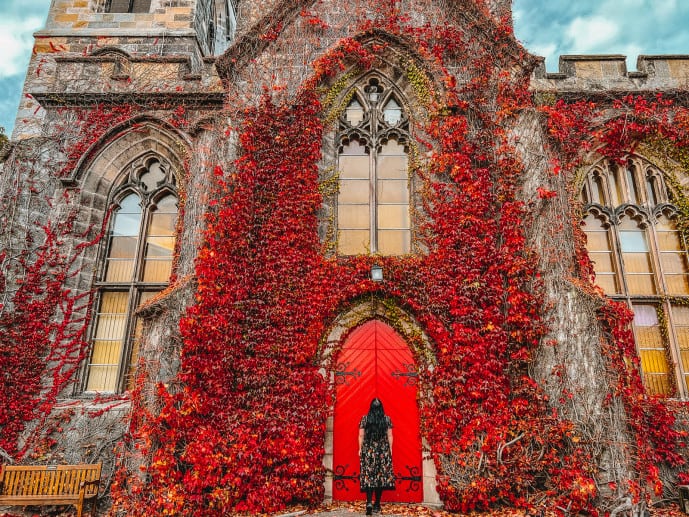 If you're arriving by public transport, it's easiest to get the bus to Liberton from the centre of Edinburgh.
There are regular bus services from North Bridge (stop NE) and Leith Street that drops you straight outside Kirkgate to visit Liberton Kirk. The journey will be around 30 minutes.
Alternatively, you could cycle or walk too if you wanted to get some steps in. The walk will be around an hour from Edinburgh Old Town.
Liberton Kirk address is Kirkgate, Edinburgh, EH16 6RX. Click here for a Google Pin!
Liberton Kirk opening hours
Liberton Kirkyard is open 24 hours a day, so you can easily visit at any time during Autumn to see the church covered in gorgeous ruby-red ivy leaves!
It's well worth having a look around the Kirkyard as well as the front of the church. There are some beautiful old graves surrounded by trees with autumn colours.
Or, you could sit on the bench with a coffee and relax for a while. It's a very peaceful place. I'd plan around 30 minutes to explore.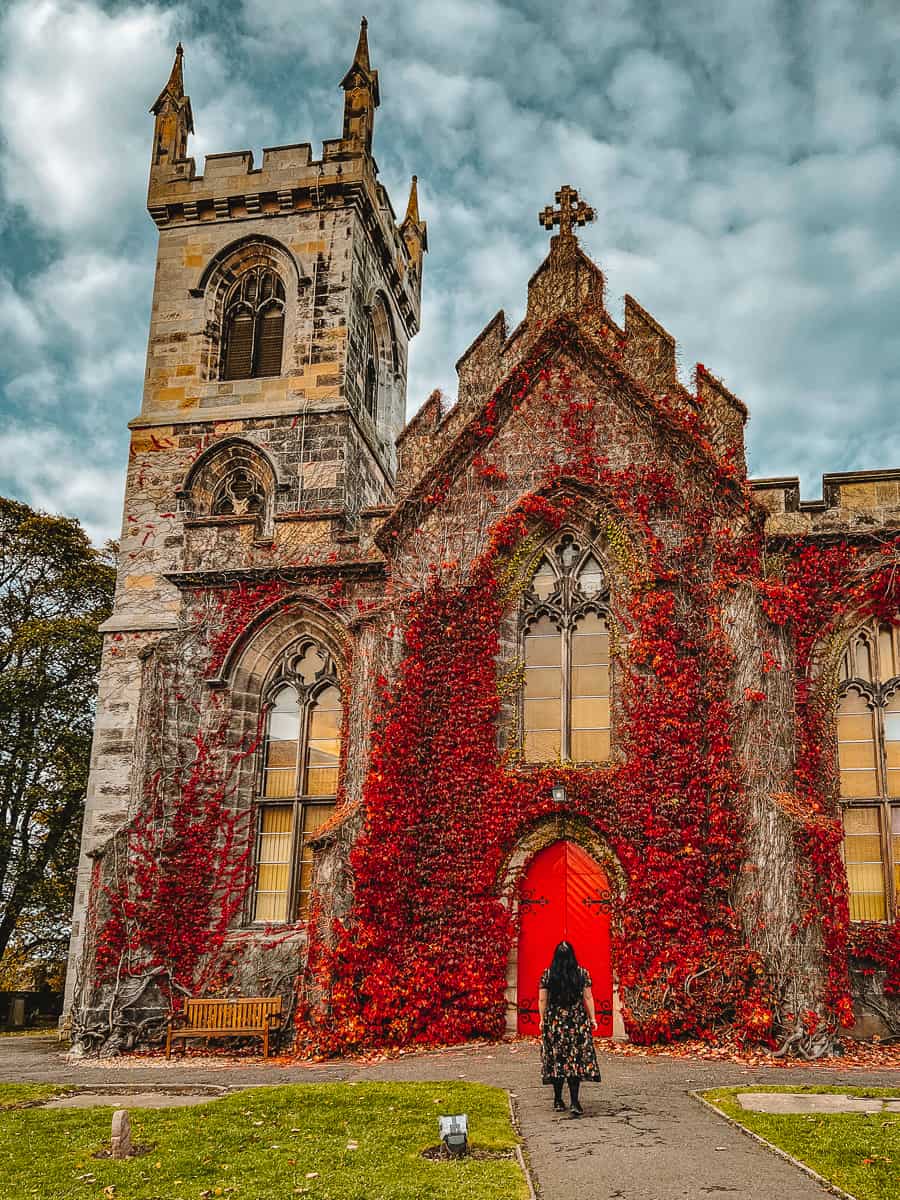 If you wanted to visit inside Liberton Kirk, it is only open for worship and prayer at present and they regularly hold morning and evening services throughout the week.
You can check their website for their weekly calendar of services if this is something that was of interest.
If not, Liberton Kirk regularly takes part in the Doors Open Days Events that take place each year in Edinburgh during September which opens it up to the public. This is the best time to plan a visit!
Looking for more things to do in Edinburgh during the spooky season?
If you're looking for more autumn foliage in Edinburgh, you'll be spoiled for choice as it can be found all over the city.
Another place you can visit for red ivy leaves is Carlowrie Castle. Every year their fairytale castle towers and turrets turn bright red!
Unfortunately, I was far too late for the season this year. When I showed up all of the ivy leaves had pretty much dropped off. So, it's on my list for next year.
There are many parks in the city that are vibrant with Autumn colours like Prince's Street Gardens. St Cuthbert's Kirkyard is particularly stunning in the spooky season.
If you wanted to see some Halloween displays, I would highly recommend Boswell's Court which has a huge display of pumpkins beside The Witchery by the Castle. Also, The Ivy regularly has an Autumn display.
As Edinburgh is one of the most haunted cities in the UK there is no end of spooky things to do. You could organise a trip to see some Burke & Hare attractions.
You can visit Greyfriars Kirkyard to learn about mortsafes or see the William Burke Museum in Cadies & The Witchery Tours. It has a calling card case made out of the skin of William Burke.
You can visit the National Portrait Gallery on Queen's Street to see the Life and Death masks of Burke and Hare or you can visit the National Museum of Edinburgh to see the Coffin Dolls.
There is no end of Harry Potter sites and experiences in Edinburgh. You must visit Museum Context Harry Potter Shop and Victoria Street which is a real-life Diagon Alley or visit Tom Riddle's Grave.
Click here to read my complete guide of Harry Potter locations to visit in Edinburgh!
Save time and book a tour!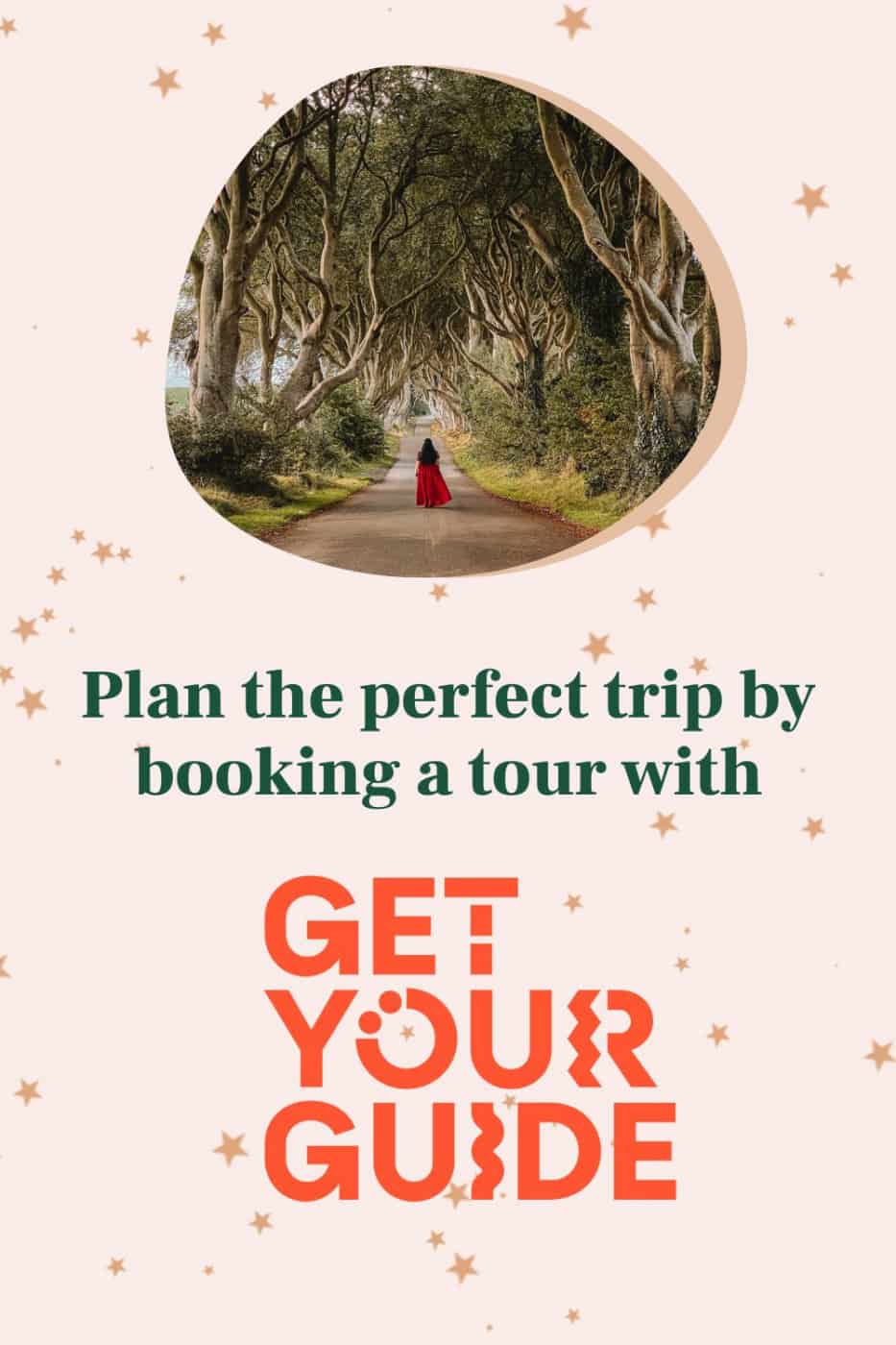 Book tours & tickets for Edinburgh!
Read more of my Edinburgh guides
My ultimate Edinburgh Bucket List
Lady Stair's Close & The Writers' Museum in Edinburgh
A complete guide for The Vennel viewpoint
A complete guide for Dean Village
Why you must visit Circus Lane
How to find the Old Stockbridge Market Arch
Why you must visit Craigmillar Castle
Lunch at the Witchery By The Castle
Afternoon tea at the Signet Library
The most Instagrammable places in Edinburgh
Did Mary Queen of Scots bathe in wine here?
Department of Magic cocktails review
Outlander locations in Edinburgh
Topping & Company Booksellers Edinburgh review
How to visit the Ross Fountain
Save Liberton Kirk in Autumn for later!