If there was one thing I knew I wanted to see in the historic city of Lincoln on my visit, it was the Lincoln Imp!
I don't know why but ever since I have heard about this magical creature, I have wanted to see him for myself.
The Lincoln imp is a small grotesque that sits in a corner of Lincoln Cathedral that is steeped in mystery and legends. So much so, he's now famous and is a symbol of the city today.
Here is a complete guide for The Lincoln Imp including the legend and how to find him in Lincoln Cathedral.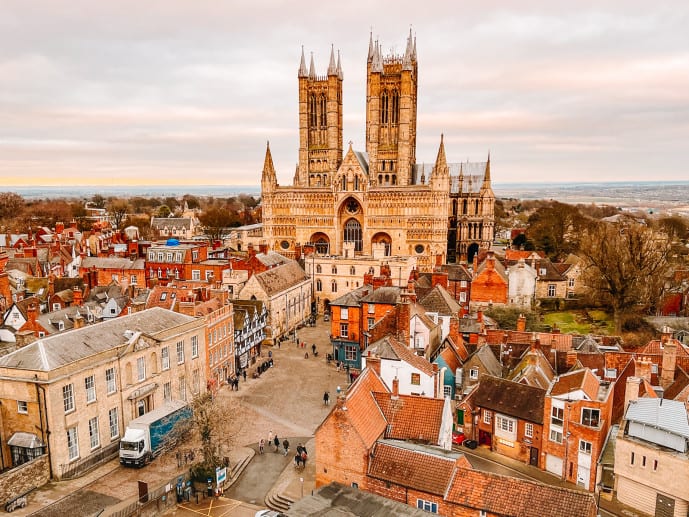 What is the Lincoln Imp?
The Lincoln Imp is a grotesque of a devilish creature that can be found high up on the walls of Lincoln Cathedral.
If you didn't know, an Imp is a small, mischievous sprite or demon that is often associated with the Devil. They are seen as troublesome creatures and likely to cause mischief.
Although the Lincoln Imp is a tiny carved figure in the cathedral, no larger than an A4 piece of paper, he is now famous and a symbol for the city of Lincoln.
There has been a Lincoln Imp statue trail named in his honour, multiple murals dedicated to him around the city, and even the Lincoln football team are nicknamed "The Imps"!
The Lincoln Imp legend
So, why is there an Imp carved into Lincoln Cathedral and why is this cheeky sprite a symbol of the city?
Well, according to the more imaginative Lincoln Imp legend from the 14th-century, the Devil was in a playful mood and decided to let his demons out from the underworld to cause havoc and wreak mayhem on Earth!
The imps were then unleashed and firstly made a stop at Chesterfield to twist St Mary's Church spire before they set their sights on causing mischief in Lincoln Cathedral.
Once inside, they knocked over the Dean, started destroying the lights, and smashed all the stained glass windows!
Having seen enough, one of the angels from the Bible appeared and warned them that if they didn't stop then the wicked imps would be turned into stone!
At that command, many of the Imps left Lincoln and one decided to leave for Grimsby. However, one bold Imp remained and continued to be very naughty. He insulted the Angel and was going to throw stones!
So, the angel cried "Wicked Imp, be turned to stone!" and the Imp was turned to stone where he sat, and there he remains to this very day!
How to find the Lincoln Imp in Lincoln Cathedral
So, if you wanted to see the Lincoln Imp for yourself, you must make a visit to Lincoln Cathedral where he remains. But, it's not as easy as you think to locate him inside.
Although I had seen pictures of the Lincoln Imp before my visit, I hadn't expected finding him to be so difficult as it was!
The pictures online make him look massive but he's actually tiny and sits high up on the cathedral walls. He's also slightly camouflaged in the ornate carvings.
I did ask the reception for directions and was given their map legend but I still found it a little bit challenging to finally locate him. I had to ask a staff member to help in the end.
So, I will give you some detailed directions on how to find the Lincoln Imp in Lincoln Cathedral on your visit;
1. Exit the Visitor Centre and head down the steps to the Cathedral Cloisters
2. Head past the entrance to the Chapter House and head through the glass doors
3. Make a left turn and walk all the way down to the stained glass windows by the Shrine of St Hugo
4. Step into the middle of this section in front of the largest stained glass and look to your left and straight up.
5. You'll see the top of the cathedral pillars and an eavesdropper's head that has been carved into the wall. Above that is a large ornate carving of what looks like flowers.
6. At the very bottom of that carving work you'll see the Lincoln Imp sitting and looking down at you!
Lincoln Imp photography
It's actually very difficult to take good photos of the Lincoln Imp as he sits so high up on the cathedral walls. So, I would make sure you have a good zoom lens in order to capture him.
I found my iPhone did an okay job with these pictures and videos but I think it would have been a lot sharper with a DSLR.
I have heard that the cathedral has a button you can press for a spotlight to shine on him if it's dark. But, I didn't see that on my visit, unfortunately.
If your neck starts to ache, there is some seating spread about this area where you can take a pew and gaze up at him!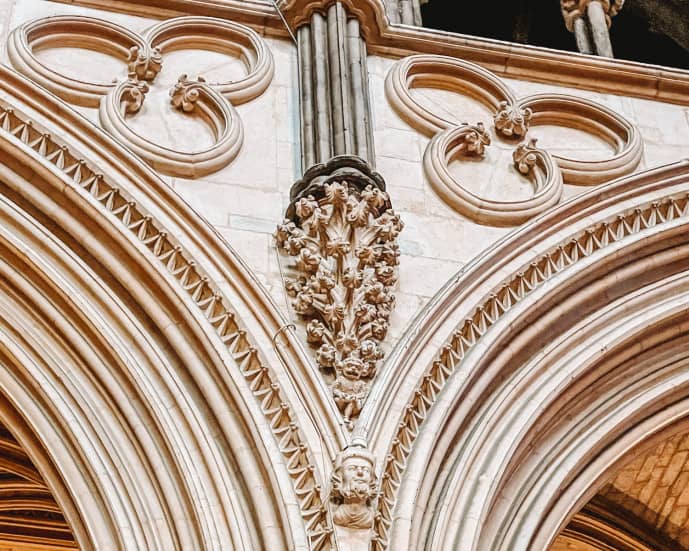 Don't forget to buy some Lincoln Imp souvenirs in the shop!
After you have found the Lincoln Imp and learned his mischief, you must have a look around the Lincoln Cathedral gift shop. They have plenty of Lincoln Imp souvenirs to remember him by!
They have life-size replicas, Lincoln Imp magnets, keyring, cufflinks, and pin badges. Even chocolate lollies and socks were there!
I bought one of their gorgeous handmade mugs with a little Lincoln Imp on the front. It's so cute!
Click here to look at some of the Lincoln Imp souvenirs online
Highlights of Lincoln Cathedral
So, aside from the Lincoln Imp, there are many highlights to the impressive Lincoln Cathedral that make it worth a visit. It has a history dating back to the Norman era in 1072.
The first place that you will see when you exit the visitor centre is the Lincoln Cathedral Cloisters. These are such a relaxing place to visit and are situated around a small green.
After you look around the cloisters, make sure to head into the impressive Lincoln Cathedral Chapter House. It was the area where the administrations of the cathedral took place centuries ago.
You may recognise this room as it was featured in the Da Vinci Code as a filming location!
Once you've finished admiring the Chapter House you can then head into the Cathedral Nave with its impressive arches and stained glass windows.
Step through The Crossing and head around to St Hugo's Choir & High Altar which is referred to as a 'church within a church'.
Near St Hugo's Shrine is where you'll see the colourful stained glass windows. When it's sunny, they shine bright colours on the cathedral pillars. This is where you'll find the Lincoln Imp hiding on the wall!
How to visit Lincoln Cathedral
Lincoln Cathedral is hard to miss when you visit this historic city! The tall towers are the first thing you see as you drive in and the entire building towers over everything else!
The Lincoln Cathedral Quarter stands high on a hill alongside Lincoln Castle and you can reach the cathedral by traversing up the steep and ancient hills to the very top.
The way most people visit is to walk up via The Strait shopping street and then make a breathless journey up the aptly named 'Steep Hill'.
They aren't kidding when they say it is steep though, so take your time. There are even benches at the half way point if you need a breather.
For those that cannot do this walk, there is a 'Walk & Ride Steep Hill Shuttle' that can take you from the bus and train station to the top of the hill.
Once you're at the top of Steep Hill, make a right turn at the Lincoln Visitor Centre and then head through the old exchequer building archways. You'll see the cathedral beyond with its ornate carving work.
You'll then need to head around to the cathedral visitor entrance that's to the left of the cathedral front. Lincoln Cathedral visitor centre ticket counter, shop, and café can be accessed via Minster Yard.
Click here for a Google Map pin for Lincoln Cathedral!
Lincoln Cathedral opening times and prices
Lincoln Cathedral is open to visitors from 10 am – 4 pm Mondays – Saturdays. On Sundays, it's open from 12 pm to 3 pm due to services.
Lincoln Cathedral does cost money to enter and the current price is £9 for an adult, £7.20 for concessions, and £4.80 for a child. This is not a voluntary donation and everyone visiting has to pay the fee.
The price to run, renovate and conserve Lincoln Cathedral costs around £5 million a year. So, your contributions help to protect this cathedral and ensure it can be enjoyed by all in the future.
Lincoln Imp street art and statues in Lincoln
Although the Lincoln Imp is tiny, the grotesque has a huge impact on the culture here in Lincoln. He's now a symbol of the city!
There's a football team called the Lincoln Imps, Lincoln Imp Street Art, and even Lincoln Imp Statue Trails that happen in the summer.
Whenever you go to Lincoln, you'll see images of the Lincoln Imp all over the place.
If you wanted to see a Lincoln Imp street art, then I would recommend heading to Lincoln High Street where they have a huge and colourful mural dedicated just to the Imp!
Looking for more things to do in Lincoln?
There is plenty to do in the historic city of Lincoln if you were here for the day or the weekend.
After Lincoln Cathedral, I would highly recommend popping over to Lincoln Castle. It has a huge history dating back to the Norman era and they have a copy of the Magna Carta on display that was made during the reign of King John in 1215.
In more recent years, the castle was a Victorian jail. So, you can wander into the old prison cells and learn all about what life was like as a prisoner during those times.
The highlight for me though was the Lincoln Castle Walls Walk! It's a huge trail that circles the entire castle and you can see 360-degree panoramic views all over the city.
Steep Hill was another one of my favourite places to explore where you can find lots of independent boutiques, pubs like Wig & Mitre, and restaurants like Brown's Famous Pie Shop.
Click here to read my complete guide for visiting Steep Hill
On the lower end of the city, you could take a stroll around the Brayford Waterfront. There are lots of shops, restaurants, and nightlife there!
A great way to learn some history and stories of Lincoln would be to take a FREE Lincoln Walking Tour that takes place on Saturdays.
I joined them on my visit and found it extremely informative. It's a great way to be introduced to the city if you're visiting for the first time.
Read more of my Lincolnshire guides
Save the Lincoln Imp legend for later!