If you're on an Outlander Locations trail in Scotland, a trip to see the Linlithgow Palace Outlander locations are sure to be on your hit-list.
Just a few miles out of Edinburgh, the historic royal palace and borough of Linlithgow are filled with rich Scottish history, mystery, and intrigue.
Famous for being where Mary Queen of Scots was born, this impressive castle ruin used to be a residence for the Scottish royal families of the Renaissance. It provided the ideal retreat and broke the journey between Edinburgh and Stirling.
In Outlander it featured as the infamous Wentworth prison where Jamie Fraser was incarcerated and tortured by Black Jack Randall.
Here's a complete guide to exploring the Linlithgow Palace Outlander scenes on your visit.
Where is Linlithgow Palace in Scotland?
Linlithgow Palace is located in West Lothian, in the Royal Borough of Linlithgow, 15 miles out of Edinburgh.
It is surrounded by miles of greenery called Linlithgow Peel and a loch surrounds it which is home to wildfowl.
The exact location is; Kirkgate, Linlithgow EH49 7AL.
Linlithgow Palace History
Linlithgow Palace was referred to as a "pleasure place" and many Scottish royals were born here in the 15th & 16th centuries. The most famous was Mary Queen of Scots.
For royals, it served as a fantastic retreat away from life at court. Also, when the royal families would move from Edinburgh Castle to Stirling Castle, Linlithgow was the perfect stopping point on the journey.
You have to think, although it would take us under an hour by car these days, in the Medieval/Renaissance era, it could take a few days by horse and carriage!
When was Linlithgow Palace built?
A Royal Manor has existed on the site since the 12th century, then it was replaced by a fort under Edward I in the 14th century. In those times, it occupied English Soldiers.
In 1424, Linlithgow was destroyed by a great fire and James I started to rebuild a grand palace for the Stewart Royals along with the Church of St Michael.
Over two centuries, James III, James IV and James V (who was born in the palace) added significant extensions to the palace including the grand courtyards.
What happened to Linlithgow Palace?
After the death of Mary Queen of Scots. Her son James VI of Scotland made his ascension to King James I of England and came into power under the Union of Crowns.
After that, the royal court moved towards England and so Linlithgow wasn't used.
It eventually fell into decline with multiple attempts to rebuild. But, the last monarch to ever stay there was Charles I and only for one night.
Bonnie Prince Charlie did pop through in here on his march south but didn't end up staying for the night. Supposedly, the fountain you see in the middle flowed with wine in his honour!
It was then held by a keeper for many years until it was returned to the Crown and then actively conserved from the 19th century.
Today, Linlithgow is a historic environment for Scotland property.
Linlithgow Palace opening times and prices
Linlithgow Palace is open all year round but, depending on what season you visit, it has different opening times;
1st April – 30th September: 9.30am – 5.30pm (last entry 4.45pm)
1st October – 31st March: 10am – 4pm (last entry 3.15pm)
Ticket prices for Linlithgow Palace
Adults: £7.20
Children: £4.30
Concessions: £5.40
Linlithgow Palace is run by the Historic Environment Scotland team and there are also many Outlander properties run by them too like Castle Leoch (Doune Castle) and Fort William (Blackness Castle).
They also run hundreds of other historic castles so it may be worth purchasing an Explorer Pass while you're here to save some cash!
How to reach Linlithgow Palace from Edinburgh and Glasgow
Linlithgow Palace by Car: Linlithgow Palace is easy to access from either Edinburgh or Glasgow. From Edinburgh, you can take the A90 and A904 route, the M9, or the M8 & 9 it should take around 40 minutes. From Glasgow, it takes the same time and you can head to Linlithgow via the M80 or the M8.
Linlithgow Palace by Train: A bus will take a while from both cities but the most convenient option is by train. There is a train station in Linlithgow and you can catch the Scotrail service from Glasgow Queen Street Station to Linlithgow in 30 minutes.
From Edinburgh, you can take the Scotrail service from Edinburgh Waverley station to Linlithgow station in roughly 20 minutes. See here for details and prices.
Outlander tours that include Linlithgow: If you're planning on seeing quite a few Outlander locations while you're here. It may be more economical to go on an Outlander tour, it will also save you a lot of money. See here for details.
Linlithgow Palace parking
All I'm going to say is, it's a free car park but prepare for it to be a bit of a faff.
As an ancient castle, it wasn't really meant to hold any cars, so when lots of tourists are all trying to pile onto the fort with their vehicles, it can be a bit of a squeeze.
Caravans, minibuses, and cars are all trying to find a spot here and at peak times, it may be impossible.
If you aren't successful in securing one, there is a paid car park at the bottom of the hill to the castle and it's a short uphill climb from here.
How long do you need to visit Linlithgow Palace?
This depends, if you're just here to see some Outlander locations as some tours did, you could be in and out in 30-45 minutes.
But, when you get here I can guarantee you'll want to look around a bit further!
Linlithgow Palace is full of amazing rooms, staircases, towers, corridors, and viewpoints that almost seem like a Labyrinth to explore! So, I would leave at least 60-90 minutes to see it all.
Remember, there is also the glorious Linlithgow Peel that provides a breathtaking walk around the castle.
When I was here, it was July and all the midges were out in full force. So, after I felt the stings, I made a mad dash back to the car!
Next time, I would love to explore a bit further. I got here around 2 pm and it was quite busy, then by about 3 pm it completely cleared!
Was Linlithgow Palace used in Outlander as Wentworth Prison?
Yes and no, only parts of it were. When I was compiling my initial research I was under the impression that all the Wentworth Prison scenes were shot at Linlithgow Palace. But, as it happens, that is not the case.
Outlander at Bamburgh Castle
Some of the exterior scenes of Wentworth Prison were actually shot at Bamburgh Castle in Northumberland. The castle shape acted as a model for the CGI exterior of Wentworth Prison.
Again, when we see Claire and Murtagh leaving the prison after a conversation with Mr. Fletcher and Claire throws up, the entrance gate they walk out of is undoubtedly Linlithgow Palace. But, when we see an exterior shot from further away, it's the gateway entrance of Bamburgh Castle.
I actually visited Bamburgh Castle back in March and had absolutely no idea until I started to dig into it. Even having watched the episode a hundred times, I didn't recognise it. I always presumed it was Linlithgow Palace…until l got there of course!
Read more – a complete guide for Bamburgh in Northumberland!
Was Outlander filmed in Carlisle Castle?
The courtyard scenes where Jamie and Taran MacQuarrie are waiting to be hanged and the scene where Claire is pushed through a trap door in a tunnel by Black Jack Randall is still under question.
According to experts, it's actually Carlisle Castle, England. You can read more about Carlisle Castle here.
Linlithgow Palace Outlander Scenes
So, what Linlithgow Palace Outlander scenes are there left then? I hear you, but don't despair, there is plenty to see while you're here!
Most of the scenes of Wentworth prison were shot inside Linlithgow Palace on the bottom floor.
It's a big place and the staff was really kind here to show me where the locations were. So, if you get stuck, just politely ask someone to assist you.
1. The gateway where Claire and Murtagh leave Wentworth Prison
When you first enter the palace through the gated entrance to the grand courtyard, that tunnel is your first spot.
If you remember in Series 1, Claire tries to convince the jailer, Sir Fletcher, to allow her to see Jamie who she pretends is her relative.
After being declined and handed his possessions, Claire leaves the prison and feels faint. She throws up and Murtagh picks her up like a hero he is!
That scene is definitely shot at the entrance of Linlithgow Palace, but it was CGI'd onto a shot that used Bamburgh Castle as an outline.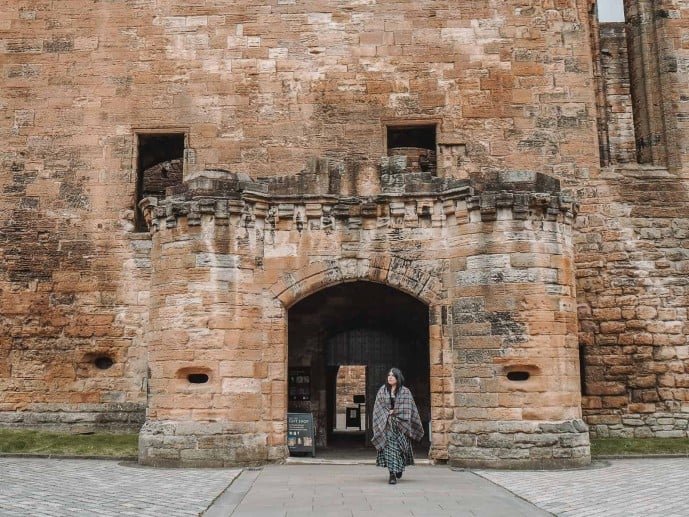 2. The winding staircase when Claire breaks into Wentworth Prison
If you head through the tunnel, past the ticket office and you're facing the grand courtyard, you'll notice a long corridor to your right. Walk through this corridor and you'll notice a winding tailback staircase.
This is the staircase that Claire walks down in the series, trying to avoid the redcoats when she breaks into Wentworth Prison and attempts to free Jamie.
3. The tunnel where Claire walks to the prison cells
If you walk through one of the doorways off of the tailback staircase on the bottom floor, you'll approach a corridor that Claire walks through.
On her escape attempt for Jamie, she is looking for him in the prison cells of Wentworth with the jailer's keys.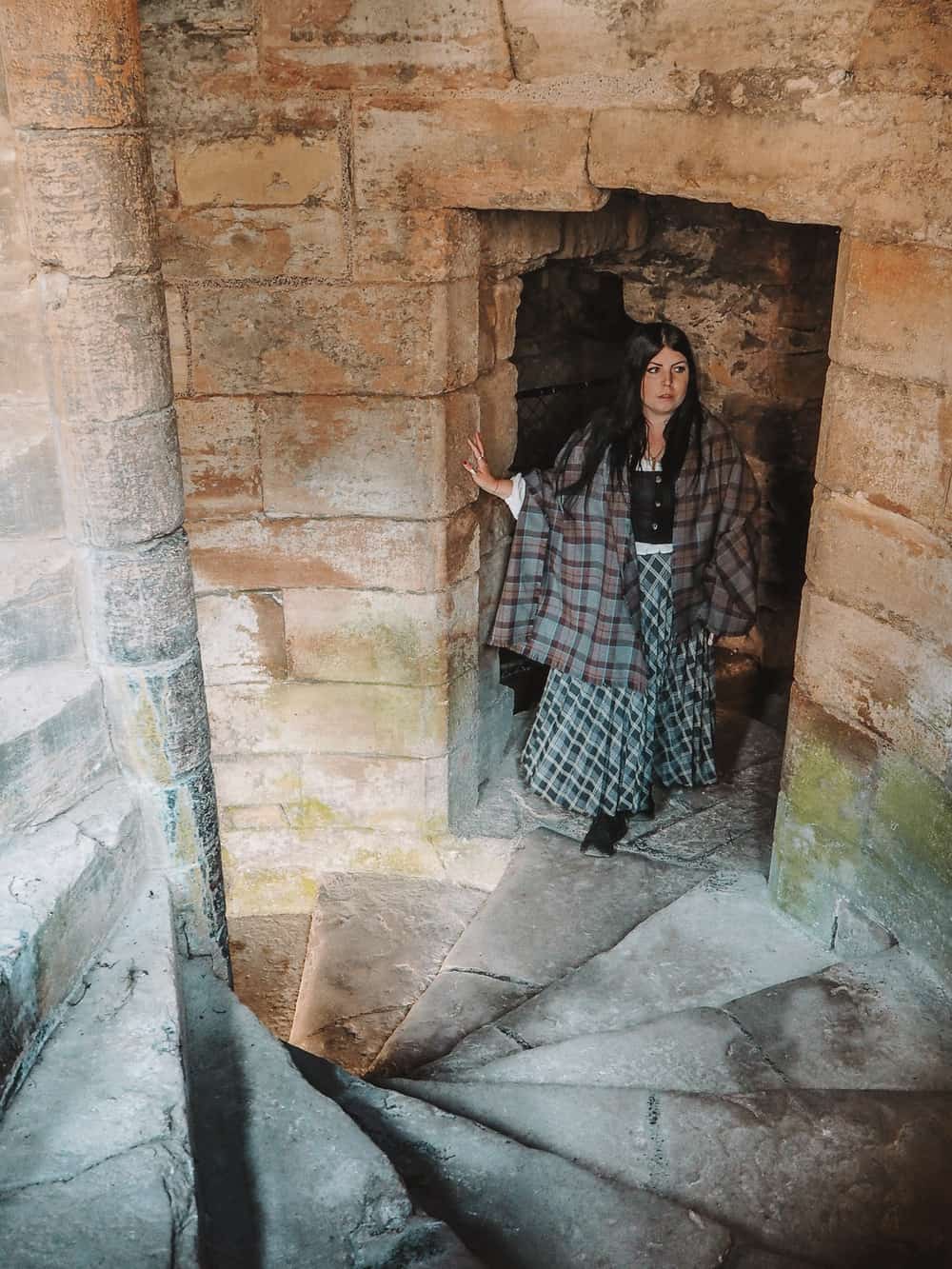 4. The prison cells where Claire tries to find Jamie
Eventually, Claire reaches a room full of prisoners where she asks if Jamie Fraser is with them. One jokes that he'll be her Jamie and the other tells her to try below where they keep 'those of us that hanging is too good for'.
Those two rooms can be found around the same area, although you may not find any prisoners there today!
Where were the jail scenes with Black Jack Randall and Jamie filmed?
The scenes where Claire leaves a door unlocked at Wentworth, where she runs through to Jamie's cell, and scenes where Black Jack Randall tortures Jamie were all filmed in a TV studio. That also includes the scene with the march of the Highland cows at the very end!
So, unfortunately, we cannot visit those. Not that you'd want to anyway, it didn't look very welcoming that's for sure.
Where to eat near Linlithgow Palace
If the weather is nice (and there aren't any midges out!) it can be a nice idea to have a picnic by the Linlithgow Peel. There are quite a few benches and lots of fields to set up your lunch!
But, if it's cold and wet like it is most of the time in Scotland then there are some cosy restaurants and cafes nearby too.
The Old Post Office serves up some traditional pub food and the Taste Deli serves up coffee, tea, snacks, and light meals throughout the day.
Where to stay near Linlithgow Palace
There are plenty of places to stay nearby in Queensferry if you didn't fancy a drive from Edinburgh or Glasgow;
Parkhead House in Hopetoun Estate (near Lallybroch)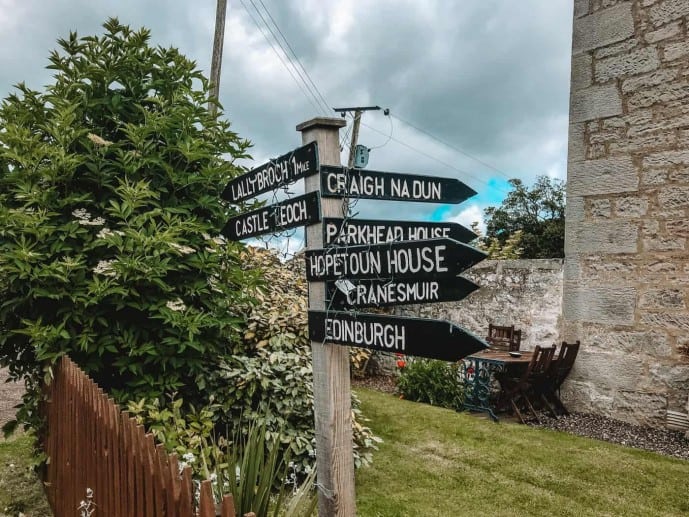 Looking for more Outlander locations in Edinburgh?
There are many Outlander locations you can visit Nearby Linlithgow Palace. Bo'ness is the railway station where Claire and Frank said goodbye.
Blackness Castle featured as Fort William, the place where Jamie was flogged by Randall, or you can visit the Hopetoun Estate which has many scenes to visit.
Hopetoun House has over 17 locations, including the Duke of Sandringham's estate and you can also visit Abercorn church nearby that featured in series 4.
Lallybroch, or Broch Tuarach, the ancestral home of Jamie Fraser can be found at Midhope Castle.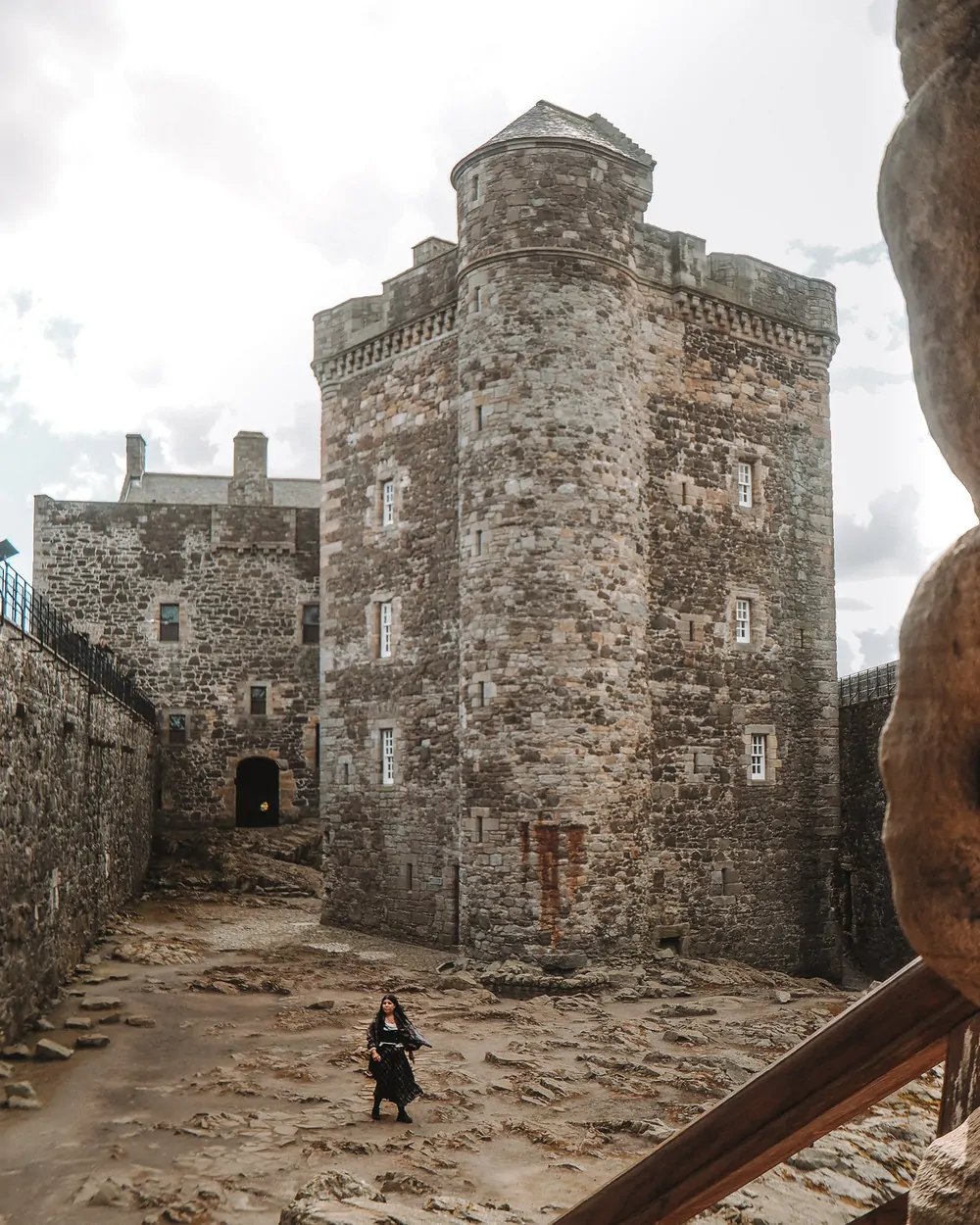 A trip further north will take you to Castle Leoch the seat of Clan Mackenzie or why not visit Deanston Distillery that was Jamie's cousin Jared's wine store in La Havre.
Drummond Castle Gardens in the same area was used as the gardens of Versailles.
The royal borough of Culross acted as the village of Cranesmuir with its West Kirk as the Black Kirk. Or, why not visit Falkland village that featured as the iconic 1945 Inverness. You can even pop into Mrs Baird's B&B.
See where Jamie and Claire were wed at Glencorse Old Kirk or travel to the gunpowder mills of Roslin Glen from series 1.
East Lothian is home to Gosford House that played Helwater Estate or Preston Mill featured as Lallybroch Mill.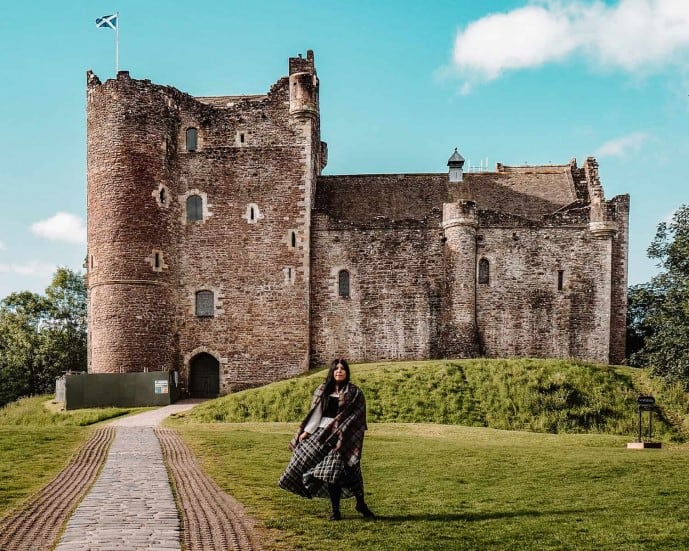 Outlander locations in Edinburgh
You can read my complete list of Outlander filming sites around the city here and I've also made a bonus one for Glasgow too. Or, you can have a gander at my ULTIMATE list of over 90 locations here.
In and around the city centre you can visit Craigmillar Castle that featured as Ardsmuir Prison and Summerhall has a lecture room where Claire met Joe Abernathy.
Head up the Royal Mile to find A Malcolm's print shop in Bakehouse Close, or Tweeddale Court to see where Claire and Fergus were reunited. Follow in their footsteps to the World's End Tavern or treat yourself to afternoon tea at the Colonnades that acted as the Governor's Mansion in Jamaica.
Read more: Outlander walking tour of the Royal Mile
Save this Linlithgow Outlander guide for later!
With thanks to the team at Historic Scotland for hosting my visit. I loved exploring the beautiful labyrinth that is Linlithgow. Although I was a guest all photos and opinions are my own.