Somewhere I have been wanting to visit for ages is the Loch Glass Pink House which is in the Highlands of Scotland.
I've seen it on my social media channels and it looked like such a beautiful desolate house sitting on a lake with the backdrop of the mountains.
This abandoned house is called Culzie Lodge and it's easy to visit on the Wyvis Estate near the small village of Evanton.
But, visiting does pose more questions than answers. Why was this house deserted and who owns it today?
Here is how to visit the Pink House on Loch Glass and the mysterious tale of this quirky folly.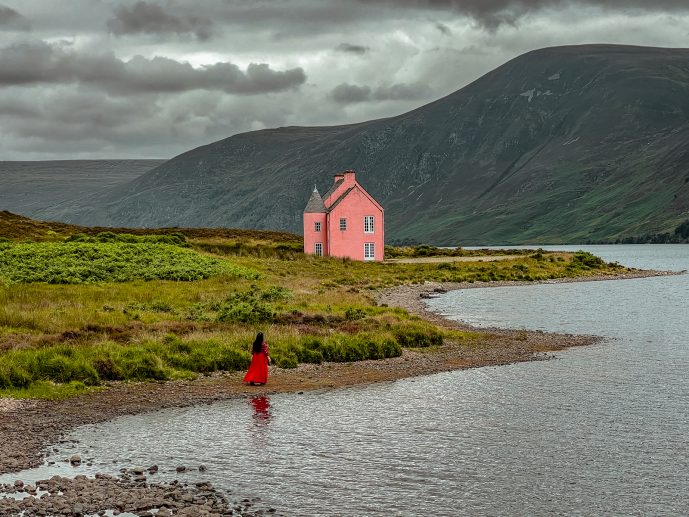 What is the Loch Glass Pink House?
The Pink House on Loch Glass is a gorgeous wild abode that has gone viral on social media in recent years. It's also been featured in The Traitors TV series.
It's called Culzie Lodge and does have the appearance of a beautiful rose house that you could imagine yourself living in.
But, the reality is that this building was abandoned years ago and is now dilapidated.
In fact, you may be surprised to learn that no one has ever lived here at all!
Why is the pink house at Loch Glass abandoned?
This is the question that everyone asks and it still remains a bit of a mystery! No one really knows why it was abandoned.
According to locals, it wasn't finished due to being denied planning permission. But, how did the construction get so far without the proper authority?
Although it looks gorgeous from afar, the building is just a pretty coral shell.
As you approach, many of the windows aren't real. They have been painted on and any that are real are broken or boarded up.
There is no flooring inside the property or an upper floor. So, it now stands as a rich man's folly.
Who owns the Pink House on Loch Glass?
No one or at least I believe no one does as its construction was denied by the Highlands Council!
The Pink House is now a folly on the Wyvis Estate and was abandoned due to lack of planning permission.
In some ways, this is sad as it means you can't dream of buying the place and living here. Which would be a DREAM.
But, on the other, it does mean that anyone can make a visit to the Pink House on Loch Glass and snoop around.
It's very easy to visit Culzie Lodge in Scotland on a 30-minute walk from an off-road parking area.
Where is Loch Glass in Scotland?
Loch Glass is located in the Scottish Highlands on the Wyvis Estate in the foothills of Ben Wyvis in Easter Ross.
It's around 26 miles from Inverness and it's easy to access as part of the NC500 road trip.
More specifically, you can find the loch around 5 miles from the village of Evanton near Dingwall.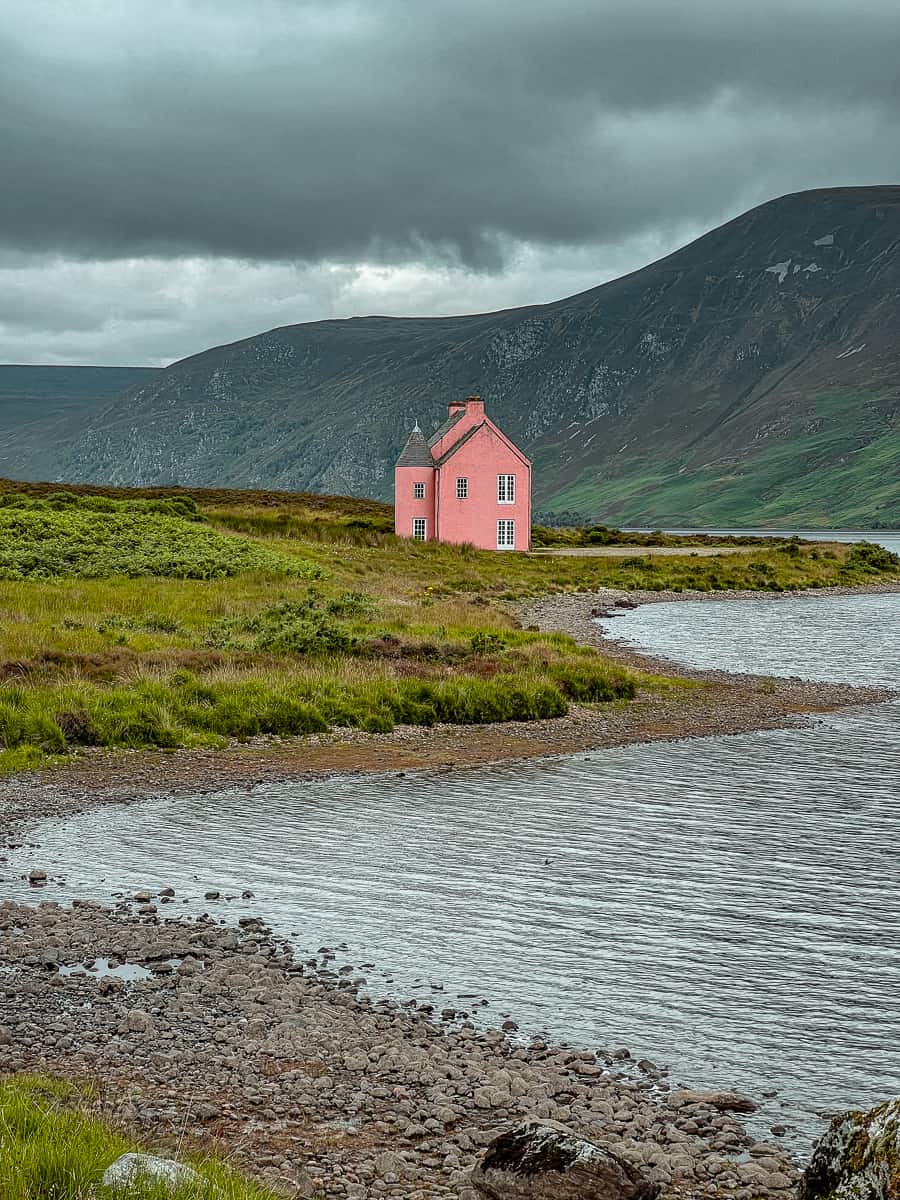 How do I get to the Pink House at Loch Glass?
You cannot drive directly to the Loch Glass Pink House, you have to drive to a place called Eileanach Lodge, park up, and then walk around 30 minutes to the pink house.
From the small village of Evanton, you'll need to follow the Glenglass road to Eileanach Lodge.
It's 5 miles down a narrow and winding single-track road with passing places so be careful as you go.
When you reach the end of the track you need to park outside the lodge and then start your walk to the pink house.
The postcode for Eileanach Lodge is Dingwall, IV23 2PG. Click here for a Google Pin.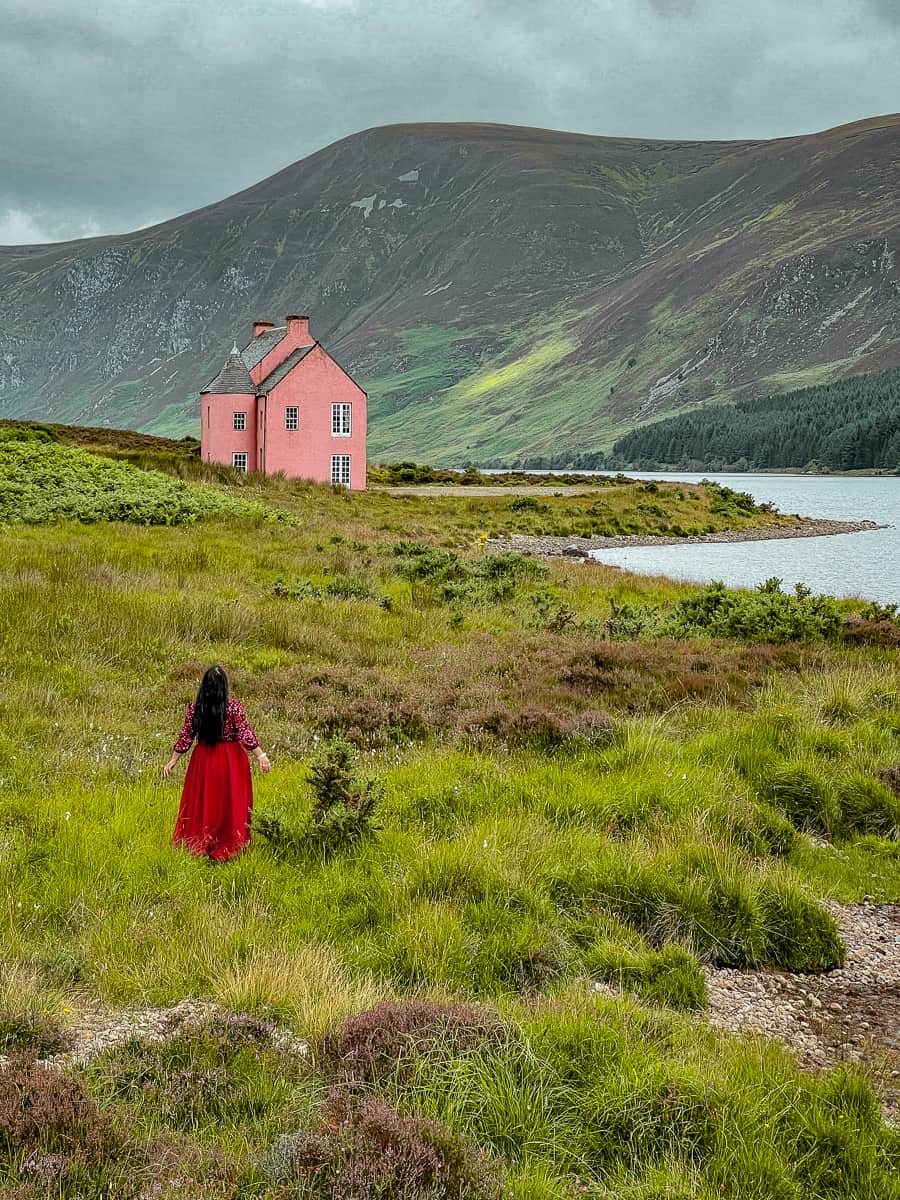 Where do you park for Loch Glass?
There are some limited off-road parking spaces outside the gates of Eileanach Lodge. These are free to park in.
If these are full, there are some more spaces in a lay-by down the road. You can then walk to the gates of Eileanach Lodge to start the walk.
Although the gates of the loch do look intimidating, you can open the one on the far left-hand side and walk through it to the track.
You won't be trespassing due to the Scottish Outdoor Access Code.
How long does it take to walk to the Loch Glass Pink House?
From the parking area outside Eileanach Lodge, the walk will take you roughly 30-45 minutes one way to reach the Pink House. So, 60-90 minutes there and back.
It's around 1.6 miles or 3 kilometres each way. So, I would plan around 2 hours for your visit to Culzie Lodge.
Plan even more time if you plan to explore the house, swim in the loch and/or walk the rest of the track on Loch Glass to Wyvis Lodge.
There's not a great deal to do here beyond the pink house but the time certainly does fly. You could save some time by cycling.
What to expect on the Loch Glass walk
So, once you've parked your car. Pass through the far left-hand gate of Eileanach Lodge (make sure to close it behind you) and walk over the bridge.
You'll walk straight ahead and see a fork in the road that goes three ways. You want to take a sharp right turn and follow this path.
The right-hand path will lead you straight through the forest and towards the Loch and you'll be walking this path for around 1.2 miles.
You'll see some hides on the way for wildlife spotting and lots and lots of trees. It seems endless but persevere.
Eventually, you will reach the tip of the loch and you'll see Culzie Lodge in the far distance around 0.4 miles away.
But, before you head on, make sure to turn left at the edge of the loch to see the pack of wild boar.
Loch Glass Wild Boar
Something I didn't expect on my visit was for someone to tell me that I would see wild boar in the forest.
At first, I freaked out as I thought they were actually wild and I imagined a big beast with tusks. I was worried about being attacked. I mean, I've seen what happened in 'The Gathering' in Outlander!
But, they were actually in a pen near the start of the lake. They were such a cute family with babies.
I luckily caught them at feeding time so they were all huddled together eating their scraps. They made the funniest oinking noises.
The mums were telling the babies off for being greedy, cleaning them, and nipping at them to behave. Aw.
I've never seen wild boar before so it was a nice unexpected find in the Scottish Highlands.
They are in an enclosure but the babies were escaping out of the fence so make sure to keep your distance lest you feel a mother boar's wrath. Also, keep dogs on a lead around them.
Exploring the Loch Glass Pink House
After you've finished cooing over the baby wild boar, you can continue on the track to the Pink House.
As you get closer, you'll see some fabulous views of the house over the lake with a backdrop of Ben Wyvis. I had a very moody day so it did paint a great picture.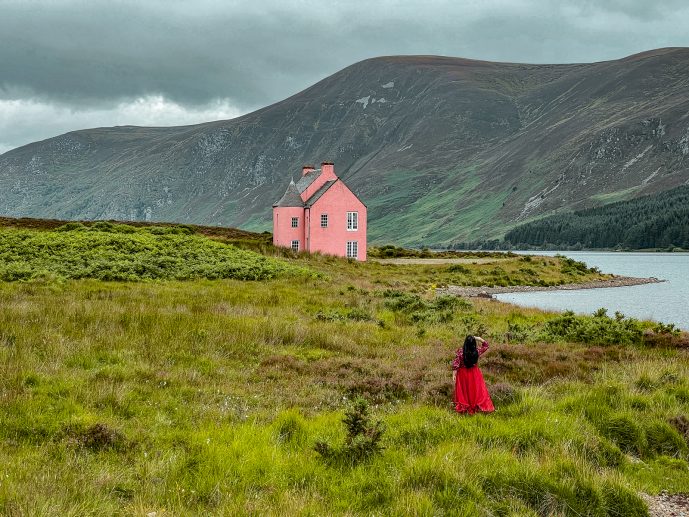 It looks beautiful from afar but you'll soon notice that all is not as it seems.
On closer inspection, the upper glass windows have been broken and the lower windows have been painted on to give the illusion of a well-made folly.
As you spin around the house, there are wooden boards placed in some of the windows and if you peek through the cracks you'll see the interior is completely empty. There isn't even a floor!
Regardless, it's still a pretty pink building and I loved the castle turret tower. You can relax for a while on the lakeshore and take in the spectacular views.
Can you swim in Loch Glass?
Yes, there are no rules about wild swimming in the lake but always keep in mind that the water in Scotland can be freezing and it's best not to linger too long.
Although it was July on my visit, it was raining and very cold and so I didn't go for a dip myself. But, I did see a few people wild swimming in the loch from the banks of Loch Glass.
As it's a closed loch there is no current to put you in any danger but I wouldn't go too far from the edges as the loch goes very deep.
Also, watch out for leeches and any blue-green algae, which can be toxic to humans and dogs.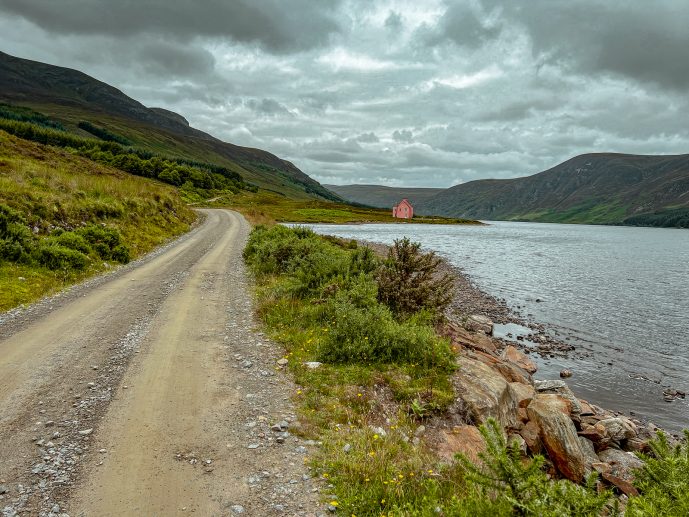 Walking around Loch Glass
I have to admit, I didn't explore more of Loch Glass beyond visiting Culzie Lodge but there is the option to walk a bit further along in the Wyvis Estate.
Many people hike up to Ben Wyvis in this area or Glas Leathad Mòr. It means 'Awesome Mountain' but also roughly translates to 'Mountain of Terror'.
Loch Glass isn't the 'proper' route to access the summit, there is a dedicated car park for the hike.
But, there are walks that take you to the eastern sides of Ben Wyvis from the loch. You should take an OS map with you for directions.
You can walk over to Wyvis Lodge at the end of the track which is a (rather pricey) retreat in the highlands with a heated outdoor swimming pool. They have some cottages for rent too.
Apparently, they used Loch Glass for some of the opening scenes of The Dark Knight Rises.
But, that's your lot really. After the pink house, you can head back the way you came to the car park and say bye to the wild boar on your way out!
After, you can head to either Black Rock Gorge near Evanton (more on that below) or the Fyrish Monument built on Fyrish Hill.
It was constructed in 1782 on the orders of Sir Hector Munro to celebrate victory in the Battle of Negapatam and to provide work for the local tenants after the hardships following Culloden.
Is visiting the Loch Glass Pink House worth it?
Lots of people say that visiting this pink house isn't worth the walk but I'm going to say that it actually is worth doing.
The walk around Loch Glass on the Wyvis Estate is so pretty and who doesn't love a pink cottage-core building on the side of a lake? It looked like the scene of an oil painting.
Granted, the views of the house do look better from afar. As you get closer, you'll start to notice the wooden boards, broken glass, and painted windows.
But, it's still a pretty rose building all the same and the backdrop of the Ben Wyvis mountain range is gorgeous.
I'm a photographer and took these self-portraits myself. I loved visiting this folly for blog photos.
I also found the vibes here were really good. It was peaceful, desolate, and wild. I saw barely anyone on my visit even though it was a weekend.
There was also the chance to see wild boar on my walk too which I've never had the chance to see before and you can relax on the beach and swim in the lake if it's good weather. It's a pleasant half-day out.
At the end of the day, it's free, requires moderate effort, and is in a beautiful location in Scotland. What's not to love?!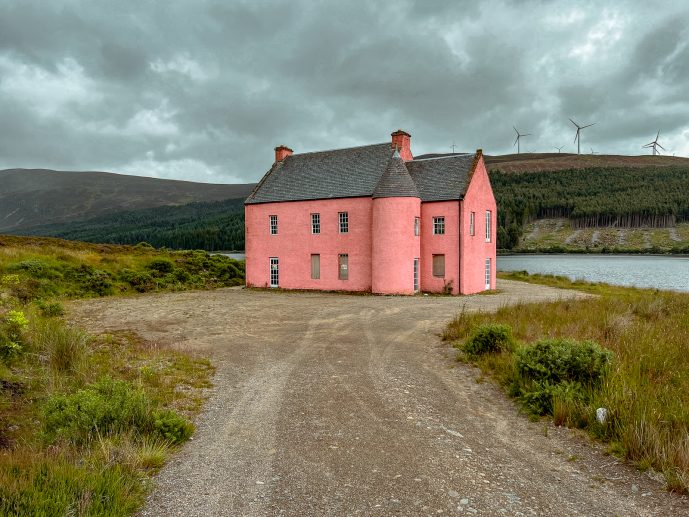 My top tips for visiting Loch Glass
Wear bug spray – I brushed by a baby tick here when walking through the grass to the shore even though I was fully clothed. It must have crawled on my clothes and bit me while I slept later that evening. It freaked me out. Luckily, it didn't bury into me and have a chance to cause any lasting damage or sickness. But, be really careful. Check yourselves and your pets thoroughly after visiting. Midges can also be found here in warm weather.
Wear sensible shoes – it's a flat track but you'll be walking for a while to get here. Wear sensible shoes.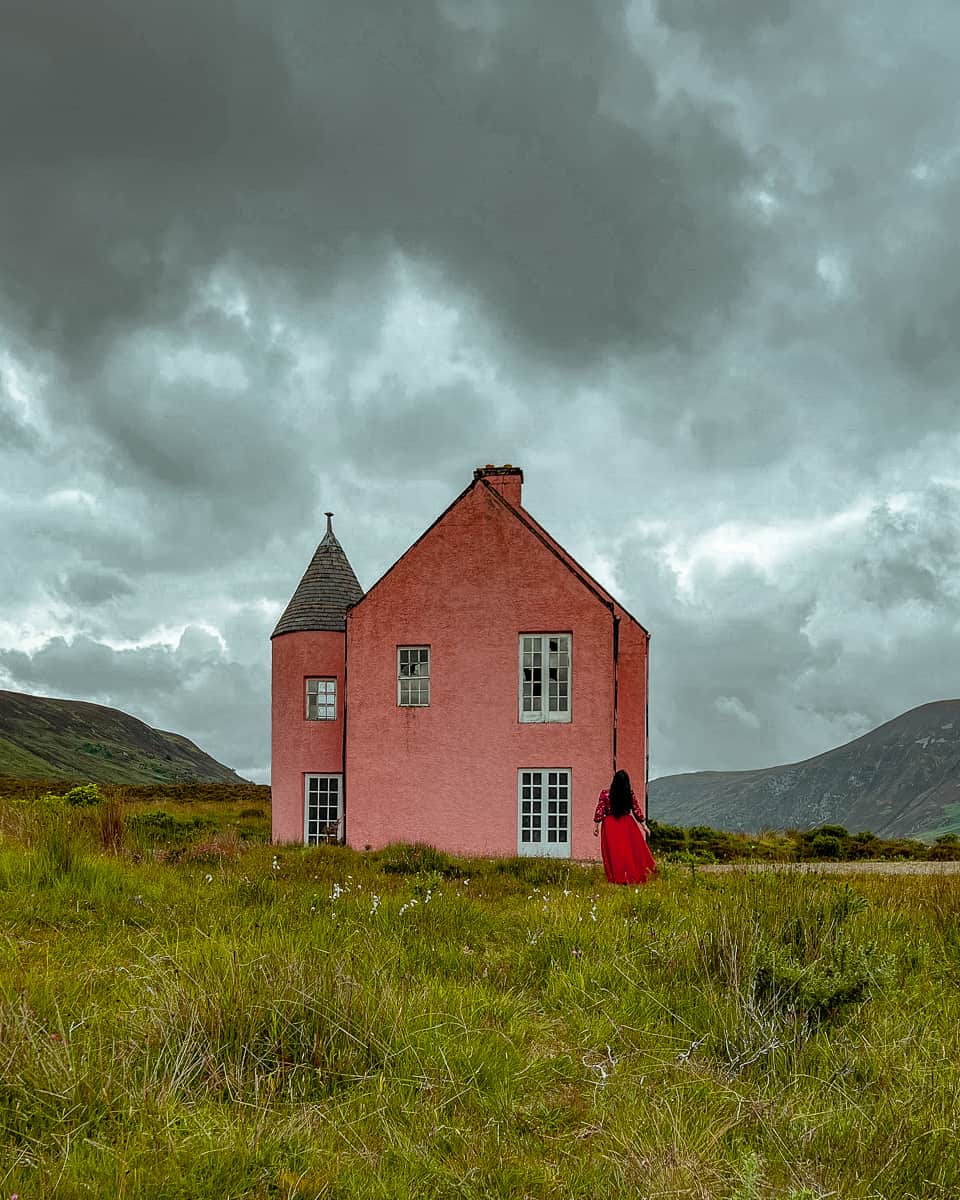 Take rubbish home – there are no bins here so make sure to take any rubbish with you.
Signal – phone signal is non-existent here or, it was for me anyway. Have an OS map with you or download an offline map from maps.me. It's a fairly easy trek though with one straight path the whole way and you can't get lost really.
Toilets – there are no toilets or facilities for this walk on Loch Glass. The nearest public toilets can be found in the village of Evanton. Use those before you drive out for the walk.
Visit Black Rock Gorge next
After your walk to the Loch Glass Pink House, I would highly recommend exploring more areas around Evanton and Dingwall.
Nearby, you can walk to Black Rock Gorge which is an emerald cavern with a roaring waterfall in the forest.
If you're a Potterhead, you'll love the fact that this was a Harry Potter filming location during the Goblet of Fire.
Although none of the cast visited the site, they used it to film the first task of the Triwizard Tournament to retrieve the golden egg from the nest of a dragon.
You can read my entire guide for the Black Rock Gorge walk here. It's free and a very easy walk.
Love Harry Potter? Make sure to read my complete Harry Potter guide for Scotland!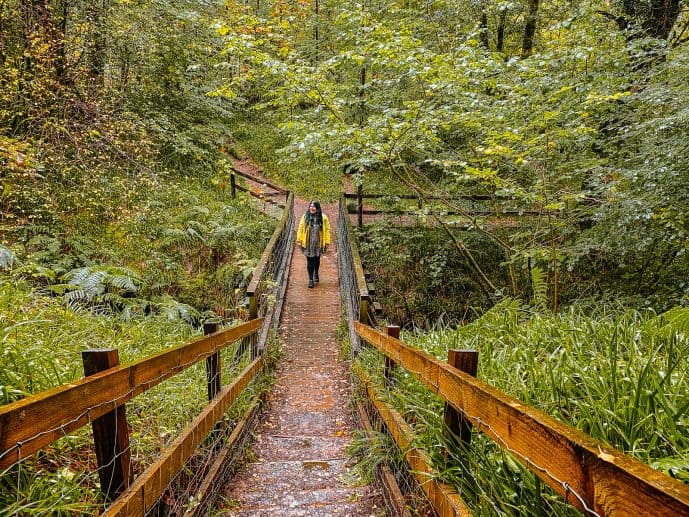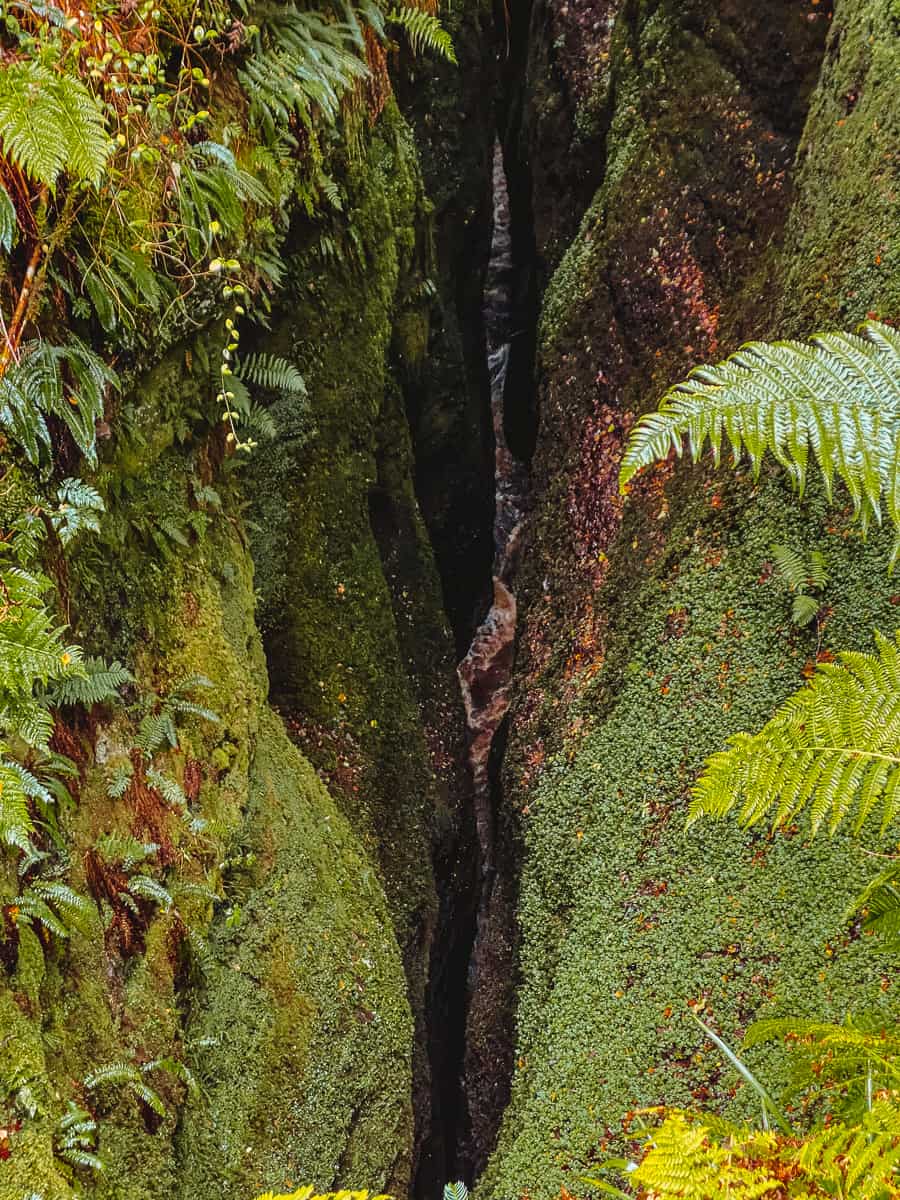 Want to visit more pink buildings in Scotland?
If you love fairytale pink buildings then there are plenty more places that you can visit in the country.
One of my all-time favourites is Craigievar Castle aka the Pink Castle in Scotland and it's owned by the National Trust.
Many famous people have visited this castle including Queen Victoria and Walt Disney. There is a theory that Walt was inspired by this building for his fairytale castles.
You can also visit Fyvie Castle in Aberdeenshire, Brodie Castle in Moray, and Drumlanrig Castle aka the Pink Palace in Dumfries and Galloway.
Click here to read my ultimate guide for Craigievar Castle!
Loch Glass Pink House FAQs
Is Loch Glass dog friendly? Yes, it's dog friendly just make sure to keep them on a lead at the start of the lake as there are wild boars. They are in a pen but the babies can and do get out!
Can you walk around Loch Glass? Yes, there is a well-beaten track on the south side of Loch Glass. You can't loop the whole way around the loch but you can explore the one side on the track.
Can you drive to the Pink House on Loch Glass? No, as it's a private road. You must park up close by and walk there.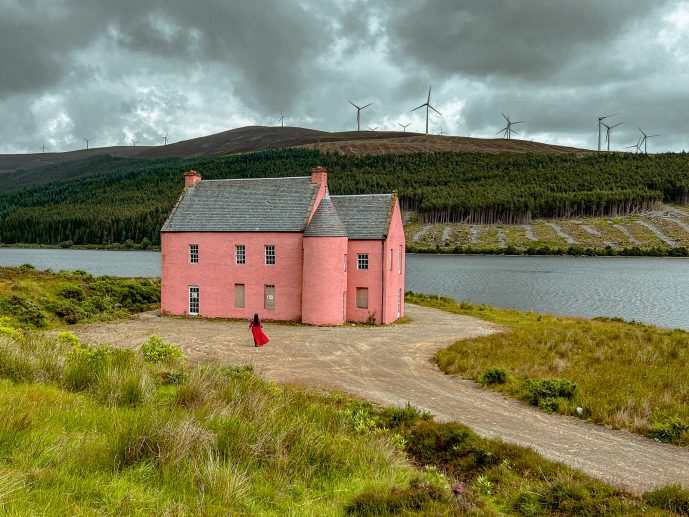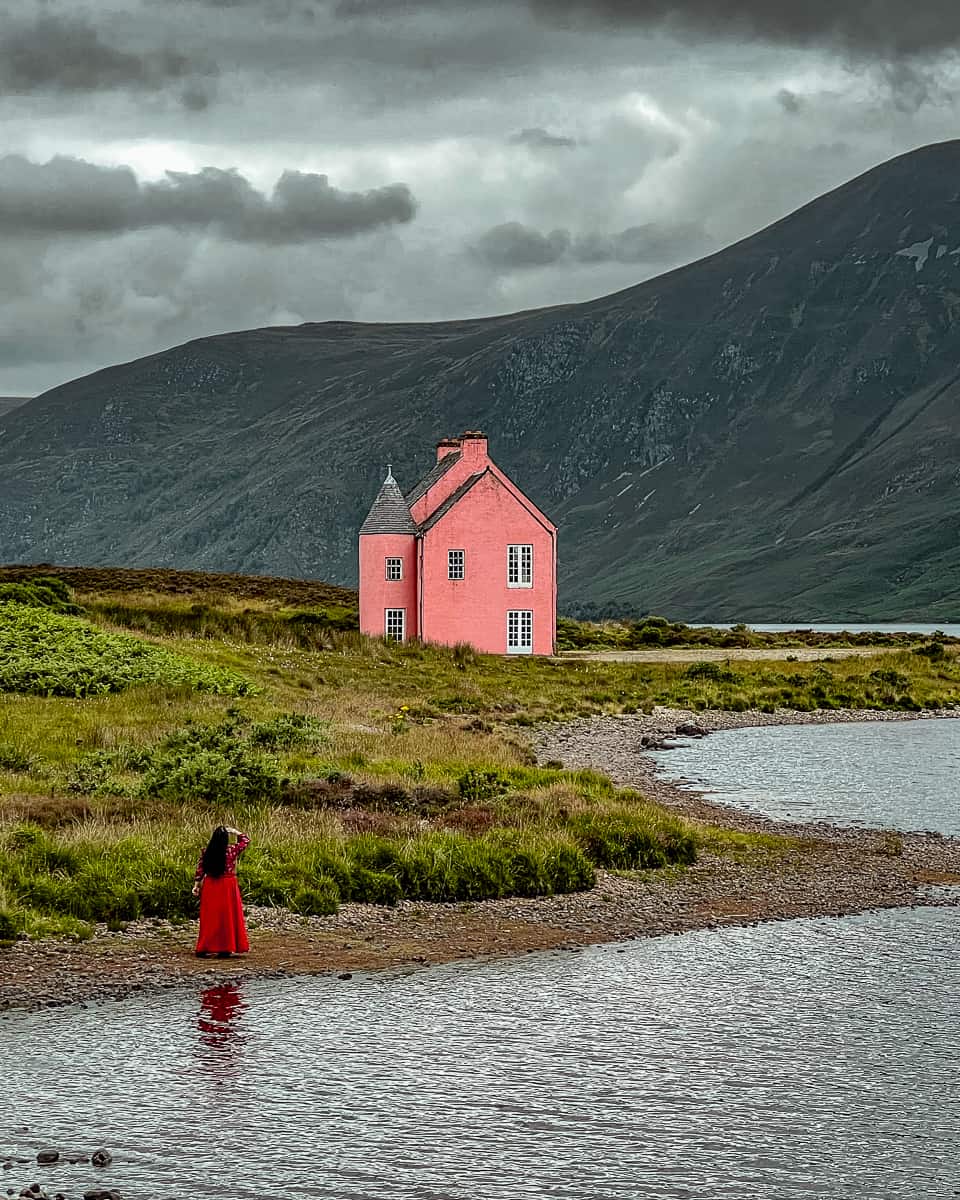 Read more of my Scotland guides
How to visit the Green Loch Aviemore
Visiting the Puck's Glen Fairy trail
How to ride the Hogwarts Express in Scotland
Harry Potter filming locations in Scotland
Edinburgh Harry Potter filming locations
How to Find Dumbledore's Grave
A complete guide for the Steall Falls walk
How to find the Corpach Shipwreck
How to find the Kilchurn Castle viewpoint
Magical Dunrobin Castle in Scotland
How to visit the Kelpies in Falkirk
How to visit the Wee White House in Glen Coe
A complete guide for the Glenfinnan Viaduct Viewpoint
Outlander locations you can visit in Scotland
How to visit Lallybroch from Outlander
Isle of Mull Cheese Glass Barn Café review
Save the Loch Glass Pink House Scotland for later!