Snowdonia National Park is full of amazing photography locations. From mountain hikes, sparkling llyns, ruined castles, and cascading waterfalls.
But, one atmospheric location that photographers love to capture here is the adorable Lonely Tree Llanberis!
It sits alone, on the shores of the lakeside, and almost looks like it's brooding in amongst a gorgeous backdrop of the mountains. Waiting for something. Maybe, for King Arthur's return?
Well, that's what I think anyway. An emotive location like this is always open to interpretation, isn't it?
Although it is extremely easy to find Llyn Padarn in the National Park. Trying to locate this Lonely Tree in Snowdonia is a little harder. That's because it's tucked away in a tiny corner of this massive lake!
But, don't worry, I have detailed directions to help you find the Lonely Tree Llanberis location in this post!
Firstly, what is the Lonely Tree of Llanberis?
The Lone Tree is an atmospheric, solitary tree that grows on the shores of Llyn Padarn near Llanberis.
It sits over the pebbles in amongst clear water, which allows it to create a perfect reflection of itself and is framed by the peaks of the mountain range in the background.
It almost looks like something that was envisioned by a romantic artist, rather than the result of a force of nature!
So, photographers love to visit and capture the scene. But, more than that, it evokes a sense of calm in anyone who visits this peaceful corner of the lake.
This lonely tree grounds you a little and makes you stop to think and reflect.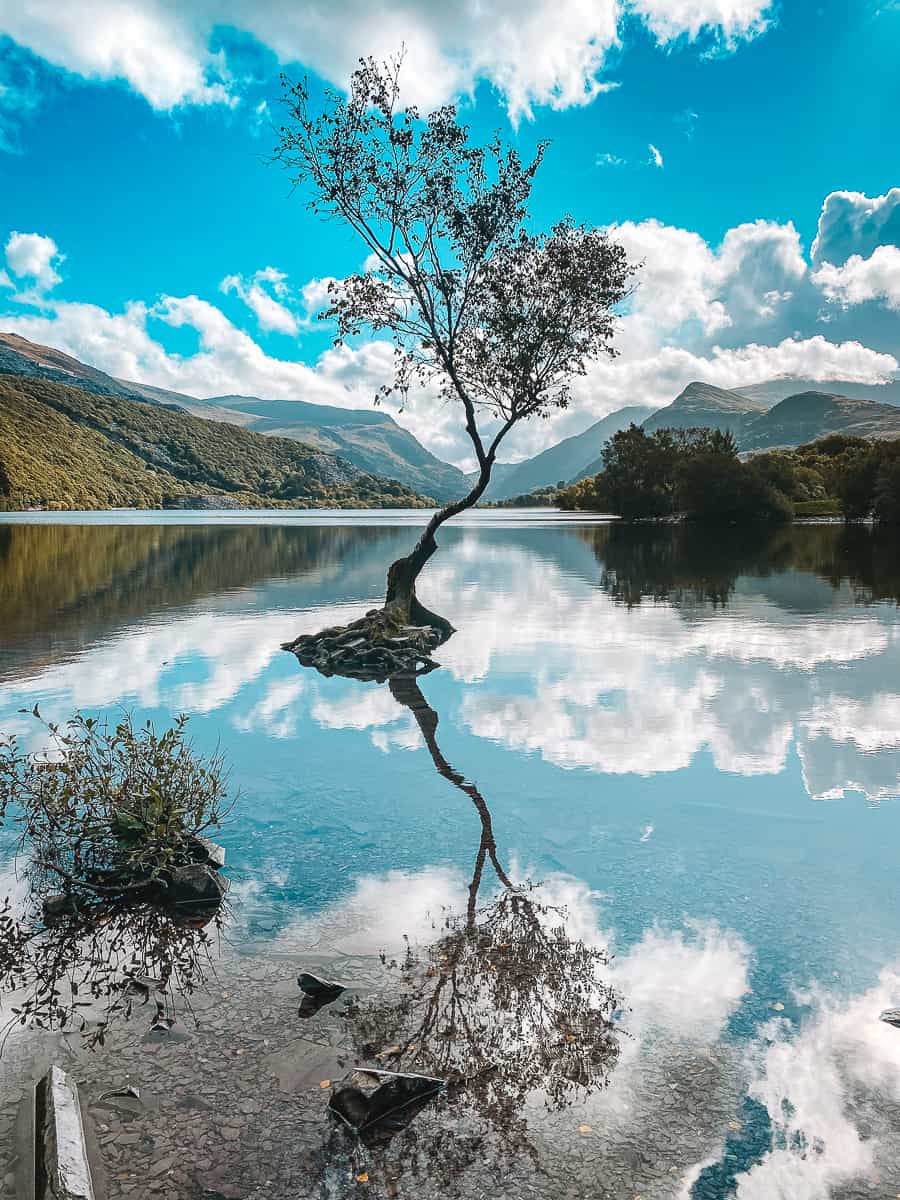 Why is this Lone Tree of Snowdonia so famous?
The fact that this little tree now has a Facebook appreciation group with hundreds of fans tells you just how famous this place is!
There aren't many trees in the world that that get so much praise and attention. But, the Lone Tree is a special case.
Firstly, the reason why it's so famous is that it's quite unique.
You don't see many trees that grow alone like this, especially inside a sparkling lake with a backdrop of the mountains.
It almost has a mystical feel to it like something you'd read in a fairytale.
This is also enhanced by the fact that Llyn Padarn is the legendary location of Excalibur and the Lady of the Lake. A time of magic when Merlin and King Arthur roamed the scene.
Secondly, the Lonely Tree of Llyn Padarn is becoming more and more famous as photographers are queuing up each day to capture it. So, the word is spreading through photography forums and social media.
For better or for worse, this lonely little tree on the lakeside is not so lonely anymore!
How to find the Lonely Tree Llanberis location in Llyn Padarn
When I first arrived in Llyn Padarn, I knew I wanted to capture the tree. But, l honesty had absolutely no idea where to look.
There's no Google Pin and the directions I had received off another blog post were not as clear as I would have hoped.
So, I ended up going around in circles. As the car parks in Llanberis charge out the nose for all-day charges, I was hesitant to park up and pay if I didn't know where I was headed! The lake is massive after all.
I eventually asked a kind local for directions and I was SO glad I did. I initially parked up around a mile away from the location of the tree.
Here are some detailed directions of how to find the Lone Tree of Snowdonia below;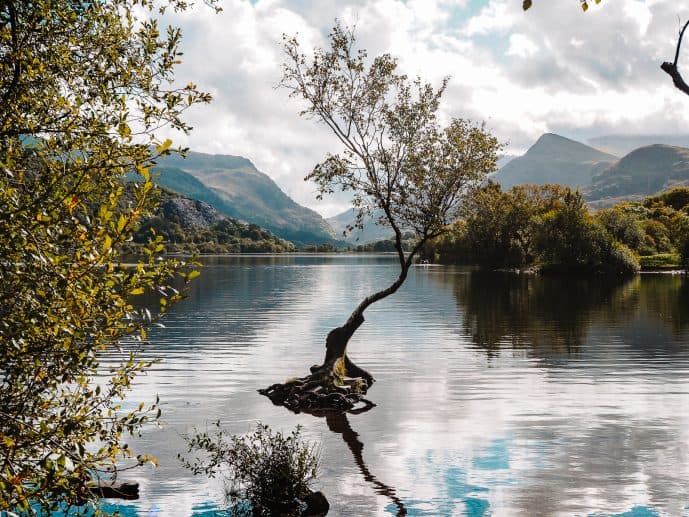 If you're driving to the Lonely Tree Llanberis
So, I have a feeling that most photographers would rather drive to the Lonely Tree location. Especially as it will most likely be an early sunrise wake-up call!
Well, it's easily done. You'll need to first drive to the town of Llanberis in Snowdonia National Park.
Then, you'll head towards the Padarn Country Park Car Park or the Parc Gwledig Padarn Country Park location.
Plugin the postcode LL55 4EL on your SatNav.
This is on the polar opposite side of the Snowdonia Mountain Railway area. If you've reached the mountain railway station, you need to turn around and head back over to the other side.
It's located down an 'Unnamed Road' but if you head towards the Snowdonia Watersports pin on Google Maps you'll find the car park entrance just nearby on your right!
Here's an aerial view of the location below. Click on the map to get an exact pin location for the tree and the car park!
The car park is a gravel one and completely FREE which is a relief. Camper vans can also use the parking facilities as well. Unfortunately, there is no overnight camping available here.
Once you've parked up your car, head inside the forest glade towards the lakeside and you'll see the Lonely Tree of Llyn Padarn easily from there. It's less than a five-minute walk from the car park!
How long does it take to walk to the Lonely Tree in Llyn Padarn?
This depends on where you're coming from. There are many car parks situated around the Llyn Padarn lakeside.
If you're parking up at the main car park this is located in the middle section of the lake. This is the one with the huge sword statue of Excalibur or Blade of the Giants. From here, it will take you about 15 minutes walk as it's half a mile.
If you're heading in from the town of Llanberis, again this will take you around 20 minutes to walk there.
From the Snowdonia Mountain Railway car park and the Dolbadarn Castle area, it should take you around 25-30 minutes walk.
It's not hard to walk to as long as you know where you're headed! Most of Llyn Padarn has a good flat walking path to explore the lake. Here's an aerial view of the walking route below from the Llafn y Cewri or Blade of the Giants.
Although in the summer months this area around the lake is dry, I would recommend wearing good boots in the winter. Prepare for mud around the shores of the lake!
What to expect on your visit
Of course, I'd seen this solitary tree many times before my visit to Snowdonia National Park. But, actually being here and seeing it with my own eyes was a different story!
It's breathtaking and, if you're here on a clear day, the views are truly spectacular.
I don't know why this scene touched me so much and I can't quite put my finger on it.
Maybe it's because I travel alone quite often as a solo female travel blogger and could relate, haha!
But, there's also such a bitter-sweet, almost melancholic feel to this wise Lone Tree. It's so mysterious like it's telling you its story and anyone who passes must stop and listen a while.
I don't know, I probably sound a bit woo. But, I'm sure that you'll have your own feelings and interpretations when you arrive.
Please tell me what you thought about the Lonely Tree Llanberis on your visit below in the comments?!
There's lots of space around the area to photograph with a tripod. But wintertime seems better as there was a bit of foliage blocking the view.
There's even a bench nearby where you can sit beside the tree for a while.
After I took my photos, I pulled up a pew and had my sandwiches here whilst enjoying the views!
My top photography tips
Even if you're not an avid photographer, you'll definitely want to get your phone and camera out to capture this lovely lone tree scene.
The top thing to remember is it's almost impossible to take a bad photo of this tree! It's incredible, no matter how you capture it.
But, here are some of my top tips;
The best time to visit the Lonely Tree of Llanberis for photography is at sunrise. This is when the lighting is softest.
However, you may not be alone. Photographers queue up in their droves to capture this tree all year. But, you may get lucky and be by yourself.
I would always urge you to wait for good weather conditions. Wales does see a lot of rain and this photo just isn't the same in a windstorm. The mirror reflection disappears. Sometimes, the bottom of the tree is also completely covered by water when the levels are too high!
As you can see, I visited at mid-day which wasn't the best lighting. But, the weather was so lovely with the visibility of the mountains too. There was also no wind and the stillness of the water cast a perfect reflection. Plus, I had the benefit of being alone.
This area of the lake is also popular for water sports. Depending on what type of photograph you'd like, I'd get here early to avoid distracting bright red kayaks and yellow life jackets. Luckily, I managed to avoid it.
If you're visiting in the winter time, come armed with a good set of shoes! The area around the lakeside does get boggy and you don't want to get stuck in the mud.
As well as landscape photos, many people love a photo with this tree – even me! Personally, I would take a photo from the shoreline. Please do not wade over and sit on the tree itself. It could damage the poor thing and we want to protect it and keep it sturdy for everyone to enjoy.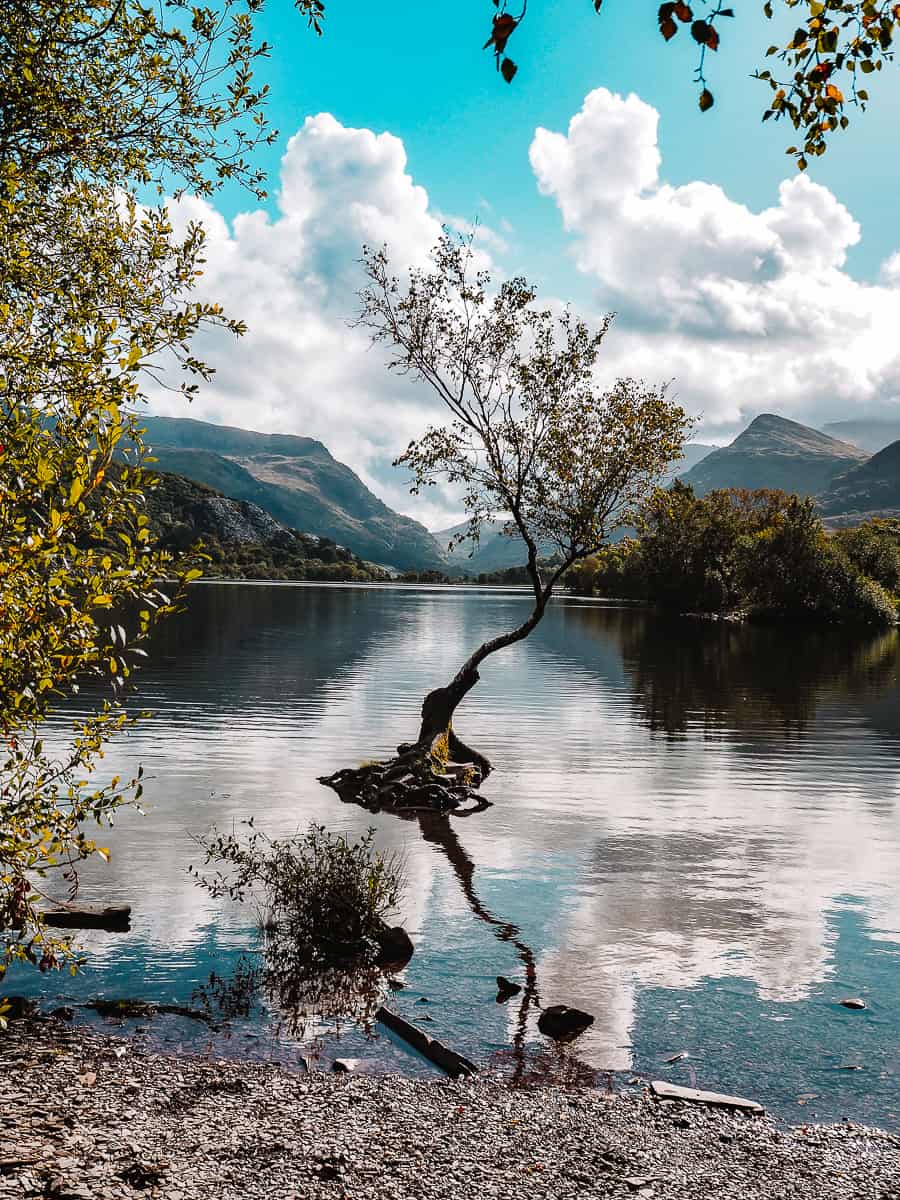 Follow the Lone Tree on Facebook!
If you were after some more tips about the Lone Tree in Snowdonia, you can always join the Facebook appreciation club.
This forum is full of avid fans of the Lonely Tree and the community members are always answering queries to specific questions others may have.
There are also posts from photographers who have taken photos. So, you can get a daily dose of Lone Tree inspiration on your feed!
Looking for more things to do around Llyn Padarn?
There are so many amazing things to do in and around Llanberis and Llyn Padarn! It's really the hub of Snowdonia National Park and it's your gateway to the Snowdonia Massif range.
After this, I would definitely recommend taking a scenic stroll around the rest of Llyn Padarn and Padarn Country Park. You can see the Blade of the Giants on your way. Or, why not take in the sights with a Scenic Lake Railway journey?
As a history lover, Dolbadarn Castle was a personal favourite of mine. This scenic ruined castle in the mountains was a symbol of Welsh identity and power! It's completely free and the scene makes a gorgeous photo.
Many people visit Llanberis to start their ascent up Snowdonia, there are plenty of walking routes that you can choose from. Or, if you're not up for a hike you can take the Snowdonia Mountain Railway to the top!
Why not visit the National Slate Museum that's tucked away at the far end of the lake? This impressive exhibition is completely free and you can learn the history of slate, a quarryman's life and its importance in Wales.
Just above that you can visit the magical Dinorwic Quarry! It has spectacular views over Llanberis and Snowdonia and it's where they filmed Clash of the Titans.
Just below that you can explore Snowdonia's forgotten street of Anglesey Barracks.
The colourful streets of Llanberis are also lovely to explore and there are plenty of cafés to grab a quick coffee, some lunch, or supplies for your hike.
There is an endless choice of activities to enjoy with a visit here. So, make sure you plan enough time to explore!
Read more of my related posts on North Wales
Look inside the Smallest House in Great Britain!
Penmachno Roman Bridge photography location
Why is the Ugly House called Ugly?
When does Tu Hwnt I'r Bont turn red?
The legend of Gelert & how to visit his grave
The top places to visit in Beddgelert
Visiting the Cauldron Waterfall of Pont-y-Pair
How to find Sappers Suspension Bridge
A complete Swallow Falls guide
Why you MUST visit the Fairy Glen Gorge
A complete Conwy Falls & cafe guide
A complete guide for the Conwy Town Walls
How to do the Llyn Idwal Circular Walk
A complete guide for the Dinas Emrys Walk & Dragon legend
How to see the Bodnant Garden Laburnum Arch
How to visit Pistyll Rhaeadr Waterfall
Gladstone's Library – Stay in the UK's only residential library
Save this Lonely Tree Llanberis Location for later!