Okay, so Lucerne is officially my favourite city in Switzerland.
Situated next to the beautiful Lake Lucerne, with historic architectural masterpieces placed either side and the famous Kapellbrücke bridge running through its middle – it's absolutely gorgeous.
I couldn't believe how picture-perfect every little piece of this place was!
The sun made everything go slower in the heat and swans gracefully swam next to the patrons sipping their coffees in the numerous umbrella-covered cafes by the river in the morning.
Make sure you at Lucerne to your Swiss itinerary!
How to get to Lucerne
Lucerne is roughly halfway between Zurich and Bern and is accessible by train or car.
From Zurich, you can take the number 14 road and from Bern, you can take the number 6 all the way into the city.
There is plenty of parking available by the harbour and at the main train station. From there, it's a short walk to the city and the main attractions.
What To Do in Lucerne
There's so much to explore in this amazing city, you'll need to allow plenty of time to cover everything. Here are some of the highlights;
A boat ride on Lucerne Lake
What to Eat
Ice cream!! Take your pick, there are dozens of gelato outlets around the city.
If you're tired of Movenpick (but let's face it, who would get tired of it!), then you can visit the famous Bachmann chocolate world and buy some there.
Ideally located by the main bridge, it has a variety of flavours including Smurfs (which was an alarming shade of blue) and Minions (yellow with eyes).
You'll definitely have trouble choosing which one you want!
What to Drink
Eichhof lager is brewed here in Interlaken so it would be rude not to Indulge in a pint!
You can also visit the brewery if it takes your fancy.
Don't Miss
Feeding the swans, seagulls, birds, and ducks by the river – although there are a few turf wars between them all they're quite lovely when you say hello (and feed them the bread of course!)
Final Words…
I absolutely adore this wonderful, fairy tale city.
It is such a glorious place to visit and I don't think I could ever get tired of the views from the Reuss river – make sure you add Lucerne to your journey through Switzerland!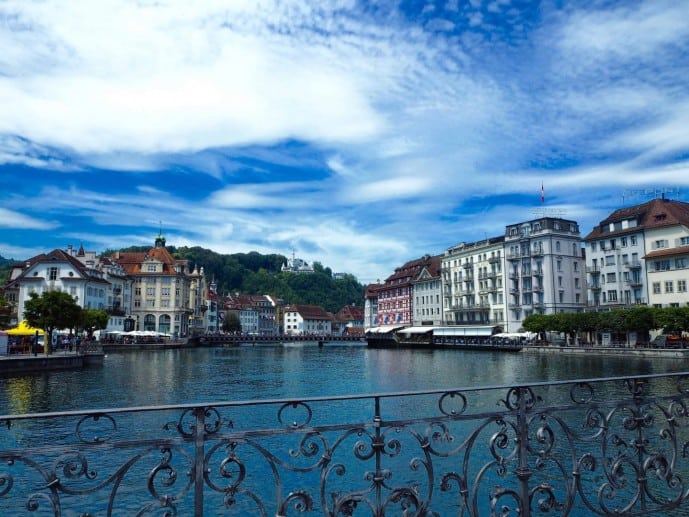 Read more on Switzerland!
A complete travel guide for Mürren
Heading up to Jungfraujoch – Top of Europe
How to see the Matterhorn in Zermatt
Männlichen to Kleine Scheidegg walking guide
A Sherlock Holmes guide for Meiringen
The best afternoon tea in Interlaken
A 007 guide for Schilthorn Piz Gloria!