If you're looking for the perfect 2 days in Lucknow Itinerary then keep reading. Before I came to India, I had never heard of Lucknow.
But, as I've been in India for quite a few months now, I tend to play flight roulette on Skyscanner to find cheap places to escape Delhi for the weekend.
Luckily for me Lucknow, the capital of Uttar Pradesh, popped up!
Okay, so I don't just click buy without checking the place out first. I looked on Pinterest for some inspiration and my jaw dropped at the amazing architecture there. I had to check this place out!
So, I booked my ticket and flew into Lucknow for the weekend. I had 48 hours to explore everything the city had offered to me.
Here is my ultimate 2 days in Lucknow itinerary or how to spend 48 hours in Lucknow!
Why visit Lucknow?
I will admit, there isn't a massive amount of things to do in Lucknow but they do say it's quality over quantity.
If you're a history lover, like me, this city is the perfect getaway in India. It boasts a monument or heritage site on every corner!
Plus, it's not as touristy as Rajasthan, Varanasi, or Agra so there's a bonus. I was seriously impressed with this city I had never heard of.
The buildings were so colourful, intricate, and inspiring. There are parks, the Gomti River and the many ancient markets to explore as well.
How to reach Lucknow in India?
As Lucknow is in Uttar Pradesh, it's pretty easy to get to via plane from Delhi airport.
There are numerous flights a day and they're cheap to boot. Most major airports in the country run daily flights to Lucknow.
From Delhi, Lucknow is around a 12-hour train journey. If you opt to take an overnight train, it can save some time.
The Indian state of Uttar Pradesh boasts some great tourist spots such as Varanasi and the famous Taj Mahal so you'll easily be able to find a train heading to the capital of UP.
Tip: if you do arrive in Lucknow by train, make sure you turn around when you get outside the station. The building itself is incredible and worth a visit alone!
Click here for more train travel tips in India
The best place to stay in Lucknow
There is no place better than the Vivanta by Taj in Gomti Nagar.
It is a little bit on the pricey side but it is a five-star hotel with the best service on offer, so you'll definitely get your value for money.
The hotel has made a great effort to reflect the cities heritage and culture in its stunning decor.
Even if you don't check in here, be sure to give the hotel a visit for afternoon tea or dinner in their Latitude restaurant.
Click here to read my full review!
Things to do in Lucknow with 48 hours
Here are the top places to visit in Lucknow, make sure you add these to your itinerary while you're here.
Bara Imambara
First up on the itinerary is Lucknow's jewel in the crown, the famous Bara Imambara.
You'll probably hear or read the term 'Nawab' a lot while you're here and that's because these guys left these amazing heritage buildings behind from the peak of the Awadh era.
If you haven't got a clue what I'm talking about that's fine; i'll explain. If you were a Nawab of Awadh, you were a pretty important guy. Almost like a king.
You were the ruler of the kingdom of Awadh and Lucknow was part of this kingdom in the 18th and 19th centuries.
The Bara Imambara was built by the fourth Nawab of Awadh, Asaf-ud-Daula (try to pronounce that!) in 1784.
It was built as a relief project for a famine that struck the city around this time. It's also a place of worship for Muslims and is still active today.
Nowadays, it's a stunning complex to visit. The inside of the building has some of the finest Mughal architecture of the city and the colours are stunning.
I saw some guides providing tours but these were mostly in Hindi. I decided to explore on my own and I had just as much fun.
Tip: Be sure to pick up a 'foreigner' combined attractions ticket. This will get you access to most of the major tourist sites.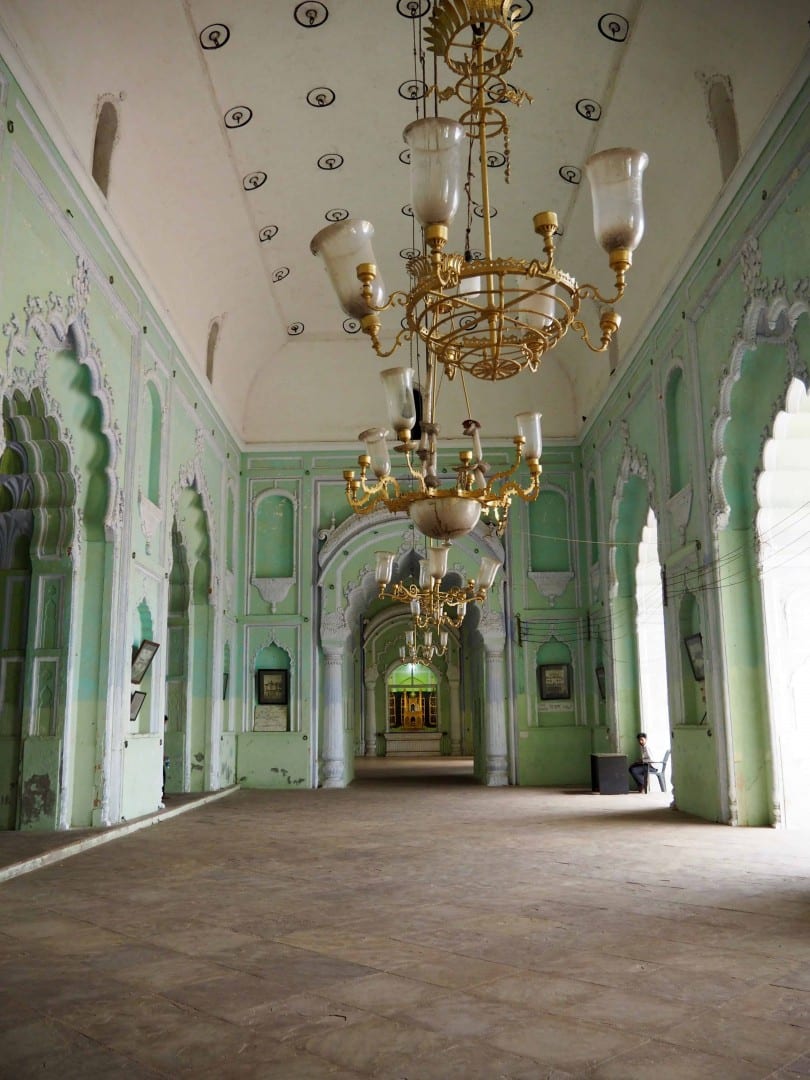 After you've explored the bottom be sure to walk up to the famous Labyrinth at the top!
This will be included in your combo ticket. You have to walk around with no shoes on so be careful of your feet!
I was walking around in the heat of summer and there were no mats or carpet to be seen. That equalled very hot and unhappy feet. But, it was worth it to see the views of the mosque from here.
Chota Imambara
The next Imambara to add to the heritage list is Chota. It was built as a place of worship in 1839 and is a tomb to the Nawab who built it, Mohammed Ali Shah.
From the outside, it's an attractive building which, again, has some amazing architecture and the gardens surrounding it are also worth a look.
On the inside, it is a wonder!
There is just so much going on, I didn't know where to look. It's nice and vibrant and some of the chandeliers and mirrors looked ancient.
This will be included in your combined ticket. You will need to cover your head, even on the grounds as it's a holy site.
If you don't have a head covering the security will provide you with one. You need to pay the shoe guy 2 rupees to look after them while you explore around.
British Residency
The British residency has an important part to play in India's colonial past. It was one of the sites that acted as a refuge for over 3000 British citizens during the uprising in 1857.
It also has a gravesite of over 2000 British soldiers who died during the revolt.
Today, a lot of the red brick buildings are in ruins, but you can wander around the gardens which are peaceful.
You can still see the cannonballs which have been left on the walls! If you head up to the top of the park, you can find out more about their quaint museum.
It will show you the history of the city and they will play a little DVD which tells you more about it.
Luckily for me, it was in English so I could understand.
To enter the museum, you need to leave your bags in the little locker hut outside.
Cameras are prohibited but mobile phones aren't (I've never understood this as iPhones are pretty much as good as digital cameras nowadays but hey ho).
It's free of charge and the guy will give you a lock and key. Unfortunately, it's not included in the combined ticket and the park will cost you 200 rupees as a foreigner.
La Martiniere College
College campus and popular Bollywood filming location, La Martiniere was founded in 1845.
The main building of the college is under reconstruction to bring it back to its original roots and it's a stunning piece of work.
You don't need to pay or be a student to visit, just simply approach the security and ask to look around.
When I reached the main annex, there was building work going on but the guys didn't seem to mind me poking my nose around. I was in love with every room.
Just see for yourself;
And there was more!
I'm not sure when the reconstruction will be finished but it looked like the whole building is set to be incredible.
I'll have to return when it's completed. After you've looked inside the main building have a wander around the campus.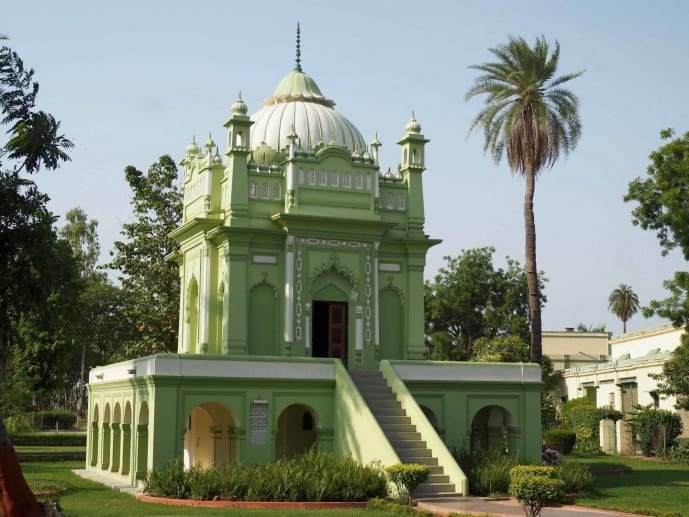 Where to go in Lucknow at night
As a solo female traveller, I always have a bit of a dilemma about where to spend an evening in India.
I want to explore places but I have to consider my safety as well. The summer heat is unbearable during the day at times and I like to make the most of the outdoors during the cooler hours.
Luckily, Lucknow had some great parks to explore after sunset.
As these have mostly families visiting and are quite busy, I didn't once feel unsafe. and so would recommend these to visit.
Dr. Ambedkar park situated in Gomti
It will cost you 10 rupees to enter.
They say it's a park but there's not much nature here, it's actually more of an open space.
It is a bit of a strange one and reminded me of some sort of post-apocalyptic Indian time warp into the future.
But, I loved the rows and rows of elephants!
Riverside in Gomti
This attraction is so new there isn't even a google pin for it yet!
There's a musical fountain which plays in the evening and it's packed.
It has a really nice atmosphere to it. Mainly the locals are taking selfies but it's just nice to walk around.
You can also buy a ticket for a round trip to the Gomti river by boat for 100 rupees if you fancied it.
Shopping in Lucknow
If you did fancy delving into some shopping while in Lucknow, there are plenty of markets to choose from.
I went to Aminabad market which is around 2km from the train station.
It's the oldest and largest market in Lucknow and has been here since the Nawab era. You'll find everything from 'Chikan' work (not chicken which I thought people were saying lol), dresses, food, shoes, baskets – anything!
Make sure you get a rickshaw around to stop you from buckling in the heat. I paid 20 rupees for a ride.
So that's your 2 days in Lucknow itinerary
There are also other monuments to explore such as the Clock Tower, the planetarium, and the picture gallery.
As I said, there is a historical monument on every corner!
I was amazed at how much I enjoyed my visit to Lucknow and it goes to show that a flight roulette can provide an unlikely weekend adventure.
If you haven't considered giving it a visit, I would urge you to add it to your list.
Read more of my India articles
The ultimate Rajasthan itinerary
A first timers guide to Jaipur
My complete guide for Rishikesh