Are you after some luxury in the blue city of Rajasthan? Well, you've come to the right place.
Jodhpur is full of hotels, cafés, and attractions that will make you feel like a million dollars.
I've always felt that Jodhpur is a highly underrated city. It's full of colours, amazing food, and friendly people and I think that it should be higher on any travellers Indian bucket list.
I've backpacked through slumming it and spent an all-out luxury weekend to myself here and I much prefer the latter.
India is so much more fun when you have a few extra pounds to spend!
So, here is the ultimate Jodhpur travel guide. Spend a few days indulging in what it has to delight you.
How to get to Jodhpur in Rajasthan
Flights to Jodhpur
Jodhpur has its own airport and daily flights from Delhi, Jaipur, and Udaipur all land here.
I would highly recommend booking flights a little earlier in advance. Flight prices tend to go up quite high if you're booking the week before.
Jet Airways is my 'go-to' domestic airline in India due to the service. If you're looking to save some pennies Spicejet also does bargain bucket prices.
But, you can expect the service to correlate with the price paid.
I always use Skyscanner to book my internal flights through India. But, it's worth checking prices on Kiwi.com and Cleartrip for deals.
Trains to Jodhpur
If you're heading into Jodhpur by train, you can easily check Cleartrip.com for train times, prices and bookings.
I would urge you to book train travel as early as possible to avoid being waitlisted.
Although 9 times out of 10 you'll get your ticket confirmed as a 'foreigner' tourist, there is a chance you won't get your ticket if it's a popular train.
Read more of my tips for Indian train travel here
If you're planning on hiring a car, I would recommend the road trip from Jodhpur to Udaipur. It's by far one of the most scenic routes in Rajasthan through the Aravalli hills.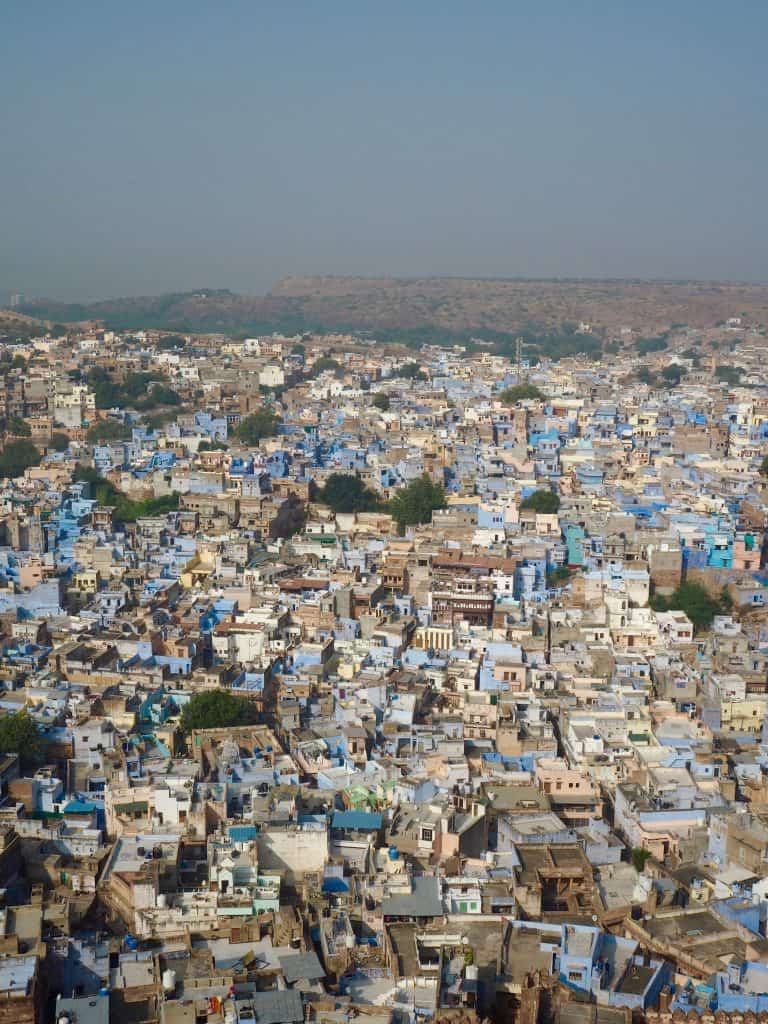 The best place to stay in Jodhpur
RAAS
There are many 5* options in Jodhpur but the only one within the walled city itself is RAAS.
As soon as you walk in, it's like an oasis from the outside chaos.
It has a gorgeous dramatic view of the Mehrangarh fort which you can even watch while you're sunbathing by their infinity pool.
Facilities include a luxury spa, popular restaurant Baradari and a rooftop bar (Darikhana) overlooking the fort. Here, you can sip a customised cocktail or two.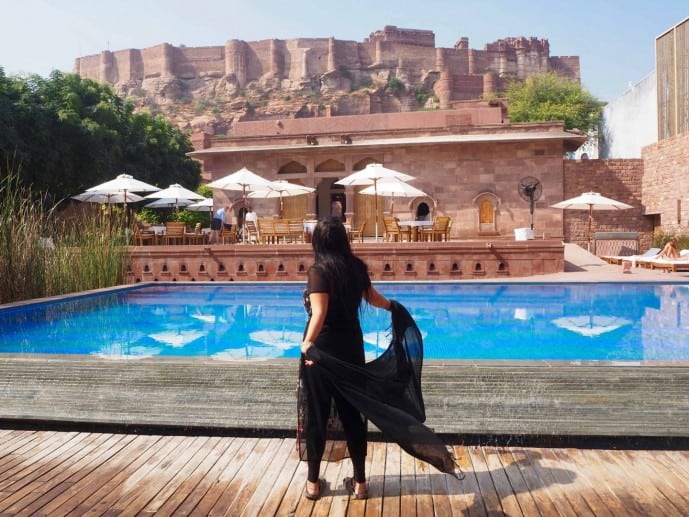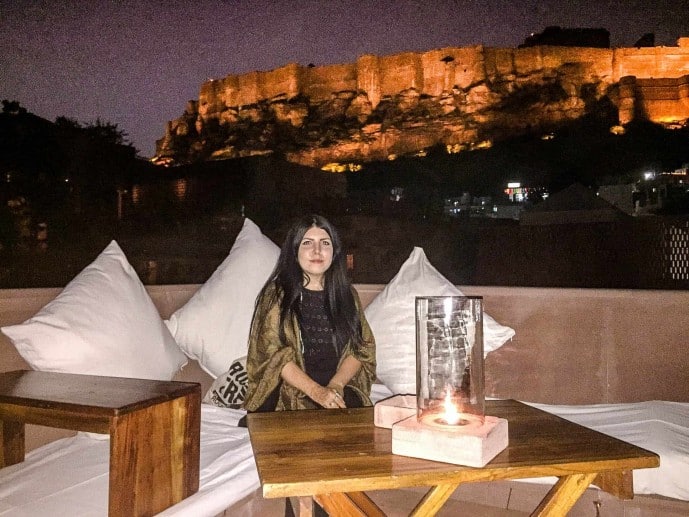 Personally, I squealed a bit when I checked into my double room.
Not only did it have a bathtub and the biggest bed I've seen, but I also had my own private garden with a sun lounger!
I had a last-minute booking so was on the ground floor in the Garden Room, but there are more luxury options overlooking the fort which will cost more.
For available dates and rates for RAAS, click here
Umaid Bhawan Palace
Other luxury options in the city include the sumptuous Taj Umaid Bhawan Palace. But, be prepared for the hefty price tag!
To even enter you need to pay a minimum surcharge of 5000 rupees (£60) so it's the real deal!
It's also located around 18 kilometres out of the walled city and main attractions. This is something to keep in mind as you'll need to get transfers each day.
Top things to do in Jodhpur
Explore the blue city
No visit to Jodhpur is complete without taking a tour of the Blue city streets.
Although most of the city is painted blue, the best part is located at the bottom of the fort to the Eastside.
Supposedly, the houses were painted blue to keep the mosquitos away but I haven't found a definitive answer yet.
Either way, it's still worth a peek. One of the best ways to see it is by walking around and exploring yourself!
But, if you're feeling like you need a helping hand, RAAS has a dedicated auto-rickshaw that is painted a beautiful shade of blue to show you around.
After all, what's better than touring the blue city in a blue tuk-tuk?!
It's good to note that due to the small alleyways and streets you will have to walk some of it to see the beautiful blue buildings.
If you're unsure, get your rickshaw driver to park and guide you.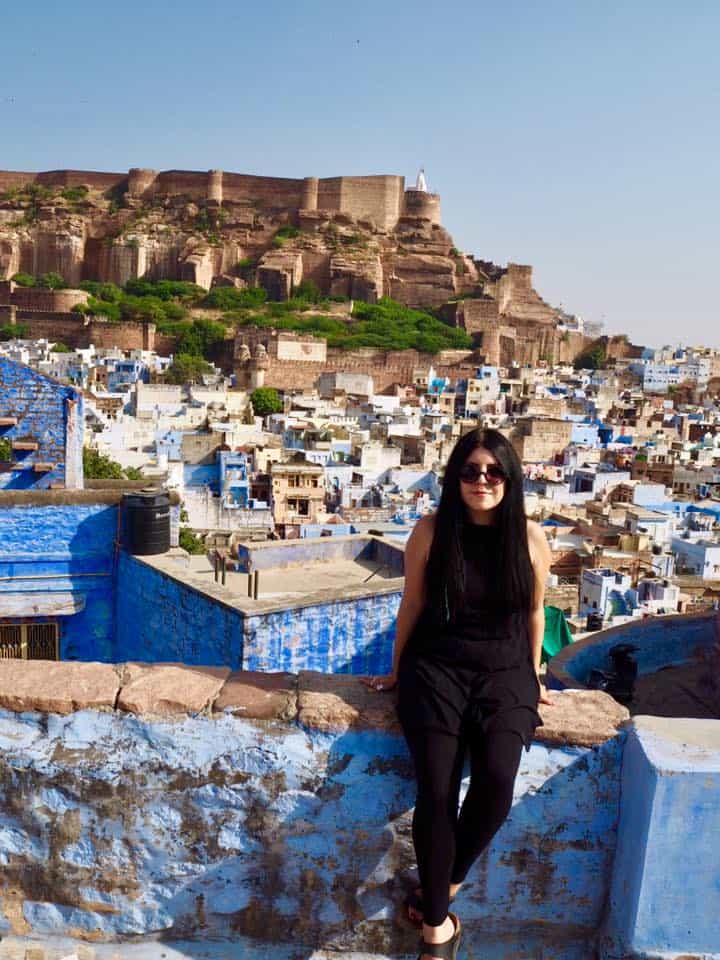 Climb up the Meharangarh fort
I know, there are so many forts in Rajasthan, but this one by far has the best views.
Although most of the fort is a museum (cost 600 rupees), it's still jaw-dropping to catch a glimpse of the blue city from above.
If you head down towards the Hindu temple, this has the best birds-eye view of the city.
Take a peek into Umaid Bhawan Palace
Sure, you can't stay in Umaid Bhawan Palace because you're not a millionaire but you can go and have a nose around.
Luckily for us mere mortals, the palace is 70% a luxury 5* hotel, 20% a royal family home, and 10% a museum!
For a mere 100 rupees, you can go and learn all about the royal family in Jodhpur and the history of this amazing palace. They also have a really cool vintage car collection to browse.
Unfortunately, you can't breach the walls and go and have a look inside the hotel for security reasons.
When I tried, the duty manager told me I needed to pay at least 5000 rupees for entry! Maybe next time.
Visit the historic Jaswant Thada
Around a kilometre away from the fort is the royal cemetery of kings. It's built-in beautiful white marble and the Indian artwork will blow you away.
Built-in 1899, the cenotaph was built to commemorate the Maharaja (king) Jaswant Singh II.
It's worth bringing your camera as the views from here are breathtaking of the fort and beyond.
Beyond a little stroll and a loop of the cemetery, there really isn't anything more to do here. The price is 30 rupees per foreigner.
Where to shop in Jodhpur
The Student Shop in the Clocktower bazaar
Now, market shopping in Jodhpur is all about getting a good bargain on textiles. But, does it have to be a cheap standard? No!
The student shop in Jodhpur is actually a luxury exporting service that sells its textiles to designers companies like Gucci, Armani, Chanel, Louis Vuitton and so many more.
So, this means you could be buying designer bedsheets at a fraction of the cost of what you would pay in Italy, in-store, or online with these brands.
When I was in the shop, the owner, who has newspaper clippings of him dealing with Mick Jagger, was laying all of these designer sheets out on the floor.
He would let me know the retail price of what the designer sells them for and then, his price. The ones here were a fraction of the cost, as 20% of what the designer would sell for.
So, if you have extra room in your suitcase or you would like to send it home, it's worth picking up a designer bargain! You can always tell your friends you bought them from the big brands ;)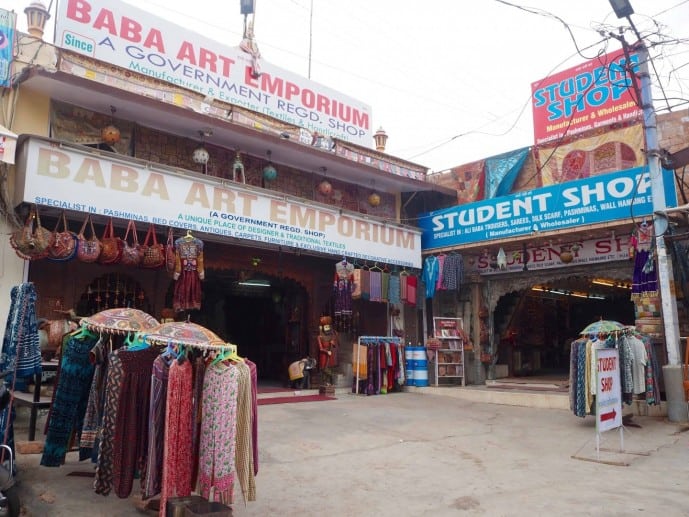 Stepwell Square
I visited Jodhpur for the first time around a year and a half ago and it's amazing to see what has changed already!
One of the new additions is the newly renovated and what I call 'swanky' part of town called the Step Well Square.
It's a stone's throw from RAAS and is based around a stepwell locally known as Toorji Ka Jhalra.
Here, you can climb all around the well and visit the high-end retail shops.
My tops picks would be Forest Essentials (selling scrummy organic smellies like hand cream) and Good Earth which offers up opulent Indian-inspired pieces for your home.
You'll find that boutique clothing designers and art galleries are popping up all the time here, so make sure you have a good browse.
Where to eat in Jodhpur:
Stepwell café
If you're getting tired from all that shopping, I would definitely stop for a coffee break at the Stepwell café which is located in Stepwell square.
It's hard to believe that this café is actually in India as the interior design and powerful air conditioning are that good!
Here you'll find a paradise away from the streets to relax and chat. It also serves up real espresso coffee and a food menu to die for!
Although it's a RAAS property, It's also a lot more informal and reasonably priced.
Indique
By far my favourite restaurant in Jodhpur is Indique.
Located above Pal Haveli, this stunning alfresco eatery provides dramatic views of the fort and a quality menu that doesn't break the bank.
I have always found that the service here is top-notch and the waiters will wait on you hand and foot.
They have a varied menu serving up Veg and Non-Veg Indian and Western options and an awesome cocktail and wine menu.
Make sure you make a booking in advance for the evening in peak season, it gets packed up fast.
They also don't provide outdoor dining for lunchtime, but their indoor option is good too.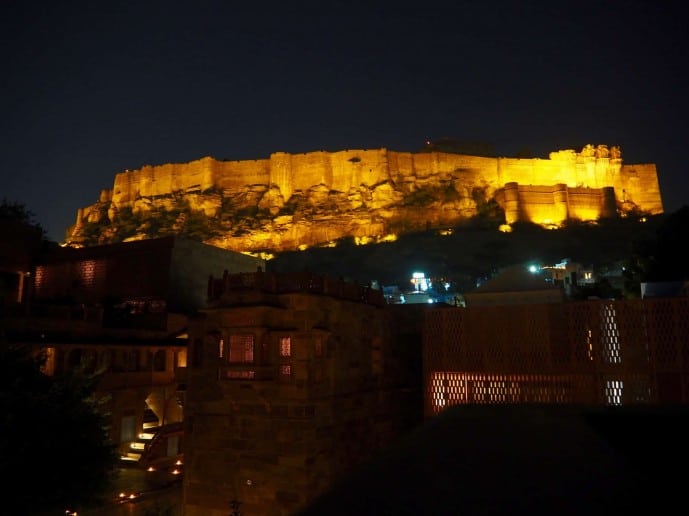 Save this luxury Jodhpur travel guide for later!
So, that's the luxury seekers' Jodhpur travel guide.
There is so much to indulge in here in the blue city that you will need more than a few days to fit it all in.
It's definitely worth splurging the few extra pennies to make this a Jodhpur trip to remember!
Make sure to read my top things to do in Jodhpur post next!
Heading around Rajasthan? Check out these posts!
My complete guide to the Pink City of Jaipur
A photography guide for Jaipur
My top travel tips for Jaisalmer
A camel safari in the Thar desert
Why Bundi has to be on your bucket list
Top places to visit in Bikaner
Visiting the rat temple in India
Save this Jodhpur travel guide for later!