I've been visiting Exmoor in North Devon since I was a child and one of my favourite things to do here is ride the Lynton and Lynmouth Cliff Railway.
It's a step back in time to the Victorian era and it feels like you've entered one of Sherlock Holmes' mysteries!
As you journey up and down the cliffs between the twin villages, you'll be greeted with some of the best panoramic views of Exmoor's coastline.
It's the UK's only fully water-powered railway and you really cannot miss a ride on it when you're in North Devon.
Here's a complete guide for the Lynton and Lynmouth Cliff Railway with the history, how it works and how to visit!
The history of Lynton and Lynmouth Cliff Railway
Previous to this railway, the high cliffs that separated the villages of Lynton & Lynmouth were difficult to traverse.
As well as having a massive impact on trade, it was a hindrance to tourists who arrived by steamer boat to see Lynmouth known as England's 'Little Switzerland'.
As the walk was quite strenuous, donkeys and horses were made available for hire to transport Victorian holidaymakers up the cliffs.
As you can imagine, this was torturous for the animals. They were worked to the bone as they dragged carriages and struggled with the steep rugged pathways.
Mysteriously, a letter was sent to the Lynton and Lynmouth Recorder in 1881 providing a solution to the problem.
Although it was signed anonymously with a non de plume, it is believed to be from a holidaymaker. They may have witnessed water-powered engineering in the Welsh slate mines or seen Scarborough's Cliff Railway and felt that Lynmouth could do the same.
It wouldn't be until a few years later that this ambitious project went ahead as it required significant funding.
Construction finally started in 1887 with George Marks to build the vertical railway. The engineering saw the hydraulics filled completely with water instead of oil making this transport system unique.
The system was patented in the names of Newnes, Jones, and Marks who were the main investors in 1888.
The whole project took three years to complete with manual labour and required significant blasting on the cliffside. Back then, the cars required four independent braking systems due to the steepness of the track.
Finally, the Lynton and Lynmouth cliff railway opened in 1890 and there was a small opening ceremony to celebrate. It has been taking tourists up and down the cliffs ever since and saved thousands of sore legs in the process!
How does the Lynton & Lynmouth Cliff Railway work?
Although the ride down the cliffs feels effortless, you'll be surprised to know that there is a lot of work required to power this train.
There are two carriages that work in a counterbalance with each other and meet in the middle while the train is in motion. Each carriage can hold twenty passengers at a time.
The water for the railway is actually collected a mile away in the West Lyn River. It's transported through small pipes to a storage reservoir in the upper station.
Each train car has a tank attached between its wheels which carries 700 gallons of fresh river water!
Once passengers have been loaded at each station, water is added to the tank in the upper car and its descent starts the lower car at the same time.
The speed of both carriages is controlled by two drivers, one in each car. They work together to ensure that the carriages pass by each other at the same time.
Once a carriage reaches the lower station, its water tank is emptied for the return journey while the upper is filled. This process is then repeated every time the train journeys up and down the cliffs.
Why is this cliff railway unique?
There are a few water-powered cliff railways in the UK like the ones found in Saltburn and Folkestone. But, these require electronic intervention to re-pump the water back to the top in order to power it.
The reason why the Lynton and Lynmouth cliff railway is unique is that it doesn't require any electronics to run it at all. It only requires water that is gathered from a renewable source which means it has a low carbon footprint!
It's a rarity and one of only three fully water-powered railways to exist around the globe! You can find the others in Portugal and Switzerland.
Who owns Lynton Cliff Railway today?
Today, this lift is privately owned by the Lynton and Lynmouth Cliff Railway. It has recently been given a gorgeous lick of green paint and it has won multiple awards in its time.
It's famous as it's the world's highest and steepest fully water-powered railway with a steep track of 862 feet! It also has an elevation of 500 feet.
It's also the UK's only fully water-powered railway and it operates using completely renewable water sources.
As well as receiving numerous accolades for historic engineering, it has won the UK's favourite historic attraction award and received a gold standard in sustainable tourism.
This really is a vintage jewel on the Exmoor coast that you have to experience for yourself!
What to expect on the journey up and down
As one of the most popular attractions in Exmoor, you can expect queues for this railway throughout the season. But, as it takes twenty passengers at a time you won't be waiting long until it's your turn!
There is a ticket office for the train that you must purchase your tickets from before you board.
Once you enter the car, you'll see that it has been preserved with vintage seating! There are wooden benches to perch on either side and space in the middle for standing passengers.
If you're lucky, you can bag a place on the outer platform by the operator who turns the wheel. Here, you can get a front-row view of the train making its way over the steep tracks.
You'll be able to see how this water-powered train works and come face to face with the lower train as you meet halfway.
The best part about this railway journey has to be the spectacular views that you can see from here. As you ascend you can see for miles over the rugged Exmoor coastline and Lynmouth Bay.
Don't forget to visit the Cliff Top Café
At the top station in Lynton, you'll find the Cliff Top Café which provides breathtaking views over the peninsula.
The cafe is a Grade II listed building that serves up a traditional Devon Cream Tea and light takeaway lunch options. You really couldn't find a better view to enjoy a coffee from the Lynton clifftops.
There are plenty of tables that have been set up next to the view. It's well worth stopping here before you journey back down!
If you were looking for souvenirs to take home, there is a small gift shop selling some locally inspired and cliff railway souvenirs.
Lynton and Lynmouth Cliff Railway timings & cost
The Lynton Lynmouth cliff railway runs from February to early November. Trains run daily from 11 am – 4 pm Monday to Friday and 11 am – 5 pm on weekends.
Tickets are one-way only. You will pay £3 per adult and £2 for children. It's well worth getting two single tickets to head up and down the cliffs.
But, if you did just want to go one way. I'd recommend going up on the train and then making your way back down the stairs from Lynton.
At peak times, the bottom station is far busier than the top. To avoid long queues you can walk up to Lynton and get the cliff railway back down.
Dogs on leads are permitted on the railway and your furry friends can join you for just £1!
There is plenty of car parking provided near the lower station in Lynmouth. You can access the cliff railway near to Lynmouth Pier by the Rhenish Tower.
Looking for more things to do in Lynton & Lynmouth?
Lynton & Lynmouth is a scenic area to explore in North Devon. Although small, it's as pretty as a postcard perched right beside the sea.
Lynmouth has the nickname 'Little Switzerland' and it's easy to see why when you get here. You'll find gorgeous houses along coves, rivers, and gorges!
From the bottom of the cliff railway, you can take a walk along Lynmouth Harbour to the Rhenish Tower.
Or, you can take a stroll up the cobbled Lynmouth Street to go shopping. You'll find lots of independent shops, galleries, fudge parlours, and places selling bric-a-brac.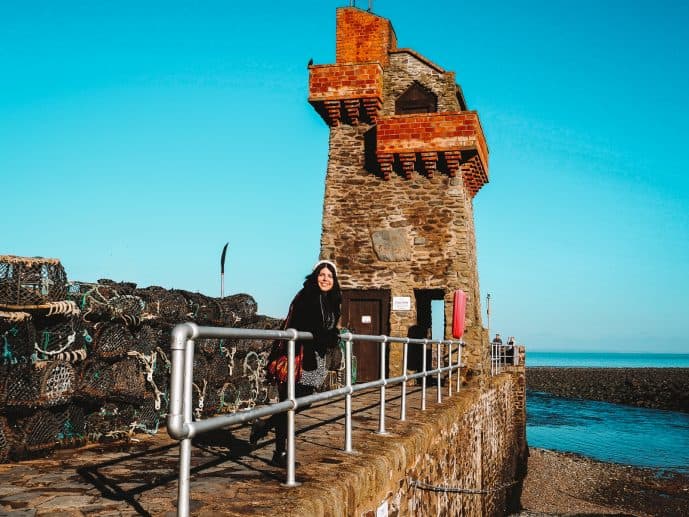 The Glen Lyn Gorge is really spectacular and the path takes you towards a cascade on the West Lyn River. Also, the East Lyn River to Watersmeet walk has amazing views along that gorge!
Just a mile away from the top station of the cliff railway is the famous Valley of the Rocks! You can walk here along the coastal path which is breathtaking.
Once you arrive in the valley, you can climb up onto the rocky plateaus and get some incredible views over the peninsula.
Don't forget to look out for the wild mountain goats here. They often graze in this area and are known for blocking the roads!
Read more of my Devon travel guides
How to visit Lydford Gorge & White Lady Waterfall in Dartmoor
The House That Moved in Exeter
Babbacombe to Oddicombe cliff railway
Visiting Agatha Christie's House in Dartmouth
Walk the Agatha Christie Mile in Torquay
Top things to do on Burgh Island
A delightful afternoon tea at the Burgh Island Hotel
Top things to do in Cockington
Harry Potter locations in Exeter
Is this Exeter's Diagon Alley?
Walking down the Narrowest Street in Britain!
How to visit Wistman's Wood on Dartmoor
How to visit Brentor Church in Dartmoor
Woolacombe Bay Holiday Parks Review
Save this Lynton and Lynmouth Cliff railway guide for later!