Welcome to the ultimate Majuli Island travel guide! Majuli Island was one of the places I was desperate to visit while I was in North East India.
Not only is it the world's biggest river island, but it's also an island that may not be here in 20 years' time. So, I had to visit before it was too late.
This island is crammed full of culture and diversity for you to experience. It's untouched by the modern world and stays true to its Assamese tribal traditions and values.
People live in bamboo huts, cook on the fire, make things by hand, and hardly use modern technology.
Instead of the concrete jungle with phone wires and sky-high buildings, you'll find nature, wildlife, and serenity. Monasteries, colourful dresses, creatively crafted masks, and friendly people behind their open doors.
Here's the ultimate Majuli Island travel guide; discover the beauty of the world's largest river island!
It's important to visit soon, before it's too late
Majuli Island is, unfortunately, eroding gradually due to the flooding from the Brahmaputra River. In twenty years or so may be uninhabitable or cease to exist.
Every year these floods prove fatal with hundreds of lives and houses taken in the process, which is a pretty scary thought.
Majuli has only recently been pronounced a district in Assam (35th) as it now has a population of over 160,000. But, the future is uncertain for the Majuli tribes as the rate of flooding is making the island at risk of submerging in 15-20 years' time.
When I visited it was hard to believe that was the case but I was visiting in the dry season of winter (September – March). This is the peak time for tourism and the 'safer' months. But, when it comes to the rainy seasons flooding is a constant struggle.
My guide explained that the dry roads we were riding on in December were submerged in water after the floods. If you look at this picture below, you can see the island's gradual decline.
The government is taking action by raising embankments and installing geo bags but the Majuli Island Protection & Development Council says this has worsened the problem.
So, it's definitely worth putting Majuli Island as a must-see! You never know how long it will be there.
Where is Majuli Island in North East India? When is the best time to visit Majuli?
Majuli Island can be found in the state of Assam and is easily accessed 20 kilometres from the main city of Jorhat.
To get to Jorhat from Guwahati, you can take the National Highway 27 and the AT Road.
If you're travelling by bus, regular buses head to Jorhat from the main bus stand of Paltan Bazaar in Guwahati.
For a beginner's guide to Guwahati, you can see it here!
As the journey is around 8 hours, a great stop along the way is Kaziranga National Park.
This is home to 70% of the world's one-horned rhino population!
You can take a safari here to break up your journey. Read my complete guide for Kaziranga National Park.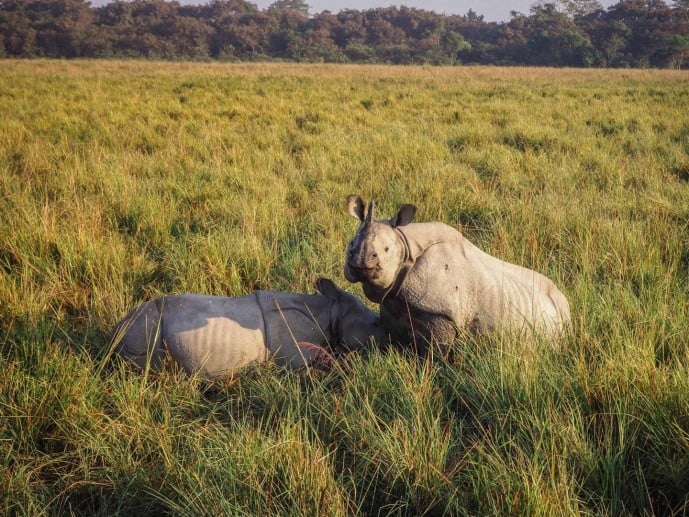 The best time to visit Majuli Island
Majuli Island is best visited in the peak season of winter (September – March) as this is the dry season and when the weather is most pleasant.
As above, April – August sees heavy rains and so you may find that the ferries won't run, there aren't many touristy things to do and half of Majuli Island is flooded!
Always check for regular news updates before you head there, as you don't want to be caught in a freak flood.
How to reach Majuli Island
Majuli Island can only be accessed by boat and a public ferry runs from Jorhat to Majuli Island daily in peak season.
The cost of this ferry is 15 rupees for a single passenger.
But, if you have a vehicle you need to load you're charged more (I'll cover this below).
I know it can be frustrating to find up-to-date times and prices, so I'll put them here for your reference.
If you don't catch the last ferry on/off the island you'll be turning back and staying the night in Jorhat/Majuli again.
So, make sure you arrange your travel plans to catch the last one!
For my full Jorhat to Majuli Ferry guide and what to expect click here!
Arriving on Majuli Island – tips for when you land!
When you land on Majuli Island you'll reach the ferry dock. From here, the nearest hotels and guest houses are around 2-3 kilometres away.
There are public rickshaws that will take you to the two main 'towns' of Majuli. That's right, it's so big there are municipalities.
These will be cheap (around 30 rupees) but won't take you directly to where you're staying.
If you wanted to get private transport, there are many private jeeps and rickshaws that will be waiting to take you.
I shared a sumo jeep with two other people and we paid 100 rupees each for 3 kilometres.
Don't worry about having your maps out, the drivers will know where you're staying.
Hotels and Majuli Island Guest Houses
There are many guest houses that are popping up all the time on Majuli Island due to the growing demand and popularity but there aren't an endless amount of options to choose from.
This is an island which is new to tourism after all. There are options to book online but expect a sky high price.
I personally, if you're on a budget, would land here then negotiate with the guesthouses in person. I'll put a few options below.
La Maison de Ananda
I stayed at La Maison de Ananda which was more than just a guesthouse, it was the FIRST guest house that was ever built on Majuli Island!
It was founded by a French couple who fell in love with Majuli and you can still see the deed in a frame there. It made the local newspapers too.
It was a gorgeous traditional bamboo hut. It had three beds, a porch, and a bathroom.
The staircase was also traditional which included climbing down a wooden pole with footholes carved in. It was fun but scary in the dark.
There is also a more modern concrete option if you would prefer, but I would say that Majuli is an island of traditions! For dates and rates available for La Maison de Ananda see here.
Risong guest house
If you're looking for more budget accommodation than slap-bang opposite is Risong guest house. The rooms are also made out of bamboo.
The rates are around 400 a night for a double room and 300 a night for a single.
You pay extra for hot water, breakfast, and dinner. It's basic but, for the price, you get what you need for a good night's sleep.
It even has a mosquito net which was vital even in winter. The dinner options are amazing and Mr. Risong's wife cooks up an amazing array of dishes.
If you take the meat option you'll be fed Chicken or Fish, potatoes, vegetables, rice. You can even request fruit wine if the mood takes you!
Okegiga Homes
Or, if you're looking for a wild card why not try some luxury camping at Okegiga Homes?
They have large bamboo huts and tents which you can rent privately or share.
The tents already come provided with mattresses and pillows etc. There's also a kitchen and tea available! For dates and rates for Okegiga click here.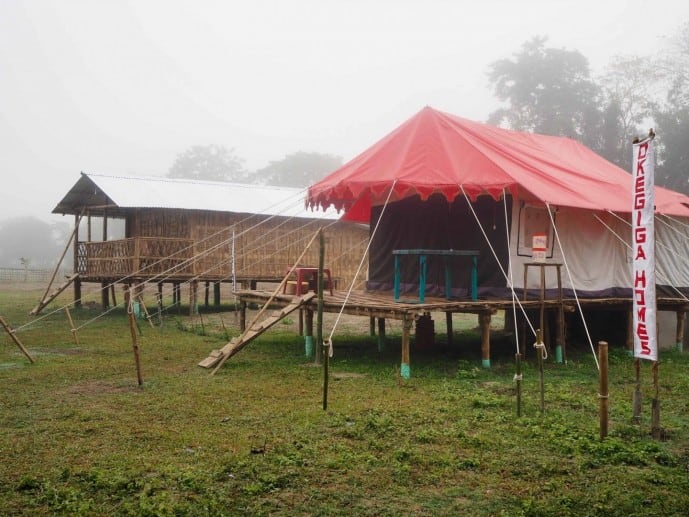 Travelling around Majuli Island: transport options
As Assam's capital of culture, there's more than enough to do on the largest river island in the world!
could spend days and even weeks exploring, getting lost in nature, and experiencing the rich culture.
Depending on your time and budget, there are plenty of transport options available to suit you and what you want to get out of your trip.
Bear in mind that although Majuli Island is HUGE, the tourist spots aren't in typical locations or on main roads.
Usually, the activities and buildings to visit are on the back roads and so I would suggest it's worth arranging an organised day tour by hiring a taxi.
Or, at the very least, bring a guide with you in your car to show you around the island.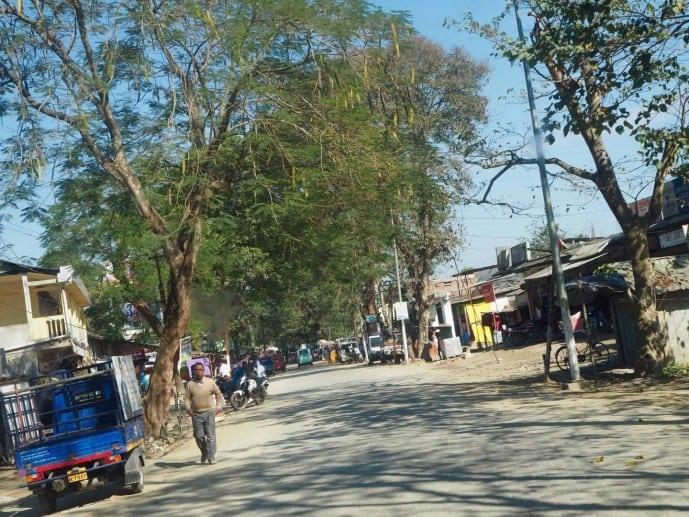 Majuli Island Rickshaws
There are public rickshaws that are on the island and these will usually be shared.
Like I said earlier they only really head to two of the main 'towns'. As these are for locals to get around, they don't target the tourist spots.
Majuli Island taxis
The best option, in my opinion, is to cover a lot of ground in a short amount of time.
If you organise a whole day tour this will also, in the long run, save a few pennies as you'll cover off everything in one!
Majuli Island has lots of tourist attractions to tick off and some are around 40 kilometres away from each other.
The taxi associations have a locked-in price of 1600 rupees for a full day (8 hours). So, if you have a few of you it's really good value.
Majuli Island cycling
Many guesthouses, including my own, provided cycling as an option and I'd say if you were just planning on getting out in nature this is perfect.
This is also an option if you have a week or so and just want to hit one attraction a day.
But, I'd say you may get exhausted trying to cover too much ground on a bike.
The distances are pretty brutal, not to mention you'll be navigating yourself (maps and GPS aren't the best here!).
Renting a cycle can be anything from 100 – 300 rupees a day.
Things to do on Majuli Island
Tourists flock here to experience traditional Assamese culture. In many ways, this island is untouched by the modern world.
There aren't any skyrise buildings, satellite dishes, or wires. Everything is almost as God intended.
Fishermen make their nets and fish with bamboo, looms hang on the bottom of huts to make dresses, clay is gathered to make pots and they dry out in the sun, boats are made by hand, masks take weeks to design and make.
Nothing is mass-produced, there's no factories or quick fix, it's all produced from the tribes on this island!
I fell in love with it. The simpleness of it was inspiring.
I'll take you through the main tourist interests on Majuli Island that you can get involved with while you're here.
Visit the famous Hindu Satras and Monasteries
The world-famous Satras of Majuli are the main thing you have to experience here.
If you haven't visited a Satra on Majuli Island, your visit wouldn't be complete.
The Satra's are Hindu places of worship that were created through the ideology of Neo-Vaisnavism of Sankardeva.
A Satra plays an important part of Assamese life and there were originally 64 on Majuli built in the 16th century. Today, 31 are still in use.
These aren't just religious institutions on Majuli island, they also provide a home to promote traditional culture, literature, and arts.
There are two sides to Satras one is the Grisathi Satras which are liberal, allowing people to marry and promote arts.
The others are Udasin which is more of a conservative celibate monastic order. Both are interesting to visit and provide some amazing insight into Assamese culture.
Udasin Satra
The first monastery we visited was an Udasin Satra called, Dakhinpat Satra. This is the chief Satra that is patronised by the Ahom ruler or the head of the Satras.
Here, we wandered around the monastery taking in all the beautiful religious buildings and artwork.
Then, we explored the grounds which was a really beautiful and peaceful area to walk around. It must be so tranquil for religious study and prayer.
On our walk, we met and were kindly invited in for tea by one of the monks who live in the monastery.
It was so interesting to ask him questions about his life here.
For example, his parents chose for him to come here as he was selected by his religious teacher. Later in life, he believed it was his calling.
Sri Sri Auniati Satra
Later, we visited the Sri Sri Auniati Satra. Whereas Dakhinpat was Udasin the Sri Sri Auniati Satra was Grisathi.
There weren't many monks around at this time but we explored the temples here.
I loved the religious artwork and the beautiful idols within the temple walls.
Top tip: You have to take your shoes off within the whole of the satra grounds. There will be places to store your shoes! Also, dress moderately, these are places of worship.
See where the Majuli Masks are made
Whenever I have seen any advertising for Majuli Island, it usually comes in the form of the traditional masks from there.
So, I was dying to see one of the workshops where these are made.
On our tour we visited Mr. Hemchandra Goswami's workshop, Natun Samaguri Satra, to take a peek at the process! A professional of his trade.
As the presentation talk was in Hindi, I couldn't really understand the complete mask-making process but I could tell from the actions what was going on.
Thankfully my guide could translate some of it for me.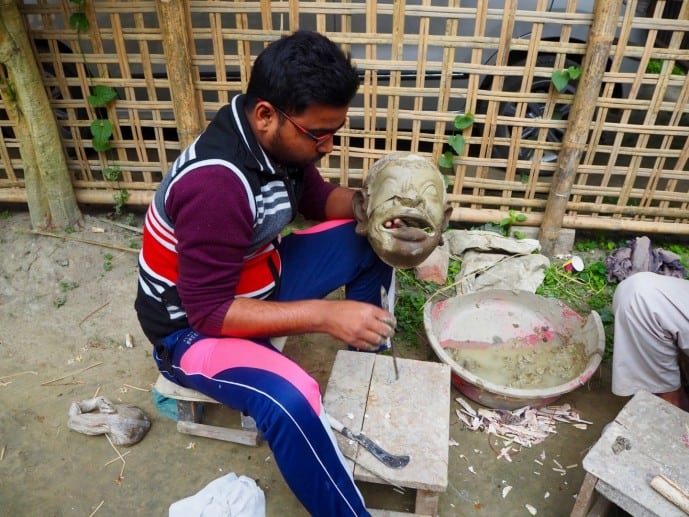 The mask designs, depending on the complexity, can take anything from a few weeks to months.
People from all over the world write in for orders due to the quality and history of the profession and Mr. Goswami's amazing skills.
What was even more amazing is that Mr. Goswami doesn't draw any designs down, it's all in his head!
Masks and vignettes can be made with moving mouthpieces, hair, body parts, and all sorts!
Traditionally these masks are worn for festivals and theatrical performances and once a year Majuli Island celebrates Ras Leela festival for Bhaona which is the perfect time to see them in action!
I REALLY wanted to try some on and, for a small donation, the owner was kind enough to let me wear some!
I have to admit that these masks are really hard to wear and almost suffocating. I don't know how people can wear them for more than 5 minutes!
Be inspired by traditional Assamese dancing
One of the things I love about India is the rich heritage and diversity of the country.
One of these things is how many different types of dancing there is!
Every state, and even its own tribe in North East, has its own dance style and the women have their own dress designs.
The Majuli Island dresses were so vibrant and colourful and I was honoured to be invited to watch a traditional dance performance.
It was located in one of the villages at sunset and it was a beautiful show.
Three men played traditional instruments while the ladies sang and dance all around us.
I'm always amazed by how in time the ladies keep and how these dances span back hundreds of years.
These dance shows are usually prepared on request, so if this is something you're interested in; enquire with your guesthouse owner.
Watch pottery, dresses and boats being made by hand
One of the first places we visited was a small village on the West side of the Island.
We were invited to come and see some traditional Assamese hand-looming and pottery being made!
The family was so sweet and was more than happy to show us how they make their handloom patterns.
Nearly every hut on stilts had a loom that was set up at the bottom with all the strings laid out.
In Assam, traditional colours are usually red and white and so these were the colours that were being used here.
Each time to add a horizontal layer of string to the pattern, the lady needs to pass her loom through the vertical strings.
This is a timely process and requires precision. To make one dress could take more than a month.
We were also shown how the pottery is made here on the island. This hut had a clay pit nearby as they were next to the river.
The lady would grab her clay and a wheel, mold the clay and turn the wheel with her feet. Each time she needed to build upon the pot, she'd add water.
Next, the pots are laid out to dry in the sun, and, once completely dry, they're then painted for decoration. As I only had a small backpack I couldn't take one home with me but I wished I could.
Next, we were taken to the boatyard. This was such a scenic work location for the guys that were making the boats.
These boats are completely made by hand and take a few months to completely construct.
Each boat will cost you around £4,000. A steal compared to UK prices but these are made only out of wood and I'm not sure if that price includes an engine!
It was so interesting to watch these being made. The owner said that he gets orders from on and off the island to prepare these, so he's got a roaring trade.
Immerse yourself in a theatrical tale with Majuli theatre
Majuli is famed for its theatre performances and when I was visiting, I was lucky enough to be here a the same time as the Delhi National School of Drama was on tour.
A famous institution that is one of its kind in India.
They were performing a rendition of Parijat Haran in the Uttar Kalamabari Satra which had its first paid performance that weekend.
Luckily for us, they were offering a final rehearsal viewing absolutely free!
Of course, there were a few pauses to correct lines and dancing, but as it was the final rehearsal they had all the costumes on and it was pretty much perfect!
Again, the performance was in Hindi but it was absolutely stunning to watch! The songs, dancing, and music were so good it translated to any language you wanted it to be.
Take a leap of faith and explore
Aside from the major tourist attractions, Majuli is an untouched gem just waiting to be explored.
You'll meander through endless fields, spot unusual wildlife, visit remote villages, meet friendly locals, and have a whole blank chapter waiting to fill with Majuli adventures.
The people here are honestly some of the most friendly I've ever met, even with the language barrier so meet some locals and explore their homeland.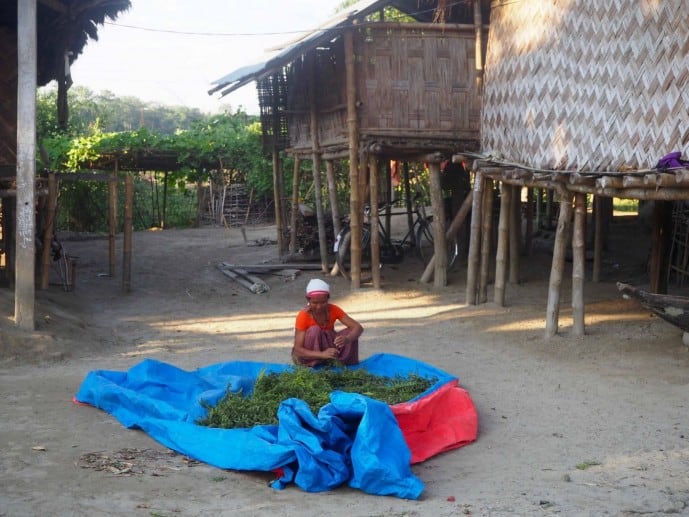 Best restaurants on Majuli Island
There aren't really many restaurants on the island. They are mostly Dhaba's which is like a cheap local eatery.
These will offer Thali's, sweets, and local dishes which will be fish or veg options.
One of the tourist-approved restaurants that I was recommended to try was the Ural, a traditional food hut. This also sold the traditional Assamese Thali.
If you're not familiar with a Thali it's essentially rice loaded in the middle of your plate.
You're then given little dishes of curries, chutney's, dahl, veg options, and even chapati's in some places.
Despite the amount of food, these are usually budget options. Thali's were anything from 70 – 150 rupees in North East India.
Things to consider before you visit Majuli
The Phone signal is pretty bad here and wifi is pretty much non-existent. So, make sure you're prepared for a few days going MIA.
Be prepared for foggy mornings. The island is surrounded by water and in the morning time it's shrouded by thick fog. This usually clears by around 10am or so. But, when I was trying to get off Majuli Island my ferry got stuck in the fog for over 3 hours. So, prepare for delays or leave when the fog has cleared.
Whereas it takes one hour to reach Majuli from Jorhat, it takes 2 hours to get back to Jorhat due to the boat fighting the current. Make sure you leave enough time if you have onward travel plans.
It's good to note that depending on what time you need to leave on the ferry, you should leave at least 30 minutes to reach the dock.
I would bring as much cash as you can with you. Although there are ATM's on the island, these aren't always open and don't have a big supply of cash available. They also only open from 9am – 7pm. After that it's shut.
Like most things in North East India in winter season, shops and restaurants shut at around 7/8pm. There also isn't much street lighting – but it makes it more beautiful to see stars!
Discover the magic of Majuli Island!
So that completes my Majuli Island travel guide
Although I only spent a few days here, it will always stick with me as one of the most interesting places I've visited. It's like a mood and it's catching.
You'll start to enjoy the laid-back, easy lifestyle and receive such warm hospitality you'll never want to leave.
It's such a shame that this island may cease to exist someday. It's like a jewel that needs to be preserved and the people here live each year in fear that their houses and even their families are at risk.
I really hope that something more can be done to stop the rapid decline of such a beautiful place.
Your contribution through tourism also helps to preserve its culture. So, take some time to explore all that Majuli has to offer you, you won't regret a thing.
Make sure you read my top Majuli island travel tips!
Read more of my posts on Assam
If you liked this Majuli Island guide, make sure you read more of my helpful blog posts on Assam in North East India!
Taking a Ganges River cruise in Guwahati
My complete guide for Kaziranga National Park
Read more of my North East India articles!
Top things to do in North East India
A complete guide for Hornbill Festival
Best places to visit in Arunachal Pradesh
My ultimate Tawang travel guide
How to find the double decker root bridges in Meghalaya
My top North East India travel tips
Like it? Pin it!